When planning a trip to Italy, figuring out what to do in a country with so much vast cultural heritage can be quite intimidating. The simple question, What to do in Florence? Can be more complicated than it seems. It may seem completely normal to visit three museums in one day in Florence, but truth is, that can be exhausting.
I embrace the slow travel philosophy. Instead of rushing to see every major site, why not just picking a few distinct places (and not always the most famous), and take your time to just soak in the atmosphere of any given place. After all, this is your vacation, and part of that is being physically and mentally, well-rested.
Since I often get questions about where to go and what to see in Florence, I thought it would be easier to compile a list of personal recommendations based on my my own and friend's experiences. Upcoming exhibits, interesting updates on the more famous museums. Also Smaller, lesser-known museums and boutique shops that carry a true line of made in Italy goods, since there is also a lot of crap in souvenir stalls around town.
This page is constantly updated and revised to give you the best, most latest information.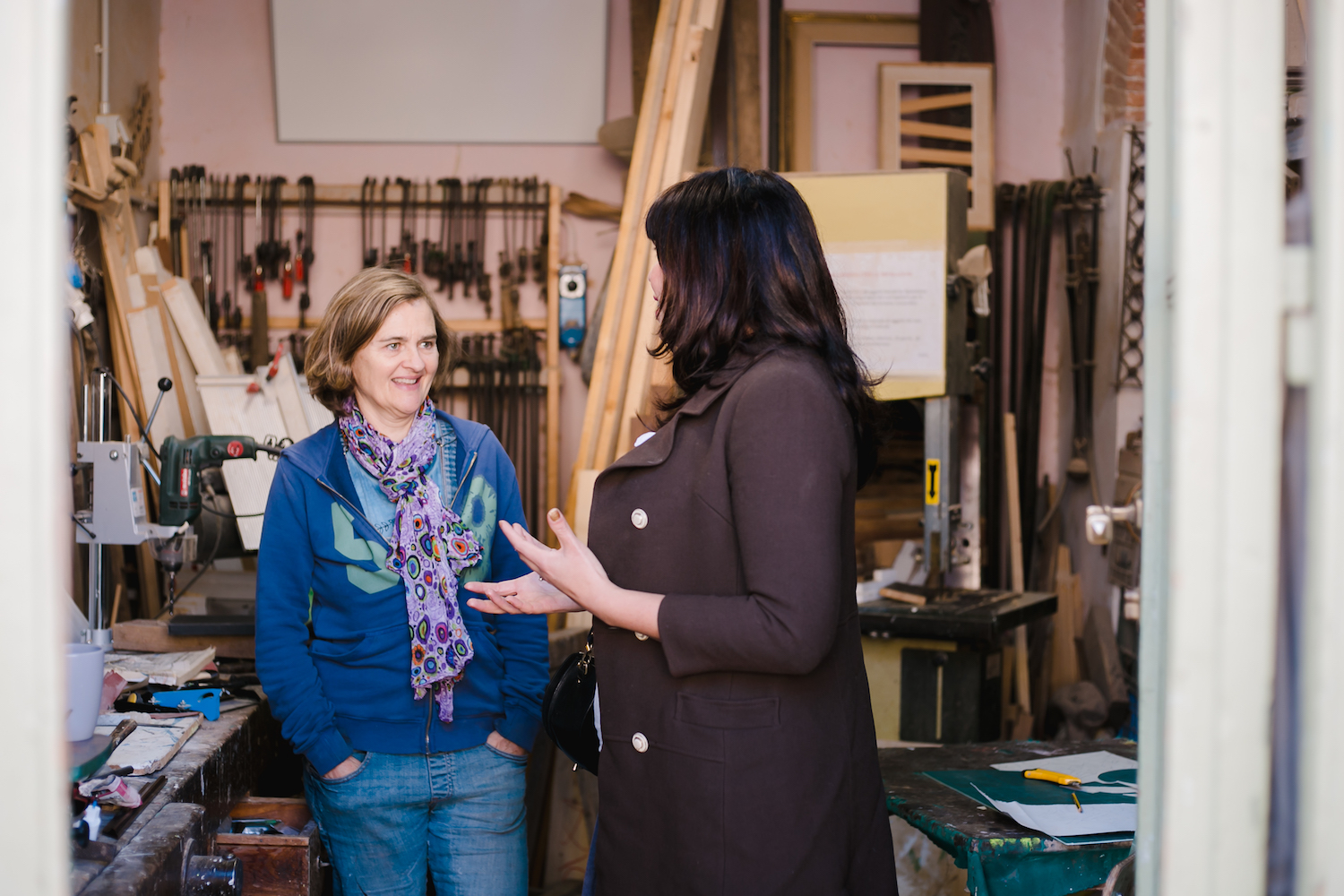 Duomo peeking among the stands in San Lorenzo (not where you will find true made in Italy goods, sadly).
Every month I write a post with my top pick's and events around town so be on the lookout on the homepage and check out this awesome guide to Florence that a few bloggers and myself collaborated on a few year's ago and this recent guide I completed on the Santo Spirito neighbohood. Don't miss this guide on cutting-edge Florence that I did for Lonely Planet. Also I highly recommend checking out these tips on meeting friends and locals via various groups in town. Need foodie recommendations?
Here's my 'Eat Florence' list (that changes almost daily) at the ready!
Oh yeah, Need free WiFi? Check out this list.
What Is GIF (Girl in Florence Doing?) : This Week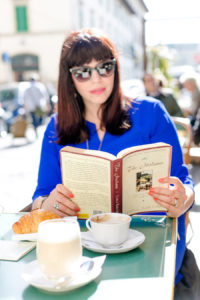 Each week I want to share where I ate, drank and generally was 'merry' just to give you a little insight of my daily life in Florence.
I'm eating… brunch at the new Floret terrace restaurant in Luisa Via Roma on the weekend and grabbing a cheeky lunch at Trattoria Sergio Gozzi with friends (order the polpette fritte, trust me).
I'm drinking a craft beer by Archea at new gastropub Pint of View in Santo Spirito or a gin-ginger fusion at Manifattura. Look for creative concoctions with hilarious descriptions by two of the city's best bartenders at Mad Souls & Spirits.
I stopped by.. Palazzo Vecchio for a walk in one of my favorite museums in Florence, the civic seat of the city throughout history, and up to Arnolfo's tower for one of the best views in town.
I went to the Medici Dynasty Show at their new location in an old Church on via faenza. This one hour show showcases 300 years of Florentine history focusing on two members of the famous Medici family. The script has undergone a revamp by Marissa Greffy and check out the personalized jewelry by Sara Amrhein available for purchase. Highly recommend doing this on your next trip to Florence!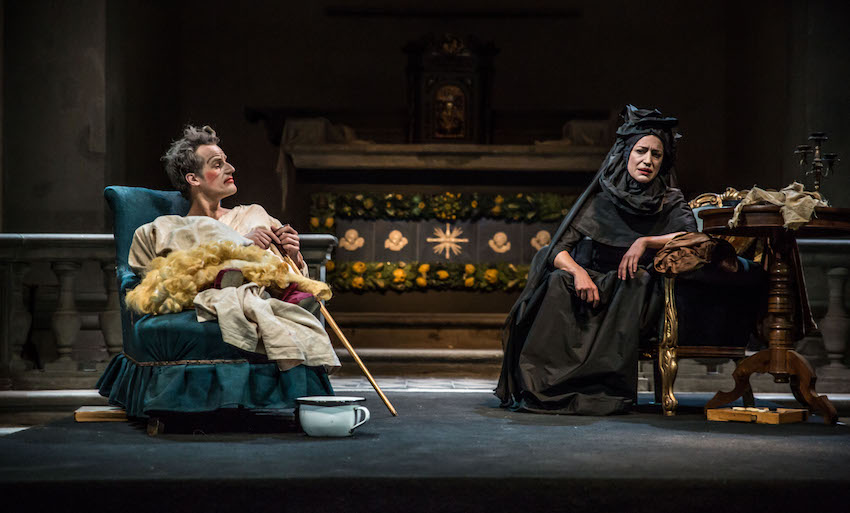 I left Florence for…America to visit family and friends for the holidays. I'm happy to be back but it really made me think.. 
I shopped at.. Obo Bottega on Via Romana for graphic-design edgy gifts with Florentine themes. The coasters, plates and homewares make for great gifts for those who appreciate our Renaissance city.
Nico got me a wonderful 'eco watch' from a cool store called MIO on via della spada 34. Here you can find up-cycled recycled objects from young local designers including jewelry, sustainable objects, crumpled maps, and even items from local street artist Clet, it is a definitely cool space and they take great care on what they choose to sell in the shop. Perfect for gifts (to yourself too).
ps. I am currently working on a San Frediano neighborhood guide to further showcase what I adore about this area of Florence.
Museums I Love (and why) 
I think art is something that can be enjoyed by everyone, we all get a different reaction from seeing precious ancient (and contemporary art) so I definitely would include a few visits the next time you are in town.
The Well-Knowns
You guys don't really need me to tell you about the most famous sites in Florence, there is so much cultural heritage in this city. I would absolutely recommend a first time visitor head to the Uffizi, visit Michelangelo's David and quite naturally the Duomo cathedral and Baptistery. I do however, have more of this info on my 'before' section.
*Insiders Tip: The Grande Museo del Duomo Museum is probably the best new open in the past few years. It contains hundreds of artifacts that once made their home inside the Duomo cathedral complex and its intuitive design makes it a really pleasant visiting experience. I highly, highly recommend a visit (plus you can see Ghiberti's original "gates of paradise" doors, the ones in front of the baptistery are a reproduction.
If visiting the entire complex (now encompassed in a 15€ euro (see everything) ticket – check out this post on Italy Magazine to organize your visit the best way possible (2018 tips ya'll!)
Also visitors can get an ever better view of some of the city's most important spots via these private tours operated by the museum even now. Notable tours (that I have personally tried) include touring the Duomo's terraces (1 hour visit) and the restoration workshop (30.00€ per person).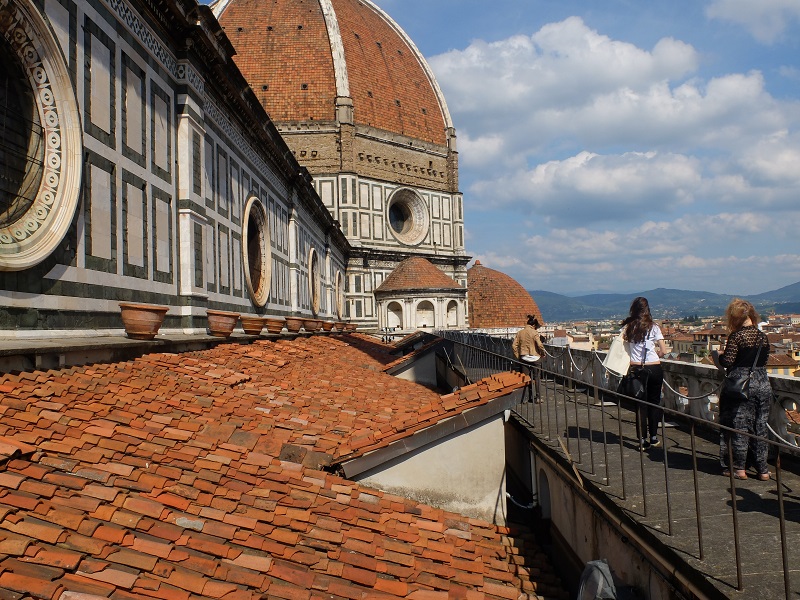 The Suprising Superstars
It always surprises me that so many places on this list never get visited by first-time visitors. There is more to Florence than the Uffizi, trust me. Here are a few options.
Palazzo Pitti
I cannot say enough how awesome this vast Renaissance villa really is. Besides the Boboli Gardens, I really love that there is so much variety in things to see here. Choose between the Palatine Gallery, the Silver Museum, the Costume Museum, the Porcelain Museum, the Gallery of Modern Art, the Royal Apartments and the recently acquired Contini-Bonacossi Collection. Give yourself a few hours and better yet, hire a guide.
Palazzo Strozzi is one of my most recommended spots to visit for those looking to see art shown well in Florence. A private foundation,  their goal (from 2006) is to bring international quality exhibitions and cultural events to Florence and Tuscany and they have certainly managed to do that. They currently range two exhibitions a year and their CCC Strozzina space is a delightful add-on showcasing an edgier side.
Bargello Museum
Formerly a barracks and prison (and was the first seat of government in Florence), this art museum dating back to 1255 is in the heart of the historical center and (in my opinion) one of the best. It has a wonderful collection of works of art including many Renaissance sculptures, bronzes and metal works. During the summer months, they often host theater, music and dance events in the beautiful inner courtyard. The Dontatello & Michelangelo rooms hold the most important works of art. address: Via del Proconsolo, 4, 50122 Firenze. Open Mon-Sun, 8:15-5pm. Full: € 4,00, Reduced: € 2,00, During temporary exhibitions, cost jumps to around € 7. 10 minutes walking from the station to the museum, otherwise you can take buses 14, 23 or A. Current exhibits can be found here.
Stibbert museum
Towards piazza liberta, I highly recommend the Stibbert Museum for kids and men alike because it is so darn cool. The former private collection of an Englishman, this vast space holds all sorts of collector's favorites, including an amazing weapons collection and beautiful tapestries. If only my home was like this.
Palazzo Vecchio
Florence's historic seat of power and medieval fortress dates back to the 13th century on top of Roman ruins (it was said to have been a Roman theater) by Arnolfo di Cambio.  It's one of my favorite places to bring people, because after all how many places in the world can combine Roman ruins, a Medieval fortress and ornate Renaissance chambers in one iconic place that still serves as the city's symbol of civic power. Its original purpose was to be the home of the city council made up of the powerful Guilds of Florence (also known as the Priori) who governed the Republic of Florence. Additions were added during the Renaissance (such as the beautiful Salone dei Cinquecento (Hall of the Five Hundred) and it is also possible to visit the Roman ruins below which are very, very interesting. You can read more about it via this helpful article on Visit Florence.
https://www.instagram.com/p/BeFhcr6Hi3D/?taken-by=girlinflorence
San Miniato al Monte
You can't come to Florence and miss walking up to one of the best panoramic points (better than piazzale michelangelo) in Florence, San Miniato is one finest Romanesque structures in Tuscany and it feels just as old as it looks, with construction beginning in 1013. address: Via delle Porte Sante, 34, 50125 Firenze. Free to visit. I also have this on my 'urban hike' itinerary for anyone who wants to see some of my favorite spots on foot.
San Marco Museum 
One of my favorite churches in Florence, every-time I visit I am surprised it is so empty. This former Dominican convent is home to a plethora of important art, and architecturally is quite fascinating as well, I wrote about the library by Michelozzo located inside earlier this year. The frescoes keep me coming back for more, and you can get a peek into 'monk life' and the ex-cell of Savonarola, the infamous friar who was burned at the stake in piazza della signoria. My advice is to come with a guide.
Brancacci Chapel
Piazza del carmine has recently become pedestrian only, which is quite refreshing when you think that this piazza used to be a glorified parking lot. It is also home to the Santa Maria del Carmine church and the famous Brancacci chapel, where you can see two layers of frescoes commissioned in 1424 by a wealthy Florentine merchant, Felice Brancacci. The frescoes here illustrate the life of St. Peter, who can be identified by his orange gown, completed by artistic genius, Massaccio. The inner cloisters and courtyards are quite lovely. Vitals: Cappella Brancacci, Piazza del Carmine, 50124 Firenze. Open daily 10am- 5pm, Entrance fee €6.
Santo Spirito church. Only open in the mornings 9:30am-12:30 (closed on Wednesday), this simple facade that began as an initial Augustinian complex, is my absolute favorite in Florence, it hides a beautiful feat of architecture and tucked in a corner chapel, a wooden cross made by Michelangelo. Free to visit, I love wandering here are on any given day, even just passing through for a few minutes of blissful solitude.
Bardini Museum & Gardens. The museum of Bardini is hardly on the tourist radar but is a great place to visit together with the adjacent gardens. Housed in a 18th century Palazzo, the collection by Stefano Bardini includes sculptures, paintings, furniture pieces, ceramic pieces, tapestries  and even old fragments from the city itself. Often overshadowed by its more famous sister Boboli, Villa Bardini is often our favorite place for an afternoon of leafy respite on a hill following Costa San Giorgio located on the Oltrarno side of the river. A lovely area on several levels (make sure to look for the Belvedere Terrace for a stunning view of the city) boasting a shady wisteria archway, bordered by hydrangeas. Bardini once belonging to the Mozzi family in the 13th century, however the gardens have had a total revamp over the centuries by antique dealer Stefano Bardini in the early 1900's. Museum Bardini address: Via dei Renai, 37.
Special Museum: Florence's Natural History Museum. This place is beloved by locals and showcases taxidermied animals of all types, wax anatomical models and skeletons in the Oltrarno area of town. La Specola's name derives from "observatory" and it also happens to be the oldest public museum in Europe! Yes it's a little weird but that's exactly why I like it. address: Via Romana, 17. 
Also check out these (free or almost) museums that people don't even know exist. 
The Newbie
Museo Novecento. Finally there is a space for art made in the 1900's. This is the newest player in the Florence art scene and takes over a large space in piazza santa maria novella. It also features artists in 'When The World Answered' by Jane Fortune and Linda Falcone.  Piazza Santa Maria Novella, 10, Firenze, On Fridays, opening hours are extended until 11pm.
Seasonal Favorites
Forte Belvedere, open during the summer months, this ancient fortress hosts a contemporary art exhibit annually, during the summer. This year is featuring sculptures by Antony Gromley in an exhibit titled 'Human'. I highly recommend stopping by since it is free to visit all summer long and is open until late September. Perks include one of the best views of Florence and a little bar where you can stock up on refreshments. address: Via di S. Leonardo, 1
San Niccolo Tower. This tower is one of the few remains standing from the old walls that used to surround Florence. I particularly love this place because it is in one of my favorite sides of town and the view from here is pretty amazing. They offer evening guided tours (in Italian and English) daily, every half hour, starting from 5:30pm-8pm. For information and reservations: Tel. 055-2768224 055-2768558, Mail info@muse.comune.fi.it. address: piazza poggi. 
Shopping
I'm a girl, I love to shop (duh), and without a doubt you can find some great options. I would skip the high-street garb on via calziuolo, with the exception of Luisa Via Roma, which always has a lot of fun items. Florence is home to so many small, boutique shops with artisans making true made-in-Italy wares. Here are a few of my favorites, divided by neighborhood.
Neighborhood: Duomo/Piazza della Repubblica/Ponte Vecchio
CLOTHING | Luisa Via Roma, 19/21r. You can't help but peek at the ever outrageous and interesting windows of Luisa Via Roma while walking along one of the most popular streets in town, but go inside and have a peek as well to see what's in style in Italy. They feature many famous brands and up and coming designers, plus they have a cool cafe' upstairs. Their e-commerce is also impressive.
CLOTHING | Tacs – Artigiani del Panno Casentino, Borgo Santi Apostoli, 43. When it comes to unique textiles, this place has a 50 year trajectory of success for their quality made long coats, wool jackets, hats, for both men and women. They can make-to-measure, and everything is created with their special Cosentino wool who's beautiful jackets are a serious staple for well-heeled Florentines in the know. They have an outlet in the Tuscan area of Cosentino.
CLOTHING | Guya,  Via Calimala, 29. A cool concept store stocking up on luxury designer duds since the 1970's, they now feature international designers and I love the beautiful shop as well. They love the colors black and monochrome styles. website.
CLOTHING & MORE | Boutique Nadine, Lungarno degli Acciaiuoli, 22/red, One of the best little shops in Florence, the designs are unique and vintage-inspired, with plenty of interesting knickknacks along with clothing for both men and women. The hard-wood floors give a very 'Anthropology Store' feel but with a more artisan flair. Prices moderate.
CLOTHING – ACCESSORIES | Marie Antoinette Firenze,  Chiasso dei del Bene 5/6 Firenze, 50123 Firenze
055 280906. High-end vintage clothing and accessories in a hidden square in the center of the city. There are some truly special items here and I like that they also stock lesser-known designers. Open Mon-Sun 10am-8pm, website.
LEATHER | Ben Heart: two locations in Florence, Via Dei Calzaiuoli 78, and Via della Vigna Nuova 97 R. This leather shop is quite a find, the Florentine owners (two friends) opened up shop after one had a heart transplant and thus a new lease on life. All of the products here (think leather jackets, bags, customizable belts, shoes) all are excellent quality and are hand-dyed (something you never see). I also appreciate the fact that the style is a bit more trendy than the classic leather goods you find at the leather school by Santa Croce.
https://www.instagram.com/p/BCvQNdGRTG6/?taken-by=girlinflorence
Neighborhood: Santa Croce & Sant'Ambrogio
ACCESSORIES | Florence Factory, Via dei Neri 6-8rosso, On one of the most popular streets in Florence (down the road from Antico Vinaio) is Florence Factory, a small yet dynamic space offering a "home" for entirely artisan-made items and gifts, mostly from Tuscany. There are a lot of my personal favourites here, including the jewelry of Officina Nora.
HOME ACCESSORIES | Lisa Corti, Piazza Ghiberti Lorenzo, 33/R, 50122 Firenze. From mezzeri to mandalas, cushions to curtains and drapes, right through to clothing for adults and children, this shop has it all. It's impossible not to find something you'll like, I love browsing this store and getting a coffee at nearby Cibreo.
LEATHER | Scuola del Cuoio, via s/giuseppe 5r. The leather school of Florence is iconic in Florence, created first to give a trade to orphans from WWII and still known as THE place for leather items in the city. Here you can be assured of its authenticity. Plus the place itself is quite cool to visit, you can see the workers at the old stands, they have a nice variety of true leather jackets and handbags, as well as cheaper cool accessories to take home. Prices range from budget (souvenirs) to high (leather jackets).
ARTISAN PERFUME | Aqua Flor, Via Borgo Santa Croce, 6.  This is a luxury perfumery specializing in artisan scents, entering is like visiting an alter universe. This store is so cool, you can customize your own perfume, pick up soaps, house scents and more. Prices range from moderate to expensive. website.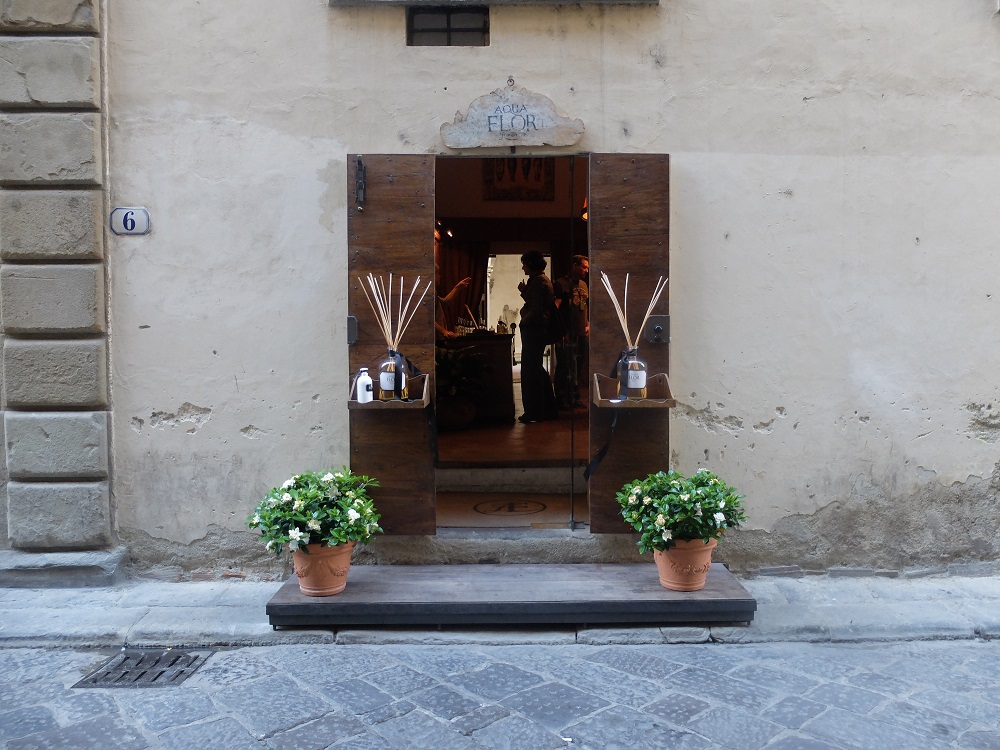 Neighborhood: San Lorenzo
ANTIQUE BOOKS | Abacus, via ginori 28-30r. I have what you could call, a thing, for beautiful antique books. Luckily in Florence, there is plenty to choose from and this store is one of my favorite shops in San Lorenzo. They use traditional techniques for book preservation and it is just as interesting to see in person.
VINTAGE | Desii Vintage, via dei conti 19r. It is pretty hard to miss this place since they almost always have three standing chairs, in Italy colors (red, white and green) outside the shop. Inside you will find a wide variety of vintage options, clothes, shoes, belts and more for both men and women.
LEATHER | Via de' Ginori, 23r. The shop's name is actually the address which makes it convinient to remember, but what is nice is that it is an oasis of cool leather items such as briefcases, purses, wallets and more in a neighborhood that to be honest, sells a lot of fake crap. Ask to visit the workshop in the back.
Neighborhood: Oltrarno
CLOTHING | MuseLab, via romana 142r. I was wandering in porta romana when I came across this small gem and I am so happy I did. The ladies who own and operate Muselab could not be sweeter, and their clothes are so interesting. I would describe the style as monochrome, bold pieces. Things can have a lot of fun accessorizing. Prices Moderate.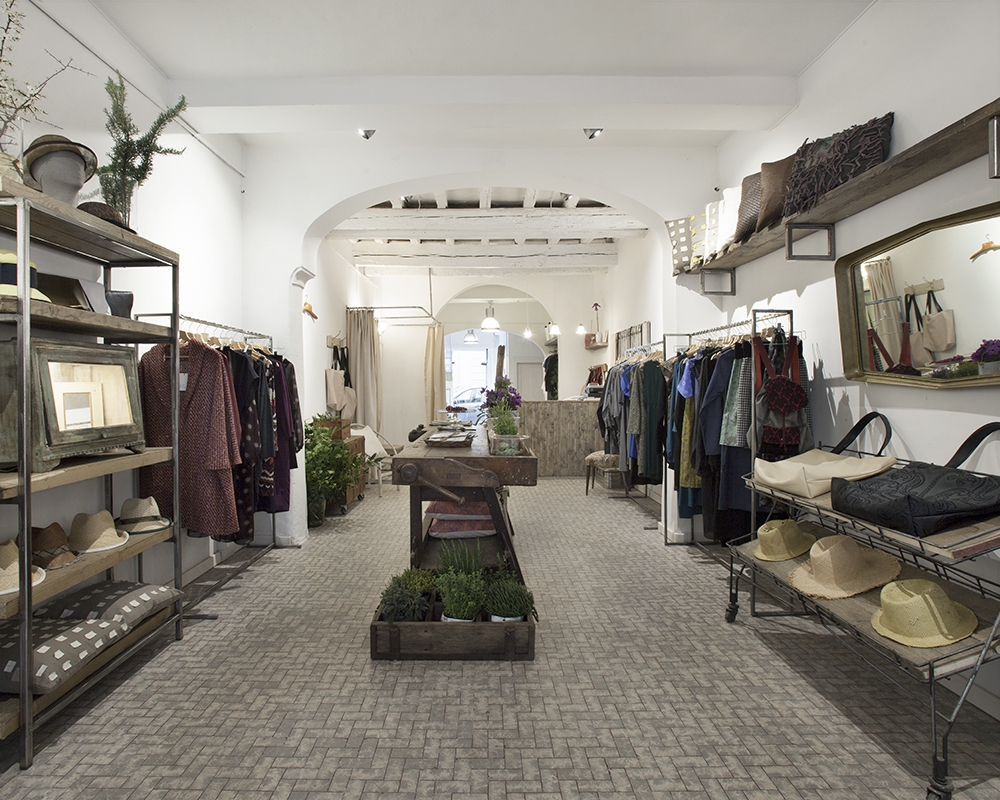 GIFTS: Anita Russo ceramics, via Romana 11/r. One of the shops I always visit before going home, Anita is a local artisan who owns her own 'bottega' on the hip street via romana. She makes her own ceramic goods, and they are simply beautiful, a range of cups, lamps, plates and a variety of items for the home, you can also make ceramics with her as well, through a private class. Prices: budget.
GIFTS | OboFirenze, Via Romana 42r. lovely new shop featuring the creative work of one Italian and one Norwegian, Francesca and Cathrine who produce a design-minded collection of gifts (awesome souvenirs) including plate wear, cushions, scented candles, Dante/Venere coasters and other delightful items.
https://www.instagram.com/p/BiOhAjBAGrp/?taken-by=obofirenze
GLOVES | Madova, Via de' Guicciardini, 1/red. THE shop to buy handmade, beautiful leather gloves in the Oltrarno, very close to the Ponte Vecchio, and the only spot that makes their gloves on-site. This traditional shop has been around since the 1950's (and later, but at a different location). Options range from classic cool, lined with luscious cashmere to more modern options and a few wild-cards. Open daily 10:30-7pm, closed Sunday.
https://www.instagram.com/p/BbZESsrDXGP/?taken-by=girlinflorence
CONCEPT | Atelier Via Maggio, via maggio 78r. This gem of a boutique is a family run business by Alessandra and her two daughters who focus on high-end Made in Italy fabrics, clothes, lingerie, accessories, shoes and more. It's the kind of place that you can grab a coffee, have a chat, pet a dog and discover some really interesting designs. I'm in love with their cotton one piece swimsuits. Also keep an eye out for their events including dinners in the Atelier, collaborations with Pitti Uomo and more.
https://www.instagram.com/p/BUt6VJFDVJy/?taken-by=girlinflorence
Jewelry & Fashion | Nokike, via serragli 122r. This is a recent discovery for me and after popping my head in a few too many times I'm convinced that this place is a real gem. A small store that carries artisan-made accessories and clothes, you'd be hard-pressed not to find something you'd like. From gold plated leaf necklaces, bejeweled sweaters to minimalist jewels.
Jewelry | A Thousand Joys, Borgo San Jacopo 11. I love the jewelry see that is almost entirely made of recycled silver by artisan Joy Franklin and modeled after historical ornaments with often art deco elements. A welcome addition and perfect juxtaposition with the gold ateliers on the Ponte Vecchio.
Magazines & More | Bjork, address: Via dello Sprone, 25R. This very cool hipster-friendly independent retailer and concept shop is actually down my street and is home to a variety of delights. Not least of all a great selection of eclectic magazines that are hard to find elsewhere (Kinfolk, I'm looking at you). Also on hand are a selection of clothing and accessories from interesting International designers, there are few watches that have been begging me to revisit soon.
HAUTE COUTURE | Tiziana Alemanni, Sdrucciolo de' Pitti 20. Tiziana's shop is a treasure trove of beautiful designs by this talented tailor in the heart of the Oltrarno. You will find both read-to-wear outfits, pretty floral dresses and black-tie attire or have a frock especially designed for you.
Bags | Dimitri Villoresi, Via dell'Ardiglione, 22. A find in the streets of the Oltrarno, Dimitri's workshop is home to an abundance of deconstructed, hand-stitched travel cases, bags and other various items. My friend AlidiFirenze introduced me to the brand and I'm in love, also because of Dimitri's technical knowledge and passion on making a traditional craft that also has a modern style.
ACCESSORIES | Frau Leman, Via della Chiesa 21r.  You could easily miss this shop because it's barely bigger than a breath but I for one appreciate artisan handmade leather goods and this is the real deal by Stephanie, a young artisan who just opened up shop in late 2018/2019. Her bags, wallets and accessories are not only pretty on the eyes they are also functional and she can customise any item to a customer's liking with a short turnaround.
https://www.facebook.com/FrauLeman/photos/a.332820244250860/385593088973575/?type=3&theater
HANDMADE | Giulia Materia, Sdrucciolo de' Pitti 13r. This store is the brainchild of artisan Giulia, originally from Arezzo and whose childhood face bares the logo of this small, but charming shop just steps from Palazzo Pitti. Inside you will find hand-bound colorful notebooks and pretty dresses, everything 'made in Italy' (but really) and many items created from recycled goods.
ACCESSORIES | Uashmama, Borgo S. Jacopo, 30r. A unique Tuscan-based company that has found fame around the world with their paper-based items made into stylish bread baskets, handbags, wallets, placemats and much more. Another bonus? The bags are completely washable. Great place to pick up a gift! 
ACCESSORIES | Campucc10, via del campuccio, 10R. A co-sharing artistic space features the work of several young designers in one shop window that always catches my eye when I walk past on Via Romana. They have everything from bold jewelry to plate wear and home accessories.
ARTISAN-MADE | Zouganista di Takafumi Mochizuki, Via dei Cardatori, 20. Takafumi is a Tokyo-born artisan who has studied the art of furniture restoration and inlay wood under under wood-worker Renato near my house. His tiny bottega is on the backstreets of the San Frediano neighborhood and features an eclectic mix of home decor, restored furniture, money clips, frames featuring famous Florentine attractions made with inlayed wood. Takafumi also worked almost exclusively with custom orders.
https://www.instagram.com/p/BZyhK5Kjl4l/?taken-by=girlinflorence
JEWELRY | Angela Caputi, Via di Santo Spirito, 58. One of the most iconic and best 'made in Italy' success stories in Florence. Anita's bold and colorful jewelry combine modern styling with traditional techniques, and they have adorned the necks and earlobes of famous people. I should mention that her work has a place in Palazzo Pitti's Costume Gallery and is accessible to the common folk. Prices are more than reasonable.
ACCESSORIES | Wood&Cut, Via Bartolini 1/3 rosso. A tiny little space on a small street near piazza del carmine, two ladies make interesting objects out of wood, in a sustainable manner. From earrings to wine stoppers to home accessories, you will be delighted at the range of great items that make great souvenirs that are truly made in Italy by two passionate women. Read more about them here.
GIFTS | Tabesce, via romana 39r. Another 'made in Italy' spot that is a wonderful place to shop for gifts, the owner Chiara is super friendly and will explain any item and offer you tea, what more can you want? I love my hedgehog table piece made out of an old journal and glass blown products that we often pick up for friends or relatives. They also sell fun handmade hats, that they can fit to your head and pretty jewelry, often made of blown glass.
JEWELRY | Officine Nora, Via dei Preti, 4. This place is one of the coolest spots in the city in Santo Spirito, the concept is WORK/SHOP for contemporary jewelry makers and lovers, and a sort of 'see where it's made shop' for the public as well. If you want something unique and special , this is the place to get it. I love all of their work, everything is made with passion here.
CLOTHES | Hello Wonderful, Via Santa Monaca, 2. This small, inviting shop is close to Piazza Carmine and is the brainchild of designer Livia Quaresmini and her partner. Beautiful clothes made from recycled cloth make their home in this very bright and cheery modern shop. They can custom orders and tailor the clothes to your body, which is a huge plus. It's a great spot for true authentic, made in Italy, designs. 
VINTAGE | Ceri Vintage,  Via dei Serragli, 26. A fun shop that is a bit of an institution among locals who appreciate unique war period pieces mixed with classy vintage treasures from timeless brands (like Prada) collected personally by owner Danilo Ceri. I adore this shop, it is full of treasures.
STATIONARY | Le 18 Lune di Chiara Alberti, via romana 18/r. A tiny little spot selling small gifts and beautifully designed cards with Florentine motives in illustrated form.
PRINTS | L'Ippogrif,  Via Santo Spirito, 5r. This special place sells prints (using copper) and is owned by artisan Gianni Raffaelli. One of those places that you really should make some time to chat with the people inside as their craft may not be around forever.
DRESSES | L'Abito Che… Vorrei, via romana 62r. A wonderful clothing store by talented artisan Giuliana Becattini whose shop is 110% Italian. Everything in there is made using quality materials and she will also create a dress that is especially for you, tailoring services including. I would describe her style as shabby chic, stylish and very comfortable. The sort of items that are timeless, plus she happens to be really nice.
MEN & WOMEN CLOTHING | Dexter, via maggio 7r. A small shop founded in 2011 featuring very cool bohemian, vintage-inspired clothing with a culture edge by up and coming designers hand-delected by the cool owner. Expect plenty of textures and warm colors, for something a little different, definitely recommend a visit. facebook page.
CONCEPT | Coexist, Piazza Nazario Sauro22R. Brand new concept store selling interesting minimalist-style clothing for men and women, along with accessories, music, and hard-to-find magazines. Very hipster. Located next to Geletaria Carraia.
Il Cortile di Marianna Bartolucci | Via dei Serragli, 12. This cute shop on via serragli sells women clothes, artisan-made shoes, handcrafted jewelry and the most beautiful underwear and bras I've seen in a long time. Quite simply put, this place is a gem.
Marina Calamai | via santo spirito 14. A local Florentine artist who also studied in Paris has a beautiful 360 -degree panoramic studio in the Oltrarno where she works on both her art and custom made jewelry, homewares. I especially love her bronze-plated accessories, cupcake inspired ring line and vitamin place mats.
Albrici | Via dei Serragli, 20r, an antique store from 1961 that also sells high-end vintage clothes is a recent find. In fact, I'd argue one of the best finds this year along the category of "stores I used to walk past." Make sure to explore every nook and cranny to revisit fashion throughout the decades.
https://www.instagram.com/p/BOB9YblB654/?taken-by=girlinflorence
JEWELRY ARTISAN | Sara Amrhein, Via dello sprone6. Sara is a wonderful person that I recently featured on my localsILove interview series on the blog. She is a local artisan specializing in bold, expressive polymer clay art jewelry that are the perfect statement pieces. website. Prices moderate.
CLOTHING | Quelle Tre Di Cecilia Luciana E Cristiana Scardigli, Via di Santo Spirito, 42. Three brilliant women who's shop in the Oltrarno is one of my favorites to window shop for interesting clothing with a bohemian edge. Here you'll find handcrafted dresses, skirts, shawls, bags, along with items for children.
Neighborhood: Sant'Ambrogio/Duomo
CLOTHING & MORE | Societè Anonyme, Via Niccolini 3 f, ang. Via della Mattonaia 24/a/b/c/d  . I adore this independent shop, stylish boutique and concept store nestled in the Sant'Ambrogio neighborhood. It has a North-European concept, as was inspired by underground spots in Berlin & London.  Website.
JEWELRY | L'Atelier Artisanal di Caroline Broussard, Borgo Pinti 75r. I love this tiny shop selling artisan-made jewelry by a French native who strives to use natural stones and non-iritatting metals (great for people like who me who often get red ears after putting on non silver-based earrings). Prices range around 15€-30 per product, have a look at her handmade pendents and layer necklaces too.
Neighborhood: Santa Maria Novella
BEAUTIFUL ACCESSORIES/LEATHER BAGS: Digerolamo. Via del Moro 58/R. A beautiful small shop on a hidden street between the station and the Arno river with a variety of beautifully, sustainable artisan crafted bags and jewelry. This is a recent discovery of mine and I am in love with all of their products, especially the gorgeous gold-plated statement necklaces. Their showroom is in the shop itself and they adhere to a full-transparency type of business. For that they deserve my utmost respect. Jewelry starts at around 75 euros an items, bags around 200. Facebook
https://www.instagram.com/p/BCbEHI6RTEN/?taken-by=girlinflorence
COOL SOUVENIR/GIFTS: Mio Concept Store.  Via della Spada, 34, one of my favorite boutique shops in town, here you can find all sorts interesting up-cycled objects and jewelry, sourced from local artisans. They also feature plenty of items by local street artist Clet, which is definitely something very unique from Florence. Prices: moderate
HISTORICAL PERFUMERY/GIFTS: Officina Profumo – Farmaceutica di Santa Maria Novella. via della spada 16. One of the oldest pharmacies in the world, you cannot miss this place. Browse each room slowly and make sure to pick up some of the more famous items, such as the rose tonic water and the ladybug liquor. You can also have a glass of tea here, it is pretty amazing to see in person. prices: moderate.
Neighborhood: San Niccolo
HANDMADE LEATHER NOTEBOOKS | Il Torchio, via dei bardi 17. One of my favorite shops in Florence is run by Canadian, 'new Florentine' Erin who is a modern artisan creating a selection of unique leather-bound notebooks (which she can personalize), photo albums, stationary, address books and more.
https://www.instagram.com/p/BWIjU6TnKIK/?hl=en&taken-by=legatoriailtorchio
STREET ART/GIFTS | Clet's Studio,  Via dell'Olmo, 8. One of the city's most iconic street artists, Clet Abraham, has a studio in the San Niccolo neighborhood of the city. Likely you will spot one of his modified signs around town. Here you can browse some of his most famous works, along with fun gifts such as street art stickers, sketches and more.
JEWELRY | Alessandro Dari, via san niccolo 155r. Just as much a museum as a shop, I love taking people to Alessandro's eclectic studio for a look around his interesting architecturally-driven jewelry that resemble sculptures. He is 100% self-taught and uses his studio not only as a showroom, but also as a workshop, you can often peek him working on his latest creation in a small back corner. He also teaches private classes to small groups.
PERFUME | Sileno Cheloni Personalised Perfume, via di San Niccolo 72r. Master perfumer artisan Sileno has now opened his own shop in the San Niccolo neighborhood and can created completely personalised scents from raw and natural ingredients for curious travellers who want something a bit more bespoke.
PERFUME | Lorenzo Villoresi, via dei bardi 14. A custom-perfume artisan located in the San Niccolo neighborhood, he has dedicated clients from all over the world, he also carries a line of home fragrances, candles and my favorite, his scented stones!
Neighborhood: Beccaria | Campo di Marte
SHOES | New Kid Footwear: Shoes & More, Via del Ghirlandaio, 18. Here you will find trendy women's and men's Italian leather shoes, tote bags and clutches, their products are made in Tuscany, in the valley between Pisa and Florence and they take special attention to source local materials and support small family run businesses.  WELL worth the walk guys. Ps. you can ask to customise shoes and clothes!
https://www.instagram.com/p/BiXBtsgAduV/?taken-by=newkidfootwear
LEATHER | Jen Mascali, an up and coming leather handbag designer who has items that I truly like. Her style is very bohemian, and she sources only the best leather for her bags. She runs her business out of the campo di marte neighborhood, you can contact her directly to make an appointment. email: info@jenmascali.com
https://instagram.com/p/4R_jd-tecJ/?taken-by=jenmascali
MARKETS TO VISIT
Italians love their markets and let's be honest here, who doesn't love instagramming a picture from their latest farmer's market trip downtown, a colorful medley of fresh squash and peaches. Ready for the taking. Well Florence has all of that and more and to get the most out of your holiday make sure to visit a few! Below I have categorized them by type.
Leather goods/scarves/purses
Porcellino Market – think 'wild boar' in piazza Mercato Nuovo, Loggia del Porcellino. Open daily. Here you can get your 5 euros sarves, bags, purses, keychains and take a selfie with the most popular boar in town, don't forget to rub his nose for good luck!
San Lorenzo Market around Piazza San Lorenzo (has recently been moved), but you can find it still off of via nazionale and the mercato centrale (plus behind). Here you will find a larger selection of tourist goods, not all made-in-italy but definitely fun to walk through. Open Daily.
Flower Market: Piazza della Repubblica, every Thursday morning (halts in August). I adore this market, not only because its vibrant atmosphere is like a Tuscan dream, also because prices are cheap. Allowing me to replace the plants I kill regularly.
Lets Talk Food!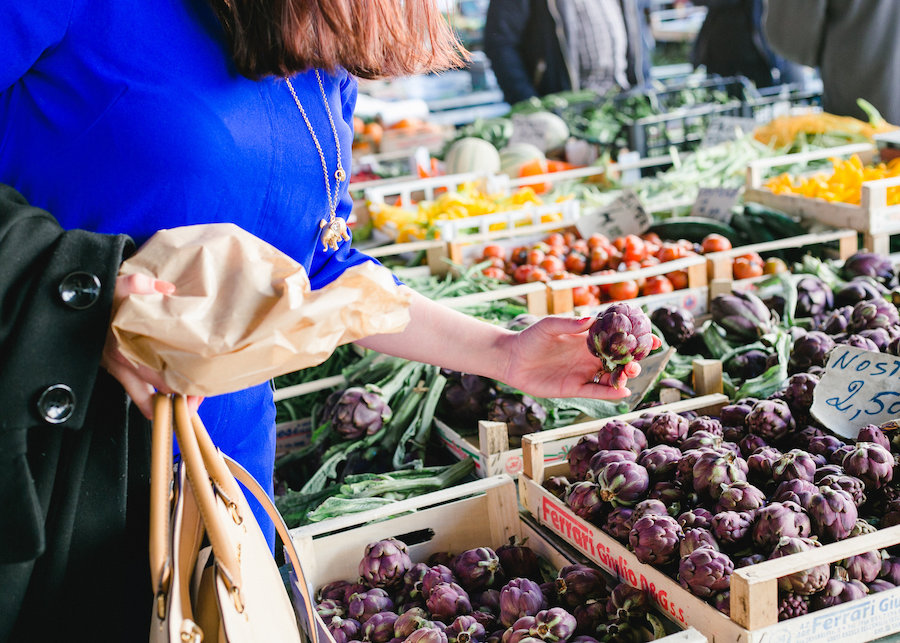 Mercato Centrale in the San Lorenzo Neighborhood, open daily until around 2pm. An institution of a place, with vendors hawking all sorts of products, from fish to exotic fruits. Upstairs you will find the fancy food court I adore which makes this area even more awesome!
Sant'Ambrogio Market, east of the city in Piazza Ghiberti. Open until around 1pm, here is where I normally shop for fruits & veggies., plus meats, fish and cheeses. There is something about this place that makes you want to embrace a healthy lifestyle once and for all. Plus everything is really really nice.
Fierucola market, Piazza Santo Spirito – every third Sunday of the month. The organic lover's dream, this market has all sorts of local bio-products, including quality honey's, cheeses and olive oil.
The Antique Lover's Kryptonite
Ciompi Market located in Piazza dei Ciompi, every day but Sunday (except for the last Sunday which makes for a huge extension of the regular market). A fun place that I love to walk through and search for vintage sunglasses, old city keys, maps, record players that I cannot afford and more. This is one of my favorite places in all of Florence.
*** The flea market has been temporarily moved to nearby Piazza Annigoni while the ciompi area undergoes renovations.
Antiques Market at the Fortezza da Basso, west of the city not far from the Santa Maria Novella Train Station. This market is held on the third saturday and sunday of the month and is the mother of antique markets in Florence. You can find some real gems here, just check out the photos from Birgitte's Blog 'A Dusty Olive Green'.
Santo Spirito Market, Piazza Santo Spirito, every second Sunday of the month. I love this market because it's in the oltrarno and I have often found cool stuff here to boot.
The 'Everything' Market
Le Cascine market at Le Cascine Park every Tuesday from 7am to 2pm. This market has been here as long as I can remember and combines everything from old sweaters, farmer's market products, shoes, scarves, anything youdidn't know you needed.
Cooking Classes
There are plenty of options when it comes to cooking classes in Florence. My favorites include The Food Studio, in the oltrarno neighborhood, and Desinare (which has a truly incredible space).
Though for a TRUE experience, I highly recommend the cooking class offered by Giulia of the blog, Jul's Kitchen. Just a short bus ride away from Florence, you can market shop in a beautiful little town where she grew up and learn how to cook simple, wonderful Tuscan meals with someone I truly think is a gem. Her little house is almost a 'borgo' (Tuscan hamlet) in itself. Highly recommend.
Wine & Food Tours
KM Zero Tours is company operating out of Montrogoli, Chianti — about 25 minutes from Florence and whose aim it is to take you around small and local producers (cheese, wine and more) and tell you more of the behind-the-scenes story. They also have a beautiful villa to rent (also in sections) where they whip up meals and give you recommendations. They are incredible, and I have found a renewed love of the Chianti area because of them. Website.
My go-to trusted wine tour company is most definitely Degustibus. They are an association that believes in local, small producers and they will take you on a small group tour in Chianti, Montepulciano or anywhere you might be thinking.
For the best food tour in Florence go on one of the Curious Appetite gourmet food experiences cultivated by local expert Coral Sisk, guide and blogger of The Curious Appetite, I went on their aperitivo tour and had a wonderful time. This is a team who knows quality and knows how to have a good time too.
Fiat 500 Tours – Vespas – More
My Tours does a little bit of everything, but what I think is truly special are their Chianti Vintage Fiat 500 tour,  be a rider if you don't feel up to learning how to double-clutch, but riding in these guys is such a wonderful experience.
Ride a Tuk Tuk, you know those cute little three-wheeled cars, in a small tour around Florence. While I secretly hate segways (not really a secret) this instead seems like a lot more fun. My friends who have been on this tour truly enjoy it.
For a personalized, high-end tour by experts that will wine and dine you with ease. Go with Annie and Rome and Tuscany Tours, this is definitely more for those with a budget, but they offer a more curated experience. I especially am impressed with their new itinerary for a unique shopping tour taking you into real Italian leather factories with a local handbag designer, plus fancypants lunches!
Guides I Trust
For art history and private tours, I really like Alexandra Lawrence and Molly McIlWrath both of whom I personally have done tours for. I also highly recommend the tours offered by Context Travel, which used highly-educated guides who go more in-depth (in a fun way) all over Europe.
Outside of the city:
Chiusdino, Tuscany
Monte Giovi, Rufina, Tuscany
Venice & Viareggio (locations for Carnivale)
Vallombrosa, Tuscan Apennines
Thermal Springs, Rapolano Terme, Tuscany
Pistoia, Tuscany.
Get out of the city and take a day-trip to Pistoia. Great Saturday markets and gorgeous surrounding countryside, who knows you may just meet a donkey like we did.
Malmantile, Lastra a Signa, Tuscany
Every year this small pretty town located close to Florence in lastra a signa has a really cute medieval festival. Fun for kids and adults alike. 
SaveSave
SaveSave
SaveSaveSaveSaveSaveSaveSaveSave
SaveSave
SaveSaveSaveSaveSaveSave