I have never been more happy to welcome a new month than I have for this one so let's talk June events in Florence. While you can't blame a month for bringing bad luck and despair; I am going to do so anyway, leaving behind any irrational thoughts with the moody, grey cold that now seems a lifetime away. My plans are to slowly finish off my massive list of deadlines and hopefully embrace a more peaceful existence thanks to folks like Relax Firenze (they seriously are incredible people). 
June has mercifully arrived with sunshine and warm enough temperatures to wear sleeveless shirts and shorts. While you'll still want a (light only) sweater in the evenings, highs to kick off the month are in the mid to late 80's (28-30 degrees celsius) so pack accordingly.
This is when you need sunscreen, good sunglasses, a decent pair of shoes (skip the flip-flops as the city is very dusty and you don't want to catch them on a cobblestone and be shoeless back to your hotel/apartment. 
Florence is now back to being its normal annoying high season self. The Ponte Vecchio heaves with people come 10:30am and Ponte Santa Trinita is predictably covered with sad, lost discarded gelato (speaking of – TimeOut included a roundup of my favourite gelato shops in the city here!) that has quite literally melted itself into the bridge by mid afternoon. It is what it is and for peace, quiet and perhaps a tad more harmony my advice is always to get up early and enjoy the city before everyone else does. You can thank me later. 
This month's link love from Italy and beyond 
News from the Uffizi; Following nearly a year of renovation, the museum has debuted the rooms dedicated to 16th- and 17th-century artworks, vaunting 105 pieces by Venetian and Florentine masters across 14 rooms. Via The Florentine. 

 

Speaking of The Florentine, one of their best editors/writers is leaving and wrote this sweet sendoff. You will be missed Mary, but we all know great things are ahead for you. 
I recently went on a rant on Facebook about instagrammers behaving badly and this article on Curiousity Mag pretty much sums up my feelings about the weird wild West that travel "influencers" sometimes encompass. 
Speaking of… this is MY kind of influencer. 
This sounds like the perfect summer pasta, thanks again Jul's Kitchen! 
"Husband, 100, and wife, 103, believe Hershey's Chocolate is the secret to their long marriage" I mean THIS. 
Surprisingly or maybe not so, I've been taking the time to read again and this summer list by The New York Times has many I want to devour. 
"The woman defying tradition with pistachio." I LOVE this piece by Curious Appetite aka Coral Sisk who went down to Sicily to bring us this amazing story. 
Last but not least, this is actually my latest piece for Dievole regarding Italian cocktails and the cities where they are from. Hand me a Bellini y'all.. 


 
June 2nd (worth mentioning even if this post is being published on the 3rd) is a holiday in Italy that everyone who lives and cares about this country should care about, it is a day that celebrates Italy decision to become a republic in a tight vote following the Second World War. Viva #FestadellaRepubblica
https://www.instagram.com/p/BjiAgsEgZQo/?utm_source=ig_embed
This June returns as per usual Calcio Storico, Florence's own brand of violent historical football pitting together men in tights grouped by neighborhoods of the city (obviously I'm for Santo Spirito or "Bianchi")  who are very very angry (or really excited, it just depends how you look at it.). The games begin on June 9, 10 with the final winner-takes-all taking place on June 24th on the Festa di San Giovanni, feast day in the city of Florence which also includes a costumed parade throughout the city. It's always a lot of fun in my book! Tickets range from 29€ to 80€ depending on just how much of a fan you are. More info on tickets here.
Cool contemporary artists space Numeroventi this year is turning three (and she's potty trained) and they are set for a week-long series of events from June 7-15th showcasing their current artists in residency. They will also be opening up a shop and gallery  with the launch party taking place on June 8th from 3-8pm. 
Storytellers in Florence is back this month on June 8th and voting is still ongoing to pick a topic though "adventures on the job" seems to be the near winner here. a great follow up after last month's escape (was an absolutely splendid night. As per usual it will take place at independent bookshop cafe Todo Modo (Via dei Fossi) starting at 7pm and ending at 9pm. You are more than welcome to just come and watch people share their stories and do keep in ind that there is a minimum participation fee of 10€ that includes a beverage of your choice (I love a cynar spritz). Beyond the costs to keep Storytellers going, any proceeds from the entry fee will be donated to an organization that, if possible, will be related to the theme . If you have a story to share based on this theme, be sure to contact Linda on Facebook or by email at [email protected]. 
As per usual the lovely ladies of Cultural Salon Firenze have an exciting lineup for the month of June. Events to watch out for include Yoga with Brenda Swanson on June 4th together with a pool party at Klab, a social meet up event at Enoteca Bellini on June 11th, and a book presentation at the Harold Acton Library on June 12th. 
Love Open Mic nights? Don't miss the one held the first Friday of every month at Virgin Rock Pub, Via dell'Agnolo 78 (9:30-11:30pm), hosted by the lovely Patti DeRosa.
For those who want to improve their Italian or simply just meet new people in Florence, I highly recommend attending the "Speakeasy art gallery night" on June 5th at a local art gallery (Chiasso Perduto). The linguistic libations take place from 7-9pm.. 10€ entry which includes drinks and snacks. 
NYU in Florence kicks off its season of special summer music recitals, opera, cabaret and theater on the grounds of Villa La Pietra this June on the 6th with a "Singing Verdi in the 21st century" concert followed by three other exciting events, see the full lineup here. To book your seat, email [email protected]. 
Crossing Borders and Boundaries – with more people on the move than ever before, Kamin Mohammadi and Katja Meier will chat with David Orr about the great issue of our times, migration, and the nuances and differences between being an 'expat', an 'émigré', an 'immigrant' and 'refugee'. What do these different terms mean and how do they affect our lived experience? The talk with take place on June 6th, 6-7pm, at St. Mark's English Church. 
Thursday, June 6th one of my favourite local bars in Piazza Tasso, Circolo Aurora, will host a music show –  Gajè Gipsy Swing live – from 9pm-midnight. 
June 6th: I love anything involving books and the British Institute is hosting a reading exchange that evening that asks just that you bring a book you have read and enjoyed recently –  everyone will have a few minutes to talk about their books.  This event is open to all. Afternoon tea served from 16.30.
Everyone has a story to tell but how do you actually go about turning that into a book that will speak to a general readership? This workshop on June 8th with authors Kamin Mohammadi and Katja Meier. will help you navigate how to boil down factual research into a palatable and engaging narrative, and how to weave larger societal and global questions and issues into a personal story. address. St. Mark's English Church. more info here. 
Love artisans? Me too! And guess what, the Heyart foundation will host a Creative Market with handicrafts on display from June 8-9th. in beautiful Piazza Ciompi from 9:30am until May 12th, 8pm.
Need a pick-me-up? Well, every Thursday morning there is a flower market (see featured image) in the porticoes of Piazza della Repubblica. If you're serious about buying flowers and plants come early to get the best of the bunch.
Pitti Uomo is back this June from the 11th to the 14th with three days of fashion shows showcasing the latest in menswear and a plethora of events that coincide with this biannual fair. Though most of the events are by private invite only, the city becomes a well-dressed open fashion show with "candid" posing in various squares, coffee bars and fancy bars.  Check out the event list here.
The Estate Fiesolana (Fiesole Summer) concert series kicks off at the Roman Theater in Fiesole (one of the arguably coolest venues for such events) on June 20th and there is a rich calendar of concerts to look forward to until August. Here's where to see them. 
San Giovanni is the city's Feast Day for St. John the Baptist that takes place annually on June 24th. With a day off for locals, it also marks the finale of the famous Calcio Storico football match and a fireworks show around 10pm from Piazzale Michelangelo. The best place for a great view is along the Lungarno (but get there early to nab a spot!). 
This is the chance to check out the photo exhibition "Heroes: Bowie by Sukita" dedicated to David Bowie, an undisputed icon of pop culture, portrayed by a master of Japanese photography: Masatoshi Sukita (who was a personal friend of Bowie and features him in over 60 photos.) I first fell in a sort of trance over Bowie's music myself due to an obsession with a dark European movie about drugs from 1981 called "Christiane F". You can check out the exhibition at Palazzo Medici Riccardi on Via Cavour until June 28th.
The monthly organic market in Piazza Santo Spirito will be held on June 16th this month and will be themed around Tuscan bees. This is a great opportunity to browse organic and often local wares and enjoy one of Italy's best pastimes, people-watching through the market like a champ.
I'm excited to hear that Apriti Cinema, a great initiative showing outdoor movies in Florentine locations, will be back this year with the location being Piazzale degli Uffizi. The fun starts on June 26th and will show films (with Italian subtitles) nightly until August 8th. Full program coming soon.
I've always been a fan of Vintage Selection and this year's summer edition "back to the roots" is taking place from June 26th to the 28th at the Fortezza di Basso. It offers fans of vintage and vintage-inspired goods a decent selection of items ranging from glittery vests to signature Chanel bags. Info: Open 9 am – 7 pm (last day 9 am – 4 pm), Admission 5,00 euro (they do not allow dogs entry). 
When I can't take the heat in my third-floor walkup apartment, going to the movies means I get free air conditioning with the cost of a cinema ticket so I highly recommend seeing this month's original language lineup at The Odeon Firenze. Out this month is Rocketman, The Dead Don't Die, Dark Pheonix, Beautiful Boy and Being Leonardo da Vinci, you can download the program until the end of July here.
I implore you to check out Palazzo Strozzi's "Verrocchio, Master of Leonardo", an incredible exhibition with 120 work of art all about a certain Renaissance artist Andrea del Verrocchio in which Leonardo da Vinci was a pupil (part of a series of initiatives honoring of the 500th anniversary of his death). There is also a special section at the Museo Nazionale del Bargello, for a full description – click here. I got to visit recently myself and was blown away by how much I had to learn about Vercocchio… the exhibition will be on until July 18th. In addition, there is also a really interesting hammock display inside Strozzi's courtyard – part of a Brazilian social network concept inviting anyone and everyone to play in the hammocks!
https://www.instagram.com/p/Bx1tGeeiKyM/
Street Food Along the Arno #Lungarnodeltempio: This is by far one of my favorite things to do in the summer. Along the Riva del'Arno on Lungarno del Tempio, you'll find a cool outdoor space with food trucks including "PescePane" (the Italian answer to the fish burger) and a pretty awesome burger truck along with gelato, a Texas bbq truck among others. This is definitely a place where locals go and if you like street food/being outside, this is the place for you. open 12pm – Midnight.  address: Lungarno del Tempio.
Another spot has reopened recently, Serre Torrigiani in Piazza, an affable urban outdoor bar nestled in the centre of the city near Piazza della Republicca and perfect for a morning coffee, afternoon aperitif or light lunch or dinner. 
While not exactly a specific event, June marks the opening of many of the city's rooftop terraces. Most of which are on top of hotels where anyone can go for an aperitif drink, or sometimes even stay for dinner. The bonus is you get a beautiful, panoramic view of the city. Just be aware that drinks will often be a little pricier. This is definitely one of our favorite activities on a beautiful summer evening. Favorites include:
"La Terrazza" on top of Hotel Continental is open to the public and is a sexy, sophisticated spot to sip a moscow mule with a birds-eye view of the Ponte Vecchio. Pricey, cocktails cost around 16 (if not more) euros, open daily from 3:30pm-10pm. address: Vicolo dell'Oro, 6r – 50123 Florence, Phone. +39 055 2726 5806 , E-mail. [email protected].
Hotel Palazzo Guadagni offers a beautiful covered terrace overlooking Santo Spirito square and as of this year, is open to non-hotel guests for evening aperitivi in the loggia rooftop bar. You do however want to call ahead as spaces are limited. address: Piazza di Santo Spirito 9. Phone number +39 055 265 8376. 
Glance Summer: Every Tuesday and Thursday from 8-11pm you can enjoy a panoramic aperitivo with live music on one of Florence's newer rooftops with a pool. address: Via Nazionale 23.
S.esto at Hotel Excelsior is a prime spot for fashionistas to grab a drink on one of the best terraces in town. I would skip dinner here and just get the drink. Piazza Ognissanti, 3. Open 7:30pm-10:30pm.
B-Roof is an awesome rooftop bar on Hotel Baglioni. It is the ideal place for a sundowner aperitivo with a large, expansive terrace at your beck and call with a bird's eye view of the Duomo cathedral (and not only). Dig into curated snacks and fun cocktails, keep in mind that it's best to make a reservation. Added bonus, you are very close to the train station should you need to jet off quickly. +39 055 23588865 www.hotelbaglioni.it.
Oblate stays cool. On top of the Oblate library lies a cafe that is quite popular with the Italian student population. The great thing is you can also get a drink here and prices are cheap so this is a wonderful option for those who are on a budget, but still want the Duomo smack in their face. address: via dell'Oriuolo, 26. Cool place to organize a private aperitivo as well. Info here.
Hotel Plaza Hotel Lucchesi's stunning rooftop terrace by the National Library is one of my favorite places to go for a rooftop drink and they are probably the best price/value for fancy hotel experiences, do keep in mind that prices went up in 2018 and you cannot get just a drink during sunset. Be prepared to spend at least 30€. Reservations recommended Prenotazioni ed Informazioni allo 0552623500 e[email protected]. address: Lungarno della Zecca Vecchia, 38.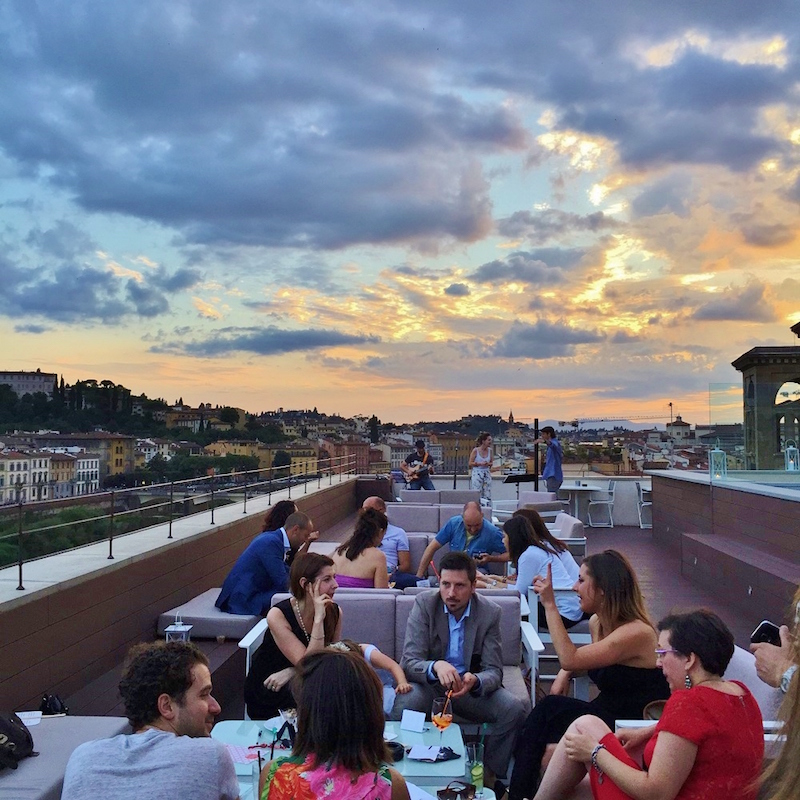 Hotel Kraft is one of the lesser-known spots for dinner or a drink in Florence and I actually quite like it for the simple fact that it is almost rarely mobbed and service is friendly. You'll find tucked away on Via Solferino, 2 near the American Embassy. 
Grande Hotel Minerva, '360 Three Sixty' Rooftop Bar. Always an iconic destination in Santa Maria Novella. This is one of my favourites in the city and offers the best view of the Duomo cathedral. Open daily from 7pm-midnight. Email [email protected] for a reservation and to find out more regarding consumption cost. 
Hotel Torre Guelfa has a tiny bar on Borgo Apostoli on top of an ancient tower (you have to ask at reception if they have space, hotel guests get first priority). The view from here is one of the best in town and drinks are as affordable as 9€ (price quoted from 2018) for a spritz (a steal on a Florentine rooftop).
Outside of Florence: My Top Picks
Not in Florence but this is an event close to my heart and would be such a wonderful experience for anyone visiting Florence. A wonderful organic winery Querceto di Castellina (in Castelina in Chianti, a hour from Florence) is hosting summertime celebrations showcasing the culinary delights of La Tenda Rossa and their fabulous organic wines in the beautiful setting of their vineyard!. This summer's vineyard dinners will be on June 15th, June 29th, July 13th  and July 27th. Reserve your spot by emailing [email protected], +39 0577733590 or [email protected], +39 055826132. I had a great time last year and would recommend this to anyone who loves unique dining experiences.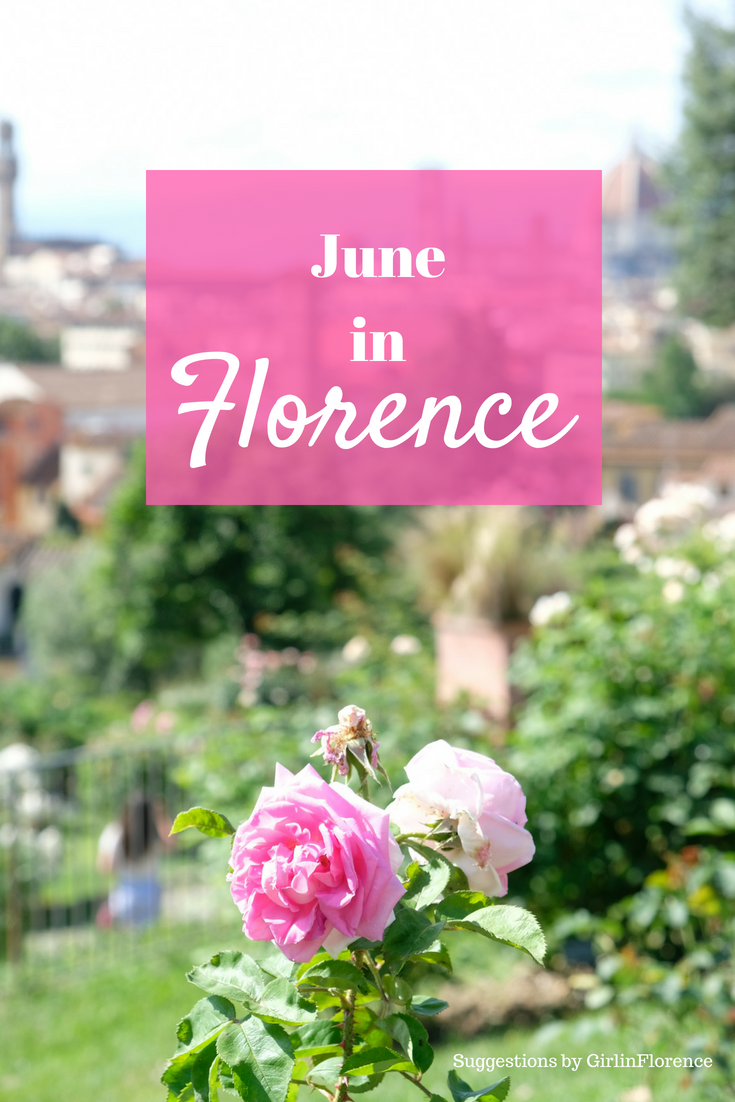 Ps. Enjoyed this post? As always, I appreciate your support and comments so please share this article with anyone (and pin this image on Pinterest) you think could benefit from a friendly-Florence roundup and I'll be forever thankful! Also if you have yet to do so, please subscribe to this blog for email notifications every time there is a new post.