Ciao a tutti.
The sun is shining and Spring is in full force this afternoon, making it especially hard to wistfully stare out of our windows wishing we could enjoy the city as we normally would.
This is a difficult, dark time for Italians as we brace ourselves for the only certainty, that is well, uncertainty. There are glimmers of happiness (like the musical flashmobs on balconies/terraces across the country but the reality is that things do feel very grim. The numbers of Coronavirus victims climb daily and we wait and hope for this to change with each passing day. My thoughts are with doctors and nurses, true heroes on the front lines of this disaster – and if you want to support one association offering concrete financial support to visiting nurses helping out with COVID-19 – here is one credible crowdfunding effort that I can vouch for.
https://www.instagram.com/p/B91-cuCKrsI/
I have received many messages from people here looking to order food/wine etc. direct to their home and have been passing tips along one-by-one but I thought it would be far more useful to include the places that I know deliver during this period in addition to the "how to help" post you can find on the blog here.
Regarding home food delivery in Florence, you might be wondering, is it safe?
I personally cannot vouch if ordering home delivery is more dangerous than going to the store and ordering food yourself but It's worth noting that places that have remained during this lockdown are required to follow food safety rules, in addition to extra measures now put into place in the wake of COVID-19. 
Some sound advice Via The Guardian:
Dr Stephen Morse, epidemiologist: It's impersonal, and perhaps seems extreme, but a food delivery could be left in front of the door (and a tip left similarly for the delivery person), much as we do with other packages, so there's no need for face-to-face contact. There may be transmission through inanimate objects, which we can try to minimize with good hand hygiene.
If the no-contact approach makes for too impersonal an interaction, keeping some distance (3-6ft, arm's length if both delivery person and recipient extend their arms?) is an alternative to consider. Delivery people should be washing their hands or using a suitable hand sanitizer after making deliveries. Along with healthcare and law enforcement/fire personnel, that may be a good group for more intensive testing.
it's not a bad idea to wash your hands before you look through containers and potentially to wipe down some of the exterior surfaces. 
Here is an article in Italian by Agrocolce.it posing the same questions and getting a response by third party apps like Ubereats, Deliveroo, Just Eat.
Food/Groceries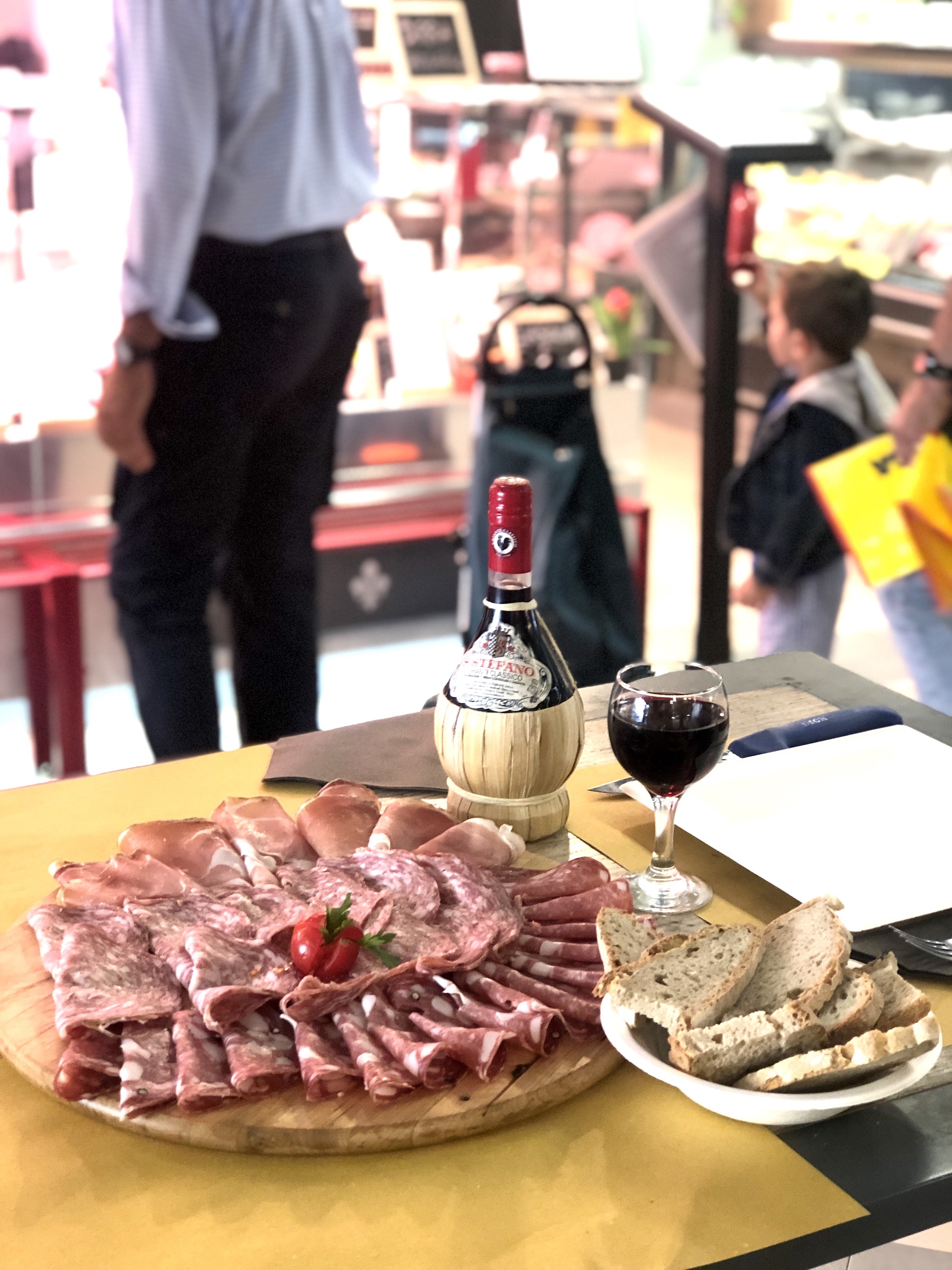 Supermarkets
When you need to in order to order your "spese" (groceries) online in Italy there are a number of options for this here in Florence. You may need a codice fiscale to register but these are some great options in case. However, keep in mind that since so many people are doing exactly this right now in the thousands – waiting times might be ludicrous or time slots might not be available at all so make sure to check before taking the time to go through their grocery lists online. This is also why I am personally grateful that there are other options below that offer next day or few day delivery from smaller, independent shops.
Prinz is a local distributor based in Tuscany. Normally they only deliver to restaurants and shops around the region but now they are offering FREE delivery to the public (think water, wine, beer, tomato sauce, cleaning products). They are open from 8-12pm or 2pm-6pm and to order, call +39 055/89422 or write them at [email protected]
Esselunga – Consegna a Casa. Keep in mind that the waiting time to receive orders can be longer than you might like because of high demand. I suggest using them for non-urgent deliveries and stocking up (not panic-buying all of the loo rolls, no need for that here) anything you may need for the home.
Conad – my local go-to here near the Ponte Vecchio with shops all over Florence is now offering delivery at home along with the opportunity to pre-order your groceries to quickly pick up at the store. I did try to do so myself earlier today and got an error message regarding their system being too full of requests.
Pan/Panorama offers home delivery – time slots could be completely booked however.
Markets
Luca Menoni is a butcher located in Sant'Ambrogio's covered food market in Florence and we've been ordering from him for years. For those who don't want to restrict their food buying to the grocery store, you can order direct from Luca's team via email or phone and it's not just meat. In addition to all of the chicken, sausage and steak one could desire, they also can send you fresh fish (this is important), vegetables, eggs, bread and fruit from the market.
https://www.instagram.com/p/B9_Yf8jicQV/
Make sure to specify how you want your meat (for example if you want chicken breasts in small slices, specify "fette" or to be left whole "interi") and remember to include the exact quantity of vegetables/fish etc. To place an order, email [email protected] or call +39 055 248 0778. They do next day delivery if you contact them before 10am otherwise you will get your order in two days. They are very careful with how they deliver (they wear masks, gloves) and ask that you have cash in 50€/100 notes only.
Genuino Punto Zero offers delivery of sustainable, farm-fresh products like fruit, vegetables and cheese (and plants) directly to your home. They deliver every Tuesday afternoon to the center of Florence and surrounding. Their website is great and while I haven't tried them myself yet, I've heard good things. 
Small Shops & Restaurants 
Il Carduccio is probably my healthy restaurant/café/food shop in the Oltrarno, also because they are nice hard-working folks who are dedicated to quality farm-to-table goodies. They offer a pretty extensive grocery list of fresh vegetables, garlic, dried fruit, nuts, goat cheese, butter, primo sale bianco, primo sale olive, eggs, marmalade, honey, pasta cookies, chocolate, olive oil (extra virgin – organic), vinegars, rice, fruit, yogurt and not only direct to your home.
https://www.instagram.com/p/B9qi6fsoG12/
They can also provide cakes, coffee beans, freshly-pressed juices, smoothies, extracts, and interesting local wines. Just text the number +39 320 700 9330 to get their weekly list. 25€ minimum order required, delivery is free within the historic center or nearby.
The best pizza marker in town, Giovanni Santarpia, is now offering his famous pizzas for delivery in Florence and surrounding from April 24th, 2020. You'll be able to order online (YESSSSS) and I for one, am quite excited about this and you can also pick up direct at the pizzeria.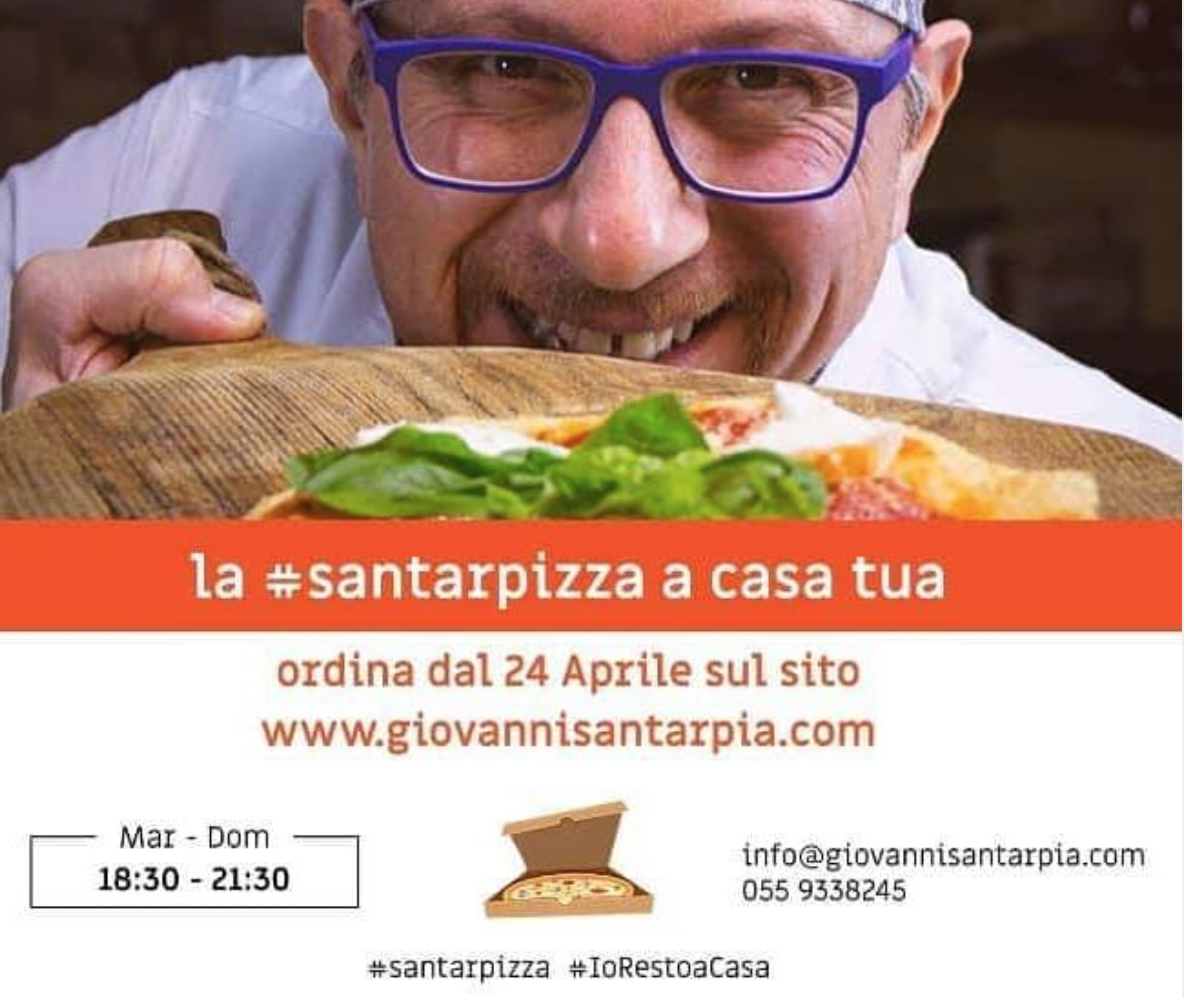 Il Santo Bevitore restaurant is now offering a home delivery service "Santo Subito" available from Saturday 18th April. Essentially they are sending semi-finished ingredients to be assembled at the last minute to make the dishes as fresh as possible in your kitchen in just 5/10 minutes. They deliver every day except Monday, from 17.30 to 19. To order just write an email to
[email protected] by 3pm on the same day with a delivery address and telephone number. Payment in cash or by credit card.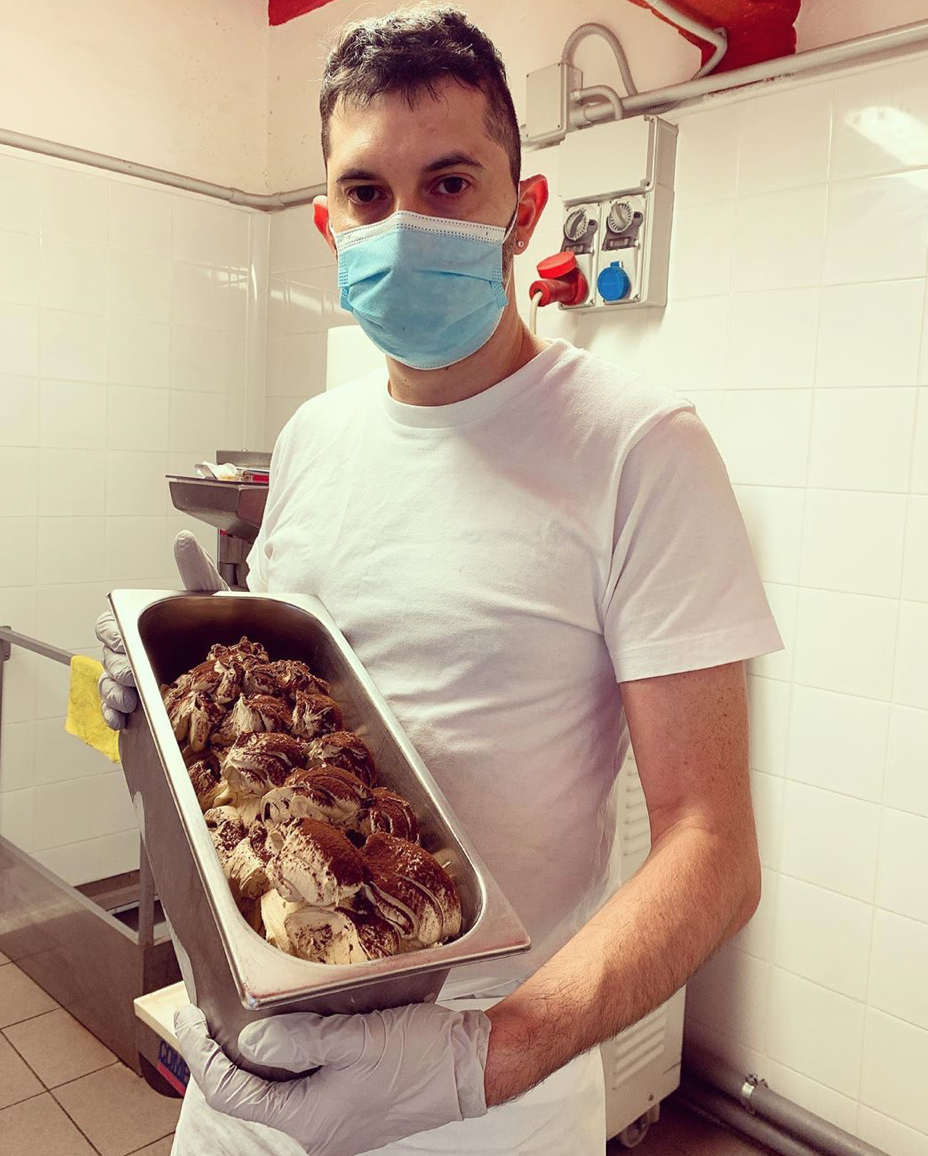 My friends over at My Sugar Gelato are also offering home delivery (their gelato is some of the best in town) in Florence and the suburbs. Just contact them via Instagram to place an order and ask about flavours. 
Indian Food: This is my favorite home delivery option and luckily one of my favorite Indian restaurants in Florence, Haveli, now delivers to your door.  Just check out their menu on Facebook here and place your order by calling +39 055 355695. Delivery is FREE. 
C.Bio Firenze is part of the Cibreo family in Sant'Ambrogio is a high-end bottega offering some of the best bread in town (as you can tell – I'm a fan), organic vegetables, fruit, yogurts, butter, and lovely cheeses along with loads of other things. They also offer free delivery – send a message to +39 347 9748579 or call 055 2479271. 
Fresh Mozzarella. Amozzarè located in Piazza Taddeo Gaddi is offering home delivery for their cheese products (this is dangerous). Mozzarella in all different shapes and sizes and made by an expert "casero" in house, burrata, Crema di ricotta, stracciatella, scarmorze, primo sale and smoked cheese,  Call or place your order via WhatsApp – +39 331 349 3608. 
Fattoria Le Caprine is a goat cheese farm located in Gambassi Terme, about an hour away from Florence. We visited the team last year and were blown away by the quality (more French style in both taste and consistency). They are offering delivery to Florence and you can browse their products here and to order, check out their Facebook post here.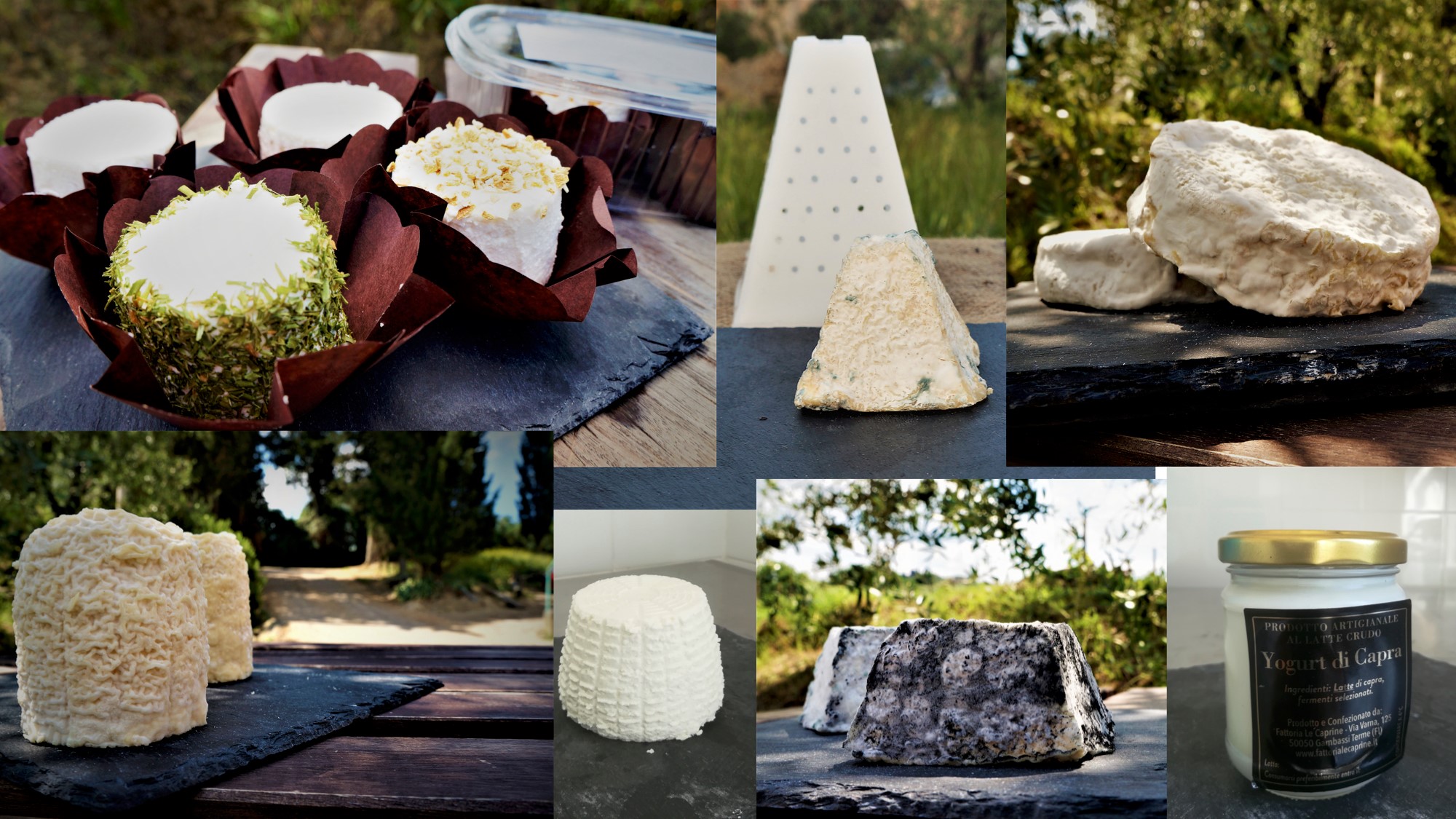 Panificio la Spiga is a local bakery on Via la Farina offering delivery of bread, pastries. Just call +39 055244085 or +39 3356607272 or email [email protected] to place an order. They are open from 7am-2pm. 
Podere il Casale is an organic cheese farm in the outskirts of Pienza in Tuscany (you might have read about in this post on the blog.) Like many local businesses in the area that rely on visits from Spring to Fall, they are hurting right now during the lockdown. They do offer online delivery of their products which includes saffron, chestnut honey, raw milk pecorino, organic spelt linguine, extra virgin olive oil and more. 
https://www.instagram.com/p/B-Aj603KTa-/
La Raccolta is an organic food market offering the following for free home delivery:  fruit, vegetables, bread, fresh baked goods, fresh cheese, fresh products for vegans, cereals, beans, flour. Call +39 0552479068 – +39 3356258453 to place an order. 
GELATO. Yes my friends there are options to get gelato delivered direct to your home. The even better news is that one of my personal favourite Gelateria in Florence, La Sorbettiera, is now (updated April 2nd) able to deliver. All you have to do is head to their delivery page here, choose your preferred tray size and flavours. Delivery is from 1 p.m. to 6 p.m. You can pay online or provide cash on delivery (with the exact amount). 
Melaleuca, our favourite brunch and bakery place in town, is offering home delivery. Think an assortment of mixed bagels, cinnamon rolls, vegan treats, weekly dinner boxes. Email them to get their weekly menu! [email protected]
Le Lune in Florence is a plant nursery and restaurant that if offering farm-to-table deliveries of bread, milk, pasta, meat, fruit, vegetables and also plants/flowers from their collection. You can call them at +39 055570222 to place an order. 
Berbere pizzeria has now opened (updated April 10th, 2020) for home pizza delivery every evening. You can check out their menu online here. 
Ghevido offers gourmet pizza by the slice from Sesto Fiorentino – probably some of the highest quality pizza I've tried in and around Florence. They are offering home delivery (with instructions how to heat up your food at home to ensure it's extra delicious) – if you haven't tried them – this is the time to start. 
Another really notable pizzeria "Il Vecchio e Il Mare" is now offering home pizza (and pastiere delivery). Check out their IG for more details. 
https://www.instagram.com/p/B-eTTYJlXPc/
Casa Ceccatelli (butcher) offers high quality artisanal meats from Tuscany (five generation business. They are happy to take orders and make special deliveries two times per week to Florence and hope that you find this helpful. For more information on their products heard to their website: https://casaceccatelli.com/product-list/  . Also check out their instagram page for wonderful recipes.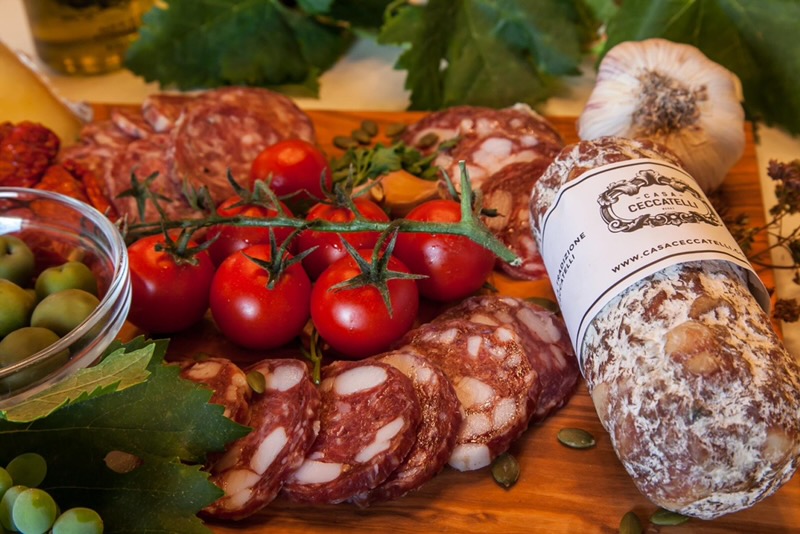 Vivo – Da Mare alla Padella, is a seafood restaurant in Florence that is highly popular, including for this girl. I am a little late to the game on this one but they are offering home delivery offering a variety of options. You can choose from a daily home-delivered dish and subscription or you can simply order off the menu. I love that they offer spaghetto alle vongole (spaghetti with clams) and fresh oysters plus a variety of wine. 
https://www.instagram.com/p/B980WxZFQ2K/
Torta Pistocchi: for those of us with a sweet tooth, Claudio Pistachio is offering home delivery of this essential chocolate cake that does not contain sugar, eggs, butter, flour,  preservatives, no vegetable fats, no GMOs. Only top quality dark chocolate, bitter cocoa powder and a little cream. Call +39 055364034 or send a message via Whatsapp (3405440248) or email ([email protected]). Your address and mobile number is required and payments can be in cash, bancomat or credit card (specify when ordering, they have the POS). The prices are the same as the Laboratory, discounted by 10%. Free deliveries (only in the city) with a minimum of 25 euros of expenditure.
For lovers of Tripe and Lampredotto, two Florentine traditions, Bambi in Florence is offering home delivery of these beloved hometown specialities. Below is the calendar of the delivery zones.
Wednesday: Old Town, Novoli, Rifredi Statute;
Friday: Old Town, Scandicci and Isolotto;
Saturday: Historical centre, Campo di Marte, Coverciano and Settignano;
Orders and information can be requested every day (except Sunday) by calling or writing to: ?2381765, ?339,8067556 (also WhatsApp)
✅ All deliveries will be made with gloves and masks.
✅ Payment also possible with pos
✅ To receive delivery on the same day the order must be placed before 12 noon.
Pickup/Take Away NEW from April 24th, 2020
A new ordinance just put into place in Florence now allows restaurants/bottega to offer pick up takeaway services, a huge game changer for places that are not able to deliver. Since these often are more historic restaurants they are going to need your support more now than ever. Here is a list of the options you can now enjoy. You have to order ahead either online or by telephone. 
Trattoria Sergio Gozzi in Piazza San Lorenzo 8r – my absolute top place to go for a Tuscan lunch in the center. They will now be offering lunch and dinner options for pick up only – call +39 

055 281941

 to place an order. 
Trattoria Sabatino, our home away from home in San Frediano thanks to the lovely and generous Buccioni family, is organising as we speak to open on May 4th for pickup and takeaway. Via Pisana 2r, phone +39 055 225955: [email protected]
Giotto Pizzeria on via Francesco Veracini 22/a is offering both pick up and delivery (excellent Neapolitan-style pizza in the Novoli neighbourhood) – call to place your order here +39 055 332332. The menu can be seen here. 
Da Burde, another classic Tuscan trattoria that we very much enjoy (think steak, Lampredotto, meatballs, Tuscan style cod), is gearing up for pick up orders on via Pistoiese 154 (they also do home delivery). Call or email them [email protected] to place your order – more info via FB. Website. 
Trattoria Fratelli Briganti (11:30-2:30, 6:30-9pm) in Piazza Giorgioni is offering pick up – you can place your order via telephone +39 055 475255 (check out their FB page for the menu). 
Take out from restaurants via third parties
Books
Todo Modo Libri – independent bookstores have already felt the pinch even before coronavirus stepped in but I have been very impressed by the creativity of my friends over at Todo Modo Libri who have stepped up during this period to deliver books to people's homes in the comune of Florence.  [email protected], via facebook, Instagram, or you can call them at +39 0552399110. They just need to know the title, author and publisher (or just send a screenshot) and you can pay with cash, bancomat or cash or credit card. (I included more of this in my original post about helping out local businesses here in Florence).
****Also worth noting – they have also teamed up with S.Forno (a wonderful local bakery near Piazza Carmine) of Il Santo Bevitore for a home delivery of books + food (think fresh eggs, marmalade, pasta, bread, milk, tomato sauce, coffee, apple juice, cake, cookies, pan brioche etc) twice a week (Wednesday and Friday). You can place your order via email [email protected], just make sure to do so the day before by 3pm.
https://www.instagram.com/p/B9_z4HuiWBs/
Paperback Exchange is one of the city's longest running English bookshops and a place where I often sought refuge over the 13 years I've been here in Florence. Luckily, they are also offering home book delivery to their customers. You can email your order to [email protected] or direct message them on their Facebook page. Ask about their mystery boxes with used books! 
Wine
Enoteca Fiorentina is offering wines, cheese, hams (charcuterie everything) direct to your home and you can have a look at their website for a full list of what they offer right now. To avoid any contact they require payment by bank transfer or paypal. No cash. Delivery is free with a minimum order of 100 euros. Delivery throughout Italy contribution courier expenses. Phone: +390553880177, WhatsApp +393471663622
Vino al Vino on Borgo Ognissanti is also offering home delivery in Florence (choose your wine on their website) and have a lovely offering of natural, organic wines that don't break the bank. 
Rouge Firenze is a wine bar located on Via Pisana that is not only open but also collaborating with other local businesses nearby to offer home delivery. They can send over wine, food, schiacciata, medicine and more. Just contact them via their cell number – +39 3282336329 to get a list of what's on offer. 
I have never personally used Winelivery but this app offers a wide selection of wine, bubbles, beer and digestive liquors available for home delivery in Florence.
Gym Equipment
Naturally everyone uses Amazon for everything and anything but you might ever find better deals elsewhere, especially when it comes to gym equipment for the home in Italy. Here are a few options in case you want to get a yoga mat, free weights to stay healthy and fit during this lockdown.
Nencini is a sports store here in Florence that is quite popular and a few of my friends have ordered from them recently (as in during this time Italy has been in lockdown) and have reported back that their prices are really good compared to Amazon.
Decathlon is a huge mega-store in Italy offering everything from yoga pants to weights and everything in between. They offer at home delivery – just check out their website online.
Check out these other blog posts!
Other bloggers based here in Italy have done a great job with helpful coverage during this stressful period and I am all about sharing their valuable information. Here's what you should save in regards to home delivery & food.
In addition to this list – please check out this article by La Repubblica Firenze offering additional options and GamberoRosso. The Comune di Firenze also just came out with this map featuring places that deliver direct to home in Florence.