Florence is the kind of city that despite its small size, can collect hidden spots that even seasoned locals might never know about. I imagine that the reason being that Italians as a culture are less apt to share these secret places that they love. Hence why they remain somewhat mysterious and hard to find. Which if I'm honest, is a little more exciting at times. Another reason is that many small businesses just don't invest in marketing themselves online because they don't want to or don't know how. Preferring the 'word of mouth' approach that has made Italian goods so famous in the past.
It can seem 'strange' to some of my Americana friends but as I live here longer, I sort of get it even if I do wonder how some places can financially stay in business. While there are many shops that are very special, all around Florence, I want to focus on neighborhoods. Of course this means I need to start with 'home', the area I can't shut up about, my previous oltrarno 'other side of the river' or 'Rive Gauche'.
After talking with my friends over at Palazzo Belfiore, which by the way has some truly amazing apartment vacation rentals just steps from my favorite piazza della passera, I knew I needed to write this post. While I don't dare say anything here is a 'hidden  find' – let's get real here, almost everything has been 'found'. These spots are places that are special to me that I think people would enjoy knowing about. They also happen to be pretty budget-friendly with a few exceptions.
One thing to keep in mind is that this area keeps to the Italian tradition of closing for lunch (from around 1 to about 3 or 4pm) and stores are often closed on Mondays. I also recommend checking out my post about the artisan craftsman that make this area of the city famous and which are one of the many reasons I wanted to live in this neighborhood.
Shopping
Giulia Materia
Located at : Sdrucciolo de' Pitti 13r. This store is the brainchild of artisan Giulia, originally from Arezzo and whose childhood face bares the logo of this small, but charming shop just steps from Palazzo Pitti. Inside you will find hand-bound colorful notebooks and pretty dresses, everything 'made in Italy' (but really) and many items created from recycled goods. The perfect place to pick up a gift or indulge in some really pretty notebooks. Website here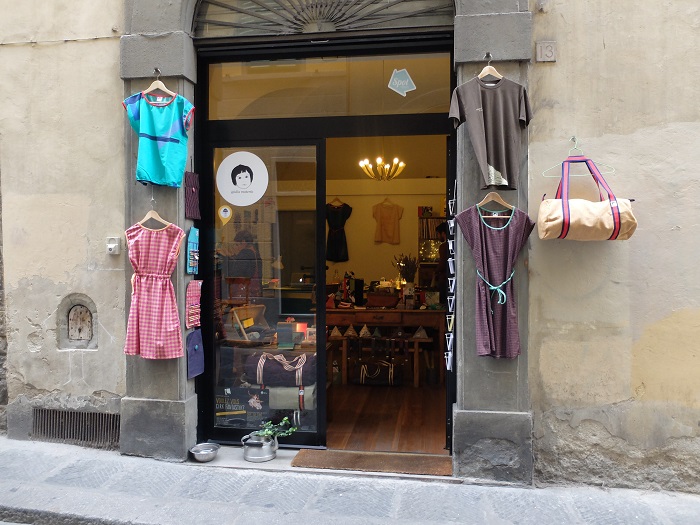 Maria Pace – Creative Clothing
Location: via romana 22r. This store that sells clothing for women, all in a variety of interesting shapes and textures and happens to be one of my favorite little hops in Florence. The quality is good and the prices are very reasonable, it almost reminds me of the style of Dixie (a major brand in Italy). The kind of place where you can get a long tunic or wool sweater, they also carry a range of interesting accessories – I adore their necklaces.
Tabescè
Location: via romana 39r. Another 'made in Italy' spot that is a wonderful place to shop for gifts, the owners Anita and Chiara are super friendly and will explain any item and offer you tea, what more can you want? I love my hedgehog table piece made out of an old journal and glass blown products that we often pick up for friends or relatives. They also sell fun handmade hats, that they can fit to your head and pretty jewelry, often made of blown glass.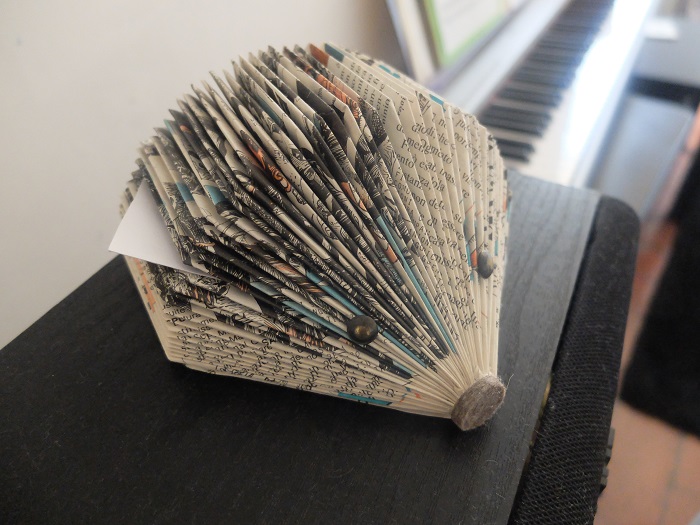 My beloved hedgehog has a special spot in casa di Girl in Florence 
Le 18 Lune di Chiara Alberti (stationary, cards etc) 
Location: via romana 18/r. I am often in this shop picking up cards for friends, birthdays, any moment really. Her cards are simply marvelous, picturing charming Florentine scenes from next door neighbor Stefano Ramunno (see below) and they are made of good quality, highly recommend.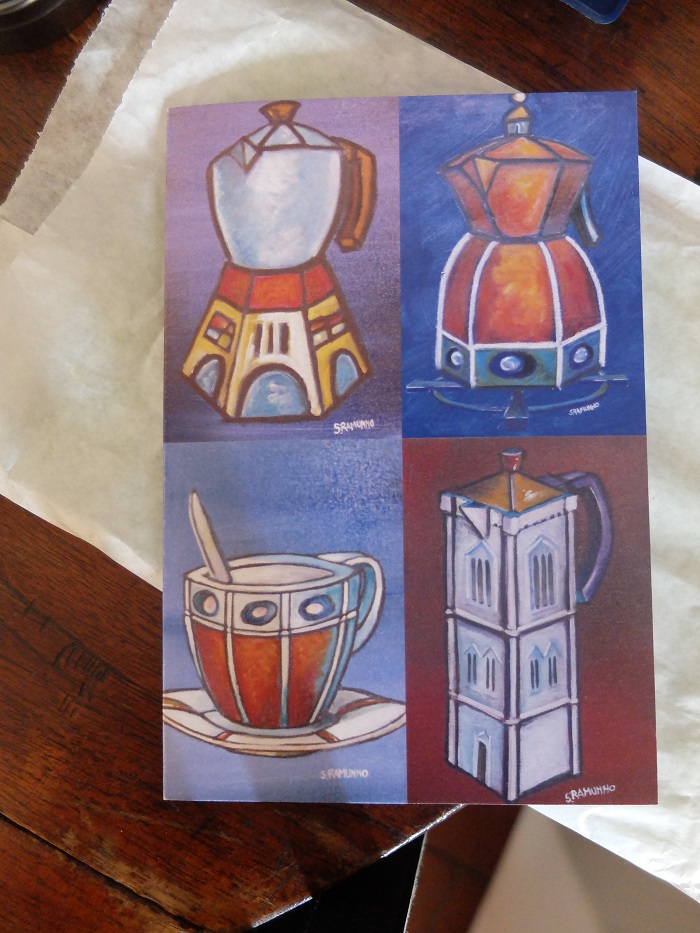 How could you not love this, Stefano's creations always make me smile 
Stefano Ramunno art
Location: via serragli 20/r. A little art studio on yet again, via romana. This street is awesome because so many artisans are collaborating together and for someone who is visiting Florence for a short time, can be found more or less in one place. The works displayed in Stefano's shop are simple scenes (many of Florence and Tuscany) with pops of bright color. I like window browsing and seeing what they are working on next. website
Anita Russo Ceramics
Location: via Romana 11/r. A pretty ceramics studio and shop by artisan Anita, this was an awesome suggestion by my friend Lindsay, and I am grateful for the tip. She has truly beautiful items that will compliment your ikea furniture (or antiques), quite well! Facebook page . I also recommend inquiring about taking a ceramics course with Anita, we made some mugs and had a lot of fun for a price tag of only 25 euros a session!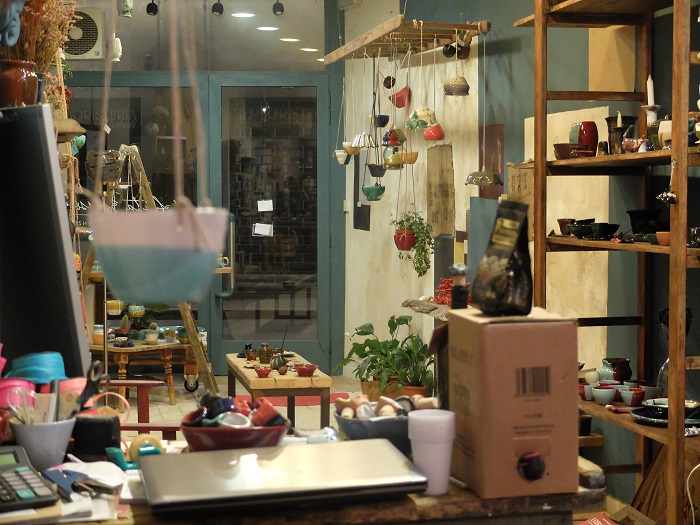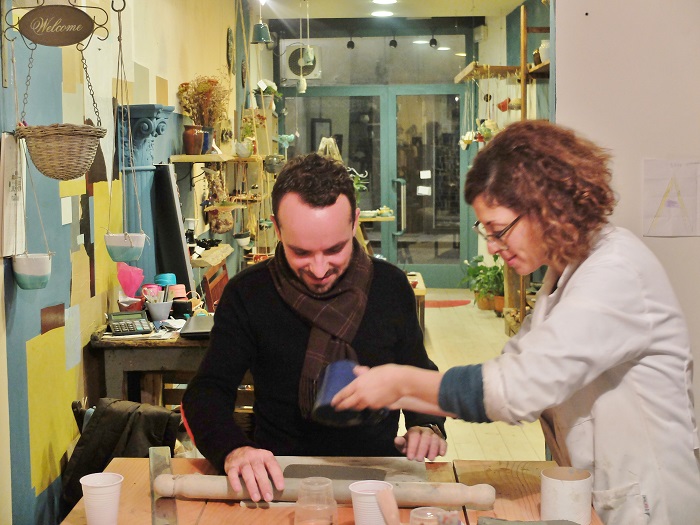 And Company Shop
Location: via maggio 47/r:  A cool shop owned by renowned calligrapher and packaging designer, the marvelous Betty Soldi. Inside you will find a curious amount of items from huge Neon letters to beautiful cups and saucers featuring Betty's calligraphy and various Florentine scenes. While it's definitely not cheap, I do think the items here are very special and make the perfect gifts (especially for yourself).

L'Ippogrifo
Location: Via Santo Spirito, 5r. This special place sells prints (using copper) and is owned by artisan Gianni Raffaelli. One of those places that you really should make some time to chat with the people inside as their craft may not be around forever. Tel: +39 055 213 255, web: www.stampeippogrifo.com
L'Abito Che… Vorrei
Location: Via Romana 62R: A wonderful clothing store by talented artisan Giuliana Becattini whose shop is 110% Italian. Everything in there is made using quality materials and she will also create a dress that is especially for you, tailoring services including. I would describe her style as shabby chic, stylish and very comfortable. The sort of items that are timeless, plus she happens to be really nice. Website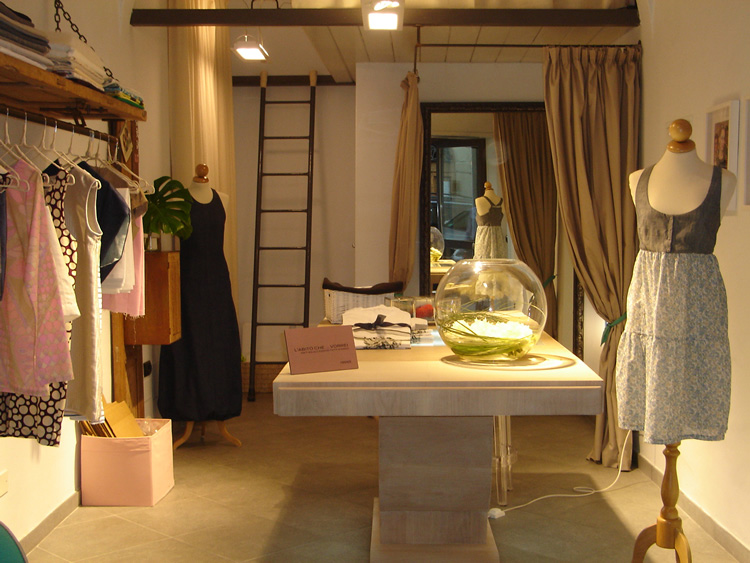 Photo via her website 
 Food Shops
Enoteca Millesimi
Location: Borgo Tegolaio 33r. Tel. 055 2654675, Email: [email protected] This place is a recent find and my oh my and I am happy to have found it. This wine shop is on a hidden street near Piazza Santo Spirito and is owned by a French/Italian couple. Inside you will find a vast amount of wines, many from Piedmont and France, it's so refreshing to have a variety of wine for times when Chianti Classico isn't your friend. I tried an amazing French chardonnay recently and I was pleased that it was a decent price. This is also the place you want to come if you are looking for champagne. Make sure to ask Marie, the owner to show you the cantina which is almost twice the size of the store itself. They also have an impressive amount of vintage Barolos for those who are interested and starting to import interesting beers.
Small Unnamed Almentari 
Location: Via De' Michelozzi, Florence, Italy. A shop that doesn't have a name (that I know of ) and looks like it doesn't get a lot of love but instead has an original newspaper from the 1966 flood in the window. This tiny store many walk past without thinking to stop inside. Sandwiched between Gusta Panino and Gusta Osteria, it might not look like much but if you are looking for an authentic & tasty Tuscan sandwich, I recommend going inside and getting some mortadella on a fresh slice of pane toscano, you won't regret it.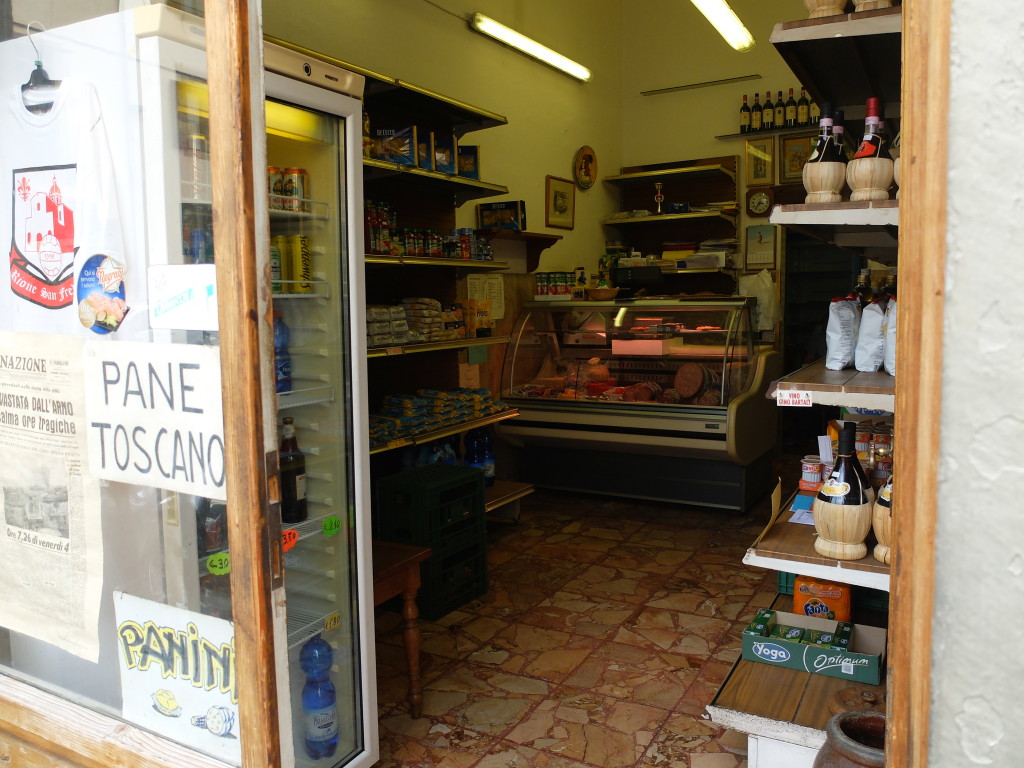 Sugar Blues
Location: via serragli 57r. This shop sells organic goods with all sorts of gems that can be tough to find in Italy, namely light coconut milk, different types of thai rices, quinoa, ginger drink (like ginger beer), chickpea powder, gluten-free, vegan friendly. It's a gem for those looking for items not normally carried in the larger supermarkets.
Dalle Nostre Mani – Gastronomia – Pasta Fresca
Location: via dei serragli 32r: Another one of those stores that reminds me why living in this area is a damn good idea. This shop on the corner of via serragli and via santa monaca sells fresh pasta, cheeses, olive oils and advice ;-). The perfect place to pop in and grab fresh ravioli, made that day to accompany a simple sage butter sauce. heaven!
Salumeria Pirgher Marzio
Location: via serragli 39r: A tiny little alimentari (Italian food shop) selling cheeses and meats which are anything but ordinary. They also have two types of cheddar cheese from England and some French options as well, plus some really wonderful ricotta. This is my go-to cheddar in central Florence. 
Dolcissima
Location: Via Maggio 61r. This pasticceria shop is an institution among Italians in this neighborhood. When I was a nanny, the mom would often ask me to stop here to pick up some sweets for a birthday or special event, and thank god she did because that's how I discovered this place. Their cakes are so good, I actually dream about them. They are open everyday but Monday (closed at 2pm on Sunday).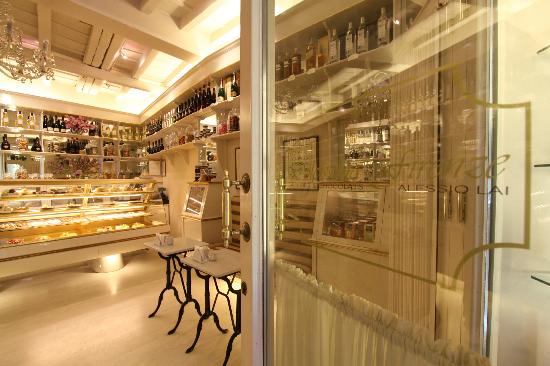 Oronero (Tea & Chocolate Shop)
Location: Piazza Pitti 1R. Directly in front of Palazzo Pitti, this place is somewhere I frequent quite a lot, also because the people who work there are beyond friendly. They carry quality teas from La Via del Tè, Dammann among others, along with chocolates and other specialty items. It is worth noting that their prices are very good, I have definitely paid more for less at other tea shops in Florence. They even let you sample teas before you commit, which I think it very cool and something most places would never do. They also have gluten-free & sugar-free options. Website here. Totally my 'cup of tea' ;-).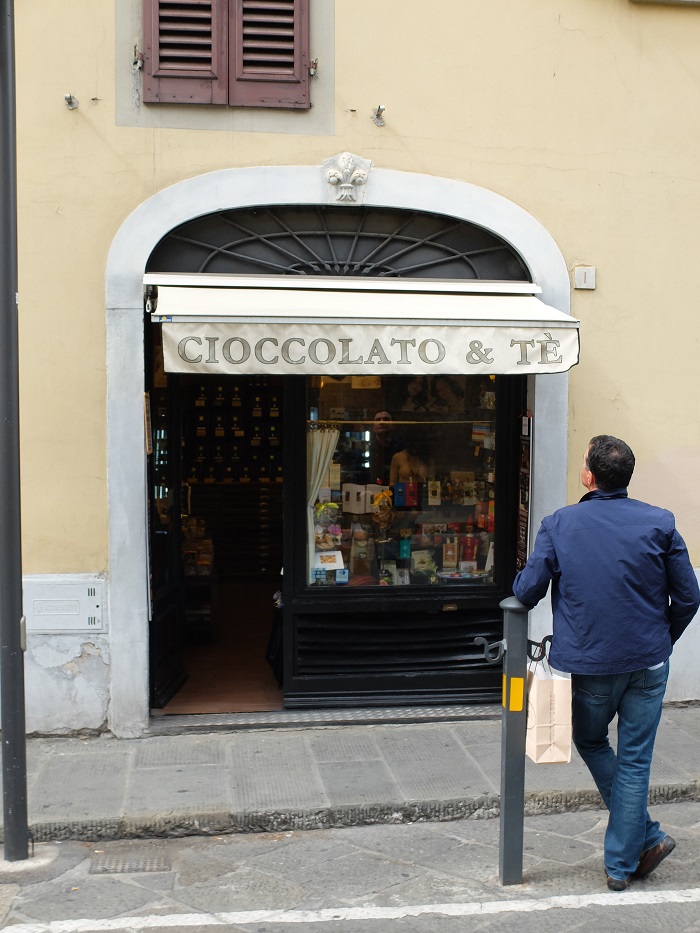 ---
That's all folks, now I am assuming that I missed out on some special spots so I ask to you to please share via commenting what stores you love in the oltrarno area and why!