Perhaps it is just me or does it seem scary close to the holidays and of course I have yet to do a damn thing in regards to shopping this year or mapping out this year like a proper adult. Nico and I have talked the "let's get it done early this year" talk but yet here we are, scrambling between work and life before we pack up and head to Texas for the holidays.
This year I am taking Nico back to my hometown for some Christmas tamales, breakfast tacos, family-time and a road-trip for a few days to New Orleans to show Nico all of the Cajun food he's been missing his whole life. SUPER excited about this. 
He will again meet all 155 of my cousins, probably be coerced into eating a crazy hot jalepeno by one of my uncles and he just may get splashed with holy water upon arrival to my mom's house because she keeps it in bulk in the pantry. You know normal family fun. 
When it comes to shopping, I partly do this list for purely selfish reasons so that I am reminded of all of the great options we have locally here in Florence (and beyond). I may have been financially killed this year (yay partita iva – more on that in a future post that is WAY overdo) but I've become a bit savvier over the years when it comes to gift giving as I seek to share more things done by artisans, small boutiques and local businesses offering experiences in lieu of just more things that take up space.
In addition to this list, have a look at the 2018, and 2017 versions which are all still valid (biased person opinion of course) and scroll down to save the google map of recommended places on this list that you can save directly on your phone.
Also, for the first time, I will be offering a special giveaway of my friend Emiko Davies "Tortellini at Midnight"cookbook (a must have ya'll) that I will explain in further detail below!  
Enjoy!
First, the Giveaway!
My friend Emiko Davies has come out with her third cookbook (badass I know) this year and Tortellini at Midnight is by far my favorite of the three.
Perhaps because it is centered so much on her family here, really it is a love story that follows a family that moved from the heel of Italy to its top in search of a better life. What you will find in the book is Emiko's heirloom family recipes from her Italian in-laws, which she has traced back through generations that span the length of Italy, from the southern port city of Taranto to elegant Turin in the north, and finally, back to Tuscany.
In honor of the holiday season Emiko has very generously agreed to offer one of my readers her cookbook that she will send to anyone based in Europe (sorry we can't expand that range this time). To win, we ask that you comment on this post with your favorite family holiday food memory (can be funny disasters too) and follow us on Instagram: here is her account and here's mine. I will announce the winner on Instagram by December 10th.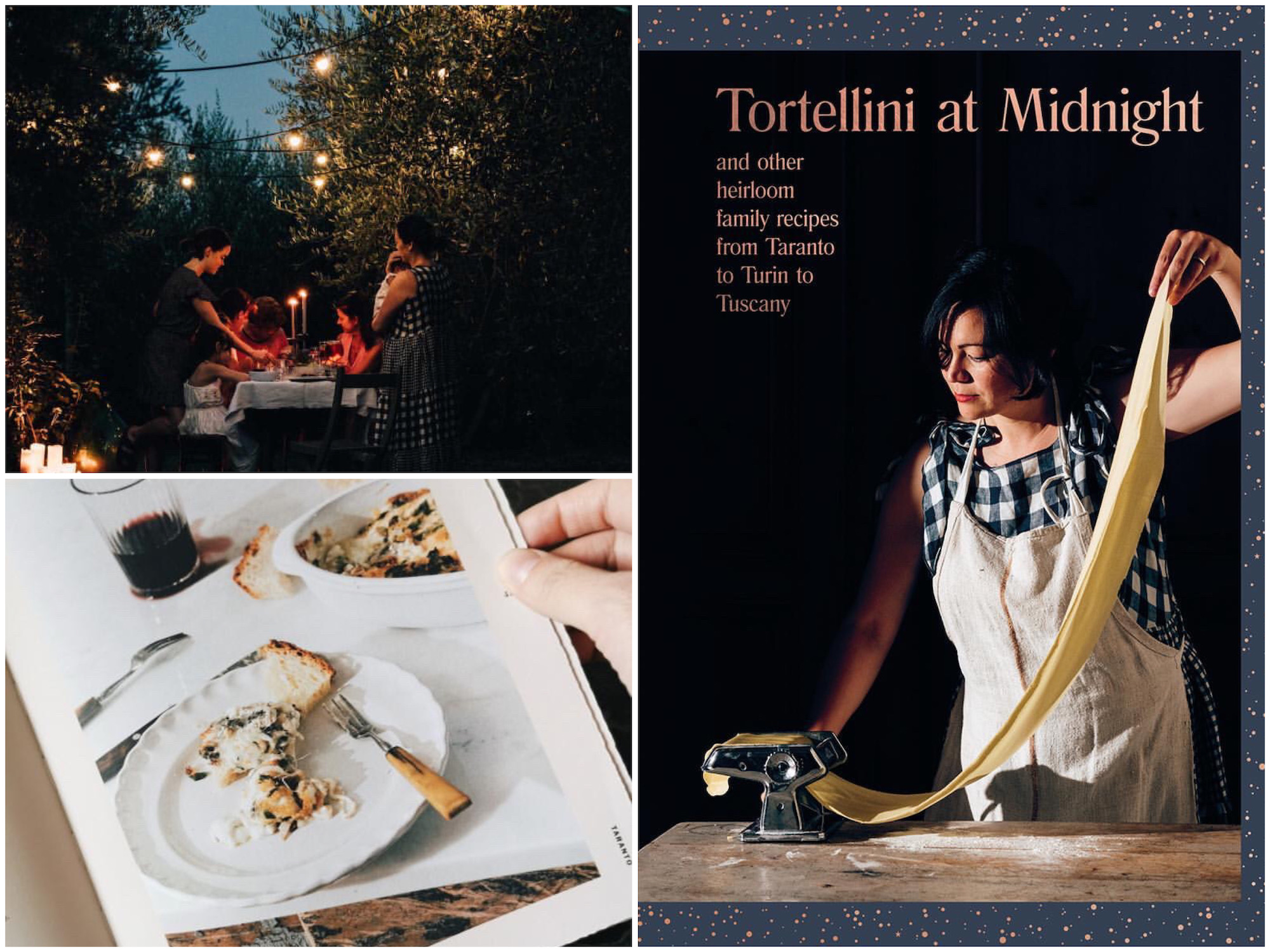 2019'S MADE IN ITALY GIFT LINEUP
I can't believe it's taken me until this year to discover the joy of A Thousand Joys – a unique artisan jewelry inspired by historical ornament and tribal patterns. All handcrafted by the lovely Joy Franklin who is someone I immediately took too as soon as we met. You don't often find people this genuine and her delicate eye-catching jewellery completely embodies her loving and bohemian spirit. She was kind enough to gift me these scrollwork earrings (I'm obsessed, plus they are super light) and materials used are mostly sterling silver and rose gold. For something truly dreamy (maybe to pop the questions) check this out! Prices range from 60€ and up. 
https://www.instagram.com/p/B5M15SjI3Aj/
Jane Harman is a friend of mine and she is a a talented wood restorer and artisan dubbed the "Oltrarno wood whisperer" by Mary Grey from The Florentine. I always include her on this list because her items take my breath away with their forward-thinking design and simplicity. She creates lovely house decorative items out of recovered wood, paperweights,  Florentine lily ornaments, statement jewelry and wooden home decor letters decorated with recovered paper (this can be totally personalized), all of which make for fantastic gifts or even souvenirs for yourself! Prices range from €6 /€10/€16/to €58 circa. You will find her at the ETSY handmade market November 30th and December 1st at The Student Hotel or you can pop by her shop at Via Lorenzo Bartolini, 1, 50124 Firenze FI. Her easy online shop can be found here. 
For those who love accessories and especially those with a story, I have been wearing my Candy Apple Pietrasanta earrings, made in Tuscany, almost daily this autumn. What I love about this brand is that they are made by women artisans and named after strong Italian women throughout history. I also appreciate that they are not as delicate as my other pieces (that often break and that I often have to get foxed). These are built to last and that they have despite my overuse.  Prices around 70€ upwards. 
https://www.instagram.com/p/B2l85t9B5ke/
My friend and THE Florence blogger you need to follow: Elena Farinelli suggested the shop of Armando Poggi, adjacent to the Duomo as it is a historic family-owned shop since the 1930's selling all kinds of delightful homeware, jewellery, watches and more. Also it looks like Christmas threw up in there, but in a good way, I admit I love it. Ask them about their Made-in-Italy artisanal items. She also suggested artisanal chocolates from Torta Pistocchi from Via del Ponte di Mezzo, more of which you can read about here. 
When it comes to Instagram accounts I adore in Florence, Lorenzo's profile always comes to mind with his uniquely moody vision of the city we all love so much. His background as an architect and light designer completely explain why the light in his photos seems almost ethereally beautiful. I asked him if he was selling his photos as prints to which he confirmed and on his online shop he also has a beautiful selection of handmade sketches and photoshop presets. 
https://www.instagram.com/p/B5AmujUI-ix/
I have a beautiful backpack by the brother team of Cuoiofficine on Via Guicciardini, leather-masters and I couldn't leave them out of this list as their creativity and colourful options continue to delight! For the holidays. I especially love this sleek orange version. An added bonus, almost all of their items can be personalized in-house. 
https://www.instagram.com/p/B2marzbibGZ/
Frau Lehman aka Stephanie is a German-born artisan specialising in leather accessories and has a small, cheerful shop on Via della Chiesa in San Frediano. Her items have become a  favorite of mine in regards to recommendations for people looking for true craftsmanship but with a more modern look. Her handmade accessories range from 70€ (wallets) to 180€ (bucket bags) and all can be customised but you have to give her some time. Her shop is open Mon 15-18:30, Tue-Fri 10:30-18 and one day on the weekend. You can contact her here.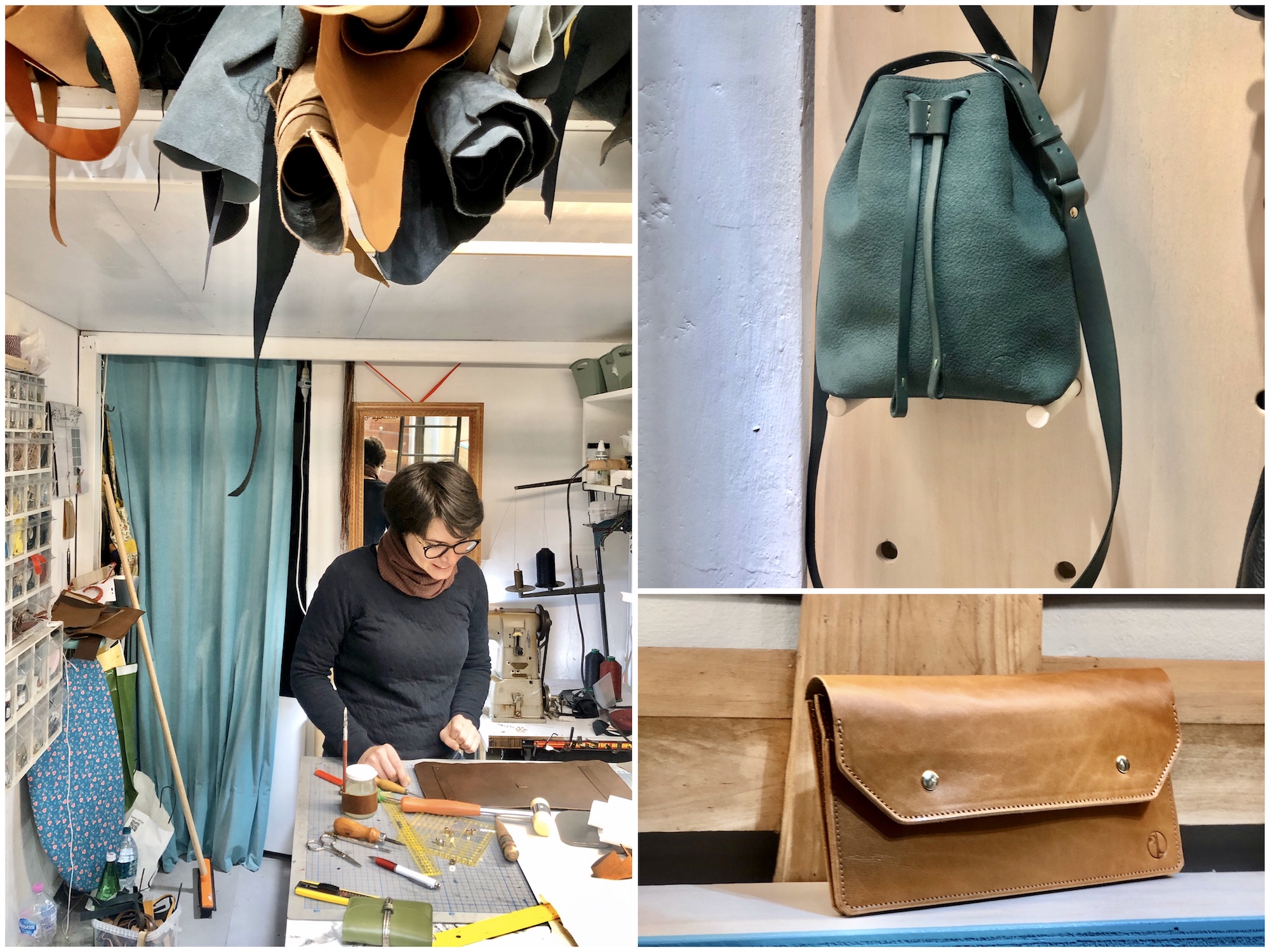 Florence Factory is a concept store on Via dei Neri that focuses on more contemporary artisan work from Italian makers. I really appreciate that they have so much quality in one shop from local artisans so if you don't have a lot of time and want to support these local brands, here is where you need to go. I appreciate that they are constantly on the hunt for great new accessories to add to their collection. You'll find unique jewellery from Officina Nora, handmade hats from Reinhard Plank, shoes from New Kid Footwear. They are open Tues-Sat 2-9pm. 
https://www.instagram.com/p/B5VMIkUiMPc/
Contemporary artisan Sara Amrhein, makes handmade jewelry I regularly gift to friends and family out of polymer clay and she has some beautiful new items this season including this lovely statement necklace (perfect to dress up for all of those holiday parties) below. They come wrapped and ready to give! Prices range from around €35 and up! You can visit her shop at Via dello Sprone, 9r in Florence or purchase items online here. 
https://www.instagram.com/p/B5Va8Lrizyh/
Busatti is one of the most well known artisan textile brands based in Anghiari, Tuscany and Mario The Blanket is one of their latest creations, featuring an antioxidant, seaweed three-layer blanket that my beagle currently loved to burrow herself into! It retails for 299€ and they have just come out with a cushion version. 
https://www.instagram.com/p/B3XZHj_gYBn/
Procacci, Via de' Tornabuoni, 64R.This popular gourmet shop on Via Tornabuoni is a favored stop for the well-heeled set who enjoy their delectable tiny truffle bites and bubbles while shopping the city's "expensive street" but I prefer it for gourmet gifts for loved ones. They have a lovely selection of concoctions to take home with you including a pistachio creme infused with honey (heaven), various jams and truffle infusions for canapés. I've even spotted tons on the truffle front that could make for great stocking stuffers for any true gourmand.
Digerolamo is one my favourite artisans making high-quality Italian-made accessories out of quality leather and silver, bronze and gold-plating (bags, jewellery) based here in Florence and come January 2020, they will be online only. Her "Sofia" bag is probably one of my most used handbags that I have owned for 3+ years and has lasted the test of time. You can email her at [email protected] for more info on what's available for this holiday season.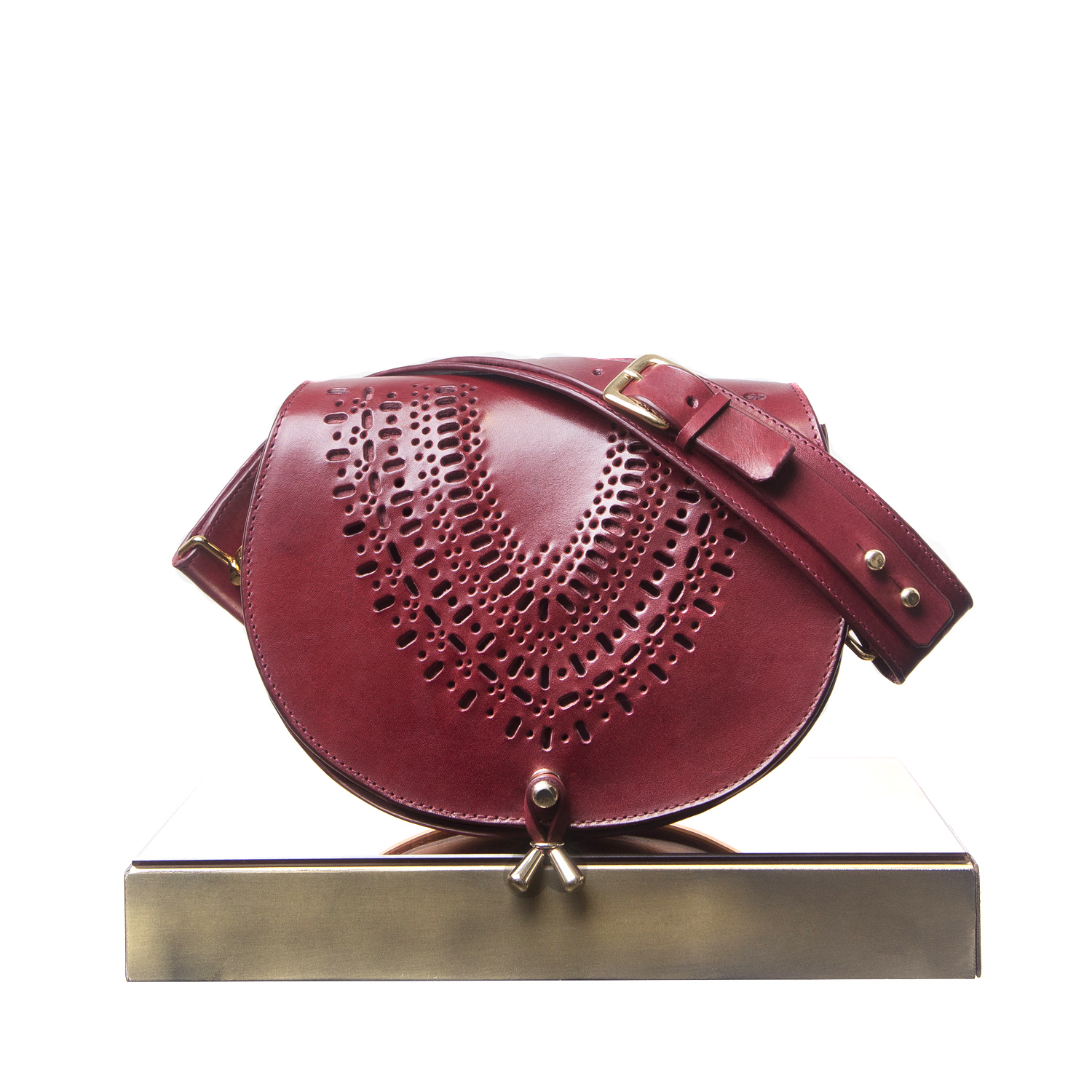 ArtTrav aka Alexandra Korey, a very good friend of mine has a superb suggestion for the conscious gift giver. As she was seeking to reduce plastic in her kitchen and found an Italian producer of beeswax-treated organic cotton food wraps that has their heart in the right place. They're called ApePack – I already love the name. The Treviso-area company produces these high quality sheets through collaboration with social cooperative that employs people with mental disabilities of various sorts, assisting them to gain a meaningful place in society. They use Italian beeswax from local, ethical producers. I love using the sheets, which can only be washed in cold water, to pack up things that don't risk making them smell bad (think cookies, not gorgonzola), and they've proven quite the conversation piece. One last thing: you won't find them on Amazon – they believe in community and ethical production, and don't want to pay the middleman. Fair enough!
https://www.instagram.com/p/B0JNUyJlfaf/
My friend Betty Soldi suggested stopping by the shop Société Anonyme  – a minimal bohemian shop (two locations in Florence) inspired by Dadaism but also by the underground atmospheres of the districts of London, Berlin and Brooklyn in Florence and they offer a wide range of items for women, men and accessories. This sleek bag definitely caught my eye… 
Il Torchio, Via del Bardi 17. Erin is one of my favorire artisans to include on this blog and is a talented book-binder who is aimed at keeping this treasured Florentine traditional art alive. I love her handsewn notebooks made with Florentine paper. She does a lot of personal orders too. Give Erin a visit and have fun customizing your own leather/paper gifts. 
https://www.instagram.com/p/B2ZkX7tI6rK/
Madova, Via de' Guicciardini, 1/red is always on this list because who doesn't love a beautiful pair of leather gloves? They are well known around town with their cashmere-lined mittens and the historic shop of Madova is just a stone's throw from the Ponte Vecchio. Prices start from around €49.50 for a pair!
I bugged my friend Emiko to suggest one of her favorite places for gift and she said Italian textile designer Lisa Corti has a great shop featuring sophisticated, colourful prints: think tablecloths, napkins, placemats, resort wear in Piazza Ghiberti, 33.  I happened to see online that she is offering a Black Friday sale as well. This could be dangerous. 
Jewelry | Officine Nora,Via dei Preti, 4.  Hidden in the Oltrarno is the Mechanic-shop-turned-artisan workshop collective that is Officine Nora. You might have seen my piece in Lonely Planet about this place, and I really adore their dedication to beautiful, handmade jewelry that I have cherished over the years. Prices range on their labor and elements chosen, but this is definitely one of my hands-down-top-choices for gifts with feeling this season.
https://www.instagram.com/p/B43dgkNoOhC/
OBOFirenze, Via Romana, 42r, is a small shop in the Oltrarno offering a range of very unique, modern and often humorous items with Florentine flair and a Scandinavian design edge. I love their Florentine architecture plates, luxury candles, cool cutting boards and modern print of the "bistecca alla fiorentina" that you can see below.  They are also are offering a "Black Friday" weekend set of sales that I might to check out for myself ;-).  
https://www.instagram.com/p/B45NCZ8HIt_/
I have always been a fan of La Via del Te and their tea-related offerings. They have a lovely line of Firenze-inspired loose teas with names like "Appuntamento Sul Ponte Vecchio" and "La Leggenda Dei Boboli" that could be paired with one of their personal tea cups (comes with a removable filter, I have one and use it daily). The tea ranges around 12€ while the up itself is around 11/12€. Check out more online. 

Atelier GK on Borgo san Frediano is a personal favorite in San Frediano offering a beautiful selection of bespoke boxes covered in handmade paper and exquisite accessories (I bought Nico a business card carrier and he LOVES it, it features his initials costing around 85€). The best way to describe their style is to imagine the skill of Florentine craftsmanship over generations mingled with Japanese simplicity and design and that's what you get at this tiny studio in the heart of San Frediano.
When it comes to leather jackets, belts, Benheart, Via della Vigna Nuova, 97-red is quite simply the best.When it comes to quality leather, Ben is your best bet for great quality and a stylish touch, in fact I've written about him on Italy Magazine and here on the blog. Both Nico and I have leather jackets from Ben that we adore and a fun gift idea from this shop would be a monogrammed wallet, signature belt (you can pick each part), or a lovely leather-laved bag/laptop case (see below), I have one similar to this below, and it's basically my hold-all!
Giulio Giannini e Figlio is a beautiful family-run artisan (6 generations yo!) shop in Piazza de' Pitti that specialises in bookbinding and Florentine marbled paper items. One fun gift idea are their marbled-paper themed phone cases (around 30€), monogrammed notebooks and bespoke Christmas decorations.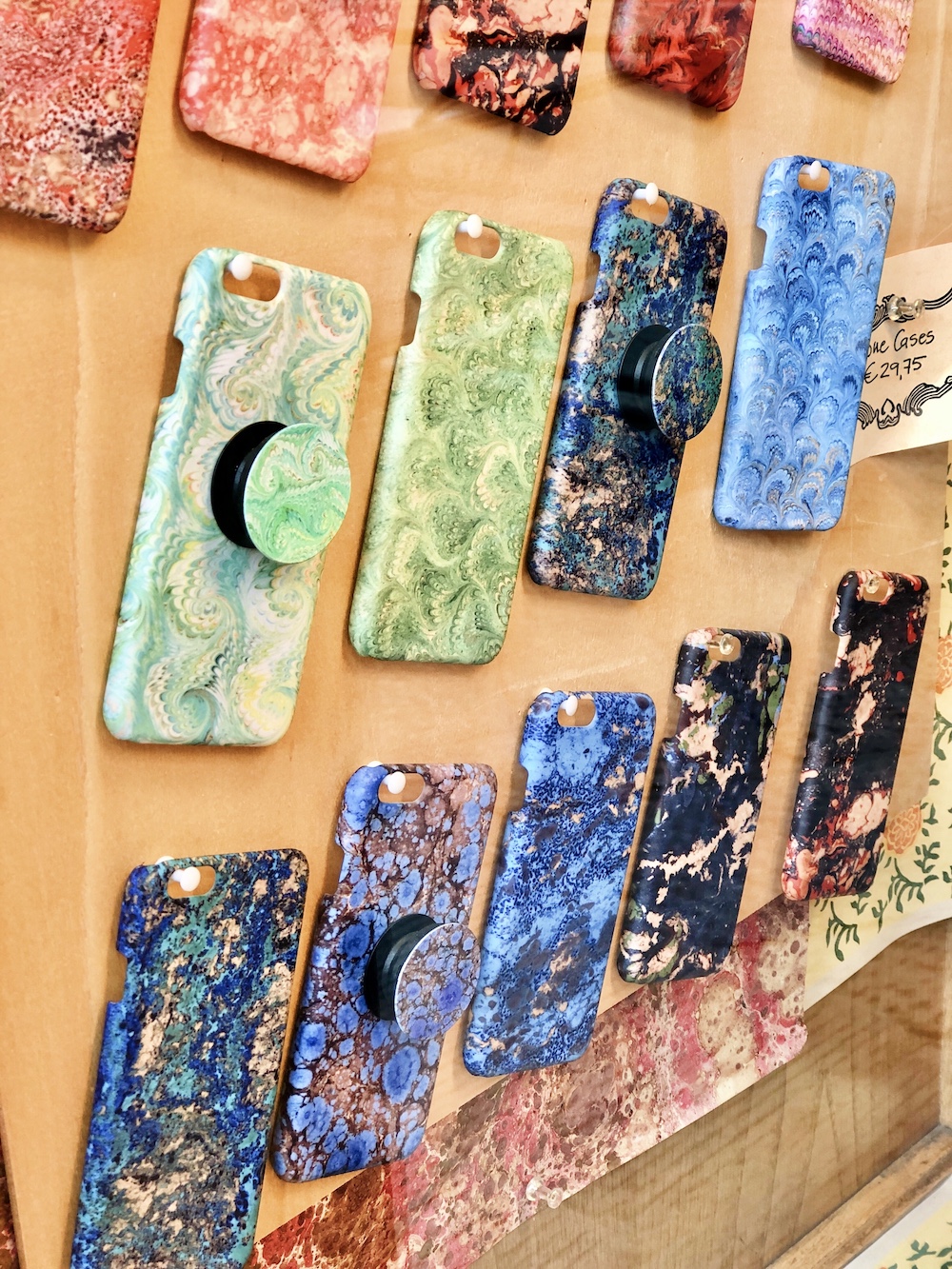 Uashmama on Borgo S. Jacopo, 30r is a made-in-Tuscany brand is a family business specializing in paper turned accessories: wallets, makeup cases, purses that feel like leather and are completely washable made in a special and very durable kind of fabric. My lovely husband gifted me a few of their products and I'm a total convert. One of my top Christmas recommendations for 2019 – products range from around 25€ and up.
https://www.instagram.com/p/B5F1pKzoAug/
https://www.instagram.com/p/B43zOOaDaol/
For those who need to be inspired to try their hand at writing again my friend Betty Soldi published her Inkspired booklast year and it is now out in 8 languages. It is a stylish workbook that contains clear instruction, encouraging advice, and 40 practice pages for the beginner calligrapher, plus plenty of white space throughout to continue practicing. The perfect opportunity to learn to embrace mistakes and play around with new ideas! There's an English and  Italian version with quite a few Florentine moments (pages on Michelangelo/Galileo/why she holds Florence in her inky heart and why Florence's art, history, heritage and being here now offers continuous inkspiration, which you can also find inside of yourself). Inskpired book €25
Marina Calamai is a Florentine designer and visionary whose work I absolutely adore. Her shop is located on Via di Santo Spirito 22r (open 3-8pm) where you can marvel at her world of bespoke jewelry, often with Florentine themes. She has a lot of love for her neighborhood of Santo Spirito in the form of earrings, cufflinks for him, and much more. Keep an eye out for her new line of puppy-personalised jewellery, I have a beautiful bracelet featuring Ginger the Beagle that you'll have to pry off my cold, dead wrist. 
My friend Shannon gave us a beautiful package of different pasta shapes last year and I thought it was a brilliant gift! The one she chose (that we loved) was made by Benedetto Cavalieri which can be found at Eataly. Throw in some sauce and other treats and you'll be making any foodie friend smile. 
Lucilla is a local illustrator selling beautiful handmade prints that has just opened a shop in the Oltrarno on Via romana 8-10/r and I just happened to be walking by and fell in love quite instantly. She features pop-art style saints and cocktail-prints that would adorn any person who loves to imbibe every so often. Prices range around 30€ and you'll find her Etsy shop here. 
Experiences That Make The Best Presents.
Any follower of this blog will know that I really adore the small group gastro tours offered by Curious Appetite. Since I get countless emails asking me advice on what to do in Florence, one of their curated dinner crawls, food tours, aperitivo experience (and in Bologna too) would make for a great gift for any friends coming to visit. Prices range around 90-135$ per person depending on the experience and keep in mind that she is offering a special cyber week sale (food lovers tour or progressive dining crawl) until December 2nd ! 
Cooking classes are always hotly requested in Florence and while you can find a myriad online or at local cooking schools, I would head over to Pasticcera Buonamici, a family-run bakery in San Frediano that offers classes on how to make fresh pasta or their signature cantucci "twice-baked" cookies. 
I recently did a bespoke perfume experience with the team of Sileno Cheloni, a master perfumer based in the San Niccolò neighbourhood. Essentially I sat an organ-like desk and smelled my way through a 100+ scents and made my own perfume blend titled "Girl in Florence" (naturally #bootybabe was already taken) and I could not recommend this beautiful experience more. All together the education beforehand, actual experience and take-home custom perfume costs 275€. This would be an awesome splurge gift for someone special!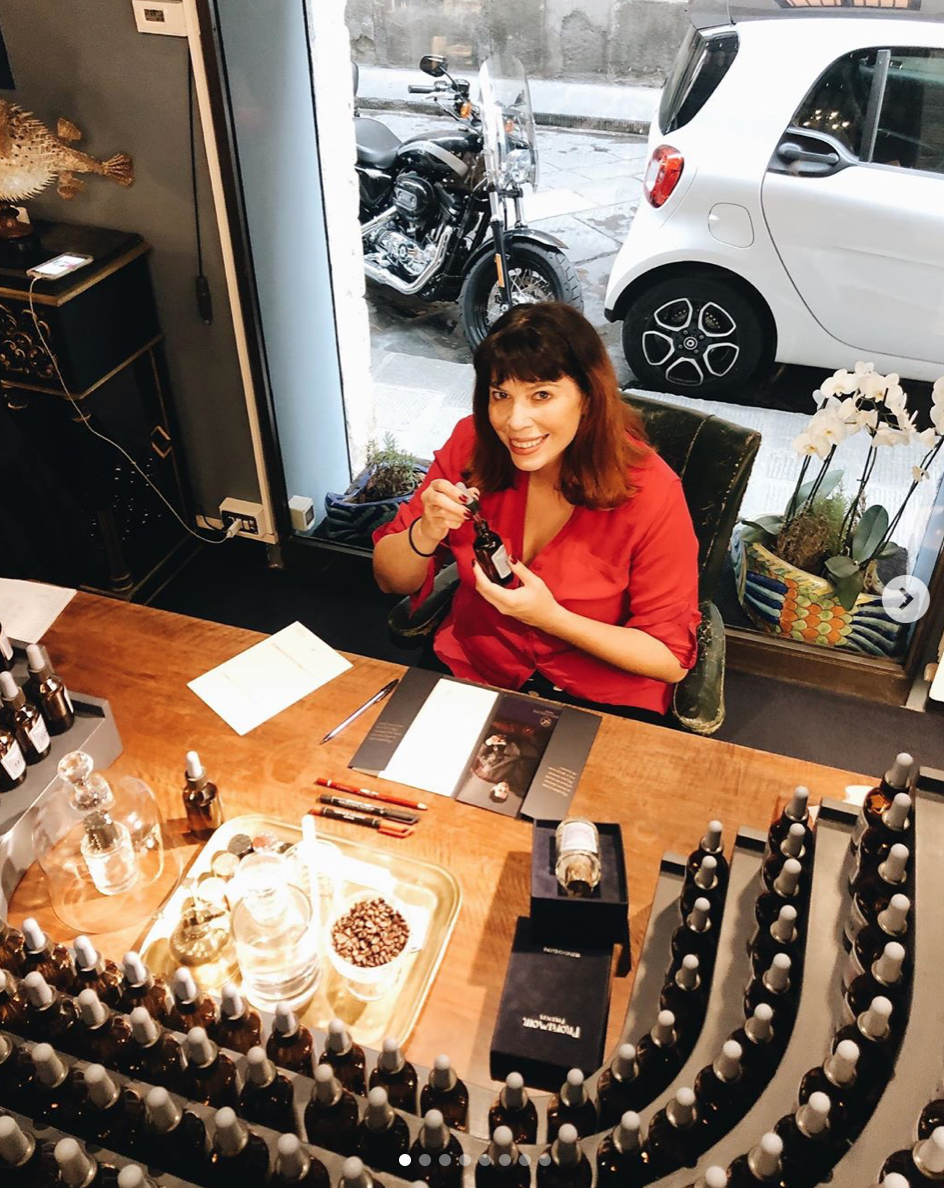 For upcoming retreats (also a pretty fab gift if you have someone you know needs a much needed break. Next march there is one superb getaway hosted here in Florence by my friend Shari of Sole Yoga Holidays concentrating on the art, beauty and expression of our hands, titled Manifestation. She has picked the best of the best in the city, yoga with her, art history tours with Alexandra Lawrence, calligraphy with Betty Soldi, wine-tasting and a stay at one of the best (newest) boutique hotels in the city. 
My friend Lisa of This Tuscan Life is now offering custom fashion tours that take you to some of the best Florence boutiques showcasing local designers. The best part is getting to spend time with Lisa herself, one of the kindest, bubbliest personalities in the city. 
If you want to keep in touch with Italy here are some great resources that could be gifts that certainly will last longer than just Christmas Day. The Florentine, the city's top English magazine has offers combining a PDF version or paper for readers around the world for a cool 20€ plus. Dream of Italy by Kathy McCabe is an award-winning, print and online newsletter membership worth investing in and it also includes travel discounts. Also, if you head on over to my footer (scroll all of the way down) on the homepage you can sign up for my newsletter (no spam allowed) that will update you with what myself, Nico and Ginger the beagle are up to if you want to support and follow. 
Books To Buy This Year 
I have returned to my love of reading (wait for a fun list coming out soon) and for those who love books, like me, I adore receiving them as presents. Or gift certificates to places like Todo Modo Bookshop in Florence or online. Here are two of my top book suggestions with Italy themes this year. 
Cucina Tipica by Andrew Cotto is a fun read and described as "The story of Jacoby Pines, a disheartened American who arrives in Italy on vacation and decides he never wants to leave. What follows is a food-filled, wine-soaked, travel-laden adventure about one man's quest for an antiquated existence in the modern world." Andrew is a talented journalist by the way and you'll want to read this story about how Venice and 9/11 Firefighters come together every year. 

Naked (in Italy): A Memoir About the Pitfalls of La Dolce Vita is written by Misty Evans, her debut novel in fact and one that I enjoyed so much, I need to read it again.  It is described as "a profoundly intimate and wildly entertaining portrait of a young woman trying to cope with life's lemons by drowning in limoncello." I had the pleasure of meeting Misty a few times and we were part of a popular blogger roundtable that I wish I could resurrect. What's refreshing about this book is that she isn't going the usual "oh my god Italy is amazing" route but is funny, honest and refreshingly "naked" with her readers. Well done! 
Ginger the Beagle's Top Choice
Naturally I had to give my dg Ginger some input and her top "pick" (besides dental sticks because, obv) are the new custom bracelets and pendants made by one of my favourite local artisans and artists: designer Marina Calamai.
She has quite a few options in her repertoire and can carve the name of your pet on the back of this piece. Prices range around 90-100€ per custom design.
For those who want to get a little extra frisky, you can join her and we will be be an appearance to on December 4th at 6pm at Il Conventino in the Oltrarno for a chance to let your dog become an artist like Leonardo da Vinci. More details can be found here.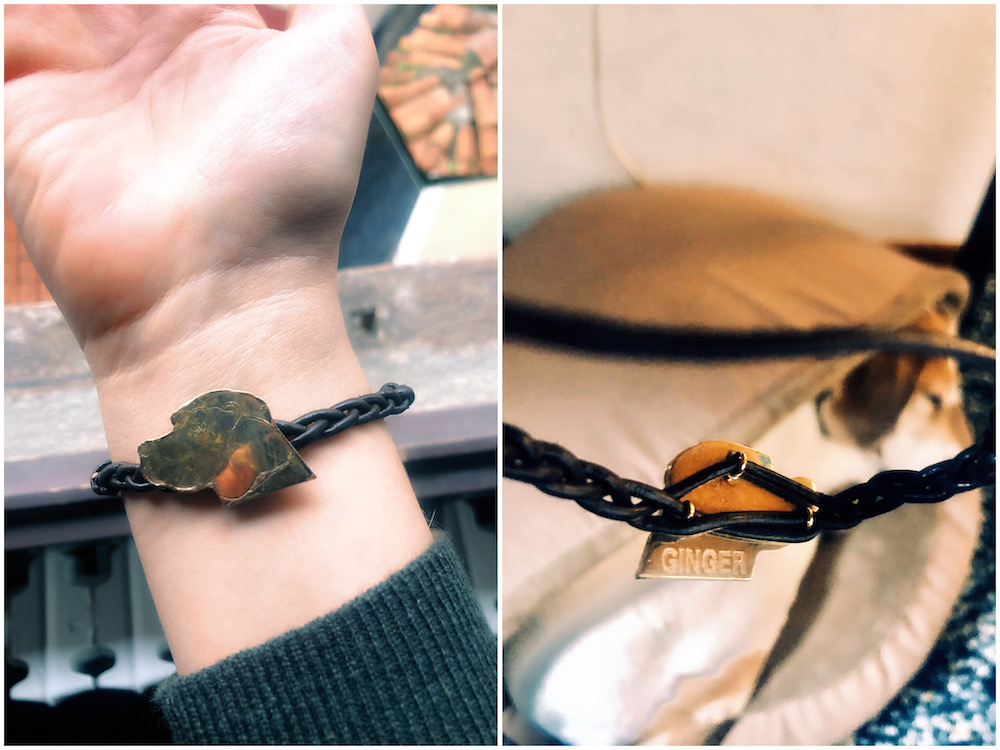 ALL OF THE ITEMS MENTIONED ABOVE CAN BE FOUND ON THIS TUSCAN HOLIDAY GIFT GOOGLE MAP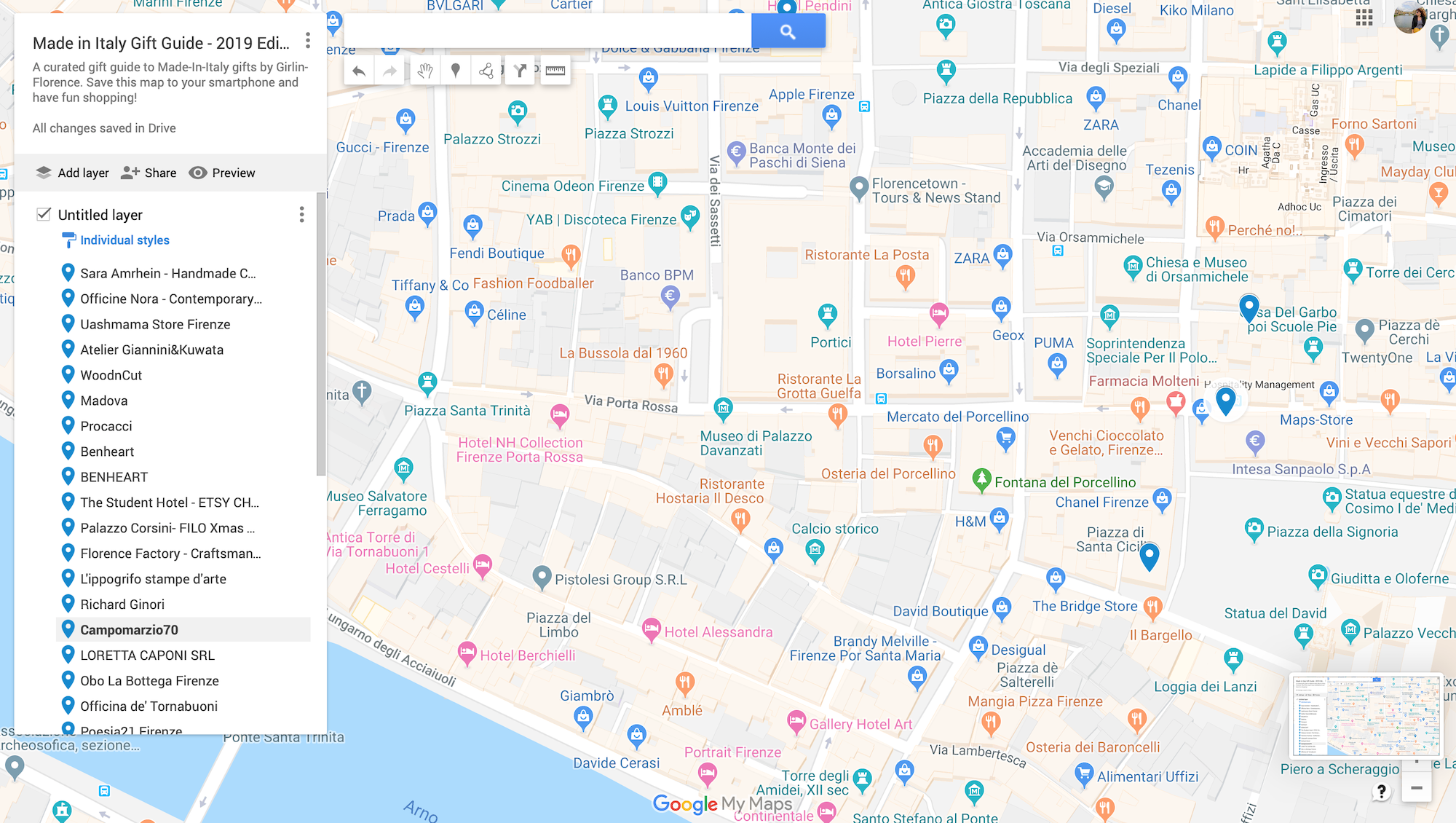 Christmas Markets You Need to Know About 
I will never understand why all of the christmas markets land on the same weekends, making it hard to pick and choose who to visit but alas somethings are better left to be. I'm actually feeling generous today so I've whipped up a google map with all of the markets you'll want to visit (I'll add the info on times/dates too) so you can create your own itinerary to browse the city's finest.
My personal roundup for the month will be out shortly, but enjoy the below festive suggestions for this week/weekend in the meantime.
Etsy – the popular online platform, will be hosting a Made-in-Italy Christmas Market the weekend of Saturday and Sunday, November 30th and December 1st.  This is the 2nd year they will be doing the market and this time they are including over 45 local artisans at the The Student Hotel in Viale Spartaco Lavagnini n70-72. Expect a wide range of interesting items: from textiles, to nature-inspired jewelry, scented candles, notebooks and a lot more. New this year is a selection of workshops aimed at those who want to themselves become makers. Entrance is free to anyone who wants to come browse, and they will be open from 10:30-7:30pm.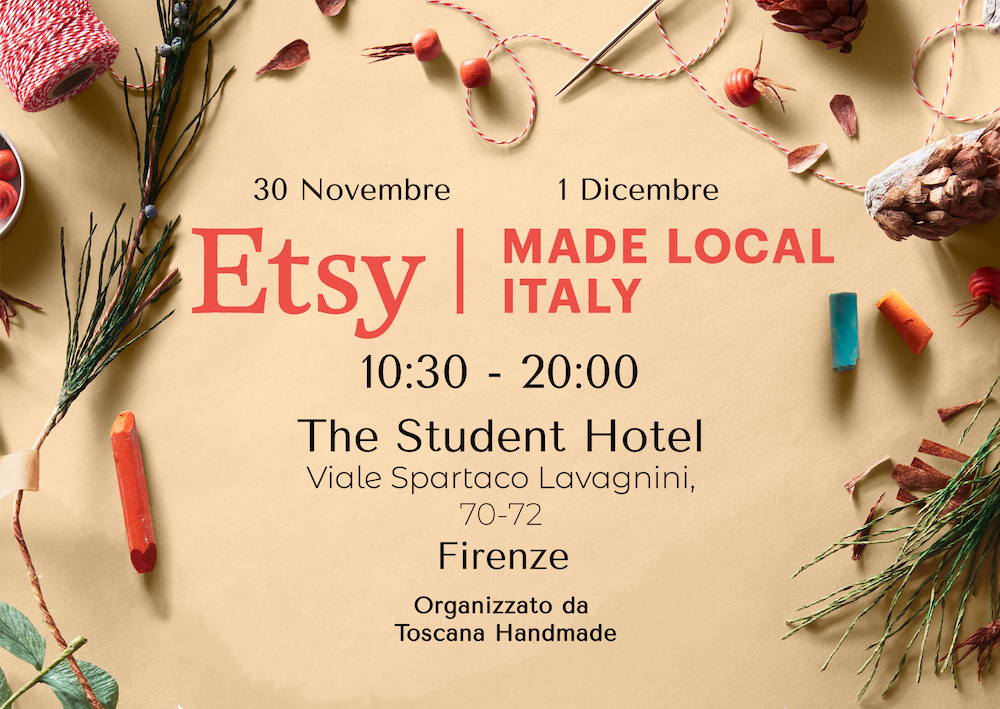 The 44th edition of the AILO Christmas Bazaar will take place November 30th and December 1st (3:30-7pm) at the Giardino Dell'orticultura (horticulture garden), a charity benefit market with plenty of artisanal Christmas-themed items on offer, plus comestibles and books.
The British Institute of Florence will be hosting a Christmas Fair at the Harold Acton Library on December 6th featuring books, arts and crafts, homemade goods. 
The annual charity Christmas bazaar at Palazzo Corsini "Nataleperfile" will kick off on Friday until Sunday (Dec 7th and 8th), items bought here (a selection of artisan handicrafts, kid's presents, jewelry and more) will be for a good cause. Even if you don't buy anything, it's more than worth it to go and visit the majestic Corsini building.
The Weihnachtsmarkt or German Christmas Market that annually takes place in Piazza Santa Croce has officially kicked off until December 21st (10am-10pm), expect to see mulled wine, holiday gifts, fuzzy slippers and the odor of grilled sausage permeating the air. 
Tasso Hostel is hosting an all day grand market bazaar on December 21st and 22nd with all kinds of items on offer and word on the street is there will also be an in-house barber shop!