The buzz of September in Italy is so unique for the fact that it coincides with the classic "rientro" period after the traditional summer holidays. Hence when local Florentines return bronzed, and happy, (those lucky enough to escape) in their white linens to local catch-ups with friends to chat about their various holiday adventures and upcoming busy schedules.
I can already feel the energy in the air as cars start to full up our tiny streets jostling with delivery trucks lining up to deposit their goods to shops that are slowly removing their "chiuso per ferie" signs.  
It also coincides with grape harvest season and that also means la schiacciata con l'uva (thanks Emiko!), a delicious bread overly-stuffed with juicy grapes that make any rientro much easier to deal with.
Personally, autumn is my favorite season and can we say an amen to cooler weather and reasons  galore to whip up delicious hearty soups and seek out a cozy blanket (that our dog Ginger will steal) to curl up in together with a good book.
Our August was a bit of whirlwind.
Together with our French family, we returned to my favorite hamlet in Liguria for some seaside adventures and during Ferragosto week Nico and I went on a road trip down south to Campania to stuff ourselves with mozzarella di bufala and… I may have been convinced to hurl myself across a valley along a zipline in Cilento's natural park (as one does).
To keep it 100% transparent, I have to admit that this month in particular is a bit difficult for me for a number of reasons.
We are nearing the due date for when I was meant to bring our son into this world
https://www.instagram.com/p/B1WZeBgCpVA/
(unfortunately we met him much sooner than expected) and emotionally this is really toughto deal with emotionally. I also have an open myomectomy scheduled mid-month that despite it being a major surgery, will hopefully offer a bit of closure to this painful chapter in our lives. That being said, onwards and upwards folks.
Being that I'll likely be housebound for a few weeks after the operation, I'd love your best book, movie, documentary suggestions so I can keep busy from my little sanctuary in the heart of Florence. Luckily our beagle is a cuddle monster and Nico isn't too bad either ;-).
I hope you enjoy this lovely month in Florence and if you are looking for something interesting to do this month in the Flonrece, this personal roundup of events in town should do the trick.
Link love for the month of September
https://www.instagram.com/p/B10iKJriUU1/
Open-mic nights are a great place to meet locals, share a poem, story or piece of music you have been working on and for the two September sessions they will be held in the lovely outdoor courtyard at The Student Hotel. Address: Viale Spartaco Lavagnini 70 – 72, 50129 Florence, Italy. The fun starts at 8:45pm.
September 3: Hosted By Marisa Garreffa and Sam Webster (on electric bass!) Expect some silliness, these two Aussies tend to get comic when they're allowed to play together.
September 17: Hosted by Marisa Garreffa and Lee Foust. Featuring the book launch of favourite Baret Magarian with his new book Melting Pot. Their interview and readings with Baret will begin before the open mic, at 7pm. Don't miss it!
My pals over at Relax Firenze are offering a great line-up of wellness-related events this month including an open-day on September 7th to try out some of their classes.  I can recommend them for their sessions of pilates & yoga, mindfulness meditation, lunch break yoga and much more.  This is also my go-to spot for deep tissue and drainage massages plus the most magical invention in wellness earth, reflexology. Ask about their EMS personal training sessions if you want to help with toning your body but don't have a ton of time free.
September 7th is The Festa della Rificolona, or annual Festival of the Paper Lanterns in honor of a popular Christian holiday celebrating the birth of the Virgin Mary (which is on September 8th). In Florence this festival also marked a time when farmers living outside of the center would parade into Santissima Annunziata carrying paper lanterns on the evening of September 7th to then sell their goods in a market in the same square on September 8th. On the 7th around 8pm in Piazza Santissima Annunziata expect to see a large number of local Italian families carrying fun paper lanterns that local kids try to set on fire by launching spit wads (I kid you not). Honestly it's pretty cool to see in person, especially if this is your first time in Florence.
Storytellers in Florence is back today September 7th and the theme is still being voted on in their dedicated Facebook group (I'll post the event link here as soon as it's up).  As per usual it will take place at independent bookshop cafe Todo Modo (Via dei Fossi) starting at 7pm and ending at 9pm. You are more than welcome to just come and watch people share their stories but keep in mind a minimum drink consumption is expected. If you have a story to share based on this theme, be sure to contact Linda on Facebook or by email at [email protected].
September 7th is the annual "Open studios"run by and at German cultural institute and artist residency Villa Romana. Expect live exhibitions, guided tours, video installations, a dj set and plenty of other artistic offerings that are free and open to the public. More details can be found here.
On September 8th, marks 'La Fierucola del Pane,' the city's oldest fierucola(a local market selling biological products and promoting the use of organic and biodynamic farming on a small scale) is now in its 36th edition in piazza santa maria annunziata. The open-air market will be a day long event (9am to sundown). Here you can find not only bread; but organic honey, seasonal foods and artisan-made crafts.
My favorite local food festival "sagra del tartufo" is BACK from September 5thto September 22nd and I am gearing up my stomach for what will hopefully be return trips to the neighborhood of Girone (in the suburbs of Florence) to try everything truffle. In its 35th year of existence, volunteers from the Italian blue cross organization come together to serve truffle pizza, truffle bruschette, pasta with truffle, truffle sausage – um I know I sound a bit like Bubba Gump but you get my drift. It's cheap, fun and easy to get to via the bus line 14 (towards Girone) which you can catch at the station, it takes about 25 minutes to get there and it is the last stop. More info is here(in Italian).  You sit at communal tables, the light is way too fluorescent, and it is very local. address: head to Piazza Sandro Pertini, Fiesole then take a left to find the food festival structure.
https://www.instagram.com/p/BIz46UqBtS6/?utm_source=ig_embed
Our local neighborhood square becomes even more charming this month thanks to "Settembre in Piazza della Passera"thanks to a mid-month series of events from the 11 until the 13th organized by the IN PIAZZA cultural association. I don't have the full program yet but expect evening jazz concerts, poetry, and jovial locals, follow their FB page for more info and remember that this is part of the Firenze Jazz Festival that aims to bring tunes to the streets on the Oltrarno side of the river.
Street Food Along the Arno #Lungarnodeltempio: This is by far one of my favorite things to do in the summer. Along the Riva del'Arno on Lungarno del Tempio, you'll find a cool outdoor space with food trucks including "PescePane" (the Italian answer to the fish burger) and a pretty awesome burger truck along with gelato, Texas smoked bbq among other options. This has exponentially expanded in 2019. This is definitely a place where locals go and if you like street food/being outside, this is the place for you. open 12pm – Midnight.  address: Lungarno del Tempio. In addition to this area also visit Molo 5 : Yet another outdoor restaurant and bar area where you can find Rex serving up drinks and plenty of food favorites to choose from including pizza from Simbiosi, Lampredotto and Asian favourites. Utopiko is the new kid on the block for outdoor bars, music and food in Florence located near the Ex-Obihall along the river. address: Via Fabrizio De Andrè, 50136 Firenze FI
Every #WineWednesday at this summer's urban garden at piazzetta dei Tre Re in the center of Florence there will be an evening of wine talks hosted by Ruffino Wines and co-curated by Ruffino's Francesco Sorelli and The Florentine's Helen Farrell with a series of very interesting speakers kicking off around 7:30pm.
Head to Piazza Santo Spirito, Sunday – September 15th for their all-day organic fair Fierucolina di S.Michele. The square will be filled with organic producers from around Tuscany and Italy and is a great place to pick up parmesan, kambucha, breads, essential oils and a lot more.
The Cultural Salon is back this month with a Tuesday evening aperitivo at Il Borro Tuscan Bistroon September 10th(7-9pm), a great place to mingle (especially if you are a little older).
The Women's International Network in Florenceis hosting a meet-up event on September 18th at the RFK International House of Human rights at Via Ghibellina 12A from 8:00 to 11 pm. As by tradition, their September meeting is a social meeting open to all women living full or part-time in or near Florence. it is a wonderful opportunity to meet new English speaking women from all over the world.
The Student Hotel is a great location for local events and this September they have a few upcoming ones you may be interested in (and it's just a very cool space).  
September 4th: Blues music at 6:30pm
September 11th: Swing dance at 6:30pm
September 15th: Vintage temporary market at 12pm
September 24th: Mindfullness and Emotional Intelligence Laboratory (in Italian) at 7pm.
Forte di Belvedere is still in action as this former 16th century Medici fort reopened earlier this summer to the public as a contemporary art space combined with a cool place for a drink with a stunning view of the city! This season they are hosting artists Massimo Listri and Davide Rivalta showcasing drawing, sculpture and photography (the photography is outstanding – you don't want to miss this). Opening hours are 11am-8pm (last entrance at 7pm) 3€ entrance otherwise residents of the city can get the Forte di Belvedere card for 2€ that offers unlimited access for the entire summer (the space will be open until October 20th).
Roundtable Sessions: Special Series: Having tools to support mental health can be the difference between a vitalising experience abroad and an overwhelming one. Out of our comfort zones, what tools do we use to navigate? This series asks the big questions, offers tools, and opens space for discussion. The program is designed and led by Marisa Garreffa, who came to Florence to study and survived a violent sexual assault and legal battle for justice. Together with Lynn Cole of Roundtable Sessions Florence and St Mark's Cultural Association, they are inviting special guests for each panel to offer multiple perspectives on what it takes to thrive. The sessions start at 7pm at the St Mark's English Church on Via Maggio 16, 50125 Florence, Italy.
Sep 11: Values and Goal Setting: 

What are my personal values, and how do I use them to set goals for my time abroad?
Sep 25th: Openness and Boundaries: 

How do I balance being open to new experiences with healthy boundaries?
Also on tap for extended hours for visits is the world-famous Uffizi gallery. This summer's prolonged hours run through September 26 every Tuesday until 10 pm.
Head to Villa Medicea di Lilliano on the outskirts of Florence for a night of jazz under the stars for a free concert by Sound Stations. Free to attend, During the evening it will be possible to buy and taste the wines by Malenchini of Villa Medicea di Lilliano Wine Estate.
An artisan market "Creative Factory" organized by Heyart will compile the crafts of about 30 makers along open-air stands in Piazza Ciompi this September 14thand 15th(this is an all day event).
When you hear that award-winning pizza marker Giovanni Santarpia is going to be doing a special dinner with award-winning Julian Bondi – craft cocktail master and visionary, then you save that in your calendar. This sure-to-be-delicious event will take place on September 17th at Eataly Firenze at 8:30pm. Reservations MANDATORY. Go for me… please. 
Palazzo Strozzi, the city's foremost exhibition space, is opening its next show on September 28thcelebrating Natalia Goncharova: a leading female artist of the 20th century in this major retrospective. The exhibition will explore her unconventional life and career, presenting her rich and multifaceted artistic output with masterpieces from major international collections by celebrated artists including Gauguin, Matisse, Picasso, Balla and Boccioni.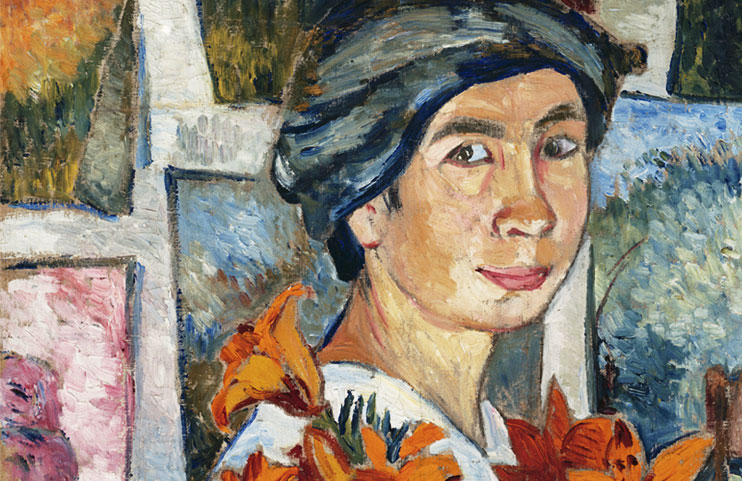 Might I suggest a climb up Torre di San Niccolo, or San Niccolo's tower, one of the city's best preserved ancient gates. Luckily it is open now until September 30th (excluding Mondays). You can climb the tower via guided tour (both in English and Italian) daily from 5-8pm (from September, 4pm) for the affordable cost of 4€.
The last Saturday of every September (the 28th) is the Carro Matto or "crazy cart" with flasks of wine from Rufina that is pulled by a pair of white oxen through the city. Naturally it marks wine harvest season and you can expect to see the parade fanfare around 3:30pm the last Saturday of the month.
Lovers of antiques may want to purchase tickets to the 31st Florence International Antiques Fair taking place at Corsini Palace from September 21-29th. Here, 80 large antique dealers will offer, in the magnificent halls of Palazzo Corsini sull'Arno, a selection of unpublished works of great historical and artistic value. The BIAF, defined as "the most beautiful showcase in the world" will also offer paintings, sculptures, drawings, furniture, jewelery, and antiques of all sorts.
Dance to the tunes of some of the best international electronic music superstars at the Nextech fair from the 19thto the 21st. Venues hosting concerts include Fortezza da Basso, La Campagnia and Club 21.
I usually love to welcome cooler weather and rain with a trip to the movies, so make sure to check out this month's original language line up at The Odeon Firenze. Films this month include Edison, Late Night and Once Upon a Time in Hollywood! Here is the program until November.
For lovers of technology, Wired Italia is back this September for Next Fest from the 27thto the 29thwith many talks, panels and interviews aimed at discussing the evolution of technology, business and most of all PEOPLE. All of which will take place at the Palazzo Vecchio
The Lungarno Chats is a series of informal evenings that provide a unique opportunity to engage in conversation with inspiring individuals in Florence.  Learn about their stories, successes, challenges, and views on topical items from business to current affairs. The next one will take place on Monday September 23, 2019 from 6pm-8pm at The British Institute of Florence, Palazzo Lanfredini 1° floor Lungarno Guicciardini, 9. Guest speakers include: Benjamin V. Wohlauer, Consul General of the United States of America, Rod Christie, President & CEO Turbomachinery & Process at Baker Hughes, a GE company (Formerly Nuovo Pignone) and the event will be moderated by Morgan Fiumi. RSVP here. 
Corri la Vita is an annual Marathon for Charity that is beloved locally. This year's race will take place on September 29th starting from piazza duomo. For 10 euros, you can donate to charity supporting the fight against breast cancer and join a pretty jovial day out. Here is where you need to sign up.
While not exactly a specific event, during September provided the weather is good you can still enjoy the city's many rooftop terraces. Most of which are located on top of hotels where anyone can go for an aperitif drink and even sometimes stay for dinner. The bonus is you get a beautiful, panoramic view of the city — just be aware that drinks will often be a little pricier.
"La Terrazza" on top of Hotel Continental is open to the public and is a sexy, sophisticated spot to sip a moscow mule with a birds-eye view of the Ponte Vecchio. Pricey, cocktails cost around 16 (if not more) euros, open daily from 3:30pm-10pm. address: Vicolo dell'Oro, 6r – 50123 Florence, Phone. +39 055 2726 5806 , E-mail. [email protected].
Glance Summer: Every Tuesday and Thursday from 8-11pm you can enjoy a panoramic aperitivo with live music on one of Florence's newer rooftops with a pool. address: Via Nazionale 23.
esto at Hotel Excelsior is a prime spot for fashionistas to grab a drink on one of the best terraces in town. I would skip dinner here and just get the drink. Piazza Ognissanti, 3. Open 7:30pm-10:30pm.
B-Roof is an awesome rooftop bar on Hotel Baglioni. It is the ideal place for a sundowner aperitivo with a large, expansive terrace at your beck and call with a bird's eye view of the Duomo cathedral (and not only). Dig into curated snacks and fun cocktails, keep in mind that it's best to make a reservation. Added bonus, you are very close to the train station should you need to jet off quickly. +39 055 23588865 www.hotelbaglioni.it.
Oblate stays cool. On top of the Oblate library lies a cafe that is quite popular with the Italian student population. The great thing is you can also get a drink here and prices are cheap so this is a wonderful option for those who are on a budget, but still want the Duomo smack in their face. address: via dell'Oriuolo, 26. Cool place to organize a private aperitivo as well. Info here.
Hotel Plaza Hotel Lucchesi's stunning rooftop terrace by the National Library is one of my favorite places to go for a rooftop drink and they are probably the best price/value for fancy hotel experiences, do keep in mind that prices went up in 2018 and you cannot get just a drink during sunset. Be prepared to spend at least 25€ if not more. Reservations recommended +39 0552623500 e[email protected]. address: Lungarno della Zecca Vecchia, 38.
View on Art is probably my favorite new terrace this year in Florence. Located on top of Hotel Medici in the center of town, you'll find a beautiful view of the Duomo cathedral and more affordable aperitivi than similar terraces. address: Via dei Medici, 6. Closes at 10pm.
Hotel Kraft is one of the lesser-known spots for dinner or a drink in Florence and I actually quite like it. You'll find it on Via Solferino, 2 near the American Embassy.
Grande Hotel Minerva, '360 Three Sixty' Rooftop Bar. Always an iconic destination in Santa Maria Novella. Open daily from 7pm-midnight. Email [email protected] for a reservation.
Hotel Torre Guelfa has a tiny bar on Borgo Apostoli on top of an ancient tower (you have to ask at reception if they have space, hotel guests get first priority). The view from here is one of the best in town and drinks are as affordable as 9€ for a spritz (a steal on a Florentine rooftop).
GET OUT OF TOWN
My top picks on what's on around Tuscany, and yes September is a GREAT month to visit Italy. 
Head to Greve in Chianti this September 5-8thforthe Chianti wine expo when the main square fills with stands offering tastes of their finest vintages.
Sept 6th-8th, Cookstock food festivalwill take over the picturesque town of Pontassieve (easy to reach from Florence by train) for two days of cooking shows, tastings, tortello-offs and much more. Read all about it
The first Sunday of September there will be a joust, Joust of the Saracen,in Arezzo's Piazza Grande, a tradition that has taken place since the medieval period.
September 14th, Sagra della Frittura di Pesce+ Birra illimitato, fried fish and great beer in one festival i the hilltop town of Fiesole, an easy bus ride from the center of Florence. 9pm-12am. 
The last Sunday of September (the 29th) head toImpruneta in the hills of Florence to catch the Festa dell'Uva (grape fair), a traditional festival that dates back from 1926. Full Program here.