Typically, in September in Florence Italy, there is a real buzz of excitement, as it coincides with the classic "rientro" return period after the traditional summer holidays. You'll find locals bronzed and happy, (those lucky enough to escape) heading back to work and at aperitivo bars for catch-ups with friends to chat about their various holiday adventures and upcoming busy schedules.
The energy and removal of the "chiuso per ferie" signs might still be there but this year, as we all know, is decidedly different. I think most of us wanted to believe the coronavirus situation would have been better handled worldwide and that normalcy would be on everyone's agenda instead of "chissa" who knows? Don't get me wrong, these past few months have been more lovely than not, a bright reminder of how lucky we are to enjoy anything outdoors after a strict lockdown this past Spring.
So rather than focus on the fear of the unknown I will say these few things. There have been this late summer an uptick of cases in Italy and Europe as a whole, primarily among young people coming back from holiday and meeting in groups/crowded places. It's worth saying again and again that pandemic is not over and maybe never will be if simple steps such as wearing a mask are not respected. Taking less risks, as annoying as they are, seem to be the key here and I for one hope there is not a second lockdown, Melbourne style, after so much hard work this Spring.
For those who think that virus is not real, perhaps some 5G hack or conspiracy theory by Bill Gates or whatever I invite you to unsubscribe to this blog and frankly feck off. My 67-year-old uncle in Arizona died from this virus recently so I don't see people or their deaths as sad but "this is life" statistics, I see human beings going through a crisis.
In more positive news, one thing I have always appreciated about September is the arrival of grape harvest season and la schiacciata con l'uva (here's a recipe by cookbook author and friend Emiko Davies). Think of a delicious, sticky flat bread overly-stuffed with juicy grapes that make any rientro or return to life much easier to deal with.
Personally, autumn is my favorite season and can we say an amen to cooler weather and reasons galore to whip up delicious hearty soups and seek out a cozy blanket (that our dog Ginger will steal) to curl up in together with a good book.
This August we were able to return to Florence for a week to celebrate a friend's milestone birthday and fix up our new (tiny) home that we recently purchased near Piazza Tasso. It's still missing a proper living room/table/décor/lighting but we have the utilities set up, a new fridge and washing machine so this girl is happy. For those of you who might be reading this and going "huh – new home?" and have missed any pertinent life updates in our dual-homes of Switzerland and Florence – here's just the post to read.
https://www.instagram.com/p/CEXBpJDAxSo/
Though coronavirus restrictions will indeed mean less events will be ongoing, there are still a fair amount of reasons to get excited about this September and I implore you to be respectful, wear a mask, be careful in crowds and still, enjoy the beginning of autumn in the city!
Link love for the month of September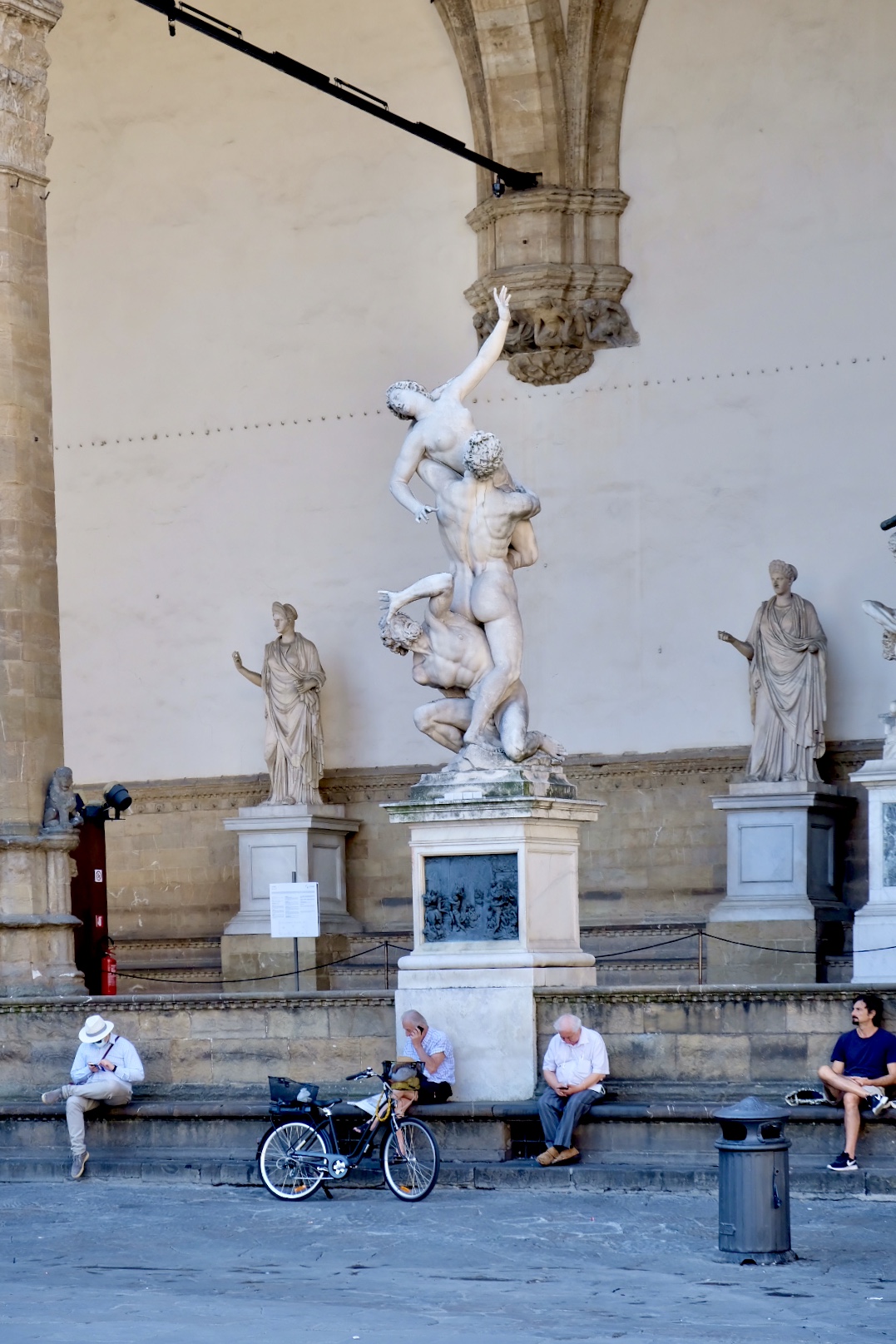 Always wanted to discover the artisans and small bottegas of San Frediano but aren't sure where to start? Well now you can join an affordable guided tour that lasts around 2 hours visiting a variety of "sentieri" of special places in my favorite neighbourhood in town. Contact Maria Bengtsson
[email protected] for more info – alternatively her number is Tel. 349 5556609
Brighten up this end-of-summer week with an installation by the New Kid designer Rachel Beagley, opening Thursday at new spot Tiche. The installation, titled Bounty, fills the space with a clash of vivid colors and soft earth tones on hand-dyed fabrics and dried flowers. Throughout the space, you will also find a special limited edition collection of footwear and clothing. Come on over to check it out! Opening September 3, 3-8pm on Via San Zanobi 122r. On view through September 16
Until September 10th, Manifattura Tabacchi is hosting outdoor movie nights and there is quite the lineUP- check it out here.
Villa Medicea di Lilliano is hosting a lovely end-of-summer aperitivo in their beautiful space in the Florentine hills. Come enjoy a guided tour of their cantina, a selection of salumi and a glass of wine on Thursday, September 3rd from 7-9:30pm. 20€ a person.  
Manifattura Tabacchi is offering "Brunch and Yoga" on September 5th (11-4pm) combining a lesson of yoga with a meal designed to make sure that lesson didn't count (JK!). Reservations mandatory and the total cost for the lesson + food is 30€.
Il Conventino combines a cultural event space, a lovely caffe and artisan collective in one ex-convent near Piazza Tasso. It's the perfect place for a coffee catchup or aperitif. They have recent begun hosting events again after the summer holidays and here's what on this early September
Wednesday, September 2nd, a Vinyasa Yoga session with  @ilariacastellino at 7pm
Thursday, September 3rd, classic music concert at 7:30pm
Friday, September 4th, live music from 7pm onwards. 
Saturday, September 5th, live jazz music from 7:30pm. 
On September 5th and 6th marks 'La Fierucola del Pane,' the city's oldest fierucola (a local market selling biological products and promoting the use of organic and biodynamic farming on a small scale) is now in its 36th edition but this year it will be hosted in Piazza Santa Croce instead of Santissima Annunziata. The open-air market will be a daylong event (9am to sundown). Here you can find not only bread; but organic honey, seasonal foods and artisan-made crafts.
Fattoria Poggiopiano is offering an apetitivo picnic on September 5th at their beautiful farm only 7 kilometers from Florence. The Pic Nic is prepared by OSA Bistrot with locally-sourced ingredients or directly found in their vineyards and olive groves! The Pic Nic basket is equipped with cutlery, napkins and towel. Cost € 25, – / person (Pic Nic + tasting of 3 wines and 1 glass of your favorite wine to consume with your Pic Nic)
September 7th is The Festa della Rificolona, or annual Festival of the Paper Lanterns in honor of a popular Christian holiday celebrating the birth of the Virgin Mary (which is on September 8th). In Florence, this festival also marked a time when farmers living outside of the center would parade into Santissima Annunziata carrying paper lanterns on the evening of September 7th to then sell their goods in a market in the same square on September 8th. On the 7th around 8pm in Piazza Santissima Annunziata expect to see a large number of local Italian families carrying fun paper lanterns that local kids try to set on fire by launching spit wads (I kid you not). Honestly it's pretty cool to see in person, especially if this is your first time in Florence. I have put this on the list because it is a beloved local festival but I have no idea if they might cancel due to Covid19 restrictions, I will keep you posted! 
On September 12th, those with a green thumb can enjoy the Firenze Flower Show – Mostra mercato piante rare e inconsuete At Corsini Gardens via della Scala 115. Entrance will set you back 8€ or if you bring your pet, you can get a 1€ discount (how cool is that). They will also offer gardening classes and the chance to check out some truly special fiore.
It's time for you to discover and nurture your holistic rituals. From morning to evening on September 12th at Palazzo San Niccolo, the team of Floret have gathered spiritual experts, yoga instructors, & holistic beauticians to offer workshops, meditation, vinyasa yoga, and much more. Healthy brunch, late-night snacks, & mocktails will be served at the event or purchased at their pop-up Smartfood Shop.. 
An open-air artisan market aka the Creative Factory returns to Piazza Ciompi this September 12 and 13th. You'll be able to browse handmade items from 9.30 am to 8 pm. This is a project by the Heyart Association who have put together this market aimed at promoting creativity and youth enterprise.
My pals over at Relax Firenze are offering a great line-up of wellness-related events this month including well-priced offers for their weekly classes (think all kinds of yoga and pilates, and not only), all adhering to safety guidelines and COVID regulations. In fact, they have capped the number of attendees to 4 people per class. I can recommend them for their sessions of pilates & yoga, mindfulness meditation, lunch break yoga and much more. This is also my go-to spot for deep tissue and drainage massages plus the most magical invention in wellness earth, reflexology and don't get me started on how heavenly their Indian head massage is. They also offer a selection of organic skin care products that are all Made In Italy.
Hershey Felder as George Gershwin Alone, will stream live Sunday, September 13 from Teatro della Pergola at 5 pm PDT, 7 pm CDT and 8 pm EDT. Directed by Stefano de Carli and Felder, Hershey Felder as George Gershwin Alone tells the story of America's great composer, who with the groundbreaking "A Rhapsody in Blue", made a "Lady out of Jazz". Tickets are 55 dollars per household and can be purchased here. A ticket not only grants you access to the live stream, but can also be viewed for an additional week. Proceeds will benefit theatres and arts organizations throughout North America and Europe at this critical time in history, in addition to a generous donation to The Florentine. 
Want to get to know some of Florence's less famous neighborhoods? Over at Manifattura, they are offering free bike tours (tip welcomed) of various quartiere from September 10th until the 13th. You can discover Cascine, San Jacopino, Novoli and Isolotto.
One museum most people miss is Bardini Museum but there is a good reason to go right now. Currently they are hosting an exhibition dedicated to Kevin Francis Gray. The deep bond that exists between Gray and the Tuscan territory is testified by the long years of collaboration between the artist and the Pietrasanta marble processing studios. But it is for the first time that, thanks to this exhibition, the artist exhibits his works in the Florentine territory, in search of a direct dialogue with the great masters of the past. Exhibition hours are Friday / Saturday / Sunday / Monday: 15.00-20.00 (last admission 19.00). To visit, it is necessary to purchase tickets online, booking is recommended here http://bigliettimusei.comune.fi.it/
Artigianato e Palazzo is back this September to showcase local artisan craftsmanship from the 17th to the 20th in Palazzo Corsini's lovely gardens. It's worth it to visit to see this incredible (and normally private) space in itself. address: via della Scala 15. 
My favorite local food festival "sagra del tartufo" is BACK from September 3rd to September 27th and I am gearing up my stomach for what will hopefully be return trip to the neighborhood of Girone (in the suburbs of Florence) to try everything truffle. In its 36th year of existence, volunteers from the Italian blue cross organization come together to serve truffle pizza, truffle bruschette, pasta with truffle, truffle sausage – um I know I sound a bit like Bubba Gump but you get my drift. It's cheap, fun and easy to get to via the bus line 14 (towards Girone) which you can catch at the station, it takes about 25 minutes to get there and it is the last stop. More info is here (in Italian).  You will sit at communal tables, the light is way too fluorescent, and it is very local. They have taken precautions to ensure that everything is safe as per covid19 restrictions. For info or to make a reservation call or email: tel. 3314480285 email: [email protected]: head to Piazza Sandro Pertini, Fiesole then take a left to find the food festival structure. 
https://www.instagram.com/p/BIz46UqBtS6/?utm_source=ig_embed
Head to Piazza Santo Spirito, Sunday – September 20th for their all-day organic fair Fierucolina di S.Michele. The square will be filled with organic producers from around Tuscany and Italy and is a great place to pick up parmesan, kambucha, breads, essential oils and a lot more.
The Student Hotel is a great location for local events and this September they have a few upcoming ones you may be interested in (and it's just a very cool space).  
September 5th and 6th: The 4th edition of MEFF is coming! Many international and Italian brands between wires, patches and knobs. Info and reservations.
September 13th: Pimp my Vintage: A market featuring vintage wares and local art will take over the Student Hotel from 11am-8pm.
Forte di Belvedere is still in action as this former 16th century Medici fort reopened earlier this summer to the public as a contemporary art space combined with a cool place for a drink with a stunning view of the city. Ongoing is an exciting exhibition "Beauty beyond limits' by renowned photo journalist Massimo Sestini showcasing 20 giant photos taken by Sestini. The exhibition is open until October 24th. 
Head to Villa Medicea di Lilliano on the outskirts of Florence for a night of jazz under the stars for a free concert by Sound Stations. Free to attend, During the evening it will be possible to buy and taste the wines by Malenchini of Villa Medicea di Lilliano Wine Estate.
Palazzo Strozzi, the city's foremost exhibition space is still hosting the installation "Aria" by artist Tomás Saraceno until November. Saraceno is a visionary artist whose multidisciplinary practice encompasses art, social and life sciences, he creates immersive works and participatory experiences that suggest a new way of living in our world by forging connections with such non-human phenomena as spiders, dust particles and plants, which become players in his works and metaphors of the universe. Open Monday-Friday 14.00-20.00, Thursday until 23.00, Saturday and Sunday 10.00-20.00. Get your ticket online here.
The Florence Cocktail Week is back from September 21-27th where some of the nicest bars in town (40 in total) will pay homage to a bevy of lovely events: think aperitivo hour on overdrive, masterclasses and more! Here's the list of participating locations in Florence. 
https://www.instagram.com/p/CEUIpiDFWQc/
Firenze NOW! – The Future of Florence: A Smarter Greener Florence? is a panel discussion that is returning both live at the Harold Acton Library at the British Institute of Florence and in the virtual sphere. Thursday, September 24th, you can listen to some local power players discuss a more environmentally-friendly Florence including Cecilia del Re, the local director of the environmental department in the city. More info on how to register/attend here. 
The last Saturday of every September (the 28th) is the Carro Matto or "crazy cart" with flasks of wine from Rufina that is pulled by a pair of white oxen through the city. Naturally it marks wine harvest season and you can expect to see the parade fanfare around 3:30pm the last Saturday of the month.
I usually love to welcome cooler weather and rain with a trip to the movies, so make sure to check out this month's original language line up at The Odeon Firenze. They are reopening soon and will have their film list up shortly.
Corri la Vita is an annual Marathon for Charity that is beloved locally. This year's race will not be taking place in its traditional form because of Covid19 but will return as a fundraiser on September 27th. You can pick up a Ferragamo-design t-shirt and help donate to this important fund to help detect and treat breast tumours. More details here.
While not exactly a specific event, during September provided the weather is good you can still enjoy the city's many rooftop terraces. Most of which are located on top of hotels where anyone can go for an aperitif drink and even sometimes stay for dinner. The bonus is you get a beautiful, panoramic view of the city — just be aware that drinks will often be a little pricier.
"La Terrazza" on top of Hotel Continental is open to the public and is a sexy, sophisticated spot to sip a moscow mule with a birds-eye view of the Ponte Vecchio. While pricey, it is open daily from 3:30pm-10pm to a limited number of people (reservations required). address: Vicolo dell'Oro, 6r – 50123 Florence, Phone. +39 055 2726 5806 , E-mail. [email protected].
B-Roof is an awesome rooftop bar on Hotel Baglioni. It is the ideal place for a sundowner aperitivo with a large, expansive terrace at your beck and call with a bird's eye view of the Duomo cathedral (and not only). Dig into curated snacks and fun cocktails, keep in mind that it's best to make a reservation. Added bonus, you are very close to the train station should you need to jet off quickly. +39 055 23588865 www.hotelbaglioni.it.
Hotel Plaza Hotel Lucchesi's stunning rooftop terrace by the National Library is one of my favorite places to go for a rooftop drinks. Reservations required +39 0552623500 e[email protected]. address: Lungarno della Zecca Vecchia, 38.
Head to the truffle restaurant Osteria dei Tre Panchi on Hotel Hermitage which is a delicious experience overlooking the rooftops of Florence. More info here.
View on Art is located on top of Hotel Medici in the center of town,  here you'll find a beautiful view of the Duomo cathedral and more affordable aperitivi than similar terraces. address: Via dei Medici, 6. Closes at 9:30pm.
Hotel Kraft is one of the lesser-known spots for dinner or a drink in Florence and I actually quite like it. You'll find it on Via Solferino, 2 near the American Embassy.
Grande Hotel Minerva, '360 Three Sixty' Rooftop Bar. Always an iconic destination in Santa Maria Novella. Open daily from 7pm-midnight. Email [email protected] for a reservation.
GET OUT OF TOWN
My top picks on what's on around Tuscany that isn't necessarily in the center of Florence.
Head to Greve in Chianti this September 12th and 13th for the Chianti wine expo when the main square fills with stands offering tastes of their finest vintages. It will still take place in a reduced version, but still be full of great wines and a very safe event. You do need to sign up in advance to taste and here's where you can get all of the info.
You guys know how much I love Villa Castelletti from this blog post but apparently they are also apt to host an English-style picnic on September 20th in their gorgeous gardens complete with pies and proper English literature. Call + 055 0763602 to reserve a spot! ps. 
In Mugello, Tuscany the Mugello Circuit for the first time ever is going to be part of the Formula 1 World Championships from September 11-13th. More details on that (and where to get tickets) can be found here. 
Also in Greve in Chianti is a festival dedicated to ceramics on September 27th by Il Pagliaio.