Italian tenor Andrea Bocelli was invited by the City of Milan and of the Duomo cathedral to perform a concert inspiring hope that was live-streamed worldwide on YouTube. You can see the entire video concert below. This took place on Easter Sunday at 1 p.m. EST/10 a.m. PST/7 p.m. CET as Italians spent the holiday in their homes for the popular holiday for over five weeks of lockdown during the ongoing coronavirus pandemic.
"Thanks to music, streamed live, bringing together millions of clasped hands everywhere in the world, we ill hug this wounded Earth's pulsing heart," Bocelli said in a statement (source).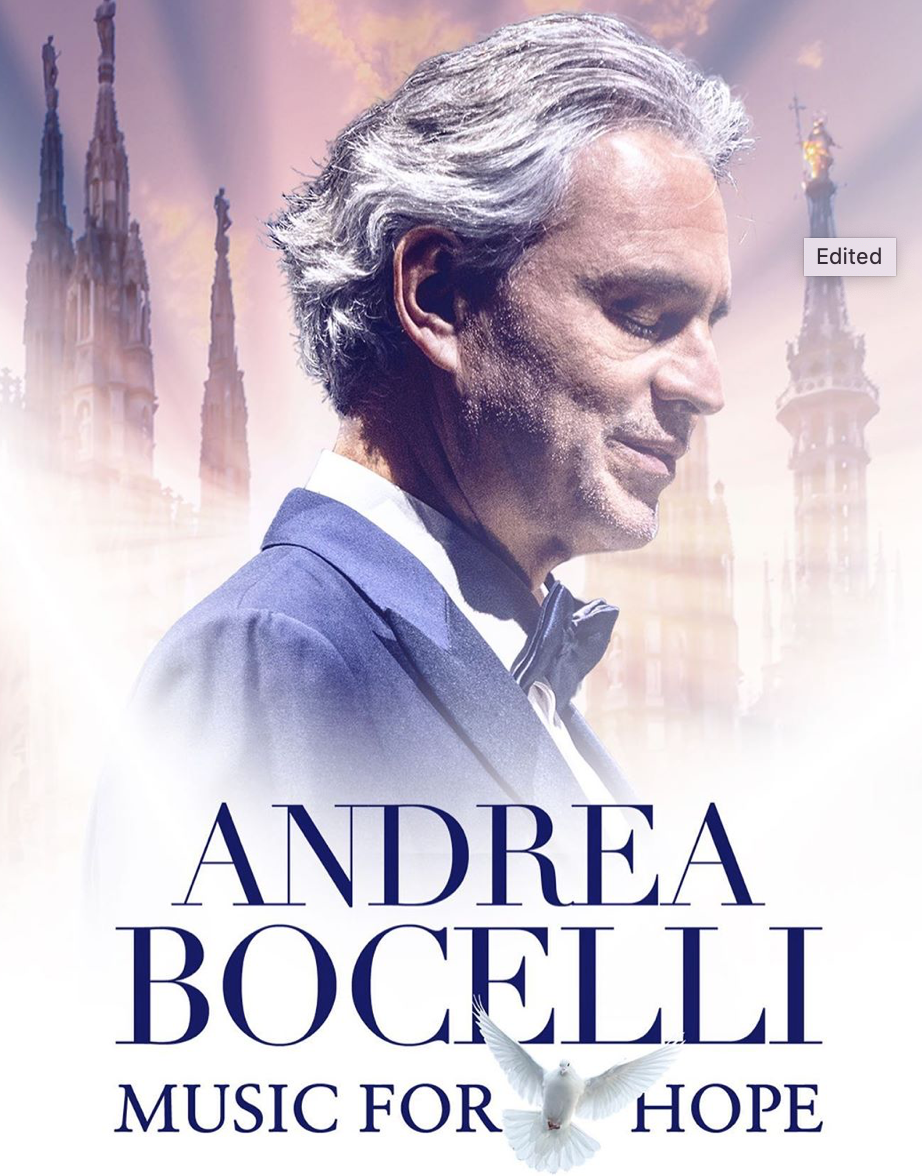 The symbolic concert took place in Milan, the capital of Lombardy, Italy's hardest hit region. Italy is one of the hardest-hit countries around the world with a high number of deaths only now second to the U.S.A.
Like millions across the globe, both Nico and I tuned in to watch the concert with Bocelli singing Ave Maria, Panis Angelicus, Sancta Maria, Domine Deus in the alter of the empty Duomo with cathedral organist Emmanuelle Vianelli.
As Bocelli sang, the video was cut to various scenes featuring panoramas of empty Italian cities such as Bergamo and Brescia – a stark reminder of places heavily affected by Covid19. The video finished with an incredible rendition of "Amazing Grace" sung a cappella on the steps of the cathedral – a total tear-jerker for us both.
You can watch the video replay down below and I highly recommend that you do. For those who might not know Andrea Bocelli, he was born in Lajatico, Tuscany on September 22nd, 1958.
He was still an infant when he developed glaucoma. It is said that classical music filtering into his room soothed the unsettled child. By the age of twelve he was completely blind, but his passion for music brought light back into his life and he later became one of Italy's most successful tenors – all of which you can read in his memoir "Music of Silence."
Something I think is important to note is that his foundation has also launched a fundraising campaign in favor of the Covid Hospital in Camerino. As of April 13th, 2020, the campaign has reached the target of 100,000 euros which have allowed them to send to the hospital facility 4 lung ventilators.
They have now released the following statement "We have decided not to stop here, thanks to your generosity, ABF continues to raise funds to support additional hospitals and departments dedicated to the treatment of COVID-19 patients and provide equipment, materials as well as personal protection equipment. Our ambition is to do much more together, all united by an imaginary bridge of solidarity and hope. The new goal right now is to raise an additional 50,000 euros, as we believe that alone we can do a lot be but together we can do much more."
You can donate and share the link to the fundraiser here.
If you are enjoying this blog and want to receive more updates (I promise not to spam you – ok maybe with photos of Ginger the beagle!) please subscribe and support here. 
Cover photo credit: Youtube STILL from Andrea Bocelli's channel