"At a certain point, I realized I was only working to pay my rent" telling words from Enrico Giannini, a local 5th generation artisan in Florence's artisan district who is as famous as they get. The truth that the art of many craftsman like Enrico is dying out, due to lack of interest in keeping these traditions alive. Most grandsons or granddaughters of artisans I met in Florence are more interesting in going abroad or trying out different, more digital careers. Less content to stay in tiny studios, stuffed with tools of the trade, cold in the winter yet brimming with stories.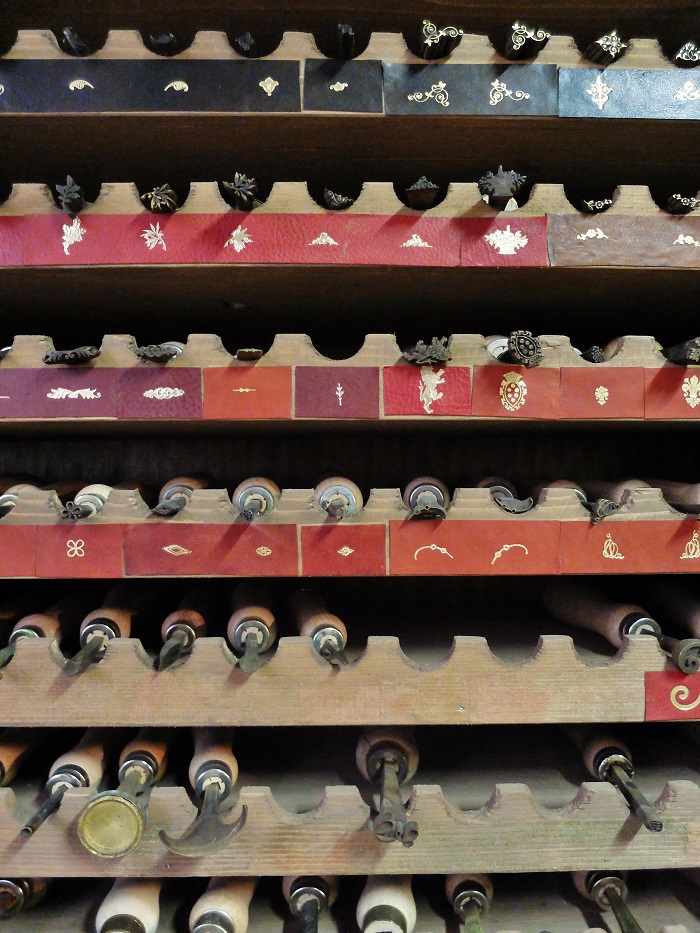 Enrico however, stays true to old traditions, his family is responsible for making the Florentine art of 'marbling' paper into a must-have acquisition for many travelers in Italy as well as specializing  in vellum bindings, and inlaid leather. Featured on the Martha Stewart show, he proud showed me the wrinkled press clipping in a book that was brimming with mentions. A proud man, and a very kind one at that, inviting me to come back anytime I wanted.
We chatted about the art of book binding, increasingly less sought as  more people go digital. He showed us a book that he had just bound, full of recipes for a client in Hong Kong, beautiful inlaid leather with real sage and rosemary embedded, from Enrico's own garden, the final product lovingly slipped into a protective cover. Another an ancient book of maps from Japan, its heavy cover hiding the fragile pages helping people discover the world, long before GPS and google. His work is incredible – each piece a work of art made in a space that must be around 20 square meters in size. No computer or iPhone in site, just pure artistry at work.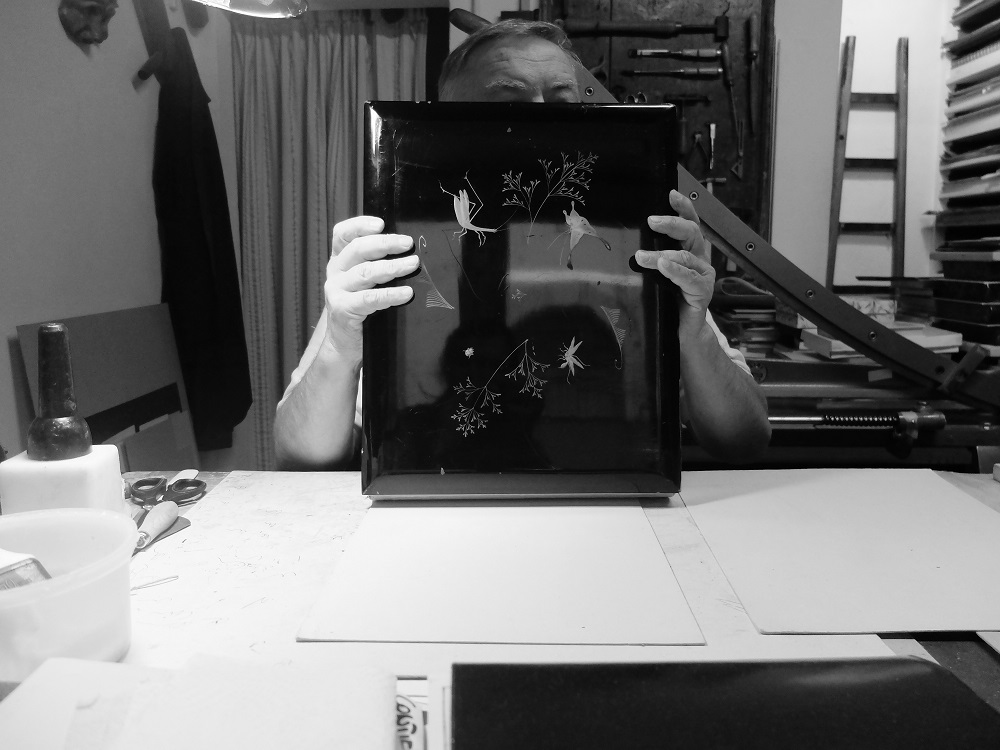 Enrico Giannini | Arte del Libro e della carta, via dei velluti 10/r, Florence. Tel: 055 238 9657. [email protected]
My latest adventure touring artisan shops like Enrico's was with Federico from Palazzo Belfiore, a beautiful palazzo with apartment rentals in the heart of the artisan quarter of Florence. We walked down via dei vellutti, a walk that normally takes me 2 minutes, and instead spent two hours chatting with the local craftsman that have made this area famous since Renaissance times.
My first stop was at the cool jewelry studio of Silvia Nesti, a young artisan who after graduated Le Arti Orafe Jewellery School in Florence sought a space to realize her colorful metal pieces.  A stone's throw from the high-priced jewelry on Ponte Vecchio you can find truly unique shops like Silvia's, her work a fraction of the price.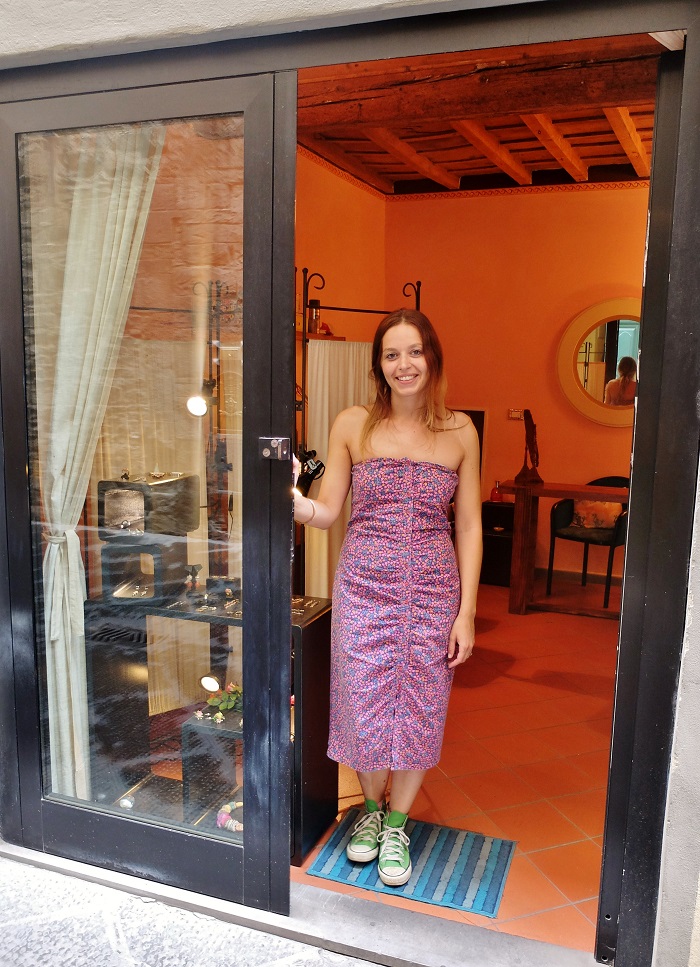 Pretty Silvia in front of her shop, behind her an array of tools that she uses to create her jewelry
We chatted about the difficulties of running a business in Italy, a country with so much red-tape it would make any budding entrepreneur cry. A little shy, she opened up as we chatted a little more as she showed me her pieces, often made using silver, gold, various stones. I loved her folded silver earrings and brooches, delicate by touch, and often using Japanese paper for Origami.
Silvia Nesti, via dei velluti, Florence, Italy. Website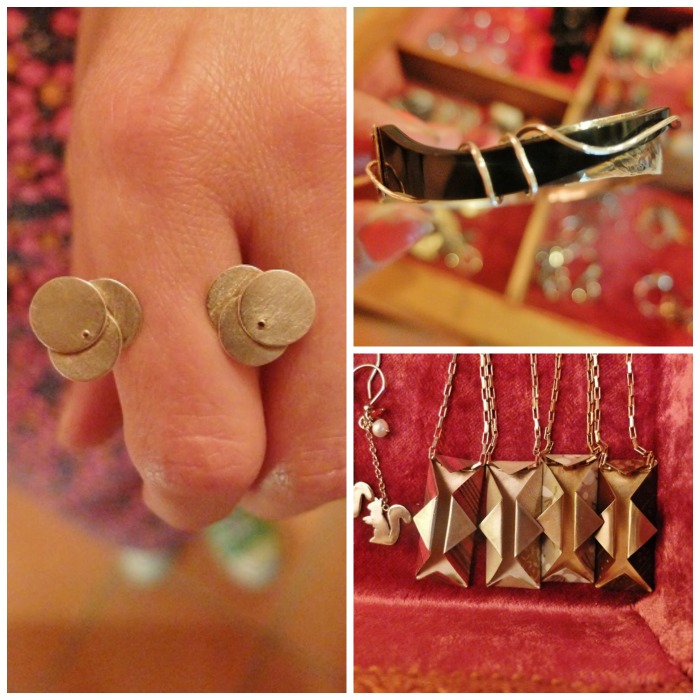 Moving along we stopped at the workshop of Luigi Mecocci and his wife, he carves wood and restores furniture, often for museums and high-profile clients. At 77 years of age, you would think that retirement was in his mind, but for Luigi his only thought is of finishing his next piece. Upon entering his studio we see a huge wooden column, in obvious state of disrepair that is Luigi's latest work. He points to the ground where a crumpled batch of paper lies untouched "We opened up the column, and it was stuffed with French newspapers from he 1950's" Luigi laughs.   It almost seems a shame they can't be saved too. He shows me a few pictures of some of his finished works, I spot one with Molly Mcilwrath, with whom I recently went on a tour with. "Amore mio!" Luigi claims when I point her out in the picture, clearly they know each other, his mildly gruff demeanor softens as we chat about Molly, perhaps a real romantico at heart. Artisans like Luigi are rare, his skills finessed over a lifetime. I asked if I could come back when the wooden column was finished, at the end of August, to which Luigi replied "whenever you want, I'm not going anywhere!".
Luigi Mecocci, via dei velluti 82, Tel: 0552398664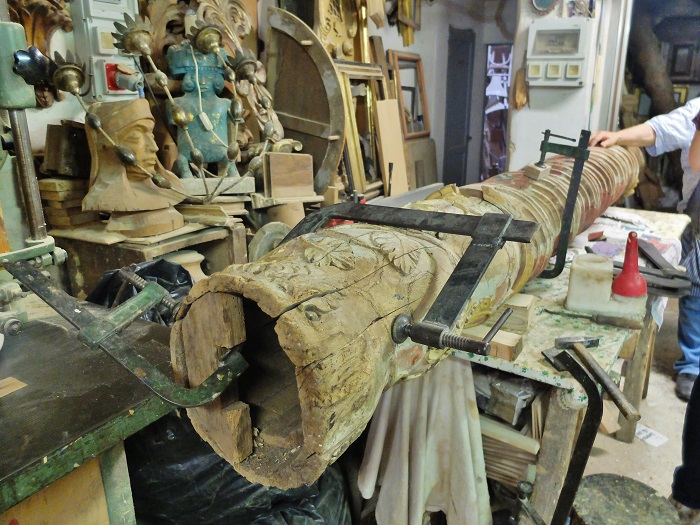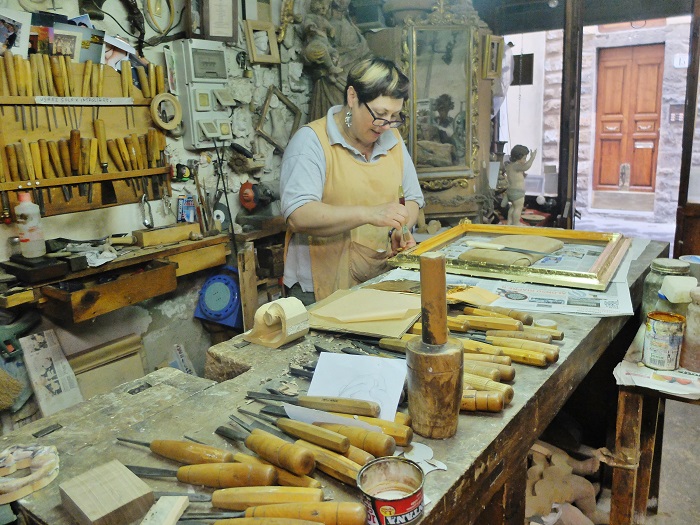 Making our way further down via dei velluti, we stopped at the studio of Renato Olivastri, who restores wooden works and create wooden paintings. Like many artisans on this block, he started young at the age of 14, first in Bergamo then moving to Florence moved to attend the Istituto per l'Arte e l Restauro at the"Palazzo Spinelli". He worked with a master wood restorer in Santo Spirito for 10 years where Renato has now remained. His workshop is crammed, furniture even creatively attached the ceiling to make more room.
While furniture restoration is what he's known for, every piece looks like it belongs in a French palace, what caught my eye was his wooden art pieces. Each 'painting' depicting typical scenes from around the city, facade of Santo Spirito, Florence's Duomo, the Ponte Vecchio. Made by layering wood pieces and using paint, each intricate detail made using a special curved knife-like tool. A Japanese student comes a few times a week for private lessons with Renato, while his studio is much to small for anything large than a very small group, you get the sense that the student is really learning a lot from having so much of his personal attention. I would definitely recommend checking out his work.
Renato Olivastri
Via dei Velluti 21 R
50125 FLORENCE _ ITALIA
Tel. (+39) 055 2396934
[email protected], website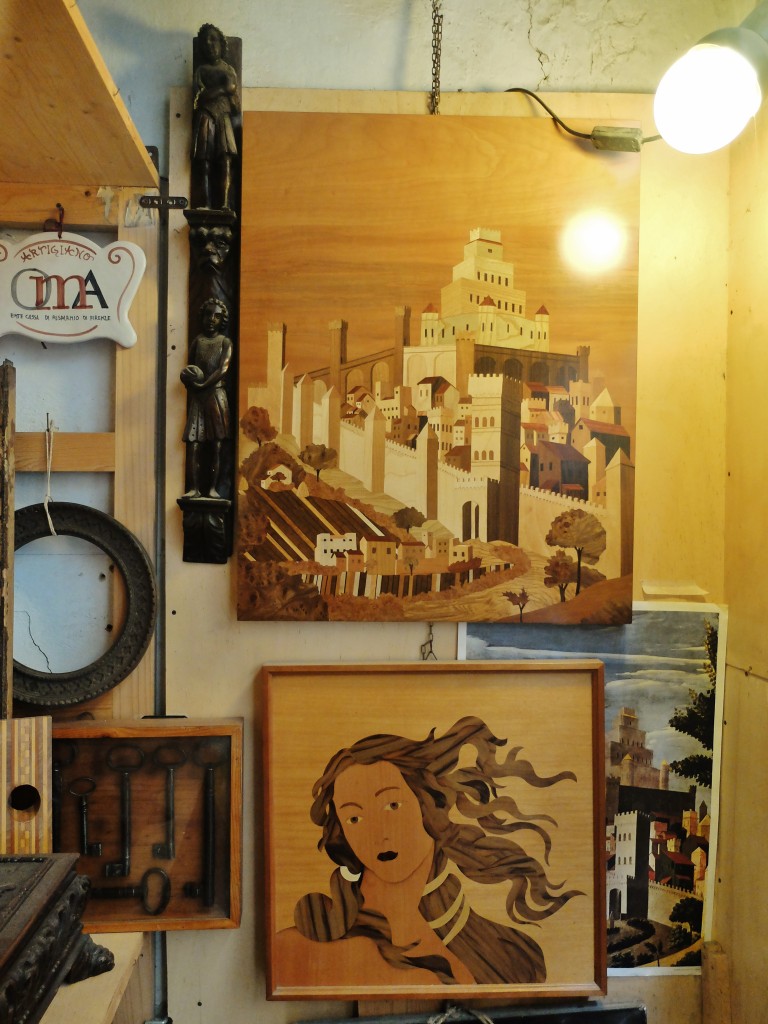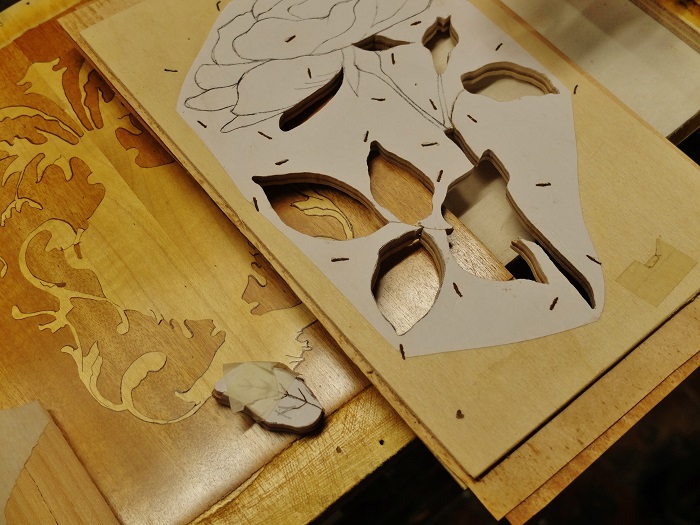 I also quickly stopped at the workshop of Carlo and Stefania Martelli on adjacent street via tocanella. Here they restore wooden works, using gold and various materials and often are commissioned by famous Florentine museums like the Museum of  Santa Croce, Palazzo Pitti and the Uffizi. While I didn't get the chance to stay and talk, I'll have to visit Stefania another day,  I understand that they offer gilded art restoration courses for small groups.
Carlo & Stefania Martelli 'Oro e Colore'
Via Toscanella, 18R
50125 Firenze – ITALIA
tel. Fax. 055-289415, website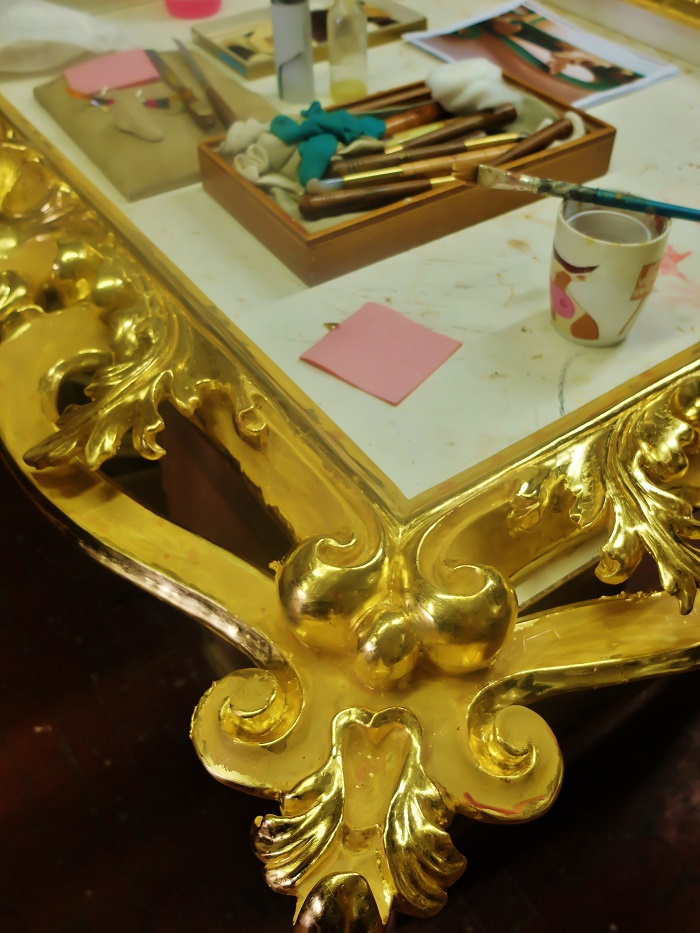 ---
I highly recommend taking an afternoon and walking down the streets of via toscanella and especially via dei velluti in Florence. Peek your head in these shops and have a chat with these very special artisans who have a lot to recount. It was a very special experience for me and I know I will be back, I think people like them deserve all the mentions they can get. What they do is a dying art yet it is them whom make Florence what it whats to remain today — a hub of art, history and traditional craftsmanship.