When I first came back to Florence after a whirlwind honeymoon and visit back to my hometown in Texas, I wanted to plan out a sort of editorial calendar for the blog. Most of the time, posts are generated from a whim, a sort of 'ahah' moment when I least expect it. Asking my readers, you guys, for tips on what you'd most like to see really helped me in planning this year's posts, beginning with cool things to do in town (like these free or almost free museums) and more in-depth neighborhood guides. I decided to start with a homage to Santo Spirito neighborhood, a personal favorite area and one that is brimming with cool spots. Just strolling down the street, you can see anything; people having conversations on the street, vespas whizzing by, buying fruit, people slowly and steadily sweeping their storefronts.
This place is real life folks, and where I hope to always be in our continuing Florentine adventures.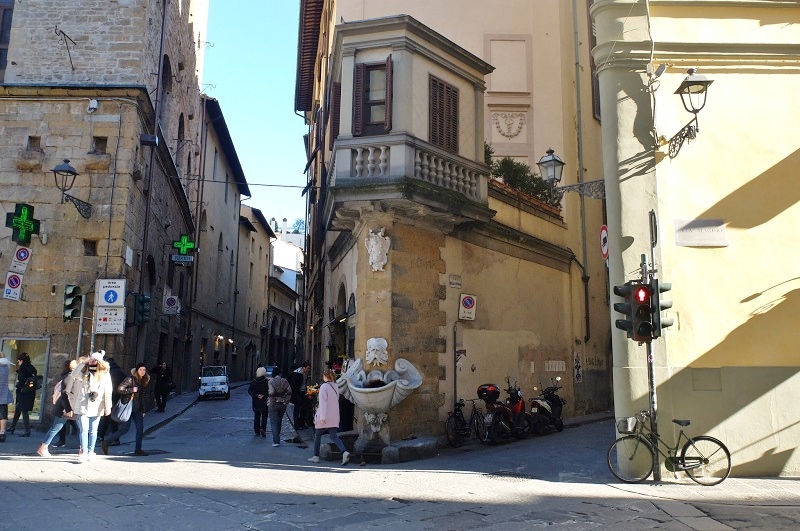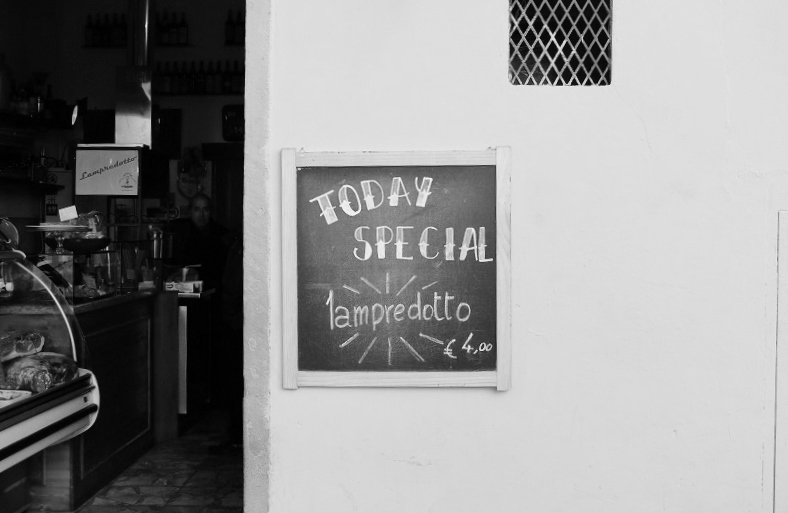 Before reading, I also recommending checking out these previous posts based in the same side of the river, known as the 'oltrarno' that you might have missed.
Uhh…Where Is It, Anyway?
For purposes of a sort of 'guide' the first question is where the hell is this place anyway? I will be adding a customized google map below with all of the suggestions mentioned in this post added to make it all easier to save. But in this post, I am sticking to the area stretching from ponte santa trinita to ponte carraia, and the area surrounding piazza carmine. Main streets include via maggio, via di santo spirito, via serragli, via delle chiesa, via santa monaca. The area by Palazzo Pitti, San Frediano, and Tasso will be, alas, for another day.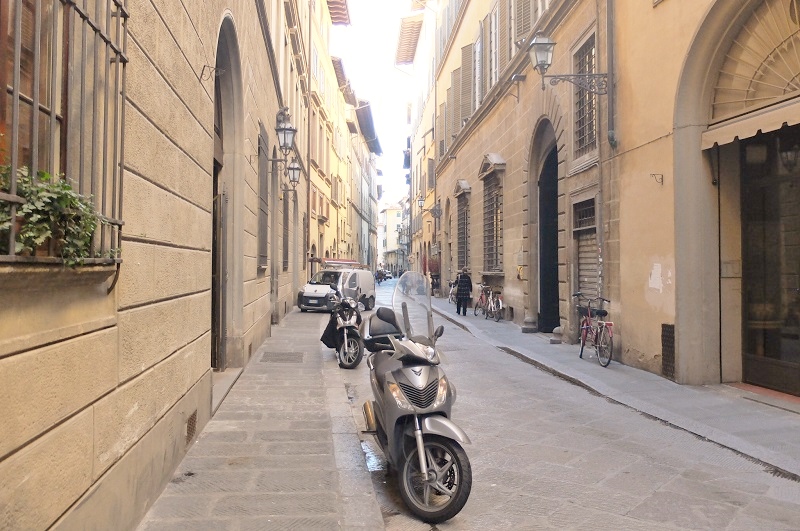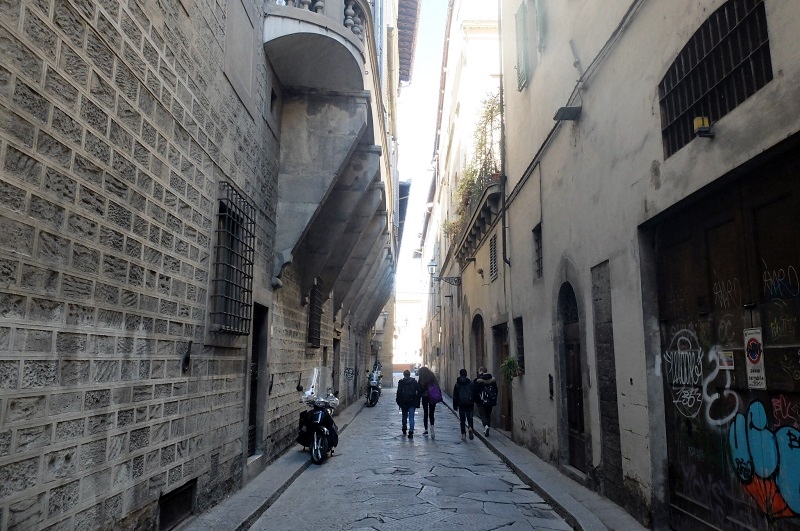 The best way I can describe this quartiere is as a lively resident enclave south of the river, centered around the Santo Spirito church in the sixth sesto of Florence. When I was a student and my Italian sucked — I used to call it 'Santa (as in Santa Claus) Spirit' piazza.  The pros is that it has plenty of local color and atmosphere — small shops, restaurants, local artisans, and bottegas that represent the Italian spirit that many of us adore. The cons are that the square can be really noisy at night with people sitting on the steps with their Gusta pizza boxes and beer during the summer months leaving their trash stacked by trash cans (seriously guy there are numerous dumpsters in this area) and its fair share of harmless drunks. If you avoid sleeping in the square itself, you'll likely adore this neighborhood just as much as I do.
Here, purposely get lost and embrace it.
What To See
First things first — the glaringly obvious Santo Spirito Church open every morning except Wednesday, 9.30am – 12.30pm. Ignore the fact that people love to instagram the facade (designed by Brunelleschi), the weird thing is that many never make it inside the church. It dates back to the 1400's, and before then, it was a sort of hodgepodge for an early humanism movement in the city.  Not exactly part of the rest of Florence, the area had its share of issues with its mix of noble families and poor laborers ready for a revolt. The church as we see it today was envisioned by architect Filippo Brunelleschi — you know, that guy who is famous for another church in Florence and who here has created a cavernous and beautiful space. Updated for 2017: the outside cloister and refectory has now been opened to the public (3€ entrance) which you can read more about in my friend ArtTrav's blog post.
This is a shame because it is breathtakingly beautiful and surprisingly ginormous. Notable art pieces can be seen here too, Michelangelo carved a wooden crucifix when he was only 17 year's old, it now sits in an octagonal sacristy in the west side of the church. Another must see is the Bini-Capponi Chapel, which houses the St. Monica Establishing the Rule of the Augustinian Nuns painting by Francesco Botticini. Also worth a visit is the Cenacolo di Santo Spirito next door, located in the old refectory in the monastery, it's a cool space.
Another favorite church is that of the Roman-Gothic Santa Maria del Carmine, which is sorely under-visited by the many tourists that visit Florence (open every day but Sunday, 10am-12pm). made famous for the Brancacci Chapel with Renaissance frescoes by Masaccio and Masolino da Panicale, it is of the Carmelite order. in 1771, a large fire took out most of the church but the Brancacci and Corsini chapels remained (fortunately) unscathed.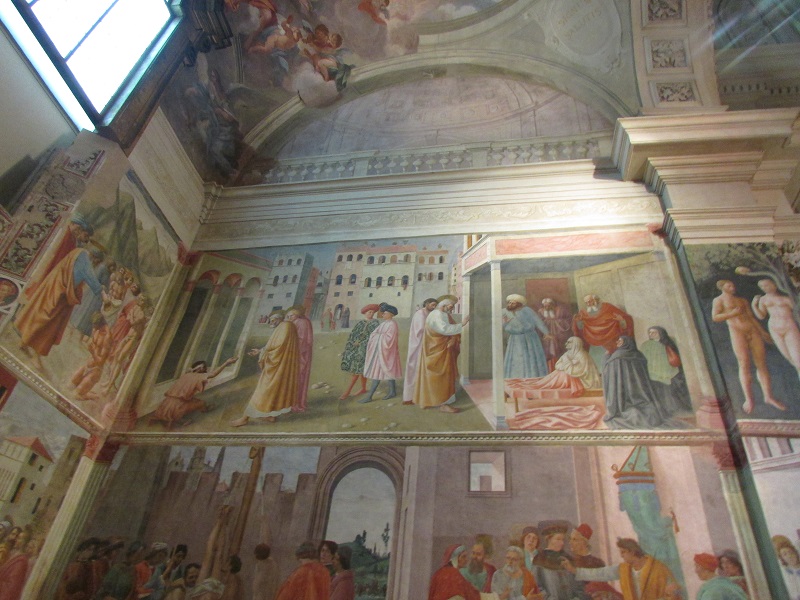 The square is also a pleasant place to pass time, from morning until evening. There are numerous cafes, including the 'first' of hipster joints in Florence, Volume Cafe, the sorta sketchy Pop Cafe, and Tamerò. The central fountain is currently undergoing renovation but it tends to be a meeting point of it's own. People come here with their dogs, to eat their sandwiches or just to chat on the square's stone benches. In the morning there are a few fruit and vegetable stands and clothes, depending on the day.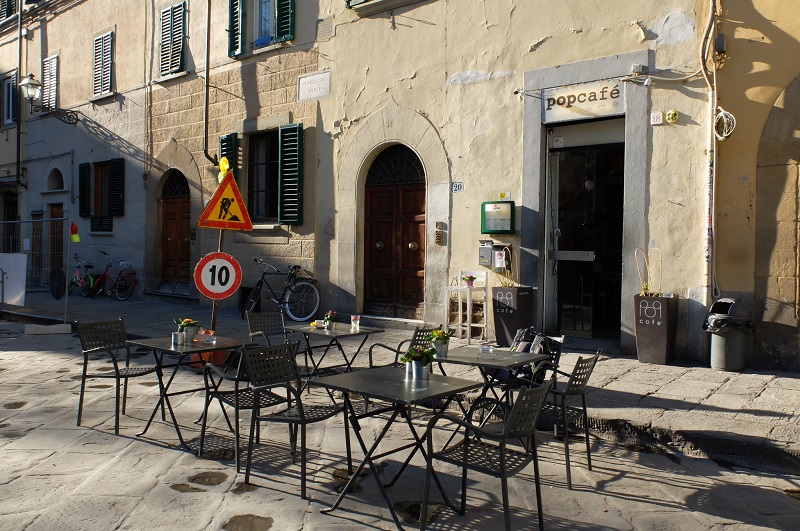 Also have a look at the events at the St. Mark's English church on Via Maggio 16-18 
which hosts regular opera performances and various events. They have started a writing group that is worth checking out, I find them extremely nice and approachable even if I am not the churchgoing kind of person myself.
While in the area, pop into one of the many contemporary art galleries (Eduardo Secci Contemporary etc) on this street, they are free to enter and welcome visitors. I know it can be intimidating to go inside an empty gallery but trust me when I say it's worth it!
A stop at the British Institute 'Harold Acton' Library on Lungarno Guicciardini 9 is also recommended, it is a place of learning and a place of comfortable refuge. If you are visiting for a longer period of time, consider taking one of their 'history of art' courses which are not only informative to learning about the world around you, but they are also fun — the lecturers are really incredible.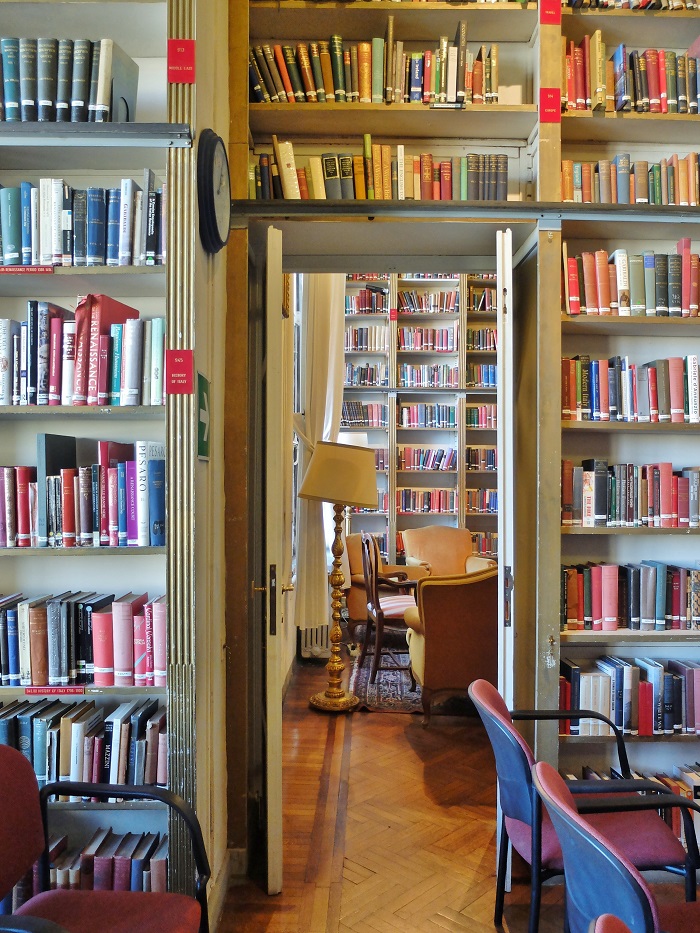 Where to Shop
Ah for the love of shopping, this area is great for small boutique shops and artisan-made goods. One of my favorite streets is via di santo spirito just behind the church on the way to the Arno river, there are so many cool places on this street, some affordable, some not so much. My advice is to wander through the tiny and extremely picturesque alleyways in the area, find a favorite corner — a special shop.
One of my favorites for jewelry are the 'one of a kind' funky pieces of Angela Caputi, who's shop on via di santo spirito is a lovely foray into her colorful world of beads and statement necklaces. address:  Via di Santo Spirito, 58. She is a real success story in Italy, she began creating jewelry in the mid 1970's, she takes inspiration from 1940's American films and things that take her fancy. She even has pieces displayed in the Palazzo Pitti Costume gallery. It should be noted that all of her jewelry is made in Italy using Italian products and materials.
And Company on Via Maggio 47 is always my top place to shop for really nice gifts with a Florence design edge. This is the beloved brainchild of my friend Betty Soldi, you'll see her calligraphy everywhere. Beautiful emblazoned upon delicate espresso cups and mugs, plate-wear and throw pillow, this place is a dream. She is an inspiration, Betty, and I think it's  impossible to leave this store without buying something. The ideal place for upmarket souvenirs, gifts, or unique pieces to decorate your Florentine home.

Ceri Vintage is always a lot of fun for truly high quality European vintage wear and accessories (think Chloé, Stella Mc Cartney, Burberry). You can also find really cool relics of the past here, this a bevy of the unusual. I highly recommend a visit. address: Via dei Serragli 26/r

.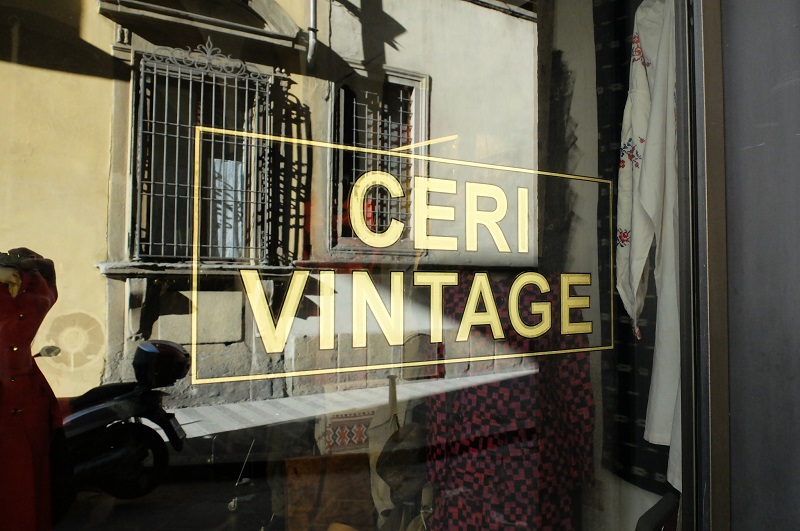 Anna Fuca Atelier. Ok you probably aren't going to look for an atelier wedding dress maker every day but Anna is something really special. Originally from Sicily, her little shop on via serragli had me at hello. After spotting her dresses from the window of her studio on daily walks with my dog, I finally worked up the courage to ask her to make my wedding dress, which we did over a period of several months — picking fabrics and going over the design together If you fancy a peek or want her to make your dress, I recommend it! Ps. As soon as I get the photos back from our photographer — I will be sharing them! address: Via dei Serragli, 7.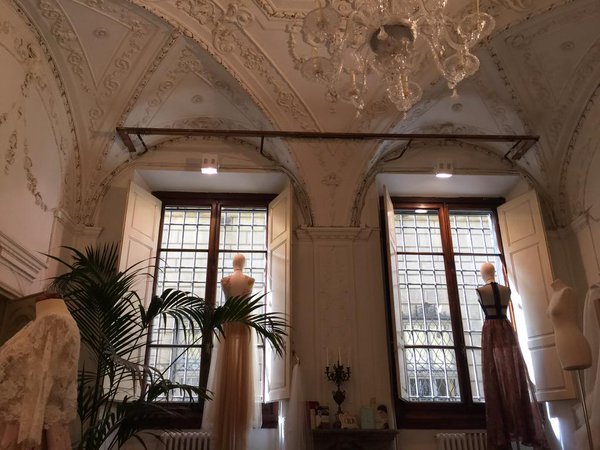 Société Anonyme Deux, a new addition to Via Maggio, it is located in the old location of And Company Shop which moved across the street. It's a small shop with a North-European bohemian style selling men and women's clothing and accessories, their motto feels best expressed by this tagline "Les modes passent, le style est éternel" (fads tend to fade quickly, style is internal). address: Via Maggio, 60r, 50125 Firenze. Open 10-2pm, 3:30-7:30pm. Closed Sunday, shorter hours on Monday (3:30-7:30pm). 
One of my favorite local places in this area is Officine Nora – Contemporary jewelry work/shop on Via dei Preti, 4. An artisan co-working space for local jewelers that is so so cool. I've visited on several occasions and have to say that their work is incredibley beautiful. Give them a heads up if you plan to visit, and this is the place to get something truly unique. website. 
Dexter on via maggio 7r is a

 small shop founded in 2011 featuring very cool bohemian, vintage-inspired clothing with a culture edge by up and coming designers hand-delected by the cool owner. Expect plenty of textures and warm colors, for something a little different, definitely recommend a visit.

facebook page.
Vincent Croce is on the corner of Borgo S. Frediano, 1 and Via Maggio and quite a cute shop for accessories, women's clothes and my most recent find here thanks to my friend Shannon, summer ballet flats made from recycled plastic (oh and they smell like strawberries). 
Il Cortile di Marianna Bartolucci

 |

 Via dei Serragli, 12.

This cute shop on via serragli sells women clothes, artisan-made shoes, handcrafted jewelry and the most beautiful underwear and bras I've seen in a long time. Quite simply put, this place is a gem.
Marina Calamai

|

via santo spirito 14

. A local Florentine artist who also studied in Paris has a beautiful 360 -degree panoramic studio in the Oltrarno where she works on both her art and custom made jewelry, homewares. I especially love her bronze-plated accessories, cupcake inspired ring line and vitamin place mats.
Albrici | Via dei Serragli, 20r

, an antique store from 1961 that also sells high-end vintage clothes is a recent find. In fact, I'd argue one of the best finds this year along the category of "stores I used to walk past." Make sure to explore every nook and cranny to revisit fashion throughout the decades.
L'Ippogrifo is a beautiful shop displaying over 500 years of old Florentine techniques etching on copper plates and imprinting on canvas by artist Gianni Raffaelli. He also sells Florentine motif prints and other interesting knickknacks. address: Via di Santo Spirito, 5/r, 50125, open Mon-Sat 10am-7pm.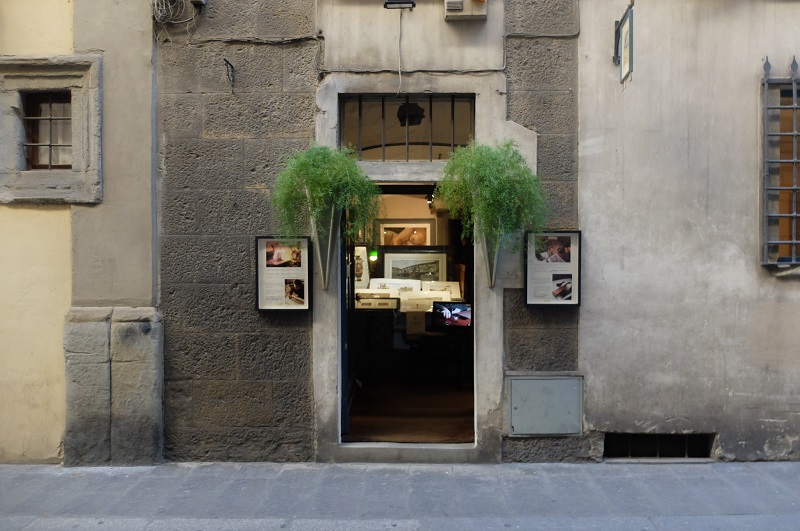 Where To Eat
There are so many places in this area, I really can't name them all for fear of writing a ridiculously long post that you will never read. I'm not going to tell you about Gusta because honestly, you've probably read about them anyway and I'm not that big a fan, they always insist on speaking to me in English (annoying) and acting like they own the world.  Instead, I love the more intimate 'Da Gherardo' on borgo san frediano and created a special pizza list here.  Instead here are a few foodie options in the area that I personally adore.
Sott'Arno | The neighborhood cafe that everyone has always wanted.

If you don't yet know Betty Soldi and her partner Matteo, it's about time to get your head out of the sand. They are the brilliant minds behind

Ad Astra Hotel

& SoprArno suites, and Betty has one of my favorite souvenir shops in the city And Company right next door to this cafe. Sott'Arno is Matteo's baby, one that is lovingly run by

Fratelli Lunardi.

 The cafe itself is a small space with a few tables offering up a late breakfast or quick lunch in the form of gourmet panini. Try the Florentine favorites (get the ciccioli! and peperoni sotto'olio) and sweets. My all-time favorite sandwich is the one that Matteo himself coined "oooh," kept simple with

pan di ramerino

(rosemary bread) and paired with excellent prosciutto.  The walls are lined with vintage menus from restaurants that Matteo and his friends have collected over the years. address: Via Maggio, 53r, 50125 Firenze. Open 10am-6pm. Closed Sundays.
Il Santino, the wine bar that is part of the Santo Bevitore group remains one of the coolest places on via di santo spirito. The tiny interior means you can't fit big groups, but it is the perfect spot to get a nice wine and cheese pairing, plus go for lunch! It's never very crowded and they make great panini. I also love Santo Bevitore (next door) as a wonderful Italian dinner spot though it can be quite packed in the high season (reservations mandatory) though they continue to impress me with their inventive and seasonal flair.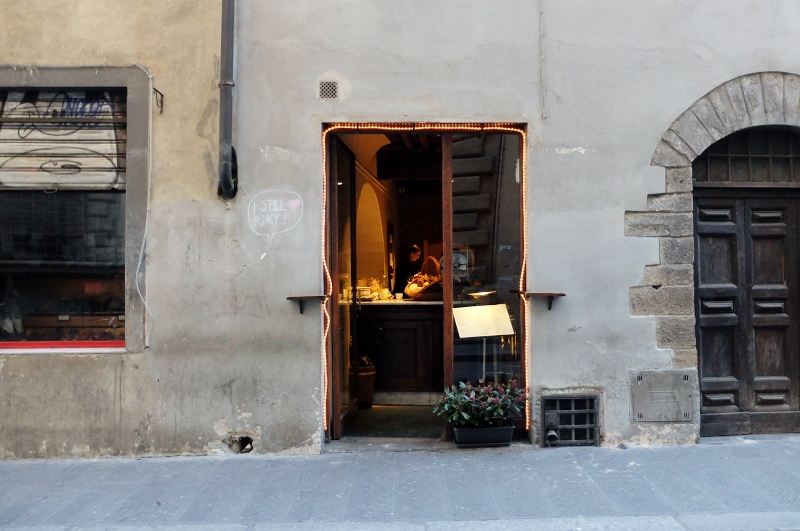 Mama's Bakery has been around for a number of years now on Via della Chiesa, 34/r
 
and I have to hand it to them. They are consistent with the quality of their bagels/sandwiches and make a damn good pumpkin pie during Thanksgiving. Perfect for girly meetups, brunch, or by yourself with your laptop — they have WiFi.
The budget-friendly Il Chicco di Caffe Dalla Lola has been a local favorite for years on via della chiesa 16r, across from Cafe delle Note. It boasts an affordably daily chasing lunch menu and I'e had quite a few delicious meals here, including anytime they serve cacio e pepe pici. 
Cheap & Cheerful is the best way to describe I Raddi di Santo Spirito just off of the main square, a small spot with an outside terrace where you can dive into Tuscany's "cucina povera" such as pappa al pomodoro, Lampredotto or even just an excellent panino stuffed with whatever they have behind the bar. 
Trattoria Giovanni is my go-to spot for lunch in this area. When you call and make a reservation, you actually get Giovanni's personal line which always makes me giggle. It's a simple trattoria serving up local Tuscan food such as bistecca (Florentine steak) and sauteed bietole and they do it well, the lunch menu is very affordable (around 11 euros) and they serve plenty of seasonal dishes. Highly recommend  Address: Via Sant'Agostino, 38, Firenze.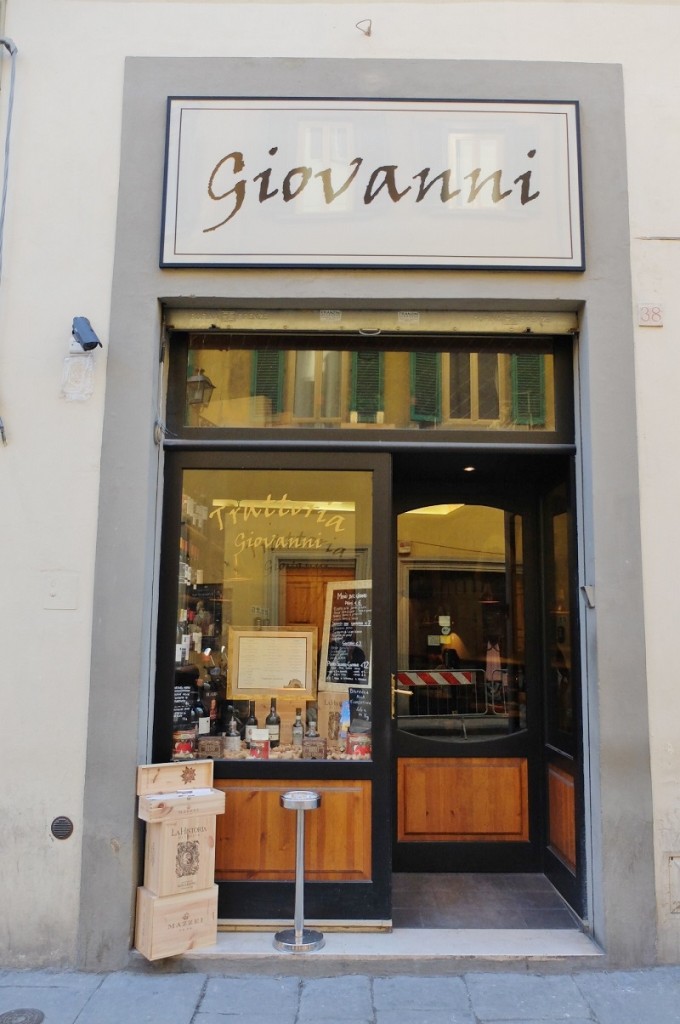 Another budget-friendly spot for lunch is the pleasant Vivanda on Via Santa Monaca, 7. I actually hit up this place really often since they always have healthy options and serve organic wine from their own producers. The menu at lunch is only 10 euros and recently I had a delicious pumpkin cream soup and fried goat cheese balls (is there a nicer way to write that?).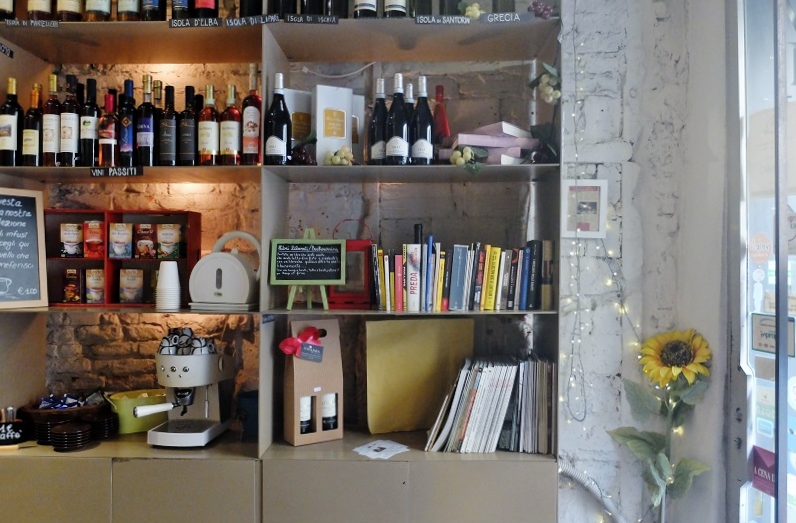 Angiolino Trattoria ai 13 Arrosti is another gem on Via Santo Spirito 36. The cool interior makes it a perfect dinner date and big enough for a group solution, prices remain in the medium range. I actually came here for my rehearsal dinner before the wedding and my family loved it. The food is on the hearty side (ossobucco, polpette) – get the white bean and tuna starter. Desserts are damn good as well. Also it made my friend Coral of Curious Appetite's best restaurants of 2015.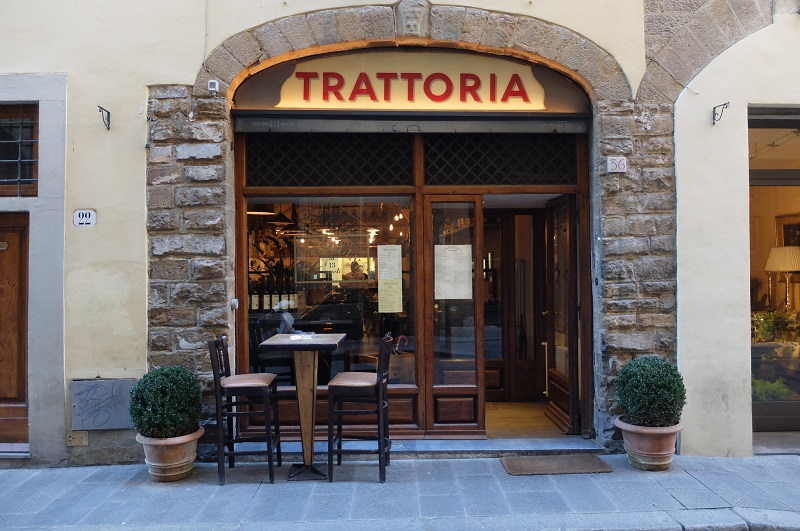 At first I hesitated listing Trattoria La Casalinga only because the last time I went was in 2008 but luckily I recently returned and was seriously impressed with our meal. They serve good home-cookin', Tuscan cuisine for fair prices with well I'll be honest 'meh' service. Definitely worth adding to the list though. Have you gone recently? address: Via dei Michelozzo 9/r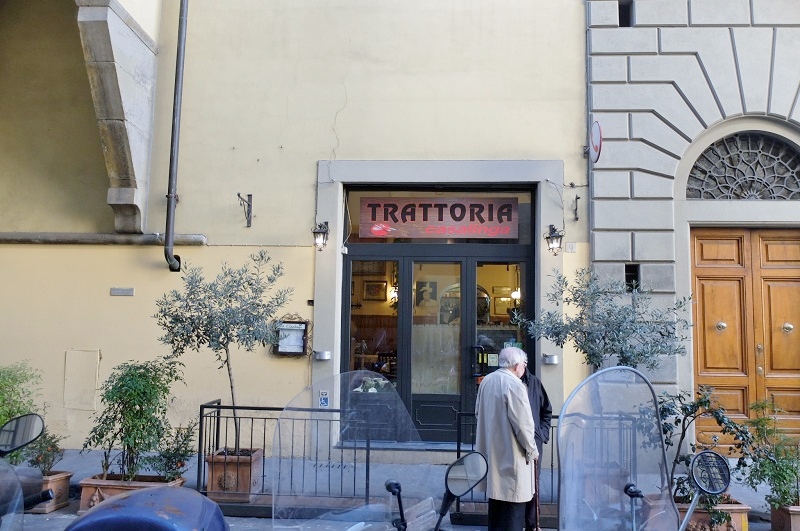 A cool vegetarian option is Cuculia Bookshop on Via dei Serragli, 3/r

. The interior is warm and cozy, it's a sort of bookshop and place for cultural gatherings as well as a restaurant. The food is pretty good as well, also ask for the aperitivo platter which is always a great deal.
Pint of View is a Korean fusion restaurant by the same owners offering cocktails, food and craft beer on Borgo Tegolaio, 17/r. Hipsters retro is the vibe and the food is always spot on. I especially love their pollo fritto (fried chicken), jab cea (

a sweet and savory

dish

of stir-fried glass noodles and vegetables). 

Fish lovers might want to stop by Marina di Santo Spirito, an upmarket restaurant on Via Maffia 1/C,  a place I've heard many good things about but i have yet to try myself (full disclosure hear on the blog) especially regarding their crudo (raw) platters and tasting menus. Expect to pay at least 60€ a person.
Gurdulu is a restaurant that has opened in the ex-CiBi on Via delle Caldaie, 12, just behind Santo Spirito. The retro vibe has stayed, with a little courtyard that looks promising for the warmer months, but the food has a more creative edge. When I ate here, the chef was the famous Entiana Osmenzeza who is no longer there, but my experience (under her supervision granted) was really quite nice. If you've been recently feel free to comment on the post on the new menu and chef. What's great about Gurdulu is that it's also a great place for a cocktail and a bite, bartender Sabrina Galloni is quite the skilled mixologist and drinks are paired with curated tapas. To give you an idea of the menu when I went we ordered sweetbreads which might sound daunting being that they are an animal's pancreas and thymus glands, but served with chestnut, it goes together so well you forget what you're eating. We also had the 'rana pescatrice' (a type of monkfish) with artichokes and potatoes, a sort of trippa tower with shaved truffles and Parmesan.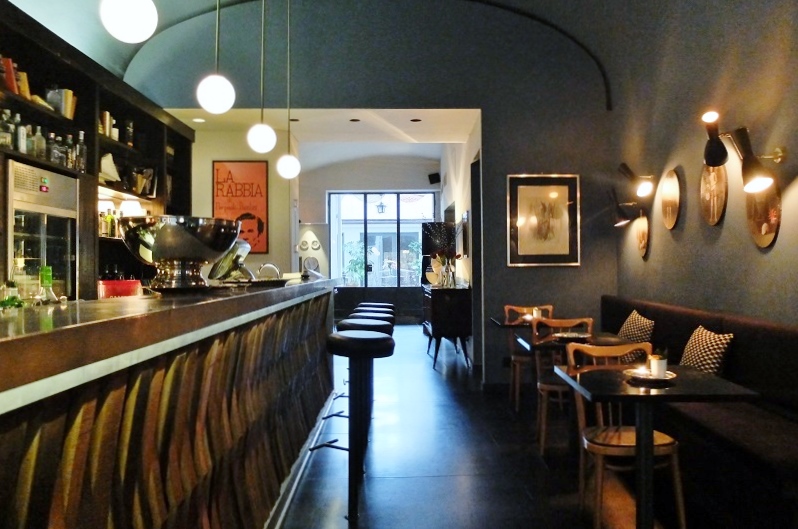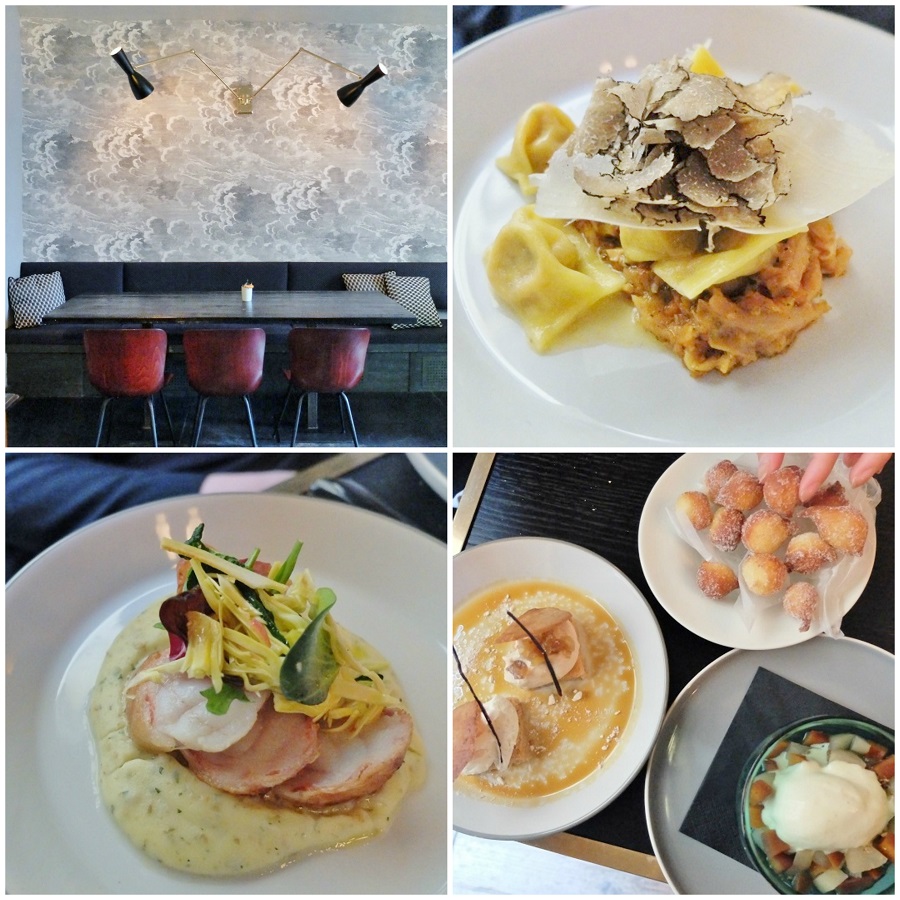 A Crudo is another sweet spot on Via Mazzetta 5r. They just opened last January, in a space that once once a fish market turned deposit for over 15 years. The 'star' of the menu here is their special 'tartare', I counted over nine versions and that doesn't even include the dessert options. I tried a few different ones, my favorite was the 'Manicomio' with capers, beef, anchovies, parsley, onion and the list goes on. They also serve up delicious carpacci and tagliere (meat and cheese boards) and Chef Niccolo kind of resembles an Italian Bradley Cooper, not that I was looking ;-).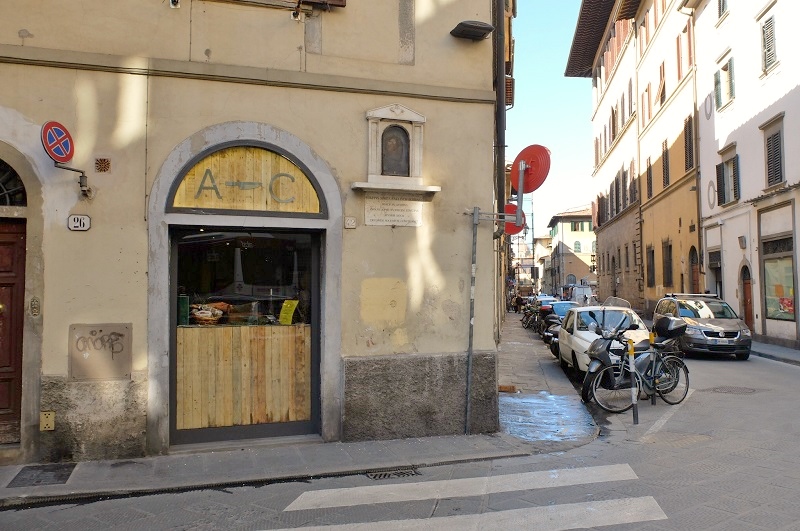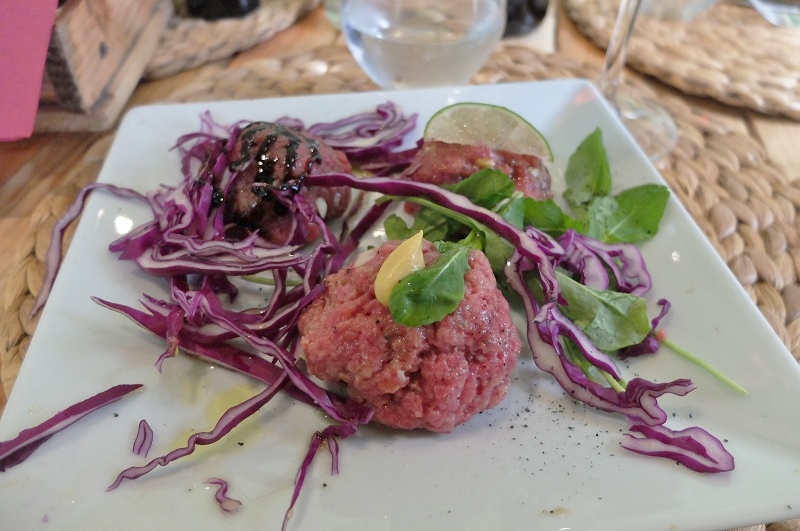 Also I might have forgotten to mention a new bar in town. Rasputin, the newest 'secret' speakeasy has been covered my girl Coral in Vice. I just discovered it recently myself and I am fan. Besides the fact that the 'door' is hidden and you feel like you've just uncovered a secret world of throw rugs, antiques and vermouth.  I won't give away the address but trust me, it's worth finding. Call to book a table+39 055 280 399.
Regular Events
For market lovers, Santo Spirito is a real gem. Twice a month there are two popular markets, including an antique/flea version every second Sunday teaming with treasures, and an organic food market every third third of the month (please get the organic aged parmesan here, it is THE BEST). Both are of high-quality and everyone seems to congregate here to pick up their fresh ricotta cheese, bread, or just to catch up on local gossip. Both run from 9am-7pm, it's a lot of fun so check it out!
https://www.instagram.com/p/BBrbASMxTDS/?taken-by=girlinflorence
Where To Stay
Obviously with me living nearby, I am hardly a local expert when it comes to hotels. However, if you want to forgo Airbnb, here are some options.
Soprarno Suites, one of the best boutique hotels in the city, every room is themed and more spectacular then you can imagine. They feature expert calligrapher, Betty Soldi's beautiful prose and are outfitted with antique furniture and free-standing claw bathtubs. Nico and I stayed here on our wedding night, I couldn't have imagined going anywhere else. address: Via Maggio 35. Rates start at €125 a night (low season).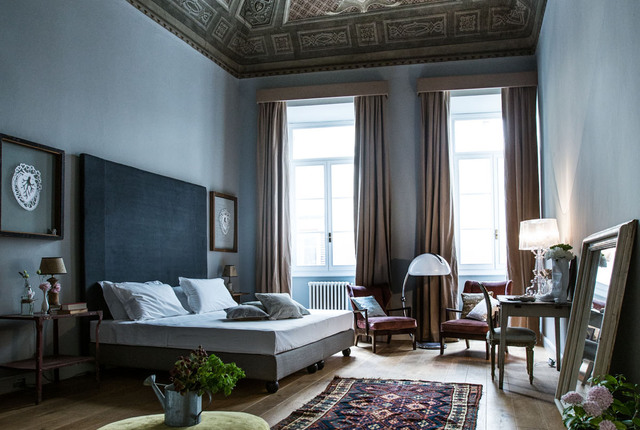 A great 3-star option is the 16th century Palazzo Guadagni in piazza santo spirito. The spectacular terrace offers a beautiful viewpoint of the oltrarno. Rates start from 92€ per night (low season). address: Piazza Santo Spirito 9.
Everyday Shops
In addition to the eating, drinking, playing and buying, you can actually find useful places for every day life here too. What I mean by that is that there are actual stores to buy things like fruit and vegetables, not just postcards of Florence.
Hair: Wave on via di santo spirito is where I currently go to get my hair done. It isn't cheap, but I like the fact that their products are Aveda and don't fizzle the last remaining follicle off my skull. They know what they're doing, have actual functioning WiFi and the place is pretty cool. They have a chandelier made of bicycle tires that I wish I could take home.
Fresh Fruit & Vegetables can be found at the local Ortofrutticoli on Via Sant'Agostino 26-28. This small shop has seasonal picks literally flowing outside of the door and you can be guaranteed of the quality and freshness, plus they aren't overpriced like the guy around my house on borgo san jacopo.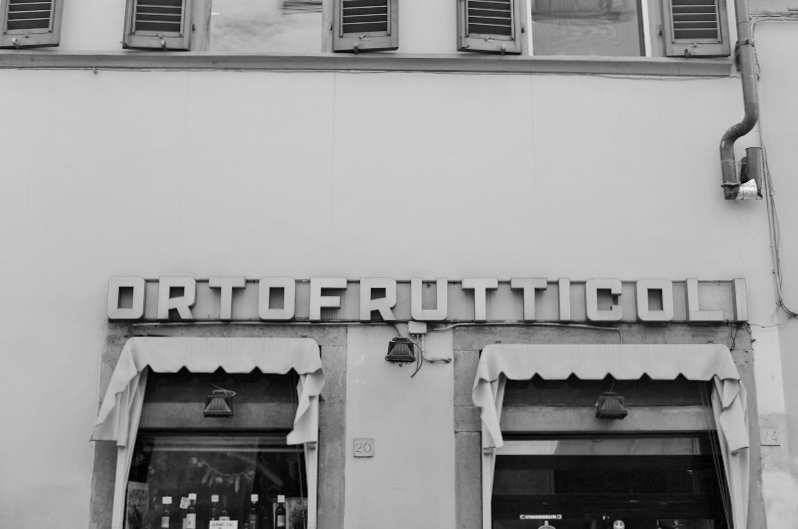 Libreria Clichy, via maggio 12r. As so many bookstores close, a new (International) one with over 9,000 books opened last year on via maggio. Clichy is a cool place, yes it's small but they have a beautiful little courtyard and even invite you to come read and drink free coffee.
Il Santo Forno is my local gluten-friendly spot in this area, it on Via Santa Monaca, 3r, the baked goods in this very unique and cool space. In fact, you can read more about it on my friend Nardia's website — Lost in Florence. Everything here is amazing, you can also get a cheap lunch to do (panino).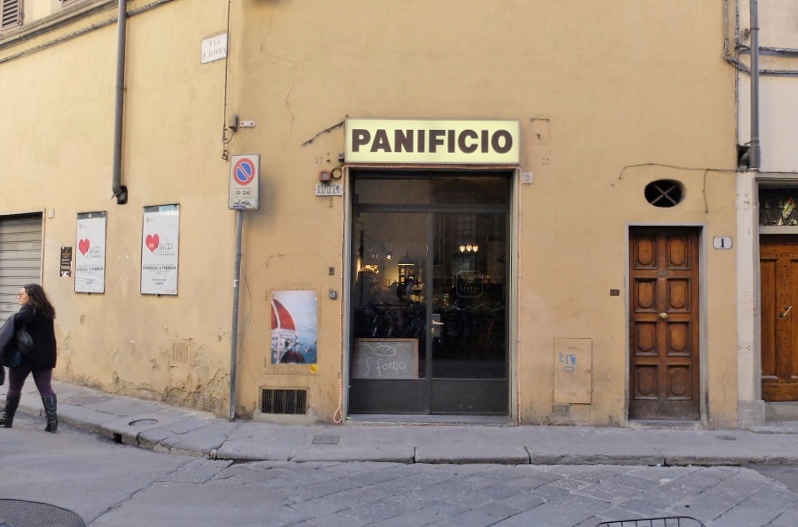 Nightlife
For those who are looking to have a drink, you won't be disappointed here. What I like about this area, is that it is a real mix of local Italians and foreigners, a hell of a lot better than anything you'll find on the sticky floors at Dolce Zucchero.
My preferred places for a drink in this area include Volume in piazza santo spirito, ignore the service because well, it sucks. They do make a decentmoscow mule and often have live music on the weekends, you'll like the interior as well. Think purposed furniture.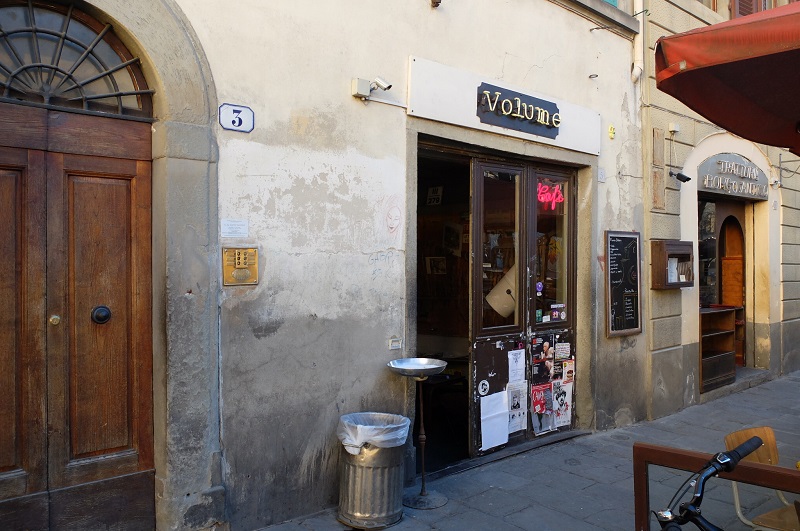 If beer is your thing, you have more than one option here – try 'The Hidden Pub' in Piazza del Carmine where you can catch the Florentine soccer matches or access free WiFi.
The second place for beer lovers is Archea Brewery on via serragli 44, it's one of the best craft beer spots in the city and it doesn't disappoint.
 Google Map Of This Santo Spirito 'Girl in Florence' Guide
SaveSaveSaveSaveSaveSave