By: Emily Bruck and Georgette Jupe
What are the significant events, the hidden gems, and the must-does and must-goes this season in the city of Florence? We have all the lists and tips you need right here.
"Since life is short and the world is wide, the sooner you start exploring it, the better." — Simon Raven
If you're anything like me and it's your first time visiting the wonderful city of Florence Italy, there's no doubt you want to hit all the hotspots, from food and drinks to bars and music. However, with the overwhelming choices in a city as dynamic as Florence and the plethora of results after googling 'where to go,' let's face it, planning the perfect itinerary can be taxing. Remember that we offer casual trip planning video sessions if you want to bounce ideas by a local expert or get curated finds for a special occasion in Florence — here's where to book.
So, after copious research both offline and online, here is a unique list of must-go events and locations to best enjoy this summer in Florence, hopefully there are a few hidden gems you may have yet to hear of.
Save these seasonal events and hotspots in Firenze for Summer 2023
Performance culture
Let's kick off the fun with "The Season at Villa Pietra," an NYU Florence-held event. Coined as "a summer celebration of creative collaborations," the schedule features a plethora of visits from world-renowned actors, musicians, scholars, writers, and artists, who will present performances throughout the summer.
This may seem like a lot so what should you visit in your scheduled time frame in Florence? The event's full program PDF lays it out for you and the website linked above.
Although we are a good way through the summer, "The Season at Villa Pietra" has countless unique events left to go – and here are just a few.
June 23, 2023, The Shadow of the Empress: Fairy-Tale Opera and the End of the Habsburg Monarchy. This symposium discussion from 6-7:30pm will focus on co-director Larry Wolff's new book "The Shadow of the Empress," written at Villa La Pietra and partly inspired by the prominent portrait of Habsburg Empress Maria Theresa in the Villa La Pietra salone, reflecting the former importance of the Habsburg presence in Florence. The event will be held at the same address, at the Limonaia at Villa La Pietra.
June 29, 2023, Opera: Garden of the Finzi Contini by the New York City Opera. The presentation will be selected excerpts from the full opera, featuring four singers and an accompanied fashion exhibit, visible from 7:00 pm – 8:00 pm. The Opera performance follows the exhibit from 9:00 pm to 10:30 pm. The opera is based on a novel that inspired an award-winning film in 1970, telling the love story of two Italian Jews in Fascist Italy. The event will be held at the same address, at Villa La Pietra.
Next is the annual Estate Fiorentina summer events showcase, a blowup of big events from June 2 to September 21. Featuring 132 organizers, 111 projects, six themed events, 15 summer festivals, and 12 summer venues, this year's showcase is set to be grand.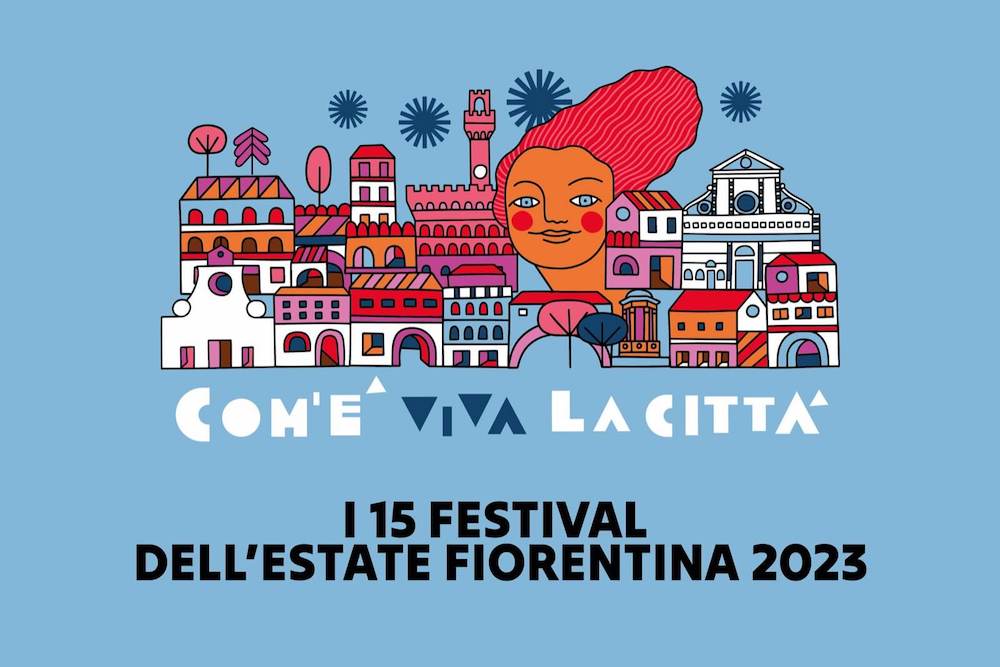 Estate Fiorentina includes many art forms, from music and theater to poetry and cinema. This year's theme is, "'Don Milani during the centenary of his birth and Giorgio Gaber 20 years after his death,' explains Mayor Dario Nardella. 'The theme and title come from Gaber's own lyrics, Com'è viva la città, meaning Florence is more alive than ever and the line-up is proof of this.'" (The Florentine).
Part of the Estate Fiorentina is The Florence Dance Festival, now back in its 34th edition, combining performing arts in some of the city's most spectacular locations (Amphitheater of the Cascine, Roman Theater of Fiesole, Piazzale Michelangelo, Piazza Santissima Annunziata, Courtyard of the Bargello National Museum, Great Cloister of Santa Maria Novella) from now until July 20th. Tickets start from 22€ and here's where to reserve your spot.
For lovers of outdoor cinema (I grew up with drive-ins so you know this girl is a fan) Apriti Cinema, the outdoor movie area in the Uffizi corridor is back this summer until August 7th every evening at 9:45pm. Movies are shown in their original language with Italian subtitles (you can see the program here).
Food and Drinks "All'Aperto"
There's no way to take in the entire scope of the Renaissance city and its seasonal events without exploring the vibrant food scene. You can view some of my best eats here, but below are just a few more outside options just for the summer.
One of the summer's hottest picks requires a car or motorino (or taxi) but is well worth your time. Craft Beer has a tried and true fab club in Florence, and now there is a relaxing outdoor space where you can pair delicious local bites with some great beers made by an independent microbrewery in the Marignolle area of the city. Birr'aia is open until September (Tuesday-Saturday) and you can bookmark the address here: Via di Santa Maria a Marignolle, 29/C.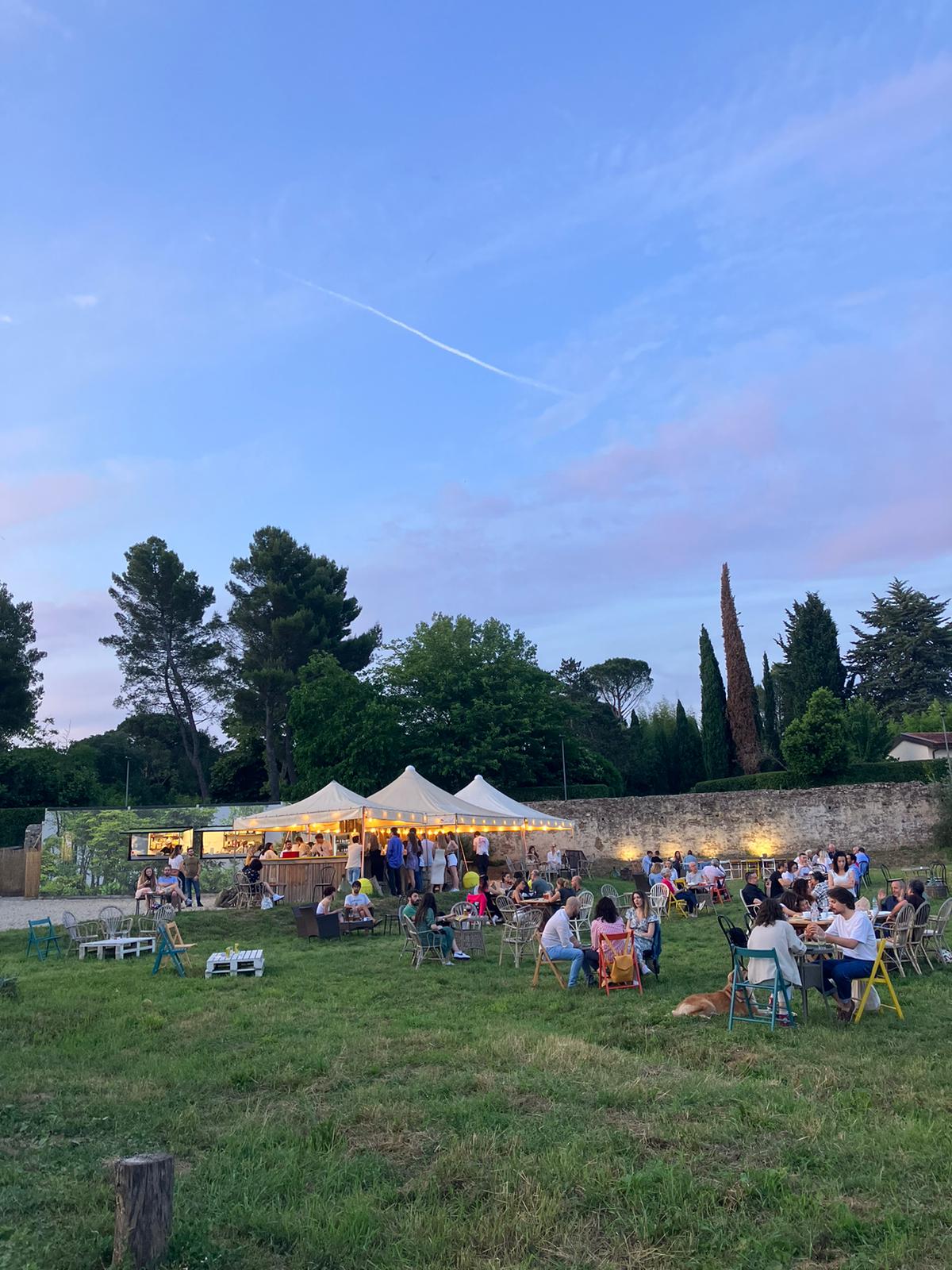 For a taste of Cuba in the center of Florence, head to Habana 500 on the banks of the Lungarno (Lungarno Guglielmo Pecori Giraldi) for live music, dancing, all washed down with a Cuban sandwich and mojito. There are even some dance lessons for those with a little more rhythm than me. Next door to Habana, you will see the Fiorino sull'Arno outside area featuring food trucks and space to chill and grab a drink with friends.
The classic area of La Toraia sul Lungarno (Lungarno del Tempio, 1) is also back this summer serving up Chianina burgers and plenty of space for live concerts, exhibitions, talks, dance classes and activities for the whole family.
Also along the Arno on Lungarno Cristoforo Colombo 27 is Molo Firenze, home to street food and many free events, including yoga every Tuesday at 7pm. This is one of my personal preferred spots because where else can you get Nura (excellent Indian street food) and fab pizza in the same place (Simbiosi).
This year, a new addition is La Mulina in Cascine Park (Viale del Pegaso 1, Firenze), offering a live music outdoor space for all ages to enjoy street food (both International options and local) and a play area for kids.
Also for those looking for a really fun experience whether you live in Florence or are just visiting, our friend Curious Appetite has teamed up with one of Italy's top expert bartenders for a special cocktail class that will help you learn how to make craft versions of key Italian cocktails. you'll appreciate what makes a perfect Florentine Negroni and discover your favorite Italian cocktails like the Spritz and Bellini made with hard-to-find bitters and peak season ingredients. I'm definitely going to sign up for a class next time we're in town!
For music lovers and adventurous souls
Concert lovers who missed Firenze Rocks, don't despair because Ultravox arena in Cascine Park will be serving up concerts (Kraftwerk (July 7), John Cale (June 13), Tinariwen (June 14), Verdena (July 28), Carl Brave (July 10), Ernia (July 14), cinema and events all summer long (until September). Adjacent is Prato delle Cornacchie where you can grab a refreshing cocktail or bite to eat to power through this summer's exciting lineup.
Speaking of additional events at the Cascine Amphitheater, one that is coming up at the end of June (30th to July 2nd) is the popular "Volare" festival that embodies three exciting days dedicated to flight– think drones, planes, hot air balloons, kites and exhibitions featuring Leonardo da Vinci and much more.
For more of an opera taste, buy tickets to one of the showings in the 85th annual summer Maggio Musicale Fiorentino, which takes place at Opera di Firenze. The festival features performances from April 2023, going through July 2023. Shows with conductors such as Daniel Gatti and Paolo Carignati are scheduled, with tickets available from 20 euros to 70 euros, depending on the seat.
Culture and Local Flair
Florence is home to several traditional festivals over the summer holidays. The first of which is one that every Florentine celebrates. Worth knowing about is Florence's own brand of violent historical football pitting together men in tights grouped by neighborhoods of the city (obviously I'm for Santo Spirito or "Bianchi") who are very very angry (or really excited, it just depends how you look at it).
The games began earlier this month, with the grand finale between Azzurri and Rossi taking place on June 24th on the Festa di San Giovanni, feast day in the city of Florence which also includes a costumed parade throughout the city (more on that here) that will find itself in Piazza della Signoria at 9:15am with the addition of flag-throwers. In the evening around 10 pm the sky will light up in a spectacular fireworks display known as the Fochi di San Giovanni.
The best spot to check out the show is along the river, namely Ponte alle Grazie but beware that crowds tend to swell up quickly here. My best advice is to reserve a spot on one of Florence's rooftops (think Angel rooftop bar, B.Roof, Empirio at Hotel Lucchesi, Terrazza Rossini at Hotel Kraft, SE·STO on Arno, Caffe Verone, or Glance Hotel) for a drink and a sky-high view of the show.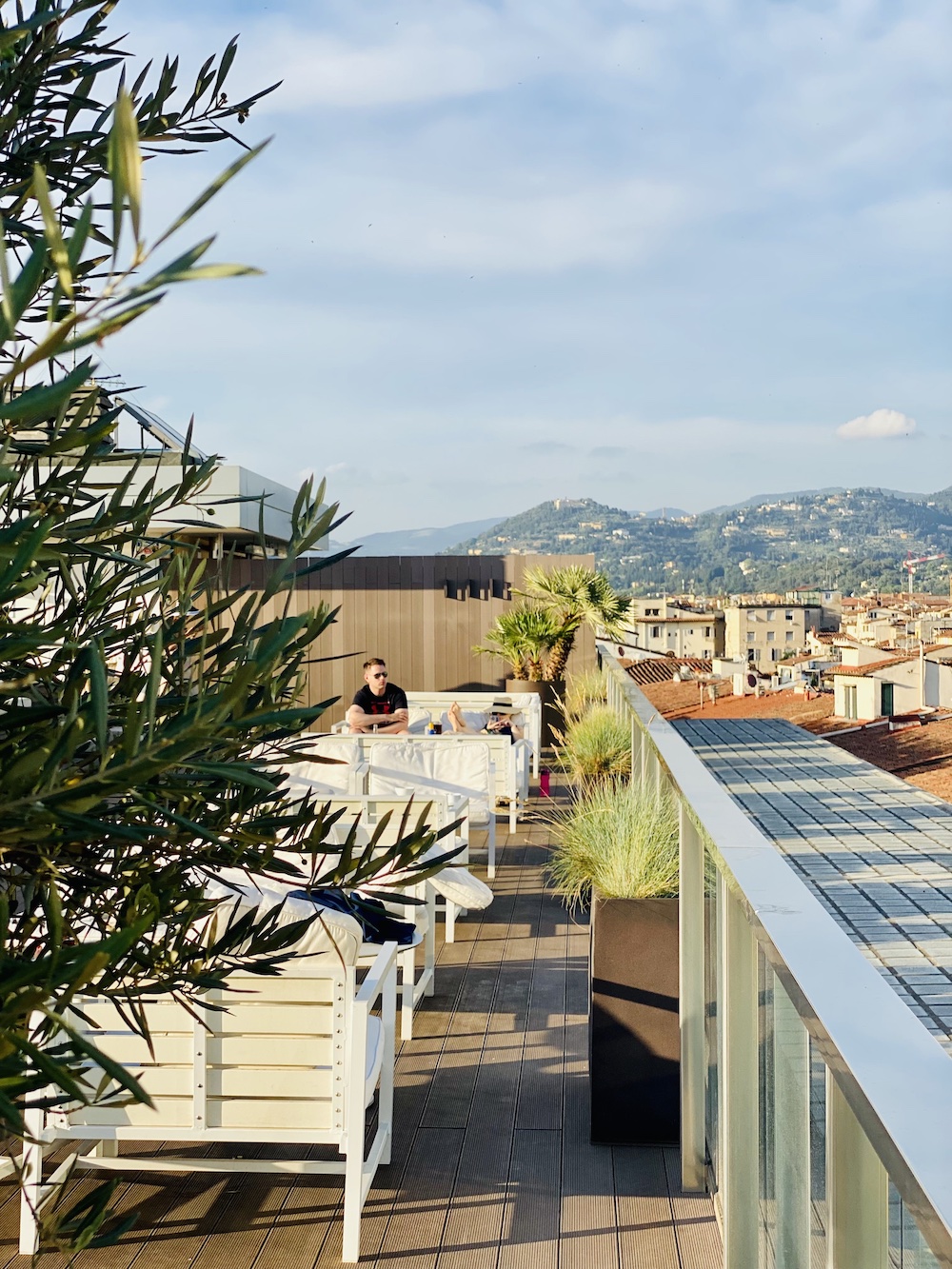 For culture vultures who appreciate one of the best views in town, head to Forte Belvedere, Florence's Renaissance-era looking spot, for the debut of Melma, which is the title of the Nico Vascellari's exciting new exhibition set to kick off on June 24th at the fort. Visitors will be able to enjoy previously unseen works made for this occasion and created with different media, such as sculpture, video, collage, installation and sound focusing on the relationship between man and nature, existence and transcendence.
I've long been a fan of Steve McCurry's work (he is an American photographer, freelancer, and photojournalist and you've likely seen his photo of an Afghan Girl with piercing green eyes) and if you are as well he has a new exhibition Children with 100 photos Steve has taken now featured at the Museo degli Innocenti (ongoing until October 8th). Read more about it here via The Florentine.
A study abroad student's top picks
Our intern Emily Bruck has compiled a list of her favorite finds for those studying abroad this year.
Perfect study spots
No itinerary is complete without some mandatory food and drink visits because they're just that good.
First, La Ménagère is located at Via de' Ginori, 8/R. The first thing I can say about this place is that it is so unbelievably aesthetically pleasing. The decor reminds me of an English tea party, which matches its adorable menu and menu items.
La Ménagère has brunch, lunch, and dinner, with an array of iced and hot coffees and lattes. As the restaurant website echoes, La Ménagère is "a restaurant, a bistro, the perfect place for tea, a drink, a business lunch, a romantic dinner and much more."
The place is always packed, with a plethora of unique people having different types of meals, from business, to work, to romance, to family-style. My first time at this tranquil haven, I sat in the kitchen at the chef's table with myself and eight others. Then, my second time, I brought my computer to write and sip coffee on a weekday. This place can really do it all, and that's why it's a hot place this summer.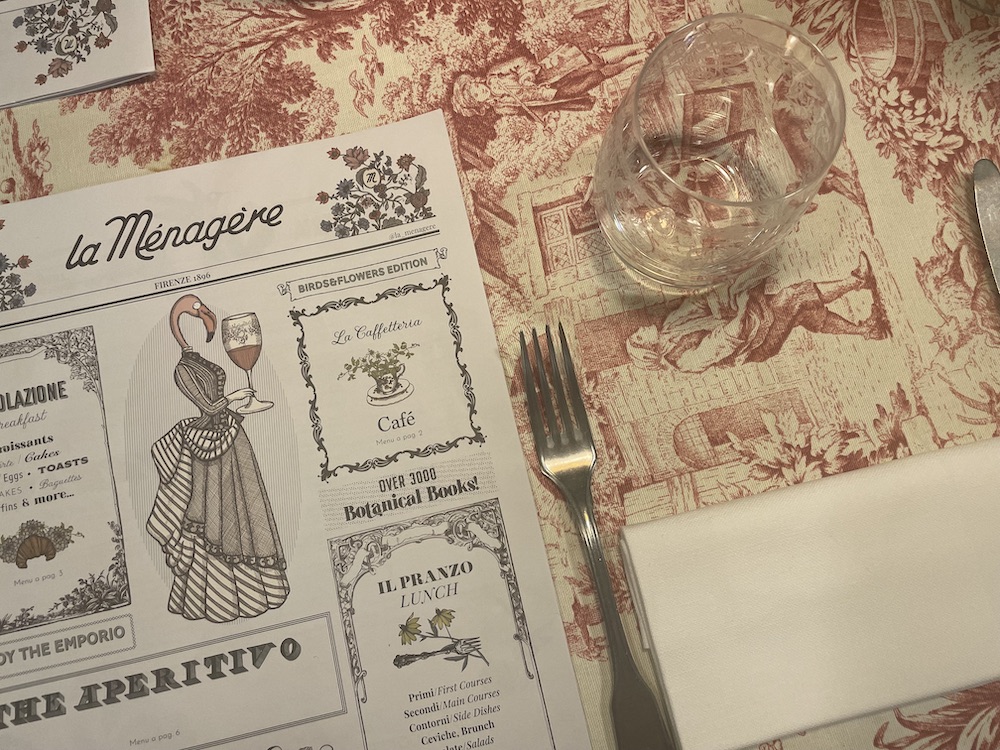 La Ménagère serves the summer intern – aka me – the ravenous foodie, or the passionate people watcher, with its outdoor seating and open-air environment to the bustling street of Via de Ginori. It's surely worth a visit this summer.
Another good study spot is Shake Café, located Via Camillo Cavour 67/69R. Shake has locations all over the city, with a delicious menu and a variety of refreshing coffees and smoothies, but this one specifically is the largest and serves are a study spot due to the outlets and the free Wifi service.
It is fairly priced, a plus for a college student on a budget, and filled with students of our age group on their computers. You will truly feel at home here on a weekday for lunch. A common discomfort I've run into in Florence is figuring out where it is appropriate for me to do work as I dine – Shake Café leaves you with no discomfort and welcomes you into a working environment.
My recommendations – Iced Latte, with flavorings, obvious. It's impossible to find iced coffee around Florence. Here's your spot. Avocado toast is an affordable must as well for a light breakfast. And for lunch, try the falafel wrap!
Next is Ditta Artigianale, a cafe not too far from the bridges connecting the two sides of the city. Located on a busy street full of panini places and leather purse shopping, the surrounding street is livly. For this reason, Ditta Artigianale has an open window environment that still somehow has a calm air about it.
Upon entrance I was greeted by friendly employees that offered me a cappuccino and a place to sit and work. Free wifi is written on each table along with a QR code menu. The walls are lined with their sellable coffee beans, making the whole cafe spell like coffee.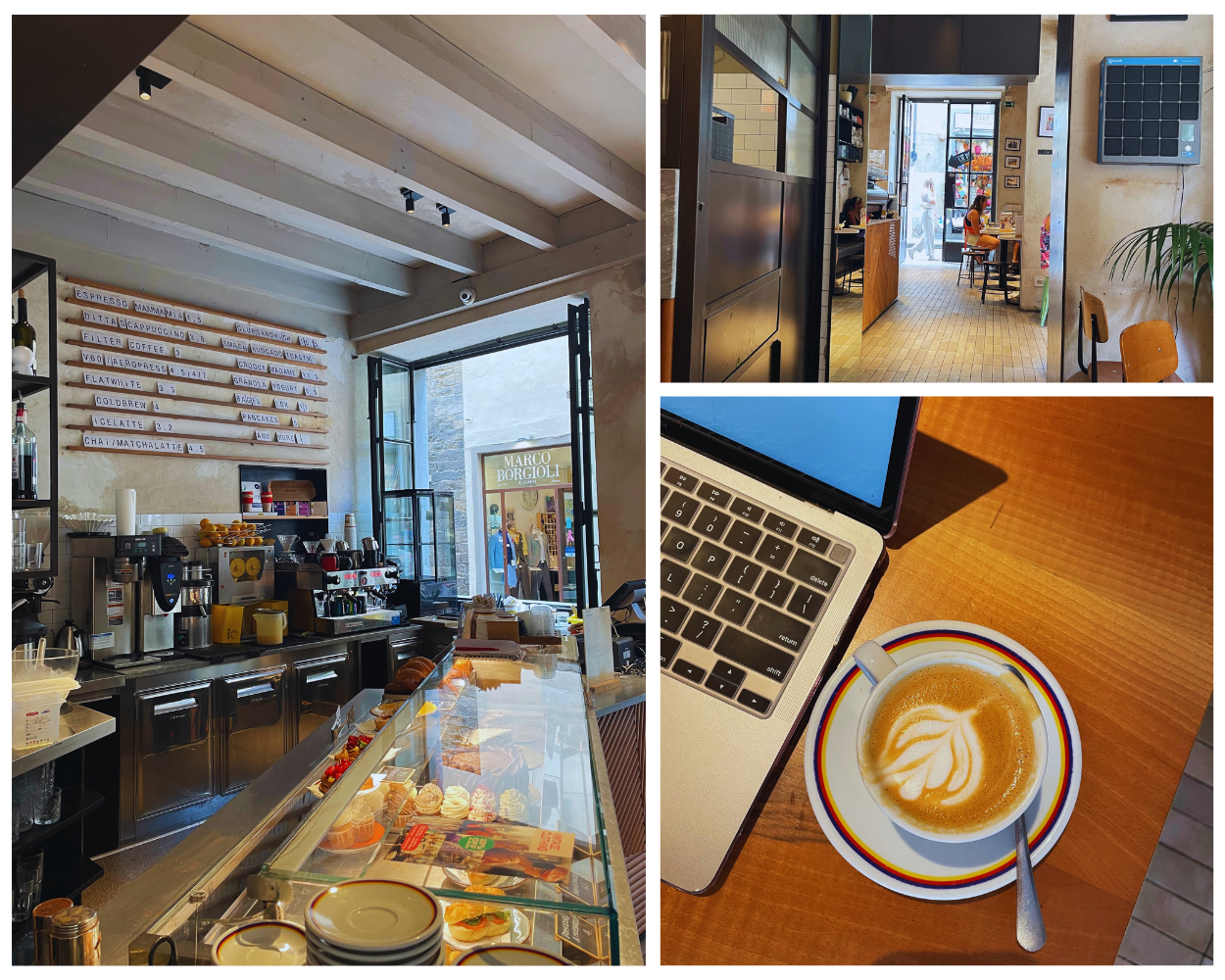 This is a must-go for a study-abroad college student in need of tranquility and a place to work. Plus, their cappuccino was killer! Their address is Via dei Neri, 30/32 R, and their hours are 7:30 am every day, closing at 7:00 pm Mondays through Fridays, and closing at 8:00 pm on Saturdays and Sundays.
I also recently took a trip to Biblioteca delle Oblate and Cafeteria, a library a few blocks away from the Duomo, with a mini cafe within it. It features a fun drink menu, from iced coffees to all the spritzes you can think of; plus, free wifi for the wandering, studying, student.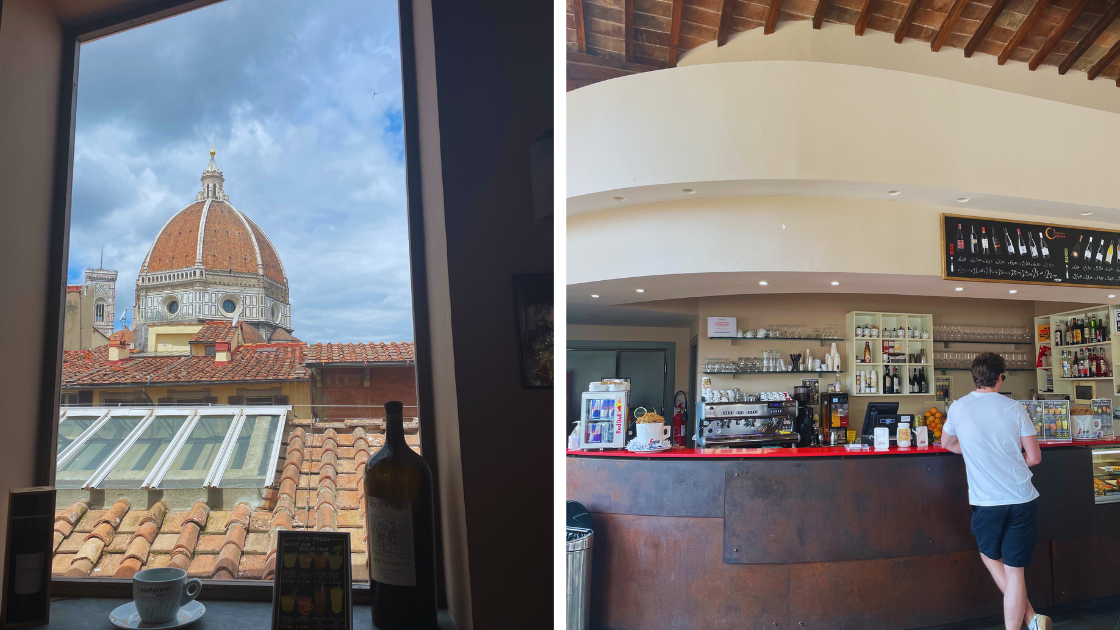 The cafe prohibits its tables from study use, proclaiming itself as an area for food and drink. However, there are countless tables around the outside and downstairs area of the library. Not to mention, it is a beautifully constructed building and garden area. Even the view from the cafe is breathtaking. See below.
Oblate Biblioteca has the following hours:
Monday from 2:00 pm to 7:00 pm

Tuesday from 9:00 am to 7:00 pm

Wednesday, Thursday, and Friday from 9:00 am to 11:00 pm

Saturday from 10:00 am to 11:00 pm
For a daytime foodie –
Mercato Centrale
Next, another perfect daytime activity is visiting the Mercato Centrale. This is undoubtedly a visit for the foodie or a first date. There are countless pop-up restaurants all over the top floor, which I was able to visit.
From the classic cheeseburger to Italian charcuterie boards and toasts, I found myself wandering in circles contemplating whether I wanted a meal or to skip straight to the cannoli stand for dessert.
Upon entrance, you're met with the sounds of pots, pans, people talking and laughing, and all sorts of smells. Don't be fooled, though, the food is expensive, but worth the experience. I tried a few assorted bruschette and shared a charcuterie plate with my friend, and left full and happy.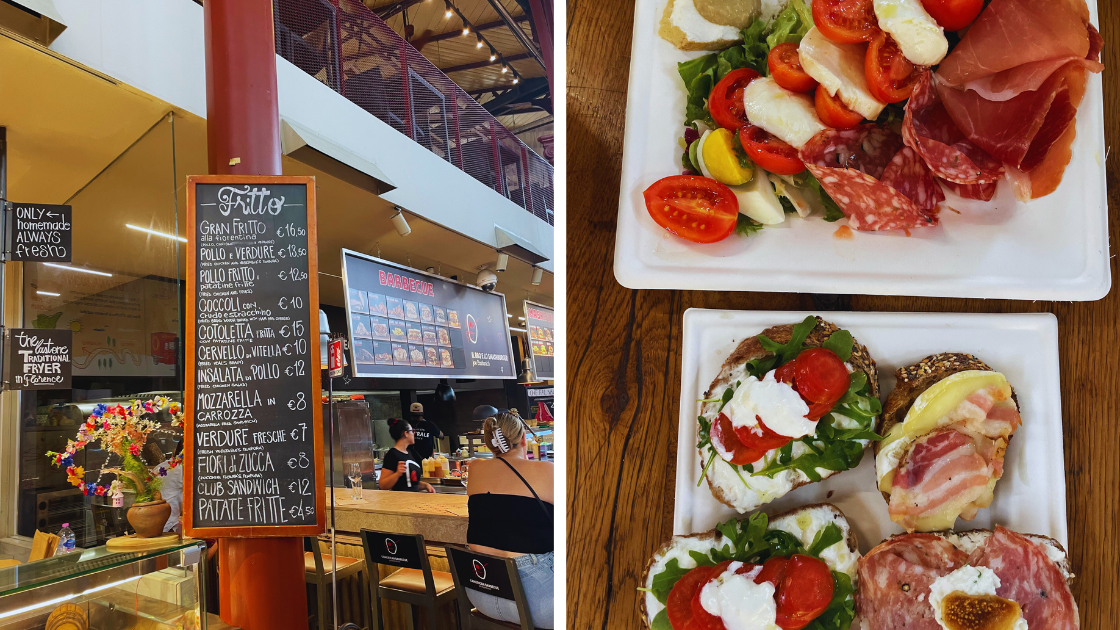 Trattoria Za'za
For a dinner splurge, I recommend Trattoria Za'za, a recommendation I've heard from almost every study abroad student here before me in the summer. Located in the Piazza del Mercato Centrale, it is a hotspot for tourists, with an enormous outside seating area and an even bigger inside. But don't be fooled by the tourism – the food is delicious.
Trattoria Za'za has a varied menu, consisting of every pasta with every sauce and spice you can conjure up – as well as appetizers, high-quality meats, and cheeses. Their drink menu was unique and tasty as well. I had a passion fruit mojito, and it was one of the best cocktails I've had in Florence.
Za'za felt like an adult magnet more than for college students, with its higher price menu, as compared with other authentic Italian restaurants. So, after breaking the bank once there with my friends, I plan to take my parents there next.
The meal felt like a performance, as our food was served in courses and beautifully prepared. I left this restaurant so full that I needed to take a walk. Highly recommend!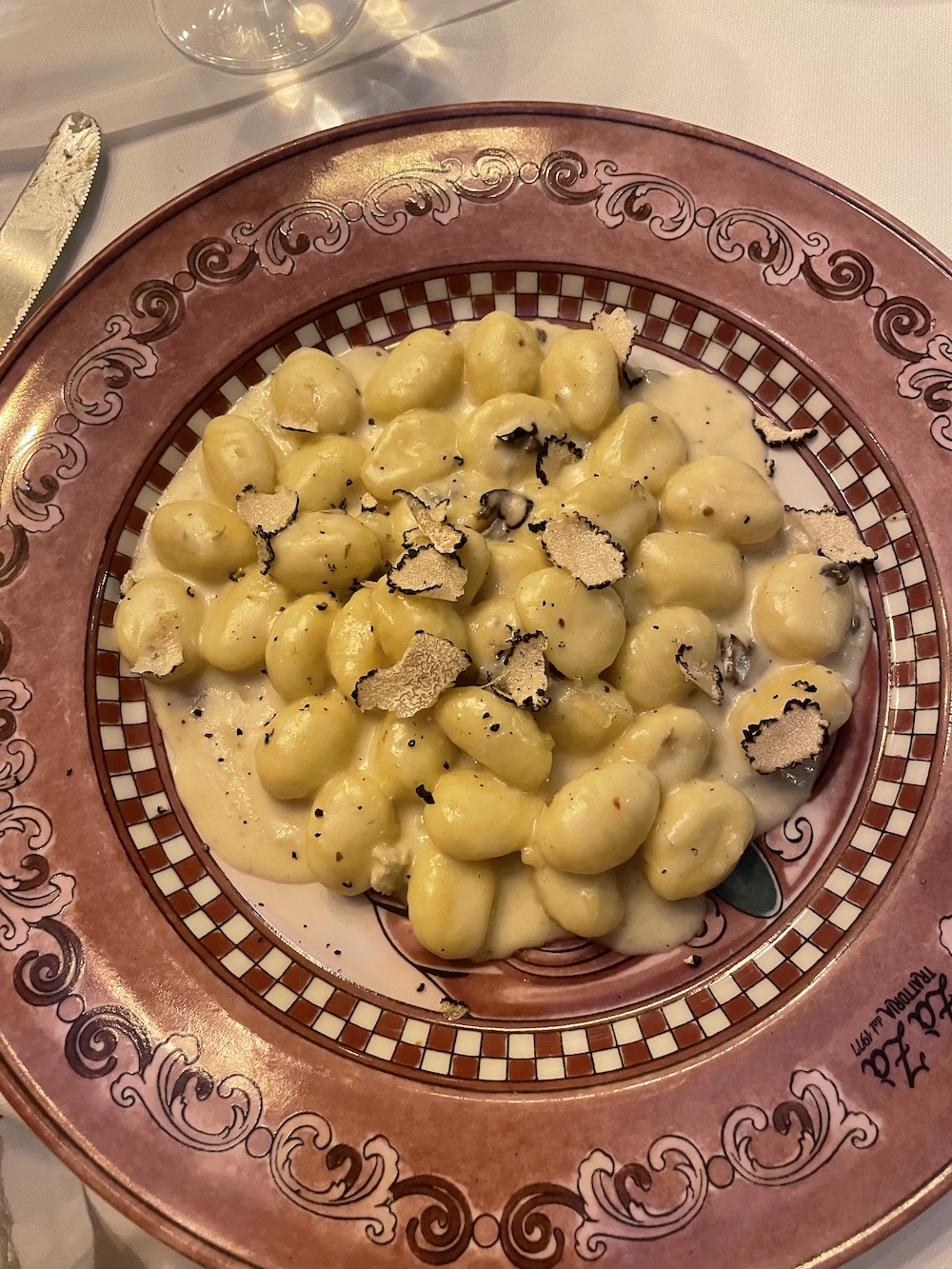 For Bars
Now, for an after-dinner recommendation. In your bar-hopping endeavors, be sure to make a stop at The Lions Fountain, an iconic college bar. Describing itself as an 'Irish Pub,' it certainly serves the pub-loving crowd, as well as the well-seasoned abroad student.
Upon entrance, The Lions Fountain featured a loud, crowded environment, usually watching a sport on the large TVs, or lounging outside at any time of day. What I'd coin as its most unique feature is its board of shots, which lists every university you can think of in the U.S., and a coinciding shot for each.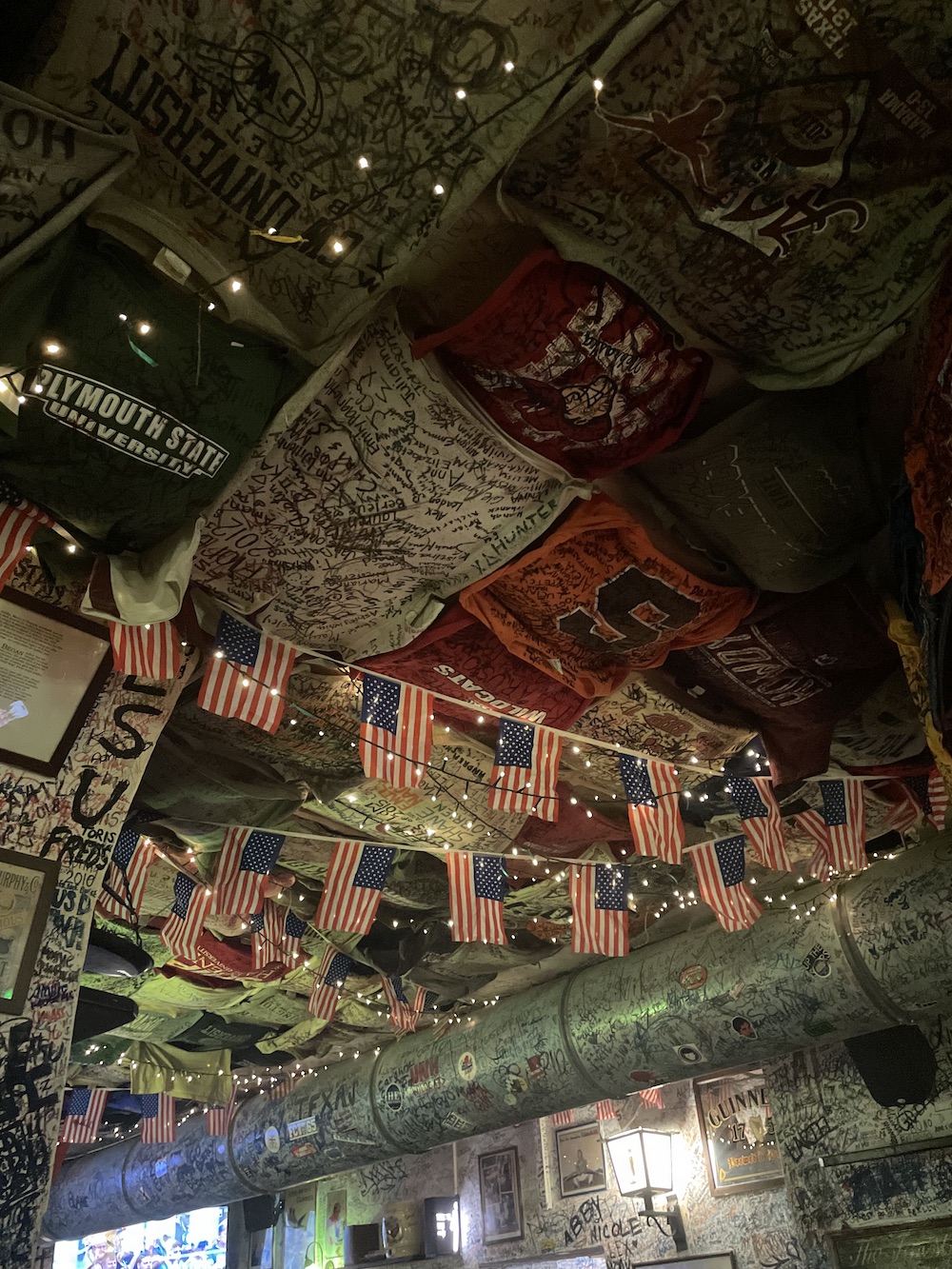 So, naturally, as a Syracuse University abroad student, visiting Florence after countless recommendations as one of the best abroad locations, I had to make this place my first stop. The environment is comforting, inviting, and enjoyable.
It is located at Borgo degli Albizi, 34r, open from noon to 1:30am on weekdays and until 2:00am on weekends. It is in a large open space, and usually has people crowding around the area on any night out. The perfect pregame stop!
There is of course other bars to visit with completely different aesthetics. For a more upbeat, 'clubby vibe', I suggest Red Garter. It is known to be "the most famous restaurant in Florence since 1962," with 50 years of history, according to the website. But past 11:00 it transforms into an upbeat karaoke bar.
Upon entrance, it feels like a run-of-the-mill bar; but, once you go further in, there is a dance floor with a stage facing it. Along all the walls are tables, going up a floor, where you have the option to sit and order drinks in the loud, singing, atmosphere.
The lights glow red in there and the lyrics to each song are displayed on multiple large screens overlooking the dance floor. Although I have only visited Red Garter once, I will surely go again. It was such a great time and there were so many people to meet in the study abroad student age group. Lions Fountain and Red Garter are walkable to each other as well!
Red Garter's address is Via dei Benci, 33, R, with its hours of operation 4:00 pm to 4:00 am on Monday through Friday, and 11:30 am to 4:00 am on Saturdays and Sundays.
From performance art to music to food options galore, Florence is a hub of curiosity and creativity, especially in summer. And, of course, summer is the highlight of its tourist season. So, there's no better time than now to book ahead for the hottest "estate" events and spots so no moment in the Renaissance City will be wasted.