It's almost exactly a year later since our lives changed in Florence, Italy and of course, the world. While we already knew that the virus had arrived in Italy things changed very quickly before the country went into the initial lockdown for two months from the first areas in the contained "red zones" and here we are today, still dealing with what seems like a never-ending pandemic. Despite pandemic-weary citizens and countless businesses at the brink of collapse, there is a small, brimming light at the end of the tunnel with vaccines beginning to be administered in various regions around Italy.
But this post isn't meant to be about that.
If you follow me on social media, you're likely already aware of today's big announcement. After waiting what feels like an eternity it finally feels like the time to share with you guys, my lovely blog readers, why you haven't seen me post as many wine pics as in the past.
The big news is that Nico and I are expecting a baby girl, due to arrive Mid-April and we couldn't be more overjoyed.
It's been a long, long road of highs and lows and I know many of you know that we experienced a five-month pregnancy loss in 2019 — a life-changing, devastating experience. Couple that with a myomectomy fibroid-removal surgery later that year, and you can count me as one of the few people that had a better 2020 than 2019.
Pregnancy after loss isn't easy.
It's been hard to know how to properly celebrate my new reality. But I also believe that there is no "right or wrong" with how to be in a public forum. You have the right to share your pregnancy and you have the right to keep it to yourself. Yes, your silence might be protecting someone from feeling more hurt, but it might also be keeping someone from experiencing more hope.
When I found out we were expecting the baby in August 2020, I was incredibly happy but extremely cautious too. We had just moved to Switzerland, barely gotten our feet wet with a new life, fumbling in German, figuring out the health system, making friends, and boom – another life-changing announcement. We bought a small apartment in Florence, in one of my favourite neighborhoods, so that we can continue to make Italy our home at least half of the time.
Due to the pandemic, insane election fervor, just general LIFE and work; in a way time, did, seem to move quickly. With each passing month, scan, visit, we started to feel more cautiously optimistic that maybe, just maybe, we would be able to bring a healthy baby home with us one day. I know I am not alone in these feelings of fear so I highly recommend Zoe Clark-Coates's book "Pregnancy After Loss: A day-by-day plan to reassure and comfort you" for anyone else currently trying to navigate this emotional minefield
Here we are, I'm currently in week 32, hopeful that the rest of this pregnancy can be just as uneventful as it has been and that the pandemic is better under control. Luckily, Zug, Switzerland is a beautiful calm place. We take loads of long walks and cook elaborate meals at home. It's a bit of a waiting game until April arrives but we still need time to get our act together and make sure this baby girl has everything she needs. I've waited quite a long time to buy things for her but now is the time.
Back to March in Florence.
This is typically a time when we all look forward to sunnier, Spring weather, I mean La bella primavera is arriving!
Even if there were past years of snowfalls on March 1st and cold days until May. This year with continued color-coded lockdown levels throughout Italy it is understandably hard to know how to plan anything. The word of the year is — be flexible.
For the latest on the pandemic and rules in Italy – this article on Corriere might provide useful. That being said, there are events, virtual ones especially, that I am personally excited about and which offer a way to connect with Italy during a time when so many of us wish to be there physically. I get it. I'm one of those people too.
I long to be in our small apartment in Firenze after grabbing a pastry and coffee at Pasticceria Buonamici, picking up an iris cake at Gualtieri or saying ciao a friend in Piazza Tasso. Luckily, the weather has turned nicer in recent days in Switzerland (famous last words) but there is a good reason I won't see Italy likely before summer because of my late stage of pregnancy. Nevertheless, this is why it makes me even more grateful to have a way to connect.
It boggles my mind honestly that our baby girl will be entering a difficult world, sure, but also one where she will be Italian, French, American and maybe one day, Swiss too..
Link Love For the Month of March
March Events in Florence, Italy 2021 – What To Save on Your Calendar
I highly recommend also checking out The Florentine's event list and their great youtube channel with tons of insight on local restorations, cultural events, and more.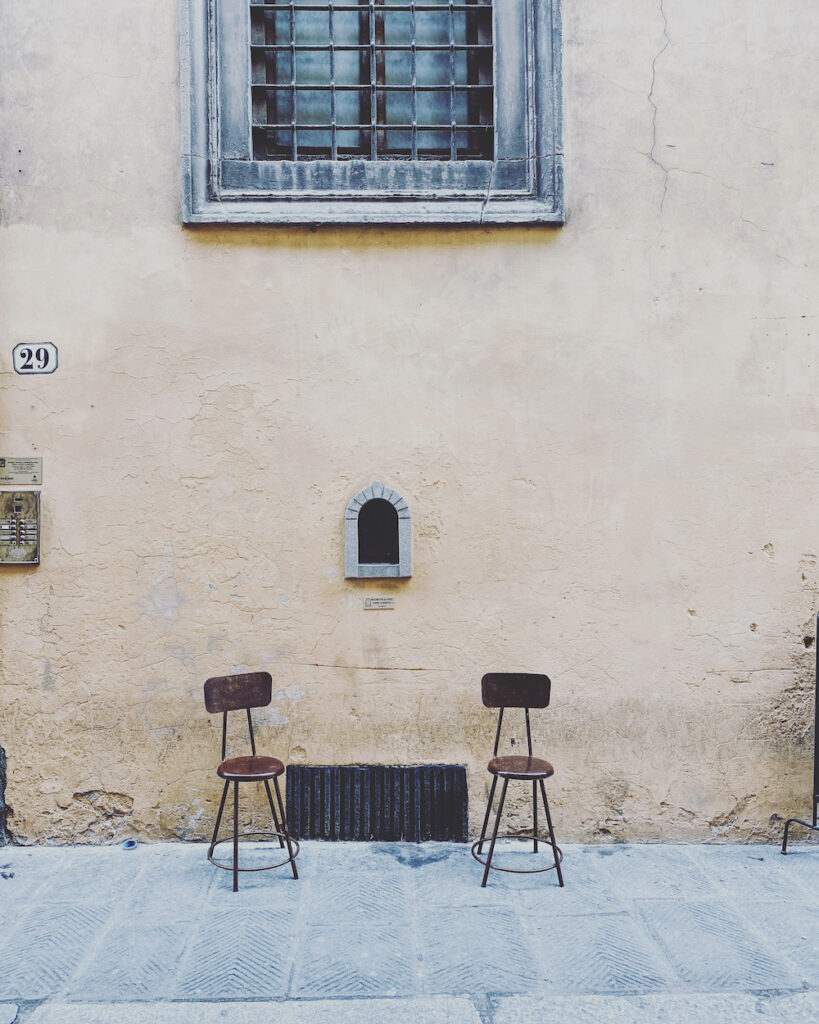 Culture | Walter Savage Landor in Florence by Mark Roberts | March 3rd at 6 pm. Hosted by the British Institute of Florence via ZOOM. Walter Savage Landor (1775-1864) was famous in our great-grandparents' day as the author of the Imaginary Conversations and a considerable body of verse, though his writings are now neglected. Landor came to Florence in 1821 and stayed for 14 years, buying a splendid villa in Fiesole; he returned for the final years of his life and is buried in the English Cemetery. His life was a catalog of incidents and misfortunes, many of them self-inflicted, but he was a highly respected literary figure who influenced a generation of major writers such as Dickens, Tennyson, and Browning. Here's where to join and here's where to donate to help support these cultural lectures!
Speaking of – there are several awesome lectures hosted this month by The British Institute – here's where you can see them all!
Music | Virtual Concert with Alexander Lonquich | March 4th at 9 pm CET. For fellow music lovers, conductor and pianist Alexander will be playing. The concert featuring pieces from Beethoven and Mozart will be performed without an audience and broadcast in streaming on Thursday 4 March at 9.00 pm on the ORT YouTube channel and the Facebook page of the Orchestra Della Toscana.
Culture | Writer's Group | March 2021. The St. Mark's English Church in Florence hosts several interesting events this month including the return of their popular writers' group. You can follow them on FB to see the most up-to-date info but here's a graphic below outlining their plans for the month.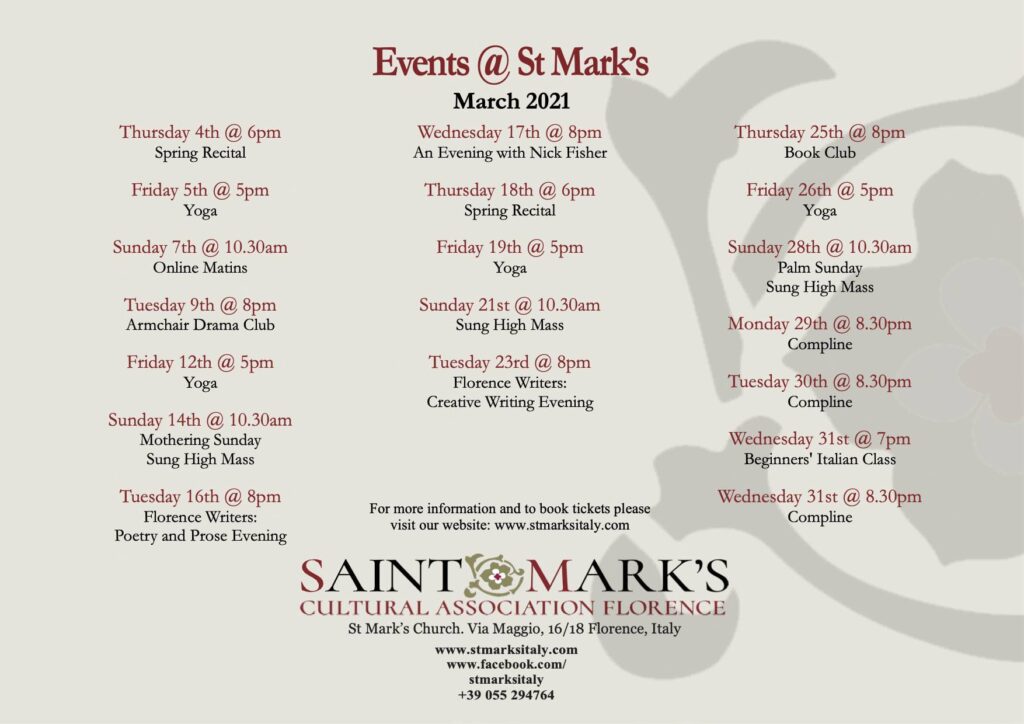 Wine | Virtual Tasting | Thursdays 5pm ET & Saturdays 2pm ET. Join a themed virtual wine tasting offered biweekly in the month of March, the first in the series will travel through Volcanic Wines of Italy with sommelier and food historian Adrienne, part of the Curious Appetite Squad (who normally lead gourmet tours around Florence), Saturday March 6th, 2pm ET. The chat will be centered around Italian wines grown on volcanic soil North to South, imported cheese pairings plus curious history like how volcanic soil helped vines survive the phylloxera blight. Not into wine? You can join a Friday cocktail mixology class led by expert bar pros in Florence to master iconic Italian cocktails including hands-on making, breaking down classic Italian liquors and amari, industry tips and the history behind them. You can see more of Curious Appetite events here. Tickets are $30 per participant. For those more interested in learning how to make fresh pasta, you can join an online cooking class every Sunday as well!
Women's Day | The Artemisia Connection | March 8th, 2021 at 6:30 pm CET. Join the Advancing Women Artists Foundation for after-hours at Florence's Casa Buonarroti Museum for a March 8 webinar inspired by Michelangelo's legacy and Artemisia's artistic 'inclination'. In the very gallery where Artemisia's angelic allegory still lives, Conservator Elizabeth Wicks will interview author Linda Falcone, Director of Advancing Women Artists. How did Artemisia's Florentine relationships give momentum to her career? Do Michelangelo's 'virtues' apply to historic female artists and their context? How have connections past and present influenced the fate of art by women in Florence? Register here.
Culture | Dante | March 11, 18th, and 25th. Dante-whisperer Alexandra Lawrence has been doing virtual Dante courses since 2021 has begun (because this is the year of Dante) and since they are so in high demand – she is offering a three-session course that delves into the fascinating and visually explosive world of Dante and his Divine Comedy this March. You can read more about what the course entails and see how to sign up here. In addition to that course, she is also doing a six-week guided reading of Dante's masterpiece The Divine Comedy, with the British Institute – brought back by popular demand!
Talk | The Italy Club on Clubhouse | March 7th, March 14th at 9 pm CET. My good friend and fellow blogger Alexandra Korey and I have created this Italy-centric chat every Sunday evening (Italy time) on the app Clubhouse. The talks last roughly one hour if we don't get ahead of ourselves and focus on all kinds of fascinating subjects – and you can join as a speaker too! This next chat on the 7th will be on "Hidden secrets edition – share a favorite place" while on March 14th we'll be discussing "Friendships, relationships & dating Italian style". If you have yet to receive an invite to the clubhouse, just email me your phone number and I'll send an invite over. Ggncally84 (at) Hotmail (dot) com.
Markets | Fierucolina di San Giuseppe e dei Legnaio | March 21st 9am-6pm (Piazza di Santo Spirito). You might not be aware of this but Florence is home to the 'Fierucole' an open air market dedicated mainly to small-scale organic farming, crafts and rural life, involving small family farms and local artisans. Grab your mask and head to the square for a peek into one of my favorite, and most traditional, local markets where you can buy organic honey, kombucha, the best organic parmesan cheese, balsamic vinegar, and partake in the local past-time of people-watching.