When it comes to that perfect breakfast when I'm back home in Florence, the quality of the pastries and proximity to our house is pretty key. That being said, I'm not beyond a quick-fix cornetto when the moment calls (hey auto grill – looking at you) but having those spot-on, know-what-you're-going-to-get places, in the neighborhood makes a world of difference, especially when it happens to be a family business that you hope remains open forever.
Buonamici is one of those places.
From the moment I turn the corner from Piazza Tasso down to the tiny Via dell'Orto where Buonamici is located I am already salivating on what might I order. Should I stick with my usual almond, cream pastry or go for a pain au chocolat (Nico's top choice) or simply see what's in season.
Who am I kidding though…. just give me anything, and I mean anything, with pistachio crème. Throw in a bag of fresh, homemade cantucci to bring to someone's house for a treat (or just eat by myself while watching season 4 of The Handmaid's Tale) and basically that's my perfect morning right there, along with a proper catchup with a friend.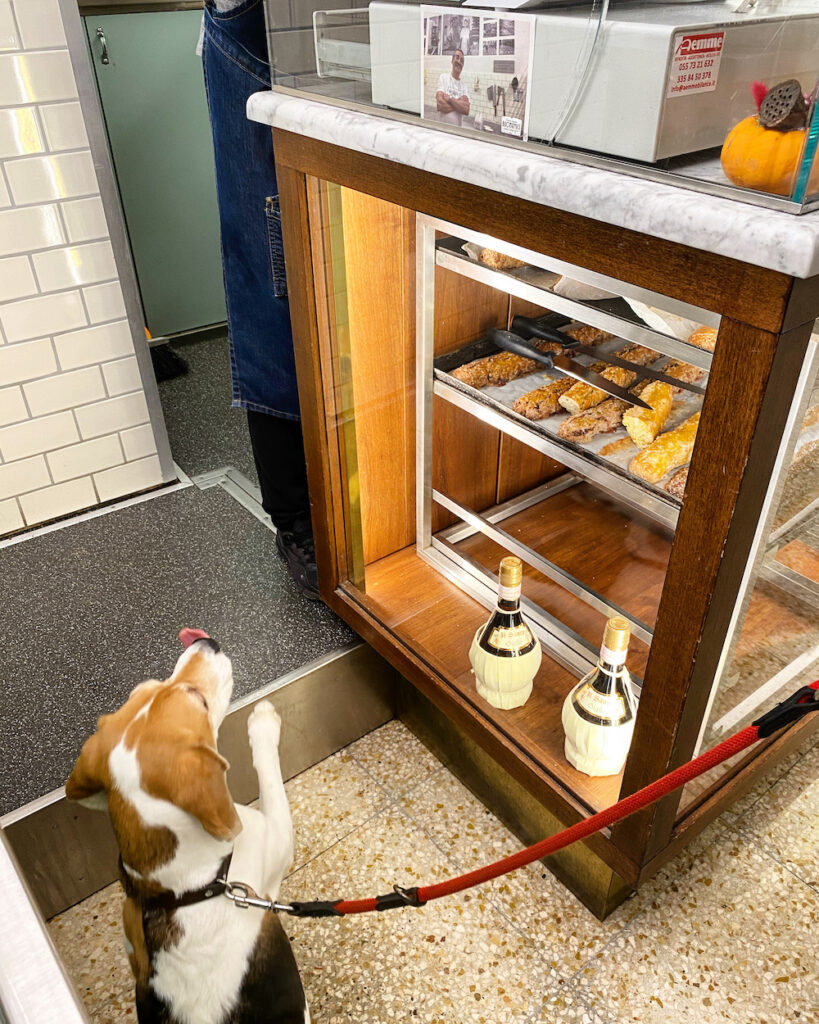 Since this blog will always be dedicated to my favourite things about Florence (and Switzerland and whatever else we get up to once it becomes ok to travel again), I would like to include more of these local spots that I know any true Italophile would appreciate.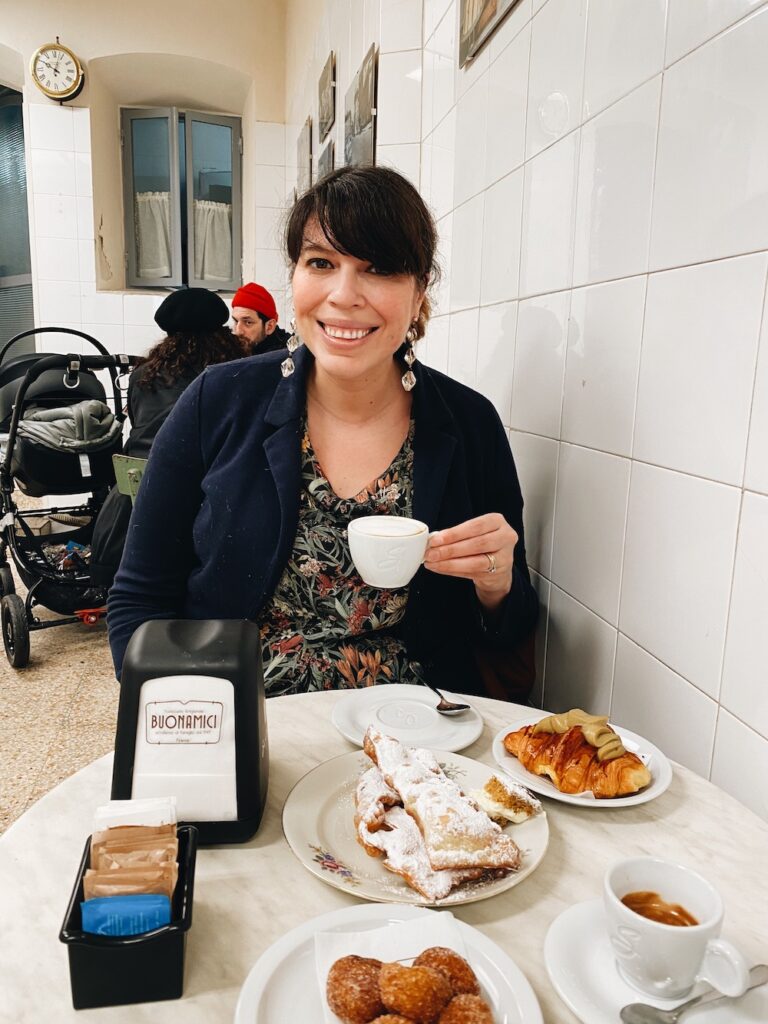 Now that I have a newborn to contend with, coffee and pastries have taken on the next level nirvana of happiness since my time is a little more heavily consumed these days. In fact, writing isn't so easy right now either but luckily our girl does nap and occasionally lets us sleep (in shifts). We haven't yet brought Annabelle to Florence but as soon as we get there this July, I can't wait to wheel my stroller and nab a treasured treat and hopefully have time for a second cappuccino. I might be reaching for the stars here but a girl needs goals.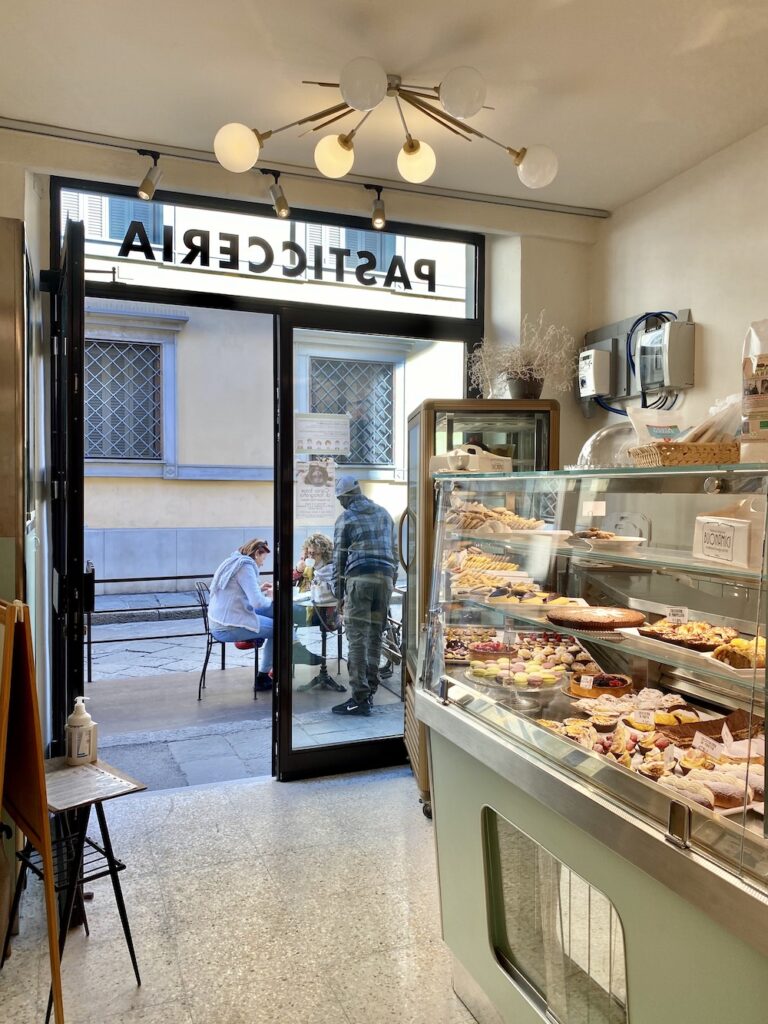 I also very much appreciate the old school interiors. A large marble table in the back with adjacent stools is usually covered in newspapers while old school photos of Buonamici and San Frediano throughout the decades hand in frames. It's the kind of place where you can come for 5 minutes or stay for half an hour, no judgements or rush you out of the door mentality.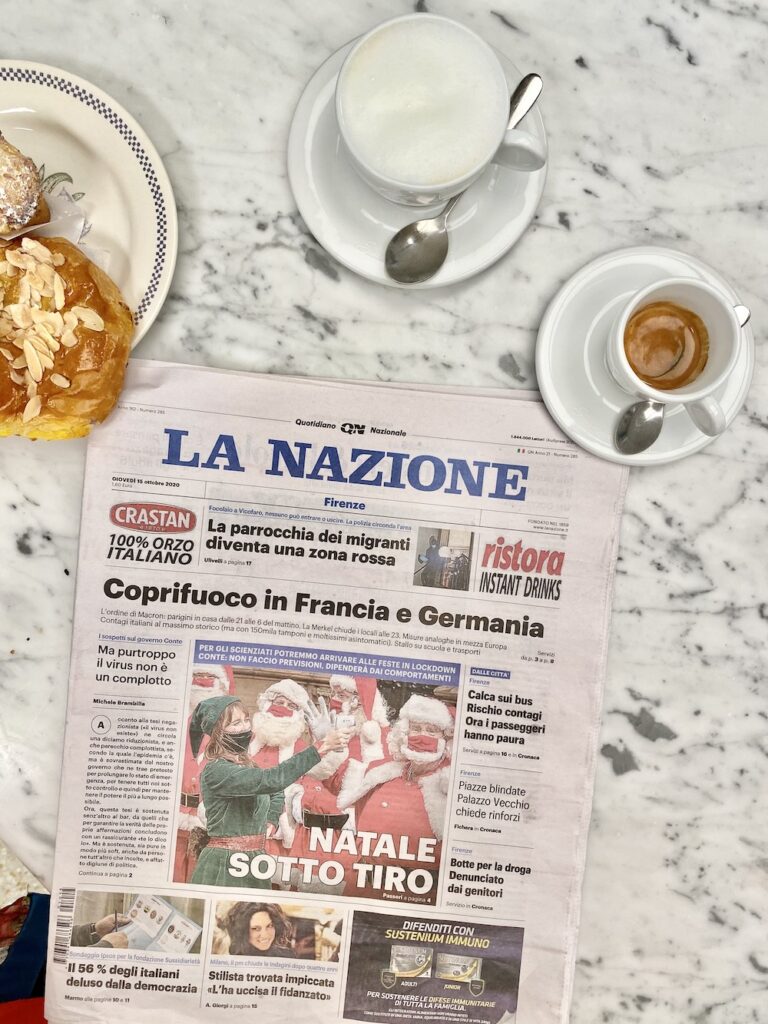 While Buonamici is not a craft coffee specialty bar like Ditta, Coffee Mantra, Melaleuca, or Piansa, I always find their espresso, cappuccino options more than satisfactory. What's even better is the mere fact that everyone there is so kind and generous. Between scarfing down sweets and quick espresso shots, I appreciate the camaraderie of sharing stories and simply chatting about what's going on around town with Rossella or whoever is working that day in the café.
Recently, they have also added aperitivo options so that locals can grab a spritz and whatever savory goodness they've been making that week to enjoy outside, something I look forward in partaking in next visit.
This small café and artisanal bakery were originally founded in 1949 by Bruno Buonamici who had learned the baking trade from an early age at one of Florence's most historical spots – Pasticceria Robiglio. During the great flood of 1966, the bakery was completely flooded, stopping business until the machinery could be put back to use.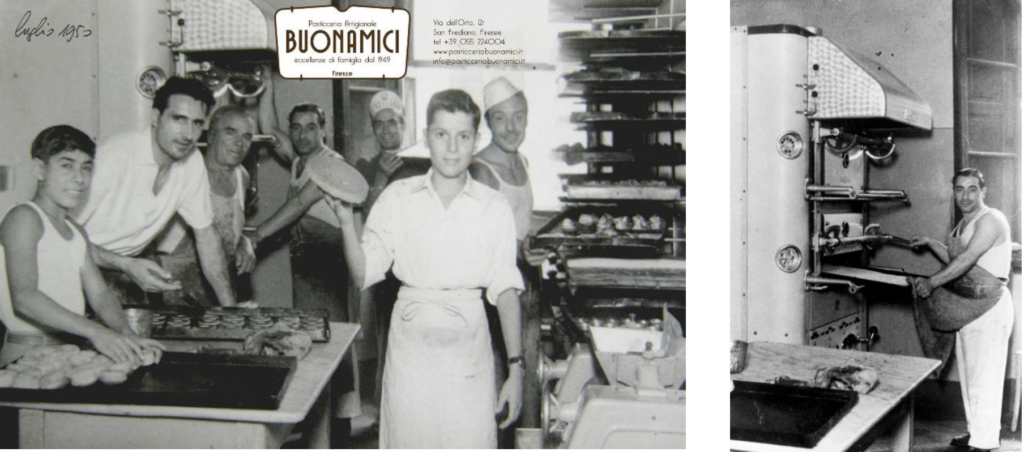 In 1973, Bruno's son Roberto became the new owner of the company with its original location in the neighborhood of San Frediano on Via dell'Orto. He was joined by his daughter Rossella in 2002 when the store was then renovated. It has remained a staunch family business, passing pastry secrets and charm with each new generation. In recent years, Patrizia, Rossella's sister and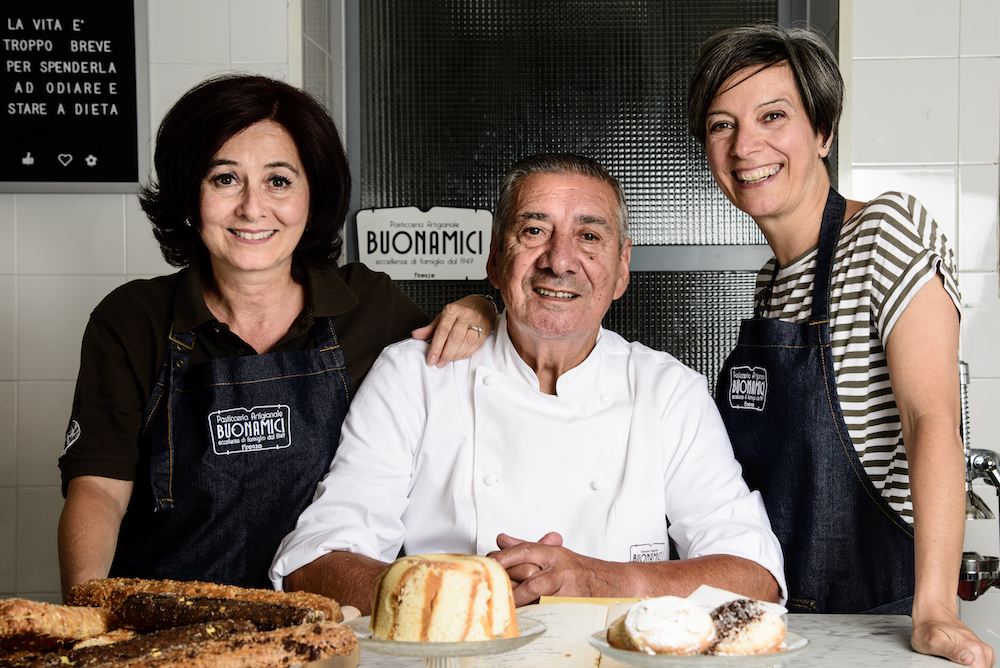 In recent years, Patrizia , Rossella's sister, her wife Cristina, and cousin Guido have joined the business to carry on the family tradition.
Before the pandemic ensured that everything involving group contact was cancelled, Buonamici also had a prime space for those who were looking to learn how to make pastries, or organize cooking classes, nutrition seminars, and even food photography courses.
I was even able to see Roberto cracking eggs and mixing flour for a demo on how to make their signature tooth-cracking (well they're a bit softer than that) cantucci twice-baked almond cookies. I do not doubt that this option will return once it's safe to do so my recommendation is to give them a follow-on Facebook and Instagram to see what's cooking (literally) – it would be a fabulous activity to organize with your family or friends on a future trip to Florence!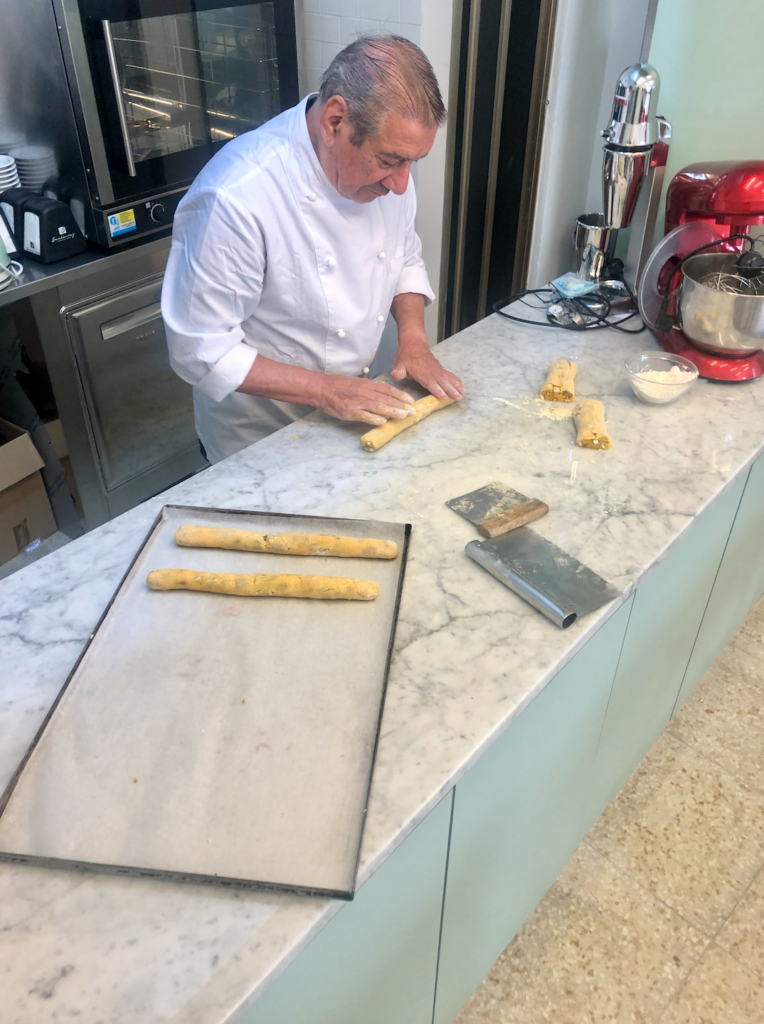 Recently, the family added an online boutique of high-quality artisanal food products hand-selected by them. Think organic flour, chocolate, pasta, jam, honey, tomato puree, dried legumes, teas, wines, and more.
Pasticceria Buonamici
Open daily 7am-6pm.
Via dell'Orto, 27R, 50124 Firenze FI, Italy