Lovely, lovely December.
A month both stressful and exciting, as a festive energy permeates the air and holiday parties make sure that any fitness progress you've made is sure to be cancelled out by extra panettone and mulled wine from the Weihnachtsmark Christmas Market in Piazza Santa Croce. This year the lights around town were put up earlier than ever and as we stroll the cobblestoned streets, it's hard not to feel lucky to be here during the holiday season.
https://www.instagram.com/p/B5F8Q2FC8RW/
In our tiny home, we have a small wooden tree bought in the artisan market of San Candido in the Dolomites that Ginger hasn't destroyed yet and a few festive baubles to give our living space some holiday cheer. My Santa mug is currently in full use and I am currently trawling the internet for fun ideas for this December in San Antonio and our short but sweet trip to New Orleans.
I want all of the tacos, margaritas, creole fixins and naturally it's always good to reunite with family. Truth be told I haven't been back to Texas in two years which is a little too long to be away from people you love a lot and my 94+ year old grandmother. 
I will be adding to this post as the month goes on so that people have more options for Christmas and New Year's Eve celebrations in Florence. It's always a bit tricky as the city likes to let us know anything cool super last minute so bear with me but know that I always have an eye and a beagle ear out for anything you might enjoy.
Link love for the month of December
Don't forget this year's holiday gift guide – dedicated to authentic, quality presents that are made in Tuscany, mostly by local artisans.
The Weihnachtsmarkt or German Christmas Market that annually takes place in Piazza Santa Croce has officially kicked off on November until December 21st. Expect to partake in some mulled wine, browse holiday gifts, feel tempted to buy fuzzy slippers and just generally enjoying the odor of sausage permeating the air.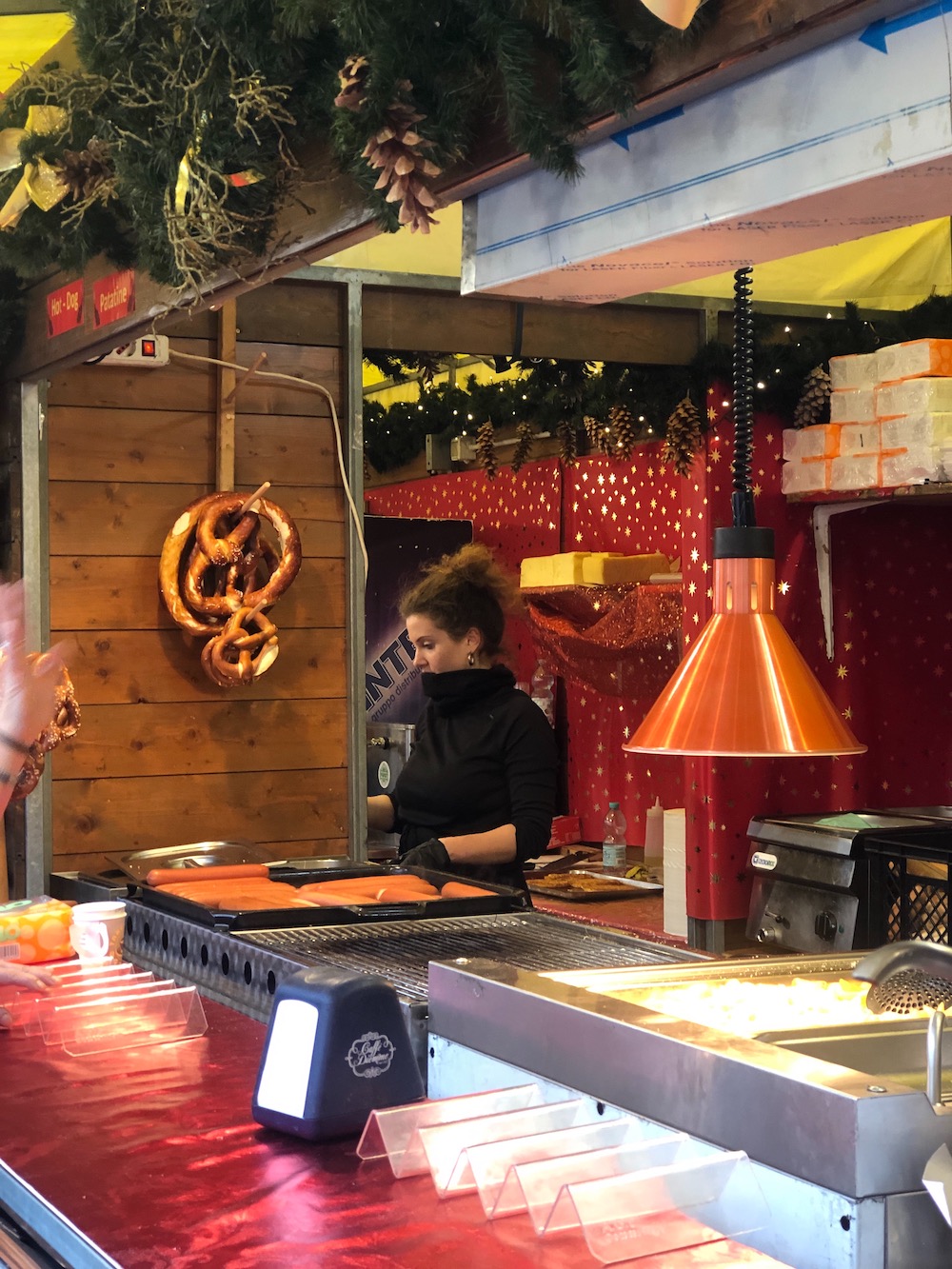 For those seeking Nativity scenes (I've already gotten a few emails and messages about this, you'll get to see a number of 'presepe' around town very soon. The most famous one will be set up outside the Duomo cathedral. I recommend heading to the Church of Santa Felicita in Piazza Santa Felicita and the church of Santa Maria dei Ricci in via del Corso for a peek because these churches are rarely visited by tourists. For epic nativity scenes around Tuscany, check out this list by The Florentine.
You can visit a real-life butterfly house until December 8th at the Istituto Don Orione, address: Via Capo di Mondo 34 Firenze.
 "Inside Magritte"at the Santo Stefano al Ponte Church takes visitors through a multi-sensory experiential journey (about 50 minutes) entering the surrealist universe with an intense and absolutely evocative narrative language. Involvement, illusion and allusion will be the tools to understand the enigmatic world of René Magritte. Address: Piazza di Santo Stefano, 5
50122, Firenze. Prices: ADULTS: € 13.00, STUDENTS AND OVER 65: € 10.00, FROM 5 TO 12 YEARS: € 8.
Il mio cane Vitruviano è un artista? Think your dog might be an artist? Join myself and Marina Calamai on December 4th(artist, artisan) to discover and express your pup's hidden artistic talent, inspired by Leonardo. In the beautiful location of the Conventino, your furry friend will put into action paint brushes to create their own art. You will also have the opportunity to see, try and order necklaces, bracelets and pins depicting your four-legged friend and have them personalized with their name. Dogs up to a maximum weight of 12kg can participate as artists.
18:30, Il Conventino, caffè letterario, Via Giano della bella Firenze.
https://www.instagram.com/p/B5SqSonimrD/
The British Institute hosts a number of superb events throughout December, here are a few of the top ones recommended.
Tuesday, December 3rd: Art Stories seriescloses its first run with an entertaining as ever lecture by Jeremy Boudreau: To Giorgio with Love:Vasari's Lives of the Artists in the Age of Academic Painting. 6pm
Wednesday Lecture. Wednesday 4 December at 18:00. The last instalment of this cycle of Wednesday Lectures series will feature a talk by Jason Houston, Director of the Gonzaga University campus in Florence, on the relationship between two of the 'Three Crowns' of Florence: Dante Alighieri and Giovanni Boccaccio.
The annual Christmas Fair will be on Friday, December 6th from 3-6pm. Here is where you will be able to buy books, handmade gifts, homemade goods etc … and enjoy a nice cup of tea from Peter's TeaHouse.  Entrance from Lungarno Guicciardini, 15
Speakeasy multilingual aperitivo is back on Thursday, December 5th at L'Appartamento on Via Giraldi. You can mingle with people from all over the world who want to practice their language skills. 7:30-11:45pm, entry with ARCI card (12€ for the entire year). 
One of my favorite charitable markets will be on December 6-8th in their annual location at Palazzo Corsini alone the Arno river (near ponte santa trinita). For those who don't know FILE, it is the Fondazione Italiana di Leniterapia whose aim it is to assist terminally ill people and their families in Prato and Florence during the most difficult time in their lives. The market itself is one of the prettiest in town, usually a mix of high-quality items (clothes, vintage goods, toys, jewellery and much more), this is also a great place to pick up Panettoneperfile, a special Christmas cake (like a fruit cake) that they always sell at this market.
Radici yoga is offering a free yoga class for charity on December 8th. To join, just bring new or used: toys, children's, women's or men's clothing. Minimum donation: one item. All donations will go to the St. James Church where local families go for free meals, clothing and support. More details here. 
The Speakeasy folks (of the multilingual happy hour) are organising an artisan crawl on December 8th to discover the Oltrarno that is open to all from 5:30-8:30pm. You can sign up and see more details here. You can bring your own mug as many of the stops will have something lovely to drink. What a cool idea! 
This year the garden adjacent to the Fortezza da Basso will be home to a fun Christmas village, music, entertainment, food stands, light shows and Europe's longest ice rink (300 meters ya'll!)!! I checked the info online and it looks like the rink and everything else will be there until February 29th.  Cost: € 8 for adults + € 2 for skate hire. Reduced admission is € 6 (for children under 10 years) + € 2 skate hire.
Admission is 1 hour from your entry.
https://www.instagram.com/p/B50LfPFiNSh/
My friends over at Officine Nora have opened up their studio to the public this season to offer the chance to design a unique jewelry piece for your loved one (I honestly adore their work!).
https://www.instagram.com/p/B5YGyCFoXd8/
I'm very excited for the return of the "River to River Indian Film Festival" at Cinema La Compania from the 5th to the 10th of December under the aegis of Regione Toscana and Fondazione Sistema Toscana.. This weather begs for more movie nights at this film festival and it will kick off on the 5th at 8.30 pm with the film "The Sky is Pink" by Shonali Bose, with both Italian and English subtitles. Here's the full program. 
The St. James American Church in Florence is hosting a Christmas activity fair on December 7th for charity where you can bring your little ones to play with their wonderful team of MyTata Inglese babysitters. There will be games, Christmas crafts/gifts, Christmas songs and cute prizes. Activities for children aged 3-10 years old. Address: Via B. Rucellai, 9, 3-6pm.
Head over to the brand-new Manifattura Tabacchi on via delle Cascine 33-35 on December 7th and 8th for the Creative MANI-Factory market is being held at B9 – Manifattura Tabacchi from 10am-8. There will an eclectic array of artisans, designers and more! 
Luminous Florence returns as the F-LIGHT Firenze Light Festival kicks off on December 8th with the inaugural lighting of the Christmas tree in Piazza Duomo at 6pm. As part of this lights festival you can expect many famous monuments around town to get "lit up" (sounds bad when I write it like that, but you get me). 
Since December 8th is a national holiday in Italy – there will also be an open market in Piazza SS. Annunziata "Fierucola dell'Immacolata" also on the 7th. You can expect food, gifts and plenty of wandering locals just enjoying a bit of free time from work, love these open markets!
My friend and incredible tour guide (I mean she showed Prince Charles around Florence) Alexandra Lawrence has returned with her beloved "walks & talks" offering deep dives around exhibits, museums and places that aren't often on the top 10 lists. Here is her December event.
December 7th, 10:30am-4:30pm Grace + Trust: The Art of Surrendering. This unique all-day event in collaboration with Relax Firenze combines yoga, meditation and the visual arts to explore the notions of surrender and grace as forms of tremendous strength, as well as tools for inner transformation. As Italy commemorates the Immaculate Conception of Mary that weekend, we will focus on the Blessed Virgin as a symbol of how powerful surrender can be, through a guided gazing at some of the most beautiful and precious Marian images at the Uffizi Gallery. The day will begin with a session of calming Yin yoga at 10:30am, followed by a guided meditation relating to our themes. We will break for lunch before meeting back up at 2:30pm for our visit to the Uffizi.
The cost for the day is E. 85/person which includes the yoga and meditation sessions, the guided visit and ticket to the Uffizi. Optional lunch together is an additional E. 15/person. And as a special treat, Relax Firenze is offering participants a 15% discount on treatments that day, either during the lunch break or in the afternoon following the Uffizi visit.
Space is limited and RSVP is required via email at [email protected]. 
A Christmas concert by the Concerto di natale per l'Associazione tumori toscana Orchestra del Centro Musicale Suzuki di Firenze will take place on December 8th at 8.30 pm at the Church of Ognissanti in Florence, organized by the Borgognissanti Association to raise funds for the Tuscan Tumor Association.
Lungarno Chats is back at the British Institute's Harold Acton Library on December 9th and it will be an evening offering a unique view into one of the world's most iconic brands, Salvatore Ferragamo, followed by an update on the latest trend in accessing the booming Chinese market, Live Streaming E-commerce. RSVP is mandatory and this has to be one of my top recommendations in Florence for those who want to be inspired by the business world.
Looking to relax during this holiday season? Luckily there is a studio in Florence dedicated to 360 degrees of wellness and offers a variety of spa treatments, relaxations techniques, yoga and more. I love these people and absolutely recommend a pampering session or mind-body experience at Relax Firenze. It is THE way to make this holiday season a little less stressful.
A musical festival "Strings City" dedicated to all instruments with a string is taking place all over the city from today and tomorrow (Dec 14th and 15th) in various venues around town (over 50 in total!). This is the perfect moment to get your classical music kick in some of the city's most iconic locations. Check out the full program here.
Melaleuca (one of my FAVORITE places to get a proper brunch) is hosting a  Christmas Cookie Decorating Workshop! €15 per child, 4-10 years old, Vin brûlée for accompanying adult/parent!!! Friday 13th December & Friday 20th December. RSVP here. 
My friend Marisa is back with her creative workshops this December 15th at the St. Mark's English Church. They consist of a series of sensory and meditative exercises for writers, performers, artists, or anyone interested in hearing what their body might have to say. However, you express yourself, this workshop will offer inspiration and new ways of withdrawing material from your inner world.  Reserve your spot and just know she accepts donations of 35 euro
SPACE IS LIMITED: So confirm your place at [email protected]
This is quite sweet and relevant to those with families, I spotted a special storytelling event at the British Institute of Florence on December 14th where they will read Paddington and the Christmas Surprise to children aged 3 to 8, but all ages welcome.
In its third edition "Notes to the Museum" (Note al Museo), is a concert series created by the Opera of Santa Maria del Fiore held every year in the spectacular Sala del Paradiso of the Museo dell'Opera del Duomo. The December edition is on the 12th, more info here.
Enigma Pinocchio is the latest exhibition at Villa Bardini and brings together for the first time in Florence over 50 modern and contemporary masterworks from around the world inspired by Italy's famed puppet. The exhibition is on now until March 2020. Also on view is "Corpo a Corpo" a selection of artworks themed around the figurative arts
The Firenze Winter Park is back in action along the Lungarno (you can take the number 14 bus) and offers a chance to ice-skate and "snow tube" down a man-made ramp. Great for kids and masochistic or "thrill-seeking" adults.
Palazzo Strozzi, the city's foremost exhibition space is still running its latest exhibit celebrating Natalia Goncharova: a leading female artist of the 20th century in this major retrospective. The exhibition will explore her unconventional life and career, presenting her rich and multifaceted artistic output with masterpieces from major international collections by celebrated artists including Gauguin, Matisse, Picasso, Balla and Boccioni. I had the chance to check out a preview myself (article coming soon) and really enjoyed it. My advice? Go see on Thursday evening after hours as the Strozzi closes at 11pm!
Don't forget that this year's open day at the Four Seasons Florence's Parco della Gherardesca will take place on December 15th, 10am – 4pm. One of the most beautiful private gardens in the city opens its doors one Sunday for a good cause. With an entrance fee of just 1 euro, you will be helping raise funds for the Patrizio Cipollini Foundation named after the hotel's former general manager who passed away this year. It will fund study grants for young people at Barga's catering college. There will be music, an area for kids, Santa Clause and you can try a range of delicious winter foods like polenta, grilled meats, chestnuts. More info can be found here. address:  Via Gino Capponi 54, Borgo Pinti 97 e Piazzale Donatello 12.
Head to Florence's concert space Obihall for the a Christmas Gospel Choir Concert by Love LIFE on December 19th at 9:30pm. More info can be found here (tickets must be booked in advance).
It's back, The Nutcracker at Teatro della Pergola, Dec 21st, 4:45pm and 8:45pm. I'm a total Nutcracker lover, since I was a child my parents took me to see this ballet that tells a story about a certain toy coming to life and battling for his treasured friend. For those in Florence during Christmas season looking for something to do, why not reserve a spot at the esteemed Pergola theater for a special showing of The Nutcracker by the St. Petersburg Ballet. address: Via della pergola 12. 
The perfect December activity is a trip to the trusty cinema, in my case our beloved original-language theater Odeon which is back on track with a superb list of options. And there is plenty to see this month including Woody Allen's "A rainy day in New York" and Star Wars, check out the program here  Price: 9 euros for a normal ticket.
Christmas in Florence – A Few Ideas!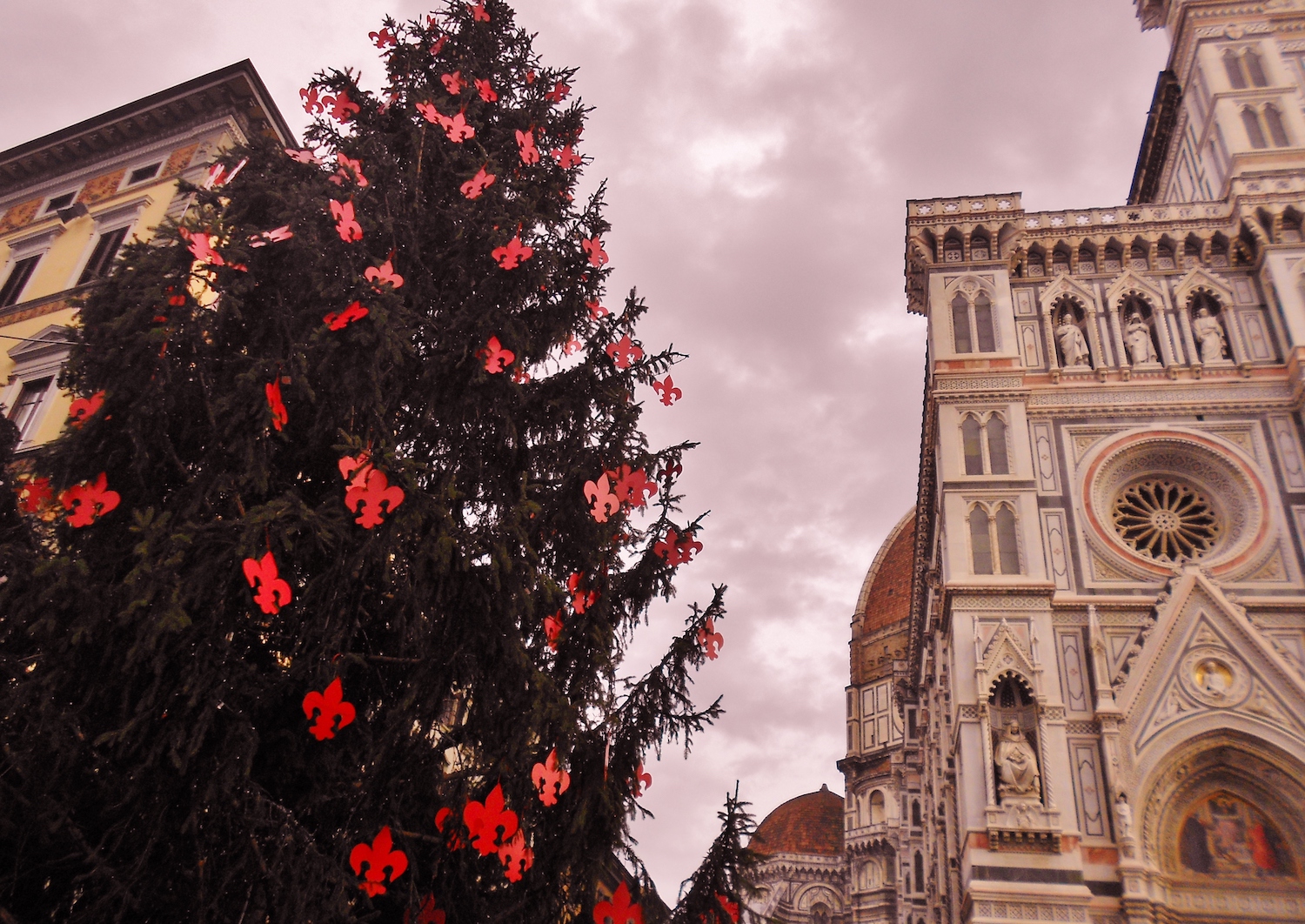 A few ideas for those of you who will be spending Christmas in Florence, Italy. Obviously there are many more options to list and save this great post by The Florentine for more ideas! 
Go on a progressive dining crawl on the 24th (Christmas Eve) 25th (Christmas Day) that will include epic feasts, moving from one place to the next, bubbles, truffles, pasta, wine, cheese & meat boards, holiday sweet breads like panettone with an expert guide from Curious Appetite to explain how these foods connect to the season, peppered with twinkly sights in between. Read on for more details!
Hop on the train and head to EMPOLI (yes, you've probably never heard of it) since it has turned its historic center into a "city of Christmas". There is a luna park with an ice skating rink open until December 26th in "Piazza Matteotti", Father Christmas, a train covered in holiday lights circling the center and apparently even fake snow! This would be a great day trip for any visitors staying in Florence for the holidays. Check out the program here (in Italian).
https://www.instagram.com/p/B5yN6TXikp9/
Another place worth taking the train (40 minute train ride) is Fucecchio! The historical center and specifically the area around Piazza Vittorio Veneto has turned into a Christmas Village on the weekends of December 14-15th and December 21st-22nd. Along with Befana fun on January 6th. 
Christmas lunch at the Saloni delle Feste at the Hotel Brunelleschi. 79€ pp, tasting menu. 
NEW YEAR'S EVE IN FLORENCE
People always write me about what to do for Capodanno or New Year's Eve in Florence.
Truth be told, it's always remained one of my least favorite holidays here because it seems to be a time when locals get drunk for the first time ever and proceed to throw firecrackers at you while watching outdoor concerts. Not cool.  I think the best way to enjoy this celebration is via an intimate house party, with a delicious charcuterie board and flowing wine together with your best local friends or at a local restaurant that doesn't have an outrageously-priced menu. 
This year, however, I think the city has gotten the memo that people don't just want to stand out in Piazzale Michelangelo, the highest and dare say the coldest spot in town? At least one hopes! This year there is promise to have around twenty different events all around the city: acrobats and dancing in Piazza della Signora, gospel by the Duomo, jazz in Piazza di San Lorenzo, and musical concerts in the Loggia del Porcellino (Piazza del Mercato Nuovo), the Loggia del Grano (behind Palazzo Vecchio, at the Uffizi exit) and the Loggia del Pesce (piazza dei Ciompi). Piazza della Repubblica will feature rock music and Piazza Santissima Annunziata will be dedicated to entertainment for families and children.
There will be musicians also in the Oltrarno district, under the Tower of San Niccolò (piazza Poggi) and pop music in Piazza del Carmine. In Piazza Dalmazia and in Refredi there will be events as well, I'm waiting for the comune to release this year's program which will be after December 5th. 
Manifattura Tabacchi will be hosting a concert on NYE, I don't have all of the details yet but this would be a great choice for those wanting to hang out with local Italians in one of the city's coolest new contemporary spaces. 
Options include (I will be adding this list as I see more events online that I like)
My friends over at Osteria dell'Enoteca is always my top choice for price/value and atsmosphere. Here is the menu (mushroom risotto and lamp chops – YUM!) Email [email protected] to reserve your spot. 110€ per person (wine excluded). 
A New Year's Eve dinner on December 31st, in the ancient Byzantine Tower at the "Elisabetta Restaurant" (drinks at the table included) at Hotel Brunelleschi. It actually is an amazing space and I do think this would be a fun place to spend NYE. The many is €439 pp. 
The Four Seasons has a spectacular NYE evening planned with dancing, champagne, oysters and an elaborate menu for a cool 450€ per person.
Outdoor concerts(waiting for the official notice to be announced) in Piazza Michelangelo, Piazza Carmine, Piazza della Signoria,  Piazza Santissima Annunziata, Piazza Bartali a Gavinana. 
Regina Bistecca is offering a fabulous set menu (oysters and steak included) for 140€ per person near the Duomo.  For more details email [email protected]. 
*Keep in mind that transportation is best left to not taking your car into Florence on NYE, usually there are free trams and the center is normally completely closed off to cars on Capodanno.