How to make the outfits we envision come to life, as well as make them affordable and timeless, as told by summer abroad students
By Emily Bruck
"Fashion is not necessarily about labels. It's not about brands. It's about something else that comes from within you." – Ralph Lauren
There is one word I always heard floating around regarding summer vacations and holidays to Italy. Or frankly, anywhere in Southern Europe during the summer season: Eurosummer. Eurosummer is a loaded statement, to say the least. It encompasses an aesthetic of confident girls, a shining sun, and a bohemian, vintage, yet expensive-looking summer closet. And, of course, put more simply it refers to a European summer.
Social media and influencers have morphed this simple nickname into so much more; it is what made me so certain that I needed to spend my summer in Italy. I had to experience this mystifying, inexplicable feeling. But how? How do I style the linens, the headscarves, the sandals, and the purses, without breaking my entire bank?
Other sources that help readers "dress like an italian" coin the classic statement glasses, the white linen pants, and the long patterned skirt. They also emphasize summer bags, such as a woven purse.
And for further inspiration, check out these five handpicked 'Eurosummer' visions from different social media accounts.
Yet, it feels almost impossible to truly encompass the true Italian summer look affordably; so, here is what an affordable Eurosummer closet looks like in practice, as worn by actual abroad girls who are striving to complete this aesthetic. The main tips and tricks –
Here are four affordable summer shopping tips, by a summer abroad student
GirlinFlorence may receive affiliate commission if you buy through our links, thank you for helping to support.
Thrift & Vintage
First and foremost, thrifting. This one's an oldie but a goodie. How else to achieve an affordable vintage style? Florence itself is home to a plethora of vintage stores, many selling high-quality apparel and accessories, and others containing less pricey items. See our guide to walkable vintage shopping to see more on vintage shopping in Florence. But, if you're like me – a control freak that has to be prepared ahead of time – you'd want to be prepared and envision your Eurosummer outfits before takeoff to your abroad location. Hit your local thrift stores, such as Savers and Salvation Army. Not only are they cheap for college students who need to save, but it is a sustainable decision.
For my summer abroad, I was able to thrift many pairs of white linen pants, a head scarf that can double as a tube top, casual and night-time boots, and linen button-ups. All of these surely match influencers' views of Eurosummer. The outfit below by a Syracuse University summer abroad student is completely thrifted.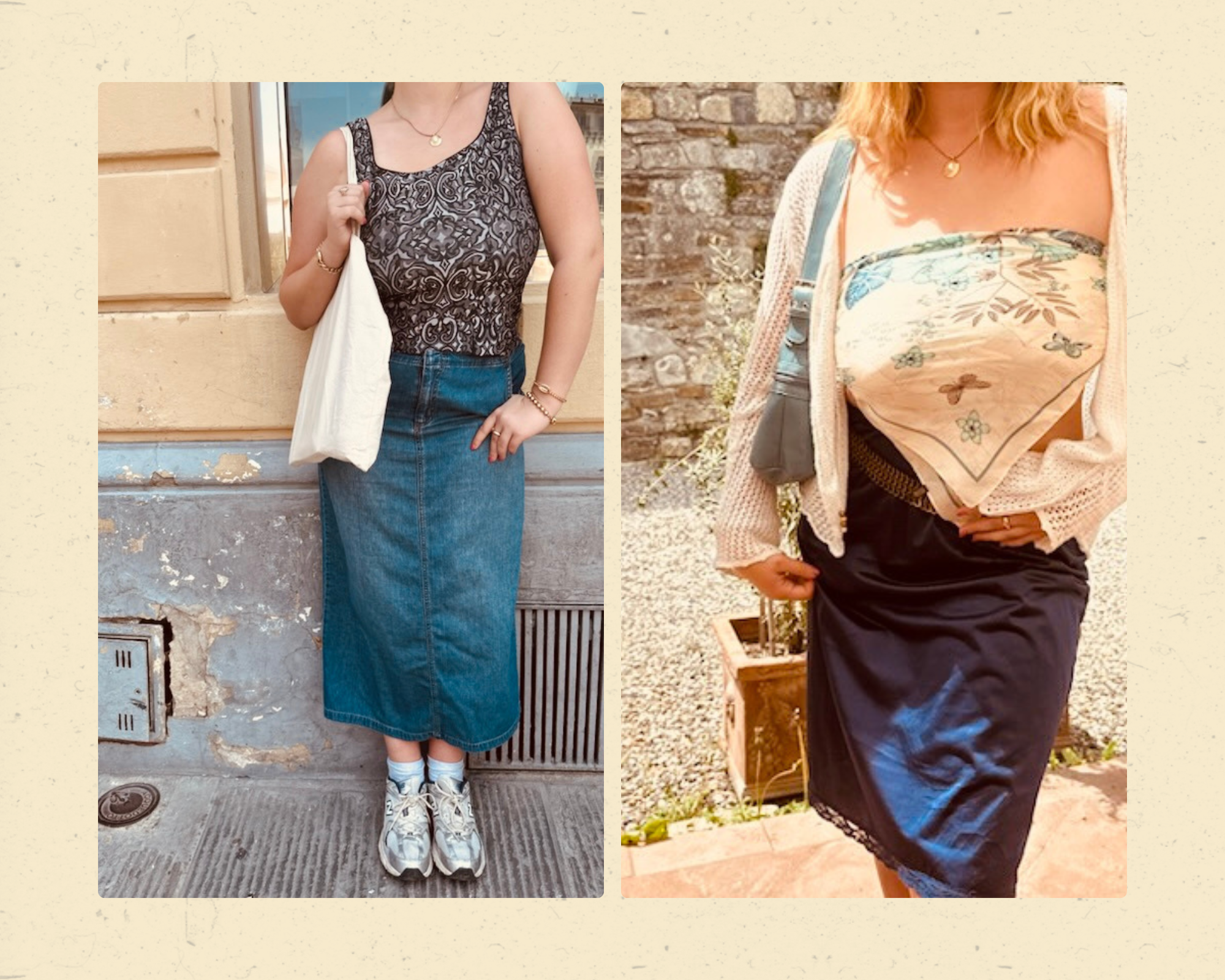 Outfits by Londyn Grieve
Stocking Up On Staples
My next piece of advice, and what I would argue is most important, is to stock up on staples. Staple clothing items are those that you can re-wear, pair with different combinations of apparel, or items that generally match anything.
On our exploration of what other girls of our age group are wearing for their Eurosummer, we stumbled upon a perfect staple outfit on a girl next to the Duomo. She was from Germany, in Florence on vacation.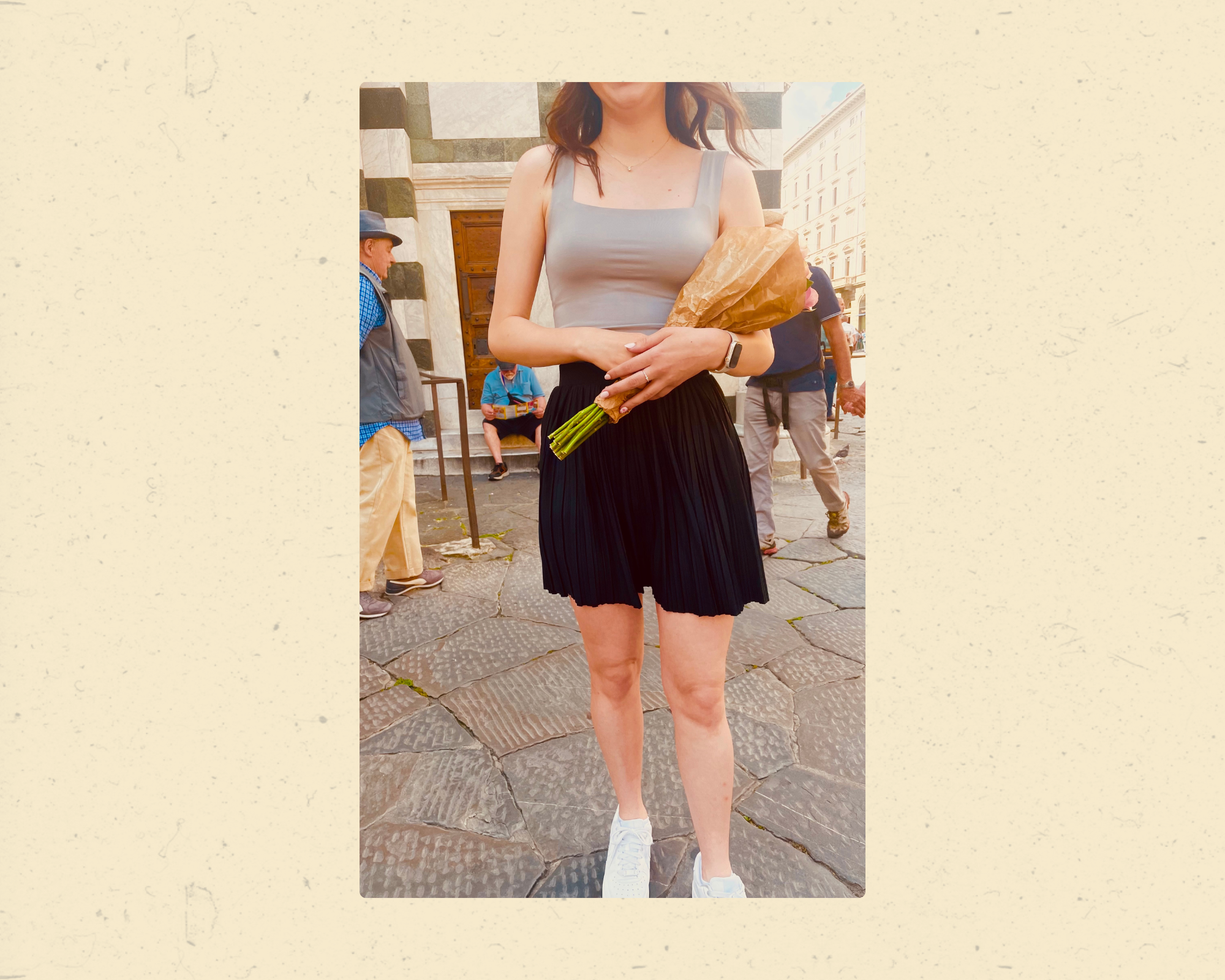 Describing her outfit, as shown above, she explained the importance of a casual all-day outfit.
"Nothing special," she says, "and of course my Nike airforces," she said, referring to her staple shoes.
For me, this was beige, white, and pastel color pants and skirts. By purchasing a single long black and white skirt, I am able to create both daytime and nighttime outfits, with mixes of tops for different environments and temperatures. Another essential staple is some type of cover-up that will match with anything, since in a historical Renaissance city like Florence, you never know what you'll encounter.
For instance, upon entrance to the Santa Maria Cathedral, known as the Duomo, there is a dress code. A staple cover-up, long skirt, linen pants, and tank top will ensure all types of outfit combinations for the summer while promising comfort, appropriateness, and creativity for your Eurosummer vision. The outfit below by SU Summer abroad student Abby Gioffre is also a perfect example of using neutral staples; however, as mentioned, these outfits may need a cover-up in case of site-seeing regulations. .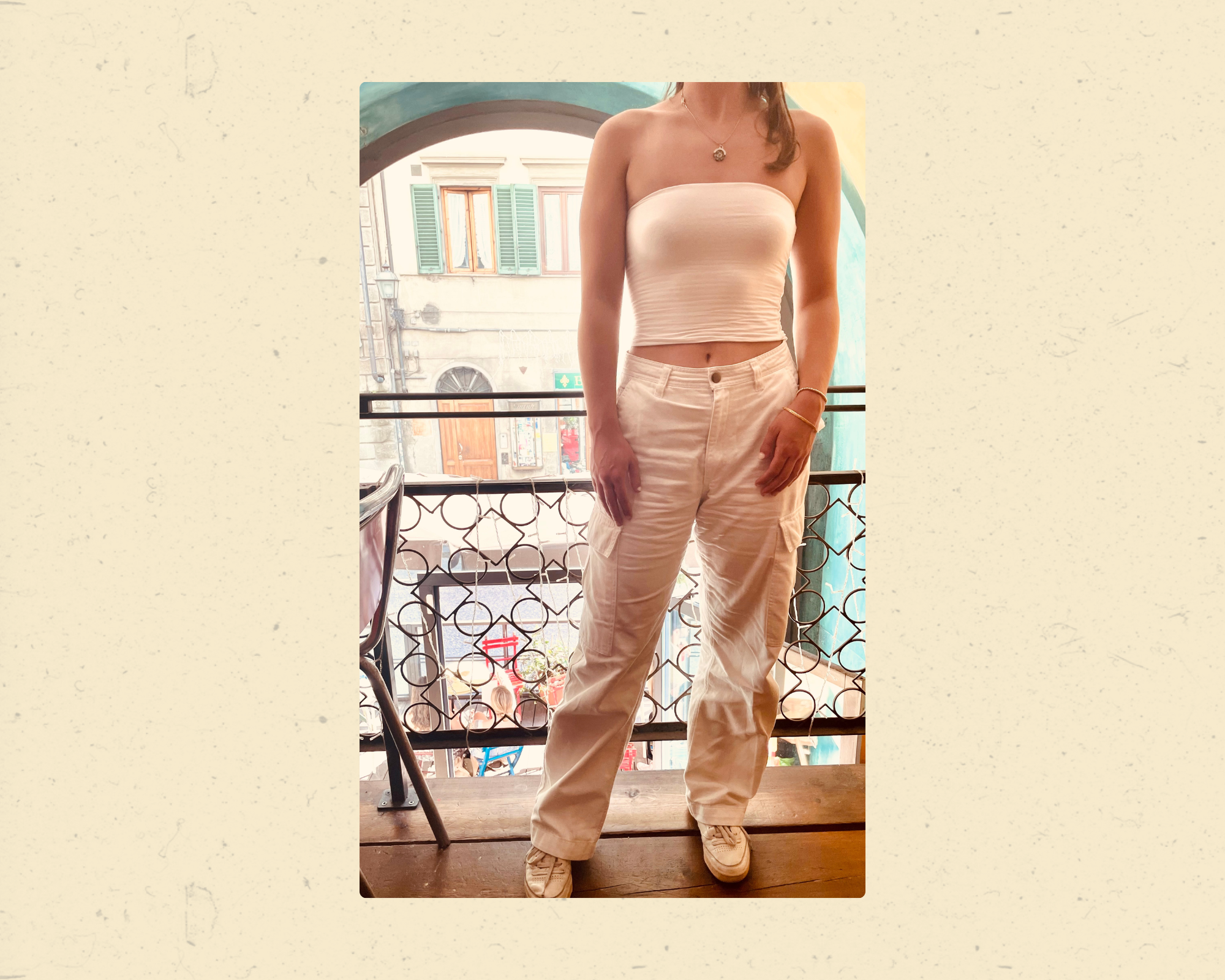 Outfit by Abby Gioffre
'Inspos' From The Media
Another way to plan your closet is by utilizing inspiration from other sources to plan your Eurosummer wardrobe. This means Pinterest "inspos", amazon storefronts, and social media influencers. Pinterest is a great tool for browsing possible outfit combinations of the coveted 'eurosummer' aesthetic. Amazon storefronts are a booming feature of amazon where influencers can stack their favorite items in a public forum for other people to shop based on their looks.
Storefronts helped me to find cheap items, and quick, at that. In the outfits below, I wore items from influencers' various storefronts, both amazon and the shop 'edikted,' totalling no more than $40 for each outfit. The amazon crocheted top for $24.99 is the perfect addition to any beach outfit, along with the amazon silk bow top for $19.99, that I wore to a wine tour in Chianti.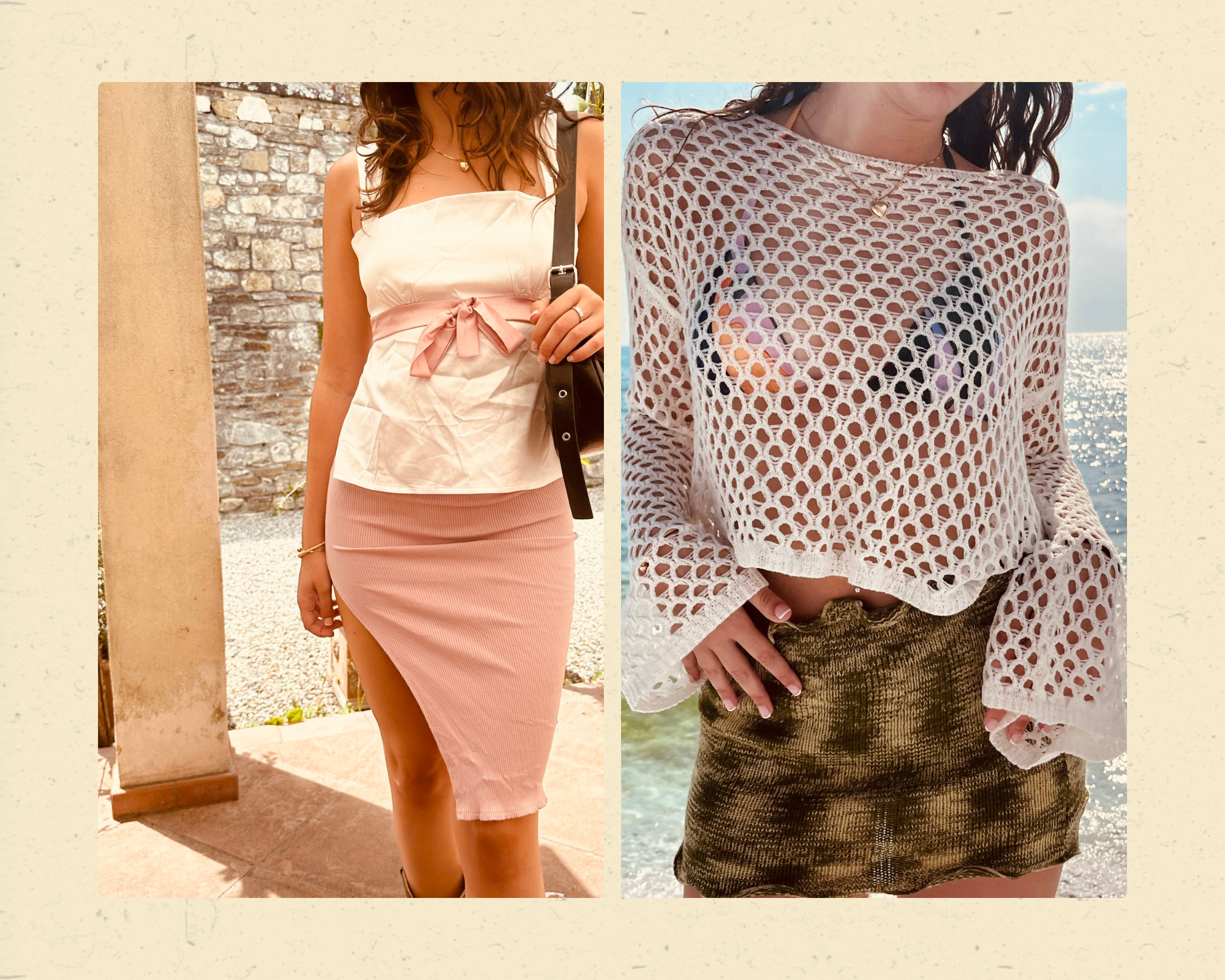 Outfits by Emily Bruck
In our stroll around the Piazza del Duomo searching for teenage and adolescent fashion statements, we saw a group of girls that must've been in their late teens or early twenties. All three of them had the exact "inspo" look we envisioned for our closets; white linens, staple color shoes and tops, and accessories.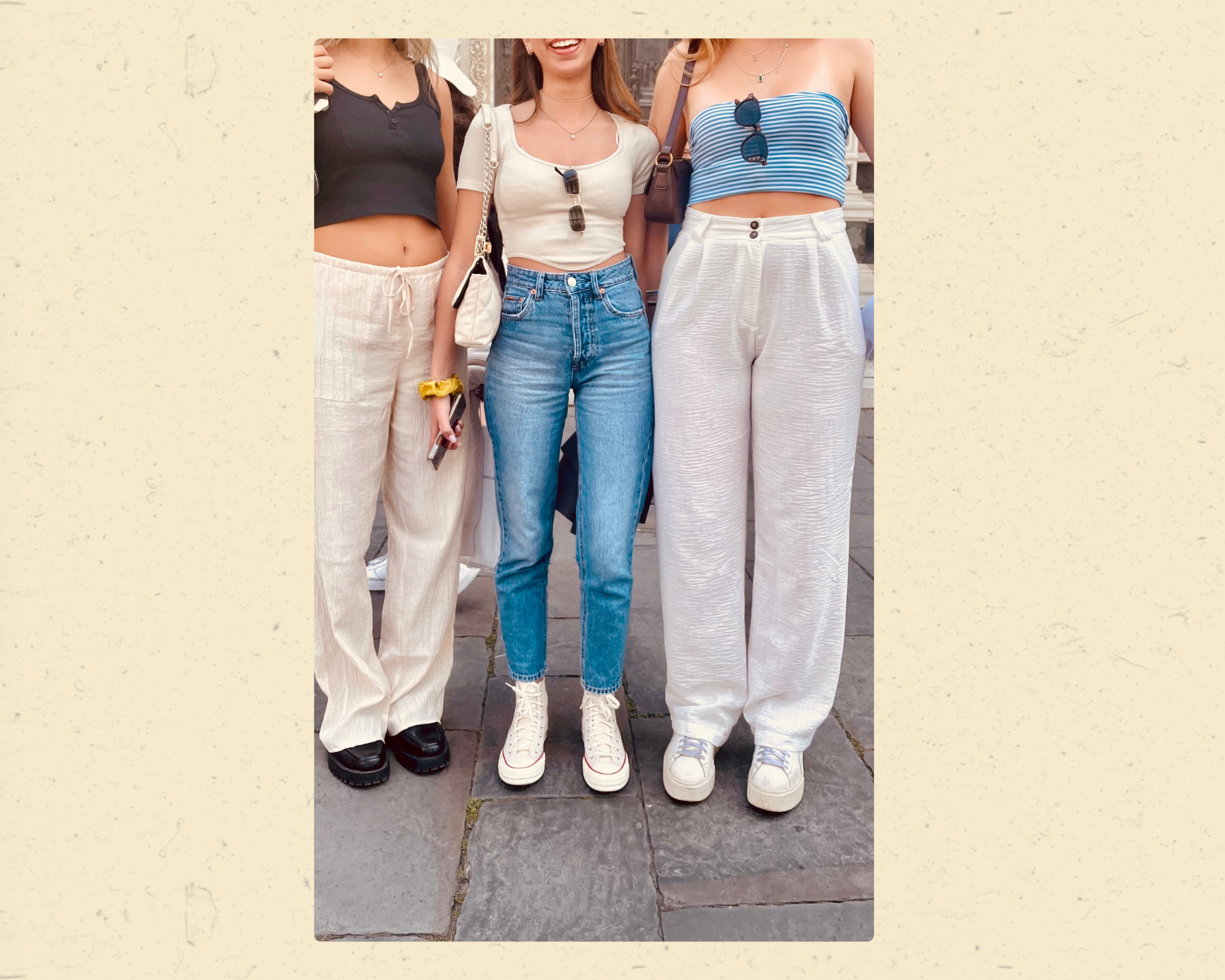 As we got into a conversation with them, we learned they are from Israel. When asked where they got their outfit ideas from, their response was quick and easy.
"I got outfit ideas from Pinterest, Bloggers, and Instagram, mostly," one of them said.
The other girls laid out their outfits and where they purchased them: Zara, Puma (for shoes), and various boutiques in Israel. All their outfits shared one theme: they got inspiration from outside sources. So, it is obvious that this Eurosummer tip is utilized by American study abroad students and international vacationers alike.
Accessories We Love
Last, but not least, is to use accessories to boost every outfit. Not only are accessories easy to find everywhere, but they have the ability to make an entire outfit.
Earrings, necklaces, bracelets, and rings both clunky or simple add personality to our closets. Some jewelry is blingy and expensive looking – or, it's actually very expensive – while other jewelry is bohemian and patterned, adding to a summer outfit. A piece of jewelry that can elevate any outfit and is a staple, high quality piece is Tiffany & Co. Heart Tag Pendent. If you're looking for more affordable items, my go-tos are amazon earrings and etsy necklaces, which are cheaper, and allow me to keep up with jewelry trends.
In the photo below, a Syracuse University summer abroad student used a vintage belt to create her white monochromatic look for a beach in Pisa.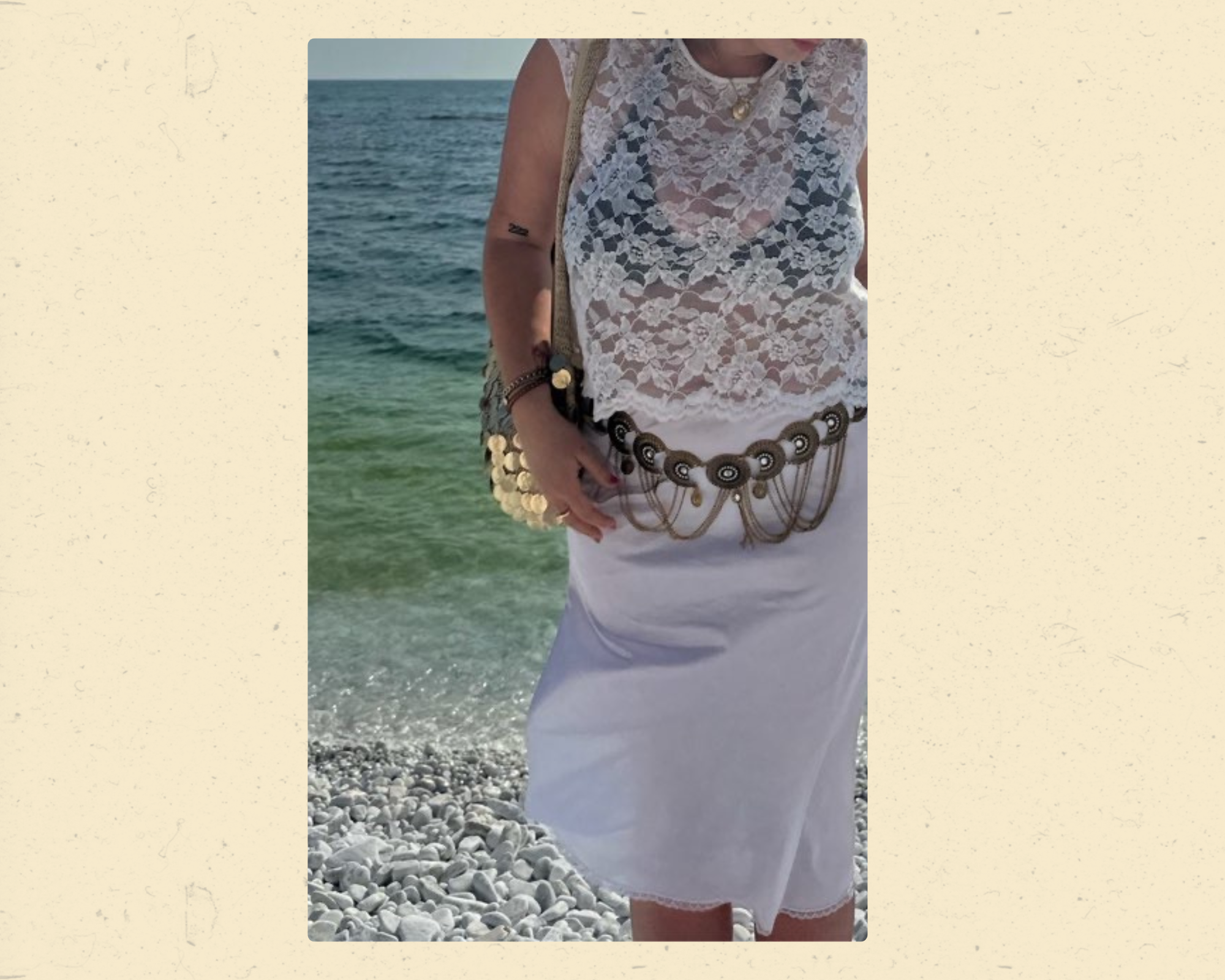 Outfit by Londyn Grieve
The belt adds an entire new dimension to her look, and any accessory can achieve this same goal. Belts like these can be found on Amazon. You can purchase jewelry in Florence at one of the many jewelry stands at thrift shops and boutique stores.
Local Picks:
Jewelry:

Sara Amrhein

, Piazza dei Ciompi, 5

Accessories and Clothes:

Flo Concept Store

, 30/34R Italy Lungarno Corsini, 30

Jewelry and Clothes:

Nokike

, Via dei Serragli, 122 rosso
The pressure to look and feel perfect for your short or long time abroad is certainly present; how can you not feel put together in such a flawless location? But, there are many ways to avoid breaking the bank while achieving your Eurosummer closet goal, and the tips above can aid you in this endeavor. Just don't forget to have fun planning, and make memories while bringing your outfit ideas to life.
Feature image credit: Karsten Winegeart