It's Friday, I'm ready for the weekend but I couldn't let a week go by without adding a new 'library' to my series focusing on places for book-lovers. This has been a lot of fun for me since it means I get to discover, or rediscover places in town that I had no idea had such a rich history, such as the Michelozzo Library in the San Marco Museum.
San Marco Museum doesn't always get the love it deserves. Many bypass this hidden gem located in piazza san marco for more famous favorites, the Uffizi Gallery and the Academia housing Michelangelo's David. Even if it houses the largest collection of sacred art in Florence. I personally adore it, and had the recent chance to learn even more thanks to my friend and wonderful tour guide, Alexandra Lawrence, who took my friends Nardia and Lisa and I to see the reopening of the Michelozzo library,which had been closed due to renovations.
A Peek Into The Past at A Perfectly Preserved 15th Century Convent
A former convent, first founded in the 13th century, it was filled with Dominican monks invited by Cosimo the Elder (Medici naturally) who funded its expansion in the 15th century. He chose his favorite architect Michelozzo to oversee the architecture, who also happens to be the internal libraries namesake. Walking inside is like stepping into the past, the inside cloister once was used as a shelter for traveling pilgrims.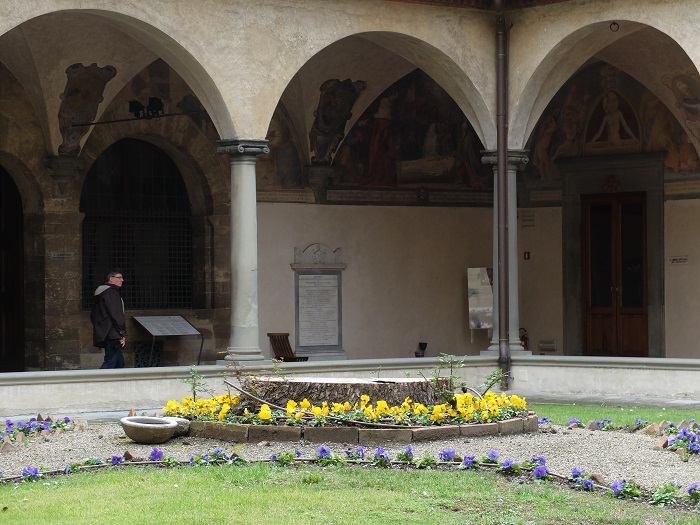 Plenty of famous personalities have passed through these doors that seem so innocuous from the outside. You might have heard of St. Antonino Pierozzi, Bishop of Florence, the Beato Angelico (otherwise known as Fra Angelico) and of course the infamous Girolamo Savonarola. Savonarola made San Marco his headquarters and you can observe his cell here. Following Brunelleschi, the interior designed was aimed at preserving a harmonious flow,embracing simplicity to encourage a calm day-to-day life in the monastery.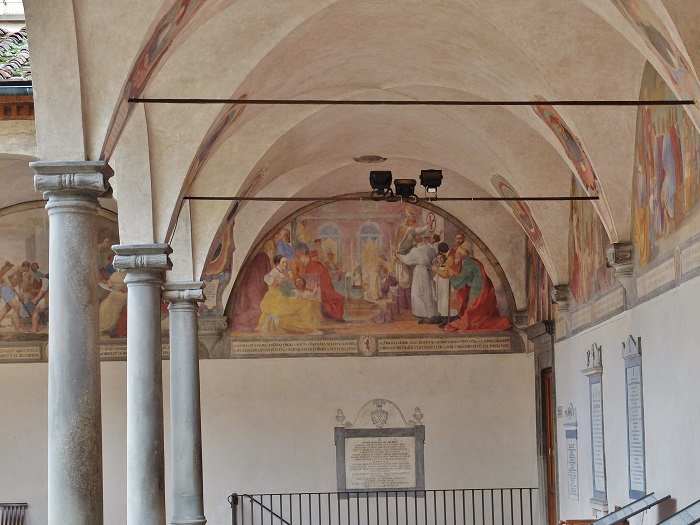 Inside San Marco, we were able to observe the museum of Fra' Angelico's works, which are in the form of beautiful, color panels and stunning frescoed interiors. I found the cell's monks especially fascinating, noting that of Savonorola. You can also observe a very beautiful Last Supper frescoed by Ghirlandaio.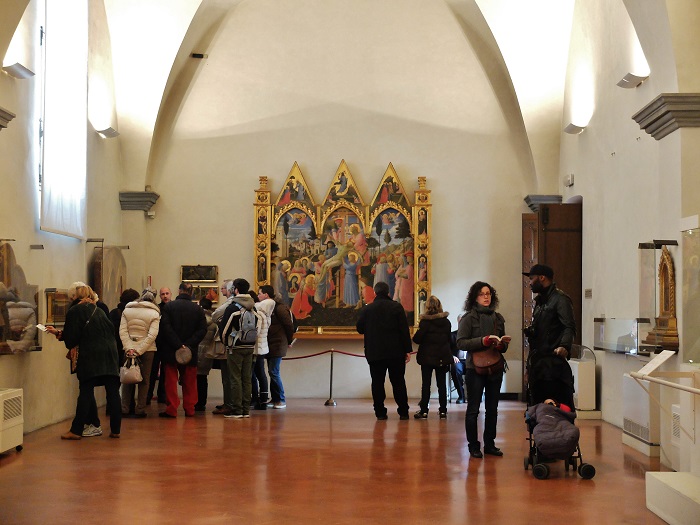 One of the most important works of art featured here is the Annunciation, a masterpiece of Renaissance painting, by Fra Angelico. You can see most of his work in the Hospice Hall. I also recommend checking out The Lamentation with Saints in the Refectory of San Marco Museum which was completed by Suor Plautilla Nelli (1523-1588). The first known female painter in Florence and a Dominican nun, her most important public work is The Lamentation and she was a remarkable star in her day.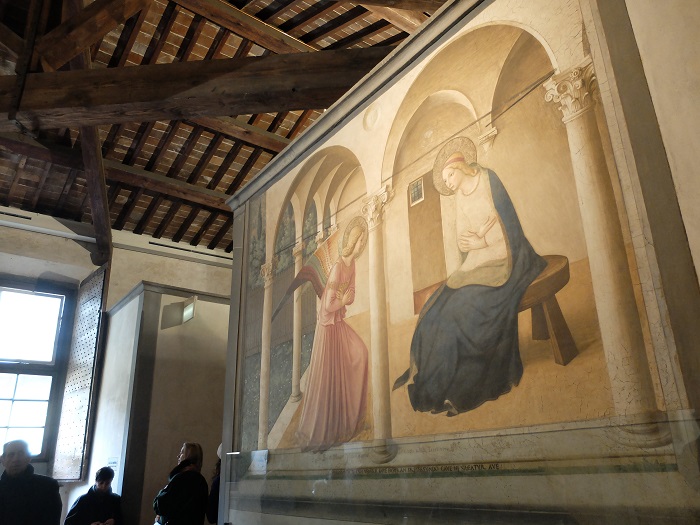 A Naughty Bell & Why You Never Want To Piss Off the Pope
One of the most fascinating fun facts that Alexandra told us that day was the story of the ancient bell that Florentines named la Piagnona (the crybaby). It all ties to Girolamo Savonarola, who in case you don't know about him, was an Italian Dominican friar, very active in Renaissance Florence. He climbed to fame with his fiery speeches on the prophecies of civic glory and calls for Christian renewal. This guy was so good, people would sob loudly during his sermons.
He was against corruption, exploitation of the poor,and became a sort of moral dictator and thought of himself as a divine prophet. He is well known for his destruction of secular art called the 'Bonfire of the Vanities', and called for Christian renewal. At first the Florentines embraced his every word but he then made a very bad mistake, essentially pissing off Pope Alexander VI, who then excommunicated him.
It started to get a little painful for Savonarola at home when a rival preacher challenged him for a 'trial by fire' which was never properly played out. Florentines in those times, and heck let's be honest even now, changed their minds about him as fast as you can say 'maremma!' and he was burned him and two other friars on May 23, 1498.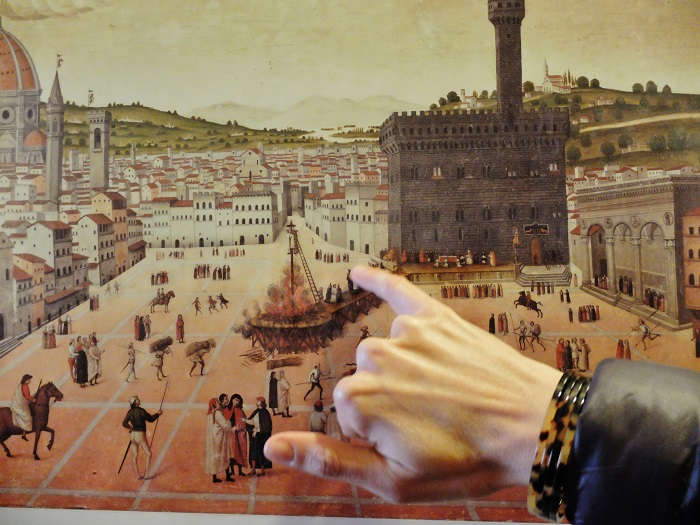 The bell in San Marco Museum, designed by Andrea del Verrocchio, was accused of setting off an alarm with Savonarola was arrested and sent to 'exile' in the church of San Salvatore al Monte for over 50 years. This was after the bell was whipped in public. I kid you not, these Florentines were insane. You might be thinking what I was, um does no one realize that this is just a bell? You can read more about this poor bell via The Florentine.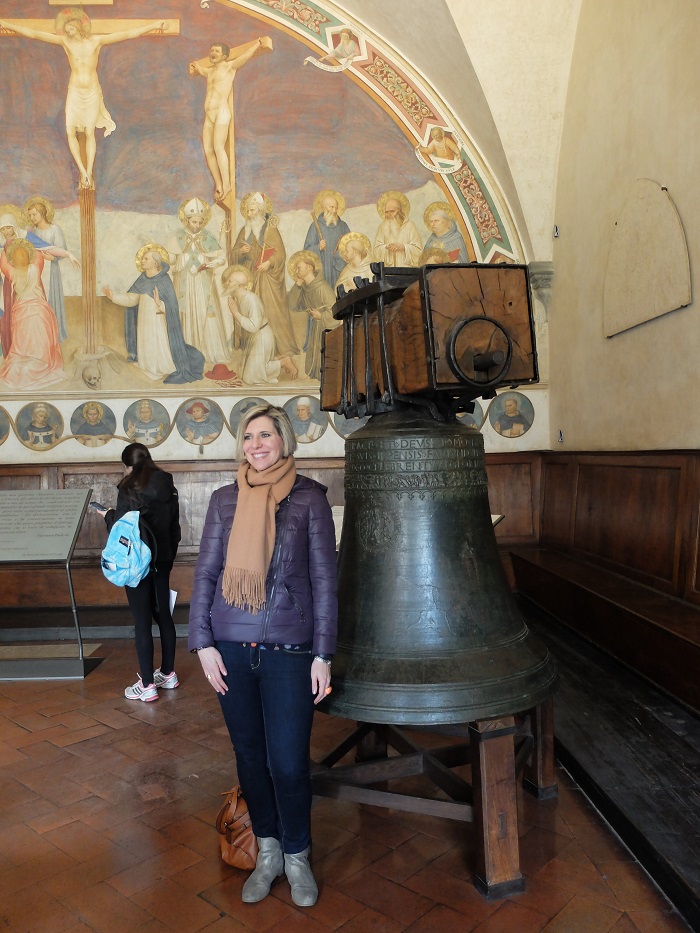 Michelozzo Library : Where Humanists Collided
Now we get to the library part, as If I could forget. The library currently houses valuable manuscripts in latin and greek that once belonged to the Medici family. Lorenzo the Magnificent was a wonderful promoter of the arts and made sure the library was taken care of and it was the first public library in the city. The restoration I mentioned above lasted for one year and worked to restore the original floor after the bricks began to raise out of the floor in 2014.
The space inside was created in a way to encourage calm concentration, and holds a certain mystery when you enter the room. We found the museum and library empty when we visited on a February late-morning. During the era of Lorenzo, Florentine humanists such as Poliziano and Pico della Mirandola made this their meeting point. The library also contains works by the famous Niccolo Niccoli. I also included a video by LDM news, with my friend, Helen Farrell, telling us more about this very cool historical place. You can now see valuable antiques, sacred hymns and miniature texts.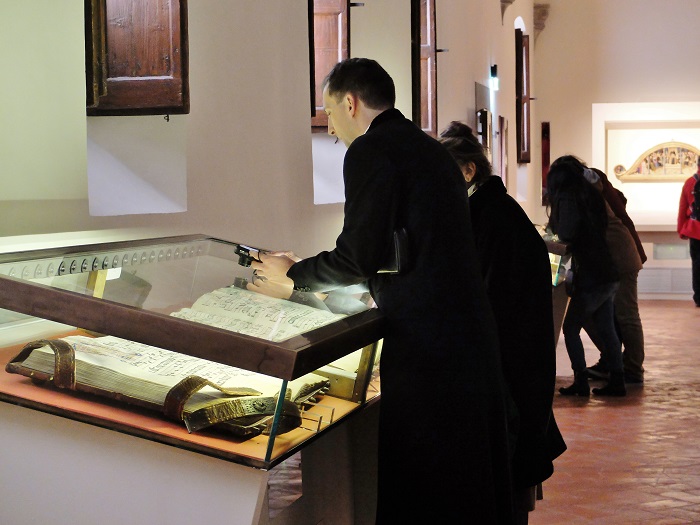 Museum of San Marco & Michelozzo Library, Piazza San Marco, 3, Florence.
Open: Monday to Friday: 8,15 – 13,50, Saturday and Sunday 8:15am – 4:50pm, Full Price: € 4,00
Reduced: € 2,00.
Have you visited this museum? What did you think about it?