Here you are, July in Florence, kicking off on a Monday which means invoice day for this girl and making sure I get this post out which takes hours to complete. However, I have to say I have no problem doing the "summer hibernation" that is basically this:
Wake up early, have a walk around town with the pup, come back, make huge ice coffee, barricade myself against the heat in my house, turn air con on and off frequently in paranoia about electricity bill, work until evening thus avoiding a trail of tears(sweat) that invariably happens every time I need to be anywhere between the hours of 12-6pm. I have tips on beating the heat right here or check out this Instagram post below.
https://www.instagram.com/p/BzPt-M_Cm68/
Let's just say that living "like a local" looks a heck of a lot different when you aren't on vacation 24/7, it's errands, stairs, long supermarket lines with tourists crowding your Conad to buy ONE single plastic bottle of water, buses, heatwaves, frustrations, invoices, aka life… however it's nothing a spritz or bitch session with a friend can't fix after a long day.
This month, my birthday month (this girl turns 35 on the 13th!), is going to be more or less like any other time of the year.
We don't have any major trips planned because I was awaiting news to find out when I had to get a myomectomy (postponed until September) and though I am disappointed to have to wait, I get that these things take time.In fact, if any of you have every had this surgery – I'd love to hear how it went for you. I've found a great doctor and I feel really good about it, but still it's not what I expected to have to do this September by any means.
However we did have a wonderful June, spent mostly with friends both in France and Italy, and I discovered a new area Tuscany I can't wait to share with you all here on the blog. But that's for another post! Here's what you want to know for July in Florence, Italy!
This month's link love from yours truly
Ps. Don't miss my latest guest post on Dievole offering sustainable travel tips for Italy here.
Forte di Belvedere is BACK in action as this former 16thcentury Medici fort reopens to the publicas a contemporary art space combined with a cool place for a drink with a stunning view of the city! This season they are hosting artists Massimo Listri and Davide Rivalta showcasing drawing, sculpture and photography. Opening hours are 11am-8pm (last entrance at 7pm) 3€ entrance otherwise residents of the city can get the Forte di Belvedere card for 2€ that offers unlimited access for the entire summer (the space will be open until October 20th.
https://www.instagram.com/p/BzQf_ONC1AX/
Need a pick-me-up? Well, every Thursday morning there is a flowermarket in the porticoes of Piazza della Repubblica. If you're serious about buying flowers and plants come early to get the best of the bunch.
I implore you to check out Palazzo Strozzi's "Verrocchio, Master of Leonardo", an incredible exhibition with 120 work of art all about a certain Renaissance artist Andrea del Verrocchio in which Leonardo da Vinci was a pupil (part of a series of initiatives honoring of the 500th anniversary of his death) before it ends on July 18th. There is also a special section at the Museo Nazionale del Bargello. I got to visit myself and was blown away by how much I had to learn about Vercocchio. In addition, there is also a really interesting hammock display inside Strozzi's courtyard – part of a Brazilian social network concept inviting anyone and everyone to play in the hammocks (until July 14th)!
I'm excited to hear that Apriti Cinema, a great initiative showing outdoor moviesin Florentine locations, is back at Piazzale degli Uffizi. There will be films (with Italian subtitles) nightly until August 8th. Full program can be seen here.
A really cool new space has opened up in the outskirts of the city in what was once an ex-tabacco factory. Manifattura Tabacchi is an ambitious project but they have just unveiled the first of the spaces called B9. The area that is now open to the public include four ateliers and four workshops, a multi-functional event space/club, a cafeteria, a bistro, a craft beer tasting area, an open-air courtyard equipped with a stage for live performances, and a green area with a bio-dynamic vegetable garden and children's garden. (put in this address: via delle cascine 33), open daily from 10am-2am. This summer of course they will also offer a ton of events. AND Every Sunday they even offer a free bike tour to get to know the San Jacopino neighbourhood (at 7pm).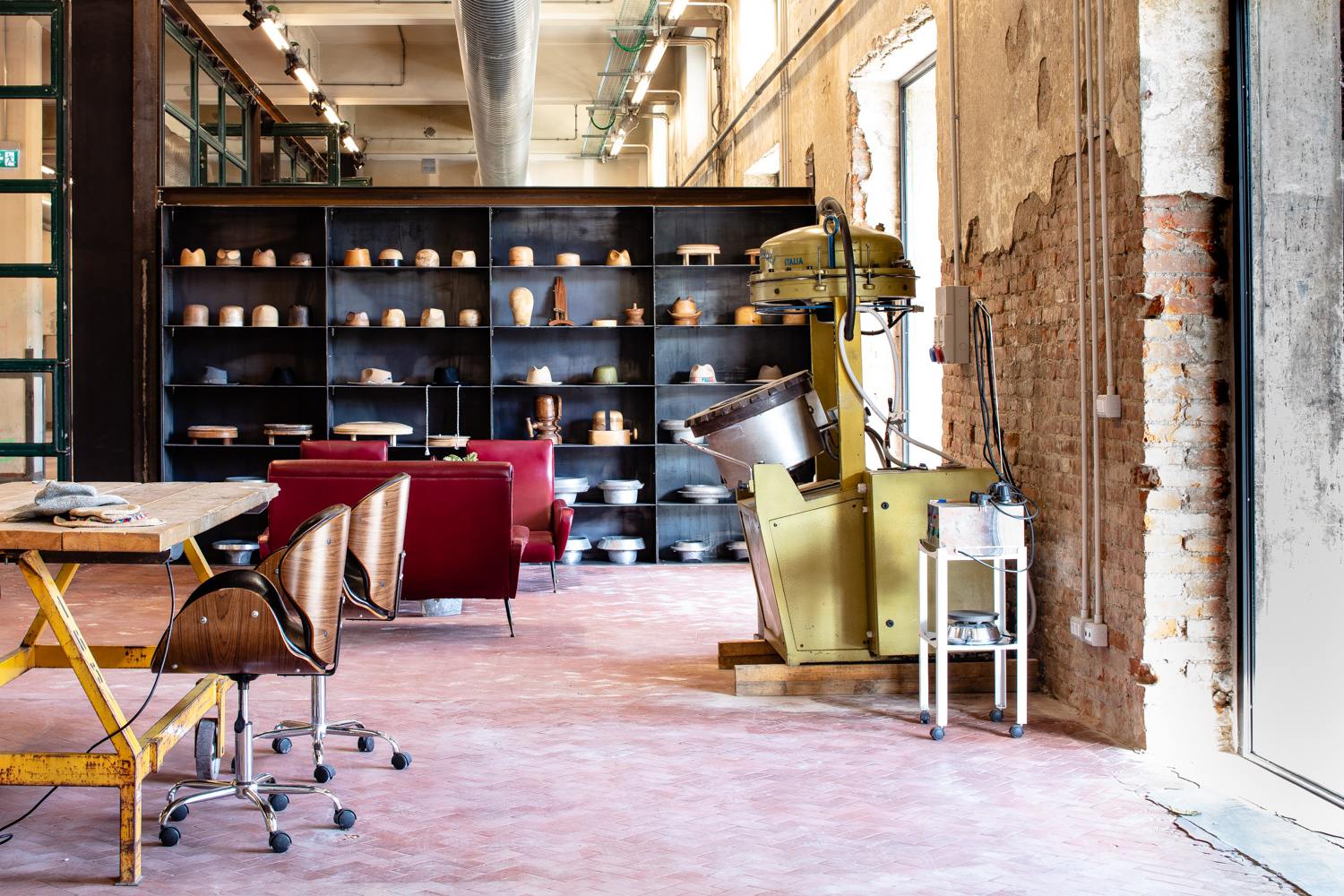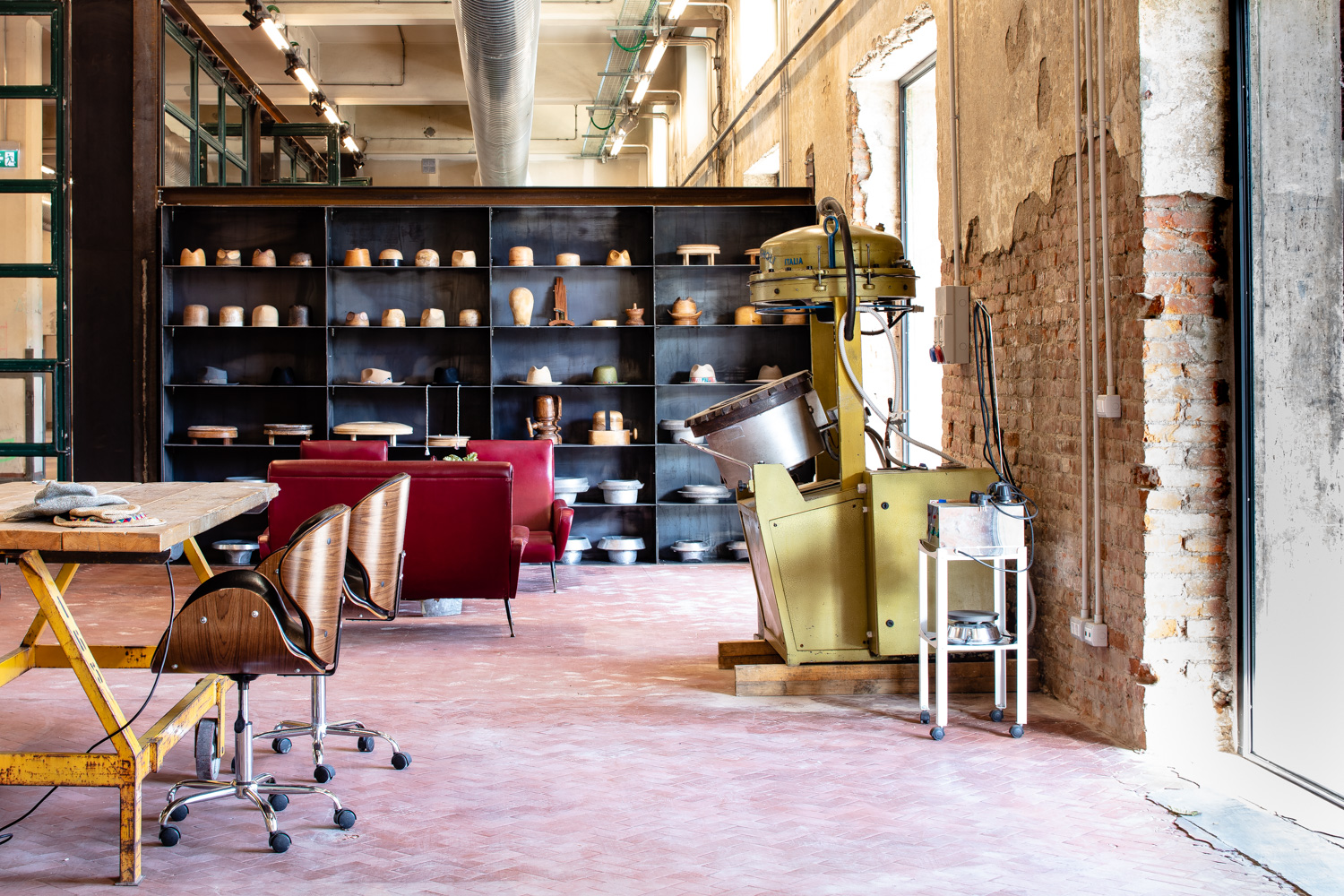 This year there is a new initiative called Firenze dall'alto: altri punti di vista(Florence from on high: other points of viewwhere a series of concerts will take place on various terraces around the city (mega cool). Upcoming concerts will take place on July 4that The Student Hotel,July 11that Caffe Verone, July 18that the Torre del Arnolfo. with subsequent performances at the Manifattura Tabacchi and Forte Belvedere.
My favorite wellness center in Florence, Relax Firenze, is hosting all sorts of awesome activities this summer including personal training sessions, yogilates, pilates and meditation at their beautiful studio in the heart of the historical center that is honestly like a second home for me. Ask about their deep tissue massage, EMS workouts and reflexology (especially great when your feet get swollen because of this heat!).
Every #WineWednesday at this summer's urban garden at piazzetta dei Tre Re in the center of Florence there will be an evening of Italian and English wine talks hosted by #RuffinoWines and co-curated by The Florentine with a series of very interesting speakers at 7:30pm. Naturally their website only showcases 2018 events, sigh, but their Facebook page is updated with upcoming events they have lined up this summer. Additionally, they also have conversation exchanges in a variety of languages – including francese on Sundays!
Drink and Run Firenzeincludes two of my favorites things, alcohol and exercise and combines them in one fun event this July 3rd in Florence. What's on tap (literally) are several stops for beer along an 8km route around the city's prettiest points. More info and how to join is here. The meeting point is 7pm at Lungarno del Tempio 3, Firenze.
Join a charitable evening on the terrace of Forte Belvedere on July 4thto raise funds to purchase a live-saving machine for the Careggi hospital. Along with a beautiful view overlooking the city of Florence, participants will also be able to taste the signature "dishes" of important chefs from the Florentine and Tuscan landscape including Maria Probst, Filippo Saporito to name a few. The evening program includes tastings by the chefs (drinks too!) open to the public, with a participation fee of 26 euros that will be entirely donated to the Careggi cause. For more information, check out the event on eventbright!
NYU in Florence kicks off its season of special summer music recitals, opera, cabaret and theater on the grounds of Villa La Pietra this June on the 6th with a "Singing Verdi in the 21st century" concert followed by three other exciting events, see the full lineup here. To book your seat, email [email protected].
Are you American and wanting to celebrate July 4th? Luckily this the Tuscan American Association will be hosting an Independence-day themed event at the Chiostro Grande di Santa Maria Novella (the entrance can be found at Piazza Santa Maria Novella 18). The fun kicks off around 7:30pm and there will be food and music by "Vocal Blue Trains".Alternatively there will be a 4th of JULY BEACH PARTY and BBQ with live music and fireworks at the RiveR Urban Beach at Piazza Giuseppe Poggi.
On July 4th,there will ALSO be a free jazz orchestra concert at Villa Medicea di Lilliano wine estate in the outskirts of Florence.
I'm excited about the return of the Florence dance festival (this year in the courtyard of Santa Maria Novella) running until August in the majestic settings of the courtyard of one of Florence's most important churches. Expect over 500 performances and a true expression in visual dance creativity combined with a celebration of performance arts. Each act starts around 9:30pm. More info on ticket prices can be found here.
Might I suggest a climb up Torre di San Niccolo, or San Niccolo's tower, one of the city's best preserved ancient gates. Luckily it is open now until September 30th (excluding Mondays). You can climb the tower via guided tour (both in English and Italian) daily from 5-8pm (from September, 4pm) for the cost of 6€ (is it just me or did the price go up by 2€ this year?).
The Estate Fiesolana (Fiesole Summer) concert serieskicks off at the Roman Theater in Fiesole (one of the arguably coolest venues for such events) on June 20th and there is a rich calendar of concerts to look forward to until August. Here's where to see them.
The monthly organic market in Piazza Santo Spirito will be held on July 21st this monthand will be themed around grains. This is a great opportunity to browse like a local, pick up delicious food and enjoy one of Italy's best pastimes, enjoying the classic Italian art of "people-watching."
Street Food Along the Arno #Lungarnodeltempio: This is by far one of my favorite things to do in the summer. Along the Riva del'Arno on Lungarno del Tempio, you'll find a cool outdoor space with food trucks including "PescePane" (the Italian answer to the fish burger) along with awesome burgers and gelato, plus a Texas bbq truck among others. This is definitely a place where locals go and if you like street food/being outside, this is the place for you. open 12pm – Midnight. address: Lungarno del Tempio.
When I can't take the heat in my third-floor apartment, going to the movies means I get free air conditioning with the cost of a cinema ticket so I highly recommend seeingthis month's original language line-up at The Odeon Firenze. Out this month is Spiderman Far from Home and Being Leonardo da Vinci, you can download the program until the end of July here.
While not exactly a specific event, July is a great month for checking out the city's rooftop terraces. Most of which are on top of hotels where anyone can go for an aperitif drink, or sometimes even stay for dinner. The bonus is you get a beautiful, panoramic view of the city. Just be aware that drinks will often be a little pricier. This is definitely one of our favorite activities on a beautiful summer evening. Favorites include:
"La Terrazza" on top of Hotel Continentalis open to the public and is a sexy, sophisticated spot to sip a moscow mule with a birds-eye view of the Ponte Vecchio. Pricey, cocktails cost around 16 (if not more) euros, open daily from 3:30pm-10pm. address: Vicolo dell'Oro, 6r – 50123 Florence, Phone. +39 055 2726 5806 , E-mail. [email protected].
Hotel Palazzo Guadagnioffers a beautiful covered terrace overlooking Santo Spirito square and as of this year, is open to non-hotel guests for evening aperitivi in the loggia rooftop bar. You do however want to call ahead as spaces are limited. address: Piazza di Santo Spirito 9. Phone number +39 055 265 8376.
Glance Summer: Every Tuesday and Thursday from 8-11pmyou can enjoy a panoramic aperitivo with live music on one of Florence's newer rooftops with a pool. address: Via Nazionale 23.
esto at Hotel Excelsioris a prime spot for fashionistas to grab a drink on one of the best terraces in town. I would skip dinner here and just get the drink. Piazza Ognissanti, 3. Open 7:30pm-10:30pm.
B-Roof is an awesome rooftop bar on Hotel Baglioni.It is the ideal place for a sundowner aperitivo with a large, expansive terrace at your beck and call with a bird's eye view of the Duomo cathedral (and not only). Dig into curated snacks and fun cocktails, keep in mind that it's best to make a reservation. Added bonus, you are very close to the train station should you need to jet off quickly. +39 055 23588865 hotelbaglioni.it.
Oblate stays cool. On top of the Oblate librarylies a cafe that is quite popular with the Italian student population. The great thing is you can also get a drink here and prices are cheap so this is a wonderful option for those who are on a budget, but still want the Duomo smack in their face. address: via dell'Oriuolo, 26. Cool place to organize a private aperitivo as well. Info here.
Hotel Plaza Hotel Lucchesi's stunning rooftop terrace by the National Library is one of my favorite places to go for a rooftop drink and they are probably the best price/value for fancy hotel experiences, do keep in mind that prices went up in 2018 and you cannot get just a drink during sunset. Be prepared to spend at least 30€. Reservations recommended Prenotazioni ed Informazioni allo 0552623500 [email protected]. address: Lungarno della Zecca Vecchia, 38.
Hotel Kraft is one of the lesser-known spots for dinner or a drink in Florence and I actually quite like it for the simple fact that it is almost rarely mobbed and service is friendly. You'll find tucked away on Via Solferino, 2 near the American Embassy.
The Best Events Outside of Florence
This event is close to my heart and would be such a wonderful experience for anyone visiting Florence. A wonderful organic winery Querceto di Castellina(in Castelina in Chianti, an hour from Florence) is hosting vineyard dinnersshowcasing the culinary delights of La Tenda Rossa and their fabulous organic wines. This summer's vineyard dinners will be on July 13th and the 27th. Reserve your spot by emailing [email protected], +39 0577733590 or [email protected], +39 055826132. I had a great time last year and would recommend this to anyone who loves unique dining experiences.
From July 10-14th the charming town of Certaldo Alto will be hosting "Mercantia" a festival dedicated to street artists, performances etc transforming this medieval village into a magical place for the entire family.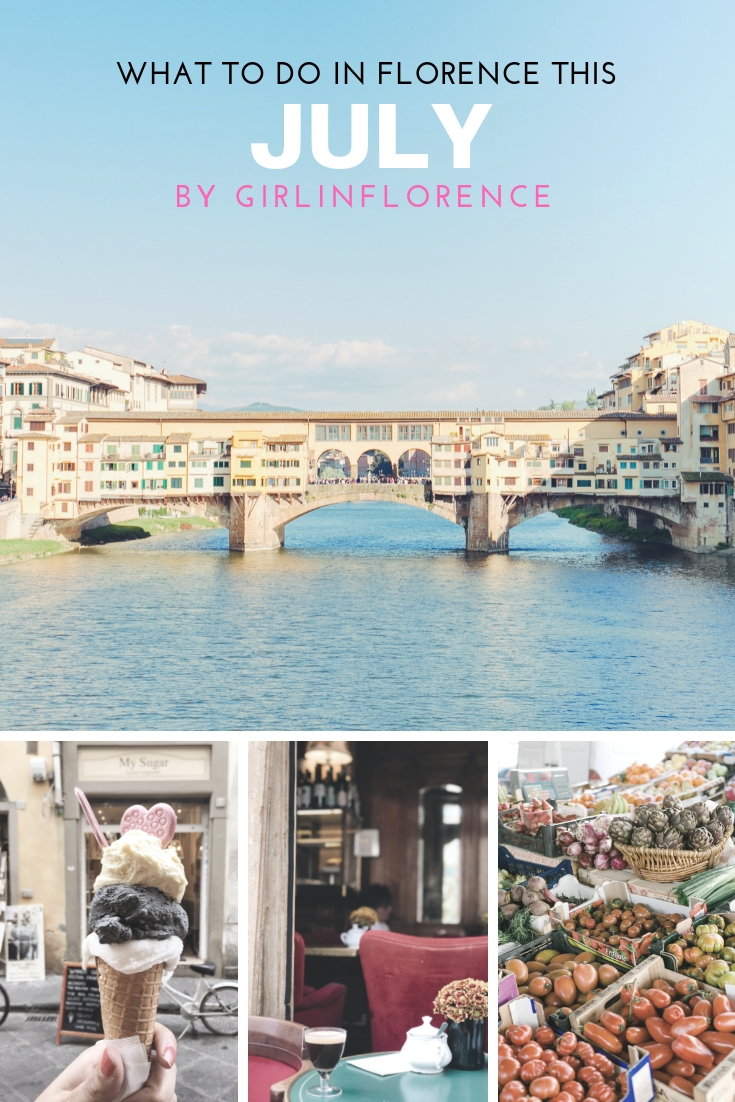 Ps. Enjoyed this post? As always, I appreciate your support and comments so please share this article with anyone (and pin this image on Pinterest) you think could benefit from a friendly-Florence roundup and I'll be forever thankful! Also if you have yet to do so, please subscribe to this blog for email notifications every time there is a new post.