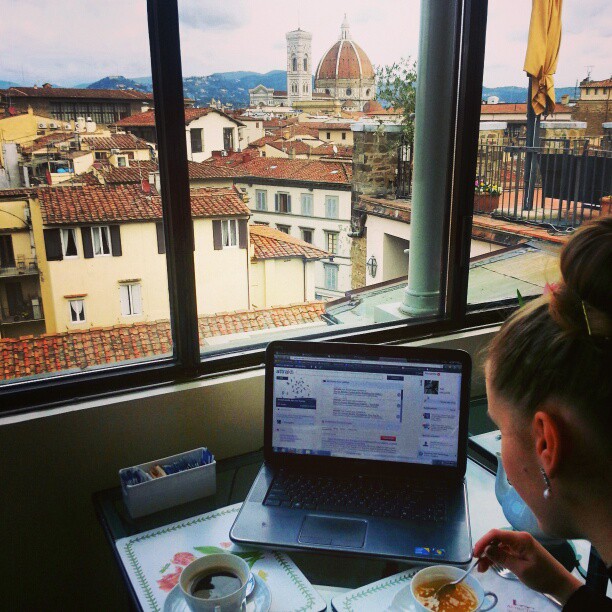 Discovering yet another rooftop with a view in Florence is my own personal holy grail. I adore any view overlooking my city and the one that I most recently discovered happens to be on top of boutique hotel Antica Torre di Via Tornabuoni –  one of the famous 'tower houses' in the city.
According to their site " It was built during the first half of the 13th century by the Guelf Family, the Ruggerinis, and was then inherited by the Fastellis and the Pietrobonos.  In the early 14th century the property was inherited by the Gianfigliazzis and remained their residence until the late 1700's. In the twentieth century until World War II aristocrats and English intellectuals alike favored this hotel because of its central location in the city.
Luckily for me, my job at times takes me on some really neat adventures and this particular morning I spent having breakfast and working in their rooftop terrace. Bonus points since everyone working there is super nice and breakfast looked yummy enough to make anyone cheat on their paleo diet, just sayin!
I really love the idea of boutique anything — whether it be a vintage shop tucked in corner of a not-well-known street or a small hotel or B&B – it's usually a better experience than a big name hotel that doesn't care if you are a repeat customer or not. It doesn't always determine better service but I often notice a difference myself, I think they have 'more to lose' than a big name brand so are willing to work harder for a customer to have that special 'experience'.
Though it was January and chilly, the skies decided to pause its constant barrage of rain and allow me to enjoy a  few hours of a nice view with my steaming cappuccino. For that I was forever grateful. 
Antica Torre di Via Tornabuoni 1. Address: Via de' Tornabuoni, 1, 50123 Florence, Italy
Phone:+39 055 265 8161
Website, Facebook Page, Twitter
Hotel class: 4 stars
Related articles