"The core of the city of Florence has remained unchanged for centuries. You might take a stroll to the grocery store today and walk exactly in the footsteps of someone like Donatello or Michelangelo in the Renaissance. 

For some, that fact is just an amusing thought, quickly forgotten. For others, this simple walk becomes a pilgrimage, and you question, what is this magic I feel? 

Does it come from the curious worn-out grey stone, or the way the light cuts through a narrow street? 

Or the calm rhythm of green shutters of windows on those suns kissed walls? Nah. 

It must be the beauty of the Arno, and its graceful bridges that dance into the mist.

No… it must be a symphony of those rooftops that vibrate in unison with Brunelleschi's Dome!

That's Florence. It touches your very soul, stirs your senses, brings forth your creativity, and before you know it, you are on a threshold of your own personal Renaissance.

It smacks you awake, and your life is changed forever."

words by Paola Vojnovic, Art Historian, 2019. 
This quote by my friend Paola is one of many that will make you heart sing, compiled in a previous blog post.
Paola's words make me consider just how much Florence is overflowing still with the continuous creativity of the many who visit and call it home, temporarily or otherwise.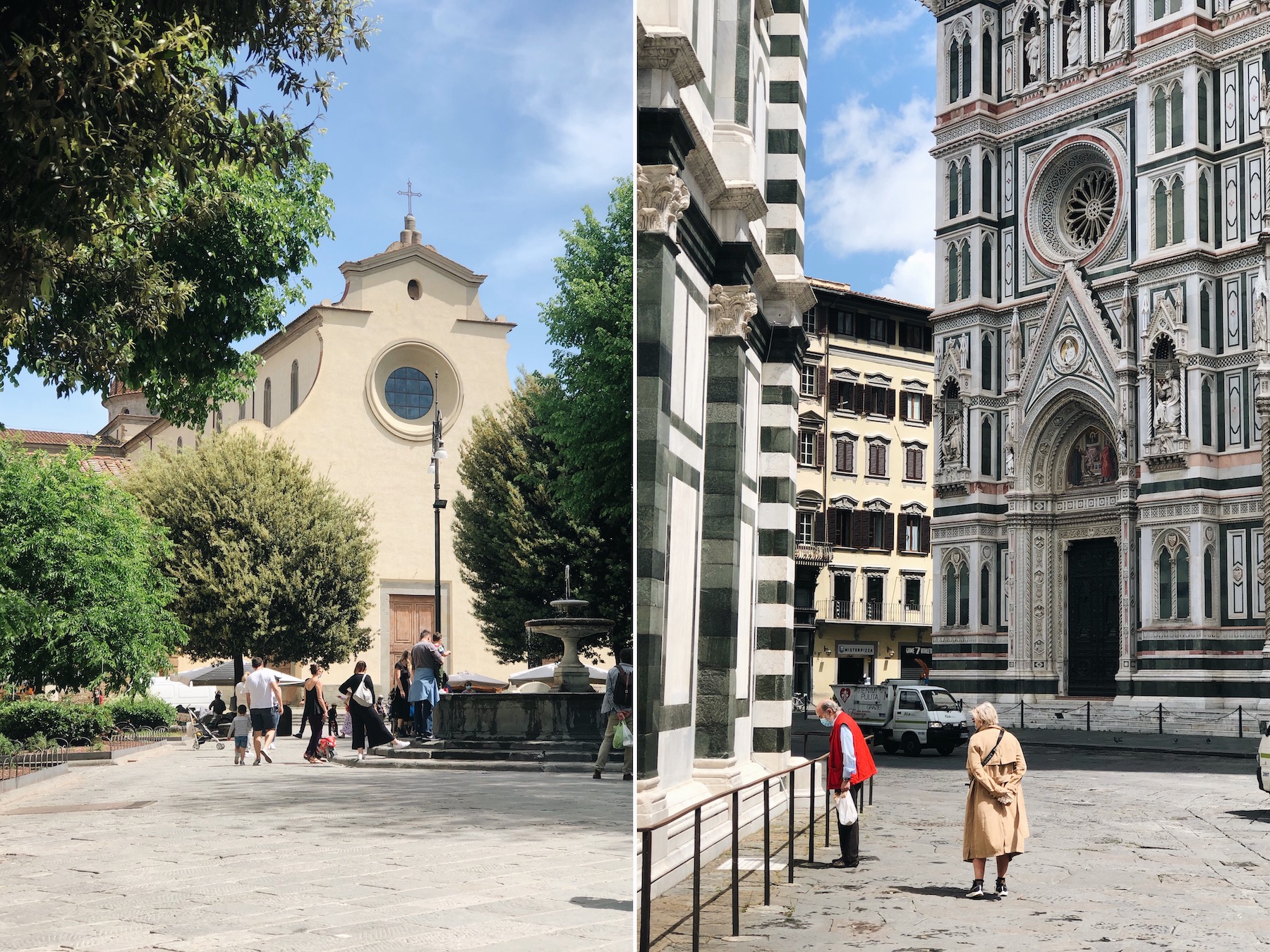 As the we continue this softened lockdown amid phase two in Italy with so much uncertainty about what the rest of this year faces for us all, this is a great time to be celebrating current creatives (and well anyone you can) in all forms and fashion.
One such invaluable resource is the website of Creative People in Florence run by Sara Amrhein and Anna Rose. They have recently kicked off a new series offering extremely valuable tips for creatives with subjects ranging from how to price products to photographing your work. The tips are given gratuitously by local experts and I've always learned a lot myself, especially in regards to photography.
You might have seen my tips on how to connect with Italy virtually during this period, looked to follow Italy-based or inspired instagrammers, or bought a print of an empty but still soulful Florence by photographer Francesco Spighi. He continues to capture the city with his expert eye and professional camera and donates the proceeds to the local hospital foundation of Careggi.
In addition to restaurants, hair salons, tour guides, many artists who rely on visiting tourists to buy their work are some of the hardest hit locally. I think it's important to highlight their work where we can and also simply share their stories.
Today, I asked a local artist from Canada who now calls Florence home a few questions about her work and how her life has been affected by this current lockdown.
I've met Jen a few times through a local community group "Girls Gone International" and her work is just the brightness we need to see today. Without further ado – let's discover more about Jen, her work and life under lockdown.
Tell me a little bit about yourself Jen, where are you from and what brought you to Florence? I see that you studied abroad in Florence, when was that and how did that experience affect your life? 
I am originally from Toronto, Canada. My story with Florence began in 2006 when I came to complete an independent thesis year while completing my fine arts degree (OCAD university which has had a studio presence in Florence for 30 some years).
I was only 21 at the time and it was the first experience travelling to Europe- Iooking back I still can't believe my parents let me go! It was then I totally fell in love with the city and lifestyle, and it sparked a bit of an obsession in me to return every chance I got.
Over the next 10 years I would return to Italy a number of times- in 2008 I spent the summer in Venice interning at the Peggy Guggenheim museum, and in 2011 I went back to school to study interior design in Florence, so another year of deepening my connection with the life here.
I did actually return to Toronto for a period of time (5 years) where I developed further my career, and Italy sat on the back burner for a while. Eventually I did make my way back for a spontaneous trip and that old life came right back to me. At that point being older and more independent, I was able to really consider the move, not just as a student, but to really make it official. So that's what I did- quit my job and bought a one way ticket.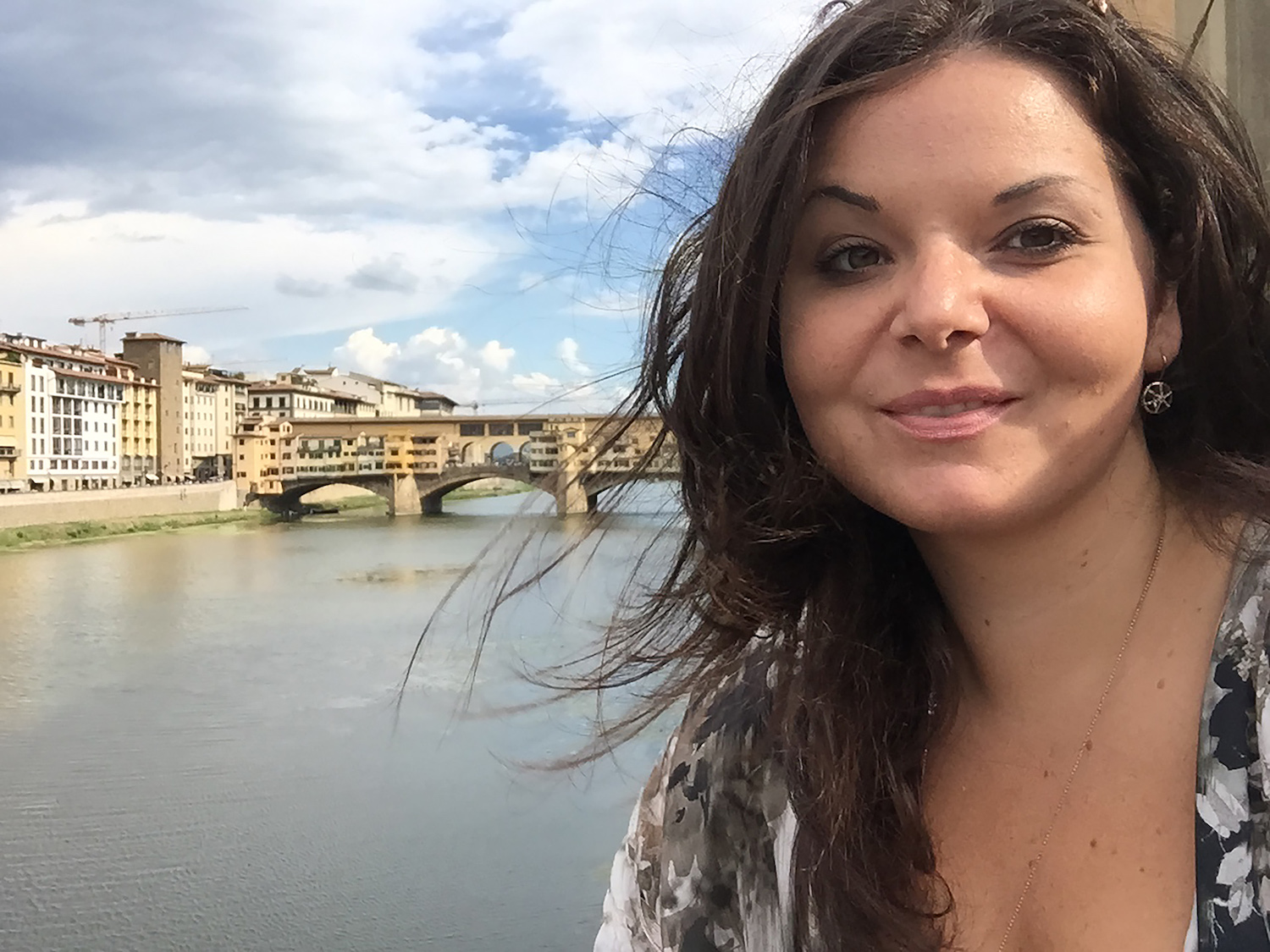 How have you found adjusting to life in Florence as a non-student? Any tips you would give anyone thinking of moving to Florence? 
One benefit I had moving to Italy was my dual citizenship. With my family being Italian I qualified for citizenship and getting myself a passport made sense with all the back and forth, so that was really critical. I moved here with a very real understanding of the city and country, I was certainly no stranger to Florence, but I also understood very well the dynamics of Italian life and all the challenges that would come with moving here.
Moving to a totally new country and starting from the ground up is difficult anywhere- but Italy certainly comes with its own set of hurdles, and I was very well aware of those so I knew the risks involved and that it wouldn't be easy.
But ultimately I KNEW it's what I really wanted and I was dedicated to making it work.
So, I think that would be my advice- be very honest with yourself and know what it is you really want. Why are you thinking of Italy and what are your intentions/expectations of a life here- be realistic. Italy can be a wonderful place to spend 6 months, a year etc, but a real 'move' is a whole other ball game- know yourself and be prepared.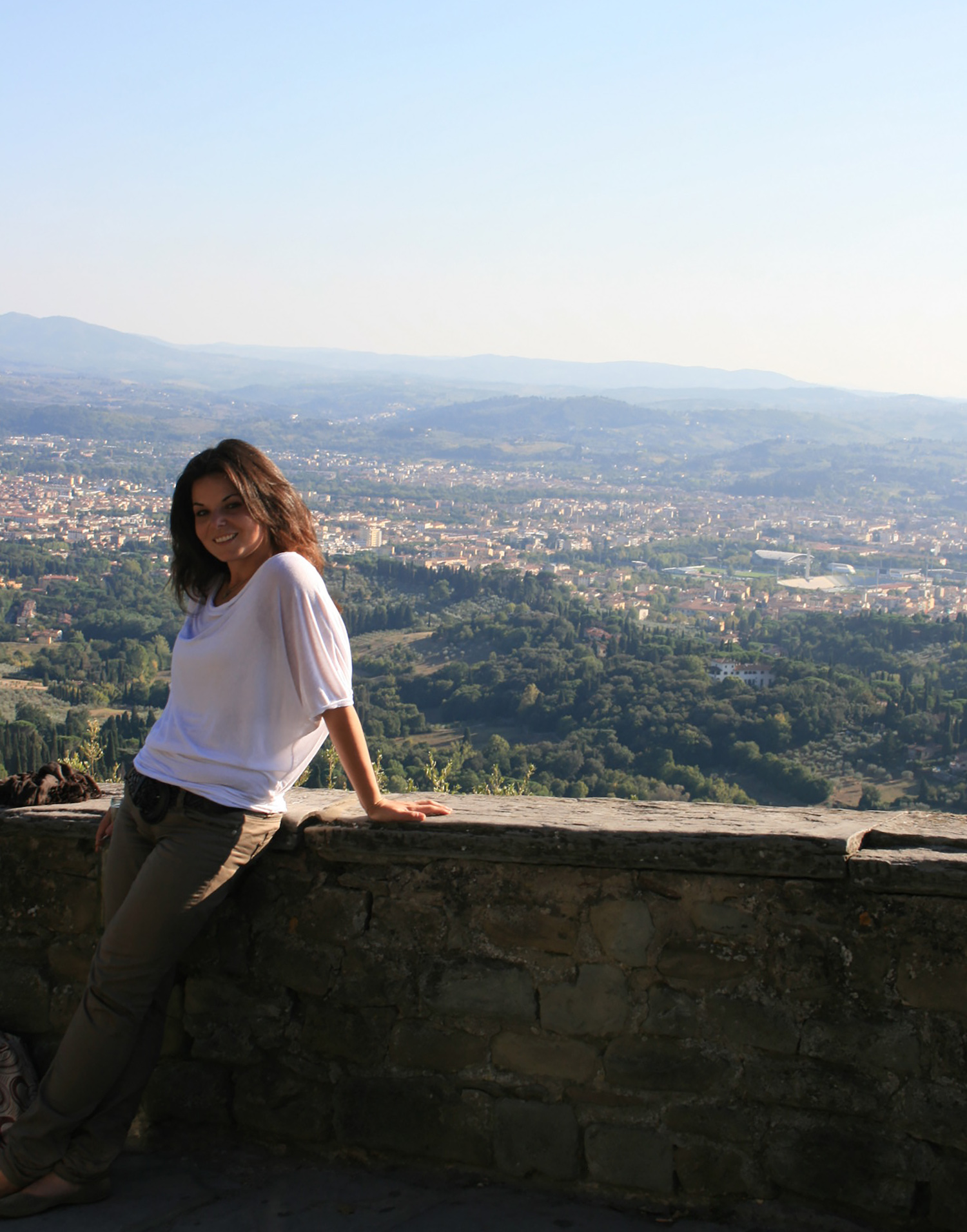 Let's talk about your work- can you tell my readers about your artistic style? 
Being a visual artist has always been a staple of my identity (even as a child nothing made me happier than being alone and colouring!) I was practicing art as long as I can remember, but I probably began to develop my own artistic style in university, where I was really able to grow my practice as an art student.
The main characteristics that have always identified my work is bold, colourful, and expressive. I started doing really large abstract paintings, more non-objective in nature. I find that through colour and movement, you can really capture the essence of a moment or emotion.
I like to think of my paintings as being 'alive' and full of discovery. A painting can be like listening to a song, you can get lost in it and it can bring you to a specific place and time, or can be a place of mediation. So, I try to have the audience connect with that and hopefully evoke their own experience.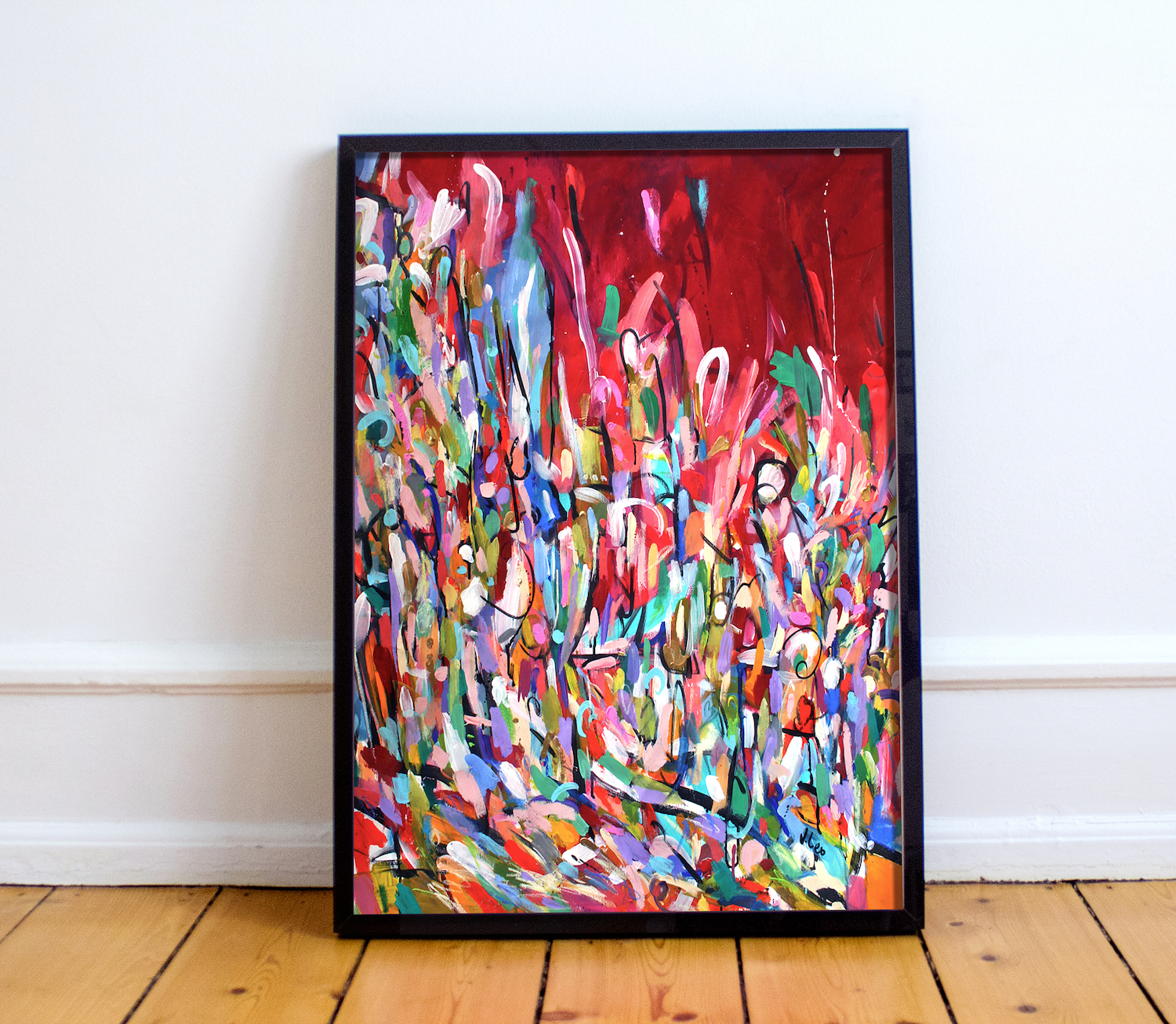 Being in Italy, It was natural for me to bring the landscape and representation of Florence into my work. In bringing down the scale of painting I was able to develop a more intimate collection specifically about travel and place.
I wanted to create a series of specific places (Florence and Tuscany to start), but didn't want to abandon the characteristics of my own style. What came out of it were these whimsical pieces, that are still abstract in nature, but represent a specific point of view. They are fun, colourful and contemporary- and can hopefully brighten your day reminiscing on a place and time.
Are there any pieces in particular you'd like to highlight and tell us about? 
I think a lot of people are missing Florence right now, and for those of us living here are appreciating it in a new light. So, my Florence collection Is probably at the forefront. Now that i've comfortably developed their style, I can really have fun with them.
The dome is such a quintessential part of the city and it makes for great composition! It stands strong at any point of view, and really sets itself apart.
You can walk through the streets of Florence, lined with shops and open shutters, and see a perfect point of view of the dome peeking in the horizon- it's really wonderful.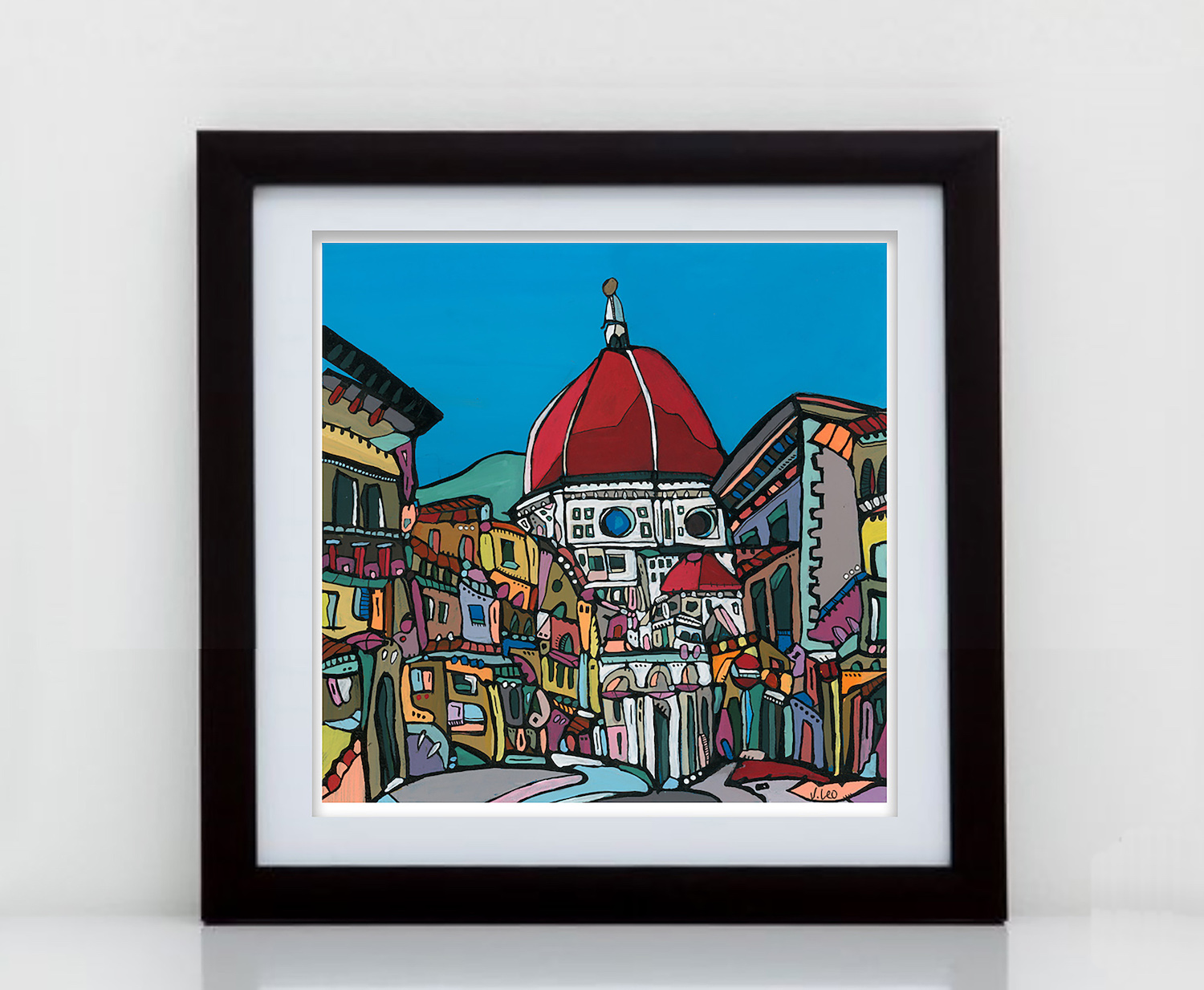 Now that everything has been thrown into tilt because of the coronavirus pandemic -how have you been personally affected by the situation? Feel free to be as open as you want. I appreciate real talk. 
Like so many, the pandemic has really taken a toll for my work personally.
After being here for two years, working hard to re-build and re-brand, 2020 was finally supposed to open some real doors. I had started a new job that I was really excited about and was ready for a busy summer making and selling my work. But it was over before it even started really, and that was really the hardest point for me- seeing my hard work (finally) coming to flourish, and it being gone in an instant.
By now I would have been just starting a bustling summer season for my business, and having partnered with my old university (OCAD), welcoming new artists and students on their own abroad experiences. so, there's going to be a big re-adjustment as I navigate through the times.
Apart from the financial hit (which is significant) I am simply disappointed with all those lost experiences and connections that would have been made. But SO many are in the same situation, it's really just something we can take day by day.
How are you coping today? 
I'm doing alright- my 'day to day' life hasn't really changed dramatically since most of my work was done at home anyways, there's just now this lingering memory of reality in the background. But I am still keeping quite busy. While I've had some big losses, I am not letting myself dwell on them. My mind is always full of ideas and projects, so I am taking this opportunity to put myself into them 110%.
I am no stranger to taking big risks in unsteady times, I've been through this before. Florence has a great expat community with lots of support, and it's reassuring to see and share with others coming from similar experiences. That's always been a point of comfort for me, even before the pandemic.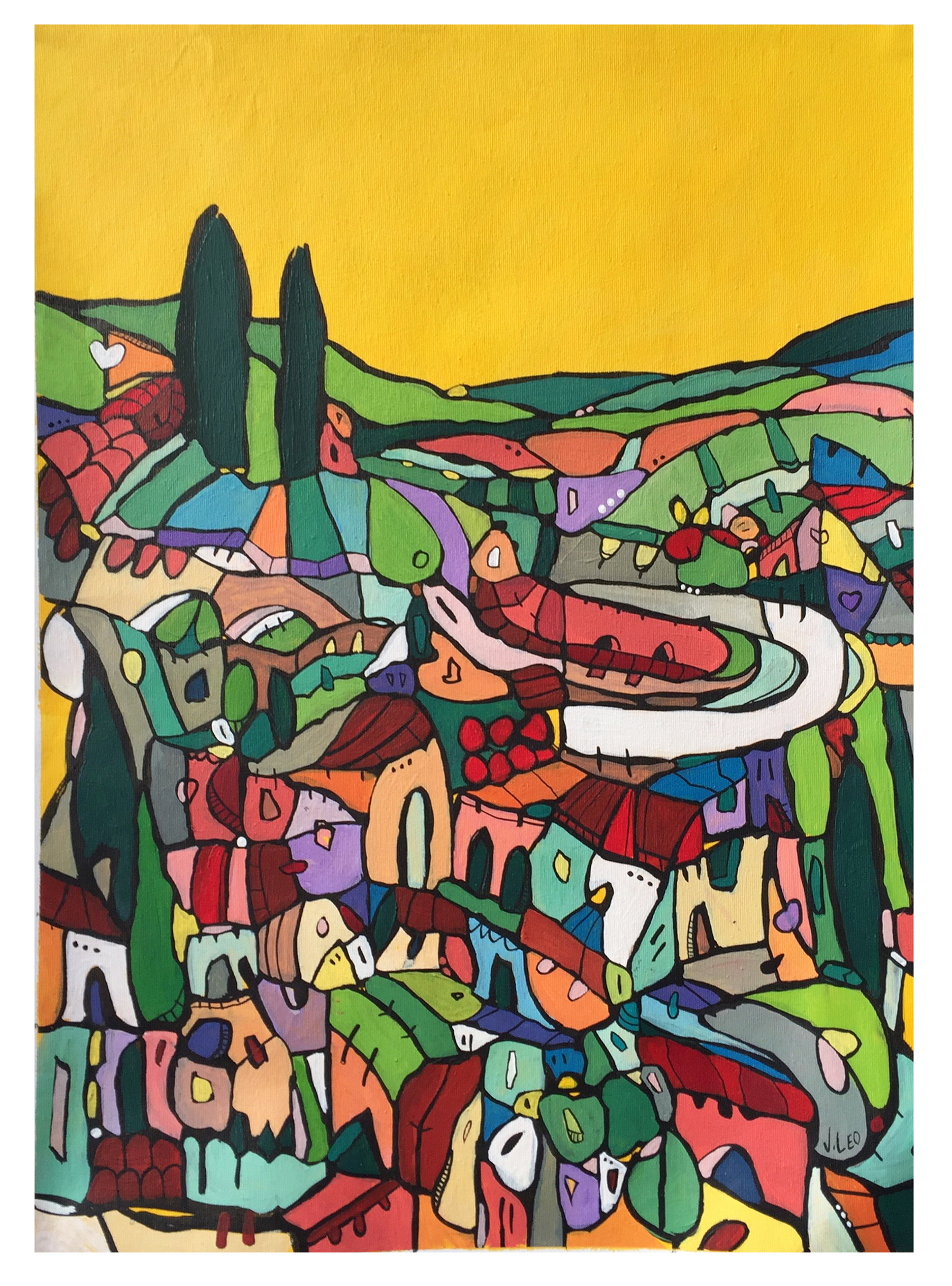 Lastly, where can we find your work? Can people order custom pieces? Anything we should know before contacting you? 
(Usually) I can literally be found in the centre showing and selling my work in the piazza, which I love as a way to connect face to face with people; but in the meantime everything about me and my work can be found online. www.jenleostudio.com is my primary platform.
https://www.instagram.com/p/BpJrGdilzMe/
It connects to my Instagram, facebook and etsy, with art available for purchase in both my personal shop or etsy depending on what you're looking for. I absolutely take custom orders! I am happy to work with customers to make variations or a totally unique piece. You can write me an email or send an instant message. I also keep a journal and statement online to share a glimpse into the 'artist life', it's another way for me to stay connected and grounded.
Any advice for creatives who might be struggling right now with motivation or otherwise? 
Keep going. Envision yourself coming out of this and where you want to be. Being honest with what you truly 'want' is the foundation- then figure out a way to make it happen!
Jen also mentioned that for anyone interested who wants to meet others in Florence, the 'firenze drawing club' meets weekly (usually) to sketch, go to museums, or other interesting places (when it is safe to do so obviously). It's a great way to keep in touch with like minded people. The group can be followed on facebook.