"Memory's images, once they are fixed in words, are erased," Marco Polo said. "Perhaps I am afraid of losing Venice all at once if I speak of it, or perhaps, speaking of other cities, I have already lost it, little by little."

Italo Calvino, Invisible Cities Venice.
After such a long year and a half, it feels almost strange to speak about travel in any capacity.
It's not just because of the obvious, aka, the fact that none of us have been traveling for the past year and a half. truth be told, i've only been able to slightly get back any kind of creative mojo after pandemic fatigue and becoming a mom in April of this year. This is something Nico and I have wanted more than anything and I have to pinch myself regularly as a reminder that she's here, that we are parents and this… is real. 
It kind of goes without saying but I'll say it anyway… life is remarkably different now and with the beauty of it all, it is taking time to get used to as well. With coffee at the ready and a merciful schedule of naps for baby Annabelle, at times, I can feel a bit more like that person who used to love to write about life and travel in Italy and beyond. I'm completely immersed in the hazy fog of sleep deprivation and newborn cuddles but I still have so much to share on this blog, albeit with a new tone to reflect our current reality.  
Speaking of, one of the more memorable trips we took before the world ground to a halt was to Venice with Nico for a weekend in February 2020. Admittedly, my views of La Serenissima were based on the mere fact that it was a huge tourist hotspot (a bit like the city I call home half the time – Florence, Italy).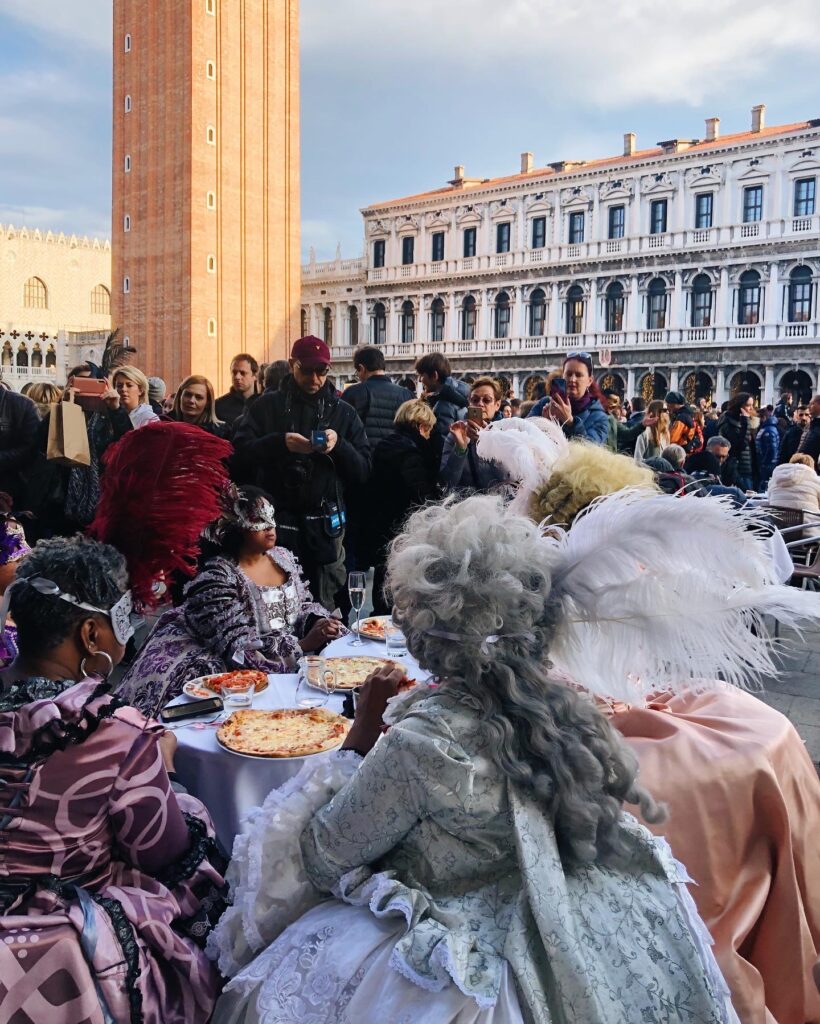 My prejudgments were based on quick former trips and the scenes of gigantic grotesque cruise ships jamming the Grand Canal didn't help either (and by the way there have been recent protests in Venice due to the return of the Grande Navi). No longer a fan of pushing my way through crowds and accidentally jumping in front of selfies, there always seemed somewhere else I'd rather visit. Cilento… Calabria.. a list that proves endless in il bel paese. 
Of course, we've seen Piazza San Marco, Caffe Florian, the Ducal Palace, Harry's bar, and so forth but what else lies beneath the surface? The floating labyrinth of Venice certainly has tricks still up its sleeves, even after a very difficult period post-pandemic. Luckily, my friend Emiko has a few blog posts about eating in Venice and local Valeria Necchio is someone I regularly follow on Instagram to get a window into the city on any given day.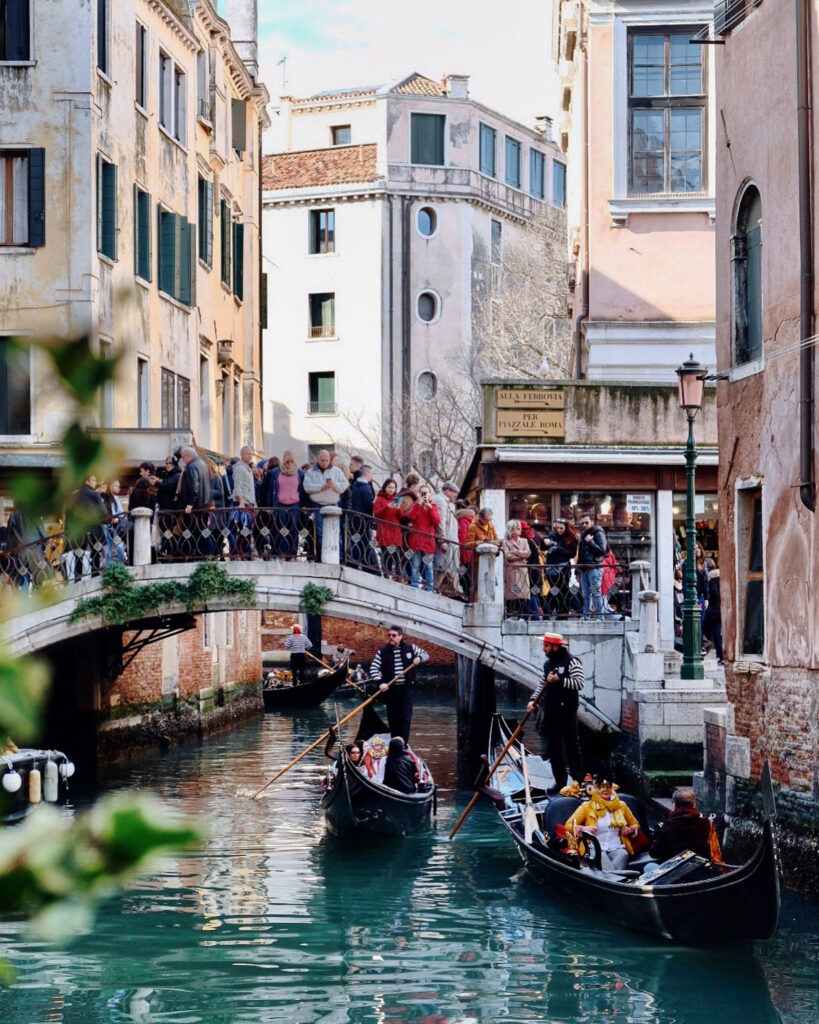 Another thing to keep in mind is that as enchanting as Venice can be during the day, it takes on an almost extraordinary feeling at night.
Strolling past iconic spots such as Teatro La Fenice (where one can see masterpieces by Rossini, Bellini, and Verdi) and taking the time to sip a gin and tonic or spritz at the opera bar down below while catching the light reflected off the stone makes you feel as if you too are part of some grand cinematic event.
The thing about Venice, though, is that it really is a place like no other.
From its earliest beginnings in the 7th century, Venice has been a magnetic center of trade and culture, wealth, and power and has acted as a crossroads for an array of interesting people. Be it religious pilgrims and refugees, diplomats, crusading armies, and merchants.
For those curious about Invisible Cities (mentioned in the quote above), it is a metafictional guide to Venice, an elegy to a succession of exotic and remote cities that are all versions of Venice, according to the Venetian traveler Marco Polo – who in Calvino's book describes them to the emperor Kublai Khan. It touches inexhaustibly on the essence of the human urge to create cities, be in cities, speak of cities. If all the cities are Venice, it is because Venice is in some sense the perfect distillation of the idea of a city. Ever since the Renaissance, when Shakespeare imagined the lives of its merchants, Venice has floated in the world's imagination as a paragon of cities, real yet unreal.
The magic to this floating lagoon is omnipresent if you know where to look. It's there hidden away and tucked behind serene back corners, just look at the gondolas swaying in the breeze and take the time to browse lazily through dusty bookshops. Hell, simply getting lost is a bit of a treat if you have the time.
What I've learned is that rushing a trip through Venice means that you'll likely miss its best bits. We didn't plan too much this weekend but sought to visit and support a few local artisans, eat some great food and wander the streets without much of a plan. It proved to be a fine idea instead of my usual harried self rushing from one end to the city trying to "fit everything in". This trip, instead, was more about noticing details and stopping to sit in a square and simply just breathe.
Just bring time, flexibility, and a fair bit of curiosity. Let yourself go and let Venice in. Oh, and don't forget a pair of comfortable walking shoes.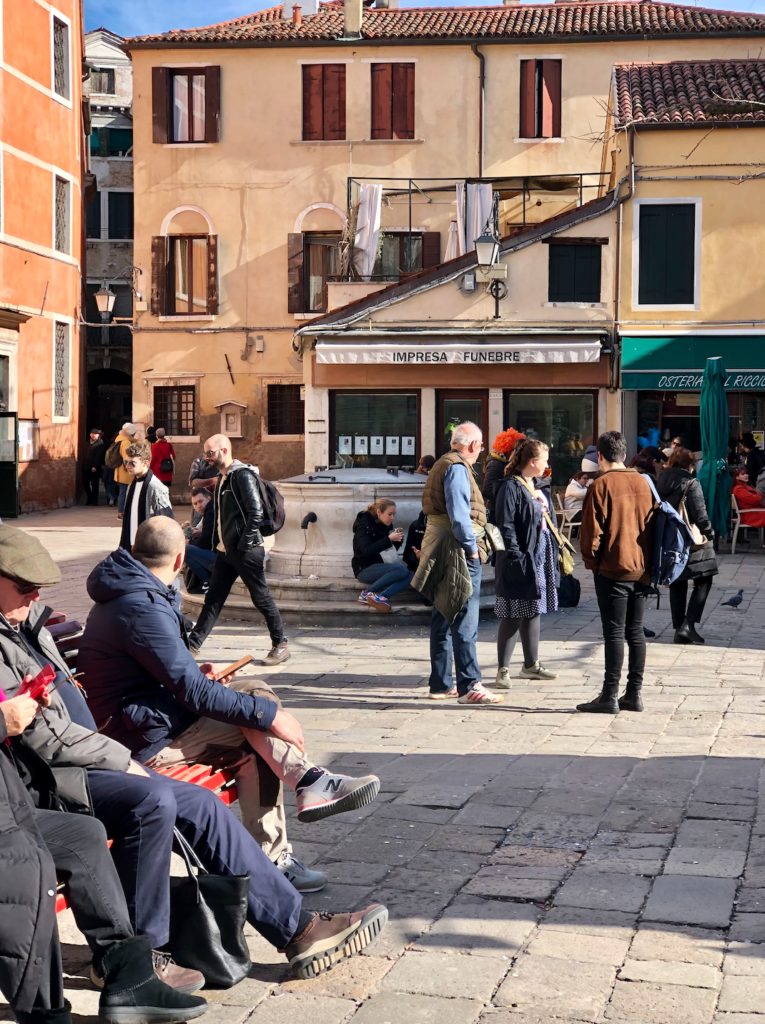 An Extraordinary Palace on the Canal: Palazzo Ca'nova
When it comes to the question of "where does one stay in Venice?" it can be a little tough to recommend accommodation here. It's one thing to simply rent a room or whatever is most favorable on booking but sleeping in an apartment with so much incredible history on the Grand Canal is nothing short of an extraordinary experience, and one well worth it, budget permitting.
Palazzo Ca'Nova has roots dating back to the 12th century – originally built as the home of the family Barozzi while nowadays it is owned by Marchesi Alberto and Barbara Berlingieri. This couple is well known around Venezia for their efforts to help save Venice's cultural heritage and we were lucky enough to meet the dynamic Barbara, La Marchesa, during our stay.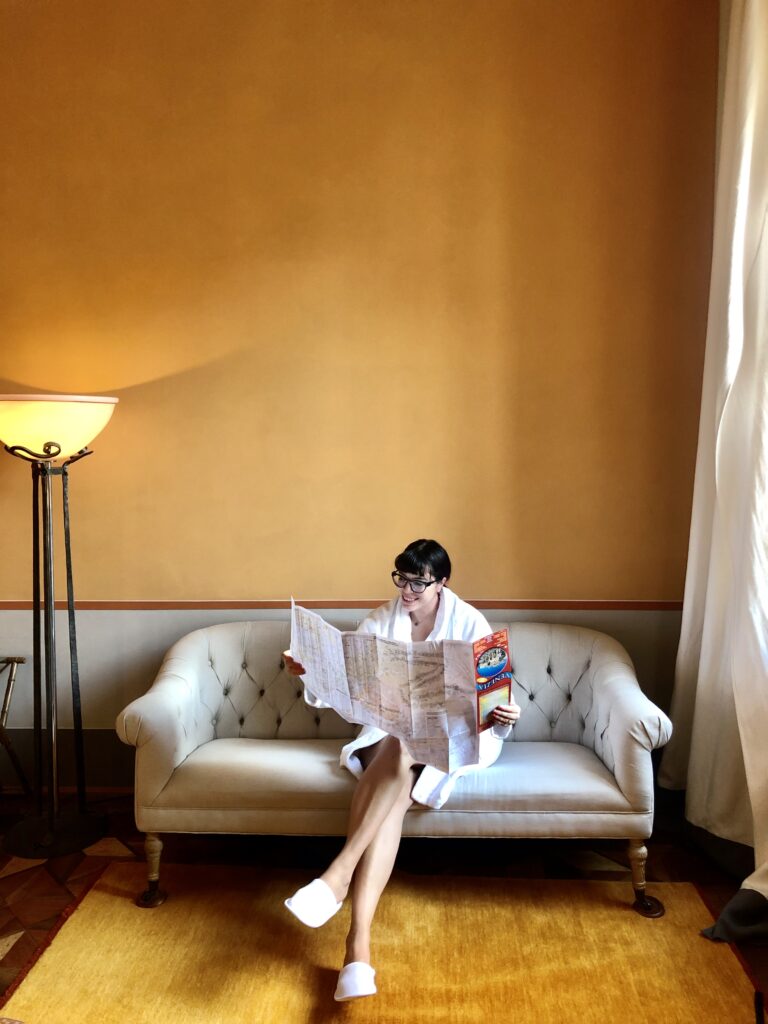 At the Palazzo itself, there are several luxury accommodation options for families and couples and the water entrance makes for a pretty fabulous arrival if one chooses to do so. We stayed in the one-bedroom Lipparini, an elegant space restored and redecorated in spring 2019 and found on the palazzo's first floor, the so-called Piano Nobile which traditionally is home to the most elegant rooms.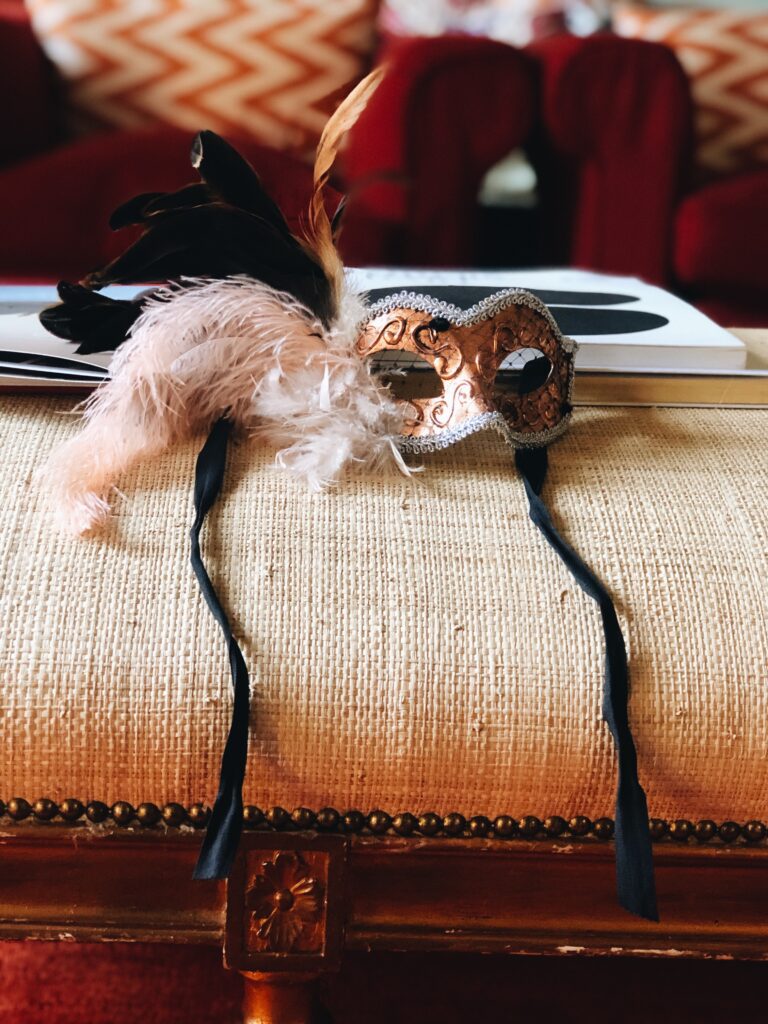 Superbly decorated and comfy, I truly appreciated the super-king size bed crowned with an enchanting Venetian style canopy, adding to the romantic ambiance of the apartment and big enough for my tall frame. Perfect for a couple or a couple with a child, you truly feel as if you are embodying the spirit of Venice by staying in such a stylish space in a prime location.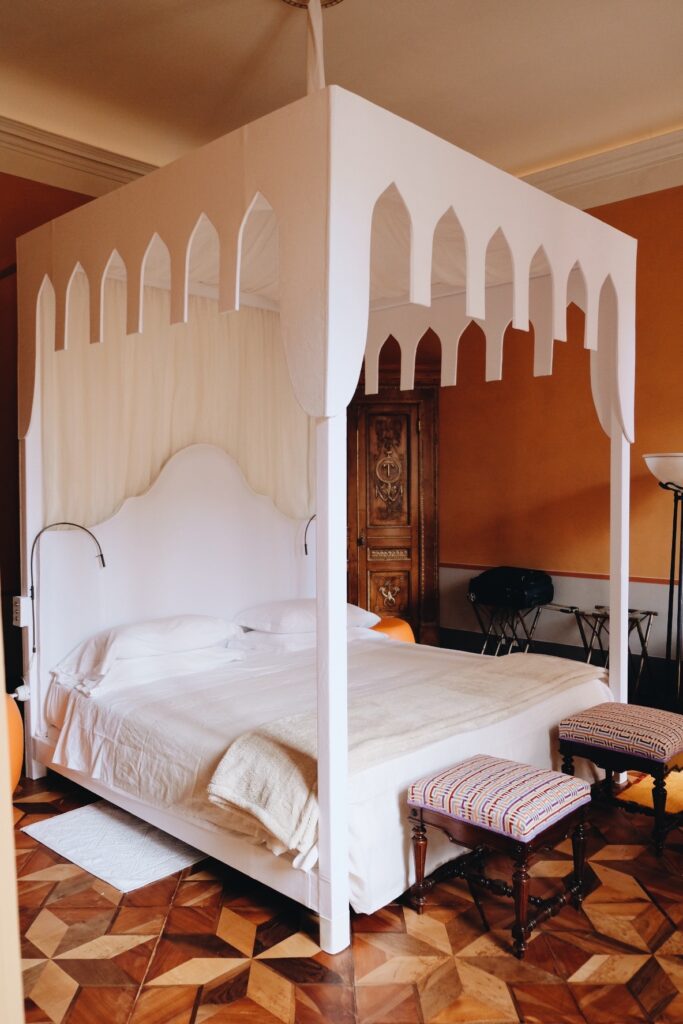 For those curious about the apartment's namesake. Ludovivo Lupparini was a painter, scenographer, architect, who once studied at the Accademia di Belle Arti in Venice. Born in Bologna, Ludovico Lipparini moved to Venice in 1822 where he studied art, married the daughter of his teacher, and later became a professor at the Accademia di Belle Arti. Lipparini was a prolific painter. He was a sought-after portraitist and counted Napoleon's sister Elisa, as well as Venice's aristocracy and bourgeoisie among his clients. His wife Anna Matteini was also a professional painter, specializing in landscapes.
Disclaimer: We were hosted for a two night stay at Palazzo Ca'nova but all opinions are 100% our own.
Where to eat in Venice: Cicchetti and My Favorite Restaurant
There are plenty of places to grab a bite in Venice (reservations always recommended) but I also highly recommend skipping lunch or dinner one day to instead go on a bacari-hopping pilgrimage indulging in a favorite Venetian pastime: eating Cicchetti, bite-sized Venetian treats like the codfish-based baccalà mantecato.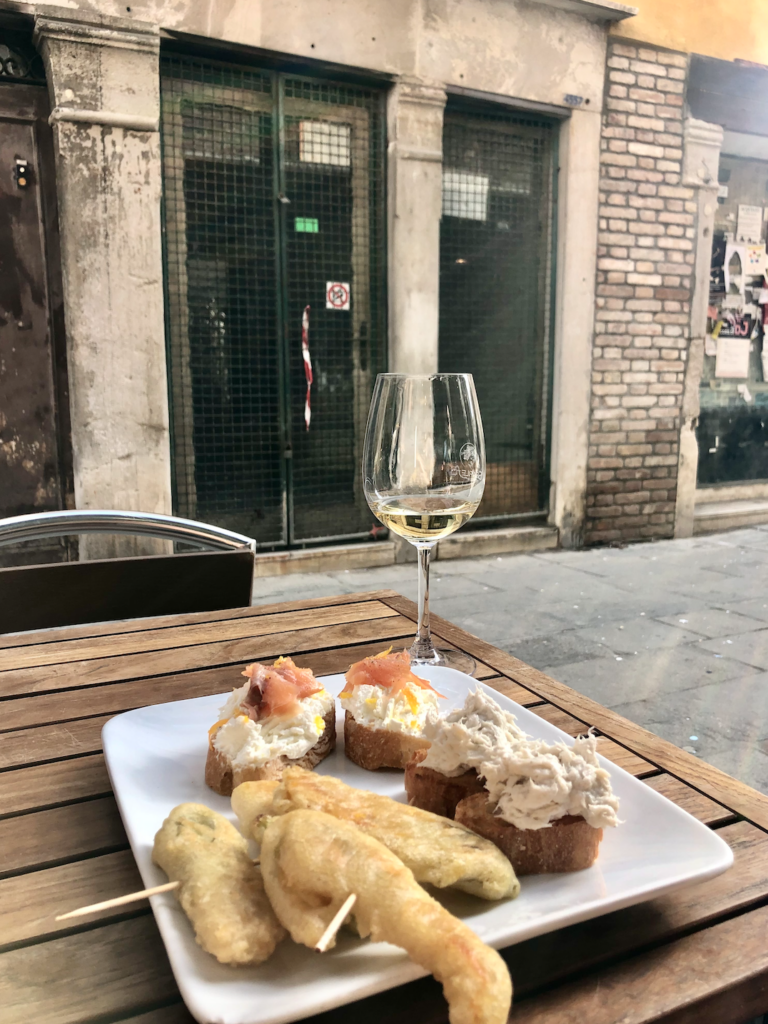 Arguably one of the most famous spots is near the Rialto fish market; All'Arco is a tiny space with plenty of character and characters and that's before you try the cicchetti. Just grab a glass or bottle of sparkling wine and a plate and pop out on one of the outdoor tables to watch life go by. For a comprehensive list on where to get the best cicchetti at which bacari, here's a great one to add to your google map list.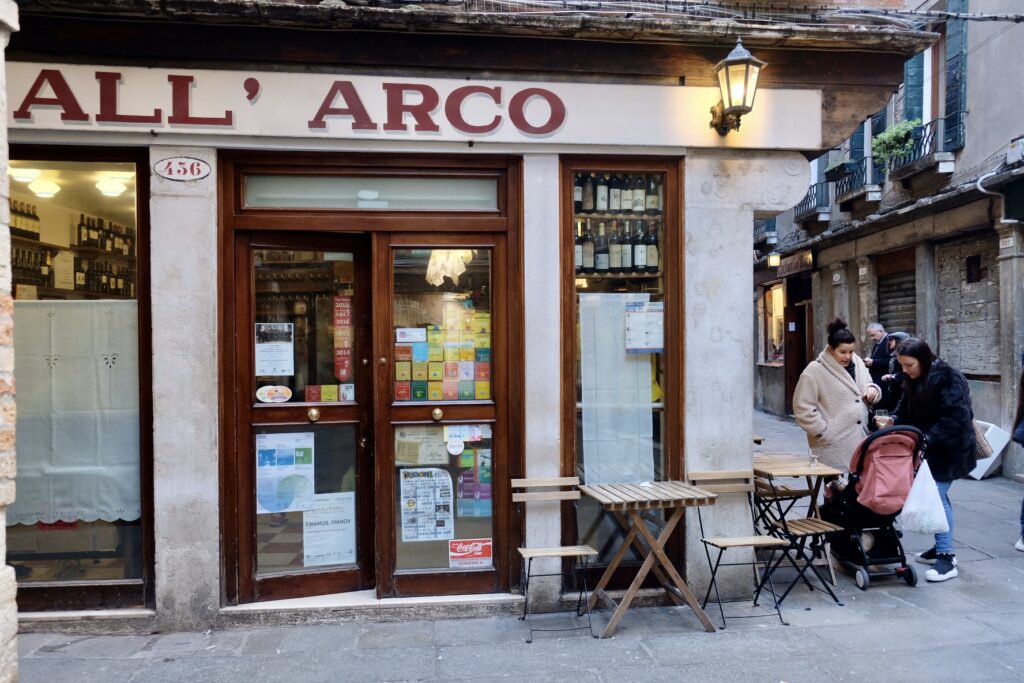 Besides, Cicchetti, one of my favorite restaurants happens to be in Venice, if you can find it (I always get lost going!). Trattoria Antiche Carampane is a dream and a half, a local seafood restaurant with an emphasis on everything seasonal and fresh. I always get whatever fresh seafood they have caught that day tossed in fragrant pasta, preferably washed down with a minerally white wine from Veneto.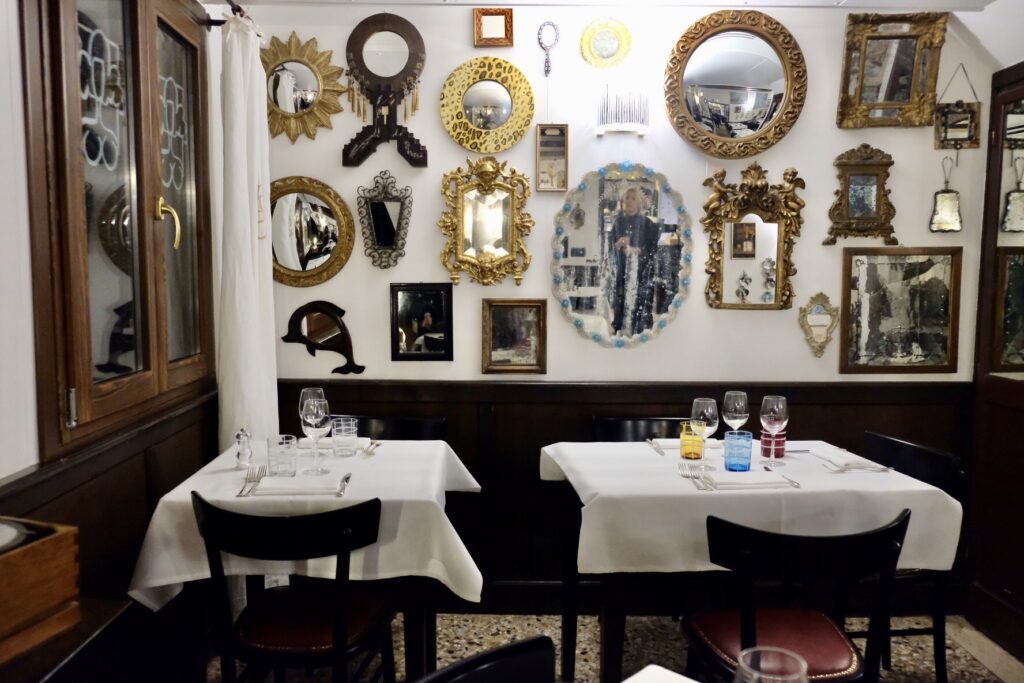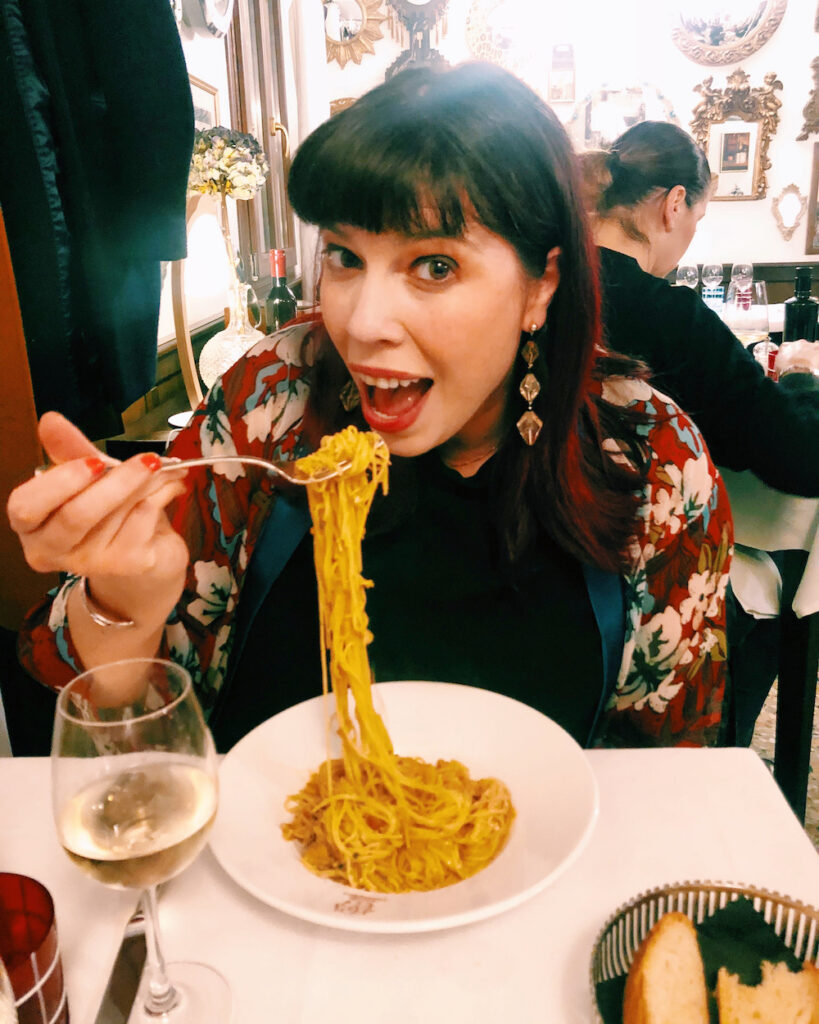 Another favorite was recommended by Katharina at Trust and Travel villas, a small trattoria in the Campo dell'Angelo Raffaele, a lovely piazza in the Dorsoduro neighborhood. Trattoria Anzolo Raffaele (Pane Vino Anzolo Raffaele) is a slow food homey paradise run by Luigi and Patrizia with flavors taking you from Venice to Sardinia and a grand offering of wines. Don't be afraid to ask for recommendations and make sure to get the pickled vegetables and prosciutto.
Island with a View
Like most people who have "done Venice" in 24 hours, I've seen some of the hottest tourist highlights but skipped spots that are far more interesting to visit. This often happens when you have little time and want to stick to a bucket list schedule. Luckily, staying for a few nights meant we could finally see places like the island of San Giorgio, reachable by Vaporetto #2, a two-minute boat ride from Piazza San Marco.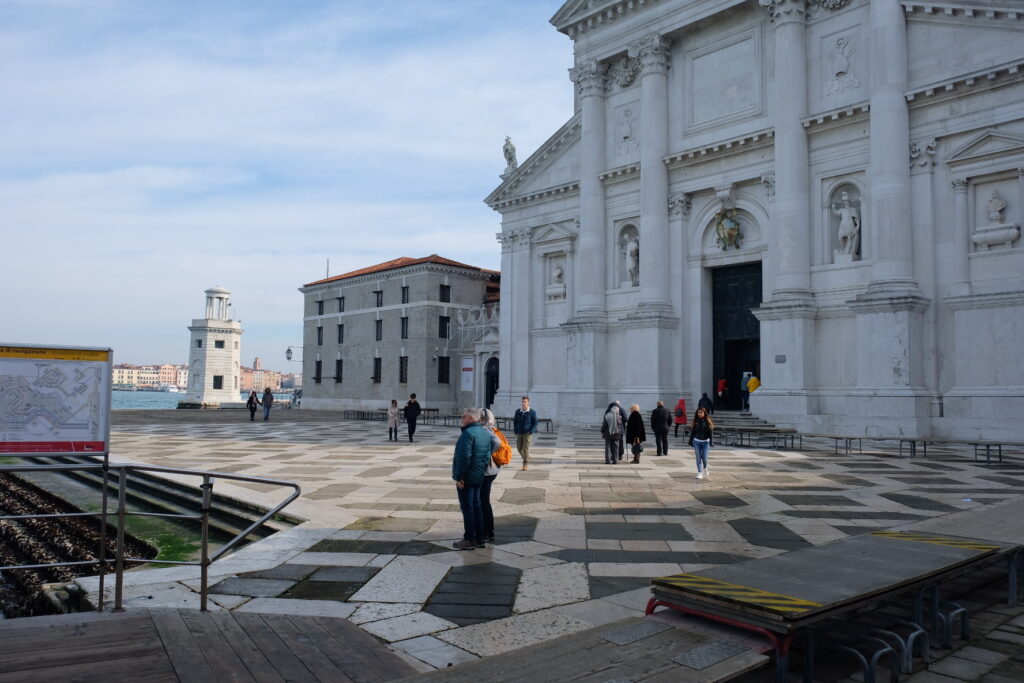 On the island is a beautiful church San Giorgio Maggiore, home to magnificent art, think Tintoretto's last supper plus a few other notable pieces, you also don't want to miss a painting by Sebastiano Ricci, "Madonna enthroned with Saints" — completed in 1708). In addition, you must climb the bell tower to marvel at one of the best views of Venice and the lagoon, a perspective like no other and a great alternative to climbing San Marco's campanile.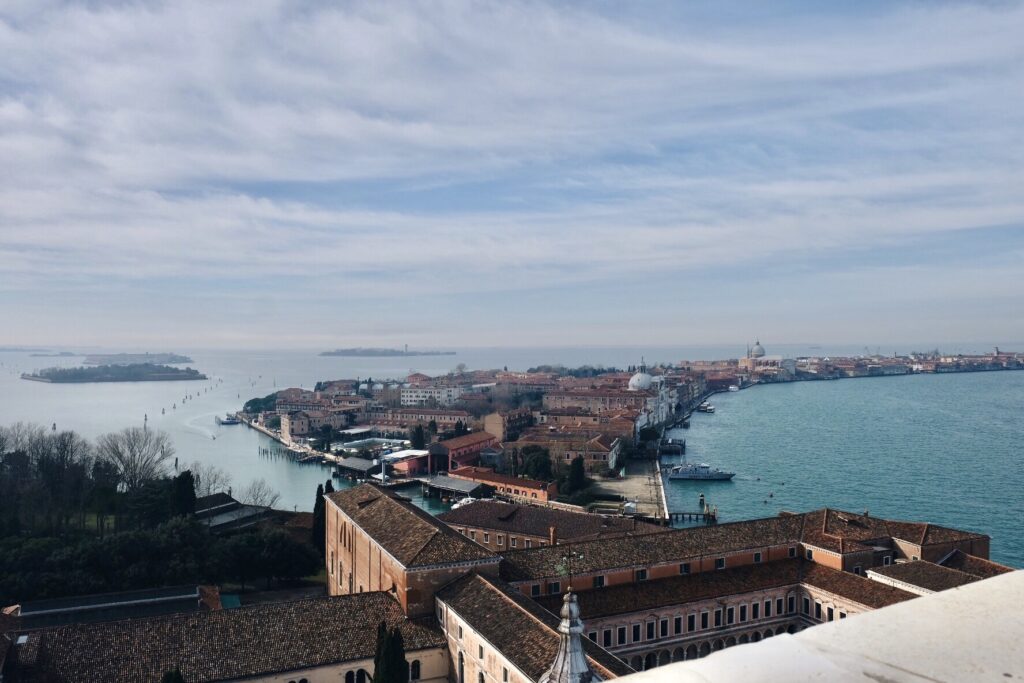 The island has roots dating back to the 8th century and was once known as the "island of the cypresses" and a place for monks to learn. After an earthquake destroyed everything around 1223, it again went back into the power of Benedictine monks before being taken over by Napoleon for military use in the early 19th century. Eventually, it was Count Vittorio Cini who worked hard to restore the island to its former beauty and make it again an important place in Venice.
Like a Local – See Venice from an Insider's Perspective
What stood out about this trip from previous jaunts to Venice was that we enlisted the help of a friend and local tour guide and blogger Monica Ceserato. This vivacious Venetian has long been a champion of promoting the best the island (speaking of – check out these interviews with Venetian artisans and more from a special "live week" they did recently) has to offer in a way that directly benefits those who live and work there — highlighting artisans in Venezia and cool spots to grab a bite to eat. 
We made plans to don costumes/masks and explore a bit together and she made me a list of boutiques and artisans she knew I would appreciate. From handmade masks for carnival run by a local family to modern paper accessories from one hip shop in the hidden streets of central Venice. The artisans around Venice are worth an article or five in their own right but I implore you to check out Monica's blog with up-to-date tips.
Speaking of masks, since we were there during carnival, I really wanted to support a local artisan and learn more about this tradition. According to Monica, in Venetian culture, the term "maschera" refers to "putting on a beard and mustache" and "maschera" was also the nickname given to women who disguised themselves as men and men who disguised themselves as women. Soon the mask became the symbol of freedom and transgression of all social rules imposed by the Republic of Venice. We stopped by Mater Domini Masks run by local sisters Elisabetta and Michela who are as jolly as they come. Not only has their family been making masks for generations, they also can do mask-making workshops for your little ones (definitely going to do this when Annabelle gets older!).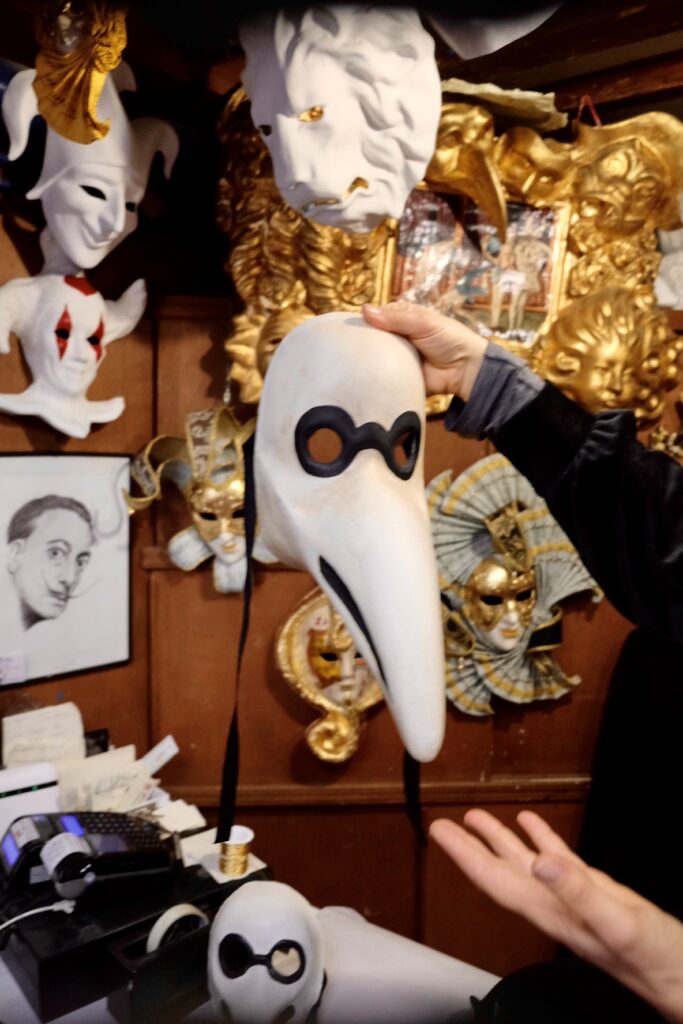 For those who appreciate glass-blown pieces but won't necessarily make it to Murano, Vetrofantasia Di Fuin Michele is the perfect spot to pick up some quality handmade pieces done in house (you can see Michele literally shaping the beads) by husband and wife team Michele and Cristina.
PaperoOwl is another Monica-recommended stop. This tiny shop is run by the lovely Stefania from Verona who makes her own paper accessories (she has a passion for origami) into beautiful jewellery and souvenirs that anyone would appreciate. Her passion is nothing short of magnetic and it was such a joy to talk to her about the art of what she does and how hard it is to keep a shop in Venice where floods and high rents, cheap souvenir traps threaten the livelihoods of those who seek to bring true artisan made goods to the public. I especially recommend you check out her mini dioramas "Inabox" – think tiny box souvenirs representing a variety of scenes in Venice.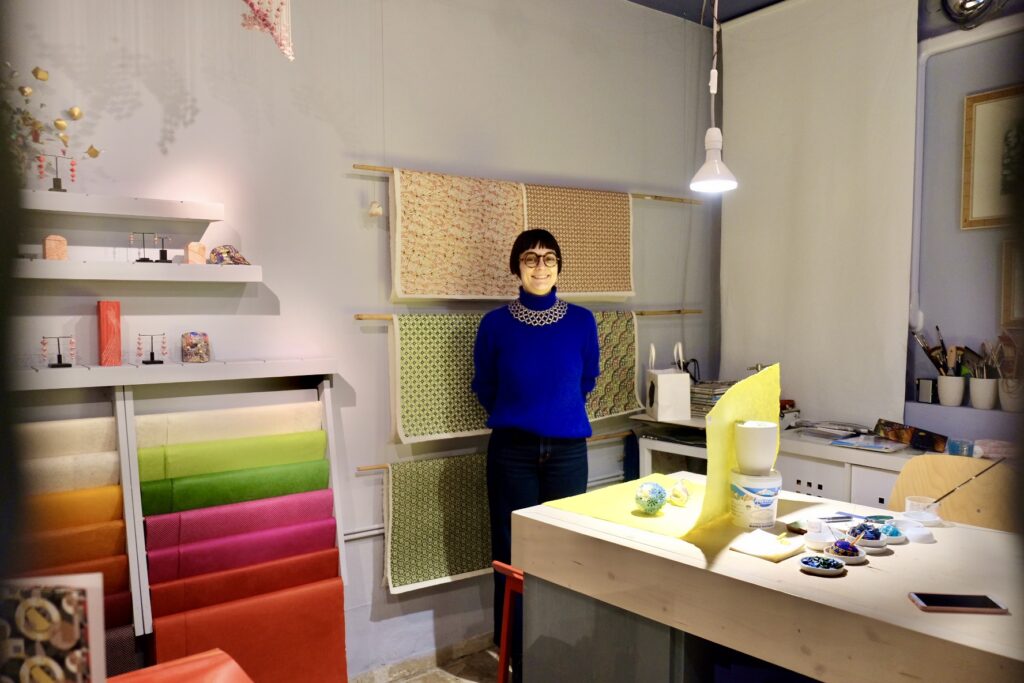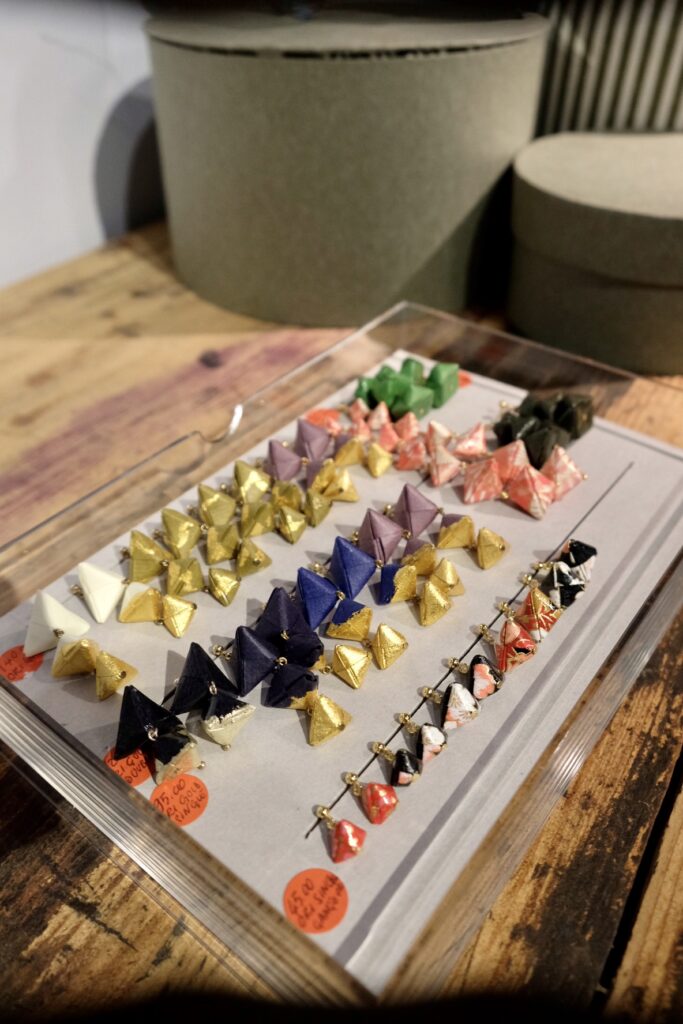 I also asked Monica to share her perspective on visiting Venice post-pandemic.
My advice for visiting Venice this year is exactly the same I used to give before the pandemic: research your trip before coming and make sure to stay for more than 2/3 days! Now more than ever in Venice we need to support local businesses, be it a local artisan or a restaurant or small hotel. Venice might be small in size, but it is big on the things it offers: not just lots of museums and churches, but an array of different experiences that you cannot try if you only stay for 2 days. Food tours, cooking classes, rowing lessons, electric boat rides, mask painting, glass bead making and much more. Venice is not only Saint Mark's Square and the Rialto Bridge, it is a city with a 1200 old history. Research about it by reading blogs run by local bloggers: they have the insights and know-how. They know first hand all of the people they talk about! Treat the city with respect and the city will give so much back to you, in terms of cultural enrichment and joy. But above all: do not come with any stereotypes or pre-concept expectations – allow the city to be discovered at her slow pace, with the help of her people.
Only in that way you will visit the real Venice!
How do you show respect to Venice?
Some simple guidelines: no swimming in the canals (Venice is not a beach resort); no walking around with your shirt off or wearing a bikini; do not use bicycles, skate-boards, skates; try to walk in a single file or maximum 2 people, as the streets of Venice are really narrow. Also if you decide to go and visit an artisan, remember that their time is precious. The more time you spend in there asking questions, the less time they can spend working and creating. So if you do take away some of their time, the least you can do is to show some respect and buy something from them! In return they will be so happy to tell you all about their work!
Additional Resources
Where we stayed
Palazzo Ca'Nova is a property that is part of the Trust&Travel collection. A company that was founded in 1995 and specializes exclusively in the rental of historic Italian villas and country estates. From sumptuous medieval castles to cozy rustic farmhouses, these properties are located in some of the most stunning parts of Italy.
Where we ate
Where we shopped
PaperoOwl, Calle Longa, 2155/A, 30135 Venezia VE, Italy.
Venetian Dreams Marisa Convento, Bottega Cini, Sestiere Dorsoduro, 734 c, 30123 Venezia VE, Italy
Mater Domini Masks, Maria Mater Domini Santa 2118, 30135 Venezia VE, Italy.
Vetrofantasia Di Fuin Michele Lavorazione Artigianale Vetro Di Murano. Calle del Dose, 3800, 30122 Venezia VE, Italy