Fear not November's challenge bold—

We've books and friends,

And hearths that never can grow cold:

These make amends!

~Alexander L. Fraser (1870–1954), "November," c.1918
What would a year be without a November? Typically reviled and scorned as one of Italy's more depressing months due to plenty of rain and shorter days, I tend to see it a little differently. This is the month where I typically dive into cooking warm, comforting meals (and uh.. truffle season!), catching up on work and half-read novels before stressing out over preparing over our December holidays. 
It also happens to be the month of our wedding anniversary. This year in its fourth year on November 28th and probably the most tumultuous year to do date dealing with the death of his mom and of our pregnancy loss. Essentially, a fair amount of adulating was had and it has been a lot harder than I thought it would be to reconcile hope and expectations (still), but that's ok. If there is one thing I can walk away feeling after 2019, it's that I have the right partner by my side and that's something to be grateful for. 
November also marks the month of Thanksgiving, one American holiday I will always embrace as it involves two elements worth cherishing: good food laden across a large table and the even more important component; great company. I usually spend it spilling sweet potato pie on my pants and taking a three hour nap. 
This December Nico and I will be returning to San Antonio, Texas to visit family and friends are considering a New Orleans trip for a few days. I'm excited but nervous as it's been a few years and it's always a bit of reserves culture shock. 
If you plan on visiting Florence, Italy this November my recommendation is to be prepared for grey, overcast days, weather that is completely unpredictable temperature-wise, and the occasional rainstorm. Pack layers as per usual, umbrella, a scarf, waterproof shoes and plan on trying Tuscany's wonderful autumnal cuisine! I'm talking about  cavolo nero and chickpea soup, drizzled new extra-virgin olive oil over garlic-rubbed toasted bread, succulent slow-cooked wild boar served peposo style or with pasta, and of course anything with porcini mushrooms or truffles.
***If you want to get out of town, I'll include a few options below my roundup of Florence's monthly vents and festivals around town and don't miss this article, a guest post I did for Dievole on how to approach tipping in Italy. It might surprise you!
https://www.instagram.com/p/B3mEvDGoQlt/
Link Love for the Month of November
What else am I excited about for this month? Have a look at the list below. Keep in mind that this is not at all an "official" list but the city but instead my own personal favorites on what to do and where to go around town.
On Saturday November 2nd and Sunday, the 3rd there will be a wool fair dedicated to San Martino in Florence's Piazza di Santissima Annunziata hosting an array of artisans from around Tuscany (and beyond). This is always a favorite and a great place to pick up a shawl, scarf.
Kicking off on November 1st,  "Inside Magritte"at the Santo Stefano al Ponte Church will take visitors through a multi-sensory experiential journey (about 50 minutes) entering the surrealist universe with an intense and absolutely evocative narrative language. Involvement, illusion and allusion will be the tools to understand the enigmatic world of René Magritte.
The film festival season is currently in full swing. Ending the 1stof Novemberis the French Odeon, always a person favorite for this Francophile, don't miss the last night. Next up is another top choice the Festival dei Popoli,an international documentary film festival from November 2nd to the 9thand Lo Schermo dell'Arte from November 12thto the 17th showcasing films themed around art. They will be held at Cinema La Compagnia on Via Cavour.
There is a special Contandino (farmer's market) on November 1st in Piazza Tasso. I actually had no idea there was a market held here so if any of you go, let me know how it is! I hope it's a regular thing.
First free Sundays is something I have been including in every monthly line-up because how amazing is it that in a city with so many museums, they offer at least one day where you can visit some of the most important places in town, for free. This month's free museum Sunday falls on November 3rdand include free entrance to the Uffizi Gallery and the Accademia. More info can be found here on which museums are free and open.
The St. Mark's English Church has been hosting roundtable sessions to help those living overseas thrive (awesome) monthly at 7pm. The first appointment for November will be on the 6thand will involve a discussion on the topic of sexual consent, the 20thinstead will focus on "caring for self, caring for others How do I support others while maintaining a healthy balance." SUPERB topic as I think that often we find ourselves in toxic relationships abroad that can be hard to shake.
The Speakeasy Multilingual happy houris a great place to meet new people and practice your language learning skills in a casual, friendly atmosphere. There are two appointments this November, on the 7thand the 28th. Both will take place at cool spot L'Appartamento from 7:30-11:30pm.
My friend and incredible tour guide (I mean she showed Prince Charles around Florence) Alexandra Lawrence has returned with her beloved "walks & talks" offering deep dives around exhibits, museums and places that aren't often on the top 10 lists. Here are this month's dates.
Friday, November 8th at 5pm. The poetry + philosophy behind Michelangelo's Prigioni. Michelangelo and his contemporaries referred to the protracted work on the tomb of Pope Julius II as 'la tragedia della Sepoltura'. During this visit to the Accademia we will concentrate on the Prigioni, attempting to draw out the various poetic and philosophical considerations at the heart of these massive monuments destined to forever remain in their incomplete state. For those interested, we will continue the conversation over an aperitivo after the visit. The cost of the visit is E. 30/person. Please email info@exploreflorence.it to secure your spot.

Monday, November 11th, 

Day trip to Ravenna. 

Ravenna is home to some of the world's most stunning works of art from the late Roman Imperial Age. We will explore the magical 5th- and 6th-century mosaics in the churches and baptisteries before learning more about mosaic-making 

during a fascinating hands-on workshop with a local artisan. The cost is E. 160/person, including tour, workshop + entrance tickets (does not include train). Please email info@exploreflorence.it to secure your spot.
Tuesday, November 19th at 10am. 

The Botany of Leonardo + visit to Farmacia Santa Maria Novella. 

This exhibition examines how Leonardo examines botany as a true science, based on observation of the structures and functioning of plants, creating a series of natural 'portraits' and applying the knowledge to a broader set of philosophical ideas. We will end the morning with a visit to the nearby Farmacia SMN, where we will see how some of these botanicals were utilized in apothecaries during the 15th and 16th centuries. The cost of the visit is €

30/person. Please email info@exploreflorence.it to secure your spot.
Friday, November 29th, Bologna. 

So close to Florence, yet vastly different in history, architecture, culture, food and more! We will spend the day in Bologna exploring its various traditions, from the medieval towers, canals, and halls of learning, to the markets and the city's numerous culinary delights. The cost is E. 150/person including tour, food tasting + entrance tickets (does not include train). Please email info@exploreflorence.itto secure your spot.
The Florence Tattoo Convention will be taking place this year from November 8-10that the Fortezza da Basso and it is always a lot of fun even for those of us who have yet to "ink up" (but believe me, I'm tempted).
Are you as obsessed with Florence's wine doors or buchette dei vini? Well if so, you might want to check out a photography exhibition hosted by Robbin Gheesling and Andrew Barrow featuring these local marvels and it's set to debut on November 9that Pergola Theater  at 5:30pm.
As the events continue for the anniversary of the American consulate's presence in Tuscany and Emilia, one exhibit worth checking out is the second part of "AMERICANS IN FLORENCE II" from the 8 – 21 November 2019 at Collezione Stengel, located at the Palazzo Rosselli del Turco, via dei Serragli 17, Florence. The exhibition  will present nine American artists, some of them were already in the first edition and will exhibit new artworks, some will be showing for the first time in the Stengel Collection. Free admission; hours: 10-13 and 15-18 from Monday to Friday. Saturday and Sunday by appointment only.
Lovers of Legos unite! From the 9th and the 10ththe Brick Festival will be taking place in Florence and it's not just for kids, actually there is a group in Tuscany dedicated to adults who appreciate the complexities of lego architecture and there will be play areas, exhibitions at the Tuscany Hall (this place has changed names more than Madonna's personas) on via Fabrizio di André angoloalong the Lungarno Aldo Moro (take number 14 bus).
Looking to relax during the gloomy short days of November? Luckily there is a studio in Florence dedicated to 360 degrees of wellness and offers a variety of spa treatments, relaxation techniques, yoga and more. I love these people and absolutely recommend a pampering session or mind-body experience at Relax Firenze. They normally offer Black Friday deals on treatments and courses too so send them a message about offers. 
The British Institute in Florence is always one of my favorite places for local events and on November 14th they will be hosting a "reading exchange" from 4-5pm. All you have to do is come with a book you have read and enjoyed recently. Each person have a few minutes to talk about their books and this is a stimulating way in which to hear about books other people have been reading and that might appeal to you.
This event is open to all. Afternoon tea served from 16.30. For more information:
From the 15th to the 17thof November (11am-8pm) there will be a festival dedicated to Japanese culture in Scandicci (Auditorium Centro Rogers) at the Piazzale delle Resistenza and here you will be able to dive into a pretty exciting array of events, I'll be there for the sake tasting (I hope lol).
For those looking to write a book or get some very real feedback on their writing progress, the St. Mark's English Church will be hosting a masterclass workshop in editing on November 16th with editor Beena Kamlani. Participants can submit up to 12 pages of their work for Beena to look over before the workshop. To sign up email writers@stmarksitaly.com
Enigma Pinocchio is the latest exhibition at Villa Bardini and brings together for the first time in Florence over 50 modern and contemporary masterworks from around the world inspired by Italy's famed puppet. The exhibition is on now until March 2020. Also on view is "Corpo a Corpo" a selection of artworks themed around the figurative arts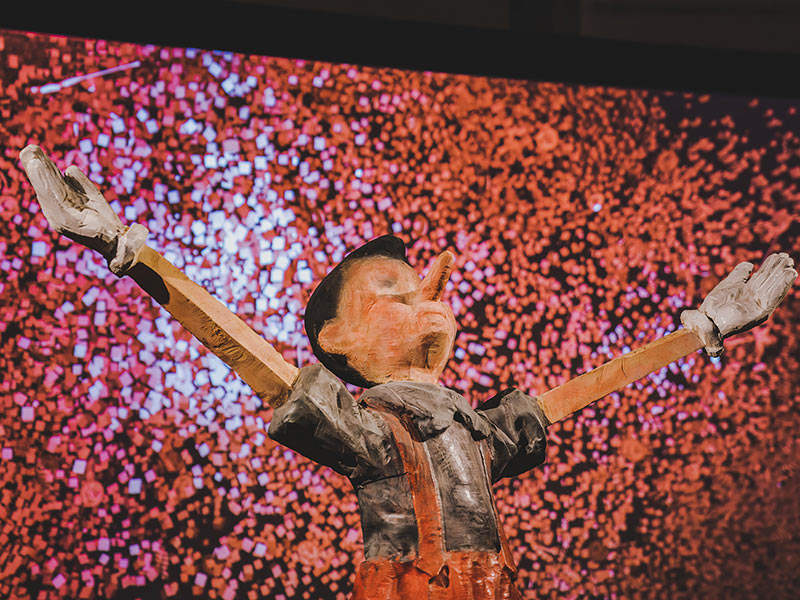 Celebrating artisans and more! On 16th of November 2019, Lady Ripple launches their official pop-up in Florence at the stylish Palazzo San Niccolo. Through Lady Ripple, founders Laura Shadden and Allyson Volpe explore the heartbeat of the Modern Renaissance happening in Florence, they then 'ripple out' their discoveries and inspirations to the wider world, supporting creatives, artists and artisans, conscious purchases, sustainable lifestyles and a circular economy. The pop-up shop begins at 11am and is open to the public until 17:30. This is free of charge. 
This month's organic market in Piazza di Santo Spirito is on Sunday, November 17th and will feature new olive oil as their prized star fresh from this seasons harvest which always takes place this season. For those who don't have a car to buy great oil direct, this is the time to pick up some truly quality extra-virgin oil from trusted local producers.
Also on November 17th is a block party along the popular Viale Europa where market stalls will be lined up along this normally very busy, traffic-filled road. .
Storytellers in Florence is back this November and the next edition will take place on November 23rd. As per usual it will take place at independent bookshop cafe Todo Modo (Via dei Fossi) starting at 7pm and ending at 9pm. You are more than welcome to just come and watch people share their stories, it is quite frankly one of my favorite evenings of the month and as linda says a great way to meet people, share some personal stories and get off the damn computer for a bit. If you have a story to share based on this theme, be sure to contact Linda on Facebook or by email at linda@the-beehive.com. 
The Lungarno Chats: Conversations with Inspiring Individuals is back this November 18 and you'll get to hear from Helen Farrell of The Florentine who will be talking about the contemporary challenges of magazine editing at The British Institute of Florence (6pm, lungarno Guicciardini 9, Florence; minimum donation 5 euro). 
Palazzo Strozzi, the city's foremost exhibition space is still running its latest exhibit celebrating Natalia Goncharova: a leading female artist of the 20th century in this major retrospective. The exhibition will explore her unconventional life and career, presenting her rich and multifaceted artistic output with masterpieces from major international collections by celebrated artists including Gauguin, Matisse, Picasso, Balla and Boccioni. I had the chance to check out a preview myself (article coming soon) and really enjoyed it. My advice? Go see on Thursday evening after hours as the Strozzi closes at 11pm!
The Florence marathon is happening this year on November 24th and participants will "enjoy" a 42 kilometer run through the center of Renaissance's Italy artand history capital. More info on the 37th edition of the race can be found here.
Since the expat community is so large here, you better believe they also celebrate the Thanksgiving holiday in Florence at many restaurants around town on November 28th. Also you can do your own thing at home too and order treats such as pumpkin pie or turkey from places like Mama's Bakery, your turkey from Sant'Ambrogio market or a local rosticceria.
I will be adding more Turkey-day dinners you can enjoy in the city to this list so check this space soon! 
Weihnachtsmarkt the annual Christmas Market is back in Piazza Santa Croce on November 30th – December 18th. As per usual you can expect to find wooden stands selling a variety of Christmas-themed gifts along with overpriced sausage, huge pretzels and spiced mulled wine. My advice is to avoid going on a Sunday :).
The lovely ladies of WIC (women in charge, a secret facebook Italian group of women around Italy) are hosting a special bazar showcasing the work/handmade gifts of artisans from the group on November 30that Tasso Hostel. You'll find Tasso at Via Villani 15 (near the piazza of the same name).
The Etsy Made in Italy Artisan market is back this year on November 30thand December 1stfrom 10:30-8pm at the Student Hotel in Florence (a super near place to explore if you have yet to go, easy to reach via Tram). There will be over 40 artisans showcasing their work and possible workshops. It's always a lovely place to search for Christmas presents or maybe even something a little special for yourself.
Ever wanted to learn how to write songs? On November 30th, you'll get the chance with some expert help with a special guest songwriter Brett Perkins at the t. Mark's English Church with a special workshop. Email write@stmarksitaly.com for more details.
OUTSIDE OF FLORENCE 
The San Miniato Truffle Fair is BACK in action this month for three weekends from Novemberin the picturesque hill-top Tuscan town an easy train or car ride away from Florence. This is a great chance to get acquainted with the famous tuber among the market stalls and my recommendation is to book a spot at Terrazza Miravalle (in Piazza Duomo) for a sumptuous lunch where you can also buy a white truffle to eat with your email or take home.