August has arrived my friends and this month of "chiuso per ferie" or 'closed for holiday' is always quite welcome, vacation or no vacation
Tomorrow, we leave for some family time in Liguria in my favorite beach town in Italy and then Nico and I depart to Cilento on August 10th for a week of alone time with Ginger the beagle. My mouth is watering already for the mozzarella di bufala I plan on consuming on the daily.
 The rest of the month we will be back in Florence and I need to catch up on posts for this blog and get things prepared work wise before I have to take time off for an open myomectomy surgery this September. I'm hoping this brings about a bit of closure to what has been a tough year and if any of you have done this surgery and have advice, I'd love to hear it. 
I have always quite enjoyed an increasingly empty city during August, the early morning walks with storefronts shuttered and a peaceful aura before life kicks in later in the day. This is certainly a weird month when the exodus brings about more foreigners than locals and I hardly hear Italian being spoken in the streets.
That of course doesn't mean that there isn't anything to do, in case you are worried. The city has organized a number of events and luckily (for us too) there are plenty of fun things planned to keep us on our toes and not just trapped at home. 
As for where to eat this month, I have you covered with this list here. 
Remember you can always organize a last-minute rafting trip on the Arno or take the car to this awesome canyon park in Tuscany.
Enjoy and let me know if I missed anything. As always, I appreciate your support.
Link Love for the month of August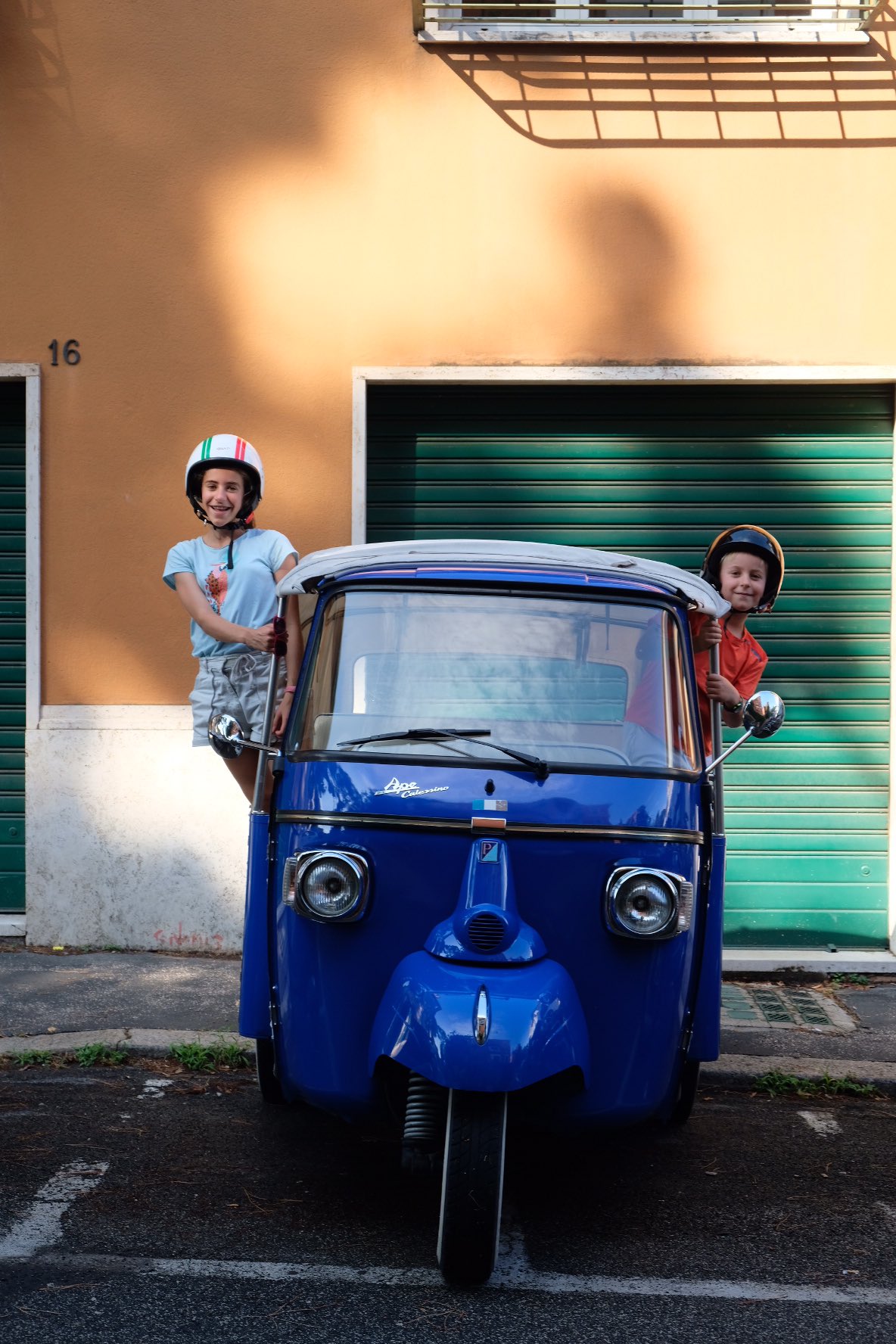 "Florence from above: other points of view" is one of this year's newest projects offering six concerts in unique places above Florentine rooftops. On August 1st, is the Manifattura Tabacchi edition using their contemporary setting as a place for a unique concert featuring a collective of six voices in search of a universal folklore that starts from the Occitan, the ancient Provençal language originating from the south of France. To attend, make a reservation here (free entry).
Be swayed by a beautiful rendition of Swan Lake that will take place on August 3rd in the cloisters at Santa Maria Novella showcasing the Russian ballet, get more info here.
Visit the Torre della Zecca in Florence on a guided visit this August 3rd, this was the final defence tower in the city (built in the 14th century) and from here you'll get to see some pretty spectacular views overlooking the Arno. To reserve a spot call Tel. 055-2768224 or email [email protected]
Join Santo Spirito in Ferie on August 4th, Sunday as there will be a lively market with various artisan sellers and more in the main piazza, 8am-8pm.
August 4th marks the first Sunday of the month when Italy offers free entrance to all state museums across the boot but  it is restricted regarding which museums are open when. I know for sure that Pitti Palace and Boboli gardens will be open for free to visitors and for Florentine residents you can enter free into the Palazzo Vecchio or Palazzo Medici Riccardi's new archaeological excavations.
****Special note, Villa Bardini will also open up for free every Sunday this August. 
Anyone seeking a park that isn't Cascine to hang out in some shade, enjoy a summer picnic and just be? I highly recommend taking the bus or a car to Pratolino Park at Villa Demidoff, a former Medici State and superb green space 11 kilometers outside of the city open every weekend this summer. To get there, head to Piazza San Marco and take the ATAF bus #25A. 
Apriti Cinema continues in August, until the 11th. This great initiative offers outdoor movies in Florentine locations, this year in the Piazzale degli Uffizi (under the Uffizi Gallery) The fun has already begun and will show films (with Italian subtitles) nightly until August 11th. On August 4th at 10pm they will be showing one of my favorite neorealism films of all time: Paisà di Roberto Rossellini on the 11th (showcasing six episodes featuring scenes of Italy's liberation from Nazi rule and fascism. Full program can be found here.
Enjoy Street Food Along the Arno at several different areas along the arno: here are my top three suggestions
#Lungarnodeltempio:This is by far one of my favorite things to do in the summer. Along the Riva del'Arno on Lungarno del Tempio, you'll find a cool outdoor space with food trucks including "PescePane" (the Italian answer to the fish burger) and a pretty awesome burger truck along with gelato, a Texas bbq truck (Phils) among others. This is definitely a place where locals go and if you like street food/being outside, this is the place for you. open 12pm – Midnight.  address: Lungarno del Tempio.
Molo 5 : Yet another outdoor restaurant and bar area next to the above Toraia on Lungarno del Tempio. You can find Rex serving up drinks and plenty of food favorites to choose from including pizza from Simbiosi, Lampredotto and asian favourites. 
Utopiko is the new kid on the block for outdoor bars, music and food in Florence located near the Ex-Obihall along the river.  I have yet to go myself but friends have told me it is lively and fun. address: Via Fabrizio De Andrè, 50136 Firenze FI
Head over to the summer urban garden that is piazzetta dei Tre Re in the center of Florence where they regularly host summer events in the beautiful and hidden space near Orsanmichele museum. For the most updated info, their FB page is your best bet.  
Want to see Florence from another angle? Don't forget that all through August, Torre San Niccolo is open for guided visits every 30 minutes from 4-7pm for a low cost of 6€. Also, this year you can visit Torre della Zecca on August 18th and Porta Romana's Gate (this is on my list) on August 25th, reserve your spot by emailing [email protected]. 
Live music and good times will be had at Florence's Giardino Dell'ArteCultura on Via Vittorio Emanule II n.4, 50134 Florence, Italy. A fun program of events will take place every evening from August 8-16th
On August 10th is one of Florence's foremost holidays, the Feast of San Lorenzo, which is known for a festival-like atmosphere around the San Lorenzo Basilica in Florence. Traditionally, there is a historical parade in the morning from 10am-12:30pm, and in the evening, free lasagna and watermelon around 9-10pm. It's always a lot of fun to participate. Just bring extra napkins ;-). Keep in mind that The Feast of San Lorenzo also coincides with the Perseus Metor Shower so keep your eye on the sky for a show of stars. 
Visit the Uffizi Gallery for free on August 11th, in honor of reflecting over the tragic fire that devastated part of the Uffizi on August 12, 1762, destroying some bays of the western corridor with Baroque frescoes, and damaging these ancient sculptures.
Paintings, sculptures and documents including unpublished photographs that trace the link of the founder of modern dance with Italy and the influence she had in the international context. The art gallery dedicated to Isadora Duncan will be open to the public from 13 April to 22 September in the charming Villa Bardini and the Stefano Bardini Museum in Florence.
For wine lovers, August 10th also marks the annual "Calice sotto le stelle" or wine under the stars. At participating locations around Tuscany, you can toast with a glass of the region's finest and hopefully catch a glimpse of the Perseid Metor Shower. Check out the full list of wineries and places offering a nightly aperitif here (in Italian). I'll toast to that! 
Forte di Belvedere is BACK in action as this former 16th century Medici fort reopens to the public as a contemporary art space combined with a cool place for a drink with a stunning view of the city! This season they are hosting artists Massimo Listri and Davide Rivalta showcasing drawing, sculpture and photography. Opening hours are 11am-8pm (last entrance at 7pm) 3€ entrance otherwise residents of the city can get the Forte di Belvedere card for 2€ that offers unlimited access for the entire summer (the space will be open until October 20th).
https://www.instagram.com/p/BzTUd9AC8XF/
Also on tap for extended hours for visits is the Uffizi gallery. This summer's prolonged hours run through September 24th every Tuesday until 10 pm (last entry 9pm) a great way to see one one of the world's greatest galleries without the crowds.
Only in Florence, well more like Fiesole could you expect to watch movies inside an actual Roman amphitheatre. Yes ma'am, there is quite the interesting lineup many evenings this August. Shows start at 9:15pm and it costs 3€ to enter. 
Check out a live classical music concert in the majestic Loggia dei Lanzi on August 20th set to kick off at 9:15 as part of the city's summer program. 
Taking place from 28th August –August 31st 2018 in Florence, Italy, The New Generation Festival will be taking over The Gardens of the Palazzo Corsini for its highly anticipated third year, creating an international platform for the finest, young music and theatre talent. Set in the (stunning) Corsini Gardens in the heart of Florence, this is the perfect festival weekend for music-lovers to unwind in one of the world's most beautiful surroundings as well as being only a stone's throw away of Florence's bustling city life.
While not exactly a specific event, the summer marks the opening of many of the city's rooftop terraces. Most of which are on top of hotels where anyone can go for an aperitif drink, or sometimes even stay for dinner. The bonus is you get a beautiful, panoramic view of the city. Just be aware that drinks will often be a little pricier. This is definitely one of our favorite activities on a beautiful summer evening. Favorites include:
"La Terrazza" on top of Hotel Continental is open to the public and is a sexy, sophisticated spot to sip a moscow mule with a birds-eye view of the Ponte Vecchio. Pricey, cocktails are pricey, open daily from 3:30pm-10pm. address: Vicolo dell'Oro, 6r – 50123 Florence, Phone. +39 055 2726 5806 , E-mail. [email protected].

Hotel Palazzo Guadagni offers a beautiful covered terrace overlooking Santo Spirito square and as of this year, is open to non-hotel guests for evening aperitivi in the loggia rooftop bar. You do however want to call ahead as spaces are limited. address: Piazza di Santo Spirito 9. Phone number +39 055 265 8376. 

Glance Summer: Every Tuesday and Thursday from 8-11pm you can enjoy a panoramic aperitivo with live music on one of Florence's newer rooftops with a pool. address: Via Nazionale 23.
esto at Hotel Excelsioris a prime spot for fashionistas to grab a drink on one of the best terraces in town. I would skip dinner here and just get the drink. Piazza Ognissanti, 3. Open 7:30pm-10:30pm.
B-Roof is an awesome rooftop bar on Hotel Baglioni.It is the ideal place for a sundowner aperitivo with a large, expansive terrace at your beck and call with a bird's eye view of the Duomo cathedral (and not only). Dig into curated snacks and fun cocktails, keep in mind that it's best to make a reservation. Added bonus, you are very close to the train station should you need to jet off quickly. +39 055 23588865 hotelbaglioni.it.
Oblate stays cool. On top of the Oblate library lies a cafe that is quite popular with the Italian student population. The great thing is you can also get a drink here and prices are cheap so this is a wonderful option for those who are on a budget, but still want the Duomo smack in their face. address: via dell'Oriuolo, 26. Cool place to organize a private aperitivo as well. Info here.
Hotel Plaza Hotel Lucchesi's stunning rooftop terraceby the National Library is one of my favorite places to go for a rooftop drink and they are probably the best price/value for fancy hotel experiences, do keep in mind that prices went up in 2018 and you cannot get just a drink during sunset. Be prepared to spend at least 25€ if not more. Reservations recommended +39 0552623500 [email protected]. address: Lungarno della Zecca Vecchia, 38
Hotel Kraft is one of the lesser-known spots for dinner or a drink in Florence and I actually quite like it. You'll find it on Via Solferino, 2 near the American Embassy. 
Grande Hotel Minerva, '360 Three Sixty' Rooftop Bar. Always an iconic destination in Santa Maria Novella. Open daily from 7pm-midnight. Email [email protected] for a reservation.
Hotel Torre Guelfa has a tiny bar on Borgo Apostoli on top of an ancient tower (you have to ask at reception if they have space, hotel guests get first priority). The view from here is one of the best in town and drinks, while average, are not as pricy as other rooftop bars. 
Outside of Florence
Not in Florence but this is an event close to my heart and would be such a wonderful experience for anyone visiting Florence. A wonderful organic winery Querceto di Castellina (in Castelina in Chianti, a hour from Florence) is hosting summertime celebrations showcasing the culinary delights of La Tenda Rossa and their fabulous organic wines. Next month's vineyard dinner will be on September 7th. Reserve your spot by emailing [email protected], +39 0577733590 or [email protected], +39 055826132. I had a great time last year and would recommend this to anyone who loves unique dining experiences.