I have to admit that my favorite market in Florence is far from beautiful but that's also what I love about it, it remains a local market that changes for no one, thus maintaining a refreshing rawness despite being in one of the most beloved and popular areas of the city; and in my opinion the perfect place for a market tour and cooking class, even more so than San Lorenzo (but both are great).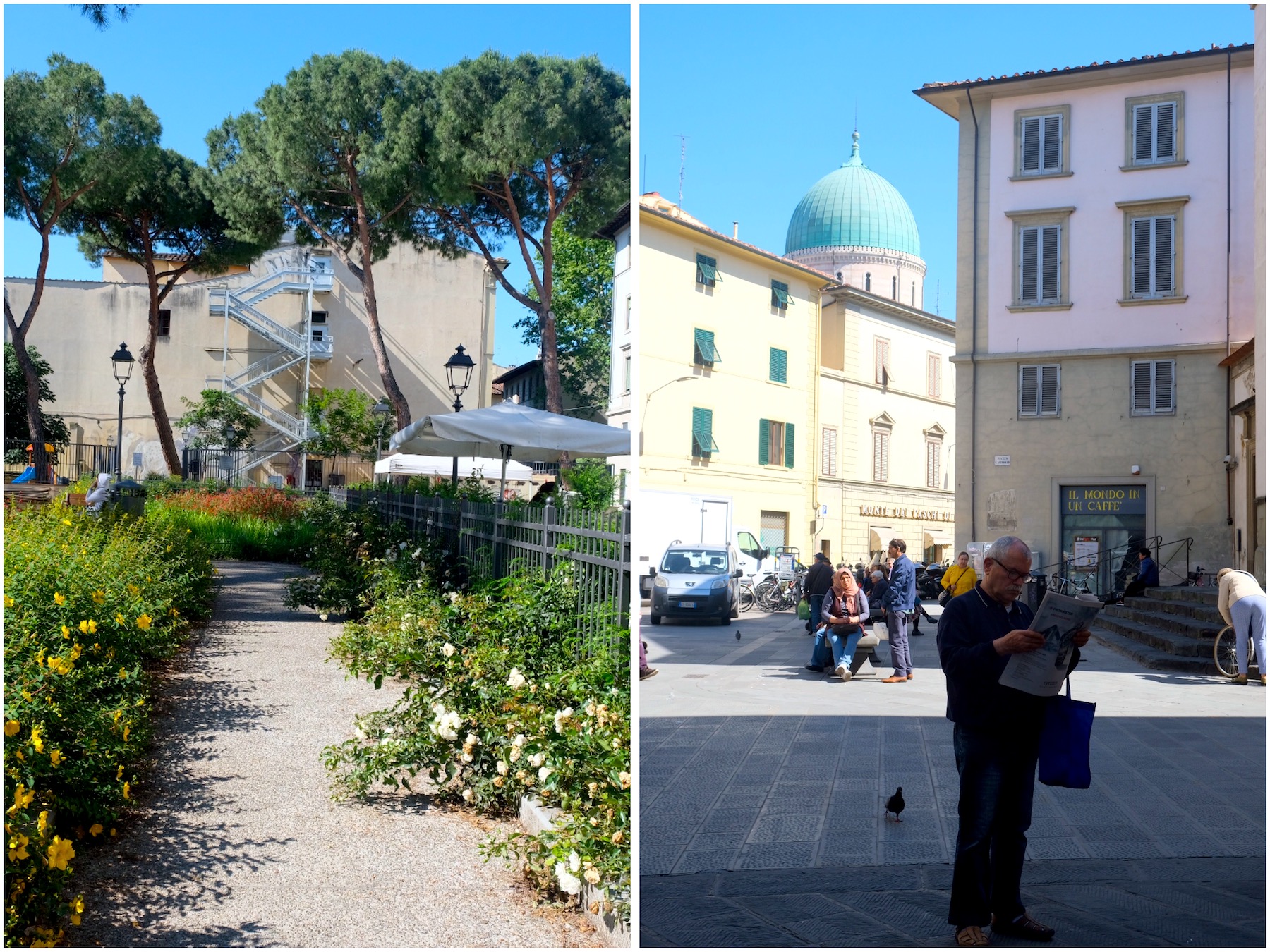 If I had to describe Sant'Ambrogio– designed by architect Giuseppe Mengoni when Florence was to become the capital of Italy and now in Piazza Ghiberti to an outsider, I would probably say something like… look beyond the white vans and parked trucks crowding the edge of the square-shaped marketplace and remember that once you step under the market's covered roof, the real fun begins.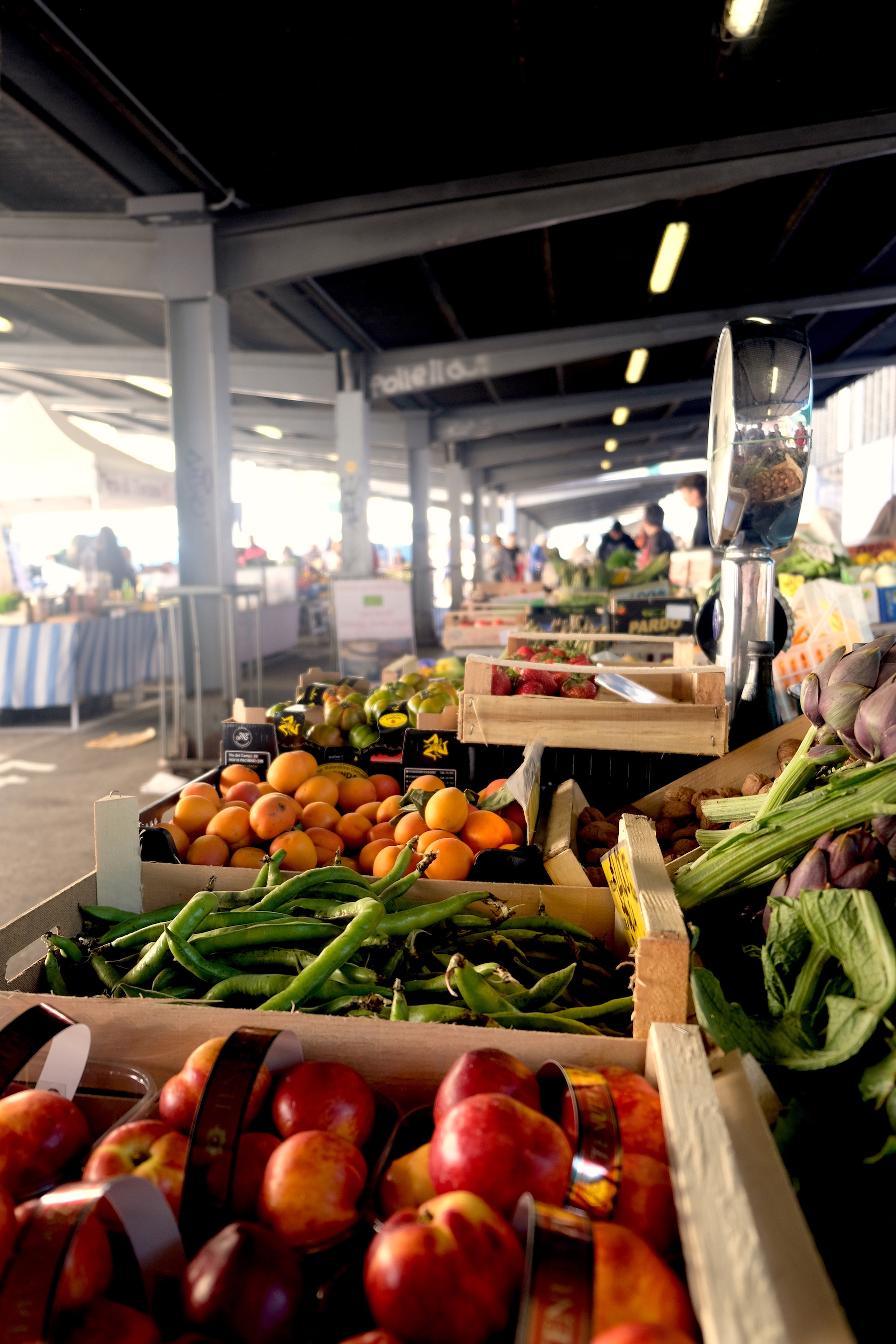 From the outside looking in, it can be quite chaotic at first.
A constant stream of sellers laughing and yelling all awhile bagging up fresh fruits and vegetables for eager buyers rustling in their bags for a bit of change. Also to be expected are a fair amount of nonni — Italian grandmothers whose elbows are sharper than a pair of stilettos and who will not hesitate to cut in front of you at the butcher if you aren't quick enough.
The first time I went on my own I was positively frightened, I did not know how anything worked, nor the measurements used to weight meats or cheeses and just mimicked badly what I saw in front of me.
Nowadays, Sant'Ambrogio's market (open every day except Sunday 7-2pm) is a happy place for Nico and me. We often come on Saturday mornings to pick up a few days' worth of food and see what's in season, and Ginger, our very hungry beagle, loves cleaning up the scraps left by harried market visitors. 
You'll find here a wide array of fresh fruit, vegetables, honey, meat, dried legumes, farm-fresh eggs, cheeses, fish, fresh pasta, nuts, bread and flowers and it's a great place to pick up things for your house (comforters, sheets). You can also pick up underwear and pajamas herethe old school Italian way. I also appreciate the market because it doubles as a human social interaction for those who spend a lot of time at home on the computer, ahem, like me.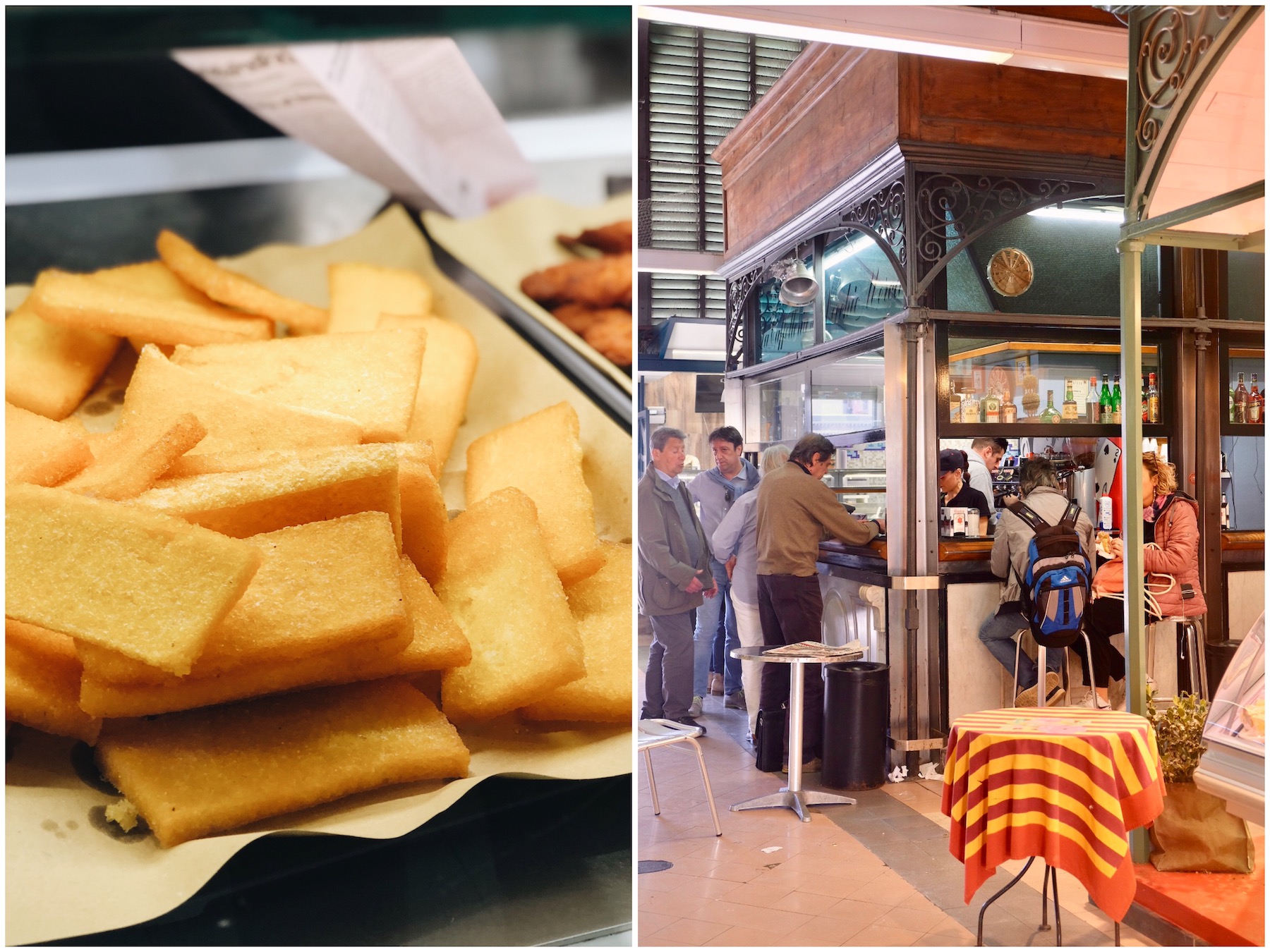 As for favorites within the market, I have been going to butcher Luca Menone's stand for years to pick up meat and dinner suggestions. With the arrival of Fabio Picchi's C.Bio has meant that I've never had to look for bread anywhere else.
Semel, a shoebox sized panino bar, has always proven to be a great spot for a quick gourmet bite after a weekly shop and this is why I was so happy to come back with someone from the area to see what they love about a place I've gotten to know so well.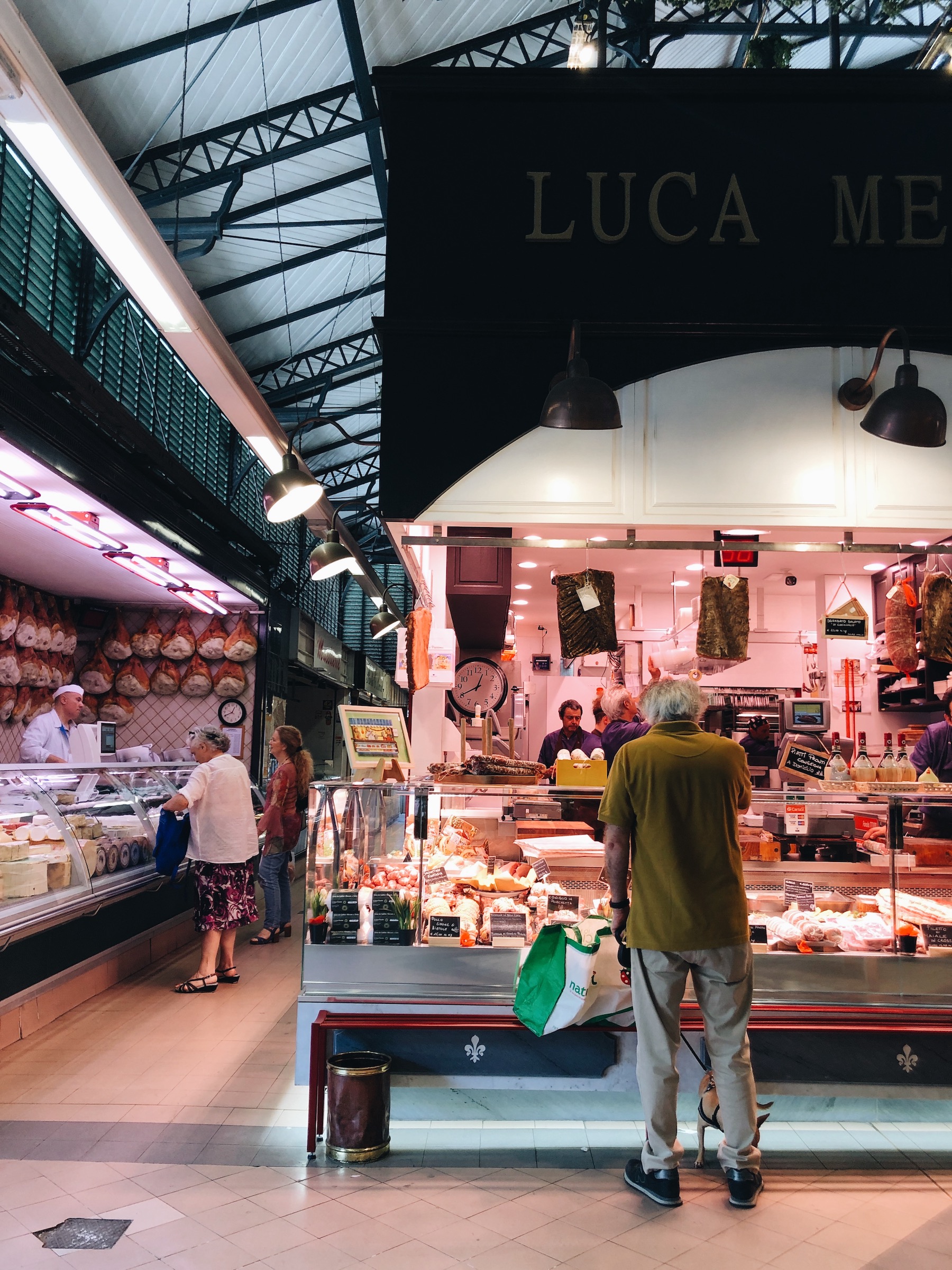 I met Manuela through an experience organized by bespoke tour operators Dragonfly Tours. They organize high-end individual vacation packages for intrepid travelers who are looking for unique experiences around the boot; everything from a truffle hunt in the heart of Tuscany's picturesque "Crete Senesi" area to discovering the roofless ancient abbey of San Galgano, one of my personal favourite places to go, but difficult without a car. This particular excursion included a market tour in Sant'Ambrogio with a local followed by a cooking class at their home, and of course,  lunch!
As per usual I had to pepper Manuela with questions as soon as we stepped foot outside of her door near Sant'Ambrogio square. Tall, elegant with a shy smile, she shared with me that she is a Florentine with an Egyptian mother and an Italian father. I asked if she had always lived in the center of town and she shared that this was the second time she had been back in the heart of Florence, after an almost decade long break in the countryside while raising her son.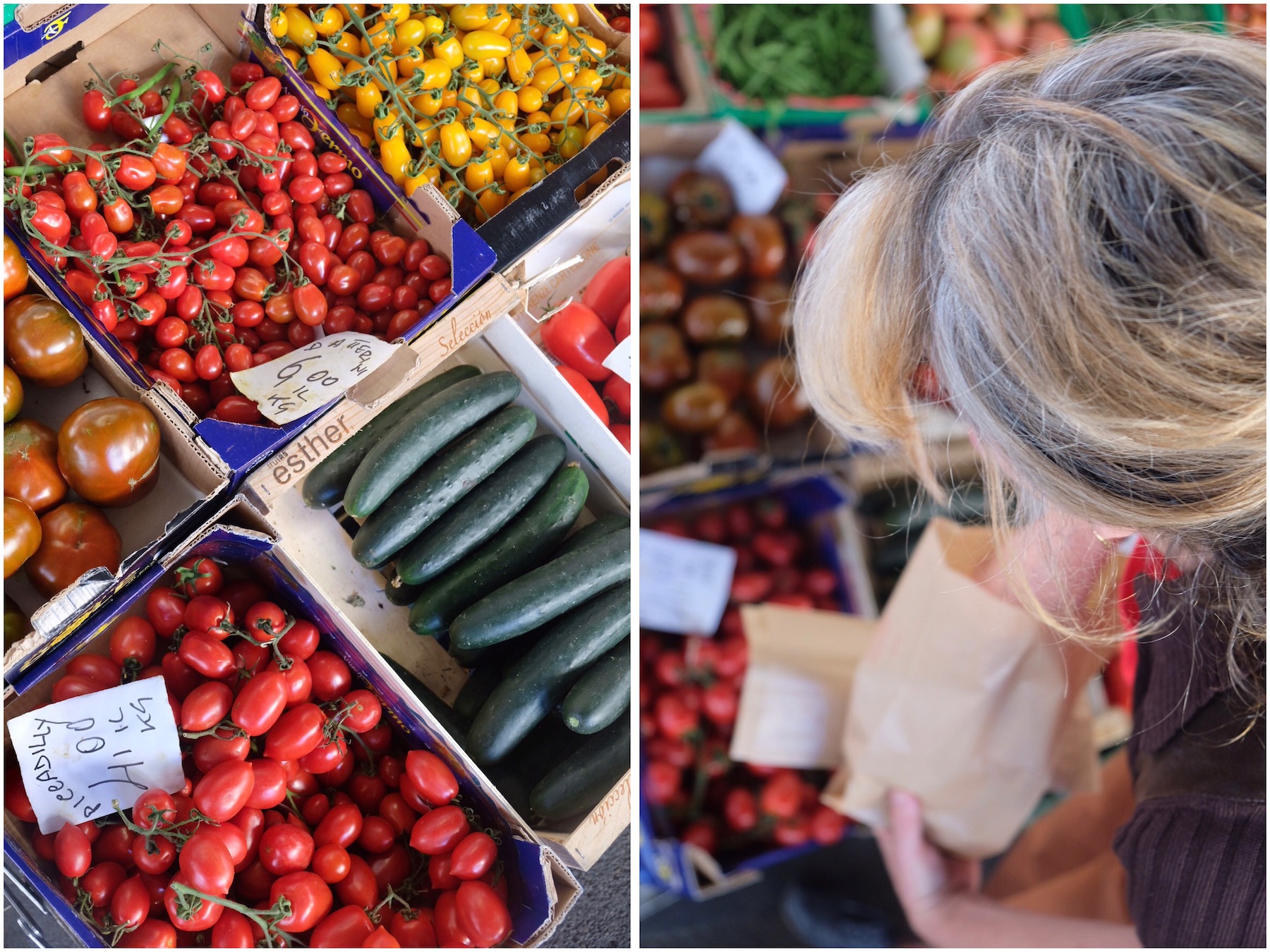 We quickly arrived to Sant'Ambrogio and immediately started to pick up a few items we needed for our lunch. As Manuela chatted kindly with the fruit & vegetable sellers, I took stock on what was offer. Plump tomatoes (yay finally in season) and large eggplants, we grabbed cucumber, fresh basil before heading inside to have a look around where the butchers, fish-mongers and cheese sellers were located. Manuela too goes to Menone the butcher and took the liberty to show me his new covered terrace where one can enjoy lunch above the market place in a truly unique vantage point.
Manuela explained a bit more about Fabio Picchi, a famous restaurateur who has several restaurants in the area (Trattoria and Restaurant Cibreo, a caffe, Teatro del Sale and Cibleo. C.bio is where we were headed next, an organic food shop that is Picchi's pride and joy and my absolute favorite place to get bread and drool over the "piatti pronti" (read to eat) daily take away dishes on display.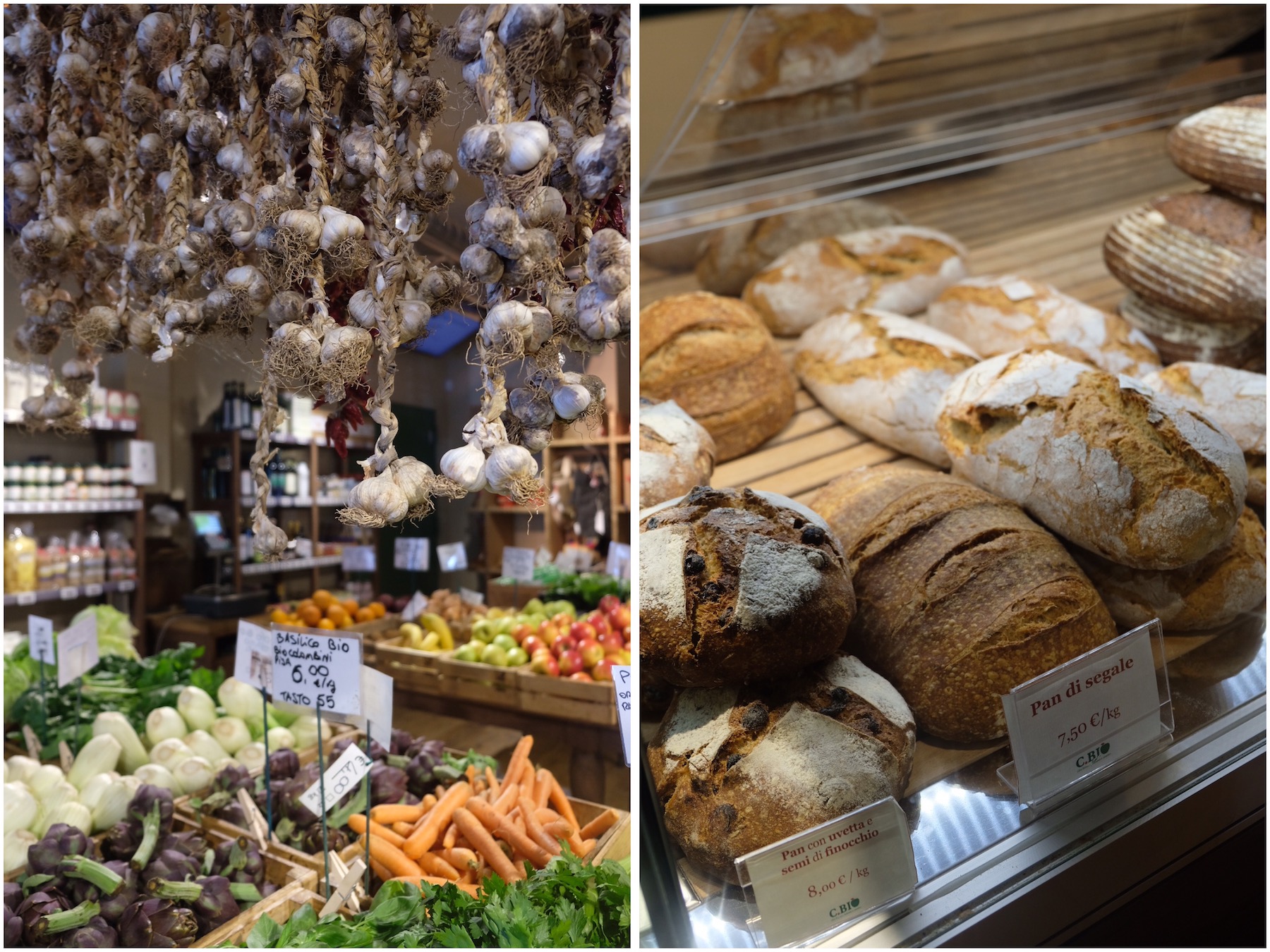 There is something quite exhilarating about getting a peek at a stranger's home in the city you live and often in Florence it can be a real polished gem hidden away on dusty, quiet streets. After we opened her door my breath was taken away, her apartment was a large, airy and bright spacious home with windows opening up to the view below and large kitchen with plenty of natural light. "Do you want to see the terrace" Manuela asked? To which I eagerly said yes please.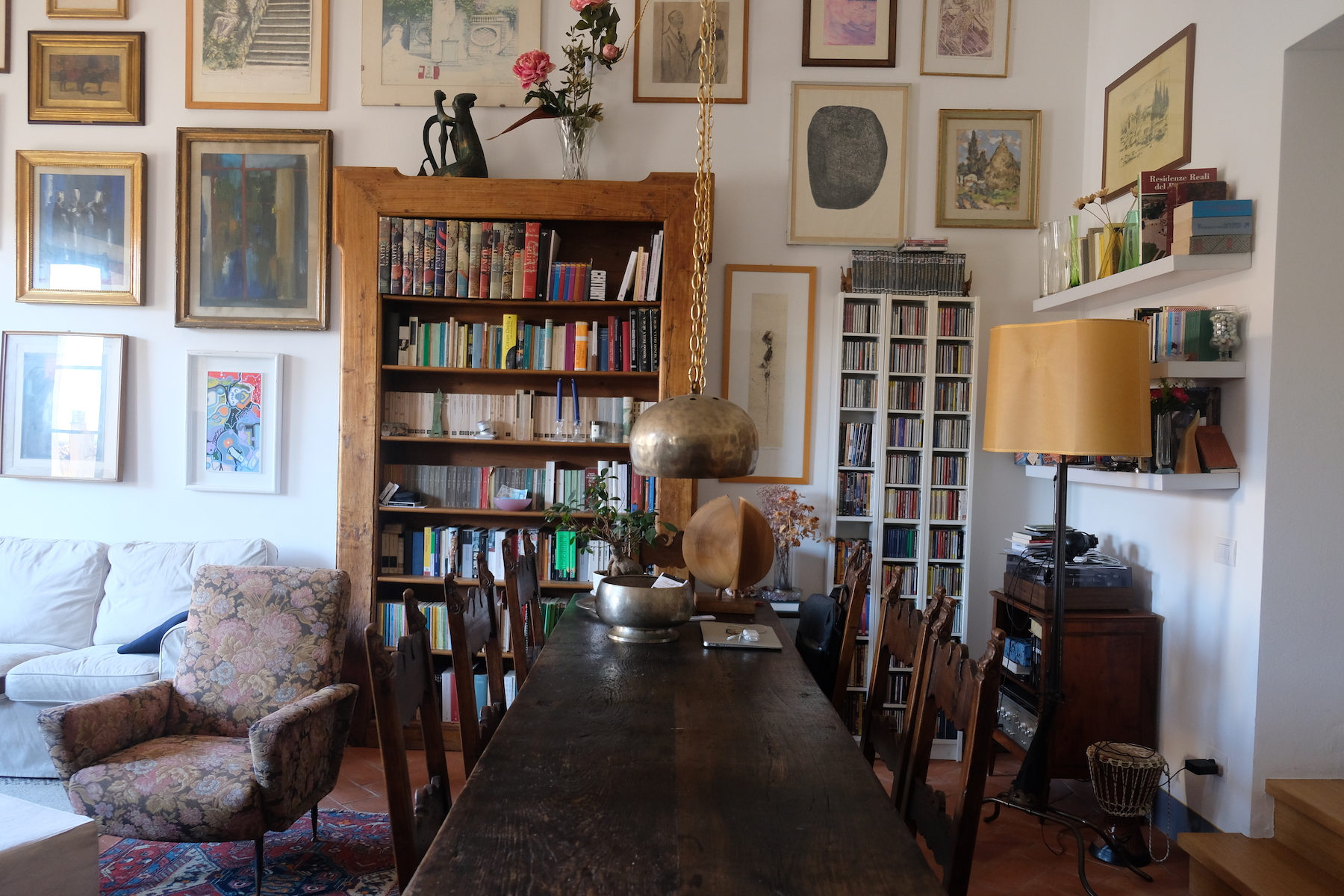 And so, up we went up a windy set of stairs to one of the most awe-inspiring views I have seen in a long time. To put it in simple terms, If I could give up my place in the Oltrarno and just camp out in Manuela's terrace like a vagabond, I absolutely would. It  offers 360 degree views of the city and the Florence synagogue feels so close like you could almost touch it. Manuela's husband even built a small elevator to bring up food and drink so that no mishaps could happen on those pretty–  but dizzy steps.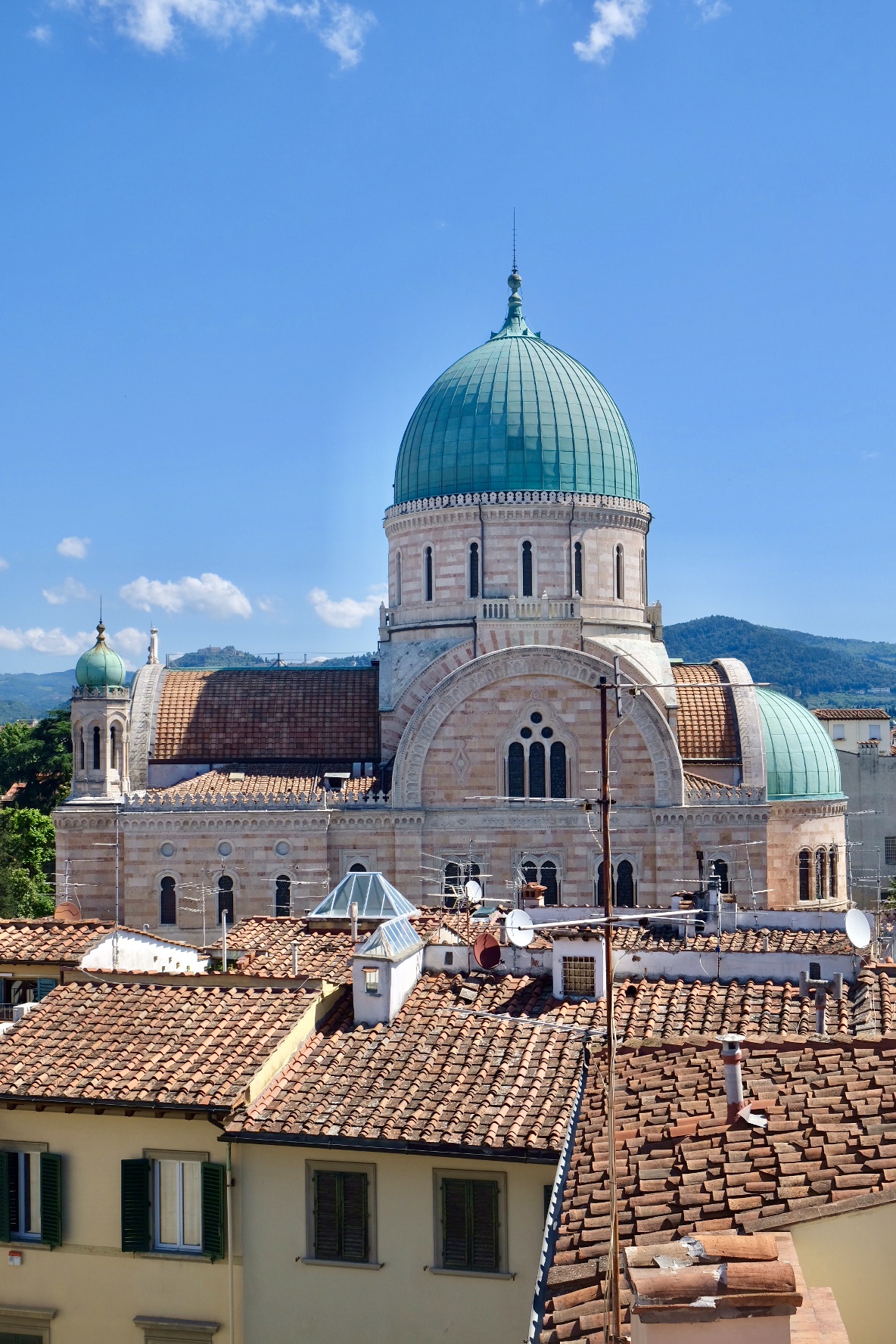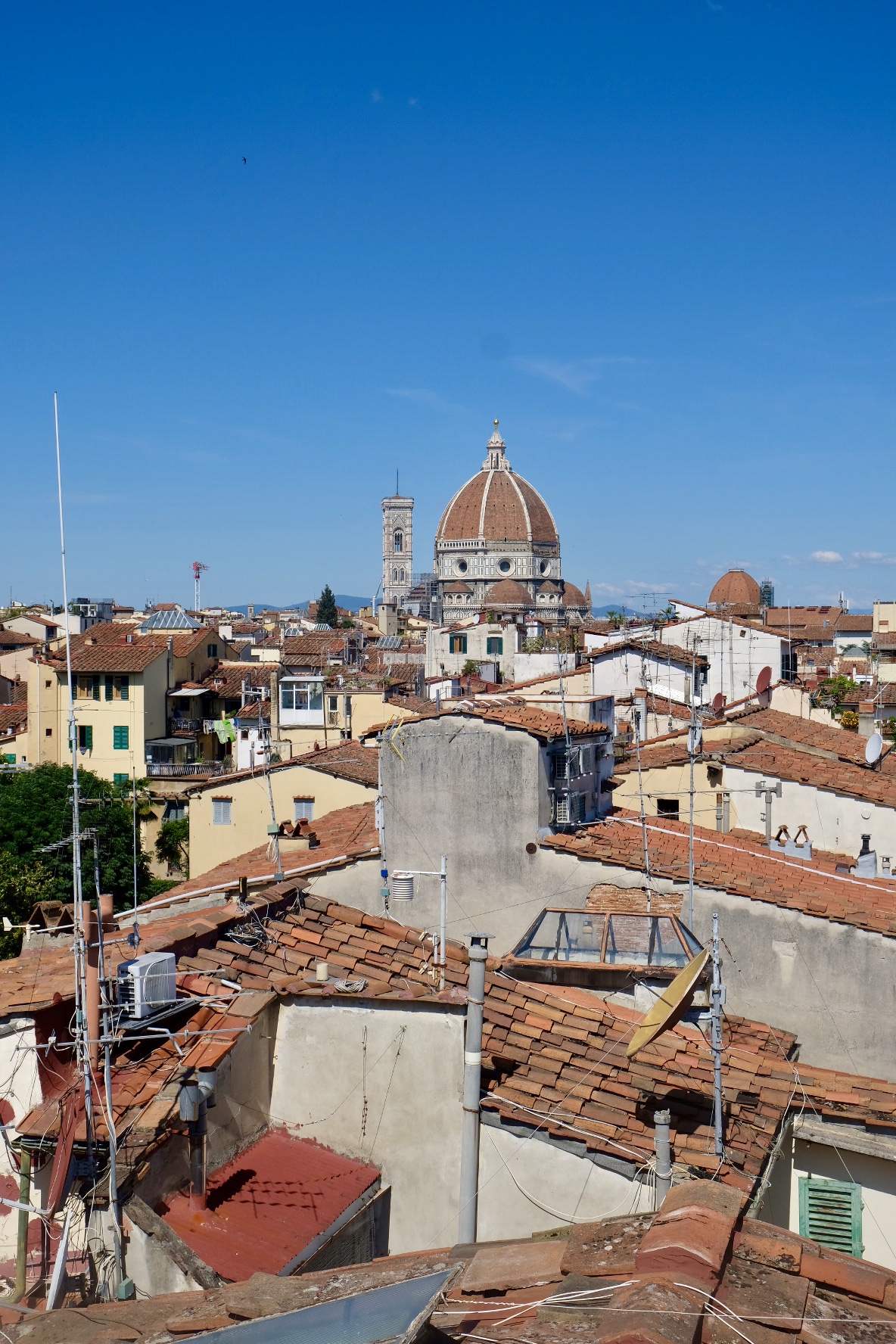 We went back downstairs and started cooking, but more so talking. I was so curious to find out more about her, why she loves to cook with strangers like me and just get a little insight into another person's life. Before doing this when Manuela was still living in the countryside she managed a small hotel where she was put in charge of  the kitchen making simple dishes for guests. She found that doing this was her true passion, making people happy through food and sharing stories. 
For our fist dish, we soaked stale bread in water, chopped cucumbers, onions, tomatoes, and ripped basil for our panzanella salad – a typical traditional Tuscan summer dish that utilizes the "cucina povera" mentality of nothing going to waste, especially not bread that has gone stale.
Soaking the bread shouldn't take longer than 5-10 minutes, during which you should chop your vegetables. The next step is squeezing the water out of the bread and crumbling it into small pieces in a big bowl and adding your veggies.
We dressed it as we would a normal salad; with extra virgin olive oil and red wine vinegar, seasoned generously with black pepper and salt before putting it into the fridge to rest (at least 30 minutes).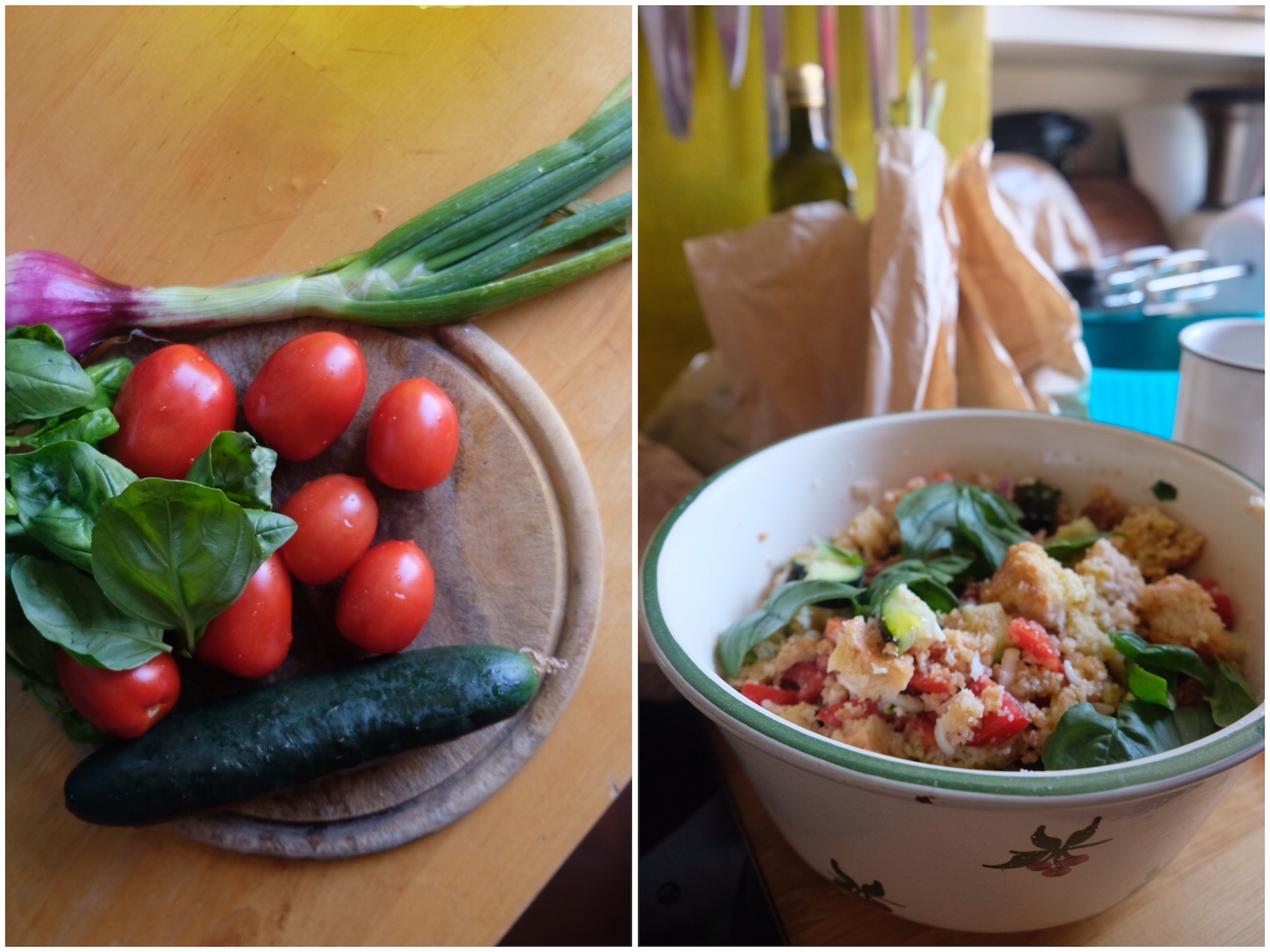 Next up was out gnudi, a funny-named Tuscan dish that literally means "naked" because it is actually just the filling of pasta without the actual ravioli shell. We mixed spinach and ricotta that had was drained ahead of time to lose its water, tossing some fresh parmesan and healthy pinches of nutmeg and a little flour.
We then formed our gnudi into spoonful-sized balls and set aside to rest before throw in a pot of boiling water. The sauce for our gnudi was a simple, but very fragrant sage and butter concoction – with the added bonus of making your kitchen smell so very delicious.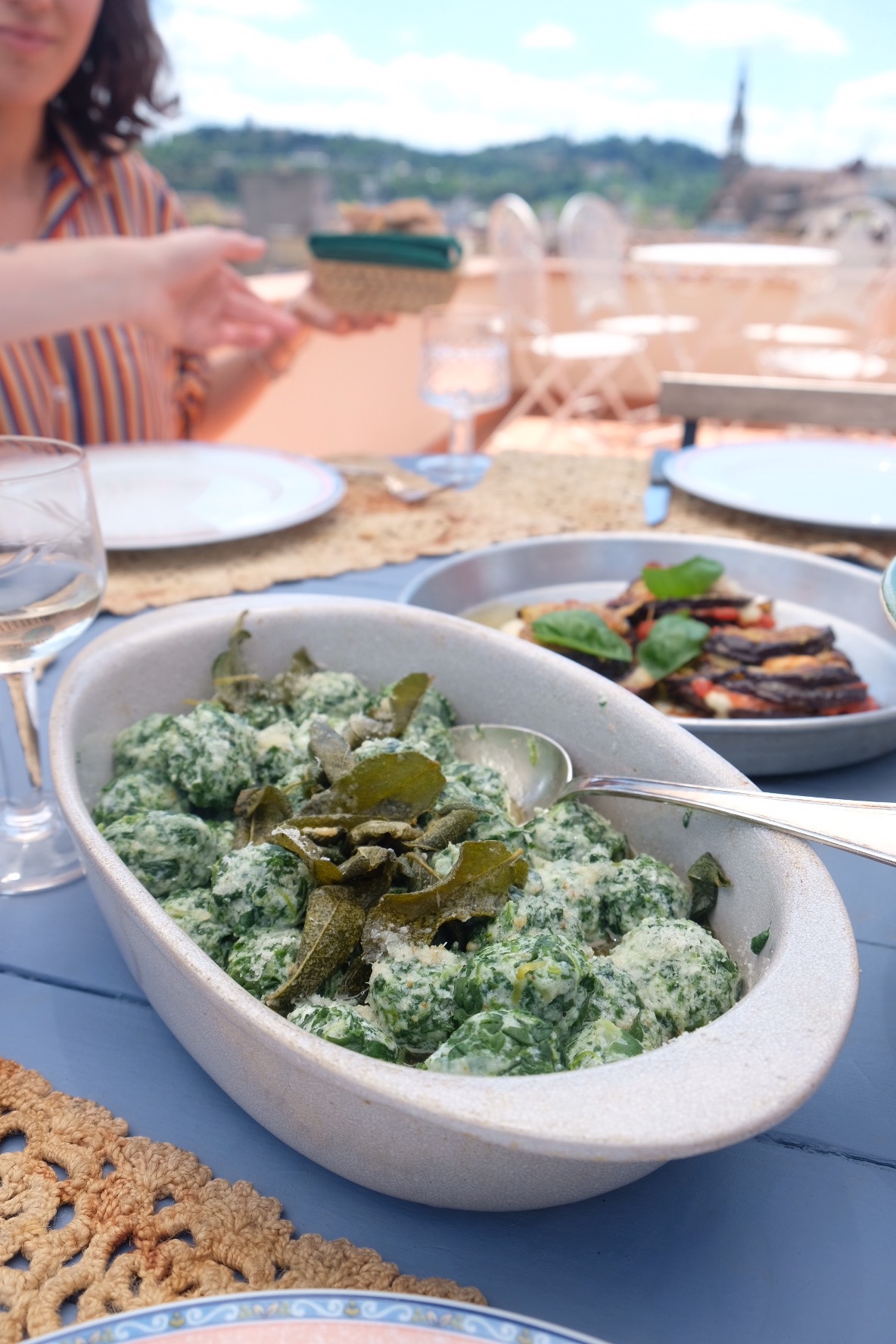 Manuela included single-portion eggplant parmesan dishes because "why not" (I love her logic) and after frying the eggplant on the stove, we set about making a simple tomato sauce from fresh basil, canned whole tomatoes, onion and garlic. After, we created towers of eggplant, mozzarella, tomato sauce, parmesan and basil to then pop in the oven.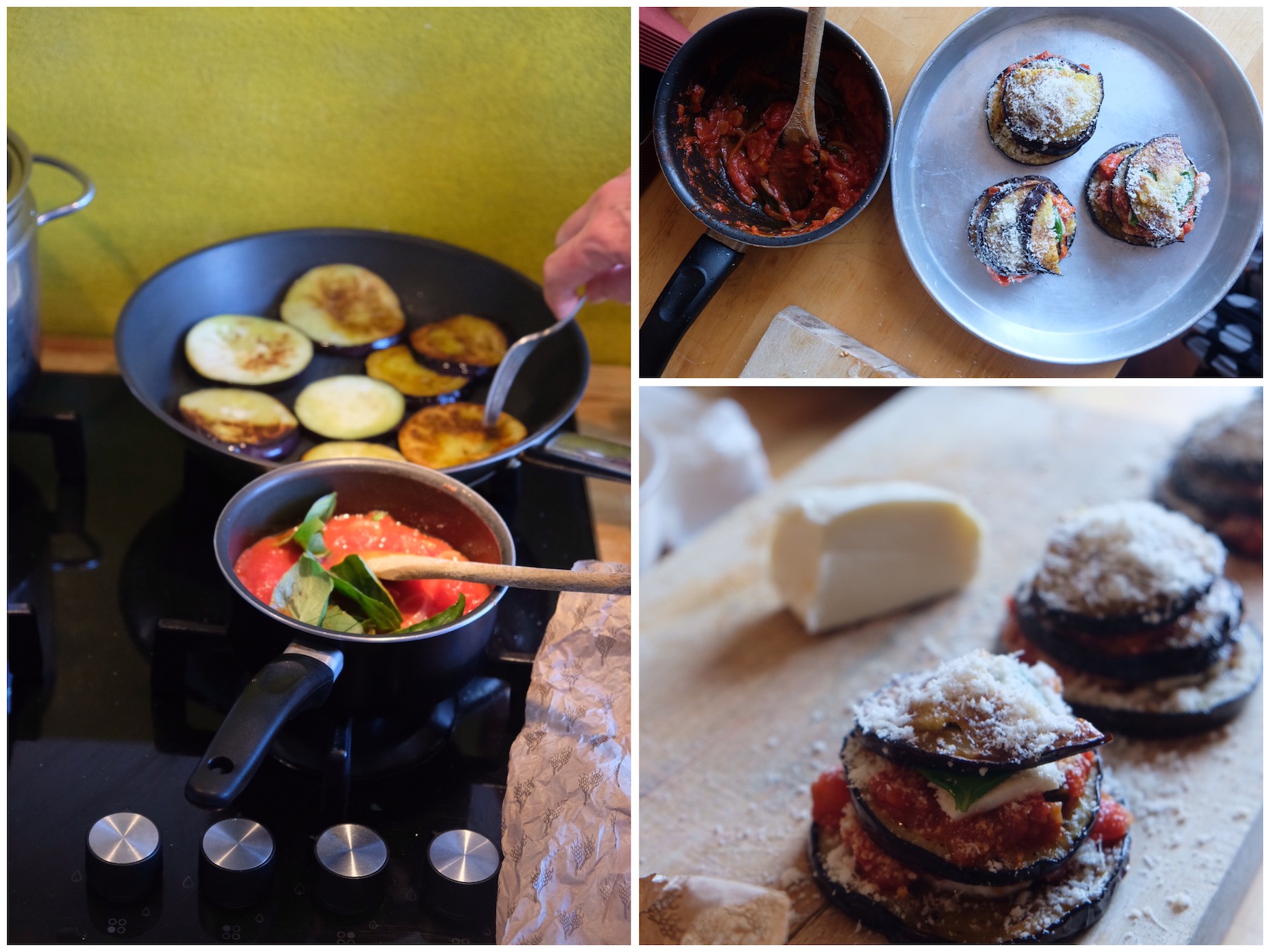 Last but not least was a simple crema pasticceria, a simple Italian pastry cream with lemon zest, eggs, sugar and milk, cooked slowly and then later used to spoon on top of cake and garnished with fresh berries.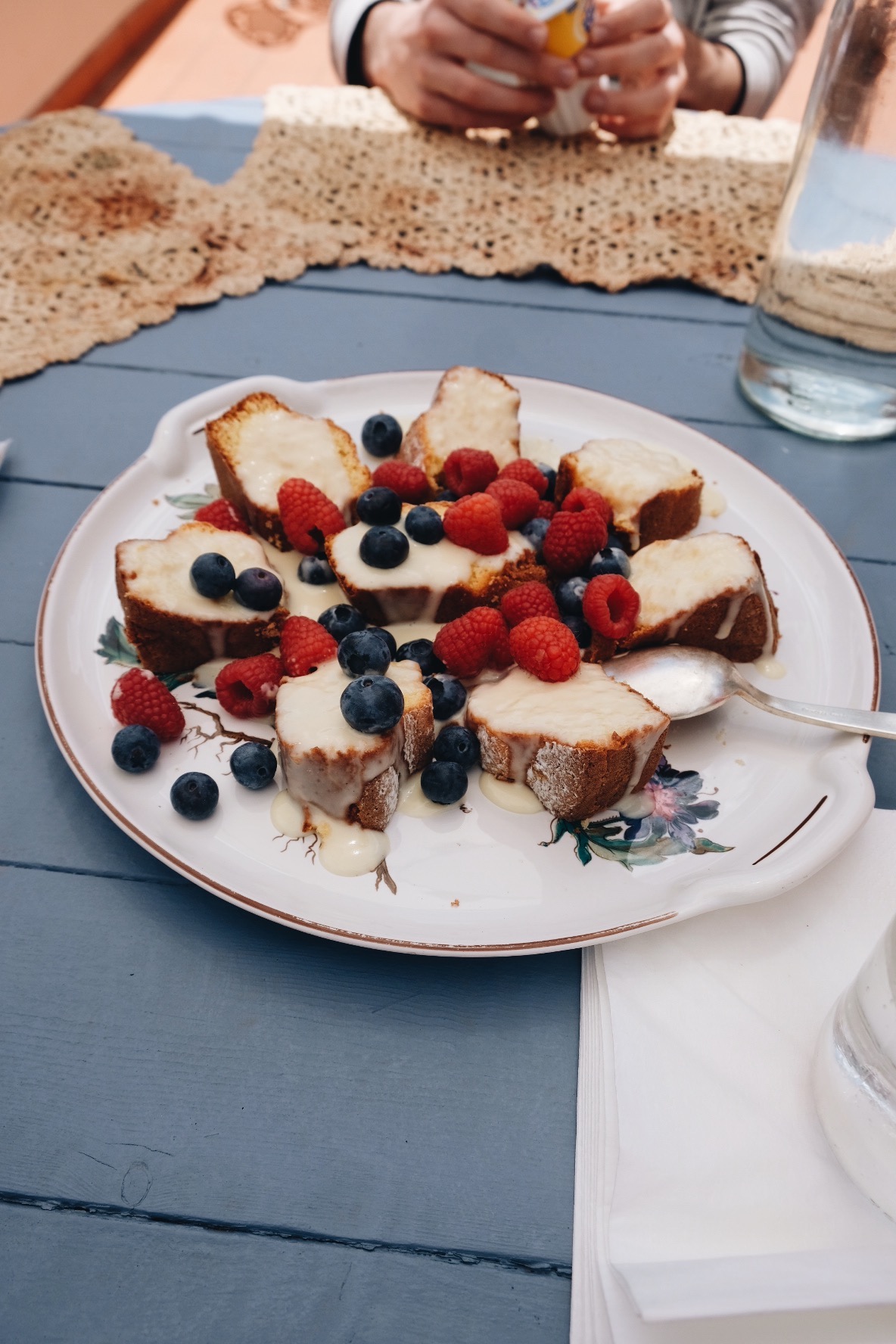 Time flew by in the kitchen as we swapped stories and made our lunch which we ate with Manuela's husband and son on the terrace as a gentle breeze coolest us as we dug into the wonderful food. It was such a lovely experience with a lovely person, something I would absolutely do again in my own city and hopefully in many others.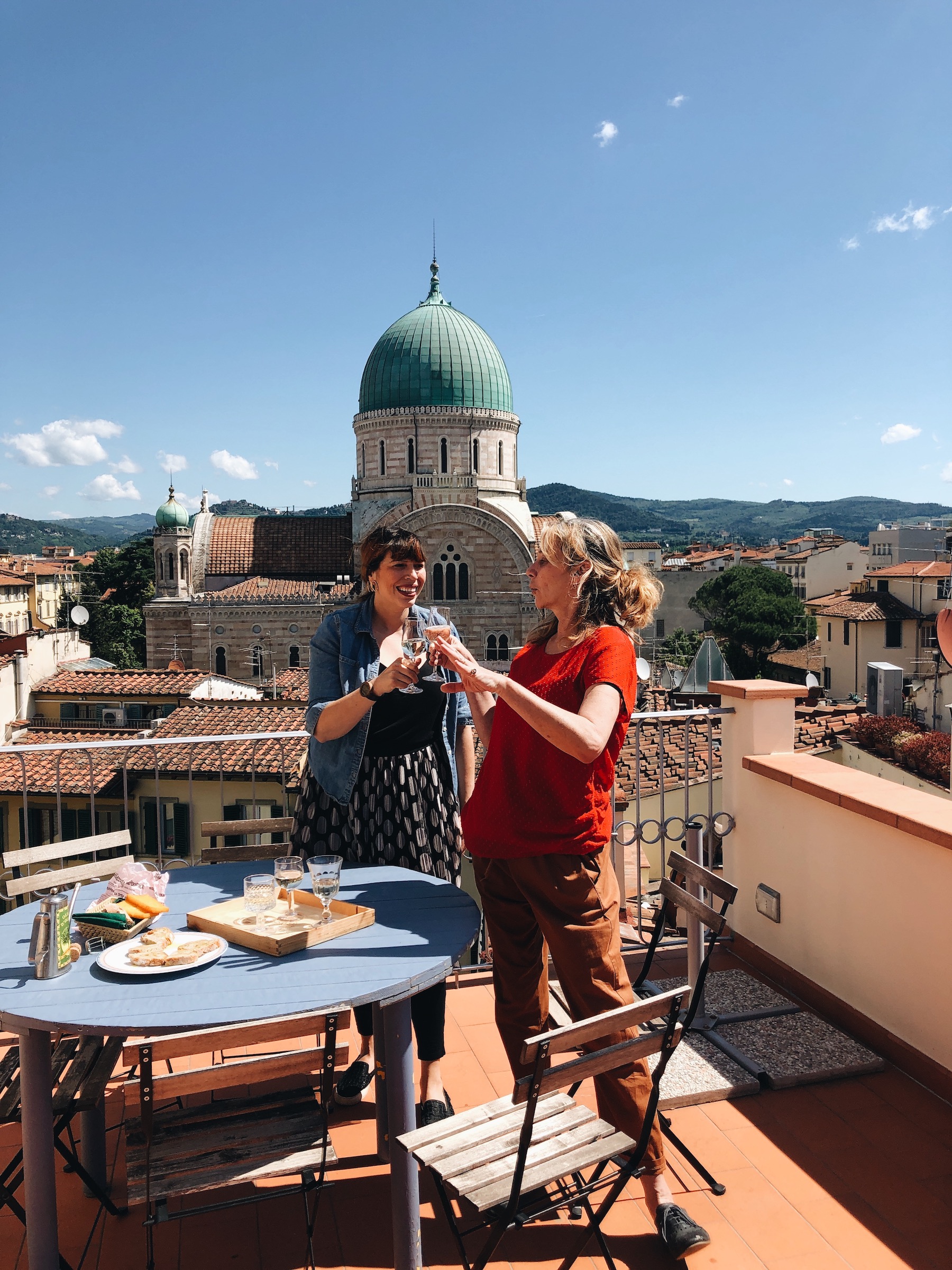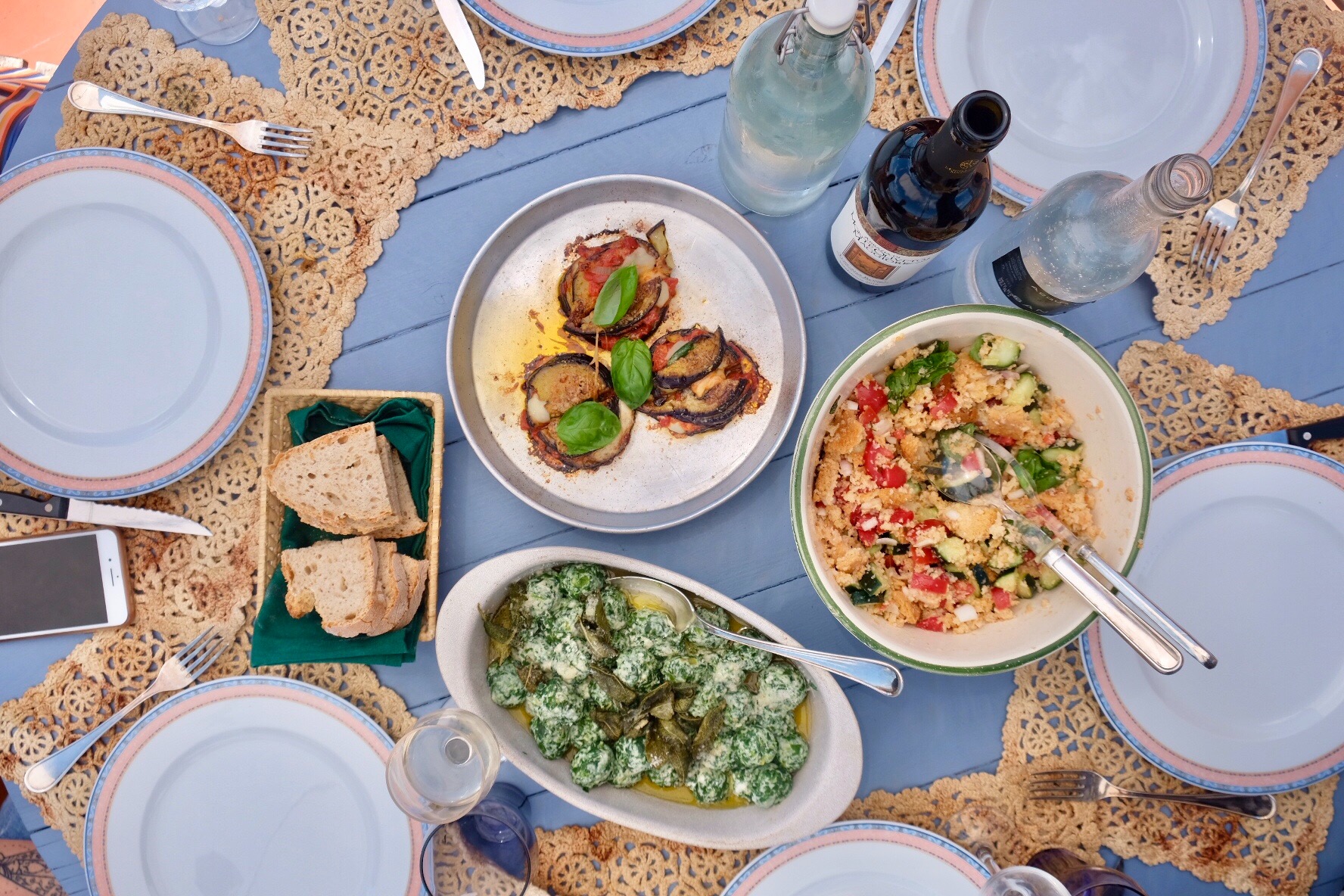 Tour details:  
The cooking class plus market tour lasted from 10-13:30pm (and I might have stayed a little longer because Manuela was just that cool) and can be added to complete vacation packages designed for foodies by Dragonfly's expert local team. If you're curious about what's it like in Rome, my friend Livia Hengel tried out their market-to-table cooking class recently and here is her experience.  
This is a sponsored post but I stand by everything I do on this blog 100% and was happy with my experience with Manuela and Dragonfly Tour operators, in fact have a look at their reviews on Tripadvisor which I found super detailed in regards to how people enjoyed their Dragonfly experience!