When it comes to people I know with an open heart and a generous spirit, Sarah Fioroni from the Tuscan medieval hamlet of San Gimignano always comes to mind.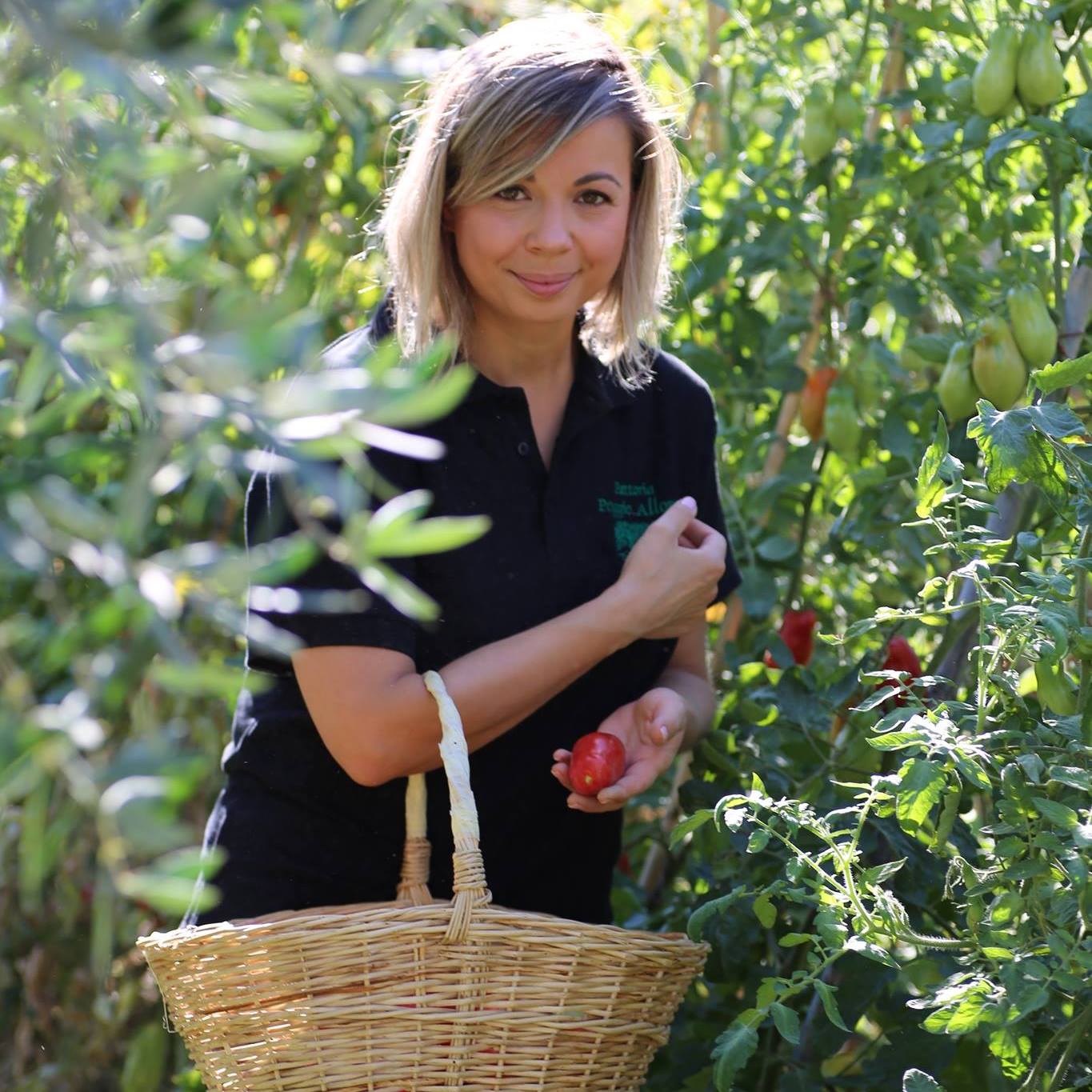 I think about all of the memories we've had over the years and there are certainly plenty to choose from. She showed us another, more human, side to the very touristy San Gimignano – the "medieval Manhattan" that many people just peek into for an hour or two at most during their Tuscany trips.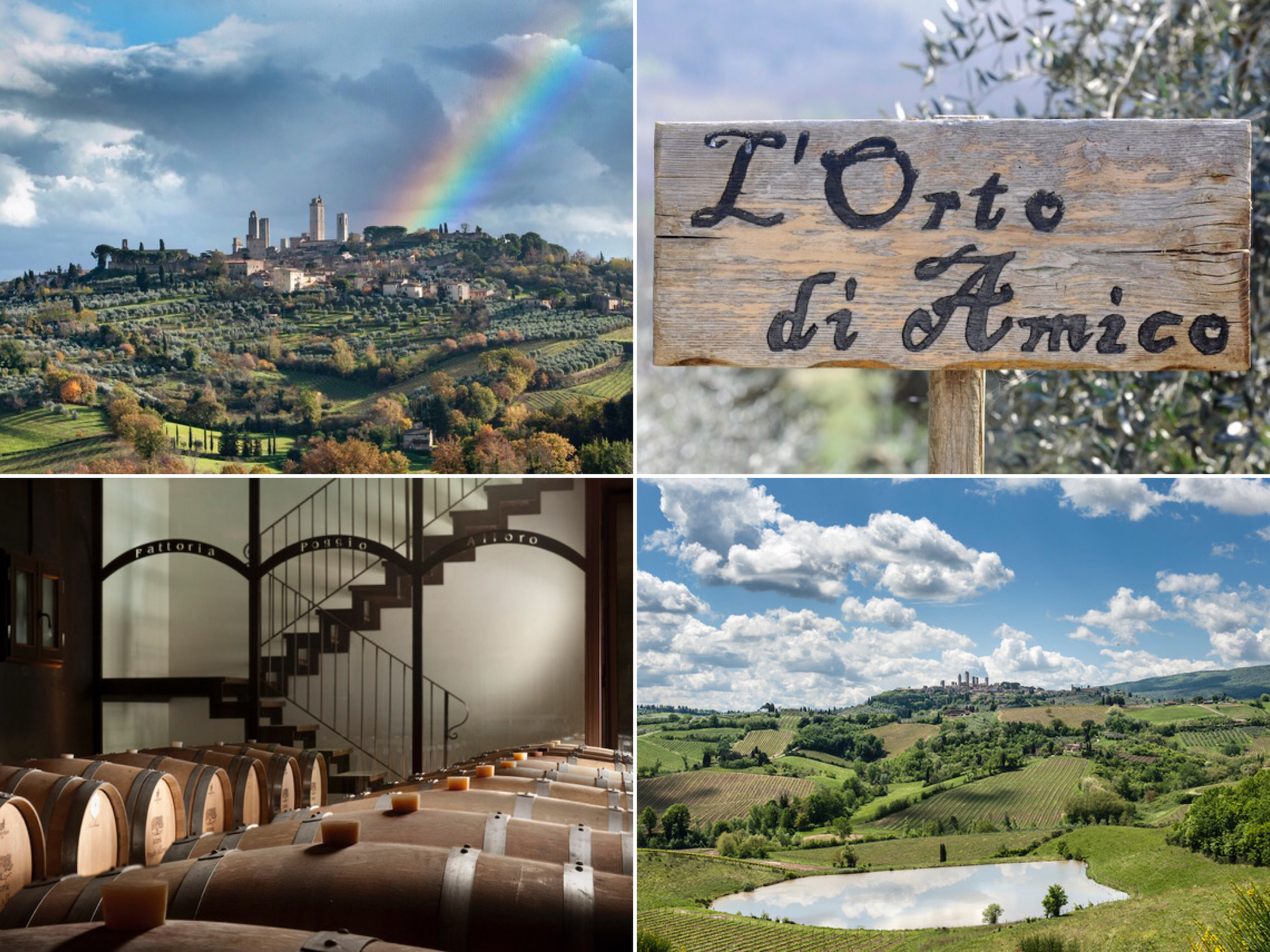 We've picked saffron together in the fields of her family farm, roasted steak over the fire and spent long lunches on the terrace overlooking the rich, verdant countryside. The view is extraordinary and best capturing in the hours of the morning, when a blanket of fog has nestled comfortably over San Gimignano's towers of stone. Her wedding to a fellow Tuscan Texan was pure magic – seeing her smile ear-to-ear as the wind whipped around their embrace that beautiful day was simply unforgettable.
Sarah and her family have always gone above and beyond for not only their friends but the thousands of people who have visited their farm over the years. These are people that work 7 days a week, 365 days a year. Animals need to be fed and emails answered, life must go on even if the future and financial security is so uncertain. 
People unfortunately won't be able to visit them in the near future as the coronavirus pandemic ensures that international travel remains at a standstill and none of us know when it will be restored.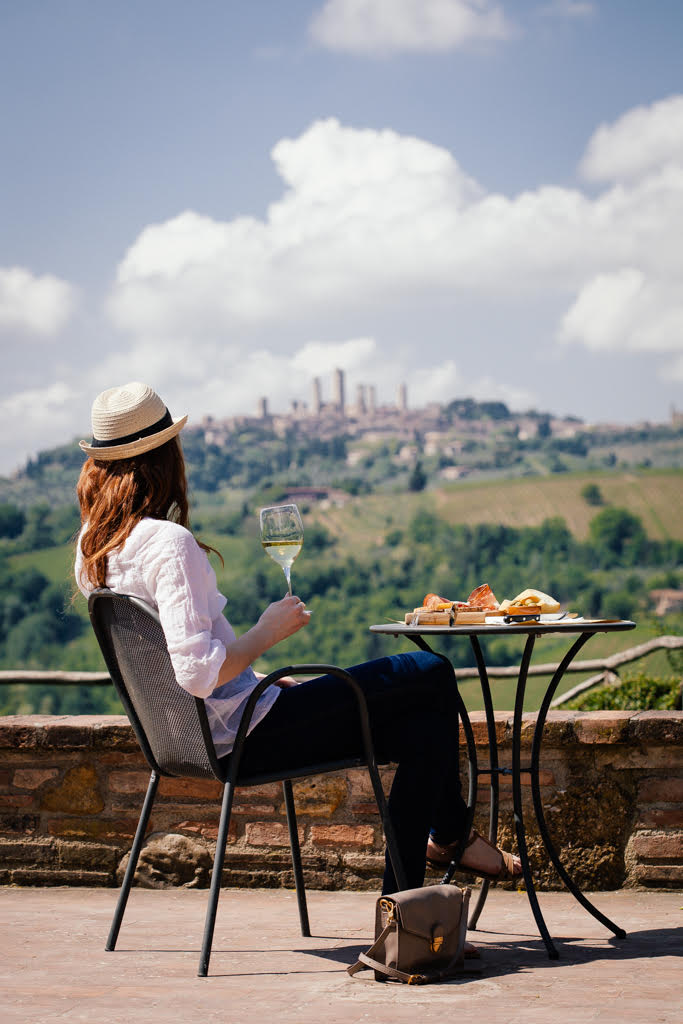 2020 was meant to be another busy year for them and the family is now hunkered down at the farm doing what they always have – harvesting crops, tending to their animals and attempting to keep spirits high during what is an extremely stressful situation for us all.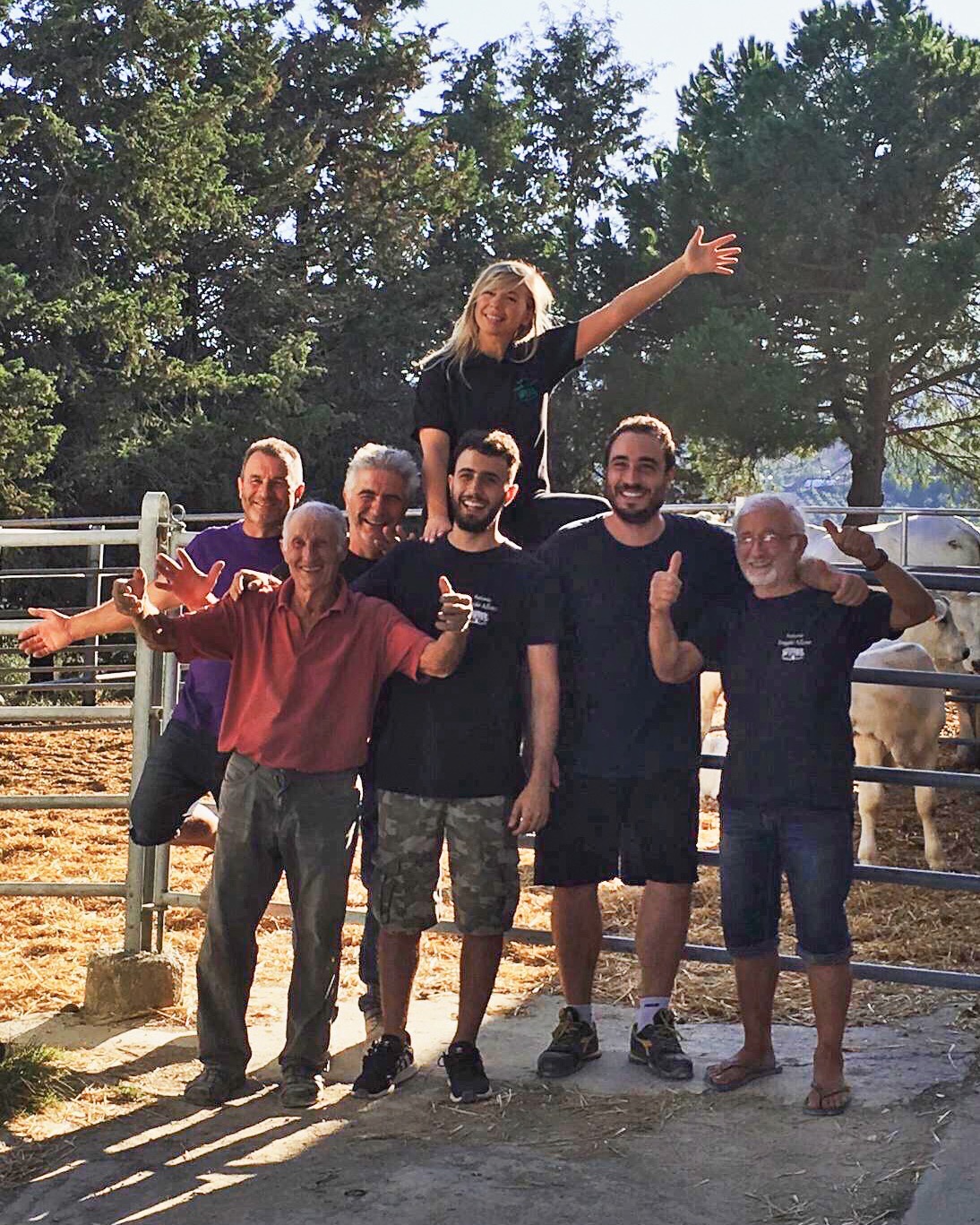 This is an important time to help support local businesses and places you love, but only if you are able to. I wanted to think of ways that people could help support the farm and purchase their products to be shipped internationally and luckily she has a newsletter with special boxes with wine and goodies that people can order online.
She generously sent us a package in the mail with tons of Poggio Alloro goodies to enjoy and we have based our meals around trying their organic lentils, quality spaghetti, aprons, olive oil and wine. These two months of lockdown have renewed in Nico and I a love of cooking together and using literally every single damn thing in our fridge – waste be gone!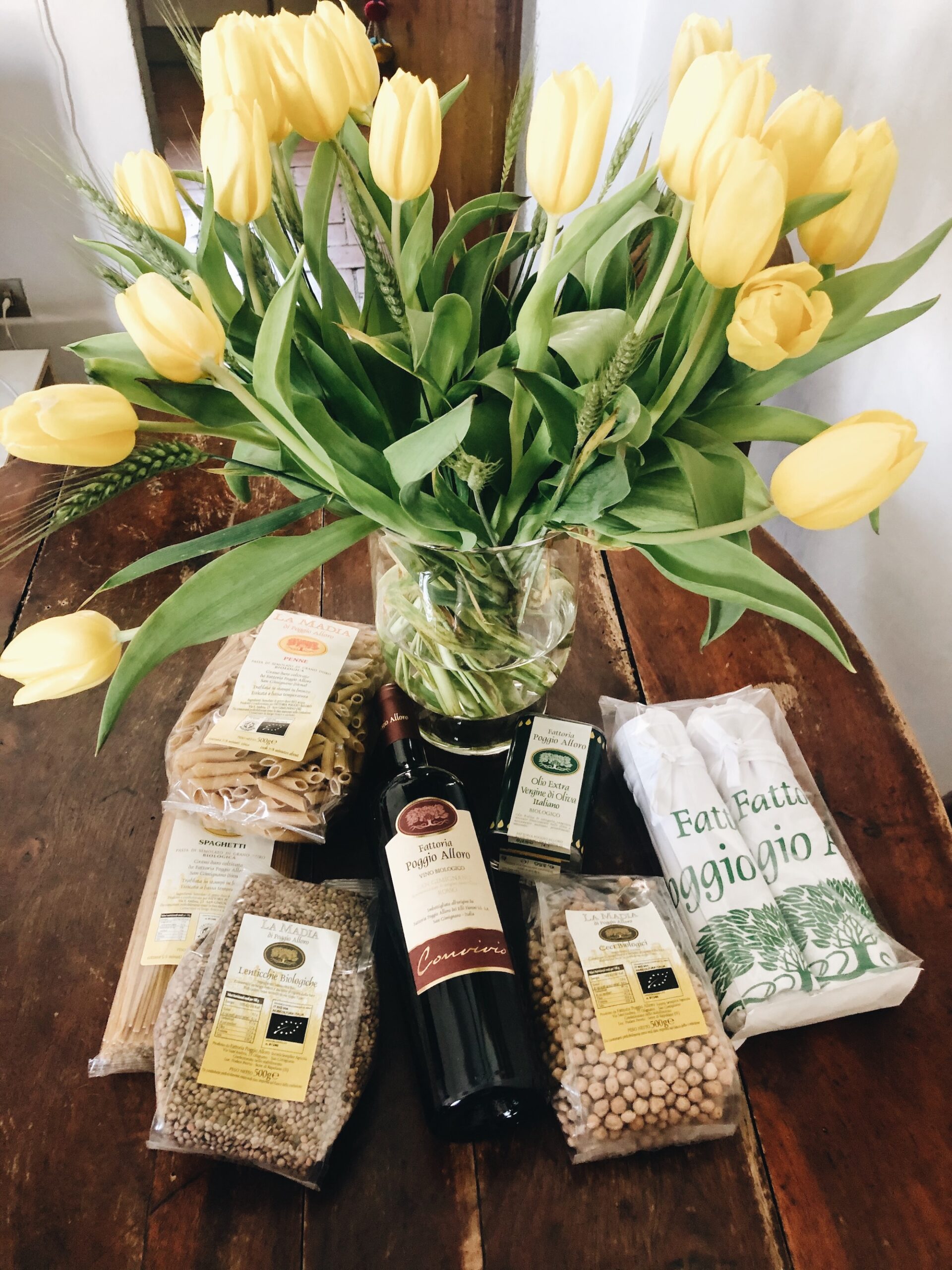 I asked Sarah to share a few words on how she and her family are coping right now and this is what she said.
I was born and raised in a beautiful farm just outside of the medieval town of San Gimignano in the beautiful rolling hills of Tuscany. A sustainable and organic, family owned farm and winery called Fattoria Poggio Alloro. 

As Italy shut down, tourism business was over. Reservations cancelled, no business prospects, heavy bank loans, sleepless nights thinking of our amazing 30 workers at home with no work, an omnipresent uneasy feeling permeates us all.

Then I started to think about the words of Albert Einstein

 "Without crisis there are no challenges, without challenges life is a routine, a slow agony. Without crisis, there is no merit. In crisis emerges the best of each, because without crisis all winds are only mild breezes".  

So, this crisis could be the opportunity for a change and to do even better and I forced myself to look at the positive side of all this mess. One day when everything in Italy was still looking dark and the news was scary, I finally put my head up and started to observe what was going on around me.

My father is 85 years old, my mother 80 years old, my uncle and aunts and older cousins, all simple farmers, they were just going on with their normal routine of daily work. Their tranquility, calmness and strength make me gain my confidence back. I asked myself who am I to get lost in this way if they don't? 

With patience and hope, we will all get out of this together, learning and loving each other and making the best out of each day. 

Which was our secret to survive to this lockdown? Definitely drank a lot of wine, and of course eating amazing tasty organic and seasonal farm products, supporting other small local business anytime it was possible and showing love for what we are doing with honesty and respect.

Side notes: This has been written with from my point of view and personal experience during the quarantine. My words are with all the respect to the ones that suffer the most and lost their loved ones during this hard time.
Sarah was also gracious enough to share her recipe for Ribollita from her cookbook, a traditional Tuscan dish made with leftover bread, kale, beans and great olive oil. It's a crowd pleaser at our home and can fit almost any diet.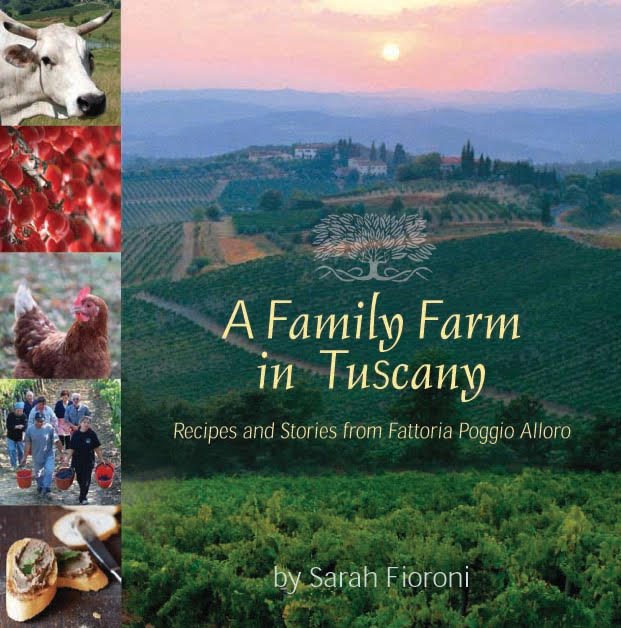 Zuppa Ribollita  
Ribollita Soup 
The traditional Tuscan Ribollita soup has so many versions all over Tuscany. This is the recipe we make at the farm.
Serves 6 
4 (15-ounce) (425 g) cannellini beans, if you use dry cannellini beans remember to soak in warm water 8 hours before
1 cup (240 ml) extra-virgin olive oil

2⁄3 cup (100 g) chopped red onion

2 celery stalks, cut into 1⁄2-inch (1.5 cm) diced
2 carrots, cut into 1⁄2-inch (1.5 cm) diced
1 (10.75-ounce) (310 g) tomato puree 
1⁄3 cup (80 ml) plus 3 cups (720 ml) hot water
7 ounces (200 g) black kale 
8 ounces (225 g) Tuscan bread (a couple of days old) sliced 1⁄2 inch (1.5 cm) thick (if not available chose white bread or French baguette, sliced and toasted)
Instructions
Cook the cannellini beans in a large pot full of water for 30 minutes until soft. Puree the beans in blender until very smooth; set aside. Heat the olive oil in a heavy-bottomed, 6-quart
 (6L) saucepan over medium-high heat.
When oil 
is hot, add the onion and cook, stirring often, until wilted and transparent, about 5 minutes. Add the celery and carrots and cook, stirring often, until the vegetables are lightly browned, about 10 minutes.
Add the tomato puree, then rinse the can with 1⁄3 cup (80 ml) of hot water and add the remaining puree to the pot. Stir to blend. Tear the stem from the kale, then tear the leaves into bite- size pieces and add to the soup. Simmer for about 10 minutes. Add the pureed beans and stir to mix well. Add the remaining 3 cups (720 ml) hot water and simmer for an additional 30 minutes. 
Remove 2 cups (480 ml) of the soup and set aside. Add the bread slices to the pot and cook at a brisk simmer for 15 minutes. Remove from the heat and stir to blend the bread well. Set the soup aside for about 15 minutes, then check the consistency. If it is too thick, add all or a portion of the reserved soup. Reheat, if needed, and serve hot with a drizzle of extra virgin olive oil and a slice of red onion.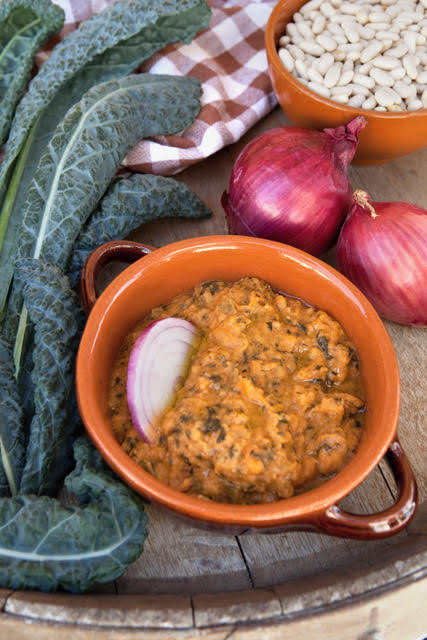 May Offers from Poggio Alloro – A Taste of Tuscany Direct to Your Home!
For those interested in trying Poggio Alloro's farmhouse products for either themselves or to gift their friends or family – here are a few options going on this May. To order, please email Sarah at [email protected].
In addition to these three special boxes, anyone can order their favorite wine mix and match. There are offering a 5 % discount on cases of 6 and a 10% discount on cases of 12, 24, 36 or more. This is for the US market, only, but they ship worldwide so email them regarding shipping costs and details.
CHEF BOX An amazing selection of our 10 great products! 
1 can of extra virgin olive oil 500 ml, 1 balsamic vinegar 250 ml, 1 flavored balsamic glaze 150 ml, 3 assorted pasta, 1 saffron 0,10 gr, 1 mix flower honey 0,40 gr, 1 apron, 
1 soft cover cook book " A Family Farm in Tuscany" by Sarah Fioroni. 
Value €140,00                          
Now only €115,00 including shipping 
Save €25,00 
Price for the USA only, valid until May the 31st, 2020
The "I WANT IT ALL! " Box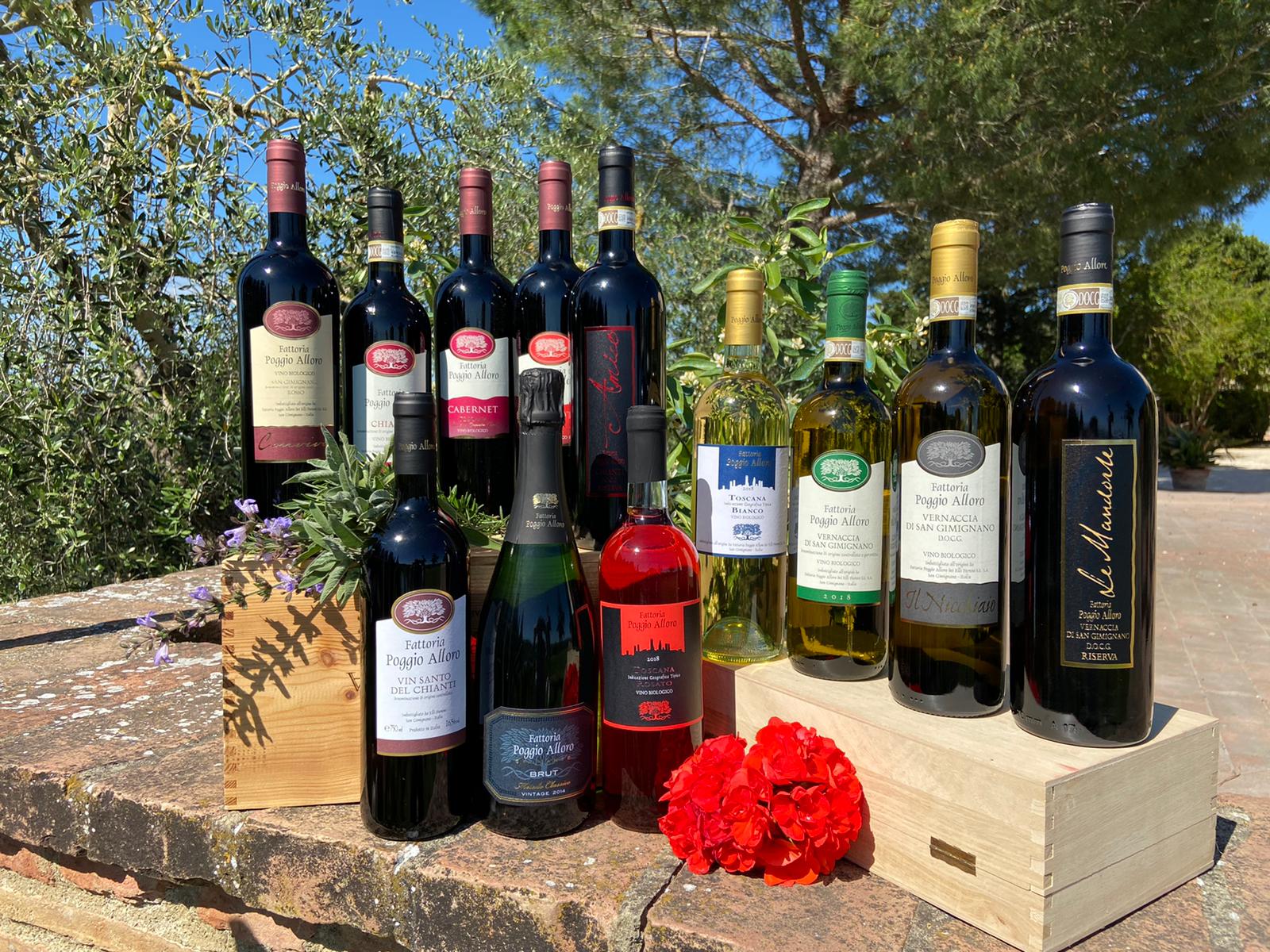 1 Bianco di Toscana, 1 Vernaccia di San Gimignano DOCG ,  1 Vernaccia di San Gimignano DOCG " Il Nicchiaio", 1 Vernaccia di San Gimignano DOCG Riserva "Le Mandorle", 1 Rosato , 1 Chianti DOCG , 1 San Gimignano Rosso DOC "Convivio", 1 Chianti DOCG Riserva "Amico", 1 Cabernet, 1 Merlot,
 1 Vinsanto sweet dessert wine and 1 Spumante sparkling wine Metodo Classico    
Value €263,00
Now only €210,00 including shipping
Save €53,00 
Price for US only, valid until May the 31st, 2020
The "TWO SHADES OF MERLOT " box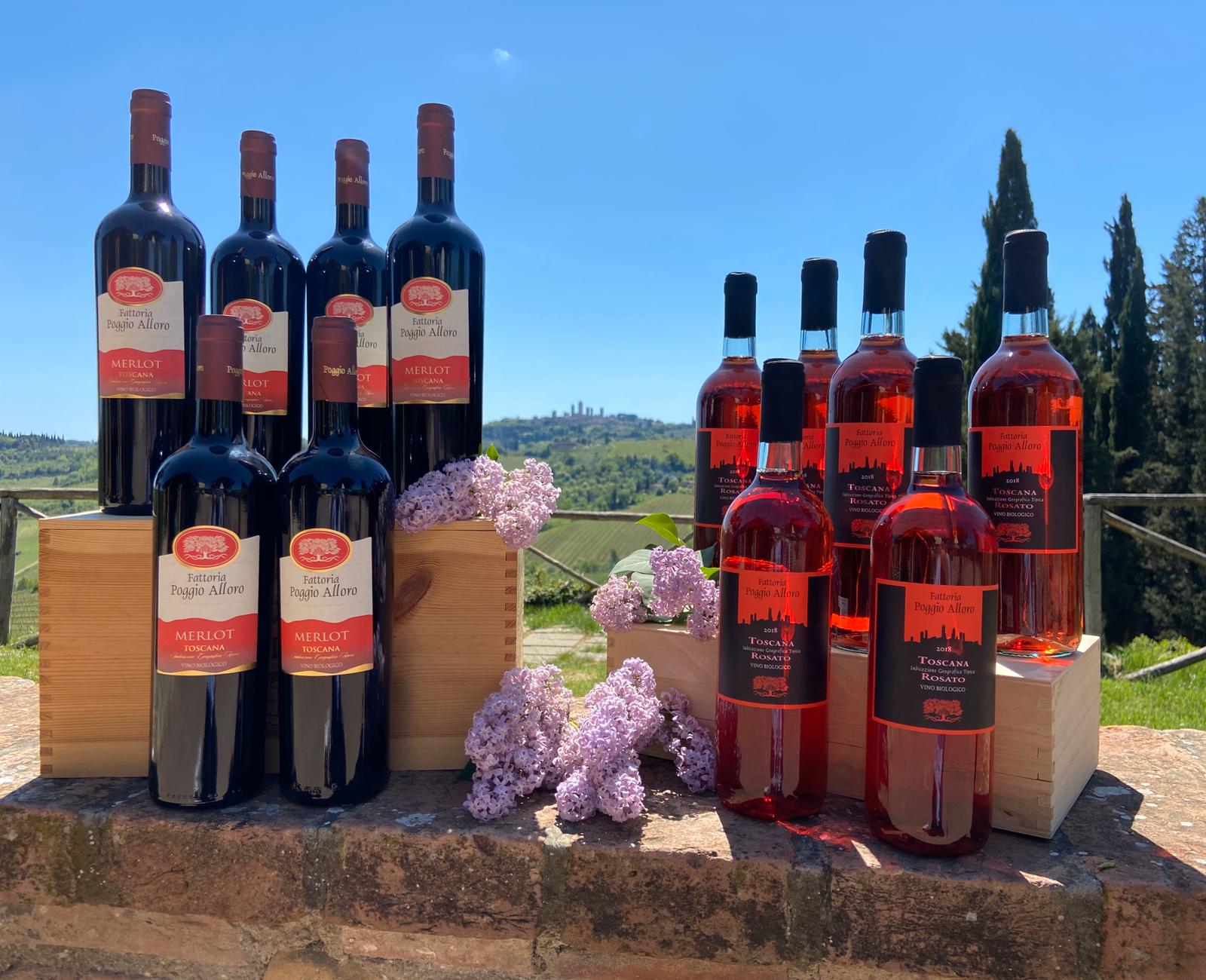 6 Rosato and 6 Merlot 
Both wines are produced with 100% Merlot grapes.
 The rose' is young, dry and fruity
 The Merlot is full bodied, fruity and peppery, aged 12 months in French oak barrels
Value €207,00                    
Now only €170,00 including shipping 
Save €37,00!
Price for US only, valid until May the 31st, 2020
If you want to learn more about Sarah and her family farm watch this great pilot episode here