Lately my inbox has been inundated with people asking for advice on traveling to Italy this summer. I almost always respond, as long as they are not asking me to write a bespoke two-week itinerary in my 'spare time' (otherwise if that is what they need, they can find me here). However, If I can give someone advice or tips firsthand it is my pleasure, and heck why I started this blog in the first place. I try to compile everything anyone needs on the blog itself.
This includes a constantly updated list on where to eat (even categorized by type: gluten-free, big groups, gelato, traditional Tuscan), travel, hotels, you get my drift. The thing is everyone has different tastes, and various needs so it can be tough to guess what is right for you. When it comes to food in Florence in the summer, if you are like me and have to opt for a salad every now and again, these two places are my top two choices in Florence: Il Carduccio near Piazza Pitti and Floret in Luisa Via Roma's shop close to the Duomo, also Le Vespe Cafe on Via Ghibellina is pretty fab too. If you want to eat outside, here's where to go. 
Personally, I can walk for hours on end — fueled by Italian espresso, wine and a curious nature. For others, that might be a little much. In fact I typically find this out when people come to visit, instead of insisting on showing them everything Florence has to offer, I ask what their interests are, passions, favorite foods — then we can start our adventures based on mutual expectations.
Visiting in the summer has its advantages and disadvantages. The Wall Street Journal has recently written about a "Europe Travel Crush' this summer because of the stronger dollar. They painted the image of people sweating their way through the Vatican, or stepping over people to hustle up to the Mona Lisa in Paris. Selfie sticks being banned in many museums and monuments, ie: the Colosseum, to help preserve the ancient monument from selfie whiplash.
The truth is, it's not the time of year that I typically recommend people come. Why? Because unless you embrace really hot, humid weather and no guaranteed shade — this might not be the best idea for travelers who want to be comfortable. Mosquitoes have already started their virulent attack on my poor legs, and instead of air-conditioning, we have two fans and a portable air-conditioner (hallelujah) that pretty much stay on until September.
Florence is teeming with people, the Ponte Vecchio looks like one big 'wave' at a Taylor Swift concert —I typically choose to walk on Ponte Carraia instead. This is part of the reason why we are getting married in November, so I can show my family and friends the city in what I hope will be a relative calm. If you need a list of pools in Florence when life gets too hot to handle, Visit Florence has you covered. 
That obviously doesn't mean you can't have fun and if you have the right attitude and have a love for gelato, you will be just fine. In addition to the tips below, this list of bachelorette party ideas are just as good as normal folks too during the summer. I had a blast river rafting on the Arno with my family last summer and the sidecar tour is truly one a kind. For more adventurous folks, this might be worth renting a car for a half day to literally zip line through a canyon in Tuscany.
1. Pack Smart, You Probably Won't Wear Those Stilettos.
I get it. You come to Italy, you want to wear a beautiful summer dress and those sexy high heels you got an Nordstrom. I did it too, and I wish someone told me before I came to Italy that you will grow to hate those shoes with a passion. Cobblestones are not forgiving, they are actually kind of evil, and after about 30 minutes to an hour you will be cursing Italia with every step. Or busy buying some cheap flats from the first Chinese shop you find in the center— all while pushing down your dress as not to flash everyone taking selfies while walking across Ponte Santa Trinita during a sudden wind gust.
Don't be fooled by Italian women with heels higher than the tower of Pisa, pushing a stroller while smoking and talking on her cell phone. She is not you, she is an alien. I already wrote about how to dress in Florence, probably one of the most-read posts on the blog, a little snarky but meant to be fun. The summer is an entirely different beast. I see lists online that say to bring your heels to Italy and I wonder if the author has actually ever been here and tried to walk home in a pair, perhaps wedges but just, no..
The key to packing well is think all-day comfort while still looking cute. People dress well in Italy and if you want to fit in, stick to neutral colors and play with those accessories. Form-fitting clothes that have interesting textures. Linen white shirts, a-line skirts and pants. Jeans and t-shirts are fine too, chuck tailors and fashionable slides welcome (I love these Rachel Zoe moccasins for example). Because of the heat, loose fabrics that still are form-fitting but won't easily stick/sweat are great. The risk you run with short skirts is that you might be walking up a fair amount of steps.
Long dresses are wonderful, but if they graze the ground you may want to leave those for the country, as you certainly do not want them to slide along the streets of Rome or Florence. Personally I say, casual elegant all of the way, this is a country that takes a lot of pride in how they look. Don't be scared of looking like a tourist because you are, and who cares. The second I step out of Florence, I am a tourist too.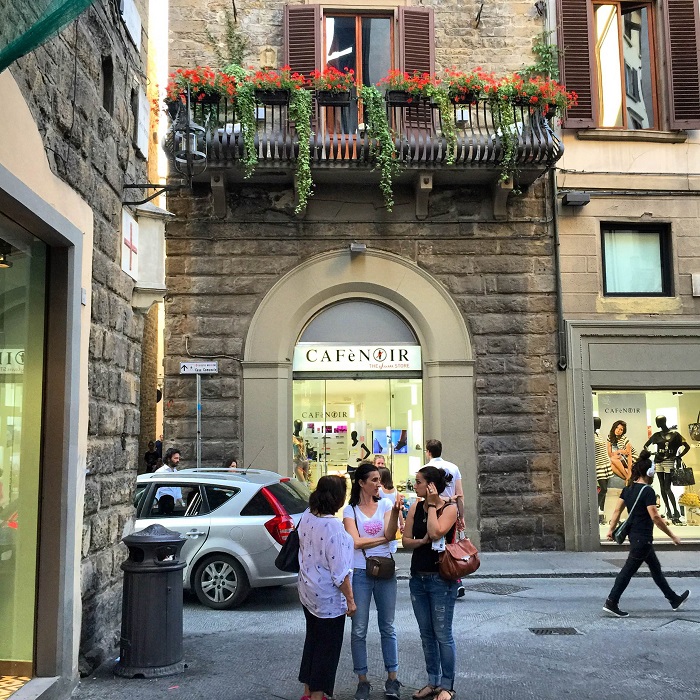 What to wear? Shoes that you could walk for a day in, I normally wear a combination of comfortable flats with a cushion insert, or sandals that have a decent sole (not the super flat ballet shoes that have little to no padding). I totally get wanting to save money, I don't shop very often but if I can give one word of advice, if there is something to spend money on, it is your shoes. Talking about shorts, while you see more Italians wearing them (especially the younger crowds) I would forgo the 'short shorts' because you don't really want your butt cheek to sit on the same sidewalk that my dog probably peed on.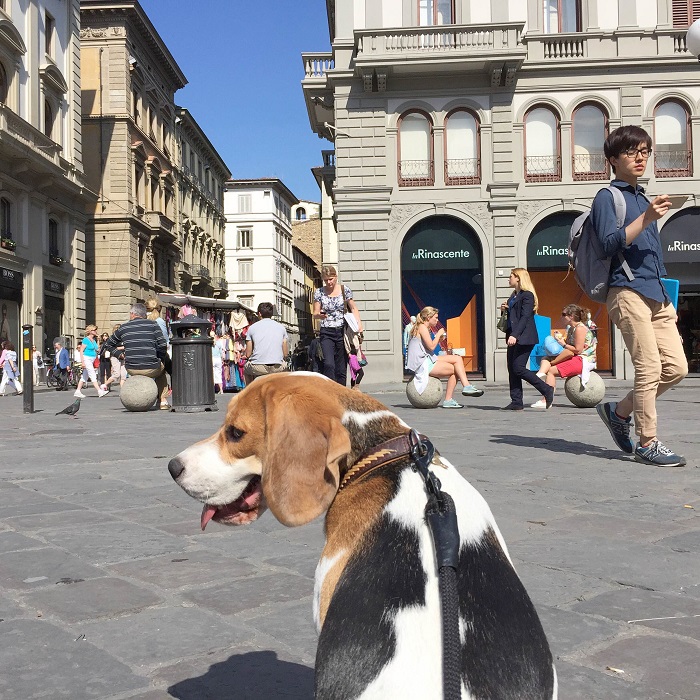 I would also pack sunscreen and mosquito repellent if you plan on being outside for long periods of time. Also in the height of summer, those Avian spray-bottles for your face and body are fantastic! Also plan on bringing a pashmina or scarf if you plan on visiting churches and wearing strapless tops, they sometimes require that you cover up. Also always pack an umbrella and a light sweater/jacket for sudden weather changes and rainstorms, last year we had many sudden thunderstorms so I always tend to keep one nearby.
When it comes to bags, while I know it is tempting to bring your entire world but I typically always pack a smaller, leather bag that I can take with me during the day and that I can strap in front of my body. My favorites in Florence are made by local designer's Digerolamo and Marina Calamai (ask about the kiwi purse). Big enough to carry my money, passport copy, sunglasses, change purse, sunscreen, battery charger, huge iPhone etc. I adore those cute backpacks that seem all the rage lately but I honestly wouldn't feel comfortable wearing that with risk of being a victim of pick-pockets. Benheart, who you guys will know if you read this blog, is one of the best leather makers in Florence for jackets, shoes and bags has a casual leather bag that is bigger but that can fit a 13 inch laptop and my Fujifilm X T-20 and this is my go-to when I'm out snapping photos.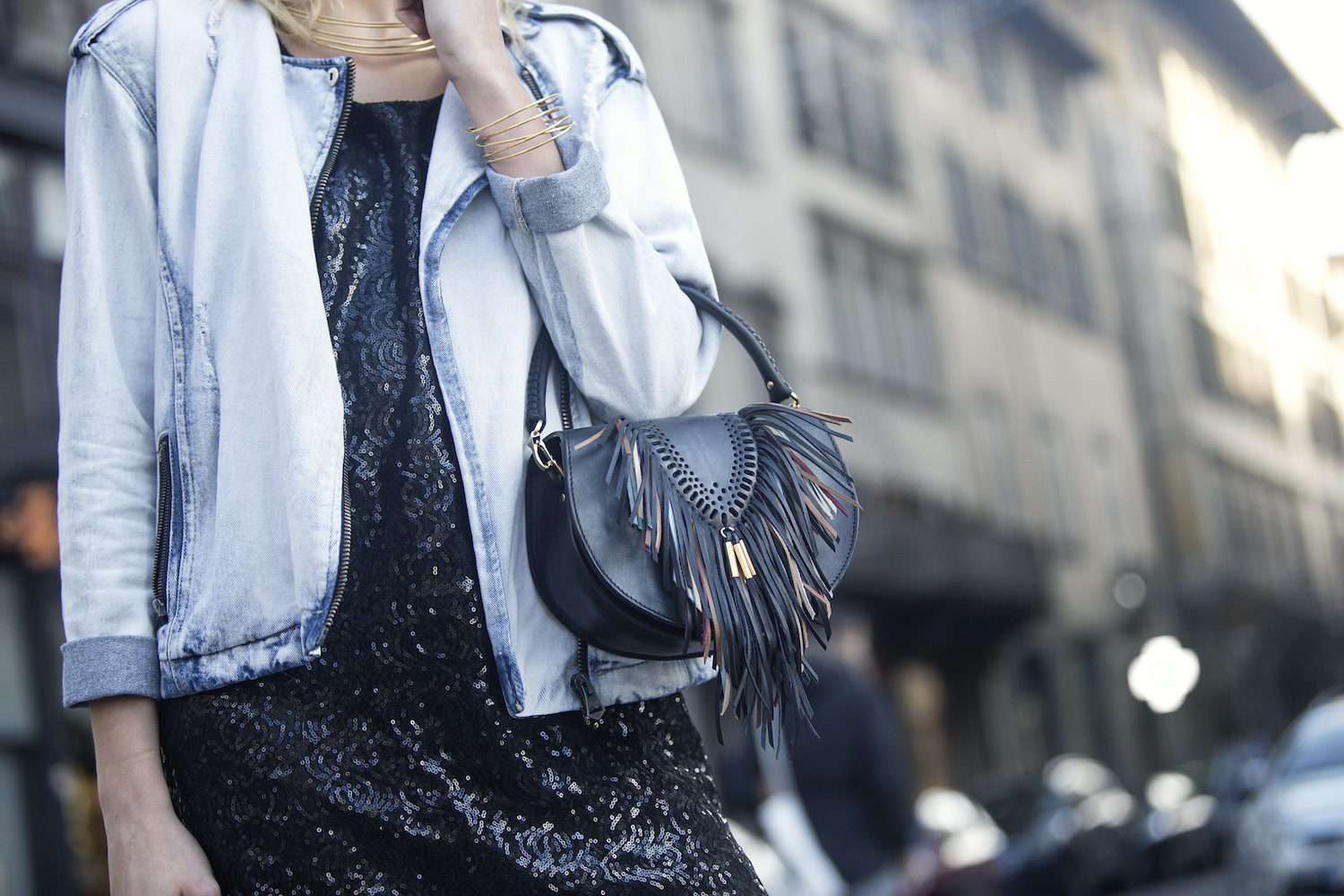 Photo: By Olga Makarova for Digerolamo.
2. Skip Amalfi and Cinque Terre, Head to Elba Instead
Just say the Amalfi Coast and a million screen savers come to mind, pretty much goes with Cinque Terre as well, I get it, I adore these places too. But during the summer they tend to get seriously overcrowded and trust me, you don't want to be packed in the Cinque Terre train smashed into a corner when it is hot enough to boil a kitten outside. Instead consider something a little less famous but stunningly beautiful like Elba Island, part of the Etruscan Archipelago (the biggest of all of the islands), and famously known as the exiled location of Napoleon.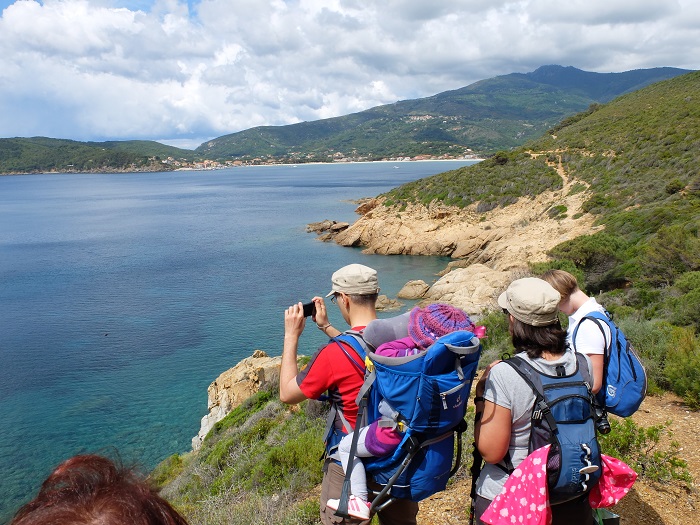 There are plenty of reasons to love Elba, the Germans seem to have figured it out and when I was there last month, I adopted my own 'Guten Morgen' routine in the morning. You can hike, snorkel, camp, rent an electric bike (awesome), eat delicious seafood, hire a boat to take you around the rest of the archipelago.
Needless to say, I love it, just stepping out of our hotel and seeing all of these people moving around on bikes just set the mood for a relaxing holiday. We based in the charming Marina di Campo area, which I really enjoyed – not only for the expansive beach, but also because of the charming town center. We visited one of the (many) Acqua del Elba stores which is the 'scent' of the island, with a gorgeous selection of perfumes, and home fragrances, try the new 'sport' line.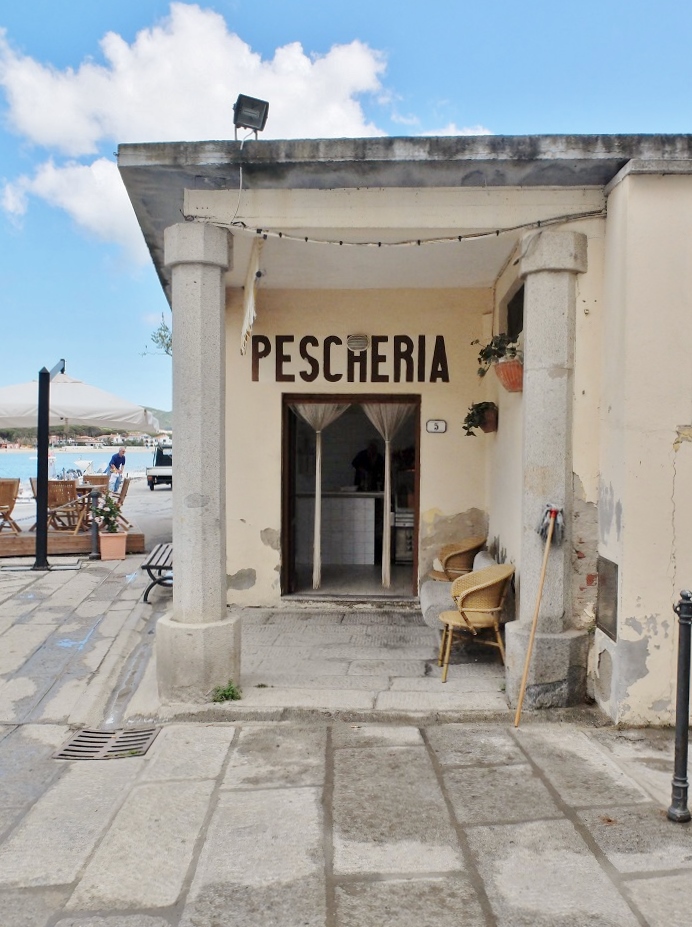 I definitely plan on covering my Elba trip more extensively on the blog but I had to add this special place on my list of travel suggestions for Italy. We utilized the wonderful new site Elbamylove to plan our trip, the English site should be coming soon. You definitely can't miss the beautiful white pebble 'capo bianco' beach in Portoferraio, it looks like something from the Caribbean, only better.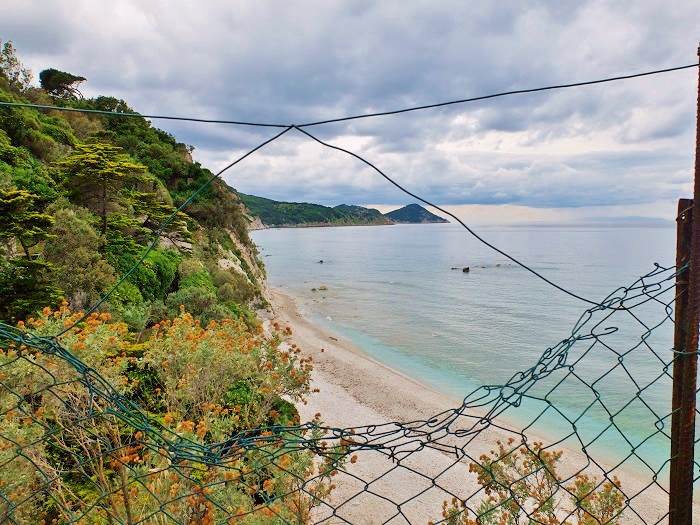 How to get there? Best reached by car, Piombino is about 2 hours from Florence and is the port town where you need to catch the ferry for Elba. Check out Blu Navy ferry line for their latest deals (typically a round-trip ticket to Elba + your car is 100 euros).
Dinner: Head inland for lunch in the charming town of Sant'Ilario at Pizzeria 'La Fonte,' While my two favorite diners included the Hotel Montecristo at Marina di Campo, the presentation of their fish platters, especially the appetizer, made me a happy girl. For a meal on the beach, dinner at Ristorante Paglicce Beach with the fabulous Catalonian chef, Jordi Franquesa Guiteras, on Marina di Campo beach is as memorable as they get.
Can't miss. A sunset aperitivo cocktail at the Baia Bianca Suites,  five-stars all of the way, this is the place for a romantic drink and a view that would make Napoleon jealous.
Where else? Marina di Bibbona, Monte Argentario, Baratti beach and in Liguria I highly recommend this place instead of Cinque Terre, also Villa Valentina in Levanto is an ideal place to sojourn while discovering the area. If you go, say Ciao to Paola for me!
3. Seek Solace On A Hotel Terrace
When it is too hot for words and all you want to do is lie down naked on the cold tile floors, reward yourself with a drink on a rooftop terrace in Italy, you'll thank me later. In Rome, I was blown away by the view on The First Luxury Art Hotel, though my favorite bar in Rome is most definitely the courtyard at Hotel de Russie.
Just this past week, I have toasted Nico and a few friends at the Grand Hotel Minerva in Florence, for margaritas and moscow mules overlooking the city. My local favorites include Grand Hotel Cavour, Grand Hotel Minerva, S.esto bar on Excelsior, the Terrace of Oblate library, Terrace Wine Bar at Pitti Palace, Sky Lounge at Hotel Continental which sounds like an airline, La Scaletta in the Oltrarno, the rooftop on Hotel La Scaletta (Via de' Guicciardini, 13). Hotel Lucchesi's Empirio rooftop bar is amazing, the rooftop at La Rinascente and the more intimate (and hard to find a spot) Torre Guelfa.
Seriously, there are plenty to choose from. Or what about an aperitivo tour with a local foodie? My friend Coral from The Curious Appetite is my go-to girl, and she or one of her experts can take you a bubbles/wine tour in some of the best little haunts in the city.
Two other options for non-rooftops but outdoor bars that are fun and central
Other awesome rooftops in Italy include,
Rome: The First Luxury Art Hotel, Hotel Raphael, The American bar at Hotel Forum, La Terrazza Rose bar, St. George Hotel, Terrace at the Hotel Exedra, Champagnerie ai Limoni at the Grand Hotel Plaza.
Venice: Hilton Molino (top), Hotel Danieli, Belmond's Hotel Cipriani
Milan: Westin Palace Milan, Excelsior Hotel Gallia (favorite), Hotel Milano Scala, La Rinascente, La Terrazza di Via Palestro
https://instagram.com/p/3WxqHJRTFR/?taken-by=girlinflorence
4. Screw the Uffizi & Vatican (Sorry Pope), Visit Smaller Museums or Parks Instead
I'm certainly not unique in saying you should visit lesser-known museums, I mean pretty much any travel writer online says the same. But I think this matters more in the warmer, crazy months. You don't want to have to deal with armpit sweat from a fellow admirer of Michelangelo. It's not pretty and you tend to get dehydrated very quickly. Save the 'big boys' for next time and embrace a bit of slow art in less crowded circumstances.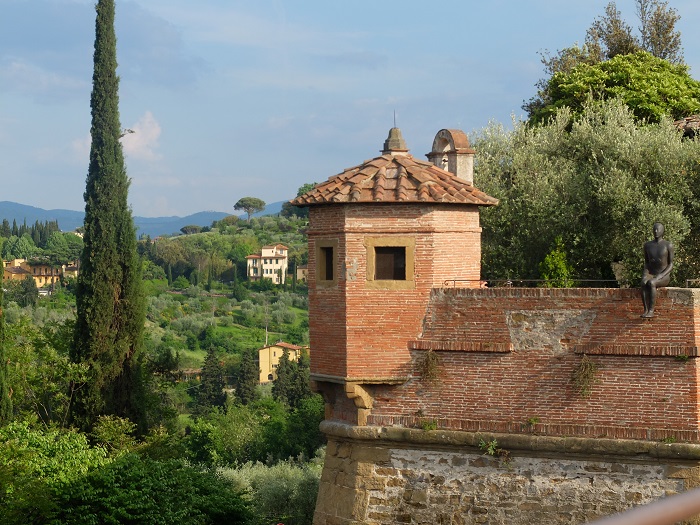 In Florence you have so many choices, my friend Alexandra aka Arttrav, laid out the top 2015 exhibits here and you can even bring a picnic to Forte Belvedere. The Stibbert museum is one I truly love, plus it is next to a charming park and Innocenti museum is a place that everyone loves, as is San Marco. Or what about the synagogue?
A few churches that many miss, but really shouldn't, include Santa Trinita church on via tornabuoni and the Brancacci chapel in piazza della carmine, plus Santo Spirito Basilica. I'm certain even in the prime summer months, these places won't be crowded (Brancacci might requite a prior reservation). Go to the Cascine Park in Florence where the Pavoniere pool is a lovely wet escape when it isn't too crowded, and I actually am growing to like the park as a summer refuge. Even MTV has decided to host their latest award shows here this summer.
Other gardens you can visit include the Giardino dell'Orticultura (horticulture garden) near piazza della liberta, my beloved Villa Bardini gardens, and the Garden of Palazzo Vivarelli (open Tuesdays & Thursdays, 10am-6pm).
***New park addition as of 2018! Exciting news on the park front, Villa Il Ventaglio has just reopened, it is a romantic English garden on via Aldini with five hectares extending up the Forbici hill.
https://instagram.com/p/3YunThxTKE/?taken-by=girlinflorence
If you are Rome, parks are fantastic, they have so much more to choose from and I admit, I'm a little jealous. Choices include the garden of Villa Torlonia (awesome), Villa Borghese, the Orange Garden and the Gardens of Palazzo Barberini, and for those who want to venture out a bit further, Wanted in Rome has a great list.
I know you want to take in all of the sites, but honestly I think the city is even more magical at night. We always do an after-dinner stroll when in town when the city takes on an almost ethereal edge.
Skip Venice in the summer, trust me, it's stinky, hot and filled with people. Wait until late-September.
In Milan, in addition to this year's Expo, I would visit some of the city's top contemporary art museums. The Culture Trip whipped up this great roundup, while Erica Firpo organized a wonderful #emptymuseo visit recently at the Triennale, which means that this museum is now added to my must-see spots. The real girl on the ground in Milan though is Thea of Doing Italy who made my last visit to Milan something truly special. Reach out to her to help plan your trip.
5. Shake It Up! With a Very Cool Caffè Shakerato
Want to know how I personally survive a summer in Florence without air-conditioning? Besides having a fan blasting me all day long, I usually drink about three 'caffe shakerati' a day. It is a very simple drink involving espresso, liquid sugar (I opt for no sugar) and a cocktail shaker. I love the ambiance of a classic Italian bar, even if I cheat on them from time to time (shh don't tell!). I also hydrate quite a bit and recommend you do too, in Italy, water is your friend. For a list of places with great ice coffee, I got you covered.
But there is just something about an ice-cold shaken espresso served in a martini glass, the NY Times agrees. 
https://www.instagram.com/p/BGXHtVDxTII/?taken-by=girlinflorence
If you are wondering where to get one, just any coffee bar in Italy and they will know what to do. In Florence, my favorite places to stay caffeinated include Irene's Bistro in piazza della repubblica, Giacosa Cafe, Volume bar in Santo Spirito, Cafe degli Artigiani (my local), Ditta Artigianale on via dello sprone, La Piansa on Via Gioberti, Il Scudieri in piazza duomo. Personally I prefer no sugar or 'senza zucchero' but make sure to specify that since it is almost always added.
Note I said nothing about gelato because well, that is self obvious. You will be eating tons of Italy's favorite dessert and you should do so. Everyone has their favorite spot in Florence, but if you can, visit La Sorbiettiera in piazza tasso  or Gelateria My Sugar on Via de' Ginori which are my absolute favorites.
---
Have any tips on surviving summer in Italy? Than Share! I want to hear your thoughts because I certainly could have added a million options to this list. Visiting local lakes, Lake Garda is my favorite, or even the mountains is a very good option in the summer months, perhaps even better than the crowded seaside (my opinion).
This post is part of the latest topic of our little blogger group, COSItaly, on how to be a good tourist/cool summer tips.
The Unwilling Expat – '5 Easy Steps to Becoming a Good Tourist in Italy'.
Englishman in Italy – 'Tips for the intrepid tourist' 
Rick Zullo – 'Offbeat Summer Travel in Italy.'
Sex, Lies, & Nutella: 'Tips for Happy Travel in Italy'
Check out our facebook page which is almost never updated (and I work in social media – for shame!). Watch this little video we made (no we are not video experts so mind the editing) offering tips on traveling in Italy this summer!
SaveSave
SaveSave
SaveSave
SaveSave
SaveSave
SaveSave
SaveSave
SaveSave
SaveSave
SaveSave
SaveSave
SaveSave
SaveSave
SaveSave
SaveSave
SaveSave
SaveSave
SaveSave
SaveSave
SaveSave
SaveSave