You might assume that living in a place for 11 years means you've seen it all. On the contrary I feel like I barely have scarcted the surface when it comes to all the wonderful things there are too appreciate about the city of Florence (the bad stuff too).
I first tried a sidecar tour in the city of Paris. It was January 2015, Nico and I decided to brave the icy weather and zip our way through the city and I was instantly hooked. Besides the fact that I found the actual sidecar quite cozy (they always provide a blanket), it was such a thrilling way to move around a busy city, eliciting smiles and waves by typically-jaded Parisians as we hopped from monument to monument. It has been three years since I've been in or around a sidecar and I was delighted to get the chance to revive this amazing day in my own adopted city.
I reached out to Tommaso and my pals at Degustibus because a good friend of mine is getting married in a month's time and I was in charge for the bachelorette party. Since the penis hats were strictly-reserved for nighttime activities, I thought about what could be a special activity for a small group and De Gustibus is always a guarantee of quality when it comes to sourcing boutique wineries and the sidecar was just the icing on the cake. Gilberto, Riccardo and Tommaso make up the fabulous Motocarrozzetta Sidecar Tour team and they offer a variety of options.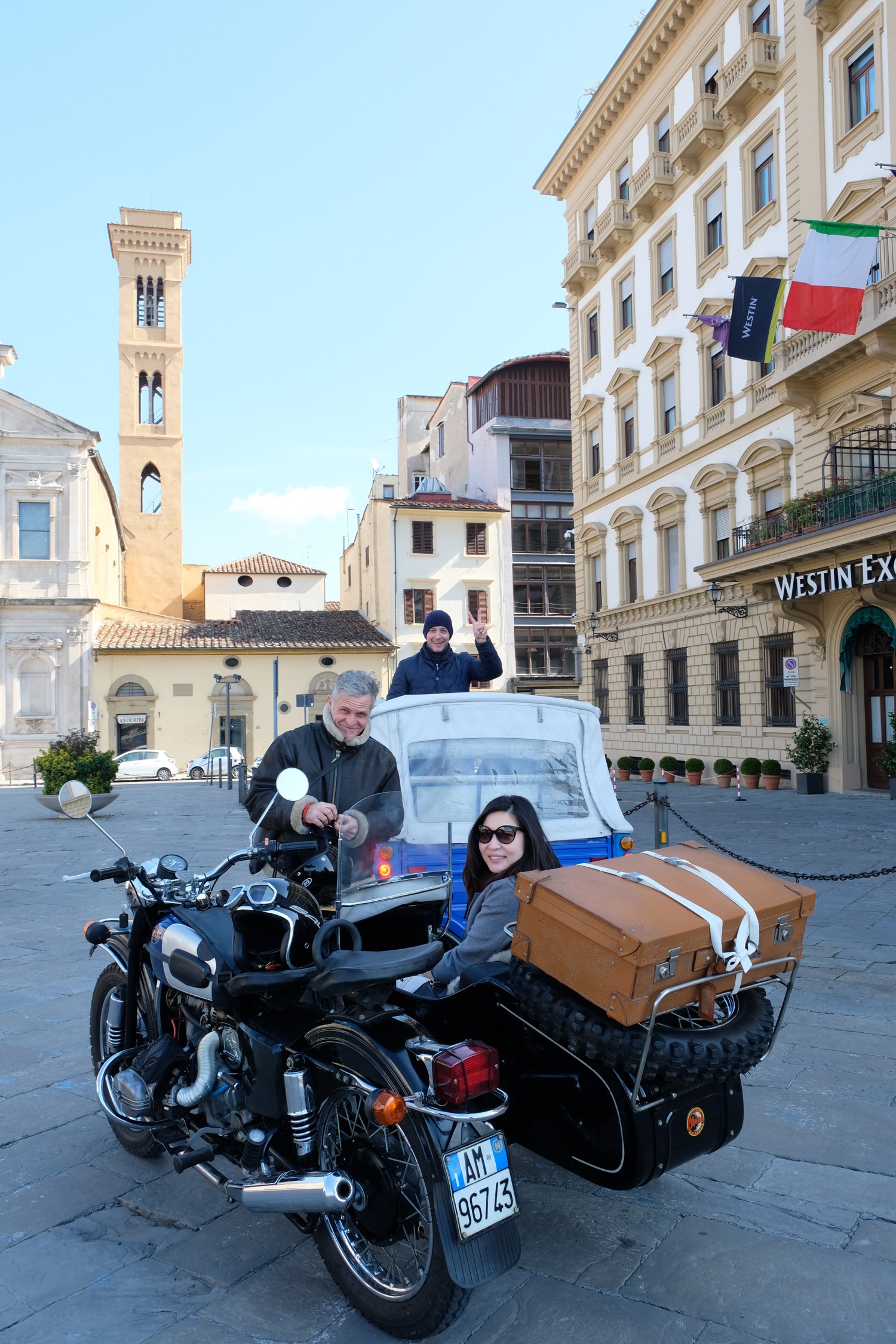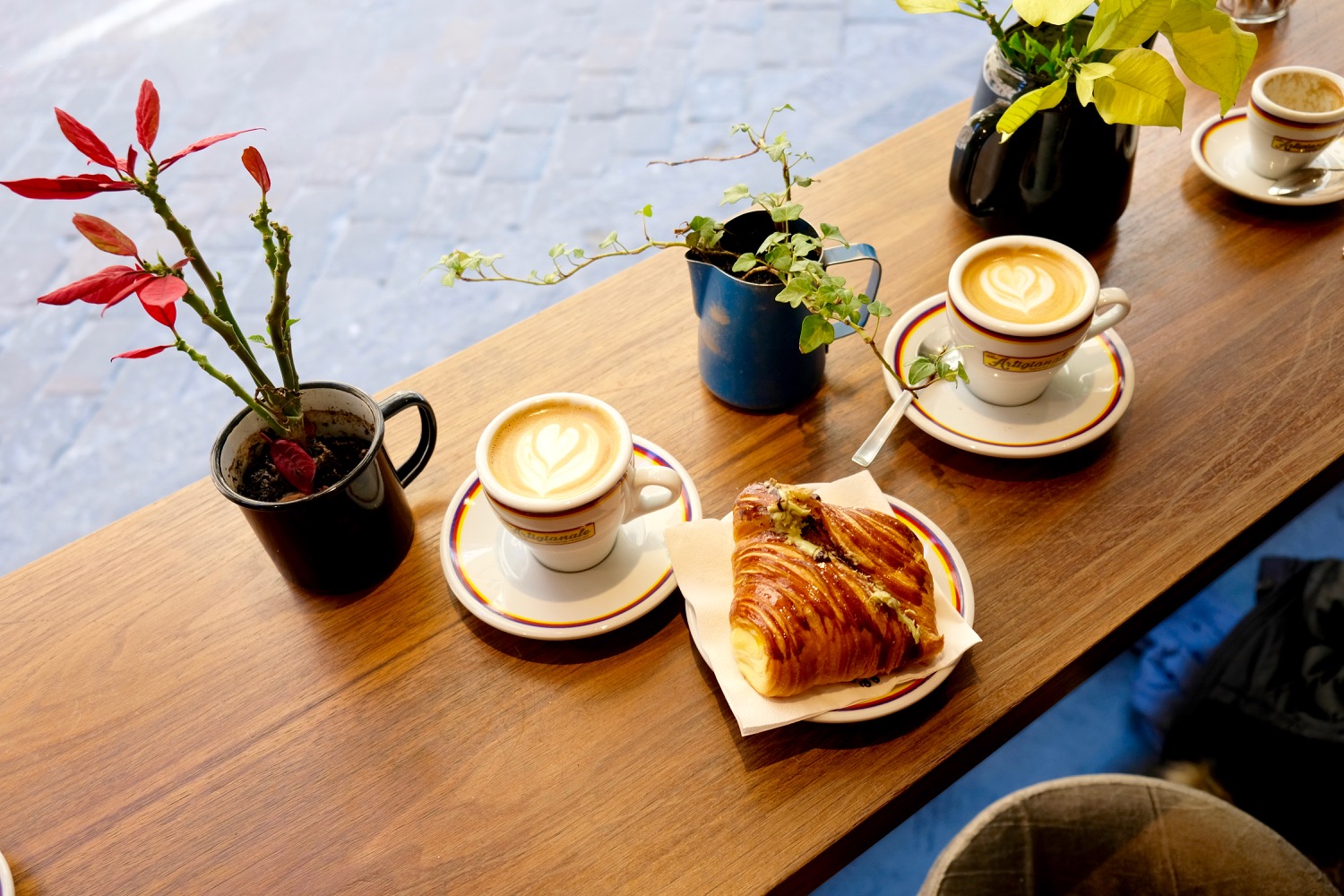 You can choose between two 90-minute tours: Florentine highlights meets local street food, with stops for delicacies such as lampredotto panini or Buontalento, a lovely creamy Florentine gelato or a photo tour whose locations shall remain secret.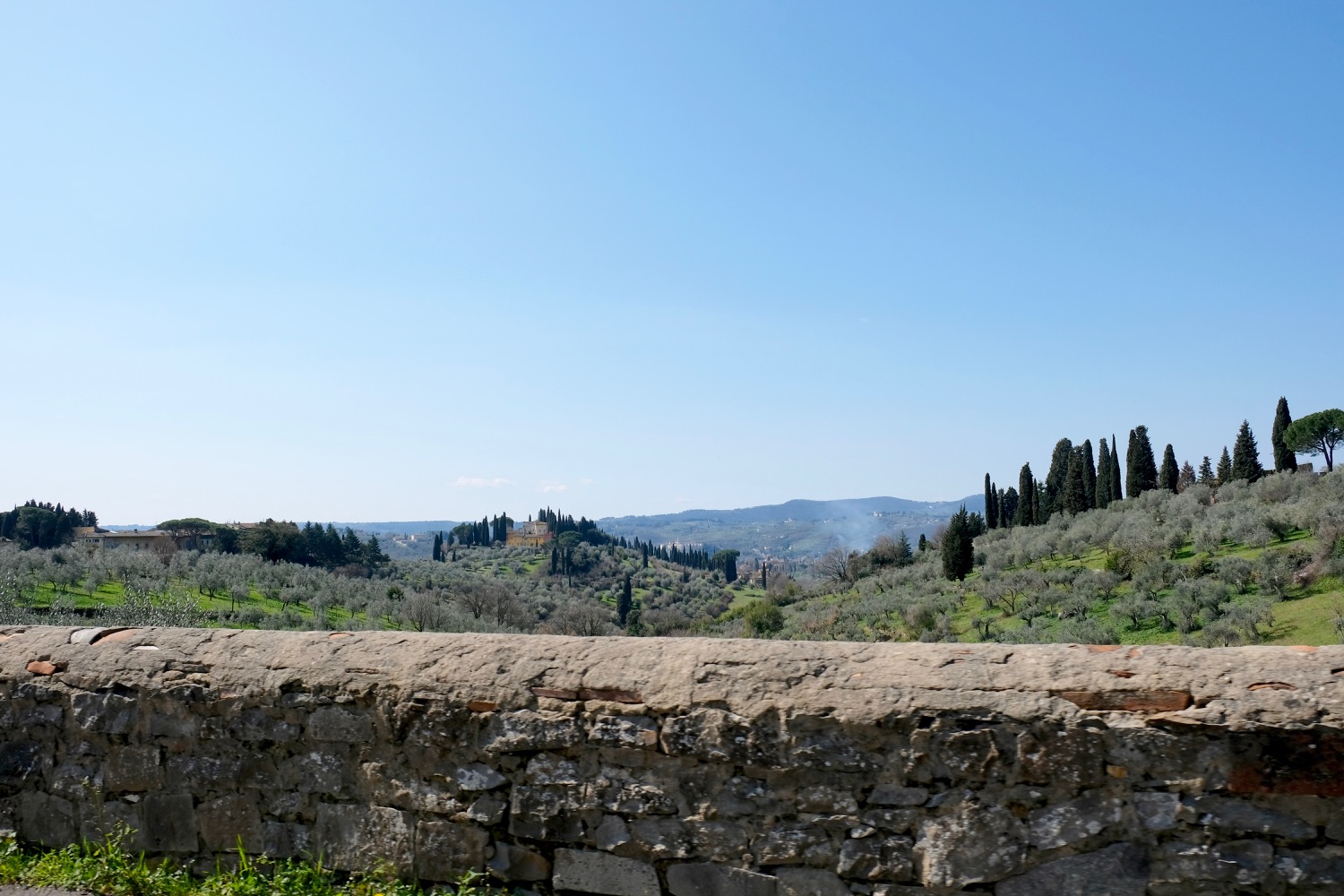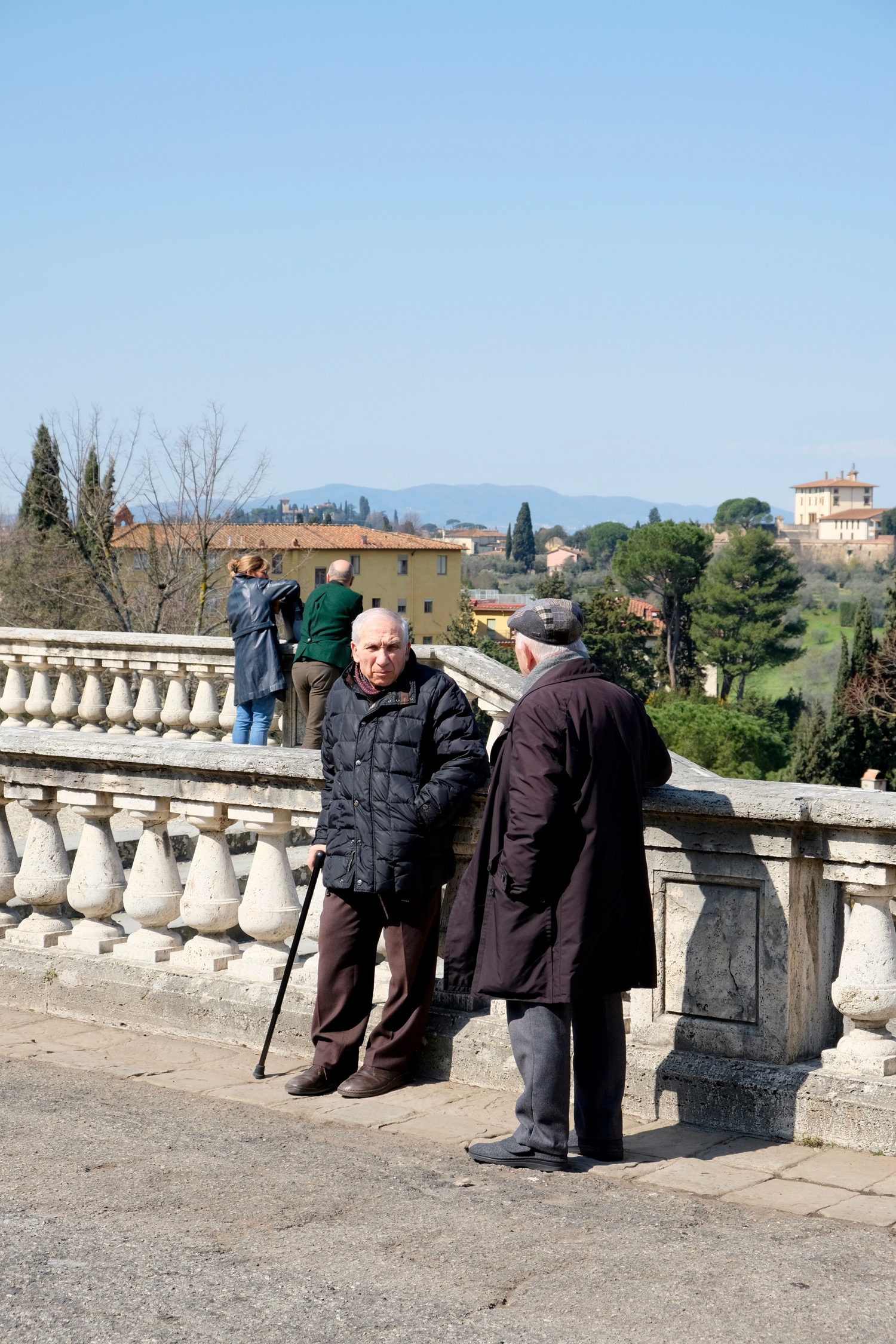 On our particular day out, we instead opted for a custom tour along the Chianti hills, zipping around Florence and towards landscapes that are just starting to bloom for Spring. We stopped at several panoramic points, San Miniato al Monte to name just one, and indulged in coffee before setting out for the day's adventures.
Besides the countryside jaunt, our final destination was an organic winery where we would be privy to a tasting and lunch (din't worry, we weren't driving) before heading back to the city. Since we were a group of four, we had the sidecar (one person in the sidecar, the other behind the motorcycle) and a Tuk Tuk that could it an additional three people.
For those thinking a sidecar could be mighty uncomfortable. I am a 5'9" not tiny person who found myself comfortably nestled inside the sidecar with a blanket in case my knees shivered. If you aren't the squeamish sort (and even if you are), you will be just fine.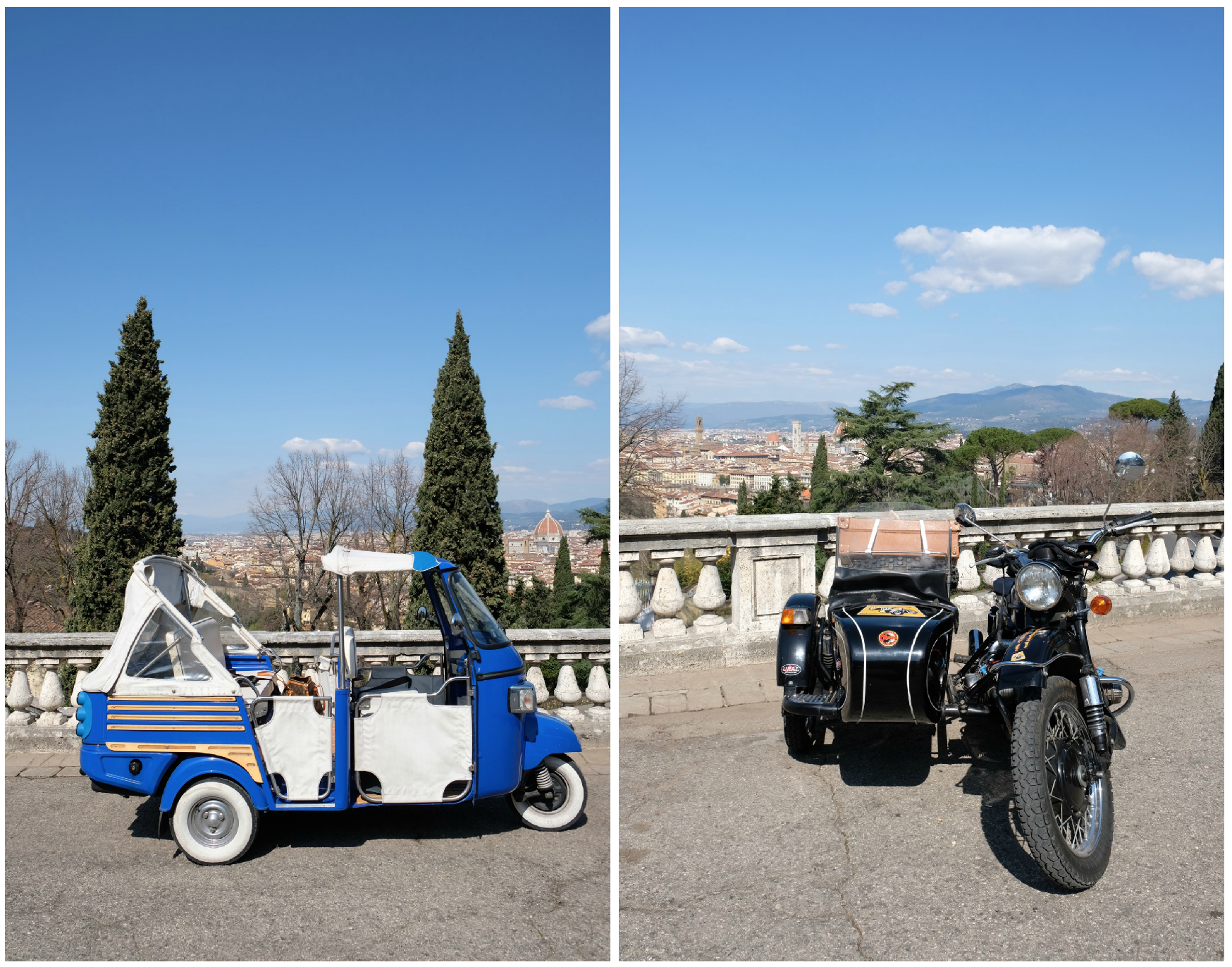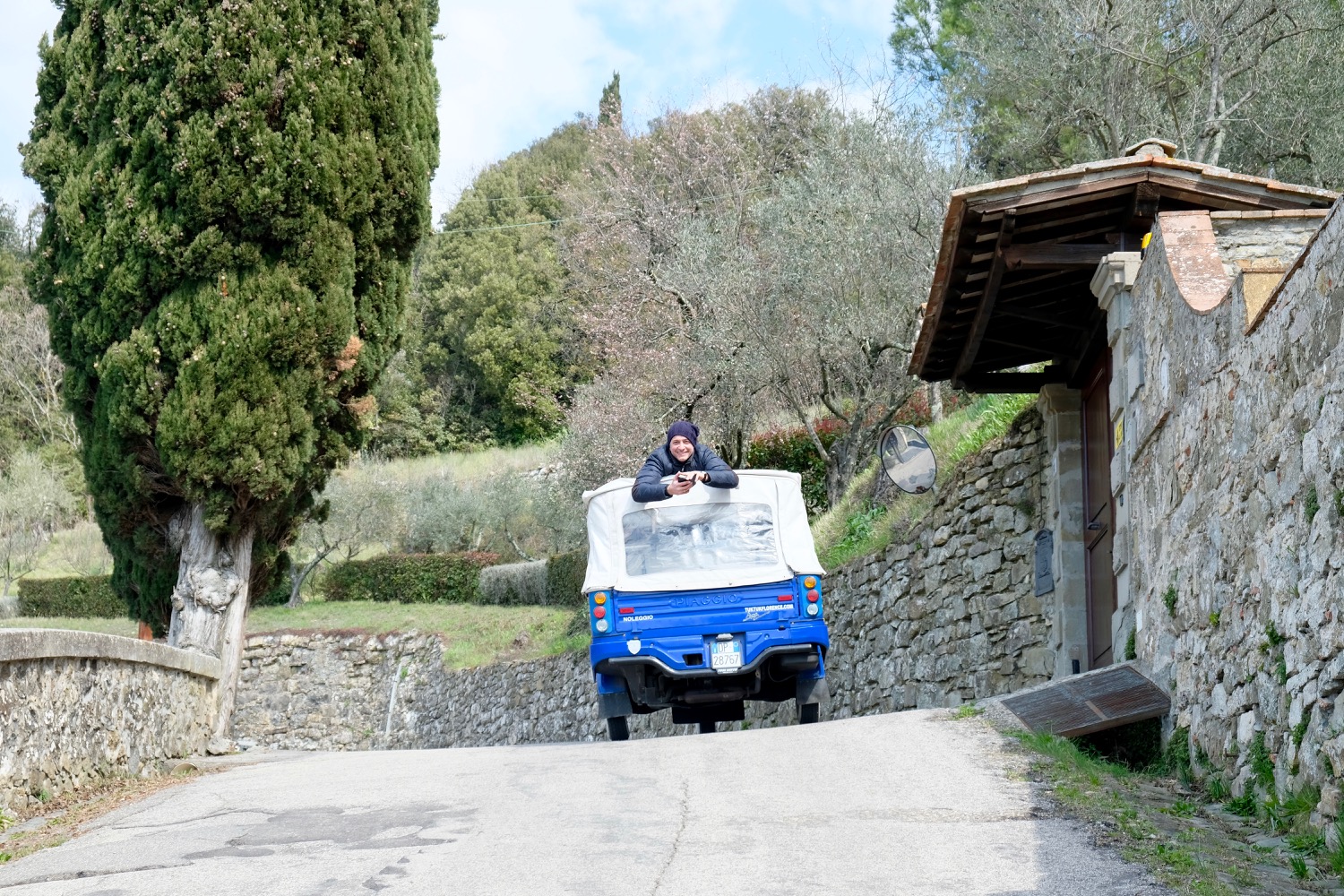 Sidecar Tour: For information on prices and reservations for a sidecar/Tuk Tuk tour contact the guys at info@florencesidecartour.com or call 340.5796207 (Tommy), 388.4237176 (Riccardo) or 393.2355445 (Gilberto).
Poggio Le Noce
Come lunchtime, we were all ready for a glass of wine and some nibbles and thus made it out to an organic winery above the lovely area of Settignano where they follow the lunar calendar for the various operations in the vineyard and cellar, fermenting only with indigenous yeasts. This was a sublime idea considering the unusually warm weather for a weekend in March and the crowds already fitting up Florence's famous squares and bridges. I was ready for an escape and feeling mighty grateful to be there with the bride-to-be and friends Denya of GrazieaTe Blog and Coral Sisk of Curious Appetite.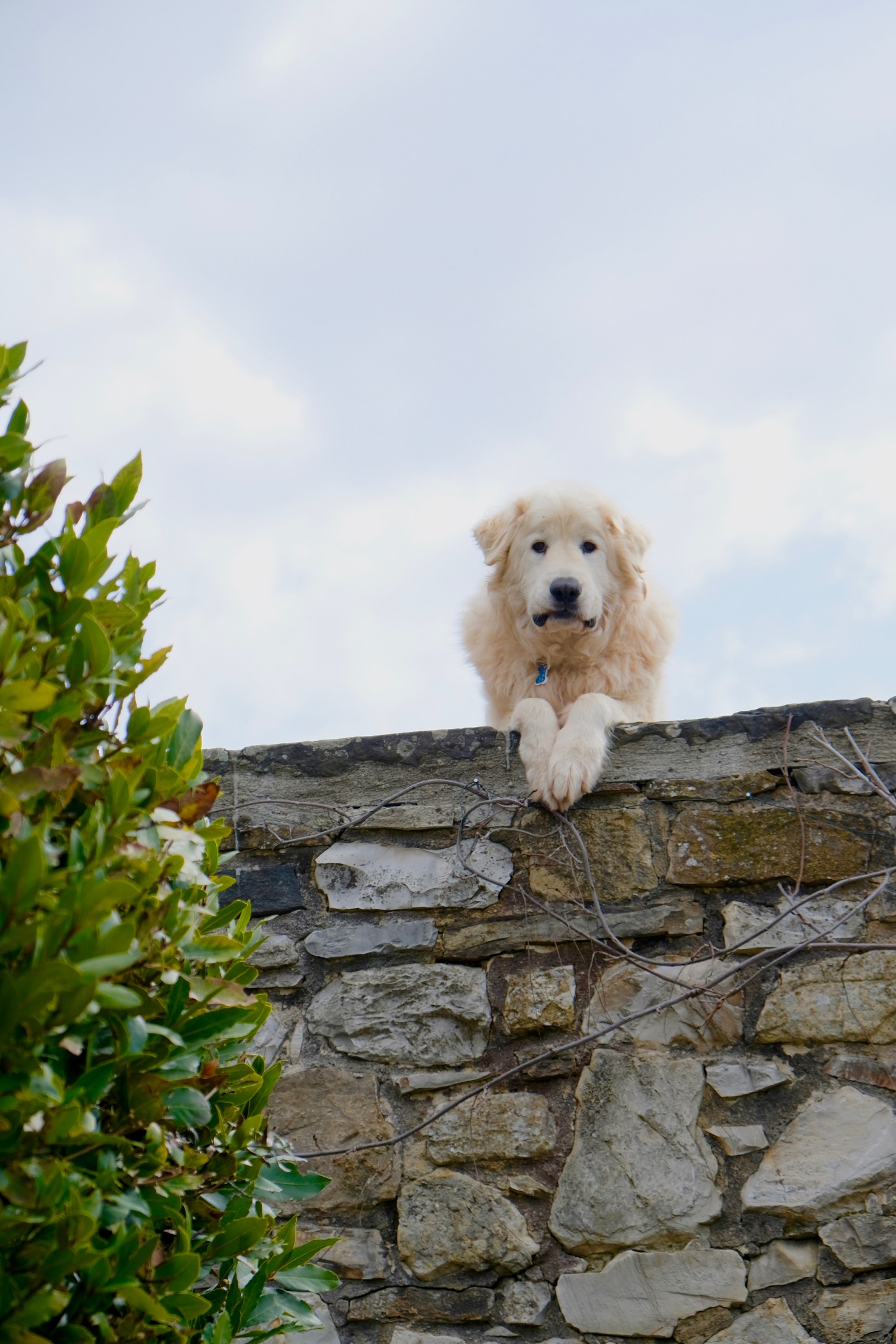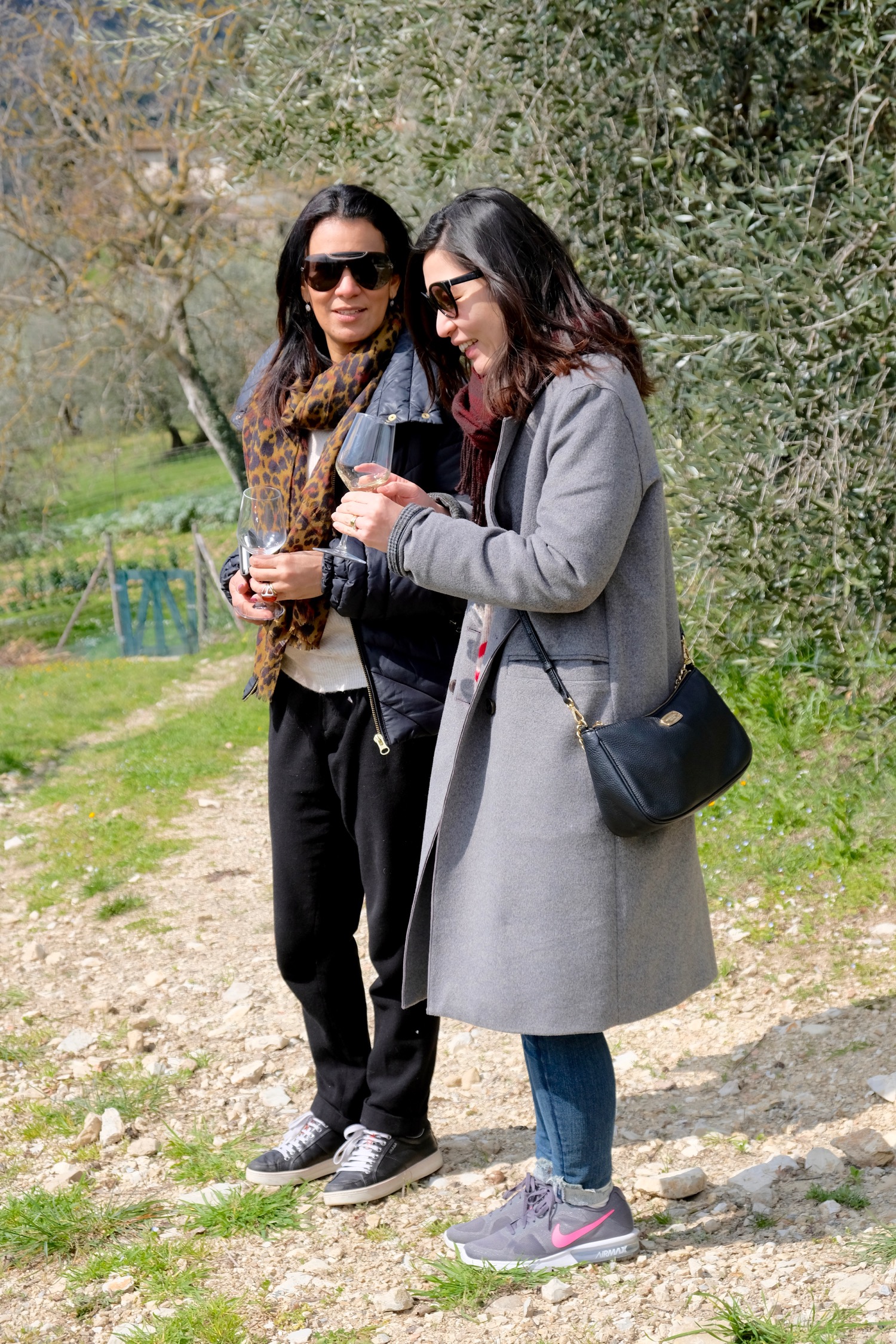 The 50 acre winery (and olive grove) is owned and run by Claire and Enzo, a Frenchwoman and an Italian who first met in the tech industry in the USA before giving up everything for a slower pace of life hidden in the Tuscan hills. The soil here is rocky and embedded with minerals, making for the perfect conditions for the tough-but-durable Sangiovese, and they later added Colorino and Canaille to the mix. All together they produce six different wines, four reds, a white and a lovely rosè.
I asked Claire what made them choose this location for their winery. "That's a good question, when I was young my grandmother lived in Castellini in Chianti, also with a winery in the 60's and 70's and I have such fond childhood memories of the place," Claire said. "I wanted to find something like that and return to the land but it was hard to find anything we liked. One day, by luck, we found this area: perfect because it was so hidden in the country, yet close to the city, winters  here could be a little lonely otherwise."
Also noteworthy is its position to the river Arno. The valley below creates a lovely breeze in the late afternoons during the summer perfecting a sort of microclimate that Poggio le Noce enjoyes it both atmosphere and soil quality. After a tour in their soon-to-be newer vineyards and farmhouse, we headed back in for a tour of the small production area where Claire went into more detail before diving into a lovely light lunch cooked by Enzo who make an eggplant dish that I am still trying to recreate at home.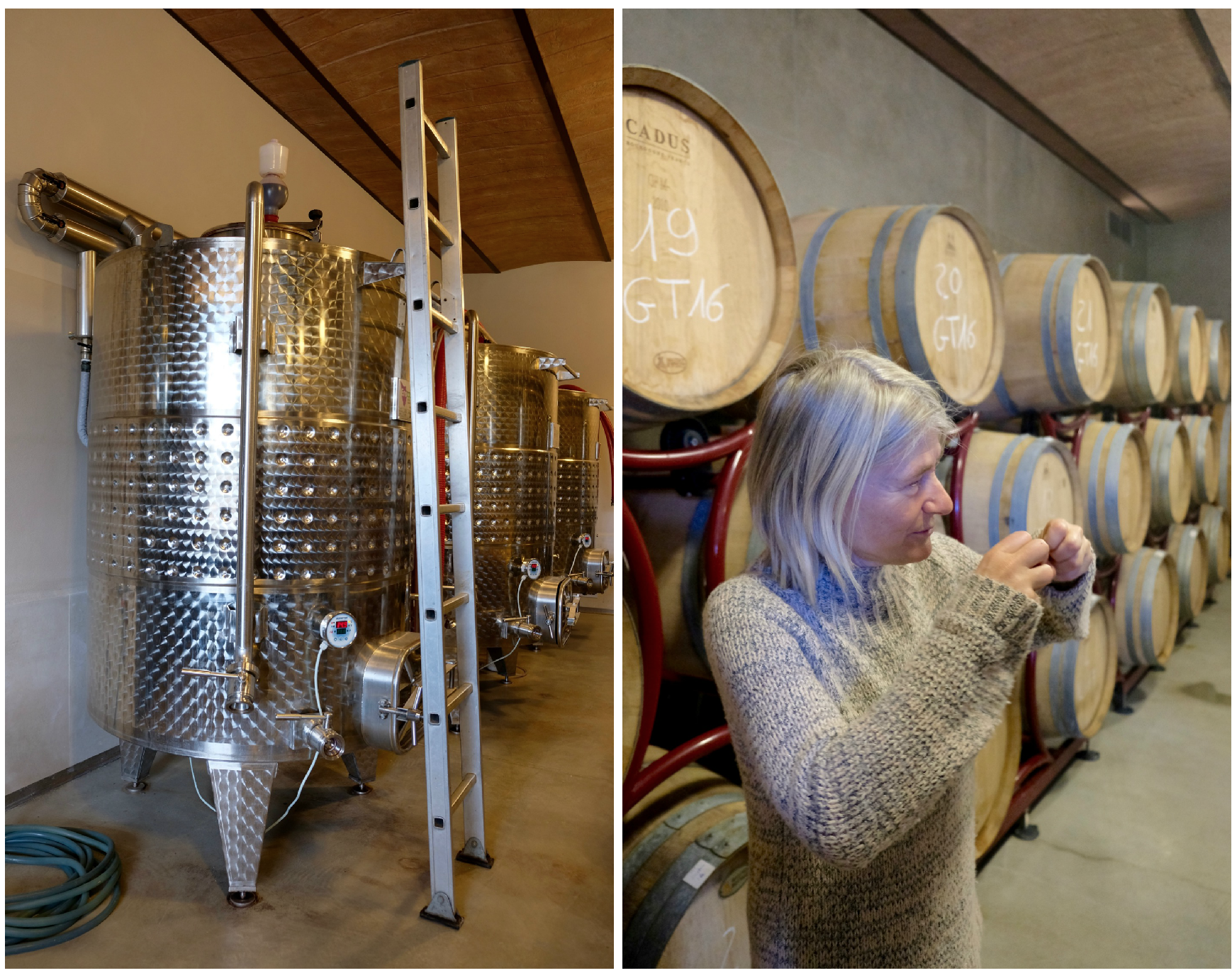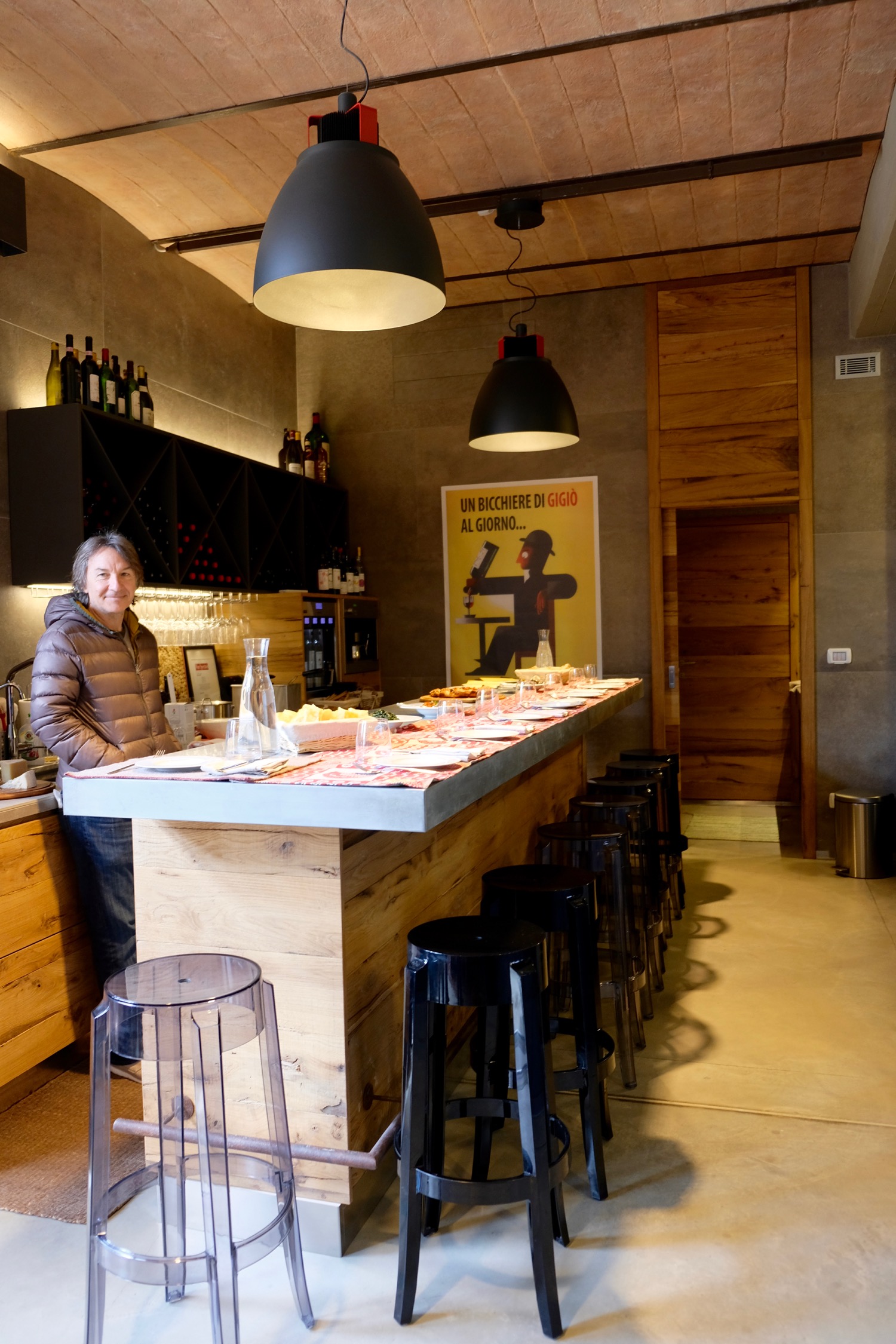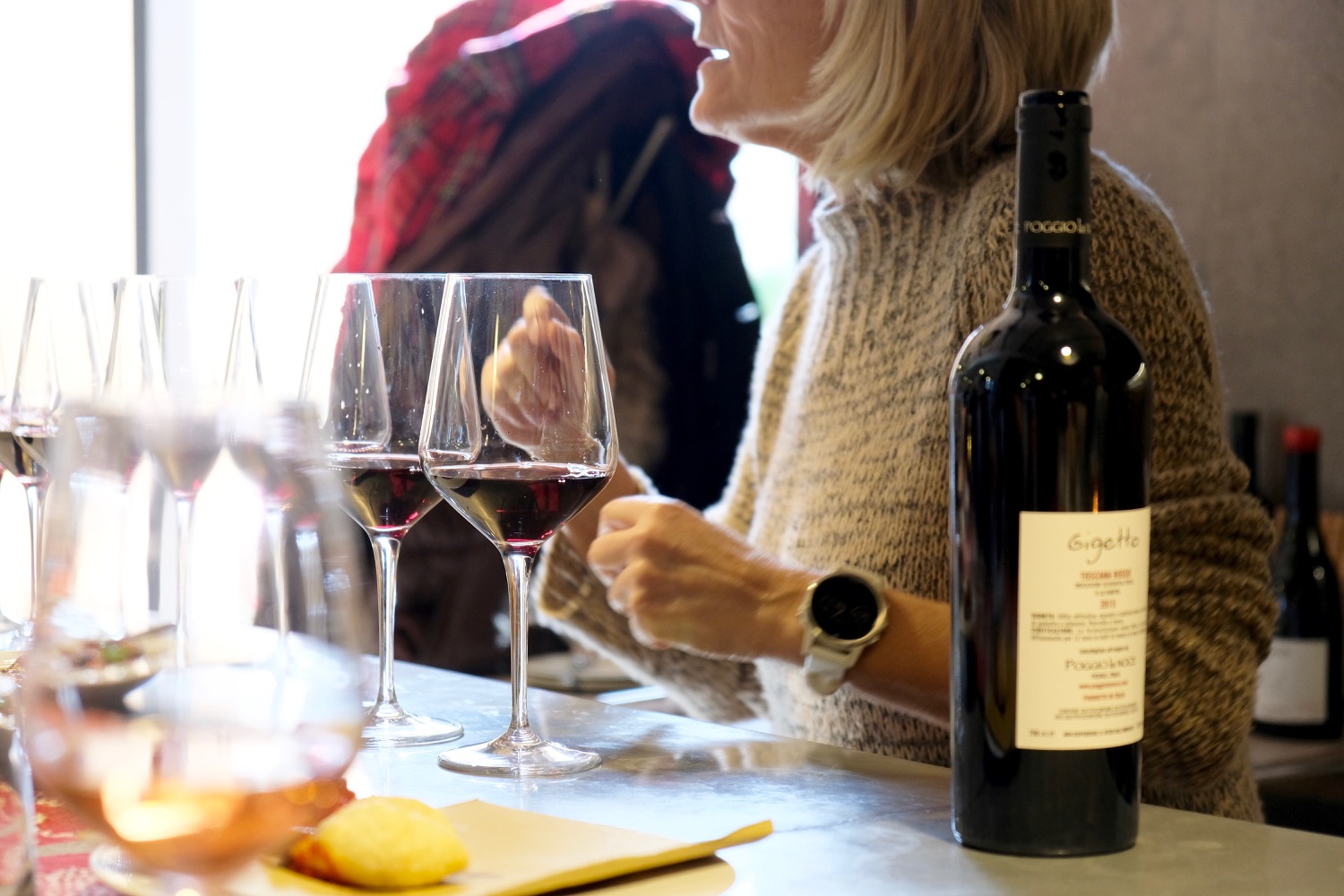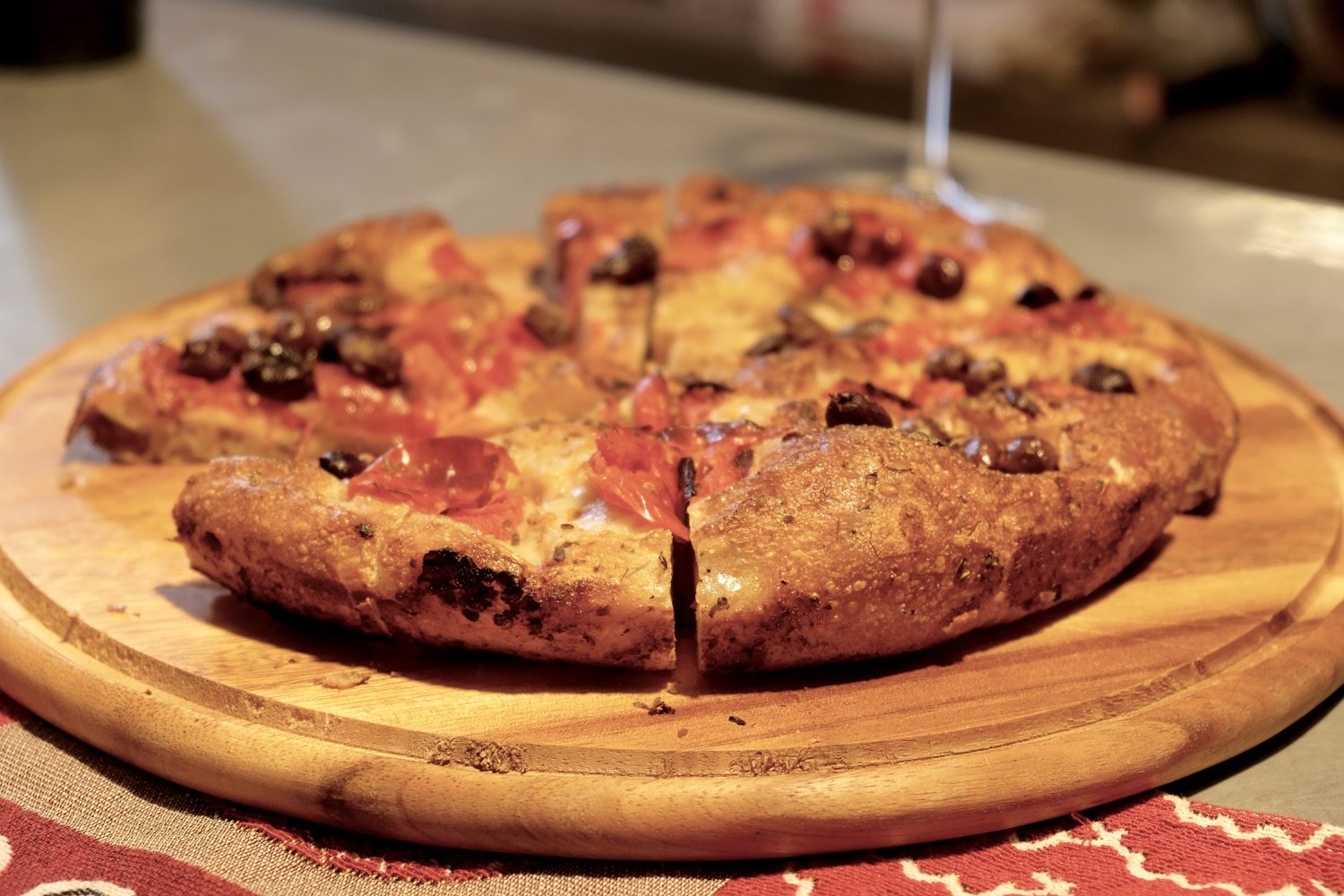 I have to say, hats off to Degustibus for doing their research and finding these boutique wineries where the owners not only give you their time but make you feel at home, something I personally appreciate much more than the big-name Chianti wine tours that all resemble a sales pitch.
This is different.
We spoke about a variety of subjects, from wine and the organic certification needed in a place as difficult as Fiesole to politics and life matters. Claire and Enzo are are interesting and dynamic as their wine varieties and that's probably a gross understatement. I found myself conjuring up when I could return with Nico to purchase more wine and chat with Claire and Enzo a bit more. 
From all of the wines that we tried my stand out favorites were Gigetto (an easy-to-drink Sangiovese, the "Gigio" a blend of mostly Sangiovese with a small percentage of Colorino and the lovely rosè "Pinko Pallino" a combination of early-harvested Sangiovese and Teroldego fruit.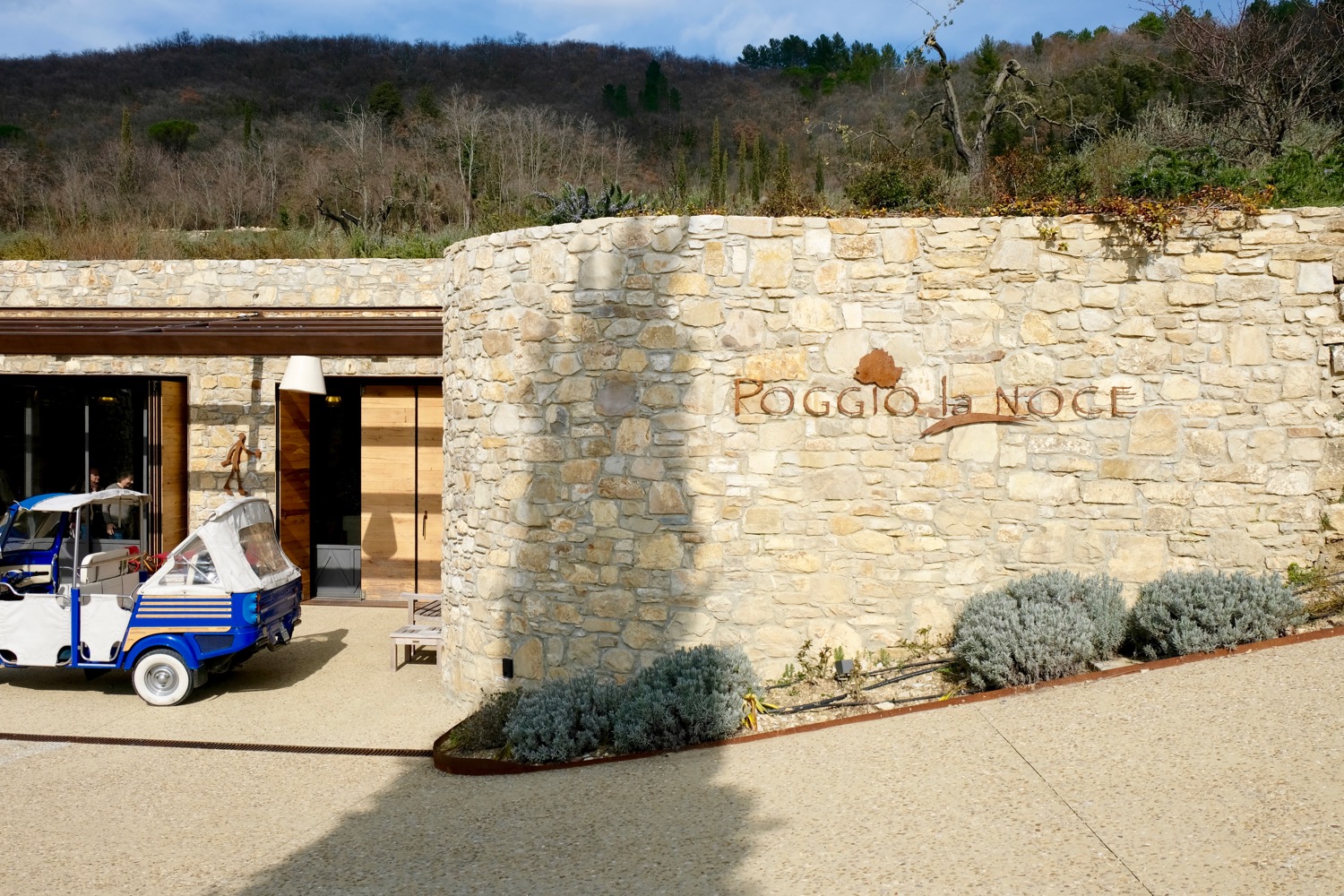 Additional Bachelorette Party Ideas From Your Girl in Florence
Keep in mind a few things while organizing a bachelorette party in a city like Florence. High season brings plenty of crowds, my advice is to avoid disappointments by booking accommodation and reserving restaurants well in advance, especially if you are in a group of more than four. Order your "props" online or make them at home because you won't find much at places like Tiger or any party store in town and have a general game plan plus reserve options in case it rains.
Asmana Wellness World. Hands down one of our favorite spots to go with a group of like-minded ladies and it makes for the perfect pampering bachelorette party location. Why? It's huge location means you can float around a lazy river, have a cocktail in the water, attend free sauna ceremonies or even take a nap in a swing (really). My advice is to go to the Mercato Centrale located at I Gigli beforehand for a meal (the food at Asmana is average). This would require a car/bus/taxi.
Make your own scavenger hunt in the city of Florence with a mix of art history naughty references (how many times can one take a photo of David's nether regions? (the answer_never enough) and tasks for the bride (asking Italian men's advice for a long, and lasting relationship or as we did to our friend in Santo Spirito, having someone serenade a love song on one knee). For those who want to mix a little shopping, check out this list of preferred boutiques & artisans.
Make ceramics with Anita Russo. For those artist sort, we are in Florence so use the fact that there are many interesting bottegas to your advantage. Anita Russo has a lovely ceramic's studio on Via Romana where she can arrange a (small) group ceramic-making lesson which typically lasts two-hours and costs a grand total of 20/pp. Create your own mugs, plates or bowls and I would bring a bottle or two of bubbly to ship while you work.
Aperitivo Tour with Curious Appetite. These gourmet-guru tours are the perfect choice for any fun group adventure and who knows, you might actually learn something. My top pick for a bachelorette adventure would be the aperitivo tour (before-dinner drinks) introducing you to Italy's favorite alcoholic pastime with interesting pairings along the way.
Float down the river Arno with Firenze Rafting. You have several options when it comes to boat tours on the Arno but I am quite partial to these guys who have a sense of humor along with their sense of adventure. While the Arno hardly embodies the rough waters of the Colorado River, you do get to slide down one embankment. Aperitivo is on the boat and is a charming experience to say the least.
Pole addict dance classes in Sesto Fiorentino. I've only done this once but it was probably one of the more dare-I-say-it sexier adventures in my Florence bachelorette experiences. Pole dancing class is a SKILL and while most of you will likely suck, normally you are able to master at least one move (and get a great workout!) by the end of the lesson. Bubbles are encouraged to bring out the shyness and you can practice those moves at Blob Club later if you are feeling racy.
For those looking to keep it classy but still a little sassy, stick to places such as S.esto, La Terrazza Bar at Hotel Contentinal, Cafe Verone (on the earlier side, this is a secret gem), Hotel Lucchesi, Hotel Cavour or BRoof for terrace cocktails or for cocktail connoisseurs, Mad Souls & Spirits, Il Locale, Manifattura, Fusion Bar, Irene Firenze and even Ditta Artigianale Oltrarno. For an older crowd, Gilo Piano bar is a prime spot too. If you prefer bubbles or wine, Enoteca Pitti Gola & Cantina, L'Volpe e Uva, Vineria Sonoria, Enoteca Vigna Nuova, Enoteca Bellini and Il Santino are all wonderful spots. For dancing head to Otel (you'll need a taxi) or Flo club in the summer (not too late unless you are masochistic).
For those not giving a boar's wink about class: trust me you have options. The best option would be too start in Piazza Santo Spirito for pre-drinks at everyone's favorite dive bar Pop Cafe, or Volume and harass people (kidding) in the square. This is also where many bachelor/bachlorette parties end up so expect to run into a fair amount on any given Saturday night from May-September. For dancing after, I hate to admit this but I would probably head to Blob Club since I absolutely hate all of the other discos in the city. There's something mildly comforting about Blob's sticky floor and minuscule dance area, but the prices are honest and for some reason, you will have a good time. IF there is a special event at Flog or Viper, they are worth a visit too.
Have any other ideas? Feel free to share them in the comments, I'd love to hear what you guys have organized in the past.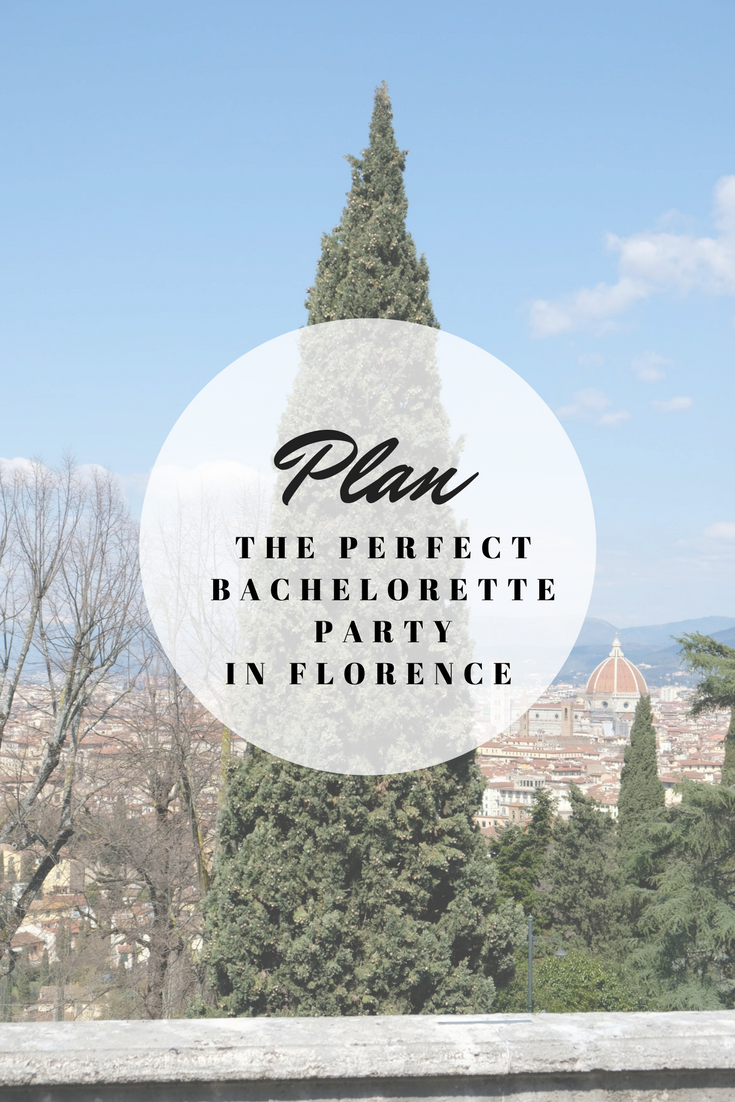 SaveSave