There are so many spots along Italy's luscious shores that people from all over the world dream about, the jagged cliffs of the Amalfi Coast, or the clear-blue water along Sardinia's northern coast and of course Cinque Terre, soon (if it isn't already) the most saturated spot to soak up a little sun. But Monte Argentario, still remains somewhat of a surprising find among many foreigners, also strategic for its vicinity to both the islands of Giglio and Giannutri, am easy ferry ride away. I for one, had no idea this impressive rock islet even existed until the last year or so, which pretty much puts my cool Tuscan card at risk of being hastily revoked.
This area is breathtakingly gorgeous, with an air of mystery that is hard to describe.While summers fill the place up with well-heeled Italians escaping the city, I find this area generally more beautiful and authentic than places like Forte dei Marmi, or Rimini, resort towns that cater to partying/big–name fashion brand of a different level. Off -season is the time to go, late September or early October when you can find parking easily and visit in peace. Thanks to Emiko Davies, I got to see a really unique side to Maremma, especially regarding gastronomic exploration.
Monte Argentario is south of Grosseto in the Maremma area of Tuscany, a former island turned sort-of-peninsula, with two stretches of land connecting it to the Italian mainland. Maremma is a place that I am falling never more in love with every passing year.  I visited Porto Ercole, one of the main towns here about a month previous to this particular weekend, but it was too short of a jaunt to write about, instead this trip was all exploration and food, with Nico and our beagle as my co-partners in crime.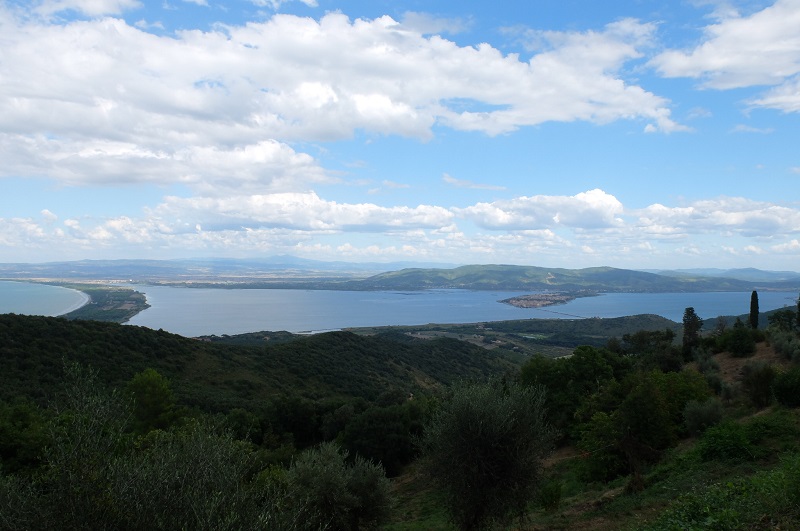 We left Florence after lunch, Nico racing home from work and me trying to man-handle my luggage (which I naturally overpacked), my dog's luggage and a very, very excited beagle. Our hotel hosted us for two nights close to Porto Ercole and said those famous words 'bring your dog,' a request that I have been hearing more and more from hotels – who are becoming more pet-friendly with every passing year.
6:00 Pm, Hotel Check-In And Resonating 'Awe' Moment
We finally made it to our hotel, Argentario Golf Resort and Spa about three hours from leaving Florence. The location itself is nestled in what feels like the middle of nowhere, but actually is quite close to everything in Monte Argentario. A golf-lover's heaven with 18 holes, par 71, the grounds are absolutely gorgeous and it feels like a place of the future. This hotel was all gleam, and shine, shaped like a dragonfly and reminiscent of my days working at a fancy resort similar in Texas.
Ginger had plenty of fun sniffing every crevice as we silently prayed she wouldn't pee on the floor. We stayed in a small suite, decorated in a contemporary art-gallery style, modern and very pretty. They thoughtfully left us a dog bed and food/water containers which was truly going above and beyond. We also had our own little terrace which was a nice touch.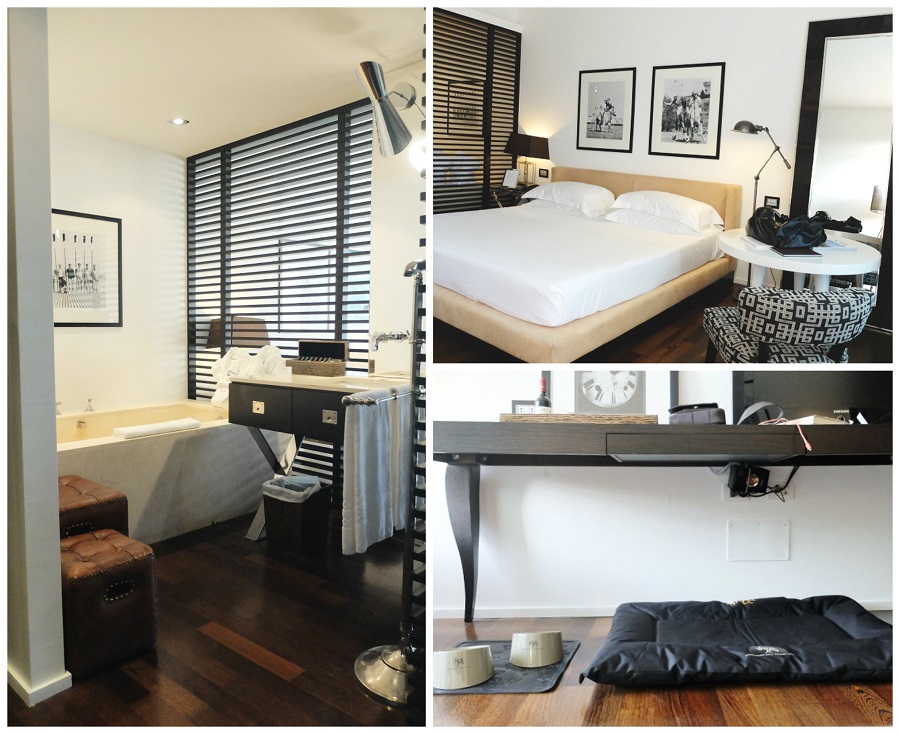 https://instagram.com/p/7ybzOgRTGK/?taken-by=girlinflorence
As soon as we settled in and did that general 'oh-my-god-this-place-is-amazing' we set out for a long walk with Ginger before dinner that night at their Dama Dama restaurant. Along the golf course there are plenty of walking paths and we caught a beautiful sunset by the driving range that you can see above. The resort itself also has an extensive wellness center with indoor/outdoor pools, massage, sauna – spa services and of course, the Italian idiom I love the most, Doccia emozionale 'emotional' shower.'  Matched with a contemporary look and minimalist design throughout, I really enjoyed staying in a hotel that wouldn't look out of place in Scandinavia.
https://instagram.com/p/7yF1ORJQ9y/?taken-by=ginger_artdog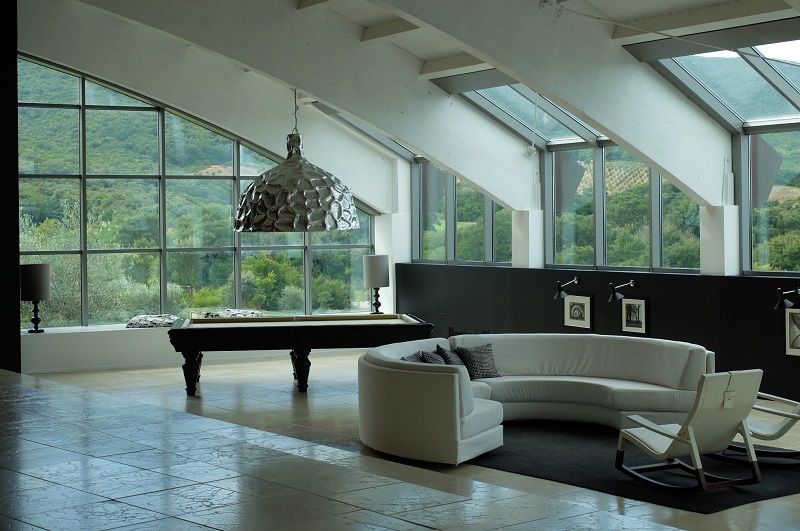 8pm Drinks On The Terrace And dinner At Dama Dama Restaurant
The first night of any holiday break is quite special, and we delighted in getting ready for a fancy dinner at the resort's in house restaurant, Dama Dama which adheres to the o-km philosophy, sourcing produce locally from Maremma, which I was excited to try out. Walking down to the restaurant itself feels a bit like entering or exiting a space ship, all gleam and sheen, ascending the stairs you see a beautiful bar and lounge area with very cool pig tables designed by Marcel Wanders, a Dutch designer with an enviable edge.
We indulged with a before-dinner margarita, my 'happy' drink of all time before tucking into a nice dinner with the help of an excellent sommelier and under the direction of Chef Nicola Angelini . the only downside was that service was a little slow, but I enjoyed my beef tartare and grilled fish and vegetables, with a local white wine from Maremma, an excellent wine-producing vineyard. Some of my favorite wines come from this fruitful area, typically from wineries such as Rocco di frassinello that I discovered during a special wine-melody tour a few year's ago.
9am A Health-Lover's Breakfast & Taking An Emotional Shower 
The next morning we rose early to take Ginger out for a walk and head to breakfast, which is always kind of exciting to me (my blogging dirty-little-secret). If you impressed by breakfast, it means the hotel probably cares about what it feeds to guests which is a huge plus in my book. We grabbed a spot outside and headed to the sumptuous buffet which definitely caters to those who are there for wellness, and looking for some healthier options which I appreciated. There was yogurt sourced locally from Maremma, same with the honey (which you could also eat directly from the comb) – also on offer, a wide variety of seeds, fruits, fresh juices, fragrant cakes, eggs etc.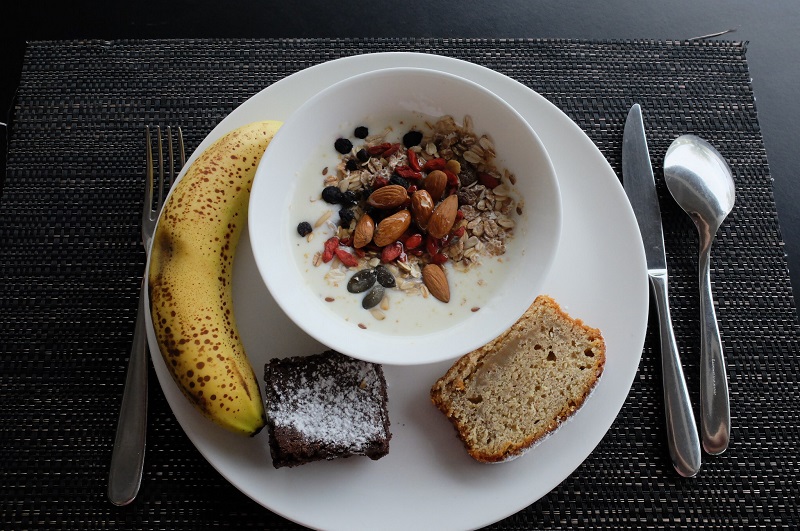 After we decided to spend a lazy morning in the hotel spa, first having a (cold) swim, walking through the circulation path. An interesting thing you often find in thermal spas in Tuscany, a little water path varying from very cold water to lukewarm water that you are meant to continuously walk around and around to improve circulation. We capped off our morning with sauna and steam room session, and the emotional shower which actually means an aromatherapy shower with colorful lights. It always make me laugh because I picture someone being hysterical in the said place which actually happened when we accidentally dumped the 'cold water' bucket by pressing the wrong lever. Crap.
Emotional shower – 1, Georgette and Nico – 0! 
12pm – Lunch in Orbetello – A Unique Lagoon
Since we were meant to meet our friend, and fellow blogger/book writer Emiko Davies in the late-afternoon, we decided to head to nearby Orbetello, a strip of land in the middle of the lagoon with 1,500 hectares of protected marshland with Etruscan roots. Like everywhere in Italy, it behests a fascinating history, under Roman rule, then Siena before undergoing two centuries of Spanish governship in the 16th century, Orbetello once was the capital of the Stato dei Presidi, a small Spanish-ruled kingdom that covered most of the Argentario Coast.
The town, of the same name of the lagoon, is connected to Monte Argentario via a road called Diga Leopoldina. Built in 1841 and is divided into two different parts the "Laguna di Levante" and "Laguna di Ponente" which are also known as the Tombolo della Feniglia and Tombolo della Giannella. It is well-known locally for beautiful stretches of beaches, including Giannella and Feniglia and preserved wild-life, where white herons and pink flamingos (to name a few) make their home. We parked near the Porta a Terra, a baroque archway that signifies entry into the town.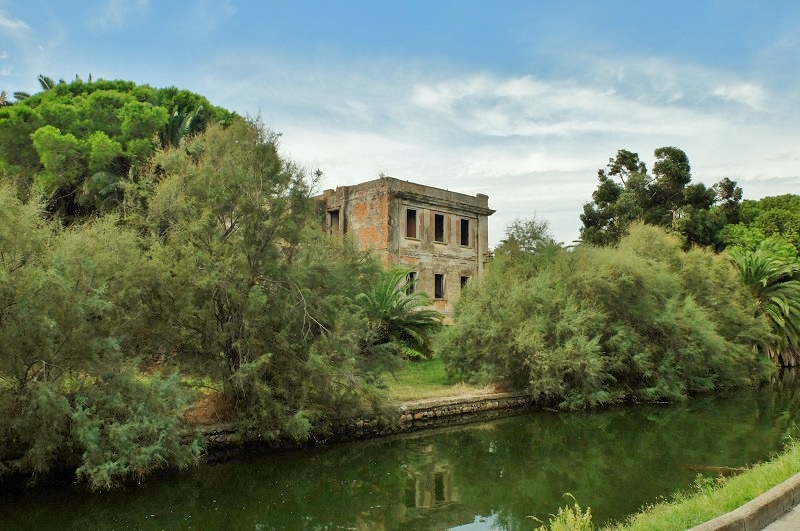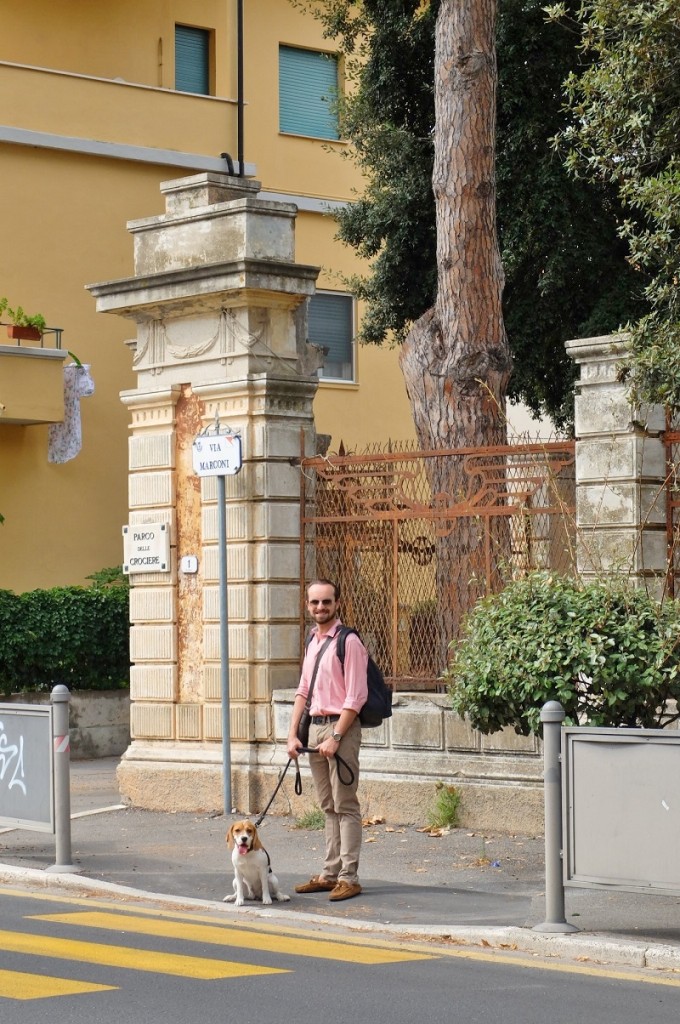 We walked along Corso Italia and took in the quiet town's vibe, stopping at a local rosticceria for a few slices of pizza and focaccia stuffed with fresh anchovies, salty and delicious Lunch for under 15 euros for two — a welcome respite from the fancier restaurants in Porto Santo Stefano. Some of the main sites include the 13th century  Duomo S. Maria Assunta which sits on the ruins of a pagan temple, Palazzo dei Governanti (a remnant from the Stato dei Presidi period, or Spanish rule), the Spanish windmill and Museo Archeologico.
The town center, with a definitive Spanish vibe from its former rulers is absolutely charming — small streets with cute boutiques and a sleepy, calm vibe with a windy breeze that I appreciated this warm afternoon. They definitely respect the after lunch break so I would come for the Saturday morning market in between via caravaggio via trento, or the antique market which is the first weekend of every month.
3-4pm Visit To La Parrina, Albinia
After our visit to Orbetello, we headed to Porto Ercole to meet up with my friend Emiko who was generous enough to lend us a bit of her time. She wanted to take me to an organic cheese farm, La Parrina, that was an easy drive, about 25 minutes, from Porto Ercole. This historical farm was once a wedding gift to Florentine banker Michele Giuntini and is such a beautiful place. Entering you feel like you might just be in the French countryside, with leafy trees, tables casually scattered about and plenty to do, see and eat.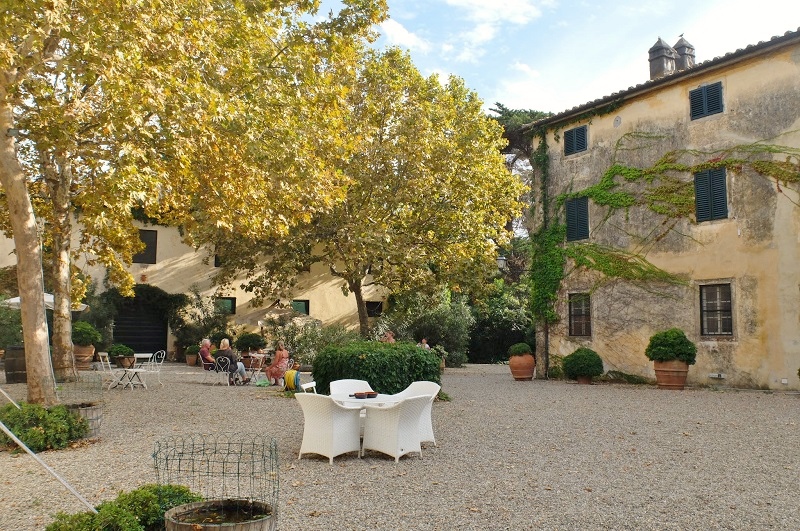 We visited the farm animals where Ginger baked at a donkey, and tried some of the organic goat and sheep cheese made on site which were absolutely lovely. Both Emiko's lovely daughter and our dog took a liking to one another, each one frolicking all over the property and snacking on fallen grapes. I took some cheese and wine home with us, plus a few irregularly-shaped tiny zucchini, as they say in Italy, the worse-looking a fruit or veg, the better it probably is.
6:45 pm Aperitivo In Porto Ercole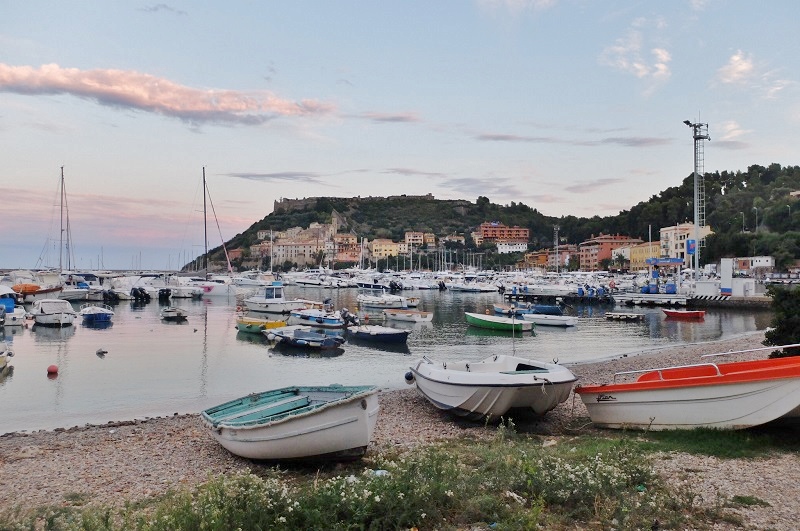 Aperitivo hour is a sacred hour. We headed back to the lovely Porto Ercole, Porto Santo Stefano's less glitzy sister, and decidedly more authentic for a drink. We grabbed a spot at  Bar il Porto on the port. Here is where locals discussed politics over beer and I was able to get a spritz and some snacks for 6 euros, at most. The best way to get to know a place is during this twilight hour, when people embark on a walk before dinner and the sun puts on its last, colorful show. Sipping an aperol spritz as Ginger got to know the local canines, one butt sniff at a time.
8pm, Dinner At A Fisherman's Cooperative, Orbetello
Heading back to the town rising up from the lagoon, dinner was in Orbetello that night. Emiko wanted us to try the fisherman's cooperative that serves up delicious fresh seafood for half the price, which basically is my kind of nirvana. After spending almost 20 euros for a plate of bottarga (salted, cured fish roe from grey mullet) pasta last time I was in the area, I was keen to see where local's go.
As casual as it gets, this 'sagra' like atmosphere is totally our scene, very casual nothing-fancy atmosphere. After picking our items from the list and paying in advance, I naturally went for the bottarga pici and a whole grilled spigola fish, other delicacies here include the smoke eel, or anguilla sfumata. While the place itself is anything but fancy, you eat well, and it is authentic – the flavors taking inspiration once again from its Spanish past, soaking the fish in vinegar, chili and herbs.
Paired with a bottle of local dry white wine, it was dinner perfection. Good company, fresh fish (you can also buy vacuum-packed eel and bottarga from the front). Recognized by SlowFood, I recommend making this a dinner or lunch spot on your next trip to Argentario, not only was it one of the tastiest meals we had, it was also one of the cheapest, about half the price from anything else we got at restaurants.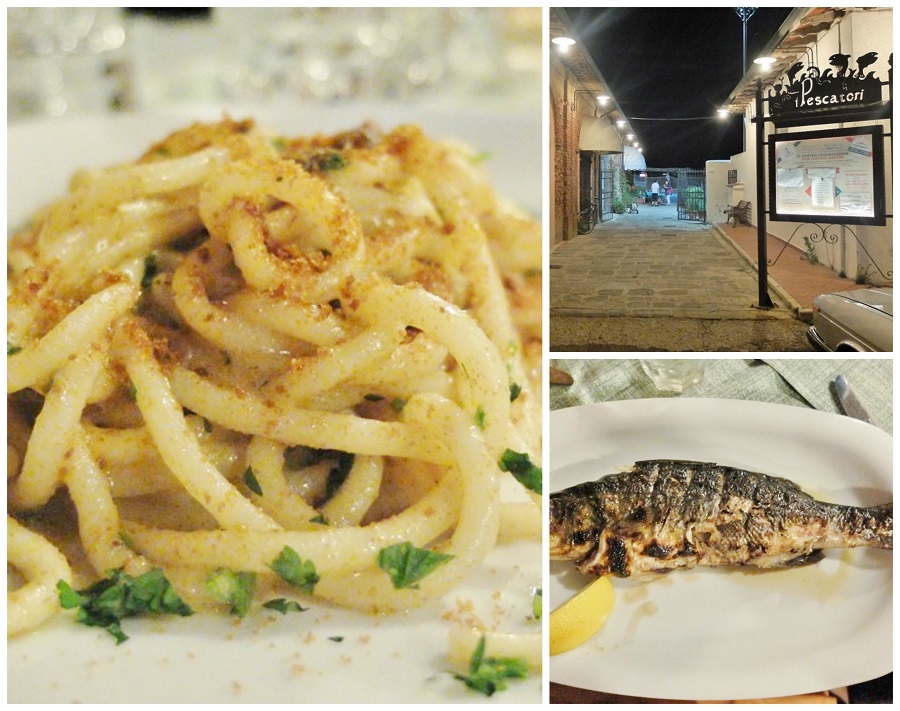 10am, Visit To Porto Ercole
Sunday morning, our last day in Monte Argentario, we decided to go for a quick walk in Porto Ercole before heading to Porto Santo Stefano, which I had failed to visit. Walking along the port, we spotted more than our fair share of fancy yachts and discerning owners in this characteristic fishing village. I added  a list of resources below, including an extensive foodie guide to the this town by Emiko davies, who knows this place like no other.
I spotted this beautiful shop-front, which almost sprung alive with its leafy voracity. I think I have fallen in love with this port town, elegant yet understated, it is also home to Italian painter's Caravaggios remains, apparently he died of Malaria here in 1610. Last trip, we visited the old fortress overlooking the city (which is recommended) and had a drink at the famous Il Pellicano hotel, one of the most iconic places to stay in Tuscany with the price-tag to match.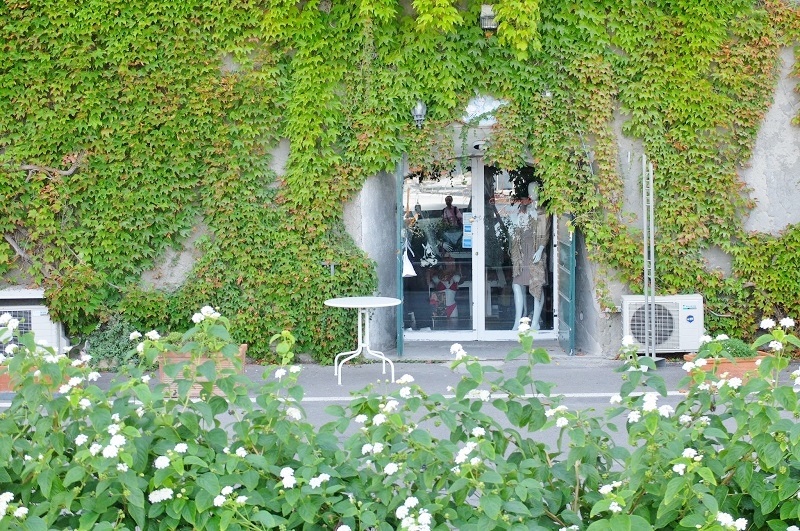 11am, Porto Santo Stefano & The Spanish Fortress
After Porto Ercole, we hopped over to Porto Santo Stefano for a quick walk before lunch. A 'young' place in terms of Italy's standards, taking shape in the 15th century under Siena's rule before becoming part of Spanish territory. It was bombed heavily during WWII, remnants of which can be seen in some of the crumbling walls and plaques.
Much bigger in size, we quickly went up the back streets, my aim is always to head to a panoramic point so up we went, stair after stair. Ginger helped us by careening Nico towards any dog she spotted. We said hi to locals and saw plenty of laundry, flapping in the early-fall breeze.
We somehow found the Spanish fortress, purely by accident, which was built in the end of the 16th and the start of the 17th century during the period of Spanish rule. It offers up some of the best views of the largest port town in Monte Argentario. Inside, there is the Museum of Axe Masters and archaeological remains. If you get the chance, visit, as we were able to really appreciate  the town from this angle, and the vigorous walk means you just earned lunch.
I also recommend taking the strada panoramica, which starts in Porto Santo Stefano and allows for splendid views of the coast and the Tuscan Archipelago.
1pm, Lunch at Ristoro La Sorgente, Mountain Food With A View 
At this point we were starving and looking to vary from all of the fish we had been eating and try some of Maremma's mountain cuisine. Emiko (who is a foodie rock star) recommended we try La Sorgente, another 'sagra' type restaurant opened originally by the nearby monks of Passionisti, tables are out in the open in the middle of the woods. Named for the spring running through this area, and which fills up the water carafes of hungry customers, this place is very informal and simple. A win in my book.
Located halfway between Porto Santo Stefano and Porto Ercole, follow the road leading towards the Padri Passionisti convent and Punta Telegrafo, after around 5km you will see a detour to the restaurant.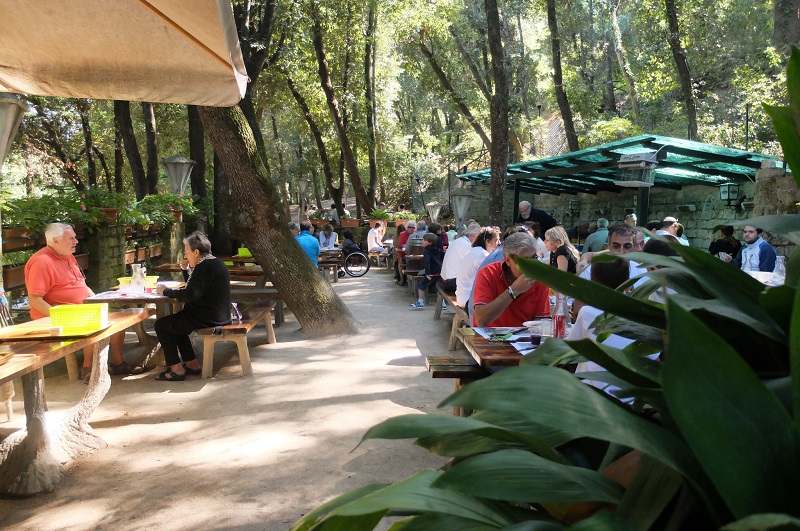 You pay first, and after spotting a bacon-like tower on someone else's tray, I said 'I want that.' We forgot to bring much cash and they don't take card, so we literally had a tight limit to spend. But for about 36 euros, we got a healthy appetizer platter with cheeses and honey, a pasta dish with a mushroom ragu, the bacon tower and wine. Dishes range from wild boar pappardelle to my ' boccone rubato' a pork tenderloin  cooked in a milk marinade for 8 hours at a low temperature, and served wrapped in crispy bacon.
HEAVEN folks, heaven.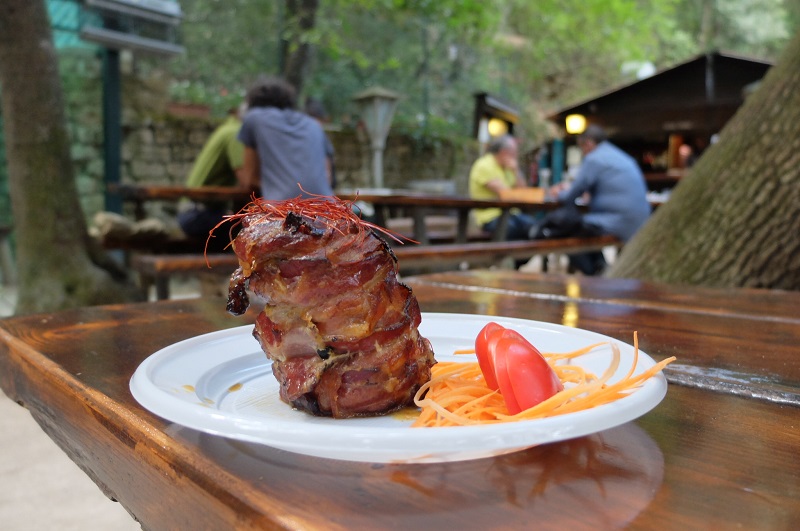 After lunch, we drove up further to Il Convento dei Passionisti to check out the impressive view of the Monte Argentario from above, we could see the strips of land or ' tomboli' quite clear this afternoon. This has to be one of the best panoramic areas in town and I encourage you to go even further (if you have a car) to get the below viewpoints which really help you see how these strips of land connect Argentario to the mainland.
2pm, Where Art Meets Nature: Exploring The Tarot Park
I've been waiting to visit this colorful park for ages, and the perfect 'day-trip' from Monte Argentario is the famed Il Giardino dei Tarocchi ("Tarot Garden") by sculptor Niki de Saint Phalle in the second half of the last century, depicting 22 sculptures representing the arcana of the Tarot cards. Her inspiration mingled man and nature, taking inspiration from the Spanish artist Gaudi, which you can see in her style. Kid-friendly, dog-friendly, adult friendly, it is a cool place, even if the opening hours are a little weird. I recommend combining this with a visit to the charming town of Capalbio. Unfortunately it is set to close for the season in a few days but for those planning a 2016 trip to Tuscany, I would absolutely say this is worth stopping for.
5:30pm In Maremma's Heartland, Capalbio
Before heading back to Florence, we stopped in nearby Capalbio, a spot where rich Roman aristocrats come to get a little air in a very picturesque town in the center of Maremma. In 805 AD it was donated to trhe Abbey of the Tre Fontan by Charlamagne and eventually came under the order of  Cosimo I de' Medici as part of his new Grand Duchy of Tuscany.
I also recommend walking on the old, medieval defensive walls surrounding the town, where you can get what is one of the best views I have seen in Tuscany. I dare say it beats San Gimignano by a long-shot. Only half an hour from Monte Argentario, you could easily make your way here during a weekend visit like we did.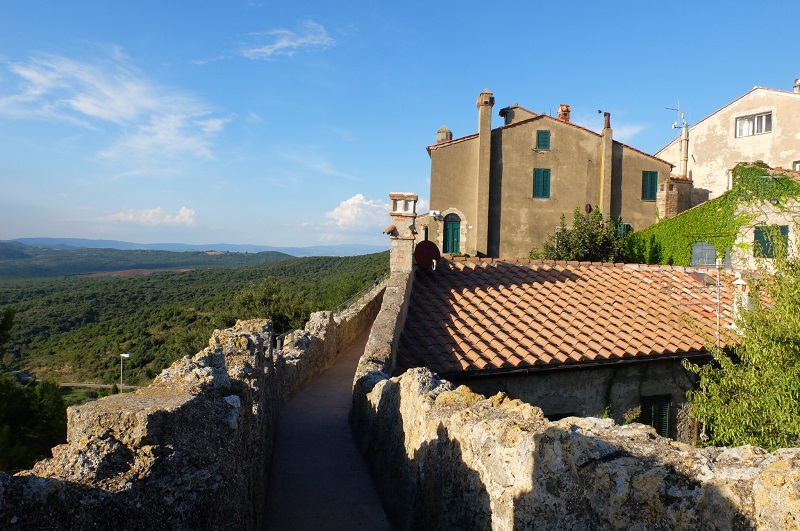 After, we stopped at Il Frantoio, a very neat restaurant/bar/concept store located just outside the city walls. At first site it could look like any other bar, restaurant but go inside the main dining room or outside garden terrace, you an see how fancy this place actually is. I had an excellent chestnut dessert here and I'd like to come back for a meal next time we're in the area.
---
Quick Details
Distance from Florence to Monte Argentario, from 2 1/2- 3 hours. 193.1 km,  via Raccordo Autostradale Firenze – Siena and SS223.
Where We Stayed
Argentario Golf & Resort: Located 5 km from Porto Ercole, Argentario Golf Resort and Spa features a free organic wellness centre, a panoramic 18-hole golf course and a gourmet restaurant. All design rooms come with a private terrace and free Wi-Fi. address: Via Acquedotto Leopoldino, 58018 Porto Ercole GR. website. From 237 euros a night.
Where We Ate
I Pescatori di Orbetello: Via G. Leopardi, 9 – Orbetello, Tel. 0564 860611, website. Open weekends, Friday – 7:30 pm-11:30 pm
Sat-Sun:  12:30 pm-3:00 pm and 7:30 pm-11:30 pm. Around 50-60 euros for two. $$
Ristoro La Sorgente, Strada Provinciale Del Convento, Convento Padri Passionisti, 58019 Monte Argentario Province of Grosseto
0564 818770. Open Friday, Saturday & Sunday, Lunch & Dinner. website. Around 30-50 euros for two people. $$
Dama Dama Restaurant, Via Acquedotto Leopoldino, 58018 Porto Ercole GR. around 100-150 for two. $$$$
Il Frantoio,Via Renato Fucini 10, Capalbio GR. Tel 0564 896484, Closed on Tuesday, and Wednesday at lunch. Closed on Tuesday at lunch and Wednesday at lunch from July 15th to Septemper 15th.  website. $$$
Where We Went
Porto Ercole – Forte La Rocca – Forte Stella. See itineraries here.
Porto Santo Stefano – Fortezza Spagnola Porto S.Stefano, address: Monte Argentario, Piazza del Governatore. Price  € 2,00, open September 15 – December 31, Saturday, Sunday and holidays 10.30 – 13.00 e 15.00 – 17.30. Website.
Antica Fattoria La Parrina, address: bivio via Aurelia km 146 , Strada vicinale della Parrina snc , 58010 Albinia (GR)
info@parrina.itm +39 0564 862 626. They offer cheese and wine tastings, have a small organic shop on site, and offer rooms to rent.
Tarot Garden near Calabio. Open April 1 to October 15th from 2.30 to 7.30, closed from Closed from 16 October to 31 March. address: Pescia Fiorentina, Capalbio (GR). 12 euros full price, 7 euro reduced.
Additional resources
10 things to do in Orbetello – Around Tuscany
Gastronomic Guide to Porto Ercole – Emiko Davies
The Tarot Garden at Capalbio – Discover Tuscany
I Pescatori di Orbetello: Dinner straight from the Lagoon – Emiko Davies
Best Food Shopping in Tuscany, Organic Farms & Markets – MapItOut-Tuscany
Off-season Argentario – ArtTrav
Argentario Coast – Maremma- Tuscany by Elisa.
A Secret Coastal Getaway in Tuscany, Italy  – Travel & Leisure
Porto Santo Stefano and Porto Ercole in Monte Argentario – Around Tuscany