June gloom don't despair because there are a heck of a lot of events to make this month an exciting one. June always remains a pretty special month for Florence because of the celebration of its patron saint on the 24th, Saint Giovanni, and there are so many cool activities on offer for both locals and visitors alike. Plus the month kicks off with a long weekend with many taking 'il ponte' or an extended holiday since Tuesday is a national holiday 'festa della repubblica' when Italy became a democratic republic (yes expect a procession of historical costumes and music on the 2nd around the historical center). I will be adding more Tuscan events to this list in the coming days so if you know of anything that I definitely should add, send me your ideas or comment on this post!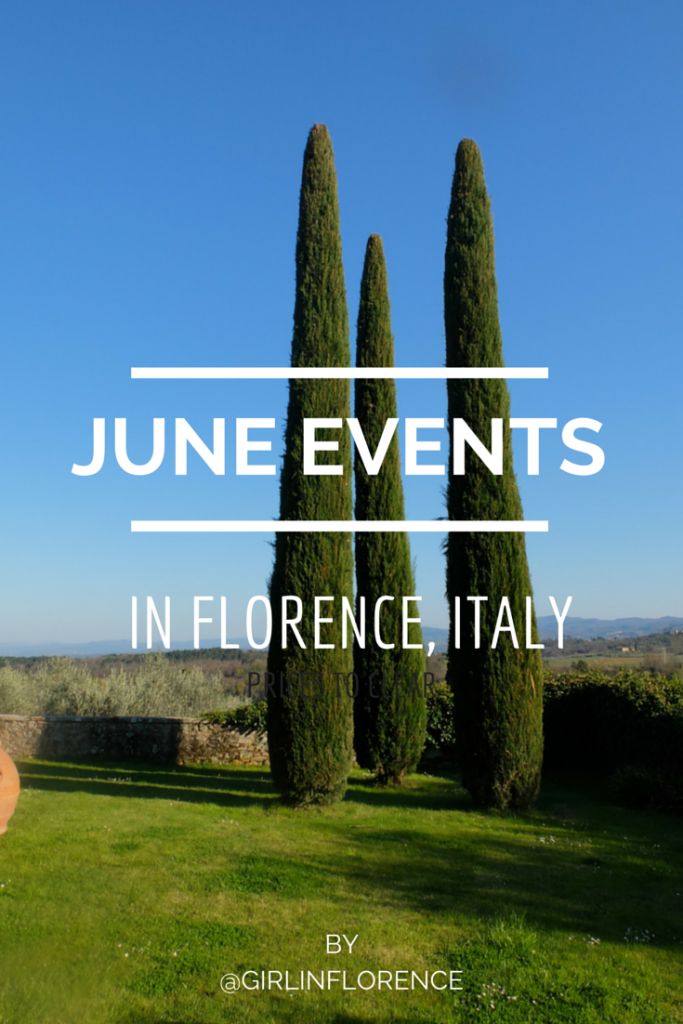 Let There be Wine | 'Cantine Aperte' Open Wine Cellars, May 30 – June 2nd. All over Tuscany
For one weekend every May, wineries all over Italy open their doors to the public for tastings galore, 75 in Tuscany alone. While typically these wineries are open anytime, this is a chance to get a tasting, tour the grounds and basically feel 'under the Tuscan sun' for a day while hopping all over some of the prettiest areas of the countryside. Full list of participating local wineries are here. Some of my favorite spots that are participating include the new  Cantine Antinori in Bargino (incredibly beautiful and not too far from Florence),  Castello di Querceto,  Castle Vicchiomaggio in Greve in Chianti, and Ruffino in Bagno a Ripoli.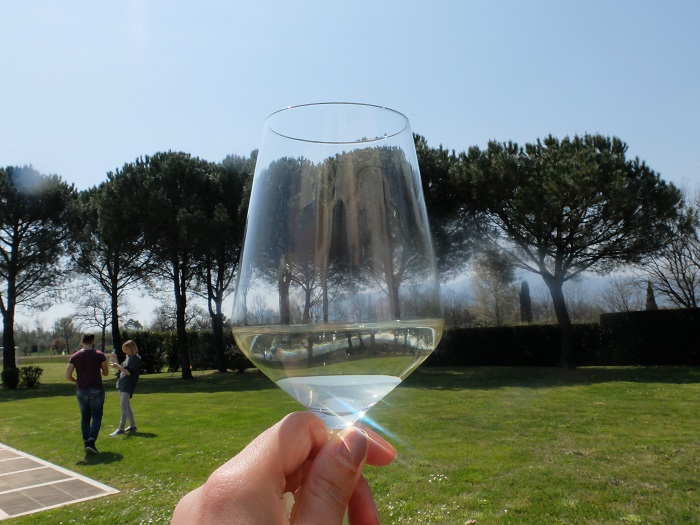 Jewelry Festival | Florence Jewelry Week, Until June 3rd, Oltrarno Neighborhood. Florence, Italy.
Interesting week of events that bring together big names in the jewelry design world along with interesting exhibits, lectures, workshop and more. The best part is, they are sticking to the 'oltrarno' other side of the river neighborhood which is home to many of the traditional workshops that I adore. Check out the full program here.
Open Market/Charity | 'Secret Garden', June 5th -7th at Villa Bardini
Activities for kids, yoga lessons, a mime, organic food and a pop-up marketplace featuring local artisans are a few of the things you can do in this very beautiful setting. The garden of Villa Bardini which has been my favorite place this summer so far (also because of this new restaurant). Important charity event for Meyer Hospital, proceeds of this event will go to Noi Per Voi per il Meyer Onlus, supporting the oncology department at this local pediatric hospital. Official program here. address: Villa Bardini, Costa San Giorgio 2, Florence.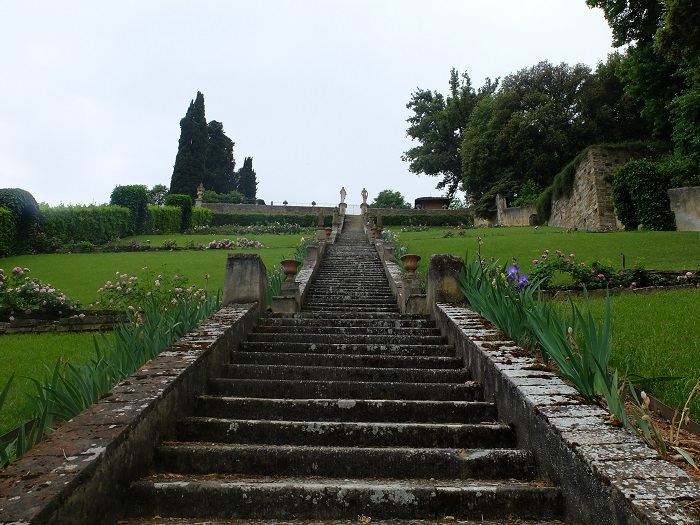 Free Visits | Solstice in the Duomo Cathedral 'Lo Gnomone' June 8th, 12th, 20th, 25th. 12:30-1:30pm.
Any astrological buffs out there? One event you certainly don't want to miss is the 'gnomone' or solstice of the Meridian line in the Duomo Cathedral. Via an astrological instrument called 'gnomon', the sun's rays fall through Brunelleschi's dome, forming the image of the solar disk that will to overlap perfectly with that of marble placed on the floor of the Chapel of the Cross, to the left of the High Altar. On four different days this month, you can learn about this annual phenomenon and see it for yourself via a free guided visit, reservations are mandatory. email [email protected], 0552302885, more details here.
Wine! Thursday, June 11th, Food and Wine Pairing Night with the Wine Maker
Join The Curious Appetite at Le Volpe e L'Uva for a vertical wine tasting with food pairings with the winemaker of Poggerino in Radda in Chianti.  A vertical tasting is when you taste the same wine from different vintages (years). This evening will be a vertical of Poggerino's Chianti Classico Riserva Vecchie Vigne (old vine reserve) and paired with gourmet crostoni, local cheeses and artisan cured meats. The tasting will be lead by the winemaker and the sommelier staff at Le Volpe e L'Uva. Gourmet blogger Coral of
The Curious Appetite
will also be there to translate for guests who would like to attend, but don't speak Italian. There will be at least 5 wine tastings and pairings with each pour. Space is limited to 10, send in your RSVP soon!
Details: Thursday June 11th 9:30pm-11:30pm cost: 25 euros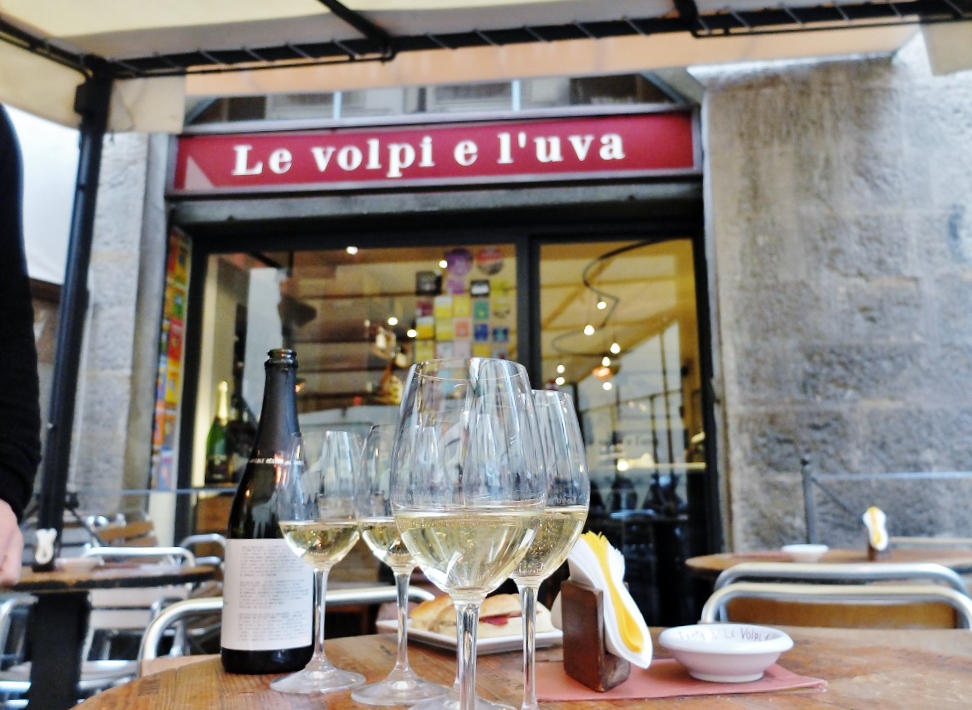 Music | MTV Italia Awards, June 14th, 8pm. Cascine Park (Piazzale del re)
The best of music this 2015 comes together at a special awards show hosted by Emis Killa for TV network, MTV. The fun starts around 8pm while at 11pm is a musical after-party.
Fashion | 'Pitti Uomo – That's Pitti Color', June 16-19th, Fortezza di Basso
Yep the 'boys are back' and big fashion fair Pitti Uomo (and Pitti W!) is prepped for its summer edition as a loads of well-dressed dapper men fill these Renaissance streets. Naturally only industry people are invited to the events but if you want to see what all of the buzz is about, watch these guys and girls 'posing' in full hipster gear in front of the trade fair on viale strozzi. It's a site to see! Pitti Bimbo featuring children's fashions arrives here on June 25th-27th.
Run! | Night marathon, June 20th, throughout Florence, 9pm (piazza duomo).
How cool is this! In its 75th edition, this is one of the most ancient street races in Italy, the 'Notturna di San Giovanni' will take place over an 10 kilometer route stretching along some of the most beautiful monuments in the city. Typically around 1,500 people join the race and there is also a non-competitive route of 4,7 kilometers open to anyone. Website.
Historical Football | 'Calcio Storico' , June 13,14 and the 24th, piazza santa croce in Florence
Always a very exciting event in town, the competing neighborhoods of the city will play football (historical version) from the strategic and historical point of piazza santa croce, which is transformed into a special field of sand. In can get pretty violent, I wouldn't bring your kids but if you want a peek into Florentine history, you can't get better than this. The fun reaches his pinnacle on the 24th when a parade complete with historical costumes starts from piazza santa maria novella. That same night (see event below) fireworks dot the Florentine skyline. For tickets and more information.
Fireworks! |  Feast Day, San Giovanni, of the city's patron saint, June 24th, 10pm.
June 24th is a pretty important day for Florence as people come together for a 'bang' to celebrate our patron saint San Giovanni. Those who are visiting will be delighted with the evening's spectacular fireworks show shot from piazzale michelangelo. The best vantage point is from the arno river banks, so come early to claim your spot.
*Top Event, a Silent 'disco' on the arno beach where you can watch the fireworks. More details can be found here. You will be able to buy burgers and snacks (you can't bring your own) and come early to see the action from a comfy spot (I recommend around 6pm!). I am intrigued by this silent disco so I am guessing you should bring your earbuds?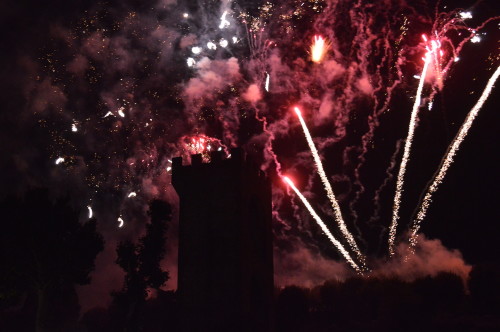 Exhibition | 'Sculpture Currently Updating' June 26 – July 5th.
Sculpture Currently Updating is a student exhibition and collaboration between Fondazione Palazzo Strozzi and the European Institute of Design ('IED') featuring artworks by students from Fondazione Studio Marangoni, the Accademia di Belle Arti di Firenze and LABA ('Libera Accademia di Belle Arti'). This project derives its thematic inspiration from certain considerations of sculpture's existence over time and, more specifically, from the exhibitions currently showing at Palazzo Strozzi and Strozzina – Power and Pathos, Bronze Sculpture of the Hellenistic World and Sculptures also Die. The exhibition will be curated and organised by Masters students from IED as their final semester project. The exhibition will run from June 26-July 5th, IED: Via Maurizio Bufalini, 6/R, Firenze ZAP: Piazza di Santa Maria Maggiore, 1, Firenze. Opening ceremony/presentation, June 25th, 6pm at ZAP.

Music/Lectures/Poetry | La Pietra Dialogues at NYU in Florence, Until late July.
One of my favorite things about Florence is the plethora of art, culture and literature that is free and open to the public, and in stunning locations. For those who do not know about LPD : they are an organization that convenes some of the world's foremost scholars, policy makers, practitioners, business leaders, public intellectuals and artists whose ideas and work have made a significant cultural or intellectual contribution to global society and the revival of the spirit of humanism for which Florence is known. They gather at Villa la Pietra, New York University´s exceptional site in Florence. Attendance is free, but you need to make a reservation to get on the list. The full calendar of events is here. address: Via Bolognese, 120, 50139.
Music, Dance | 'Summer at the Bargello', Courtyard of Bargello Museum, Until September 12th.
In one of my favorite places in Florence, the highly underrated Bargello sculpture museum, a special summer festival takes place in its beautiful courtyard. A series of events that kicks off in the end of may, featuring talented musicians, dance from the NYC ballet company and theater. address: Via del Proconsolo, 4. Official website.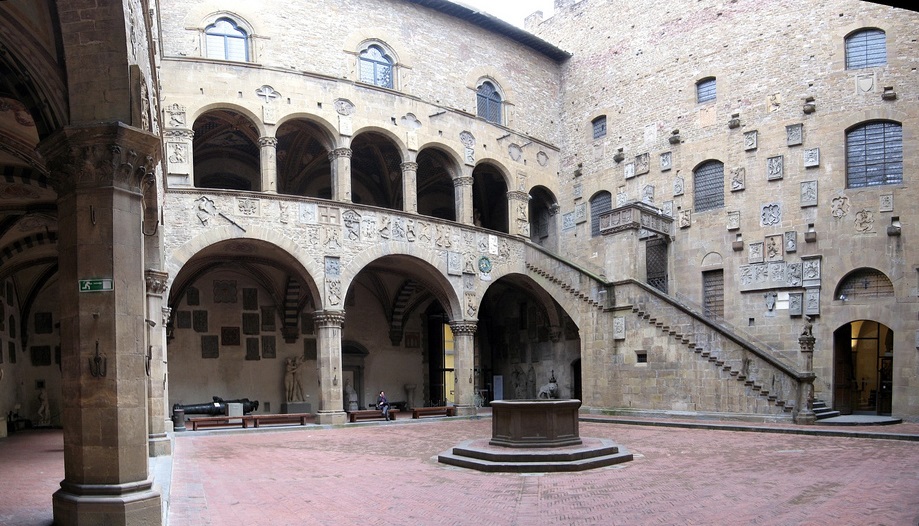 Cinema | Original Language Movies at the Odeon, Piazza Strozzi, throughout June
A night at the movies, does it ever really get old? I think not, made more so because the Odeon cinehall in Florence is just so damn gorgeous. Movies this month include Mad Max Fury Road, Tomorrowland, Fury, Jurrasic World and a special nightly screening of 'The Mystery of Dante'. Full program can be seen here.
Terraces! Aperitivo with a View in Some of the best Locations in Florence
While not exactly a specific event, June marks the opening of many of the city's terraces, most on top of hotels, where anyone can go for an aperitif drink or sometimes even stay for dinner. The bonus is you get a beautiful, panoramic view of the city. This is definitely one of our favorite activities on a beautiful summer evening. Favorites include:
"La Terrazza" on top of Hotel Continental is open to the public and is a sexy, sophisticated spot to sip a moscow mule with a birds-eye view of the Ponte Vecchio. Pricey, cocktails cost around 16 euros, open daily from 3:30pm-10pm. address: Vicolo dell'Oro, 6r – 50123 Florence, Phone. +39 055 2726 5806 , E-mail. [email protected].
Sesto at Hotel Excelsior is a prime spot for fashionistas to grab a drink on one of the best terraces in town. I would skip dinner here and just get the drink. Piazza Ognissanti, 3. Open 7:30pm-10:30pm.
Say hello to the Duomo! Grand Hotel Cavour is my usual choice to take people for a drink with an awesome view. I like its intimate feel, not outrageous prices and niceness of the bar staff. Drinks aren't as great as Continental but I assure you, this place is worth visiting. address: Via del Proconsolo, 3.
Feel 'Human' While You Drink. Cocktails at the Forte Belvedere are always a good idea, also because the latest exhibit is one I truly can appreciate. Come for an early drink around 5-7pm as it closes quite early. check updates on their facebook page.
Oblate stays cool. On top of the Oblate library lies a cafe that is quite popular with the Italian student population. The great thing is you can also get a drink here and prices are cheap so this is a wonderful option for those who are on a budget, but still want the Duomo smack in their face. address: via dell'Oriuolo, 26. Cool place to organize a private aperitivo as well. Info here.
Grande Hotel Minerva, '360 Three Sixty' Rooftop Bar: has a new menu for 2015. Next to the pool in piazza santa maria novella, this place is too cool for words. Open daily from 7pm-midnight, you can order salads, tagliere with cheese and meets and various items for around 16-18 euros a platter. Drinks range from 6 euros for a glass of prosecco and 12 euros for a cocktail. Email [email protected] for a reservation.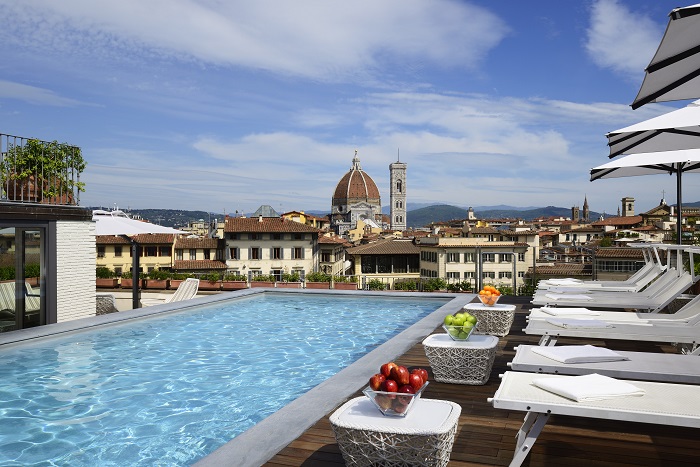 ---
Tuscany Events (Coming soon)
Wine | Mostra del Chianti, Until June 7th, Around Montespertoli
Celebrating wine with a series of fun events in its 58th edition in the Tuscan town of Montespertoli. Parades, fun, wine tasting and more. I absolutely adore all of these summer wine events and this definitely looks like a lot of fun. Official website.