I love this photo. I like it so much that I bought it for myself, my dad and pretty much anyone who likes anything in black & white. The enigmatic appeal of the American girl in Italy. One has to look at a photo like this and say, wow – those Italians were so elegant.
Well, pretty much they still are except for the occasional shiny silver sneaker and black puffy trash bag jacket. While I personally wouldn't describe Italians as 'trendy' since I think people tend to stick to what's safe (with obvious super fashionable exceptions and many being the younger crowd), I would reason that people tend not to leave the house sporting shower shoes and wearing their favorite Nike t-shirt.  Oh no, the bella figura would have none of that (though don't get confused and think it means purely your image..)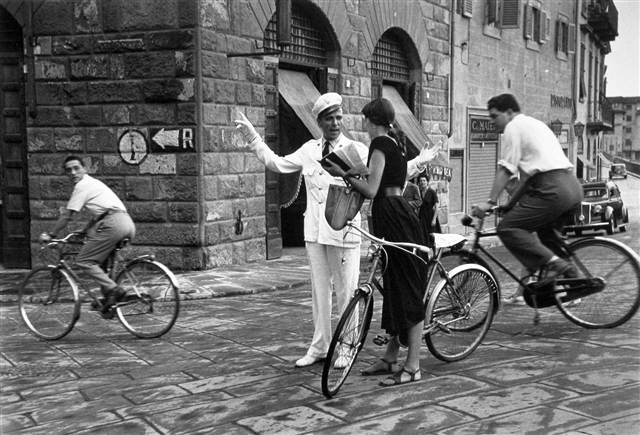 To quote Eyeitalia:
"Bella figura goes well beyond image, visual beauty and presentation…it also is defined by behavior: knowing how to properly and graciously interact with others in any social or public situation. Exhibiting good manners, tact and gentility is an essential component of "cutting a beautiful figure".
Disclaimer alert, I am no fashion expert by any means. I tend to stick to safe, comfortably well-fitted clothes yet tend to go crazy with accessories like scarves and necklaces to shake things up. I really appreciate the way locals dress here and must admit that it's quite nice to live in a place where people do take that extra second to dress a little nicer in public. I have always believed that it takes just as much time to put on a casual elegant outfit as it does to put on your filthiest sneakers and dirty t-shirt. One thing to keep in mind when getting dressed for a day in Italy is that you want to wear something that could be work all day long, because you might not have time to come home and change. That's my general rule for getting dressed because (thankfully) anything could happen.
I once had a drink with some visiting friends and one commented on how much she was getting stared at. While I said nothing at the time, in my head I couldn't help but think that it could have something to do with the fact that she was wearing a bright red, short dress that shouted look at me and she happened to be blond. Well, yep people are going to stare at you. People stare at everyone. There is no '3 second rules' when it comes to staring. Think of it as a national sport and roll with it, just stare back 😉
So why not get to the point here. People have written me a few times asking how to dress in Italy and so without further ado – here are my 'Fashion' tips while traveling in Italy.
Exhibit A.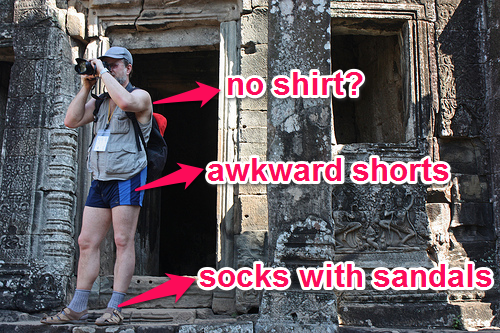 While I get that the weather can vary from boiling humidity to icily cold, here are a few tips you can keep in mind during your next trip to Italy. 
Neutral colors go a long way, think black, nudes, white – solid colors. If you put on a pair of mustard trousers, pair them with a neutral balancing color like black or brown and perhaps add a special accessory. I wouldn't dress like I was visiting Miami in a country like Italy.
When in doubt – casual elegant is the way to go. Most people dress here in a way that can take them straight from the office to a nice dinner on any given day of the week. I am 100% certain that you can find really great comfortable but also casually elegant clothes wherever you go. Focus on textures, nice material and a great cut. Also I always carry a little makeup, those sample sizes of perfume, deodorant and my toothbrush if I don't have the chance to go home before meeting friends/going for a drink. You can always go crazy with accessories, like long necklaces and interesting rings.
Find your inner love affair with scarves. This applies to both men and women. Come fall and spring, you would be wise to carry one since it can get a little chilly depending on the hour of day. Head over to the San Lorenzo outdoor or Porcellino markets and pick up a few scarves of varying colors. They are quite affordable and they can instantly make a 'blah' outfit more interesting. Also if you happen to be wearing a strapless top you can use it to cover your shoulders when entering churches and visiting religious monuments to show respect. They also happen to make fantastic gifts, I always bring back a bunch when I visit Texas.
Fancy footwear! In the summer women wear nice sandals, sport street sneaks or heels while men typically wear boat shoes, street sneaks or nice shoes with socks. Local men rarely walk around wearing sandals unless at the beach. Fall and winter means boots are ready to come out and play and I am obsessed with them. Long ones, short ones, flat ones, heeled ones, leather ones – pick up a pair or two of nice boots and you will have half your 'look' covered – complete with a pair of tights from Calzedonia and a nice dress/skirt. Men sometimes wear boots too depending on the individual though usually their style remains more consistent throughout the year.  Right now I am seeing a lot of studs on shoes and personally, I am not a fan. I think they look a little 'cheap.' Ps. you really need a good shoe when in Italy because cobblestones aren't forgiving!
Always pack an umbrella. This summer has proved to me that you need to always have an umbrella on hand even if it looks super sunny. 9am might be bright blue skies and by 2pm, a hurricane-like storm could be crashing down on you. Get a compact one and forgo the ponchos, they just look ridiculous.
What not to wear? That's pretty easy:
A fanny pack (bum bag) whatever you call it – don't wear it ever.  Do it for me, do it for society, do it for this little guy.  If you are a man get a man bag instead, preferably a small,elegant leather one or a nice backpack.
Avoid Flip-Flops. I can be guilty of this no-no from time to time and always regret it when I do. Mainly because Florence is super dusty and dog poop is ripe so, just leave those shoes at home unless at the beach and wear sandals instead. You will be labeled as a tourist if you wear flip-flops in the center of town – FACT. Plus it is pretty easy to hurt yourself wearing flip-flops in a city like Firenze.
No one wears huge floppy tourist hats or visors. I sympathise that it can be very hot in the summer. While it is totally cool to sport a fedora style hat or cute hats in general to protect yourself from the sun, those huge floppy hats have no home in Florence, save it for the beach. Also avoid wearing a visor, or umbrella to shield from the sun. It really is a little much – unless you want to pretend you are from another era or maybe it's your own personal version of a raindance. 
Keep your shirt on. This should be obvious but just from walking around this August I have seen several people shirtless walking around town without a shirt. Why? If you are hot – drink some water, stay in the shade – or better yet don't visit Florence in August (seriously it's not a good idea)
Shirts with huge logos. I get it, you love the Miami heat and what to show off where you from. Oh all of your exes are from Texas? That's nice. Here's a tip:  Save that special shirt for your pajamas when you come back to your hotel room or rented apartment. Logos in Italy are usually understated and big, flashy t-shirts are a no-no. Also there is a difference between a cute fitted t-shirt with wording and the kind of basketball shirts my brothers used to wash their cars with.
Really short shorts or skirts. No, I am not a prude – you should have seen the kind of clothes I wore as a teenager in San Antonio, Texas – some of it should have been illegal. Of course when you are skirting around town in a car and in controlled environments it's a little different from a casual stroll in town with your butt cheeks hanging out and your thong underwear completely visible under a white, sheer skirt. Trust me you won't be comfortable in it anyway so just go for a longer pair (shorts are sort of debatable anyway in Italy unless at the beach). If i plan to wear something a little sexier than normal, I typically put on a longer coat so I feel a little more at ease walking around (plus think of STAIRS). I know it's style now to wear super short shorts but remember that the bottom of your butt cheek

will

make contact with some truly filthy benches and seats, Florence isn't famous for being super clean. Also it can be super windy here so I recommend being careful with shorter skirts that fly up the second a breeze hits them.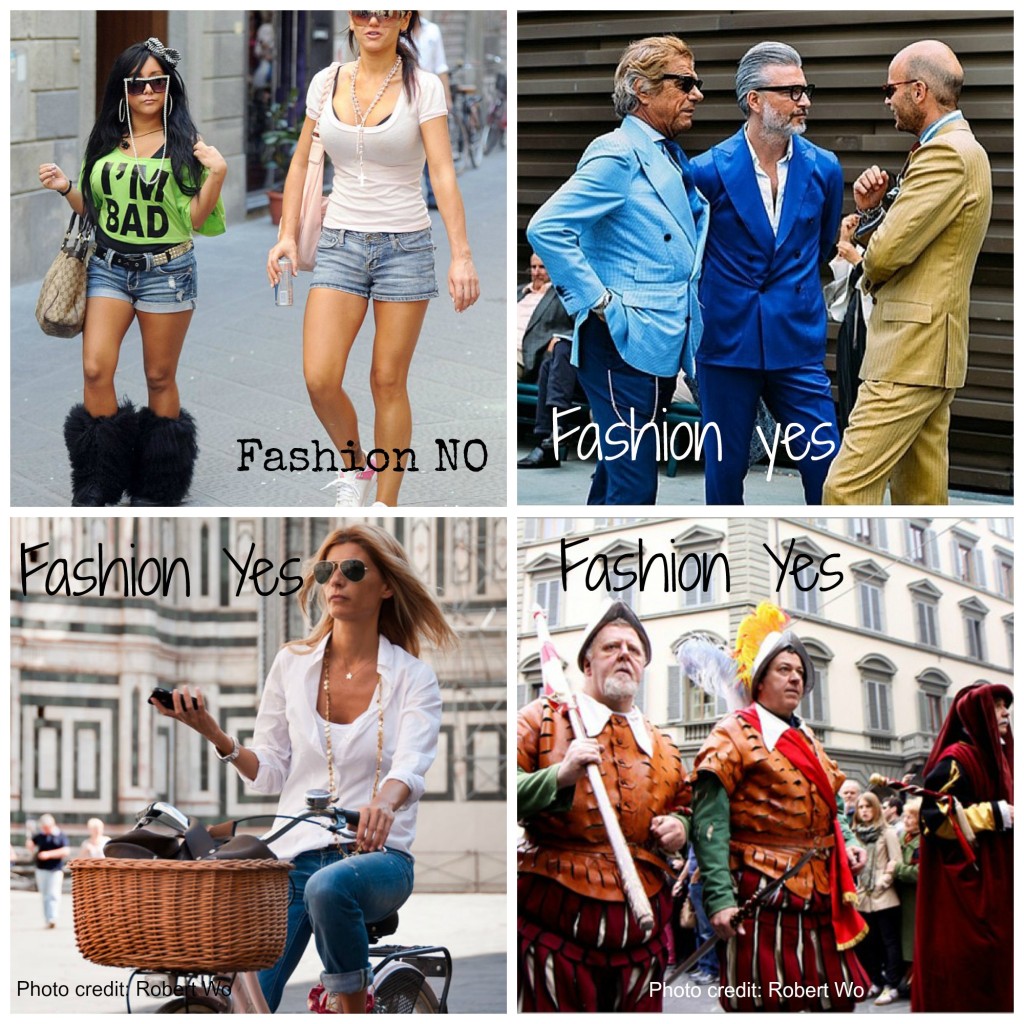 It really isn't that difficult to fit in with Italians and look the part (read — if you want to). When traveling to a new country, wouldn't you want to try a little anyway? It's all part of the experience if you ask me.
Plus.. even the bus drivers look like walking magazine covers with ray-ban sunglasses and fitted pants. It's great trust me, think tons of eye candy and plus it's all part of la bella vita.
Now enough blabber from me, what did I miss? What would you suggest on what to wear – or what to avoid in Italy? What did I get wrong? 
Related articles