"Problems are invented, only a pessimistic person sees obstacles, if you want to make something in life, you find a solution, it's not really that hard". These very true words come from the affable Ben, boasting a style I would dare say looks a bit like Lenny Kravitz.
He exudes a confidence that is quite electric, and I had the extreme pleasure of sitting down for a chat recently in one of his leather shops on via camaldoli that he owns with his partner and best friend Matteo.
Just a stone's throw from some of the best historical art in Florence, BenHeart is without a doubt one of my favorite leather shops in Florence, selling an array of true Made-In-Italy, high-quality unisex items such as bespoke leather jackets, belts ( you pick the strap and your own buckle), shoes, bags and more. The name BenHeart means "son of heart" which will make more sense when I tell you his poignant story a little further down.
It's the sort of place where everything is personalized on the spot with your initials using a large mortar type hammer. Belts in various colors and sizes line the walls, ready to be outfitted with a chosen buckle. Here you'll definitely find a more modern and hip style than I've seen in other leather shops around town or at the leather school at Santa Croce.
He's dressed William Godfrey "Willie G." Davidson, Enrico Ruggeri at the Sanremo Festival and even Orlando Bloom. Now that I have my own beautiful Benheart leather jacket bearing my initials, I can go ahead and start planning outfits all around it as the star protagonist.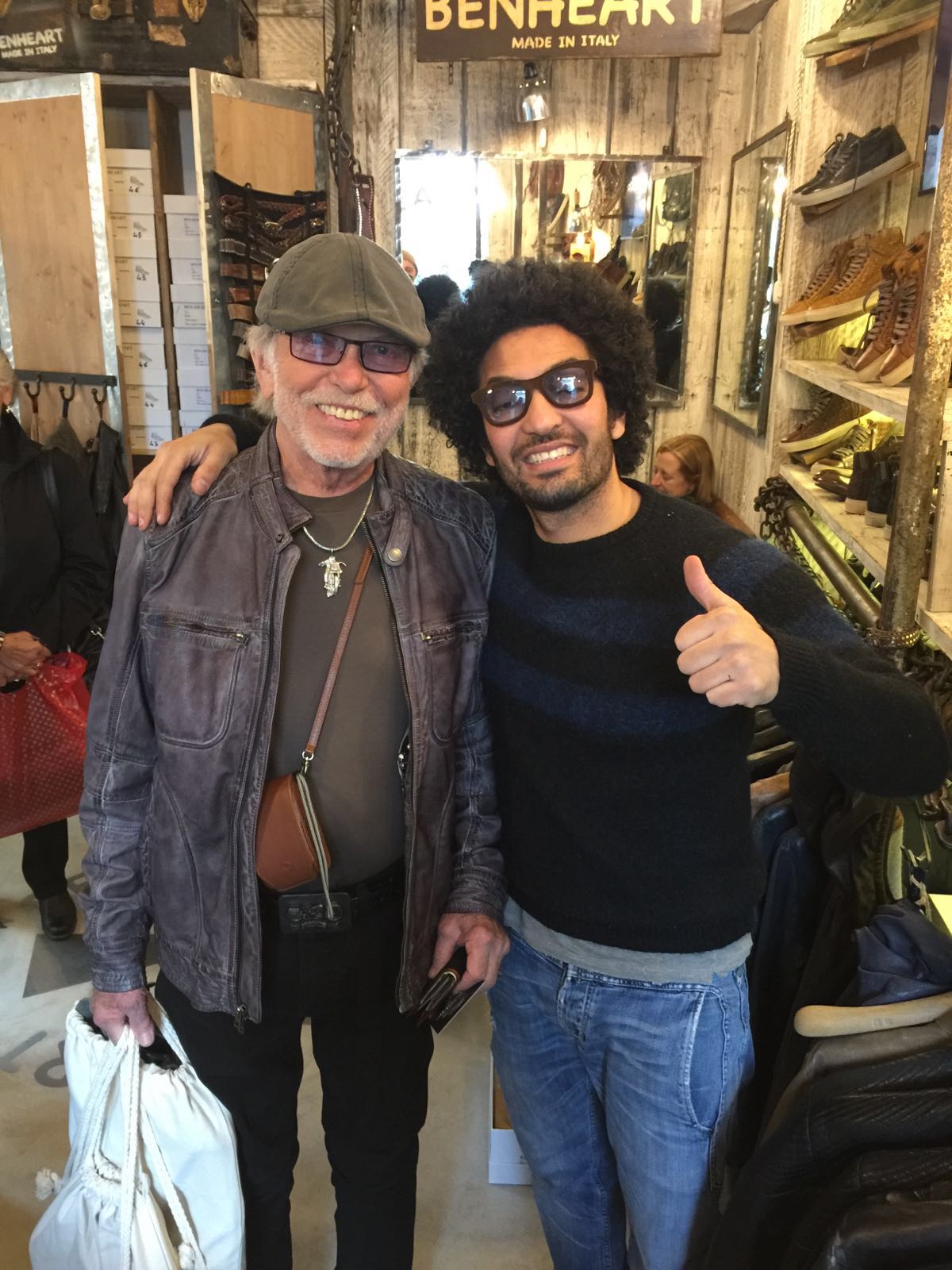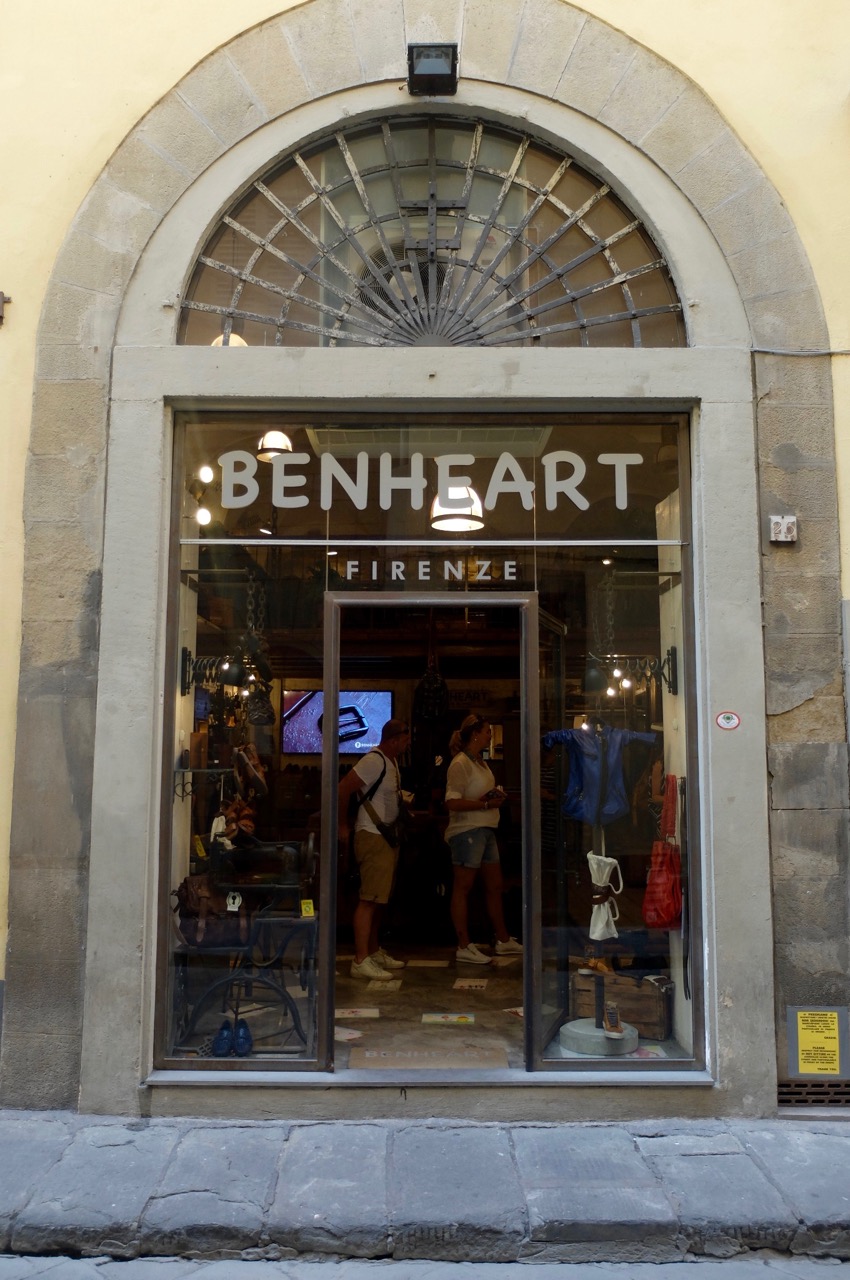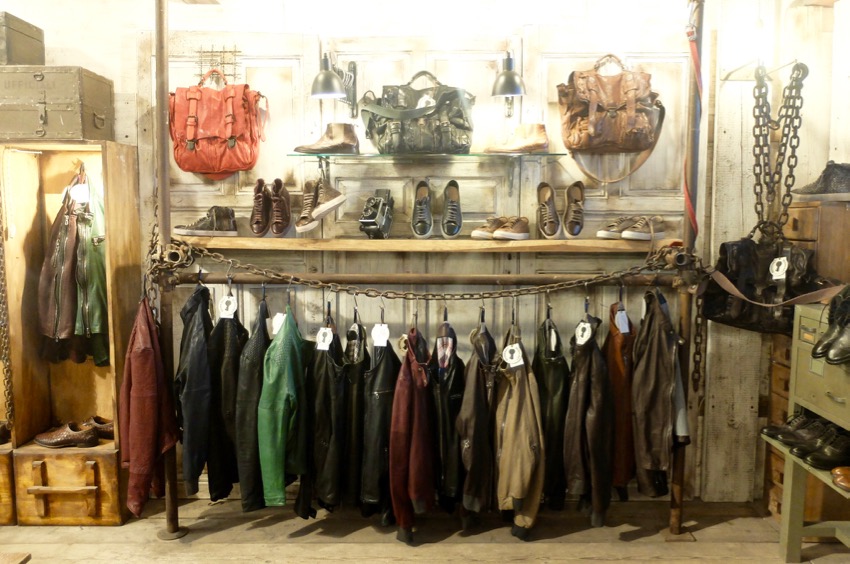 I heard about him on a bespoke shopping tour with Personalized Italy, a wonderful way to discover some of the best brands in town. Annie, Giovanni and their team based around Italy, offer an insider's look at how quality is determined in Italy, with lessons on how bags are actually made while visiting some of the best shops around the country depending on their client's desires.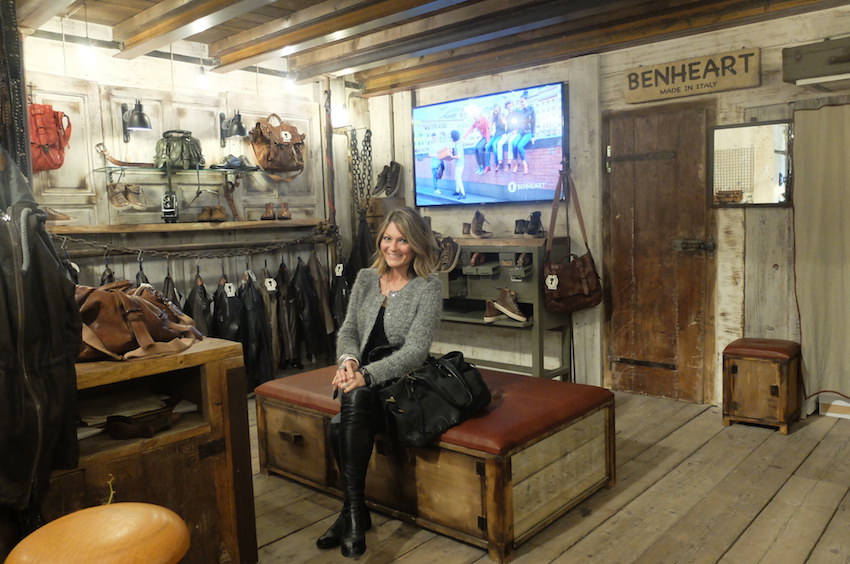 A wonderful way to weed out the crap, or just the plain not 'Made-In-Italy' merchandise which seems to be abundant in the historical center. I've covered this in the blog before. You can't miss it, all the bags look the same, likely sourced from the Middle East with a cheap Made-In-Italy stuck somewhere on the handle.
They'll offer 'student discounts' and plaster tacky tripadvisor or contiki stickers on their windows. I'd avoid them if you want anything truly Florentine. As I walked to meet Ben, I passed by countless leather shops, selling the same items of the same varied colors, eventually they all blend into one another.
It was a beautiful morning when I actually got caught Ben (his birth name Hicham Ben'Mbarek – he was born in Morocco but came to Italy at an early age) walking down the street. He was catching up with a friend recounting a few troubles with his shop, and Ben's generosity was evident immediately. He assured the guy he will help any way possible, offering tips as his voice trailed off and we walked into the shop. I sort of stood back and just watched the encounter thinking, wow we haven't even had coffee yet.
I began with a simple "How did this all begin, I know you've been asked this probably many times, but here's many times plus one." He smiled and said "I've been doing this kind work now for over 12 years, near my house in Scandicci which is a fraction of the city known for making leather, where there was a calzolaio (artisan shoe repairman). Beppe was his name, and I went there every day after school instead of going out with my friends. Thats's how I got to know leather. I started to make designs, and eventually even for famous brands like Simon Spurr and Luisa via Roma.
It should be noted that he also did a stint working for the famous Pasticceria Giorgio (awesome awesome awesome), putting the same effort into designing cakes as anything else. He knew everyone, the friendly face of the neighborhood, always ready with a smile and a laugh.
Everything was going well for Ben at the age of 29, his entire life ahead of him. That was until one afternoon, when on a soccer field in the comune of Greve, he collapsed with heart failure. Luckily, they were able to save him using a defibrillator yet he was in the hospital for the next seven months in a coma at Le Scotte hospital in Scandicci. After came the heart transplant which saved his life, it was then that Ben and his best childhood friend Matteo Masini decided to make this business dream actually happen.
With 15,000 from one bank and a bit of money from another, Benheart as a brand was born, taking their love for artisan leather craftsmanship to the streets of Florence with gusto. Ben handled the creative design-end, while Matteo handled production and they opened their first store.
Talking products, the quality is equivalent to many other more famous brands you might see on via tornabuoni but much more affordable. All of the items are lovingly made, the leather for the shoes is purchased near Santa Croce while for the clothes, he sources from Salerno in Puglia. Clients can decide on the color of the leather they want Every item in the store is certified, for example if you get a jacket here, you'll have a 100% guarantee for life.
Ben tells me to listen close "In the early 20th century, so many big brands were born, experts and producing and making more or less one thing. Now it's different. Stores are popping up making a bunch of different things, when they fail then they open up again doing something completely different. Not many have the intention anymore of staying open for life. Now it's hard to be a brand that will last for 40+ years. To maintain the level of quality which means your margins of earning are less. However you can't sell crap that costs 400€, if you are going to do something, you better do it right."
So how does one stay current and afloat in an economy that can be murky at best?
Ben "We knew we couldn't make items that were easy to reproduce. For example with our shoes, we finish making our models and then dye them only after (at Santa Croce).  This of course is more complicated, most brands get their leather already tinted and cut them into whatever forms they want. This means of course we won't make as much but that's ok. However if we want to be a global brand of quality, we need to do impossible things, if everything we make is easy, everyone will learn how to do it too."
And differently than many places, if the store doesn't have an item you want, in the right size or color. Not a problem, they will make it for you however you want and send it to you directly in your country within a week or 10 days. That is pretty badass if you ask me.
I asked him, how can you tell if something is quality? What should people do. Obviously this is something I've covered before on the blog but he is someone who actually is a leather expert.
Ben replied with "it's important that as a customer, you visit many stores, don't fall in love with the first item you see, take the time to visit more than a few if you care about that product. You'll start to spot what it actually original and what is mass produced in Pakistan. Open a purse, check the lining and the zip. It's impossible that a purse of quality has a plastic zip. They should be made to order as well according to the bag, not cut in pieces."
I am just as enamored with the way he speaks than with his designs. After surviving a near-death experience, Ben doesn't bullshit with life. Instead he exemplifies that kind of energy that you wish you had. It's humbling just to be around him.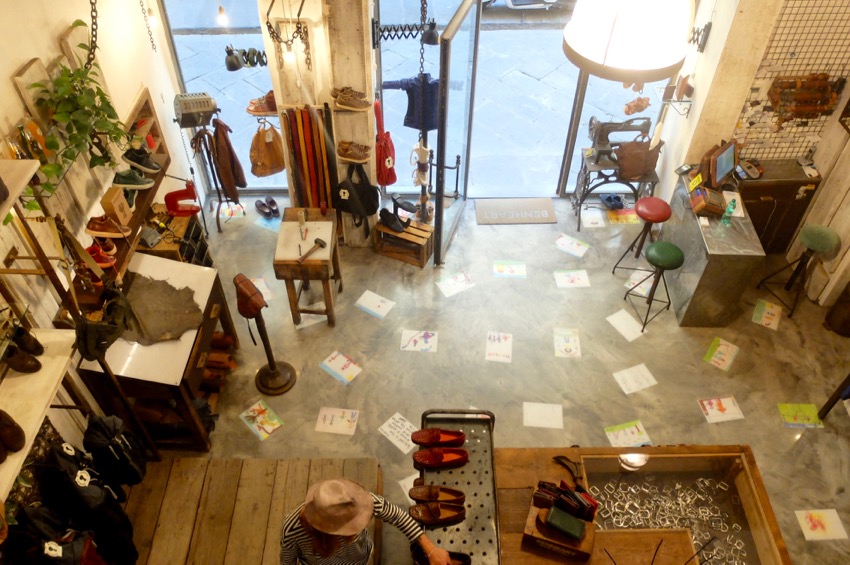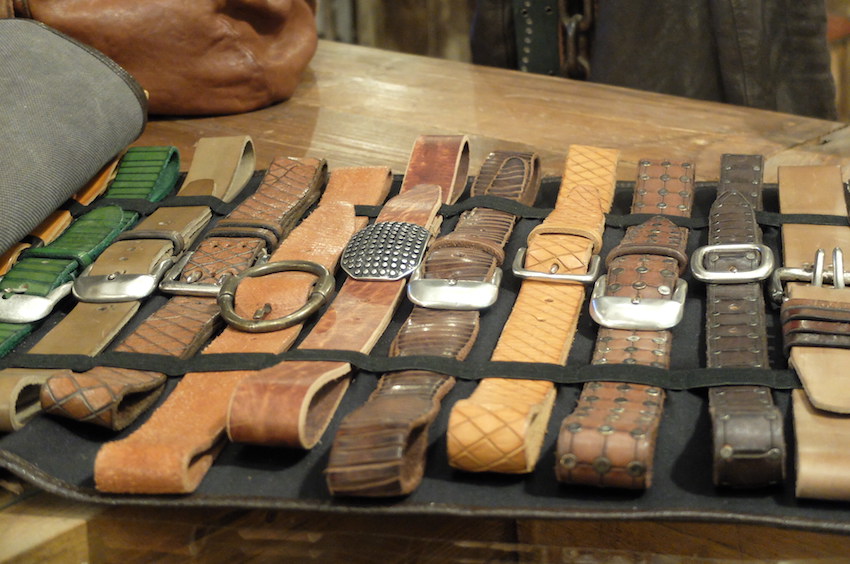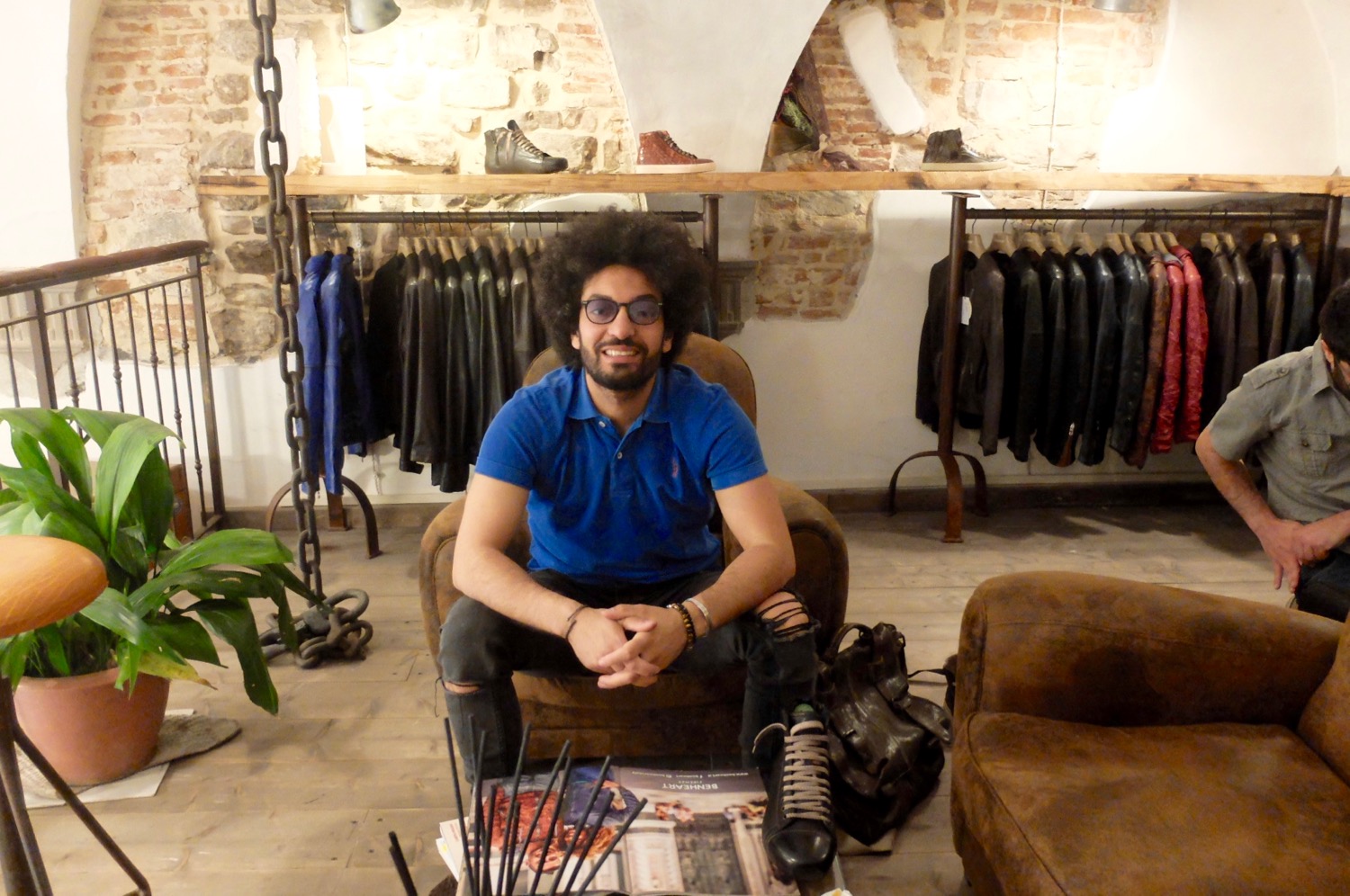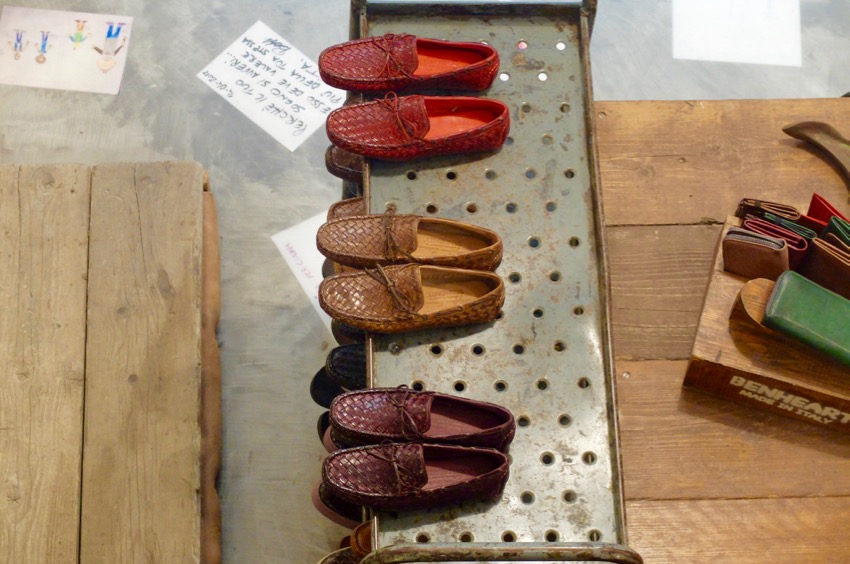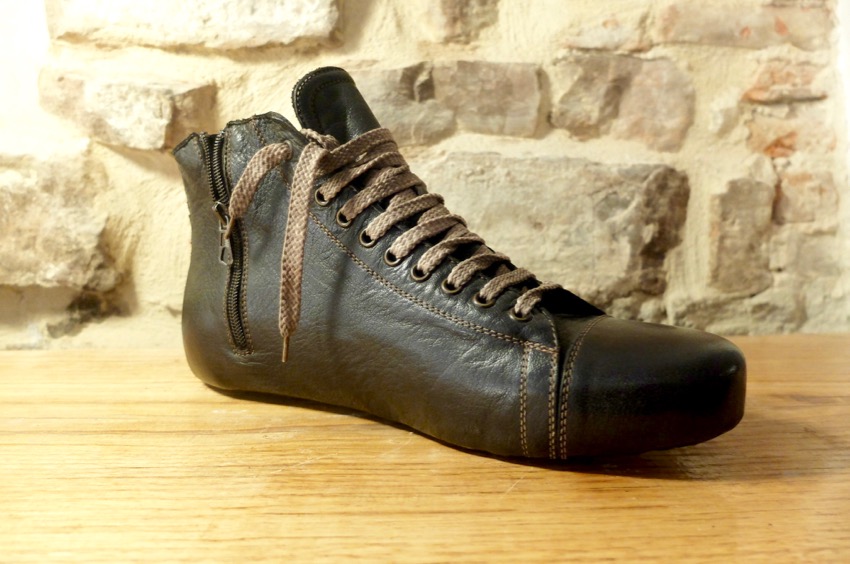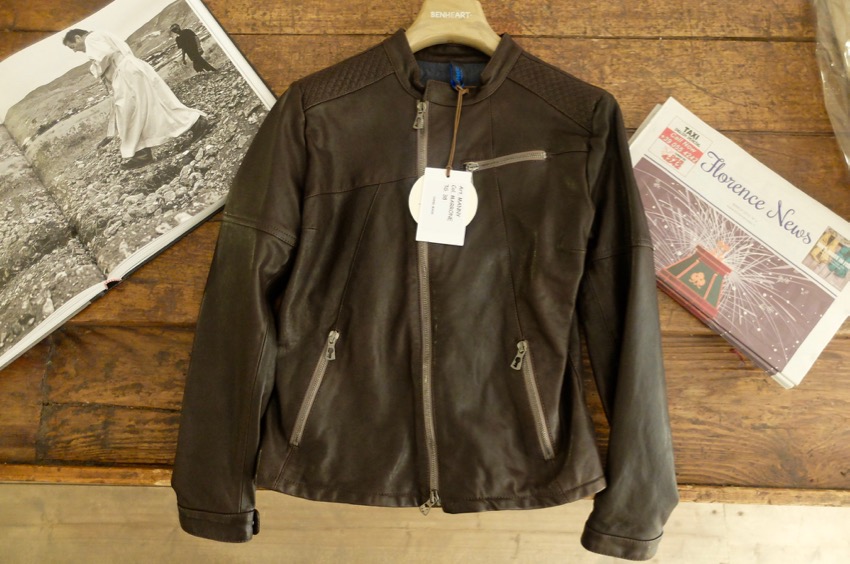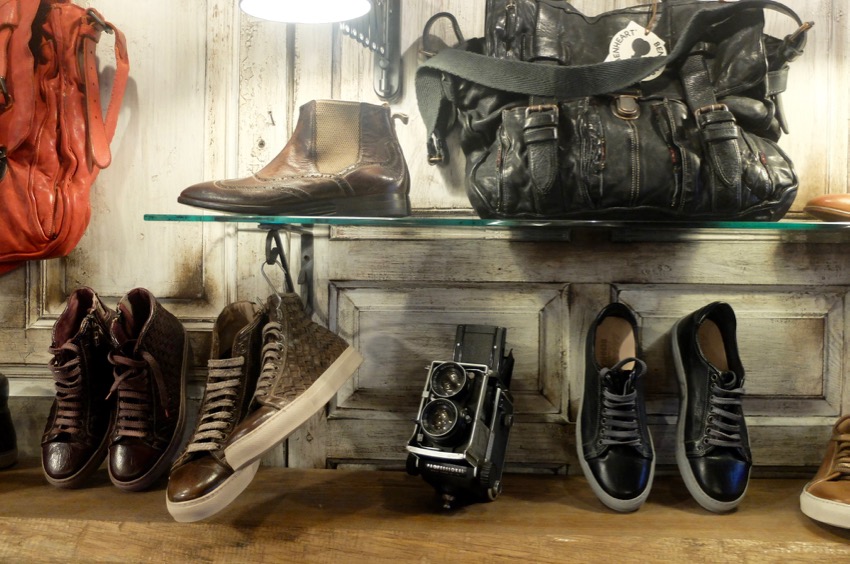 What's next for Benheart?
Ben is still dreaming, as if opening two stores in Florence, Verona, Japan and soon Rome isn't enough, and that's to open stores in the USA. I asked why he didn't sell his merchandise through stores there or do a series of pop-ups to which he replied. "I want to have my own stores, I don't want to sell my clothes in other places and lose control. This way people have to come in, feel the product, get everything personalized and have someone knowledgable to talk about the quality. This is my dream"
I have a feeling this will happen sooner rather than later. Just a few days before I visited, Netflix, yep those guys, came in to interview and film him for a show their working on as well. This is only the beginning and I can only imagine walking down a street in West Hollywood, California and seeing a Benheart store, it seems only natural.
This Wednesday for the 90th edition of Pitti Uomo, he is hosting a fashion show at Chiara di Luna. I will be there of course, wearing my leather jacket, smiling ear to ear as I imagine most others who have met him personally will as well. This is someone you never forget.
Via della Vigna Nuova, 97-red, firenze (open 10am-8pm)
Via dei Cimatori 25 R, firenze (open 9:30am – 8pm).
If you are interested in taking a bespoke shopping tour with the experts of Personalized Italy, check
out their website here
.