Florence, Italy Where To Go
When planning a trip to Italy, figuring out what to do in a country with so much vast cultural heritage can be quite intimidating. The simple question, What to do in Florence? Can be more complicated than it seems. It may seem completely normal to visit three museums in one day in Florence, but truth is, that can be exhausting. I embrace the slow travel philosophy, instead of rushing to see every major site, just picking a few distinct places (and not always the most famous), and take your time to just soak in the atmosphere of any given place. After all, this is your vacation, and part of that is being physically and mentally, well-rested.
Since I often get questions about where to go and what to see in Florence, I thought it would be easier to compile a list of personal recommendations based on my my own and friend's experiences. Upcoming exhibits, interesting updates on the more famous museums. Also Smaller, lesser-known museums and boutique shops that carry a true line of made in Italy goods, since there is also a lot of crap in souvenir stalls around town. This page is constantly updated and revised to give you the best, most latest information.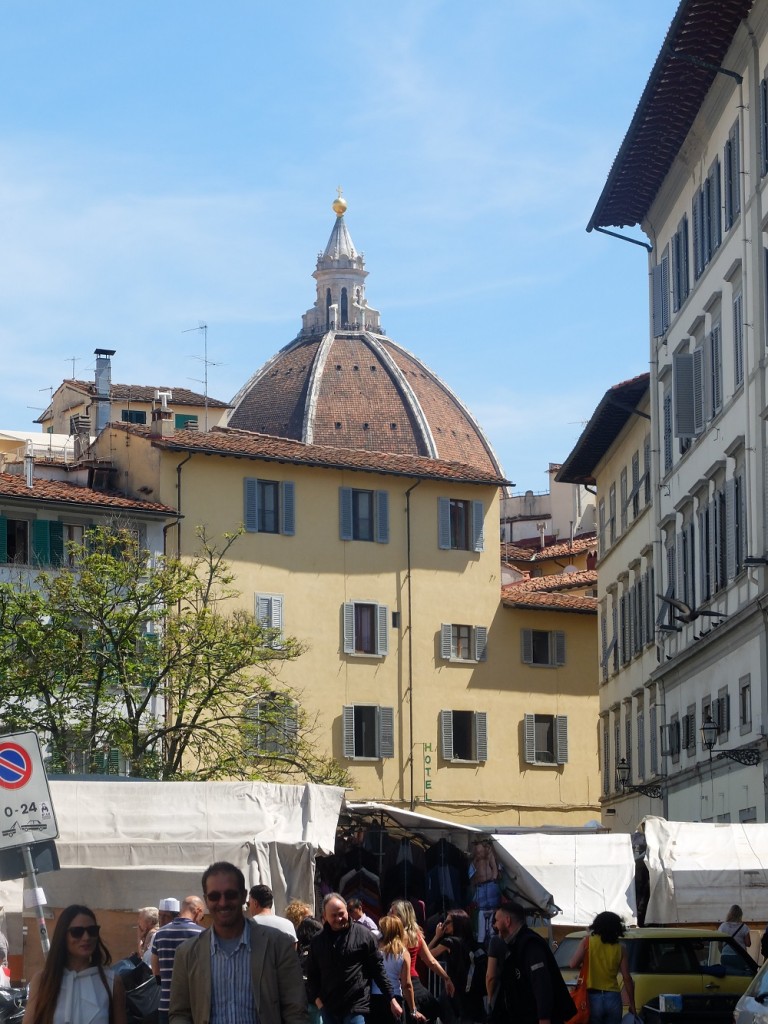 Duomo peeking among the stands in San Lorenzo (not where you will find made in Italy).
Every month I write a post with my top pick's and events around town so be on the lookout on the homepage and check out this awesome guide to Florence that a few bloggers and myself collaborated on a few year's ago. Also I highly recommend checking out these tips on meeting friends and locals via various groups in town.
What Is GIF (Girl in Florence Doing?) : This Week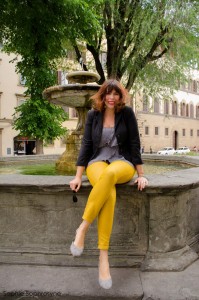 Each week I want to share where I ate, drank and generally was 'merry' just to give you a little insight of my daily life in Florence.
I'm eating… at one of my favorite brunch spots La Vespe on via ghibellina, which is my go-to for avocado salads, quesadillas and freshly-squeezed juices. We also had our first 'warm' coffee in while at our favorite Ditta Artigianale on via dei neri, try the aeropress filter.
I'm drinking..a moscow mule (what a surprise) at outdoor summer bar Circolo Aurora in piazza tasso. One of my favorite hidden spaces, their drinks are spot on, they also make a variety of summer mojito blends.
I stopped by.. Porto Ercole in Tuscany's Monte Argentario to visit our friend Emiko Davies and celebrate a friend's 30th birthday. We came, we swam and we ate plenty of anchovies. A jewel of the Tuscan coast, stop by I Due Pini for fresh pasta and a swim (by porto santo stefano).
I shopped at.. Mandarina Duck (an Italian brand)  for luggage still on sale, I got a huge logoduck yellow suitcase for 50% off, about 89 euros for a bag that will happily take me to Thailand and Texas (this December).  I also stopped by one of my favorite concept stores, MIO on via della spada 34. Here you can find up-cycled recycled objects from young local designers including jewelry, sustainable objects, crumpled maps, and even items from local street artist Clet, it is a definitely cool space and they take great care on what they choose to sell in the shop. Perfect for gifts (to yourself).
Special Event KaleidoTour #GirlInFlorence, September 5-6th
This September, there will be a special series of fun workshops that are open to the public covering themes from calligraphy with the fabulous Betty Soldi, flower workshops, picnics in the countryside to beautifully curated dinners in the Tuscany. I personally attended the first event with the lovely ladies of Italian Eye and can vouch for the quality of this series. The full program can be viewed here.
You can find out more here, but in their words 'this will  be part tour, part creative workshops, part relaxation and then a whole lot of Italian food and guilty pleasure….A true mix & match of British & Tuscan culture! You just have to relax, open your mind to creativity and your mouth to delicious food. We will do the rest…". 
Some events will be in the center of Florence, others will take place in the surrounding countryside, for those without a car you can contact them regarding drivers or taxis. Mention #GirlInFlorence for a special goodybag that they will provide upon arrival.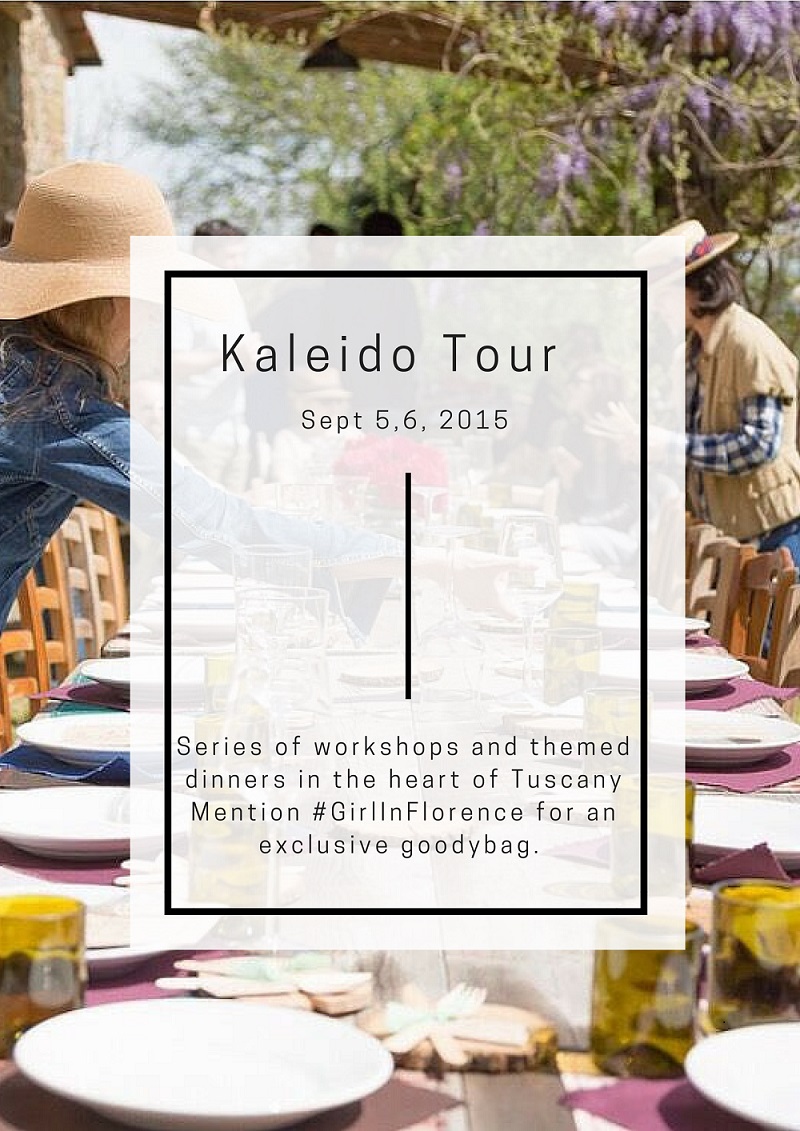 Museums I Love (and why) 
I think art is something that can be enjoyed by everyone, we all get a different reaction from seeing precious ancient (and contemporary art) so I definitely would include a few visits the next time you are in town.
The Well-Knowns
You guys don't really need me to tell you about the most famous sites in Florence, there is so much cultural heritage in this city. I would absolutely recommend a first time visitor head to the Uffizi, visit Michelangelo's David and quite naturally the Duomo cathedral and Baptistery. I do however, have more of this info on my 'before' section.
*Insiders Tip: The Grande Museo del Duomo Museum is set to open this late October, but visitors can get an ever better view of some of the city's most important spots via these private tours operated by the museum even now. Notable tours (that I have personally tried) include touring the Duomo's terraces (1 hour visit) and the restoration workshop (30.00€ per person).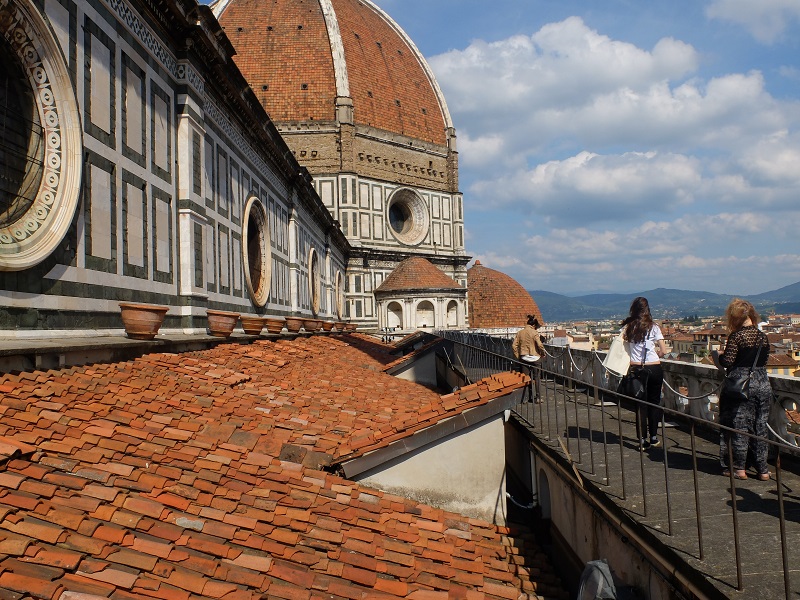 The Suprising Superstars
It always surprises me that so many places on this list never get visited by first-time visitors. There is more to Florence than the Uffizi, trust me.
Palazzo Pitti
I cannot say enough how awesome this vast Renaissance villa really is. Besides the Boboli Gardens, I really love that there is so much variety in things to see here. Choose between the Palatine Gallery, the Silver Museum, the Costume Museum, the Porcelain Museum, the Gallery of Modern Art, the Royal Apartments and the recently acquired Contini-Bonacossi Collectio.
Palazzo Strozzi is one of my most recommended spots to visit for those looking to see art shown well in Florence. A private foundation,  their goal (from 2006) is to bring international quality exhibitions and cultural events to Florence and Tuscany and they have managed to do that.
Next Exhibit: Divine Beauty from Van Gogh to Chagall and Fontana, showcasing over one hundred works by well-known Italian and international artists, sets out to explore the relationship between art and religion from the mid-19th to the mid-20th century. The exhibition will be hosting work by such major Italian artists as Domenico Morelli, Gaetano Previati, Felice Casorati, Gino Severini, Renato Guttuso, Lucio Fontana and Emilio Vedova, together with works by such international masters as Vincent van Gogh, Jean-François Millet, Edvard Munch, Pablo Picasso, Max Ernst, Georges Rouault and Henri Matisse. From September 24th – January 2016.  Open Daily including holidays 10.00-20.00, Thursdays: 10.00-23.00.
Bargello Museum
Formerly a barracks and prison (and was the first seat of government in Florence), this art museum dating back to 1255 is in the heart of the historical center and (in my opinion) one of the best. It has a wonderful collection of works of art including many Renaissance sculptures, bronzes and metal works. During the summer months, they often host theater, music and dance events in the beautiful inner courtyard. The Dontatello & Michelangelo rooms hold the most important works of art. address: Via del Proconsolo, 4, 50122 Firenze. Open Mon-Sun, 8:15-5pm. Full: € 4,00, Reduced: € 2,00, During temporary exhibitions, cost jumps to around € 7. 10 minutes walking from the station to the museum, otherwise you can take buses 14, 23 or A. Current exhibits can be found here.
Stibbert museum
Towards piazza liberta, I highly recommend the Stibbert Museum for kids and men alike because it is so darn cool. The former private collection of an Englishman, this vast space holds all sorts of collector's favorites, including an amazing weapons collection and beautiful tapestries. If only my home was like this.
Sam Miniato al Monte
You can't come to Florence and miss walking up to one of the best panoramic points (better than piazzale michelangelo) in Florence, San Miniato is one finest Romanesque structures in Tuscany and it feels just as old as it looks, with construction beginning in 1013. address: Via delle Porte Sante, 34, 50125 Firenze. Free to visit. I also have this on my 'urban hike' itinerary for anyone who wants to see some of my favorite spots on foot.
San Marco Museum 
One of my favorite churches in Florence, every-time I visit I am surprised it is so empty. This former Dominican convent is home to a plethora of important art, and architecturally is quite fascinating as well, I wrote about the library by Michelozzo located inside earlier this year. The frescoes keep me coming back for more, and you can get a peek into 'monk life' and the ex-cell of Savonarola, the infamous friar who was burned at the stake in piazza della signoria. My advice is to come with a guide.
Brancacci Chapel
Piazza del carmine has recently become pedestrian only, which is quite refreshing when you think that this piazza used to be a glorified parking lot. It is also home to the Santa Maria del Carmine church and the famous Brancacci chapel, where you can see two layers of frescoes commissioned in 1424 by a wealthy Florentine merchant, Felice Brancacci. The frescoes here illustrate the life of St. Peter, who can be identified by his orange gown, completed by artistic genius, Massaccio. The inner cloisters and courtyards are quite lovely. Vitals: Cappella Brancacci, Piazza del Carmine, 50124 Firenze. Open daily 10am- 5pm, Entrance fee €6.
Santo Spirito church. Only open in the mornings 9:30am-12:30 (closed on Wednesday), this simple facade that began as an initial Augustinian complex, is my absolute favorite in Florence, it hides a beautiful feat of architecture and tucked in a corner chapel, a wooden cross made by Michelangelo. Free to visit, I love wandering here are on any given day, even just passing through for a few minutes of blissful solitude.
The Newbie
Museo Novecento. Finally there is a space for art made in the 1900's. This is the newest player in the Florence art scene and takes over a large space in piazza santa maria novella.
Seasonal Favorites
Forte Belvedere, open during the summer months, this ancient fortress hosts a contemporary art exhibit annually, during the summer. This year is featuring sculptures by Antony Gromley in an exhibit titled 'Human'. I highly recommend stopping by since it is free to visit all summer long and is open until late September. Perks include one of the best views of Florence and a little bar where you can stock up on refreshments. address: Via di S. Leonardo, 1
San Niccolo Tower. This tower is one of the few remains standing from the old walls that used to surround Florence. I particularly love this place because it is in one of my favorite sides of town and the view from here is pretty amazing. They offer evening guided tours (in Italian and English) daily, every half hour, starting from 5:30pm-8pm. For information and reservations: Tel. 055-2768224 055-2768558, Mail info@muse.comune.fi.it. address: piazza poggi. 
Shopping
I'm a girl, I love to shop (duh), and without a doubt you can find some great options. I would skip the high-street garb on via calziuolo, with the exception of Luisa Via Roma, which always has a lot of fun items. Florence is home to so many small, boutique shops with artisans making true made-in-Italy wares. Here are a few of my favorites, divided by neighborhood.
Neighborhood: Santa Croce
CLOTHING | Boutique Nadine, Via dei Benci, 32. One of the best little shops in Florence, the designs are unique and vintage-inspired, with plenty of interesting knickknacks along with clothing for both men and women. The hard-wood floors give a very 'Anthropology Store' feel but with a more artisan flair. Prices moderate.
LEATHER | Scuola del Cuoio, via s/giuseppe 5r. The leather school of Florence is iconic in Florence, created first to give a trade to orphans from WWII and still known as THE place for leather items in the city. Here you can be assured of its authenticity. Plus the place itself is quite cool to visit, you can see the workers at the old stands, they have a nice variety of true leather jackets and handbags, as well as cheaper cool accessories to take home. Prices range from budget (souvenirs) to high (leather jackets).
ARTISAN PERFUME | Aqua Flor, Via Borgo Santa Croce, 6.  This is a luxury perfumery specializing in artisan scents, entering is like visiting an alter universe. This store is so cool, you can customize your own perfume, pick up soaps, house scents and more. Prices range from moderate to expensive. website.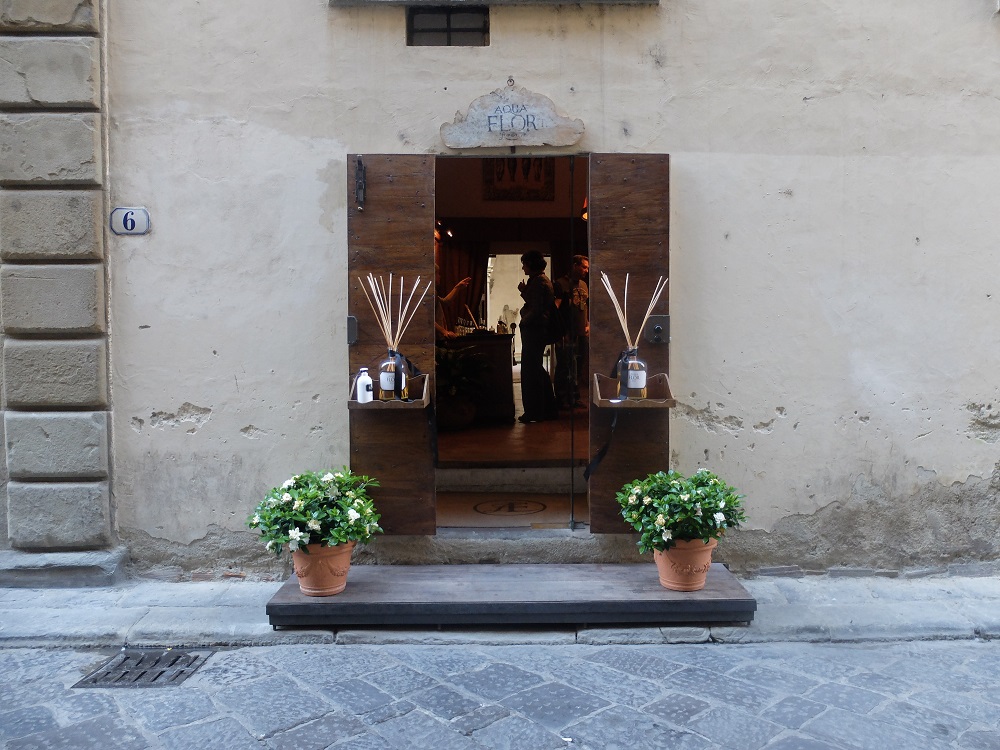 Neighborhood: San Lorenzo
ANTIQUE BOOKS | Abacus, via ginori 28-30r. I have what you could call, a thing, for beautiful antique books. Luckily in Florence, there is plenty to choose from and this store is one of my favorite shops in San Lorenzo. They use traditional techniques for book preservation and it is just as interesting to see in person.
VINTAGE | Desii Vintage, via dei conti 19r. It is pretty hard to miss this place since they almost always have three standing chairs, in Italy colors (red, white and green) outside the shop. Inside you will find a wide variety of vintage options, clothes, shoes, belts and more for both men and women.
Neighbohood: Oltrarno
CLOTHING | MuseLab, via romana 142r. I was wandering in porta romana when I came across this small gem and I am so happy I did. The ladies who own and operate Muselab could not be sweeter, and their clothes are so interesting. I would describe the style as monochrome, bold pieces. Things can have a lot of fun accessorizing. Prices Moderate.
GIFTS: Anita Russo ceramics, via Romana 11/r. One of the shops I always visit before going home, Anita is a local artisan who owns her own 'bottega' on the hip street via romana. She makes her own ceramic goods, and they are simply beautiful, a range of cups, lamps, plates and a variety of items for the home, you can also make ceramics with her as well, through a private class. Prices: budget.
BOUTIQUE SHOP | And Company. address: Via Maggio, 47. The store and studio of Betty Soldi is always one of my personal favorite places in Florence. Betty is a talented calligrapher whose hodgepodge of beautiful plateware, coffee cups and items for the home also feature her calligraphy and her partners beautiful antique furniture finds. Perfect as a take home souvenir that actually is usable, every-time I go there she has new cool items. I also did a calligraphy workshop with her which was a lot of fun, you can email Betty to schedule a private class. Her and her partner are also owners of a chic boutique B&B across the street that is one of the coolest hotels in Florence. Betty and Matteo can do no wrong. Prices: moderate
Neighborhood: Sant'Ambrogio
JEWELRY ARTISAN | Sara Amrhein, Via Di mezzo 6. Sara is a wonderful person that I recently featured on my localsILove interview series on the blog. She is a local artisan specializing in bold, expressive polymer clay art jewelry that are the perfect statement pieces. website. Prices moderate.
Neighborhood: Santa Maria Novella
COOL SOUVENIR/GIFTS: Mio Concept Store.  Via della Spada, 34, one of my favorite boutique shops in town, here you can find all sorts interesting up-cycled objects and jewelry, sourced from local artisans. They also feature plenty of items by local street artist Clet, which is definitely something very unique from Florence. Prices: moderate
HISTORICAL PERFUMERY/GIFTS: Officina Profumo – Farmaceutica di Santa Maria Novella. via della spada 16. One of the oldest pharmacies in the world, you cannot miss this place. Browse each room slowly and make sure to pick up some of the more famous items, such as the rose tonic water and the ladybug liquor. You can also have a glass of tea here, it is pretty amazing to see in person. prices: moderate.
Neighborhood: San Niccolo
HANDMADE LEATHER NOTEBOOKS | Il Torchio, via dei bardi 17. One of my favorite shops in Florence is run by Canadian, 'new Florentine' Erin who is a modern artisan creating a selection of unique leather-bound notebooks (which she can personalize), photo albums, stationary, address books and more.
STREET ART/GIFTS | Clet's Studio,  Via dell'Olmo, 8. One of the city's most iconic street artists, Clet Abraham, has a studio in the San Niccolo neighborhood of the city. Likely you will spot one of his modified signs around town. Here you can browse some of his most famous works, along with fun gifts such as street art stickers, sketches and more.
JEWELRY | Alessandro Dari, via san niccolo 155r. Just as much a museum as a shop, I love taking people to Alessandro's eclectic studio for a look around his interesting architecturally-driven jewelry that resemble sculptures. He is 100% self-taught and uses his studio not only as a showroom, but also as a workshop, you can often peek him working on his latest creation in a small back corner. He also teaches private classes to small groups.
PERFUME | Lorenzo Villoresi, via dei bardi 14. A custom-perfume artisan located in the San Niccolo neighborhood, he has dedicated clients from all over the world, he also carries a line of home fragrances, candles and my favorite, his scented stones!
Neighborhood: Campo di Marte
LEATHER | Jen Mascali, an up and coming leather handbag designer who has items that I truly like. Her style is very bohemian, and she sources only the best leather for her bags. She runs her business out of the campo di marte neighborhood, you can contact her directly to make an appointment. email: info@jenmascali.com
Cooking Classes
There are plenty of options when it comes to cooking classes in Florence. My favorites include The Food Studio, in the oltrarno neighborhood, and Desinare (which has a truly incredible space).
Though for a TRUE experience, I highly recommend the cooking class offered by Giulia of the blog, Jul's Kitchen. Just a short bus ride away from Florence, you can market shop in a beautiful little town where she grew up and learn how to cook simple, wonderful Tuscan meals with someone I truly think is a gem. Her little house is almost a 'borgo' (Tuscan hamlet) in itself. Highly recommend.
Wine & Food Tours
My go-to trusted wine tour company is most definitely Degustibus. They are an association that believes in local, small producers and they will take you on a small group tour in Chianti, Montepulciano or anywhere you might be thinking.
Alternatively hire Coral Sisk, guide and blogger of The Curious Appetite, she took me on an aperitivo tour quite recently that I loved, and she does a variety of market, gelato, and food-themed tours all around Florence. A Seattle native who is in love with all things Italy. Her tours are unique and a lot of fun.
Fiat 500 Tours – Vespas – More
My Tours does a little bit of everything, but what I think is truly special are their Chianti Vintage Fiat 500 tour,  be a rider if you don't feel up to learning how to double-clutch, but riding in these guys is such a wonderful experience.
Ride a Tuk Tuk, you know those cute little three-wheeled cars, in a small tour around Florence. While I secretly hate segways (not really a secret) this instead seems like a lot more fun. My friends who have been on this tour truly enjoy it.
For a personalized, high-end tour by experts that will wine and dine you with ease. Go with Annie and Rome and Tuscany Tours, this is definitely more for those with a budget, but they offer a more curated experience. I especially am impressed with their new itinerary for a unique shopping tour taking you into real Italian leather factories with a local handbag designer, plus fancypants lunches!
Guides I Trust
For art history and private tours, I really like Alexandra Lawrence and Molly McIlWrath both of whom I personally have done tours for. I also highly recommend the tours offered by Context Travel, which used highly-educated guides who go more in-depth (in a fun way) all over Europe.
Outside of the city:
Chiusdino, Tuscany
Monte Giovi, Rufina, Tuscany
Venice & Viareggio (locations for Carnivale)
Vallombrosa, Tuscan Apennines
Thermal Springs, Rapolano Terme, Tuscany
Pistoia, Tuscany.
Get out of the city and take a day-trip to Pistoia. Great Saturday markets and gorgeous surrounding countryside, who knows you may just meet a donkey like we did.
Malmantile, Lastra a Signa, Tuscany
Every year this small pretty town located close to Florence in lastra a signa has a really cute medieval festival. Fun for kids and adults alike. 
---