"You don't need a silver fork to eat good food." – Paul Prudhomme
Of course if you haven't already guessed, I am a glutton for great food and good drinks. Enjoy!
Here you will find my best lists on restaurants, aperitivo, coffee, pizza, fine-dining, options for big groups, budget spots in Florence, Tuscany and or/Italy. Also if you are looking for great places near the Santa Maria Novella train station, read this first. I change these often, typically a few times a week depending on my personal experience at places. Consider this a forever project that means me eating a ton, and telling you about it.
Remember that often places are closed on Monday's so I recommend you check out this list of where you can eat & drink that are always open on this day. Looking for a new, exciting place to eat in Florence, try this list! 
This is a list that I am constantly working on, as you know a place could be good one minute – change management – and than everything goes a bit sour so this is something I take into consideration when I visit a restaurant. And if I am missing something, let me know! I'll try it and if it's good – it will make this list and I'll credit you :).
New & Noteworthy 2017
In order to spotlight the newest places open in Florence that I adore, I created this section to celebration innovative new cuisine in the city.
"Ristomacelleria" Terrazza Menoni | Sant'Ambrogio steps it up a notch. Historic butcher shop Luca Menoni (opened in 1921 by Guido Fanfani) in the enclosed market of Sant'Ambrogio has newly inaugurated a self-service terrace restaurant serving up traditional Tuscan meat dishes you with a one-of-a-kind view of our beloved local shopping haunt. Anyone can order from downstairs and enjoy an affordable lunch on the terrace while the market is open from around 11-2:30pm. On the menu are items such as Luca's famous veal & prosciutto polpette, a delicious "dolceforte" stew, lampredotto on friselle and not only. address: Piazza Lorenzo Ghiberti.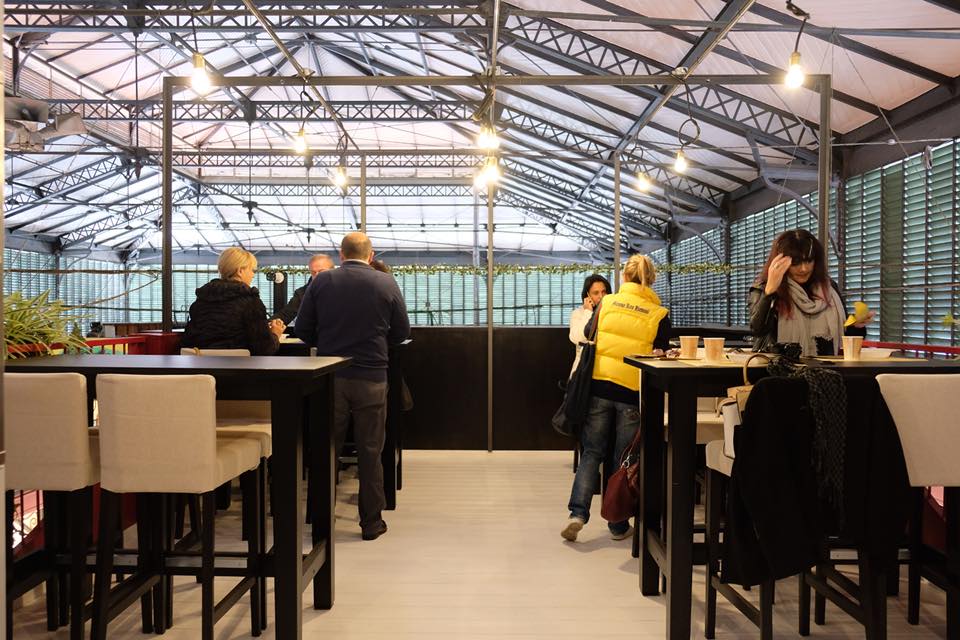 Pint of View | Craft beer, cocktails and Korean Bites make their home in the Santo Spirito neighborhood in a new gastropub that I already love. Chef Yejin Ha is responsible for the seriously delicious pork raviolini I went to town on and possibly the best fried chicken "seul" style that this girl has ever eaten. The coleslaw was a slightly questionable (too much like an insalate russa) but everything else was on point, including the craft beer by Archea Brewey selection, unique cocktails and general ambiance (pub-like, casual, good for couples or small groups of friends). Price: moderate (6-7€ for craft beer), main dishes around 14€. address: Borgo Tegolaio 17r
Osteria del Pavone | Upmarket Italian food with an in-house cocktail bar. This place has just opened in the Oltrarno under the same owners as Osteria del Cinghiale Bianco. They offer a small, but curated menu featuring seasonal fare like truffles and fennel creme. Extremely good fritto platter. I loved their cocktail menu (not cheap at 13€ a pop) which lends to a very elegant evening, starting at the ornate bar, before moving to your table in the elegantly-outfitted dining tables. Exceptional service. Via del Pavone (off of Via dello Sprone).
Trattoria Moderna | A fresh take on Tuscan favorites that isn't annoying. Finally, a place near Piazza Beccaria that isn't "bleh." I was super impressed with Trattoria Moderna and Chef Riccardo Serni's simple and short curated menu. Expect to see delights such as panzanella with marinated anchovies, a cacio e pepe poached egg, fresh seafood ravioli, delicious slow-cooked galette livornese and that's not all. Go for the tasting menu which is a steal at 37 euros. Also impressed by the tisane and tea table that they literally roll out for you after dessert. Address:  Lungarno del Tempio, 52 (open lunch and dinner). 
Osteria dell'Enoteca | Bring the countryside Osteria into the city walls. I am hugely excited about this new opening on Via Romana. This new restaurant focuses on Tuscan food with a little flair and a special exclusive grilled meats and steak menu. The owners are from Enoteca Pitti Gola e Cantina just down the road and this place is set to be one of my favorite go-to Italian restaurants on the other side of the writer. Excellent fresh pasta as well, try the fave bean and pecorino cheese tortelli, baccala on polenta, and of course their signature steak. address: Via Romana, 70/r, 50125 Firenze.
Tamero Pizzeria | The perfect neighborhood pizzeria. I'm a girl who loves her pizza and I'm absolutely delighted about Santo Spirito's Tamerò pizzeria (you've probably heard of fresh pasta hotspot Tamerò PastaBar Restaurant, this has a separate entrance on borgo tegolaio). Our pizzas were perfectly cooked (no raw dough middle) and I loved the "flauto" special that was a flute-shaped pizza with Napoli-style fillings. On offer also is a decent selection of craft beer. All in all, a welcome addition to this side of the river. address: borgo tegolaio 18r. Open 12:30-3pm, 6:30-11:45pm.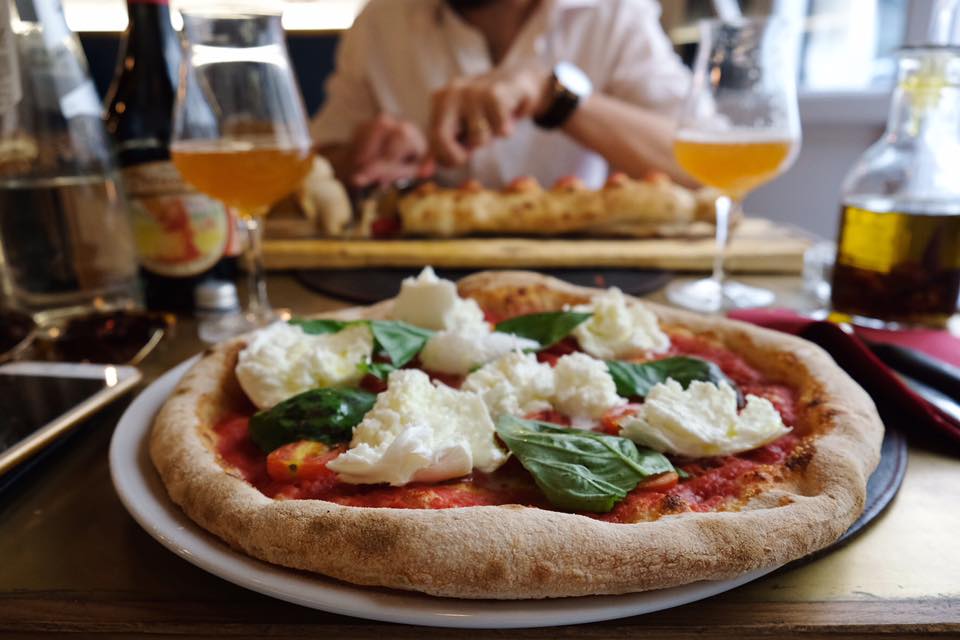 Momio Firenze | English Cafe meets International Flair. After hearing about this place from my friend Emiko, I had to go check it out for myself, an adorable retro cafe on Via Pisana, 9C. (Borgo San Frediano neighborhood). This new restaurant/cafe is opened by two natives of Orvieto who sought to bring our Renaissance city a bit of International flair from their time abroad (Nadia used to work in London's Nobu). The menu changes heavily from day to night. Their cafeteria day menu focuses on brunch staples: eggs benedict, eggs royale, English breakfast thrown, while also throwing in delicious items such as pizza fritta with high-quality mortadella and not only. My meal was memorable, most places in Florence serve a mediocre brunch at best and here quality is everything (they make their own English muffins etc). Downstairs is the restaurant portion, which I certainly will be back to try, already I can see this being a popular spot for those in the know. 
Sott'Arno | The neighborhood cafe that everyone has always wanted. If you don't yet know Betty Soldi and her partner Matteo, it's about time to get your head out of the sand. They are the brilliant minds behind Ad Astra Hotel & SoprArno suites, and Betty has one of my favorite souvenir shops in the city And Company right next door to this cafe. Sott'Arno is Matteo's baby, one that is lovingly run by Fratelli Lunardi. The cafe itself is a small space with a few tables offering up a late breakfast or quick lunch in the form of gourmet panini. Try the Florentine favorites (get the ciccioli! and peperoni sotto'olio) and sweets while my all-time favorite sandwich is the one that Matteo himself coined "oooh," kept simple with pan di ramerino (rosemary bread) and excellent prosciutto.  The walls are lined with menus from restaurants that Matteo and his friends have collected over the years. address: Via Maggio, 53r, 50125 Firenze. Open 10am-6pm. Closed Sundays.
KotoLab | Koto Ramen opens up a laboratory of goodness in Prato! Consider this new spot the new Ramen headquarters of #Prato, showcasing new clever dishes (Ramen with porchetta, tofu with black sesame) by Chef Shoji Minamihara with plenty of sake to wash it all down. Heavenly doesn't even begin to explain how good this place is and it's an easy 25 minute drive from Florence.  address: via Valentini, 102, Prato. 
Buonerìa | Napoletano pizza in Cascine Park. I'm really intrigued by this new opening which has pizza lovers of Florence incredibly excited and I recently got to try it out myself recently at a special event. My verdict? Very good. The dough especially stood out (pizza fritta) and I'm waiting to go back to see how they are on a non-event basis. Their claim to fame is a using an ancient method of kneading the dough, letting it rest from 24 to 36 hours. address via del fosso macinante 4
Oliviero | A new old opening :). While this historical wood-paneled fancy restaurant not far from the Ponte Vecchio was previously closed, it has now been reopened by a new brigade of chefs who are eager to bring the good name back. The menu will have a fancy flair on  fish and meat, while expert cocktails will be served at the American bar. Can't wait to see what they have up their sleeve. address: via delle Terme, 51/r
La Cova | Tapas Bar Just Steps from Pitti. This popular location in Prato now comes to Florence as of December of last year, the trend of "tapas" has hit Florence especially in the Oltrarno area. What makes this place different is that it exactly showcases Spanish tapas done right, I loved my grilled peppers stuffed with cod and quest, plus try their prosciutto and you won't be sorry. As for the drinks, I adore their cava by the glass and interesting wine selections. This place is winning. address: Sdrucciolo de' Pitti, 19. Open 7:30-10:30pm.
Ristorante Tehran | A Taste of Persia in the historical center. Only open since two months, this tiny colorful and cozy space on Via dei Cecchi 25r is already gaining a fast following for those who are looking for an exotic escape. While I am no expert in Iranian food, my lunch here with friends recently was delicious. We got a medley of beef and chicken kebabs, fragrant citrus-infused rice with berries, yogurt and veggie starters and ended with tea (served with saffron rock sugar) done right. Highly recommend.
Cibleo | Japanese & Tuscan Fusion in Sant'Ambrosio | Fabio Picchi is it again, after his continued success at Cibreo he decided to take his passion for Asian cuisine in a new venture combining Tuscan food with Japanese and Korean flair. The new space only has 20 covers so reservations are a must. I went recently and thoroughly enjoyed the experience, ravioli (Japanese style) made with Mugello chicken, pickled greens and so much more, the plates seem endless and you end with a sake finale. Menu 40-50€ a person w/out drinks.   (More on GamberoRosso) address: via Andrea del Verrocchio, 2r |  tel. +39 055 2341100
Gosh* | New All-Day Cafe in the Oltrarno | I just happened to walk by this doorway the other day but it looks very design-friendly decorated with colorful wallpaper and an all-day menu from breakfast to dinner (with free WiFI). Open 8:30am-12am. address: Via di Santo Spirito, 46R, 50125 Firenze.
Marina di Santospirito | A new spot on the backstreets in the Oltrarno known for the crudo (raw fish platters) and quality fish and fresh pasta , they also offer live music concerts with dinner. I've peeked in and the place looks absolutely beautiful. address: Via Maffia, 1/C, 50125 Firenz
Kawaii | The first sake bar in Italy? Kind of random but with all of these new openings lately, I'm not surprised and this sounds exciting. I am very intrigued to try a place based around Japanese sake or izakaya. They are under the Momoyama umbrella and will be serving typical Japanese dishes along with their creative drinks. I can't wait to try it! address: via Borgo San Frediano 8/r
Essenziale | Contemporary flavors in Piazza Cestello. The hottest new opening in Florence is without a doubt this restaurant headed by popular chef Simone Cipriani, formally of Santo Graal. Inside, you'll find a contemporary, intimate atmosphere. With a small drawer at every table with your "tools" (forks, knives and spoons) to help you along what will certainly be an interesting gastronomic affair. I went with Nico for his birthday dinner and we opted for the five-course tasting menu (55€) which was absolutely phenomenal. The cuisine is inventive and creative, imagine a take on Tuscany's classic "pappa al pomodoro" called "papa Mary" with bloody mary elements of horseradish gelato and a spritz of vodka.  Address: Piazza di Cestello, 3, 50124 Firenze
Santa Rosa Bistro | Lunch in a secret garden. I am really excited about this new spot hidden behind the walls close to Borgo San Frediano on via pisana (along the lungarno). It's a new place that has just opened and wants to "cover all basis" as far as aesthetically cool Florentine spots go. Think coffee in the morning, easy lunches and of course the omnipresent aperitivo tucked away in one of my favorite areas of town, hidden but definitely walkable from the center of Florence. The wine list is curated by the fab Enoteca Pitti Gola which already elevates its status in my eyes. address:Lungarno Santa Rosa, Florence, +39 055 2309057
Fulin | A gourmet Chinese dining experience that even made it in Italy's foodie magazine, Gambero Rosso. Fulin is out to make quality Chinese cuisine the way you would find in Hong Kong, Beijing in a beautiful ambiance in a suburban (and easy to get to) neighborhood. This will no doubt impress even the Florentines. I had the chance to lunch there recently and wow, just wow. This is top notch on every level. Antipasti range around 7-8€ while larger courses 12-15€. I highly recommend sharing a variety of dim sum like dishes, especially the bamboo carrot involtini, a variety of freshly-made dumplings, rice noodles with chinese mushrooms, and cantonese pork, twice-fried with an orange sauce. Don't skip dessert either! address: via Giampaolo Orsini, 113. tel. 055 684931. Reservations highly recommended. 
Ristorante Vivo | Seafood in a contemporary ambiance that won't break the bank. Located in the ever-growing-in-gourmet-popularity piazza annonini is the lovely Vivo, a new addition into the seafood in Florence scene, they have an original location in Capalbio. I have yet to try it myself but I have read a ton about it and I am definitely going to plan a personal visit soon. I like the fact that from antipasti to second courses, the price ranges around 8€-10€ and the menu changes daily based on the fish caught. A definite refreshing trend from articles like this, which have scared me from eating seafood in the USA: My friends who HAVE visited, assured me that it's worth checking out, though they point out that the open plan seating doesn't truly allow for a romantic evening. For an honest review (in Italian) check out this post by La Forchiettiere. address: Largo Annigoni 9 A/B – zona sant'Ambrogio – Firenze. Reservations highly recommended. +39 333 1824183.
Il Carduccio | Your new 'organic' living room just steps from Palazzo Pitti. New spot Carduccio is located just steps from Palazzo Pitti in a charming space that offers Oltrarno patrons a fresher farm-to-table experience. Open 8-8pm M-Sat (reduced on Sunday) I can already tell this will be my go-to spot for great salads and cold-pressed juices. address: Sdrucciolo dei Pitti, 10, 50125 Florence FI, Italy
Raw! | Via Sant'Agostino, This place just opened a few days ago and is a raw vegan tiny caffe just behind Santo Spirito on via sant'agostino. Owned by a young couple, one half Swedish, one half Florentine on a quest to provide people on a raw diet with options. They offer vegan panini and their own gelato made with coconut water. They also sell whole coconuts to drink and are working on infused juices. I'm intrigued but if you're still hungry there's S.Forno nearby ;-).
My Favorite Lunch Spots in Florence
Best Lunch Deal | The menu at Trattoria Giovanni at Via Sant'Agostino, 38 is impressively affordable and changes seasonally, for around 11 euros (though they may have raised their prices for 2017). Mon-Saturday (really) you can get this menu which includes a first course, second course, side and water in a pretty ambiance. Also on via del orto you will find two of my personal favorite lunch spots, Il Guscio (the winner) makes wonderful pasta prime and cheese tarts, It's also a nice little sit-down place so you won't feel rushed to leave. Trattoria Orto is also a close third for the lunch deals that feature a delicious and traditional Tuscan menu.
Best Bakery | Light lunch, S.Forno, Via S. Monaca 3r, 50i24 Florence, Italy. Open 7:30-7:30pm. They are by far the best stop for bread, panini, cakes in a very interestedly high-vaulted ceiling bistro, by the visionaries of Il Santo Bevitore.
Best Panino | Semel in Sant' Ambrogio is an quintessential Florentine spot. Think cubby holes for your tiny wine glasses and small sandwiches with high-quality ingredients like anchovies, fennel and orange eaten standing up. You have to go here. Piazza Lorenzo Ghiberti 44/r.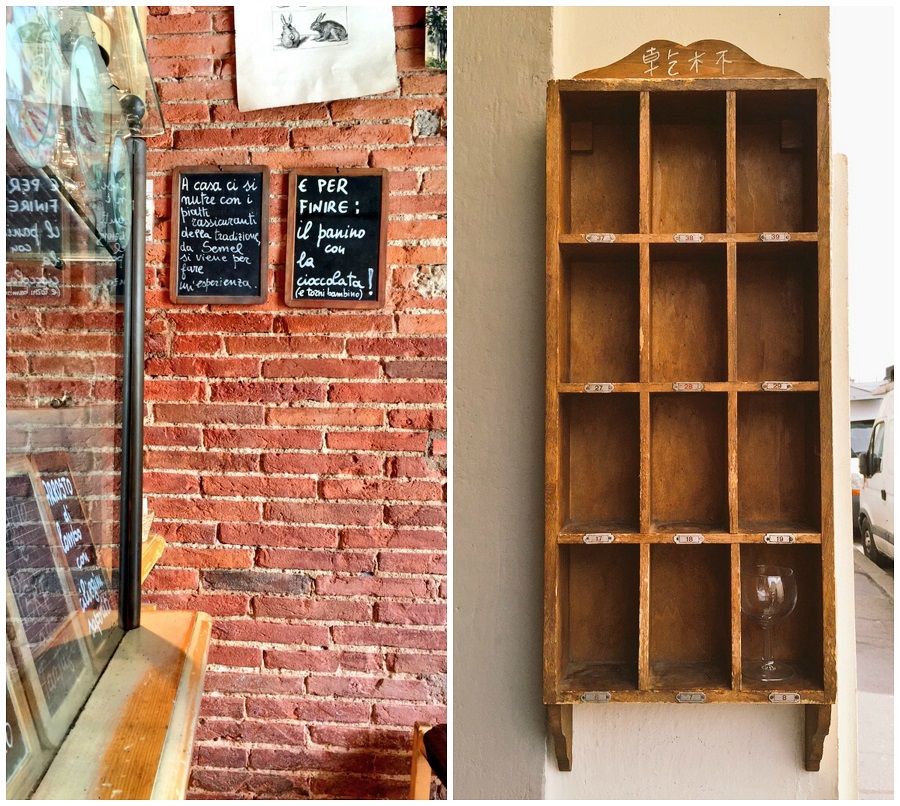 In San Lorenzo, Trattoria Sergio Gozzi (also known as 'da sergio')  is one of the best local options serving traditional Tuscan fare since 1915 , as reminded to me by my friend Coral of Curious Appetite. address: Piazza di San Lorenzo, 8R, 50123 Firenze
Phone: +39 055 281941
Teatro del Sale, is where it's AT! Love this place for a variety of reason including the casual atmosphere served buffet style, abundance of (fantastic food). Cheap and wonderful, just go! address: Via dè Macci, 118.
Refined Tuscan cuisine in a cozy, yet contemporary ambiance. There is a lot to love about family-run Zeb in San Niccolo, the seasonal menu, fresh pastas, and great people-watching from the bar, just make sure you make a reservation first. address: Via S. Miniato, 2/r, 50125 Firenze
Casa del Vino, light lunch in the san lorenzo neighborhood. highly recommend if you enjoy tasty bruschetta and a cool wine list. Via dell'Ariento, 16/R, 50123 Firenze.
Libreria Brac is a local favorite and my go-to for avocado salads and nice wine. Via dei Vagellai, 18, 50122 Firenze make a reservation, they are always full. +39 055 094 4877
Irene, retro bistro in piazza della repubblica, may be located in the fancy Savoy hotel but they have a wonderful lunch menu featuring creative takes on Tuscan favorites that won't break the bank. The cool ambiance can't be beat.
Quelo Bar, Via Borgo Santa Croce, 15r, 50122 Firenze, +39 055 1999 1474. Very chill place with great salads, fresh juices and coffee. You won't find anything truly gourmet but it hits the spot.
Gluten-Free | Quinoa in  Piazza di Santa Maria Maggiore, 1 is a great spot for those who want to eat in a pretty little courtyard and are looking for a healthier option.
Gilda's Bistro in Sant'ambrogio is cozy and cool, with excellent quirky and classy down-home Italian food eatery in an area of town where you can be sure you'll eat better. address: Piazza Lorenzo Ghiberti, 50122 Florence, Italy.
For organic and local products, try Ristorante San Michele all'Arco for lunch on Via dell'Oriuolo, 3/red, 50122 Firenze. It's close to 'Lion's Fountain' and Ebys bar under an ancient arch not far from Santa Croce and Sant'Ambrogio. I love sitting here and watching the world go by, I recommend trying the 'cinta senese' if you are into pork products, it's excellent here.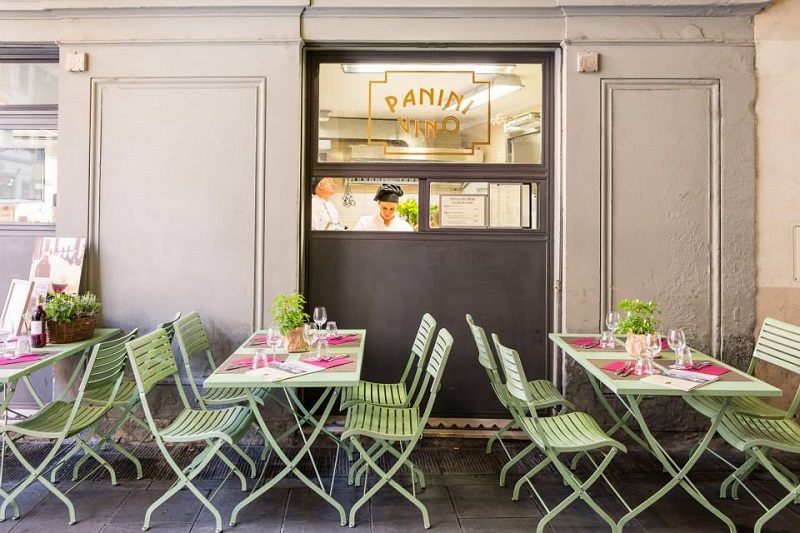 A Crudo is a new spot in the oltrarno serving up tartare (and many different kinds), Tuscan crostini, cured meats and cheeses and nice salads. I have a wonderful experience there recently and would recommend to anyone looking for a light lunch. address: Via Mazzetta, 5A
Sexy Bistro | Irene at the Hotel Savoy is not only sexy in its design but also has some interesting and affordable lunch menus. Highly recommend, you can read my write-up here.
Hosteria Il Desco, Via delle Terme, 23/ r. Cheap & Traditional, try their daily lunch menu (great for sit down, peaceful lunch). Tuscan Food.
Cheap & traditional lunch in one of my favorite trattorias, Osteria il Buongustai in Florence (close to piazza della signoria). Lunch is less crowded than dinner and they offer a decently priced menu for locals during the week.
Trattoria 'Da Mario',  Via Rosina, 2, 50123 (san lorenzo neighborhood) famous and very crowded. Budget!
The New 'Fancy Food Court' with Tuscan specialties like lampredotto and fresh pasta, Mercato Centrale
Ete bistro & Ditta Artigianale are great light lunches with a cool, contemporary vibe.
Cheap eats in Florence, guest post at Budget Traveller.
Trattoria Il Giova (for lunch or dinner) is awesome, fresh food and fun ambiance near one of my favorite piazzas in town.
Trattoria Anita – set menu, decent local dishes (great if you are on a budget).
Without a doubt one of my favorite places for lunch – locals agree! Oltrarno area of town. Chicco di Caffe! 
For great local food – I really like this restaurant in Piazza Tasso – Al Tranvai (cute & tiny interior but very yummy traditional dishes). http://www.altranvai.it/home_inglese.html
Florence Street Food 'Eat Like a Local' 
Eating street food is a local pastime with dishes like 'lampredotto' and trippa' being the stars of the show, don't be squeamish, it's good! I recommend trying these tasty panini at least once, don't forget the 'green sauce!' you will thank me later. The best ones are Nerbone located in the ground floor of the central market in San Lorenzo.
Next up is the famous 'trippaio del porcellino' by owner Orazio, who owns a stand in Piazza del Mercato Nuovo. I also like the Sergio Pollini Lampredotto truck on via dei macci (sant'ambrogio neighborhood), plus one  located in the San Frediano neighborhood and Aurelio I' Re Del Lampredotto further down.
Ps. In 2014, they just opened a Food Truck serving gourmet burgers along the river, La Toraia, Lungarno Cristoforo Colombo, 11 (Via del Campofiore), 50126 Florence Tuscany. Link here. 
Where To Go For Dinner in Florence
Osteria dell'Enoteca | Bring the countryside Osteria into the city walls. 

I am hugely excited about this new opening on Via Romana. This new restaurant focuses on Tuscan food with a little flair and a special exclusive grilled meats and steak menu. The owners are from Enoteca Pitti Gola e Cantina just down the road and this place is set to be one of my favorite go-to Italian restaurants on the other side of the writer. Excellent fresh pasta as well, try the fave bean and pecorino cheese tortelli, baccala on polenta, and of course their signature steak. address: Via Romana, 70/r, 50125 Firenze. Best all around for food and ambiance. 

My go-to local lately is Il Guscio on via dell'orto on the other side of the river which has been around since 1986. They see Tuscan food, with interesting fish platters as well. I think the ambiance vs. quality is one of the best on this side of the river. When we have out-of-town visitors, we always take them here. Open Mon-Fri 12:30-2pm, 7:30-11pm. Only dinners on Saturday, address: Via dell'Orto, 49a.
Thanks to Coral who arranged this place for my bachlorette party, I have discovered the lovely Club Culinario Toscano da Osvaldo located near piazza santa croce, which serves some of the best Italian food I've had in a long time. address: Piazza dei Peruzzi, 3R, 50122 Firenze, call for reservations: +39 055 217919.
Osteria delle Tre Panche is a warm, inviting restaurant in the Campo di Marte Stadium area (an easy taxi ride from the center or longer walk for those who like to hoof it) known for great wines and and 

a special section dedicated to truffle-dishes with tubers from San Miniato. 

Try the fried mozzarella with truffles and truffle tagliolini, I loved my experience there. 

You'll find it listed in this updated (2017) guide of the 38 best restaurants in the city according to Eater and vetted by my friend Coral of Curious Appetite.
For good, hearty Tuscan food, I love taking people to Del Fagioli which is near piazza santa croce. The ambiance is quite typically Italian with lights that shine too bright but they have an excellent Florentine steak and nice wines. Get the steak. address: 

 

Corso dei Tintori, 47-r, 50122 Firenze. 

Il Santo Bevitore, Via di Santo Spirito, 64/66, Firenze. Despite the crowded wait, they provide a creative and interesting menu with, I rate this as quite good when it comes to consistently good food and ambiance. Head next door Il Santino for aperitivo before dinner which is almost even better..
Slow Food | Culinaria Bistro is run by an association of people that promote slow food in Florence. You'll find charcuterie platters and tajines. Piazza Tasso, 13R Florence, Italy (near Santo Spirito) CLOSED TUESDAYS.
Refined Tuscan cuisine in a cozy, yet contemporary ambiance. There is a lot to love about family-run Zeb in San Niccolo, the seasonal menu and great people-watching from the bar, just make sure you make a reservation first. address: Via S. Miniato, 2/r, 50125 Firenze
If I am looking for a nice steak in the center, I typically head to Buca Lapi. Quite literally 'down below' it serves up Tuscan food and its considered to be a real find but it is quite expensive. address: Via del Trebbio, 1r, 50123 Firenze
One of the most fun places for Tuscan food without a doubt is I'Brindellone (a true no-frills experience), Piazza Piattellina (piazza carmine) – I adore this place for the rustic atmosphere and hearty food, think fried coccoli (dough), truffle pasta, fried artichokes, traditional platters such as ribollita, ravioli and pappa al pomodoro and of course steak. It's always full of locals. Call for reservations +39 055 217879.
Consider taking a taxi to Trattoria da Burde, one of my favorite places for true Tuscan food in Florence.  Go for the cheese platter and Florentine steak. The Gori brothers are well known around town and always offer a fun, satisfying experience. address: Via Pistoiese, 6/R, 50145 Firenze
Teatro del Sale, address: Via dè Macci, 118 is an institution in Florence. Food is served buffet style, screamed from the kitchen as dishes are brought out as soon as the chefs can cook them. Romantic? Probably not. But it is most definitely fun and Florentine, check out what dinner shows they host every week.  see the program and more here.
Just steps from the Uffizi is Buca dell'Orafo, which literally translates to "Goldsmith's cave" which is what dining their sort of feels like. They serve up hearty Tuscan fare, homemade pasta, you know the drill. Reservations recommended. address: 

Volta dei Girolami 28

, 

Florence, 

Italy. 

Arà è Sud | Sicily meets Florence in this restaurant located on via della vigna vecchia. Here you can gorge on a myriad of Southern dishes from Italy's biggest island which means plenty of fish, cannoli, and yes your arancini. It's fantastic! — GO!
Cocktails at Locale, the hottest new spot on via delle seggiole, is a cocktail-connoisseurs dream! I had an excellent dark & stormy (made with Ginger beer) there recently. Naturally they don't have a website or contact number, but I recommend just going. facebook. 
For a nice dinner in a romantic ambiance, try Enoteca Le Barrique on via del leone (oltrarno). Great food, great wine, great service and a good price!
Trattoria Giovanni is my go-to lunch spot near our house in the oltrarno. Their lunch menu is very affordable but so is dinner, they have a wonderful variety of fresh pasta dishes and Tuscan favorites like bistecca. Via Sant'Agostino, 38, Firenze, reservation recommended. +39 328 072 8028.
Il Magazzino (for traditional Tuscan fare) in my beloved local piazza della passera and everything around this square is great!
Irene is a sexy bistro that would make for the perfect girl's night out in piazza della repubblica. The food is Tuscan with a fresher, healthy twist, great drinks.
Ristorante Pane e Vino,  Piazza di Cestello, 3R, Firenze is one of my new favorites. Located in the oltrarno side of the city, the menu is creative and distinctive, oh and they make their pasta fresh in-house. I highly recommend getting a wine pairing, as their impressive wine list is fabulous, you can't get wrong with this place!
Il Gecko is the place to go for a nice drink or bbq ribs, aka when you are tired of Italian food or need a huge ice coffee. Great burger in the san niccolo neighborhood. contemporary nice decor and the right price/quality ratio. Via Dei Renai 11/R
La Menagere, is the hottest new restaurant in Florence, on via de'ginori in the san lorenzo neighborhood. Go there for lunch, dinner, coffee, pick up flowers, it's all concept and cool. I've tried both their aperitivo & tapas plus lunch and loved it all all! Read more here. 
The La Bottega Del Buon Caffe' is 'five stars all of the way' in my opinion and just received a Michelin star, worth every penny. address:  Via Antonio Pacinotti, 44, Firenze FI
Not exactly in the center but a former grocers turned restaurant I really enjoy is Trattoria du Burde on Via Pistoiese, 6/R, 50145 Firenze.
Il Guscio is away from tourist crowds and serves some really fabulous Tuscan dishes in a cozy ambiance. Open for both lunch and dinner, this is a local favorite! via dell'orto 49, Florence. San Frediano neighborhood.
La Bocca di Leone on via pisana 39 is trendy, hip and serves a damn good truffle dish that will have you coming back for more. A real find!
A nice place for dinner (with cool art)  in the city is La Cucina del Garga, Via San Zanobi, 33, 50129.
Wonderful small restaurant for lunch or dinner near the Accademia della Galleria (which houses Michelangelo's David) Osteria de l'Ortolano.
Great seafood with a view – It may be expensive but my guilty secret is Golden View Open bar, right by the Ponte Vecchio. Super awesome spaghetti alle vongole veraci and great wine list.
Santo Graal (The Holy Grail) on via romana is simply divine. They offer a menu with traditional & innovative dishes. On the pricier side.
One of my top spots for Bistecca alla Fiorentina – Florentine steak. Trattoria Osvaldo. 
Fun place in the center for local dishes, while it IS touristy – the food is very good! Il Latini. 
One of my new favorite restaurants in Florence – awesome outdoor garde, – awesome cheese & cured meat boards, you should try this restaurant. Beppe Fioraia Firenze.
Want to try local dishes like trippa & lampredotto? I tried a few dishes at Osteria di Giovanni and loved it (plus they also serve lots of other really delicious food like Bistecca Fiorentina).
Trattoria Sostanza is a historical restaurant in the city serving up simple, delicious food like chicken infused with butter – yum!
Cibreo trattoria and Teatro del Sale, very very good! Fabio is owner of all three of the Cibreo enterprises and runs it all extremely well, I prefer the trattoria (price wise) and Teatro del Sale is a lot of fun! Think awesome buffet with entertainment.
Traditional Tuscan
Best Typical Spot (Lunch) In San Lorenzo | Sergio Gozzi, no frills Tuscan food at its best. Go with any daily special you see on the menu and get the polpette (they have meat in them) which will blow your mind, they are that good. Highly recommend if you are in the San lorenzo neighborhood. Open ONLY for lunch: 12:00-3:45pm. Piazza San Lorenzo, 8r, Firenze, Italia.
Always a top spot, Del Fagioli is a favorite for both locals and visitors from abroad. Historical and family run, I go for the bistecca alla fiorentina (Florentine t-bone steak) and lardo crostini. Also ask about their daily desserts which are heaven. Book ahead as they tend to get popular. address: 

Corso dei Tintori, 47-r, 50122 Firenze

Trattoria La Casalinga is a true Tuscan institution and one of my favorite places to bring people in the city. It's not longer as cheap as it used to be (2017) however it is on the more affordable side with a vast menu of local favorites. I like their penne all'arrabiata (spicy tomato pasta), fettunta appetizers and ribollita. Pasta starts around 7€. address: 

Via dei Michelozzi, 9/R, 50125 Firenze FI. 

Hands down favorite close to my house is Trattoria L'Brindellone, Piazza Piattellina 10-11/r, 50124 Florence, Italy. +39 055 21 78 79. Make reservations, great Tuscan food and steak, no need to dress up here, it's a locals joint
Tucked away in the Oltrarno is the lovely family-run Trattoria I'Raddi where you can eat Tuscan in a place that doesn't break the bank. address: 

 

Via D'Ardiglione, 47/r, 50124 Firenze. 

If you don't mind a 25-30 minute walk from Ponte Vecchio, I highly recommend lunch or dinner at Traditional Tuscan and family run "Da Ruggero" on Via Senese 89/r. Here you'll find local Italian staples like ribollita, pappa al pomodoro, ossobuco, pollo fritto, and delicious pasta dishes (I love the pici) Open Thurs-Mon 12:30-2:30pm, 7:30-10pm.
Near piazza della signoria? Try Vini e Vecchi Sapore, Via dei Magazzini, 3, Firenze. Authentic and really good Tuscan food (I love their beans cooked in a flask) You can't find better in this area. Make reservations beforehand as this place is popular and in all of the guide books: +39 055 293045.
In the Oltrarno, a classy white-tablecloth restaurant thatI've been recently is Trattoria Camillo, well known among Italian friends of mine as a local institution. It's a wonderful place to tuck into well-known dishes such as Florentine steak, sautéed greens and porcini pasta. Expect prices to be a little higher and reservations are highly recommended. address: Borgo S. Jacopo, 57/r.
Consider taking a taxi to Trattoria da Burde, one of my favorite places for true Tuscan food in Florence.  Go for the cheese platter and Florentine steak. The Gori brothers are well known around town and always offer a fun, satisfying experience. address: Via Pistoiese, 6/R, 50145 Firenze
Another place to

get great steak

in the Oltrarno neighborhood is Antico Ristoro di' Cambi, address: Via Sant'Onofrio 1R, 50124 Florence Italy.
Gilda Bistro, down-home cooking in an elegant spot in the heart of Sant'ambrogio, love the peposo (slow-cooked spicy beef) and their dishes of the day. address: Piazza Lorenzo Ghiberti, 40-red, 50122 Firenze.
Alla Vecchia Bettola, traditional Tuscan in a pretty spot near piazza tasso, Address: 

Via Vasco Pratolini, 3, Firenze, 

Phone: 055 224158. 
A find near the Ponte Vecchio is Buca dell'Orafo. No frills Tuscan cuisine in a rustic ambiance, people come for the food NOT for the amazing service. address: Via dei Girolami, 28, Firenze. Open Tuesday-Saturday lunch and dinner 12-2:30, 7:30-10pm. and Monday 7:30-10pm.
Da Ruggero is a local Tuscan favorite among friends, it is located a little further out but it is worth the taxi ride or longer walk. Here you will get the non-nonsense, authentic local experience run by a local family. The dish to order here? Bollito or boiled Tuscan meats (tasted better than it sounds) served with salsa verde.  address: 

 

Via Senese, 89/red, 50124 Firenze. 

Another simple Tuscan spot that deserves praise is Trattoria Enzo e Piero on Via Faenza. The service can be a little iffy but the price/quality ratio is pretty legit. 105r, 50123 Firenze.
One favorite among us and many locals is Trattoria dell'Orto, Via dell'Orto, 35, 50124 Firenze, 055 224148. On the 'other side of the river' this is where you want to go to eat traditional Tuscan food in a rustic ambiance. Really fantastic steak!
Buca Lapi, is an awesome place for steak and Tuscan food and its considered to be a real find. address: Via del Trebbio, 1r, 50123 Firenze
Trattoria Sostanza is always a sure bet for great food 'bistecca alla fiorentina' (Florentine steal) and my favorite, the butter chicken.  The desserts are also superb, but share as portions are abundant. One of those places that I adore taking out of towners for the simple, wonderful ambiance. Via della Porcellana 25. Reservations recommended. It's not cheap (sides are 9 euros) but it is a nice splurge.
Lunch, Osteria Il Buongustai (near piazza signoria)  Via dei Cerchi, 50122 Firenze. Lunch spot I adore.
Trattoria Da Mario, Via Rosina, 2, 50123 Firenze. (San Lorenzo neighborhood). Casual.
Ristorante Il Tranvai,  Piazza Torquato Tasso, 14r, 50124 Firenze. A little further out there but I adore it! Casual.
Accademia Restaurant,  Piazza San Marco 7R – 50129 Firenze. Hearty Tuscan fare.
Alla Vecchia Bettola, Via Vasco Pratolini, 3, 50124 Firenze
Trattoria Osvaldo for steak, Tuscan cuisine and a nice ambiance a little outside of the city center. It looks like your grandmother's kitchen but here, that's a great thing. You won't leave full here. address: Via Gabriele D'Annunzio, 51R
Il Sabatino, via Pisana 2, This is a true Florentine bare bones institution. The menu is cheap and simple and you can be assured of the fact of its authenticity. I especially adore their pasta e fagioli soup. +39 55 225955.. Awesome & cheap!
Looking for a wonderful steak? Try Trattoria 13 Gobbi, it's near the train station and they have some of the best steak in the city. Address: Via del Porcellana, 9R, Firenze.
Trattoria Camillo is a popular mainstay with white tablecloths and somewhat haphazard service on borgo san jacopo. While it is on the pricey side, the food here is great. I like the fried sage and veal scappoline with lemon. address: Borgo S. Jacopo, 57/r, Firenze.
Seafood in Florence
Florence is nowhere the sea, but luckily it is possible to find decent places here. If you can't make it to the Tuscan coast (and Livorno for the famous fish stew 'cacciucco' try these spots.
Ristorante Vivo | Seafood in a contemporary ambiance that won't break the bank. Located in the ever-growing-in-gourmet-popularity piazza annonini is the lovely Vivo, a new addition into the seafood in Florence scene, they have an original location in Capalbio. I have yet to try it myself but I have read a ton about it and I am definitely going to plan a personal visit soon. I like the fact that from antipasti to second courses, the price ranges around 8€-10€ and the menu changes daily based on the fish caught. A definite refreshing trend from articles like this, which have scared me from eating seafood in the USA: My friends who HAVE visited, assured me that it's worth checking out, though they point out that the open plan seating doesn't truly allow for a romantic evening. For an honest review (in Italian) check out this post by La Forchiettiere. address: Largo Annigoni 9 A/B – zona sant'Ambrogio – Firenze. Reservations highly recommended. +39 333 1824183.
Burro e Acciughe | one of the newest fish spots in Florence is nestled in the ever-more-trendy Oltrarno neighborhood of town and is already gaining a loyal following. I recently had a date night there with Nico and was super impressed with my "millefoglie of fish with a delicate pure side", also nice choice of wine, go for the Sicilian Etna Bianco, 22€ a bottle.. address: Via dell'Orto 35, Florence 50124
Marina di Santospirito | A new spot on the backstreets in the Oltrarno known for the crude (raw fish platters) and quality ingredients, they also offer live music concerts with dinner. I've peeked in and the place looks absolutely beautiful. address: Via Maffia, 1/C, 50125 Firenze
a Cucina di Pescepane | Affordable fish dishes in Sant'Ambrogio! I recently tried the newest endeavor of popular street food Pescepane (literally means bread & fish) who just opened a small restaurant in one of the best neighborhoods in town. It's bright, blue, simple and quite honestly, perfect – they even took the time to incorporate details such as handmade fisherman's baskets turned lamps to keep with the seafood theme. The menu is small and features fish-based dishes (ranging from 7-€-13) with Tuscan twists (think a fresh panzanella bread salad with calamari, or pappa al pomodoro with fish), I really enjoyed my fish & chips with house-made tartare sauce. Wine is sfuso from the Chianti countryside and their vegetables hail from the farmer's market nearby. Good job guys! Open for lunch & dinner daily excluding Mondays. address: Via G. Carducci, 15R
Fishing Lab Murate is the hottest new street food fish place smack dab in an amazing palazzo with 14th century frescoes and Roman ruins with actually affordable prices.  While I don't think their food is the best in town when it comes to fish (they have continuous hours and the place is fun). Ask to see the oldest portrait of Dante. Via del Proconsolo, 16R – +39 055 240618
Seafood: Tuscan Food | Borderline, near the Santa Maria Novella Train Station, Corso Italia 35, 50123 Florence, Italy. This new bistro continues the excellent move of restaurants worth drooling over near the central train station. The food here is elevated seafood and Tuscan fare, think tuna tartare, taglioni with swordfish and mint. The ownership is the same from 'da tito' another great local restaurant. Prices are medium $$$ but I doubt you would be disappointed!
Baccalunch | Bringing a simple Tuscan fish back into the limelight. I love how Florence has seemed to embrace a vibrant love affair with seafood. This new spot on Via del Leone (Oltrarno), offers "cod" (baccala) as the fresh protagonist to every dish on the seasonal menu. Chef Francesca Niccolini impressed me with her baccala involtini in a bed of coconut milk though I wouldn't say this is my top spot for seafood. Open only for lunch Tuesday-Sunday 12:30-2:30pm and dinner on Saturday, closed Mondays. Expect to spend between 15-30€ per person. 

Via del Leone 24 R, Firenze

Fiaschetteria di pesce, where the locals go near the ponte alle vittorio roundabout. Get there early as it gets crowded. The menu of primi (first courses) changes daily and you can pick your fish directly from the glass display in the front. Interesting wine list. Service is questionable at best, you tend to get that 'Florentine' stink-eye but go anyway, it's good. address:Piazza Taddeo Gaddi 5/r, Firenze, Italia, open 7:30am-9pm (you can also buy fish here).
Il Guscio, neighborhood: san frediano, Via dell'Orto, 49. Good home-cooking and excellent fish dishes. Open Monday-Friday 12-2:30pm, 7:30pm – 11pm, Saturday 7:30am – 11pm, closed Sunday.
Pasticceria Giorgio, neighborhood: soffiano, address:  Via Duccio di Boninsegna, 36. Known for the excellent pastries but the surprise is that they also have great fish dishes. Go for lunch. Tuesday-Saturday 7:00am-8pm, Sunday 7am-1pm, closed Monday.
Best Places To Get a Pizza in Florence
When Santarpia opened (near sant'ambrogio) you can better believe that there was a line of hungry Florentines out the door, Giovanni Santarpia is a legendary pizzaiuolo who was once in San Donato at Palazzo Pretorio, a place that Nico and I had no problem driving 40 minutes for a truly supreme pizza pie. Now open in Florence  in a pretty simple ambiance, the only problem is getting a reservation before 10pm. Call ahead, but seriously ahead! From the classic margherita to pizza topped with lampredotto. Address: Largo Pietro Annigoni, 9, 50122 Firenze, Phone:055 245829
La Divina Pizza is an unassuming spot for flatbread pizza by the slice and artisan craft beer near Santa Croce and Sant'Ambrogio. It's great for a quick bite (small space inside) or I have often taken a few slices to go for a gluttonous feast at my house. Highly recommend. address. 

Borgo Allegri, 50/red. 

On Borgo San Frediano, Fermento 1889 is impressing locals with their Napoletana style pizzas and in fact you'll need to call ahead to nab a spot. Also impressive is the rum Baba. Borgo S. Frediano, 16. Open evenings at 7pm, also great for take-out.
Tamero Pizzeria is one of my (new) stop choices for pizza in Florence. Affordable, great ingredients and I like the service too. Get any pie with San Marzano tomatoes and you will be a happy customer.
Da Gherardo is in the san frediano neighborhood and roughly the size of a postage stamp, however, I really like the unique, very tight, ambiance and the pizza is really good, Neapolitan style. on Borgo S. Frediano, 57/R, 50124 Firenze. Reservations highly recommended, best for groups of 2-4 people max. +39 055 282 921, open daily 7:30pm-1pm.
BiancaZeroZero | The first "pinzeria" in Florence. It is a type of antique Roman rectangular pizza made from a dough mix of soy flour, wheat and rice (really nice and crispy without leaving you feeling heavy). They also have a selection of beers from Birra Amarcord which pair nicely with the pinseria. I'm a fan!

 address: Piazza della Passera

Mangia Pizza | A casual lunch spot offering gourmet pizzas in the center of town, following the original popular location based in Prato. It's already highly popular and definitely worth trying. Closes at 7pm.  address: Via Lambertesca, 24/26/R, 50122 Firenze.
My favorite to-go pizza in Florence is Pizzeria O Scugnizzo (Napoli style pizza) on Via Dell'orto, 25/R, Firenze. Honest good pizza, honest good people. Open nightly 6:30-11:30pm. 
Pizzeria Torcicoda is one of the best places in town for pizza, near santa croce. quality ingredients and excellent craft beer. address: Via Torta, 5, Firenze. Open daily, 12pm-12am. +39 055 265 4329
Yummy Napolotano pizza's on via dei macci, make sure to make reservations, very rustic in the sant'ambrogio neighborhood.
One of the best pizzas can be found in the new 'primo piano' above the central market in san lorenzo, mercato centrale. The pizza is out of this world.
 Berbere in piazza nerli (oltrarno ), brand new quality pizza & craft beer, I LOVED the pumpkin, ricotta and spicy mostarda version. Facebook page. Go for the daily pizza, always. Open 7 days a week, 12.00 – 15.00 / 19.00 – 23.00.
New spot Briscola, from Milan, is a tasty pick near the train station on Via del Campidoglio 8R – Firenze.
Near the Campo di Marte Area is a fantastic new spot for artisan pizzas and craft beers, Don Fefe, Via Giuseppe la Farina, 29, Firenze.
For a NYC Bistro type place that makes fabulous pizza, head to La Bussola, Via Porta Rossa, 58r, 50123 Firenze.
A real 'find' in Florence, wonderful pizza & pasta,  Cucineria La Mattonaia, Via della Mattonaia, 19R, 50121 Firenze FI.
Caffe Italiano (the pizzeria not the Osteria). This is the local favorite pick if you ask any of my Italian friends. They only have three choices – Margarita, Napoli or Marinara. Show up around 7pm to get a spot in this tiny location near S.Croce.
You may be surprised but one of the best pizzas in Florence is definitely at the Mozzarella bar on via tornabuoni! 
A local favorite is Pizzeria Spera,Via della Cernaia, 9, Firenze near the Cure district of Florence, it gets packed quickly so making reservations would be wise!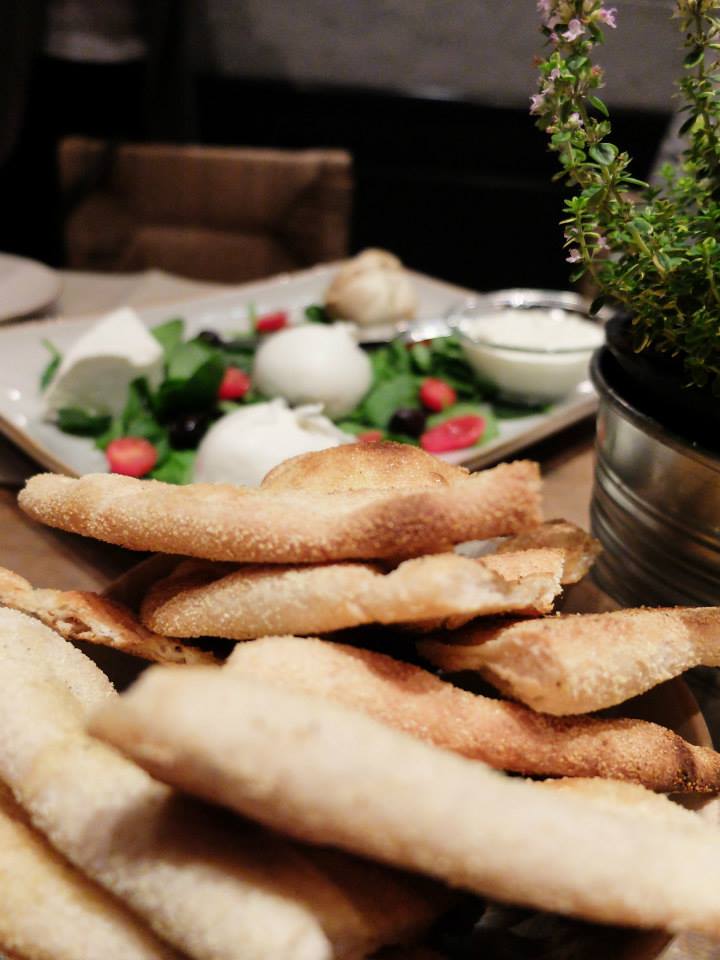 Coffee, Tea and Relaxing in Florence
Coffee & More | Ditta Artigianale: The Oltrarno edition. To my utter delight, contemporary coffee bar Ditta Artigianale has just opened a second location on via dello sprone 5r. With 220 square meters of cool design space, this Ditta will keep its coffee tradition while also adding a full restaurant and bustling craft cocktail bar once the clock hits 6:30pm. I've already been way too many times and love it. You can read my post about it here.

Caffetteria Piansa

is a fairly new addition to to the popular Gioberti stretch (just beyond Piazza Beccaria) and they serve one of the best flat whites I've had in the city (maybe even better than Ditta, the coffee is less harsh). My advice? Go discover Beccaria and Gilbert and spend a lingering late morning sipping coffee at Piansa. address: 

Via Vincenzo Gioberti, 51/red

La Ménagére, address: Via de' Ginori, 8, also a restaurant, the coffee bar area is quite nice and they don't mind if you pull out a laptop. Open daily 7am-2am. The coffee is from Ditta Artigianale.
Caffe Pasticceria Serafini is right in Piazza Beccaria where I used to live on the tiny road of Via Luna. This is the place for locals to grab a coffee and join a conversation. They also make lovely pastries and light lunch options. address: 

:

Via Gioberti, 168/red

Caffè Cibrèo is an institution in Florence, with a classic style in the heart of piazza Sant'Ambrogio. The perfect spot to bring a guest and have an espresso or three before hitting up the local market. address: Via Andrea del Verrocchio, 5r, 50122 Firenze.
San Tea House is a new place that has just opened up on the 'oltrarno' side of the Ponte Vecchio. The exact address is: Via Dè Barbadori, 21. Very cute little space on an otherwise pretty quiet street, here you can get your fix of tea (bubble tea included) fresh fruit juices and more. Closed all of August.
One local find is the Le Murate Caffè Letterario Firenze which despite being in the center of Florence, seems to attract mostly locals. Come for a cappuccino in the courtyard of an ex-prison. address: Piazza delle Murate, 50122 Firenze
My 'local' is Cafe degli Artigiani in piazza della passera, no-nonsense and you can sit outside and eat a light lunch.
What about just coffee and tea but you don't feel getting overcharged? Here are my local spots of trendy & comfy coffee & tea bars. I always add to my list when I discover new ones.
Where can you go for cappuccino art in Florence, the photo below was taken at News Cafe in the San Lorenzo neighborhood, Via del Giglio, 59, Firenze.
Best places for ice coffee and WIFI browsing 
Dolce Lab on via dei macci, really really great muffins!
Via del te, tea room  (two locations Piazza Lorenzo Ghiberti, 22/23r and via di santo spirito)
Red, library & bookshop,  Piazza della Repubblica, 26
Todo Modo, Bookshop, library and free WIFI, this is a wonderful place to immerse yourself with the culture of books and lots and lots of coffee. Via dei Fossi 15 rosso 50123.
La Cite,  Borgo San Frediano, 20, 50124 Firenze. A lovely shabby-chic cafe library with plenty of room to hide and work for a few hours, Free WiFi.
Quelo bar (santa croce), Via Borgo Santa Croce, 15r.
Where to get the best gelato in Florence
Top Choice, Gelateria My Sugar, Via de' Ginori 49r (San Lorenzo neighborhood). Brand-new artisan joint owned by two passionate people, try their pistachio & yogurt! Highly recommend. Open daily from noon until 11pm. website.
Carabe (Sicilian), Via Ricasoli 60/r close to the Duomo. Really awesome fruit gelato. This place just ROCKS
Geleteria dei Neri, Via dei Neri 20/22R. Better than Vivoli, just sayin. 
Geleteria della Passera, Piazza della Passera 15 (close to Palazzo Pitti). Don't think about the awkward name of the Piazza but they make great sorbet and caffe gelato.
Geleteria dei Medici, via dello Statuto, 3. Well worth the trek and famous among locals. I used to live in this area and this was my happy place for their ricotta and pear version. Buonissimo! 
Gelateria Edoardo, piazza del duomo, makes their own cones and has cinnamon gelato, overpriced but decent considering the area.
La Sorbettiera, Piazza Torquato Tasso, 11. Well worth the walk, plus this piazza is full of hidden foodie gems! This is one of the best in town and I always go for their salted caramel.
Near the Duomo, Ara: E Sicilia is a real winner in my book and they don't just serve gelato, but Sicilian popular street snacks as well. address: via degli Alfani, 127R.
In Sant'Ambrogio, stop by Gelateria Il Procopio, Via Pietrapiana 62r (Piazza Dei Ciompi), they also have great options for those who are gluten-free & dairy-free. I love their coffee gelato with nuts and dark chocolate. Oh yeah, don't get me started on the "Cassata" flavor, that needs a blog post on its own.
Find yourself in Campo di Marte? I highly recommend Badiani Gelateria on Viale dei Mille, 20r. They are known to have coined the "Buontalenti" flavor which is a type of crema with a touch of liquor.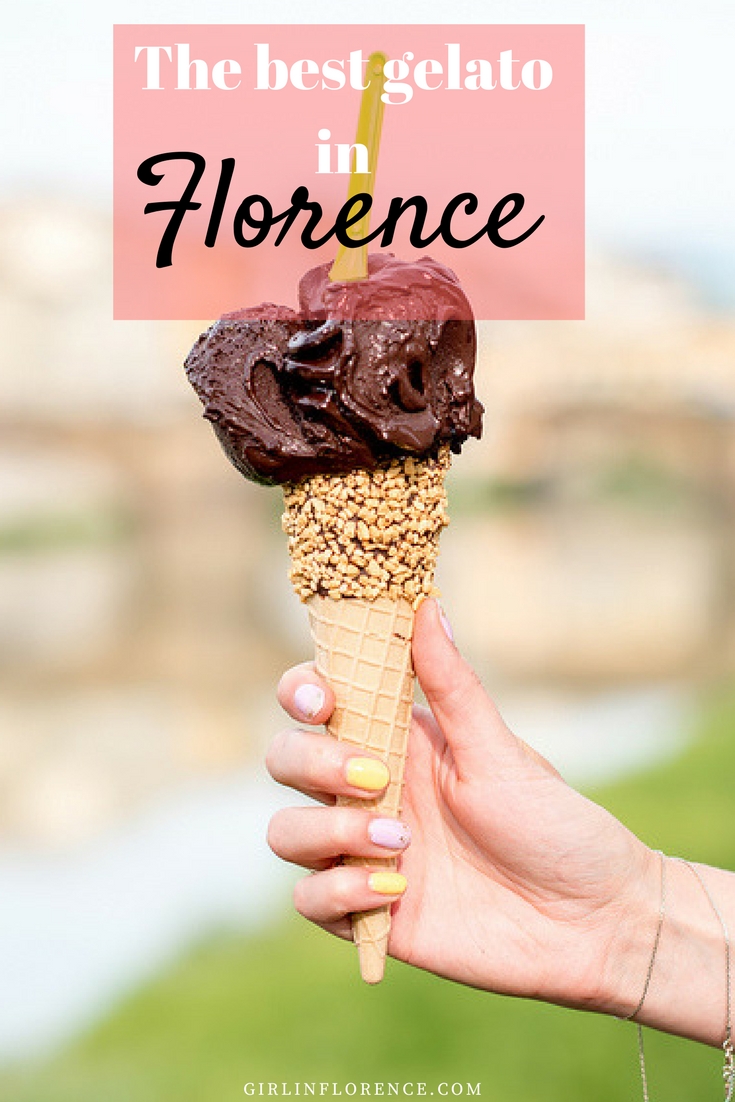 Get Out Of Town (Great Restaurants)
Because what really compares to a lunch in the countryside, get outta town is my motto when the Ponte Vecchio starts to look like a heaving mass of people that never ends. We love the below places and can vouch for them all.
BAGNO A RIPOLI | Just outside of Florence is Trattoria La Gargotta, offering Tuscan home-cooking with a beautiful outside terrace with a far-off view of the Duomo. Dinner around 40 euros per person (with wine).  Via Vicchio e Paterno, 19, 50012 Bagno A Ripoli FI. + 39 055 631444.
Settignano | Caffe Desiderio is a really adorable restaurant in Settignano, a classy little suburb above Florence which is easily reachable by bus. This recommendation is courtesy of my friend Emiko Davies who lives in the area (and happens to be a kickass food writer so you know this is a legit recommendation). address: Piazza Niccolò Tommaseo, 5r, 50135 Settignano FI
PRATOVECCHIO (AREZZO) | Ristorante La Tana Degli Orsi. I will probably get killed by my Italian friends for sharing this extreme gem of a restaurant but let's just say it is so good that you need to book a month ahead of time to get a spot. address: Via Roma, 1, 52015 Pratovecchio AR. Phone: +39 0575 583377
Just outside of Florence is the lovely Trattoria Omero, on Via del Pian dei Giullari, 47. Pappardelle with duck and other delights await you along with the beautiful terrace.
CHIANTI | Mac Dario in Panzano-Chianti (Tuscany). Easy, fun, in the heart of Chianti.
SAN VICENZO | Il Sale at Poggio ai Santi is a dream restaurant. Nestled in one beautiful boutique hotel, this location overlooks the sea and on a clear day you can spot Elba island and Corsica. Il Sale is the restaurant and they adhere to s strict-Tuscan only philosophy. This is hands down one of the best restaurants I've ever been to in one of the most charming locations. Romantic, special occasions, friends, it's perfect for everything. address: via San Bartolo, 100 I-57027 San Vincenzo (LI) – tel +39 0565 798032.
BAGNO A RIPOLI: Ristorante 588 at Borgo i Vicelli, one of my newest finds is a 25 minute drive from Florence in the bagno a ripoli hills, chef Andrea whips up a variety of creative cuisine taking inspiration from their abundant vegetable garden. address: VIA ROMA N. 588 50012 BAGNO A RIPOLI (FIRENZE), TEL. +39 055 699003
EMILIA-ROMAGNA | La Tana di Charly (best restaurant in Emilia-Romagna), no really!
VALDARNO | One of my top restaurant recommendations in Tuscany is Il Canto del Maggio, a 40 minute drive from Florence in the Valdarno area of the region. Read my review and details how to get there here. This place rocks my WORLD!!!
PONTASSIEVE | Fattoria LaVacchio near Pontassieve. Amazing food, amazing views & locally produced wine – all at a fabulous price! This is a place you want to go.
MUGELLO | Restaurant L'Olivaia at Villa Campestri – open during the summer months and creative menu based around their excellent EVOO. address: Via di Campestri, 19/22, 50039 Vicchio di Mugello FI. +39 055 849 0107
AREZZO | Ristorante Il Goccino, address: Via Giacomo Matteotti, 90, 52046 Lucignano Arezzo. One of the best restaurants in Tuscany, under the watchful eye of Chef Susanna.
VAL DI PESA | Palazzo Pretorio, Via del Giglio, 26, Tavarnelle Val di Pesa FI. Best pizza EVER!
BAGNO A RIPOLI | A 'Casa del Popolo' in the Florentine fraction of Bagno a Ripoli, Osteria Nuova is a hit with locals looking for al-fresco dining with affordable prices. Highly recommend the daily menu & pizzas. address: via roma 448, facebook.
Ethnic Fare in Florence, Italy
Brunch | The best brunch in Florence is definitely at the Le Vespe Cafe, Via Ghibellina 76R (near piazza santa croce)
Ramen | Koto Ramen. Yes a new place has opened near the Santa Croce neighborhood that will be serving the ramen needs (and Japanese tapas) of locals and foreigners alike. No longer is 'Banki Ramen' the only spot in Florence. It looks cool and I am sure this will be quite a hit and I might wait for the fan-fare to die down before trying it myself to avoid crazy crowds. Address: Via verdi 42r
Greek: Mame is THE greek street food in the Oltrarno which has gained a true loyal following. address: Via dei Serragli, 114
Pine&Apple | Chinese Food in the San Lorenzo neighborhood in an ambiance that I can only describe as 'Nordic.' While I haven't yet eaten here, (I'm going this Friday). I felt it worth adding because Nico and I were very impressed with both the short menu offering up dishes like 'hand made dumplings with beef and chives' and the smart interior, which is a step up from the anything-but-cute Chinese options nearby. address: via san zanobi 44r, Facebook page. Open lunch and dinner (12-3pm, 7:30-11pm).
For Thai & Sushi fusion and one of my local favorites for truly dependable Japanese fusion, try Niwa, address: Via del Ponte alle Mosse
Zushi is open on the viale near Porta al Prato serving up sushi and Japanese bites in a very hip ambiance. Call ahead and ask to sit in the tables in the "grass" area. Cocktails are decent too. address: Viale Belfiore, 6/A, 50144 Firenze
Gnam Firenze is a hip new burger & natural soup joint in the oltrarno, it has rave reviews by my friends who have tried it. website. 0 Km and organic products.
Japanese Buffet | Minokichi, Fortezza di Basso neighborhood. Via dello Statuto 21 AB. All you can eat Sushi and more from  22.90 euros and has already gained popularity with locals. (lunch is 12 euros).
Thai Street Food | Icchethai StreetFood Firenze, I haven't tried it yet but as soon as I saw 'thai street food' I had to add this here so at least you guys could know about it. It just opened, address: Lungarno cellini 25c (not far from the San Niccolo tower).
American | Hard Rock Cafe in Florence, Italy.
German/Bavarian | Bavarian in Florence, fried bread & garlicky cheese galore!.
Taste Festival in Florence, once a year foodies invade the city.
Sushi | New Sushi place Iyo Iyo, is in the historical center and has an actual Japanese Chef.  Borgo Pinti, 25, 50100 Firenze. One to watch.
Sushi | Yaguri sushi in Florence, Italy. Very good!
Lebanese | I really like this Lebanese joint in the Santa Croce neighborhood, Valle Dei Cedri, you can also order take-out from them via the website thefood.it. address: Via Borgo Santa Croce, 11, 50122 Firenze.
Ramen| Real Ramen in Florence, fantastic little place near Piazza Santa Maria Novella. They even do cold, summer versions.
Chinese | Love Dim Sum? This is THE place to go in Florence.
American | American bakery serving up delicious bagels, sandwiches & desserts.
Jewish | Looking for kosher? rest assured there is a great vegetarian kosher restaurant in Florence. Falafal!
Cuban | La Bodeguita Del Medio, Via Ponte Rosso 57r, 50129 Florence.
Indian/Chinese/ & More. Takeout – Food delivery, around the city. List here.
Il Gesto,  oltrarno neighborhood, is a brand new spot in my neighborhood that offers an eco-friendly way to dine. Managed by an under-30 crowd, here you order small portions of interesting dishes like 'sushi taco', 'mini burger' falafel', make your own bombolone, all using little chalkboards that are also used to serve the dishes. The inner decor is also quite awesome. address. Borgo San Frediano 27/r. website. open for dinner 6pm-2am.
Brunch in Florence
For a fancypants brunch without a suffocating price, try new spot Momio on Via Pisana. Here you can get a full English breakfast, eggs Benedict and a whole lot more in a very cool, retro ambiance. I also might have had the best chocolate chip cookie of my life here. Via Pisano 9c.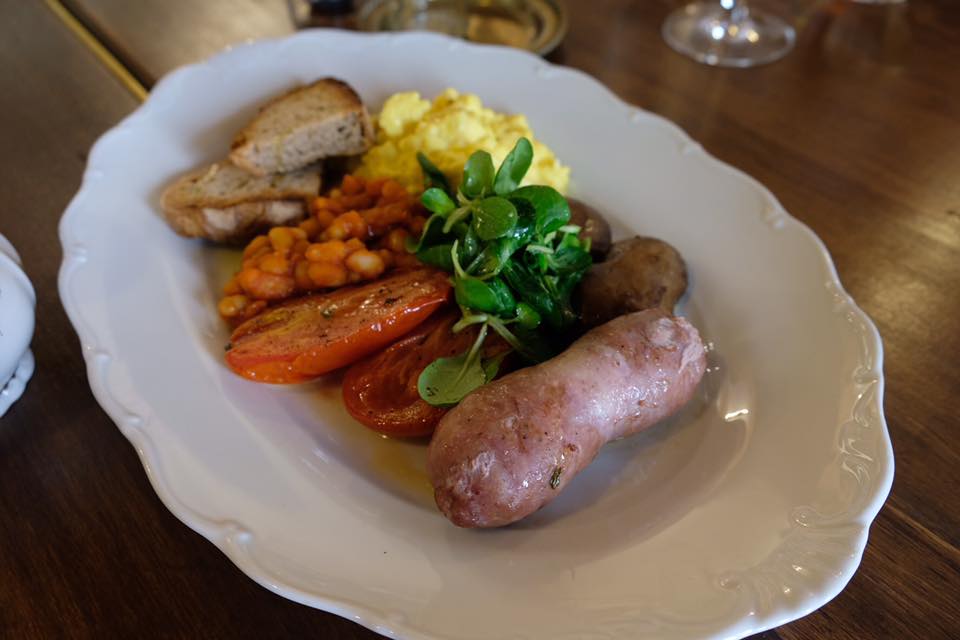 Le Vespe Cafe', Via Ghibellina 76R. hands down best brunch spot in Florence for any budget! They have pancakes, quesadillas, sandwiches named after local streets. You cannot go wrong with this place.
For my top 'Italian' brunch, go to Teatro del Sale, Via dè Macci, 118. Casual atmosphere, buffet style & truly excellent. More info on the adjoining shows here.
Brunch at The Diner in Florence , guest post at Curry Strumpet.
Healthy but awesome: Il Carduccio is a delicious option for those looking for an organic Italian brunch that you'll remember. address: 

 

Sdrucciolo de' Pitti, 10/R, 50125 Firenze

Another hotel brunch that proves to be in impressive can be found at Hotel Helvetia & Bristol. You can discover Tuscan creations under the helm of Chef Samuele Melani.  address: Via dei Pescioni, 2, 50123 Firenze. Every Sunday from 12.30 to 3.30pm. Adults 60€ per person (Children from 5 to 16 years 30€ per person; Children from 0 to 4 years free). Taxes and drinks included
1950's American Diner, via del moro 85r, this is brand new and not far from the train station.
Libreria Brac does a late Sunday brunch: 12-4pm and is perfect for vegetarians and vegans plus people who enjoy a bohemian ambiance. address:
via dei vagellai 18r – ph. 055.094487
Fancy! The Four Seasons in Florence offers up a gorgeous brunch (think 75 euros a person and up!) but they are pricey! Four Seasons is 12-3pm (weekends) Borgo Pinti, 99 – ph. + 39 055.2626450. Another option is to try their fabulous 'high tea.'
Fancy! JK Place in piazza santa maria novella has an awesome Sunday brunch, 12:30 – 3pm. Ask for a seat on the terrace. ph. 055.2645181 www.jkplace.com/indexBrunch.php
Fancy! Also Villa Cora has a gorgeous Sunday brunch sourcing local ingredients. Villa Cora: Viale Machiavelli 18 – Florence ph.055 228790 – info@villacora.it
Best Restaurants For Special Occasions
A bit more on the formal side, if you're looking for a fine-dining experience or something with an extra edge, I highly recommend the following.  
Ora d'Aria, when it comes to gourmet eats in the city of Florence, we don't have a ton of options but we sure do have passion. Ora d'Aria is definitely one of the top spots for Michelin-star dining near the Ponte Vecchio. The decor is modern/classy and the dining rooms take up two different floors, you can order from their a la carte menu or a variety of tasting menus. address: Via dei Georgofili, 11, 50122 Firenze, Phone: 055 200 1699. Expect to pay around €180-200 a person. cocktails before? Try Fusion bar. 
La Leggenda dei Frati is a personal favorite because of its supreme location overlooking the gardens at Villa Bardini and the outstanding prowess of chefs Ombretta and Filippo Saporito. Appetizers start at around 22€ and they offer tasting menus from 80€. address: 

Costa S. Giorgio, 6/a, 50100 Firenze FI. They also have a great lunch menu which will help you not break the bank. 

La Bottega del Buon Caffè. Head chef A

ntonello Sardi elevates "farm to plate" Italian cuisine in this fabulous restaurant near San Niccolo's tower. 

address: 

Lungarno Benvenuto Cellini, 69/R. Prices range around 38€ for an appetizer and around 145-245€ for a tasting menu and wine pairing. 
Best Restaurants For Big Groups
Just because you are in a big group, doesn't mean you should have to eat crap. Here is my top list on where to eat in Florence for 10+ people. Feel free to add any suggestions in the comments below.
Cucineria La Mattonaia. In the Sant' Ambrogio neighborhood, this is a top pick and where I took a huge group of friends for Nico's birthday last year. Beautiful ambiance and really fabulous Italian food, the menu specializes in seafood and pizza, there is something for everyone here. Highly recommend. address: Via della Mattonaia, 19R, 50121 Firenze FI. Phone:+ 39 055 386 056
La Pentola dell'Oro. Near Santa Croce and Sant'Ambrogio. Going back in time to eat Mideval (yes) food in a wonderful restaurant. I have taken a few people here and they have all been very happy with the creative and interesting menu. Great for groups! address: Via di Mezzo 24. Phone: (+39) 055 241808.
La Beppe Fioraia. In the San Niccolo neighborhood towards Piazzale Michelangelo. I like this place because it is fun, and kind of hidden on a street next to a park in Florence. They have really awesome 'tagliere' or cured meat and cheese boards. Great for groups! address: Via dell'Erta Canina, 6r, 50125 Firenze. +39 055 234 7681
Ristorante 'Il Latini'. Near Piazza Repubblica. I recently went back to this place after 4+ years and was delighted that the food was (good) and the service was (great). Often hailed as a 'tourist trap' by locals, I saw screw it and go there anyway, I had fun and they can host big groups. address:  Via dei Palchetti, 6R, 50123 Firenze, +39 055 210916.
Family-Friendly Restaurants/Bars
Fosso Bandito, located in Florence's big green space, Cascine park, this is a great spot to come with your family. address: Via Fosso Macinante, 4, , you can get there with the tram from the station. The restaurant and pizzeria is pretty ok!
Aperitivo in Florence/ Wine Bars
Uva Nera is a wine bar that looks straight out of a time-warp, in a good way. Think vintage cinema seating and 1940's music, the wines on selection + cheese and meat platters are top. Highly recommend. address: borgo ognissanti 25.
Langolino Gastrobar Firenze, just steps from Piazza Santo Spirito and a tiny but very cool place. Great quality organic wines, Tuscan cured meats, cheeses and mostarda, salads and crostini. Highly recommend. address: Via delle Caldaie, 8r, Florence, Italy.
Il Santino, via di santo spirito, part of my 'must-try' five minutes from the Ponte Vecchio. Small space so come early.
Pitti Gola e Cantina is a classy wine bar specializing in wines from Piemonte and is known to have one of the best wine lists in the city. Located directly in front of Palazzo Pitti, this is the perfect little spot for a glass of wine before dinner (they do have food here) but reserve ahead or come early as spots fill up fast. address:  Piazza de Pitti, 16. +39 055 212704.
Hemingway, a local secret, they make fantastic aperitivo and wonderful cocktails. Plus the ambiance looks like Ernest would like to call home: Address: (on the other side of the river') Piazza Piattellina, 9, +39 055 284781
Gecko Bar & Grill, brand new hip little bar on Via dei Renai 11, they have cocktails, wine and a pretty fab ambiance. Highly recommend.
Un Caffe, Via Cesare Battisti | 2/R, Florence, Italy. I love this place, rustic, cool, cheap and wonderful fun ambiance.
Imagine happy hour with one of the best views in town – on top of the terrace on Hotel Minerva! 
Another aperitivo favorite (a real find) is Libreria Brac on a hidden street near via dei benci! **** make a reservation or they may kill you.
Volume, Piazza Santo Spirito 5R, 50125 Florence, Italy. Where the hipsters go.
Se'Sto on Arno, Piazza Ognissanti, 3, 50123 Firenze. Rooftop bar on the Westin Excelsiore has a great aperitivo and an ever better view.
Le Volpi e l'Uva, piazza dei rossi 1r, cute little wine bar, Call to ensure that you get a spot on the outside terrace.
Pitti Gola & Cantina, Piazza de Pitti, 16, 50125 Firenze FI, 055 212704. Fancy place for a (traditional aka you mainly drink) aperitivo. Truly great wines.
Another gorgeous terrace that you can have aperitivo – Hotel Baglioni, terrazza brunelleschi has a gorgeous veggie buffet and some of the best Duomo views in town.
Rifrullo, Via di San Niccolò, 55r, 50125 Firenze. Where the Italians go for aperitivo. Room for large groups, call ahead.
Rivalta, Lungarno Corsini, 12/14 R. Expensive but quality drinks, ski[ teh spritz and go for the cocktail 'grandma's roastbeef' or my favorite 'moscow mule'.
Sweet wine bar is a little out of the center but quite cool and has a nice wine selection and nightly aperitivo. Open address: Via di Ripoli, 8
A secret haunt that many don't know about is the very cool private bar, L'appartamento which in on Via dei Giraldi 11. Here you must sign up to be part of their association (which costs 10 euros for an entire year) and you can come for aperitivo, drinks, coffee, at a really cool location in the center of Florence. It's like being in someone's cool apartment, with a small terrace and full of locals in the know.
Rari bar, I love this place and there aperitivo is pretty good! Lungarno Francesco Ferrucci, 24.
Forte Belvedere, beautiful place for aperitivo overlooking Florence (summer months)
Best Pasticceria in Florence
Bottega di Pasticceria – opened in 2016, while it might a newbie in town, this is already a personal favorite. A huge, elegant space near Piazza Ferrucci, they open from 6:30am-Midnight and serve freshly-made pastries, cakes (try the mini raspberry and chocolate bites) as well as great aperitivo and dinner options. address: lungarno ferrucci 9c
Pasticceria Giorgio (famous in Florence, amazing pastries but what they are truly well-known for is their schiacciata alla fiorentina cake during Carnival season!) Via Duccio di Boninsegna, 36, 50143 Firenze
055 710849.
Vecchio Forno on Via Guelfa, 32 is a prime spot near the San Lorenzo neighborhood for all baked goods (breads, cantucci (amazing fig version), and seasonal treats like frittelle and schiacciata alla fiorentine (during Carnivale). Great prices too.
Pasticceria Nencioni. This historical spot is located in Florence's Sant-Ambrogio neighborhood and is one of the best local places in the center. address: Via Pietrapiana, 24, Firenze FI.
Dolce & Dolcezze in Piazza Cesare Beccaria, 8r, Firenze is always a true favorite. These women are godsends when it comes to that perfect chocolate cake or interesting pastries.
Pasticceria Buonamici, via dell'orto 12r. Another historical pasticceria in the oltrarno that is well known for their beautifully made almond biscotti
Cafe Neri close to the Ponte Vecchio, Via dei Guicciardini 3/5 rosso. Excellent pastries next to one of the most visited spots in Florence, the 'old bridge' or Ponte Vecchio.
Cantinetta da Verrazzano,  via dei Tavolini, a historical bakery in the heart of the historical center, I typically stop here for focaccia on the go.
Pasticceria Marino is a decent spot in the Oltrarno for breakfast and a hot coffee. Piazza Nazario Sauro, 19/red, 50124 Firenze
S.Forno, located in the san frediano/santo spirito area. Via S. Monaca 3r, 50124 Florence, Italy.
Robiglio, Via dei Tosinghi, 11/R. Hot chocolate, good coffee, pastries to die for, and close to the Duomo.
La Pasticceria (Bread & Pastries) in the new floor on top of the fresh fruit & veg market in San Lorenzo. I love love love the eclairs!
Gastronomic Recommendations
Meat | Macelleria Mignani, one of the most well-respected butchers in the Oltrarno, for anything meat related (including amazing cured salumi) this is your spot, don't be scared to ask for advice, every butcher is a home cook.
Civaie Mechini – via delle Spade 52/R, a speciality food store near Sant Maria Novella where you can pick up quality faro from Garfagnana, chickpeas, beans and other various Italian elements.
Tea & Chocolate | 

 Oronero, 

Piazza de' Pitti, 1r. This is my go-to spot for loose-leaf teas and lovely chocolates, both for gifts and lets be honest, your own personal #treatyourself moments. 
Tea | Tealicious, Via Romana, 26. Another wonderful tea spot in the oltrarno, the Brazilian owner is super passionate about her blends and will certainly guide to the best brew.
Cheese | Alimentari Sandro, via de'serragli 39r. This is my 'secret' go to place for cheddar cheese and well all cheese close to piazza santo spirito and carmine. Wonderful Tuscan options and gourmet French cheeses as well. Worth a stop.
Food Tours in Florence/Tuscany worth trying
KM Zero Tours is company operating out of Montrogoli, Chianti — about 25 minutes from Florence and whose aim it is to take you around small and local producers (cheese, wine and more) and tell you more of the behind-the-scenes story. They also have a beautiful villa to rent (also in sections) where they whip up meals and give you recommendations. They are incredible, and I have found a renewed love of the Chianti area because of them. Website.
Food Tours in Florence –Curious Appetite. Food Blogger in Florence leads various food and wine tours by foot in Florence and wine tours in the Tuscan countryside. Tours are organized by themes (market, food and wine pairing, aperitivo, dinner crawl, artisan workshops, craft beer and more) and location (wine tours in Montalcino and Chianti Classico). I personally had a wonderful experience with Coral aka Curious Appetite Travel on a number of different tours, you can't go wrong with a person who loves food, is knowledgeable and makes you laugh, check out their tours here.
My top restaurant lists that you can check out on YELP. 
** Or if you are craving a lazy-night at home but don't feel like cooking, I have compiled a great list of places that deliver food. Enjoy! 
Cooking Classes in Florence I Recommend
My favorite place to send people is to the cooking class of Giulia aka 'Jul's Kitchen,' a lovely girl who is based out of her house in the Tuscan countryside (a 40 minute bus ride from Florence – so easy!). She makes traditional Tuscan food in an ambiance that I can only describe as dreamy. You can read more about my experience with her here.
Pizza-making in Florence with Curious Appetite. She is my foodie go-to gal in the city, and for those who want to learn how to make pizza, I recommend her class  in Florence which she does together with a  Gambero Rosso awarded chef, you will make your own pizza dough from scratch with artisan gourmet ingredients. Afterwards she will take you wine tasting or on a gelato tour, post-pizza making. Sounds like heaven!
DESINARE Cooking school & shop @ Riccardo Barthel is a good choice as well (in the oltrarno too!). They are not the cheapest option but I've heard good things. Via dei Serragli, 234, Firenze, Phone:055 221118. The location I should mention is absolutely beautiful. website.
Nightlife in Florence:
SaveSave
SaveSave
SaveSave
SaveSave