I don't know if you who live in Florence agree, but there is quite an interesting vibe right now in town. Never have I before felt like there were so many new restaurants, all with an edge on design, gone are the kitsch elements like checkered tablecloth and wine flasks to entice tourists inside. These restaurants are more about a sexy sort of minimalism, the edge lies in the details: vintage glasses, vertical herb gardens, lack of menus, more attention to current trends and eating seasonally, plus a welcome rise of younger owners.
I'm not sure if it has become easier to start a business in Italy or if the city is sort of waking up in its potential. The coolest part is that for people like Nico and I, these places breathe a fresh new kind of air, a sort of 'Brooklyn' vibe without the long wait-lists and pretentious undertones (but still, plenty of hipsters). I noticed this trend first with the arrival of Ditta Artigianale and Amble, one a trendy coffee bar serving up cafe filtered by aeropress, the other inventing delights like a 'carrot spritz'. I would lament that service at both places can be slower than a narcoleptic tortoise. Or even 'Gnam Firenze' a place on via calamdoli that I really want to like but after two 'meh' experiences at lunch, I definitely prefer Gecko. And then there is lovely Berbere, a pizza and craft beer dream.
Or who am I kidding, probably Volume cafe in Santo Spirito started this trend, anyway the arrival of 'shabby chic' restaurant design can easily be argued to have begun in a number of places. I am only including ones that have opened in 2015 that I really like or have heard wonderful things about but I will add some favorites to the google map below so you can have a more comprehensive list of cool, new spots in town. For a comprehensive round-up of my top eats in town, as always I stand by each and every place on this list.
Il Gesto: Eco-Friendly & Fun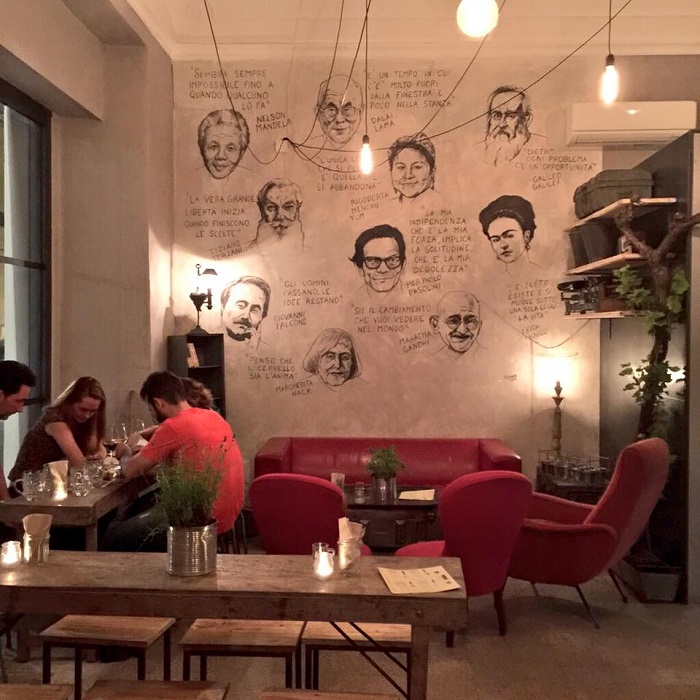 It's all about making a 'gesture' ;-), the clever name of new restaurant/bar Il Gesto is exactly that. No menus are needed here, just tiny little chalkboards where you write your table number, menu items, and give it to the front where they take it from there. Believe or not, a 28 year-old, Martina, is the brainchild of such a place, who first opened the 'Gesto' concept in Perugia. Eco-sustainability is key here, with many of the items here being made from recycle materials. Check out the vertical garden in the back and even portions are quite small to eliminate waste, which is actually quite brilliant. The key here being that everything is very affordable, a 'mini-burger' is less than 5 euros which means you can try a few different things from the 'fish', 'veg', 'meat' and 'dessert' menu. They also naturally serve cocktails and drinks and don't mind if you linger. I love the interior design, you can even spot Gandi and the artist Frida Kahlo on a side wall. I first listed Il Gesto as my 'new and noteworthy' pick on my eats page, which I recommend saving if you are looking for a comprehensive lists of restaurants in town. I have been a few times with different friends and even Ginger and Nico, and we all agree that Gesto is pretty damn cool. Bite-sized pieces of happiness in a trendy location.
Gesto, Borgo San Frediano 27/r, Tel. 393 9540021. Plates range from 2-5 euros.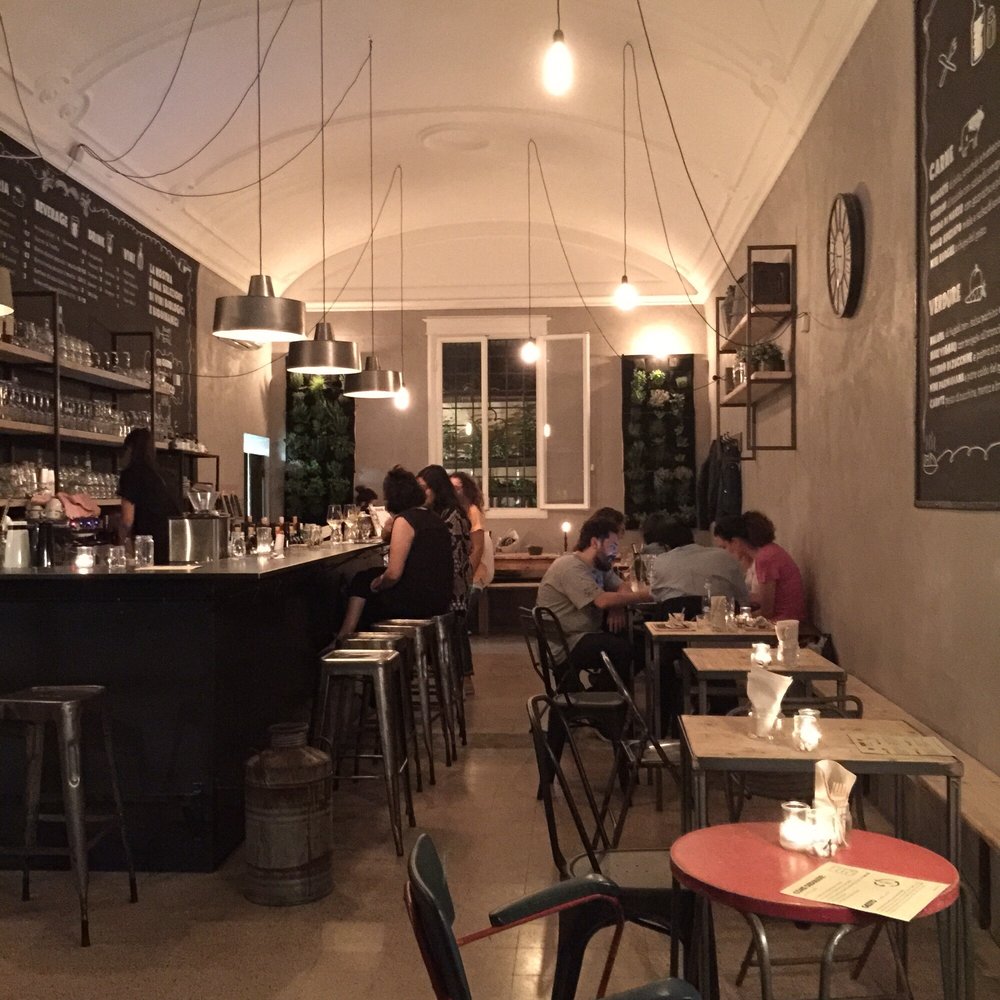 Gecko – BBQ & Cool Vibes
BBQ goodness awaits at the new hip spot on the other side of the river, 'Gecko', has an interesting menu of items like bbq ribs (with sauce), pulled pork sandwich and gourmet burgers. I spotted this cute place a few weeks ago on a walk with my dog and Nico and Ginger instantly took to the place, putting on her 'frogdog' stance while staff was more than happy to give her a little attention.
We ended up chatting with them and they had just opened that week, next to Zoe and Negroni, two bars that Florentines often go for aperitivo and drinks, I will never understand why. Previously this space was an old supermarket (which absolutely sucked I might add) and the owners took on this project with heart and soul.  I finally got to eat there this week, my friends and I were looking for a late-night join and I remembered Gecko, sure enough we found a spot, it was pretty empty for a Tuesday evening while Zoe was filled to the brim. I think this might also be because from the outside it can be easy to miss, in fact I almost walked by myself. Make sure to check out the elegant and hip back room, and I'm thinking that if they could get a little outdoor space that would be optimal to bring in more business.
I am guessing this is just because they are new because after trying their burger, I can assure you that the quality/service is far superior here. Already the design is spot on, cute tables dotted with vintage wine glasses in different shapes and sizes. The waiter was very kind and attentive, he brought more bbq sauce for our gluttonous selves and was happy to explain the menu. While I opted for the a glass or rose wine this visit, I am intrigued by their 'gecko mule' cocktail with ginger beer. I thought their bbq ribs were outstanding and so well presented, and this is a girl from Texas talking. Ultimately, this would be a perfect place for both dinner or drinks. They also do aperitivo (not your standard buffet) and a Sunday brunch, which I have yet to try. Main dishes run about 12-17 euros a plate, and the quality/price ratio is just here, we were all pleased with our dishes. Go and check it out, and offer your support, places like this deserve to stay open in Florence!
Gecko, Via Dei Renai 11/R. In the 'San Niccolo' area very close to ponte alle grazie.
+39 055 906 4110, Facebook page.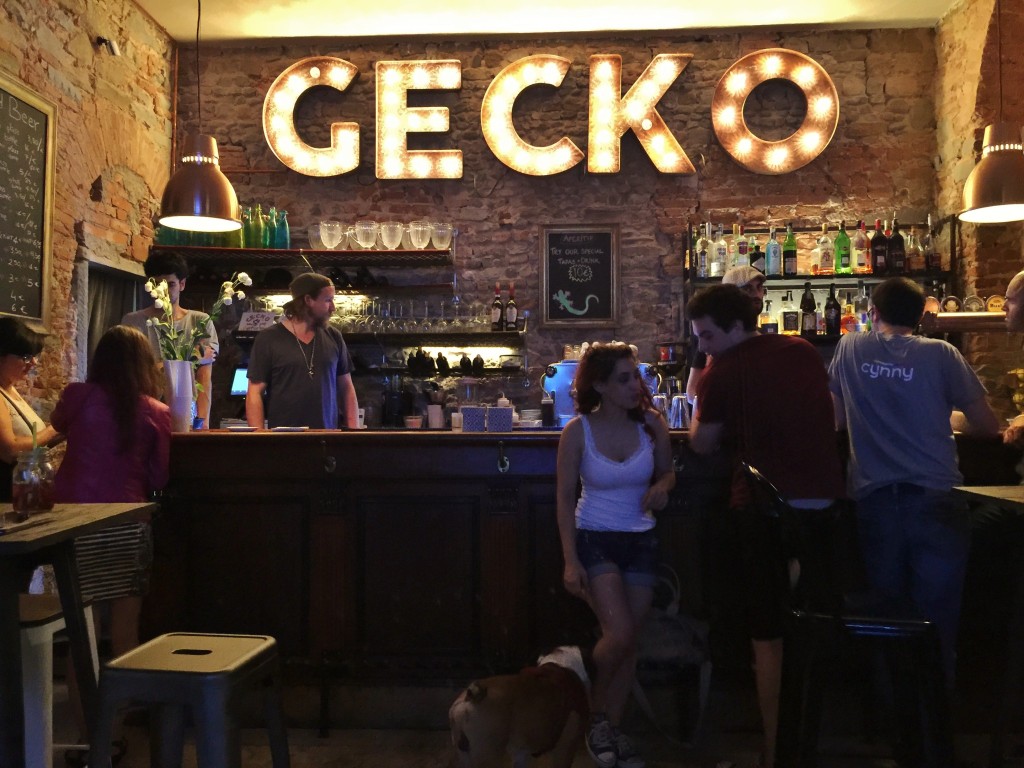 Irene – Come Here For The Serendipity
Sexy bistro Irene is a new favorite of mine and I loved my experience so much that I dedicated an entire post on it, which you can read here. Any place that has famous chef Fulvio Pierangelini behind the kitchen, is actually something to write home about, the bistro was opened earlier this spring in piazza della repubblica. While I am rarely, if almost never impressed by anything a hotel's restaurant can create, even fancy ones, this doesn't even have that stuffy, 'yawn' factor. They aren't just about offering a cool place for the Savoy guests to eat, but a place that anyone who lives in Florence can eat, and that's where they win with me. Especially since they have an affordable lunch menu (15-25 euros) that has plenty of healthy options and sexy cocktails like the beautiful 'Serendipity' or 'South Punch.'
Irene, Tel +39 055 27 35 891
email [email protected], website.
https://instagram.com/p/2pyxHvRTAB/?taken-by=girlinflorence
Lo Sverso: Gastronomic Pub That Breathes New Life in San Lorenzo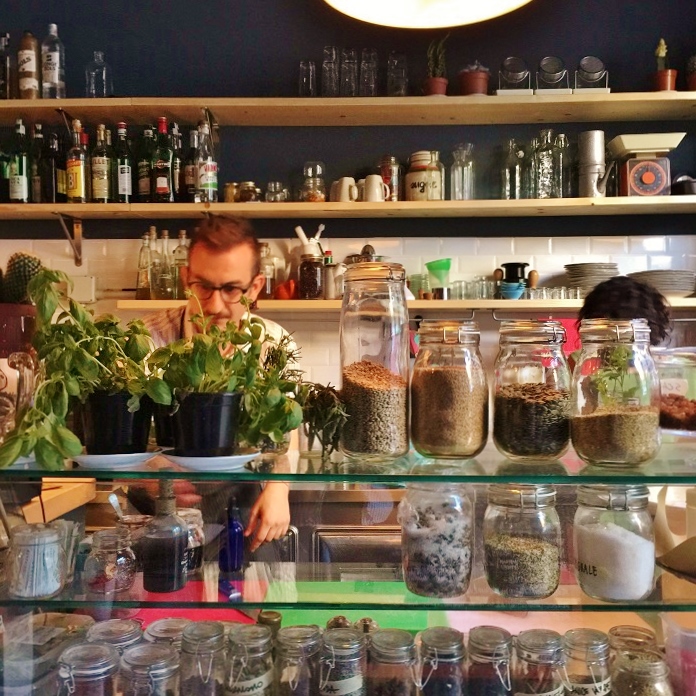 Let's have a little honesty hour here, not many of us 'love' the neighborhood of San Lorenzo. While yes, we go to the market, casa del vino, or occasionally hit up via faenza and some of the delights there, I typically used to avoid this side of town because I just found it to be a little sketch, especially at night. Well, I have a feeling that it is undergoing a slow transformation. Maybe it was the arrival of the brand-new first floor above the central market, but lately things have been improving here. For a full review, read my friend Coral's post about her own experience there which is what originally got me excited to try it out. Lo Sverso is a new craft beer/restaurant started by the brilliant minds of Elena, Tatiana, and Luca Federico from the town of Fabriano in Le Marche (one of my favorite regions in Italy). There is organic, locally-sourced food and plenty of (good) beer, wine and interesting cocktails. It is the kind of place where you can eat and drink alone, no judgement, in fact the owners will probably join you. I like this place already.
Lo Sverso, Via Panicale 7R facebook.
La Menagere – Not Just Food, More Like a Reinvented Lifestyle
https://instagram.com/p/4aPsKGxTCT/?taken-by=girlinflorence
Once again, the San Lorenzo area wakes up with another place that I am so excited about. Imagine the kind of place that mixes design, visualization and flowers with food, by dreamer (and obviously doers) Luca and Marco Baldini, in a space totaling 1,500 square meters, previously it was a famous housewares shop that closed over a decade ago.
This place is so damn cool, I'm not sure I can handle it, see for yourself on their instagram. In fact, I need to break it down into categories so I can sum it up as best it deserves. I also recommend checking out my friend Nardia's feature, where her and photographer Sofie Delauw get an in-depth look at Le Menagere.
Concept Store: It was once just a household goods store for over twelve years, reborn with much more, mind you the store does still exist, selling contemporary table and kitchen goods that had me drooling upon first sight. Lovely table-ware, lamps and cutlery match perfectly with the open-space layout.
Food: 'High Level doesn't need to mean high prices.' Regarding the food, their philosophy is summed up with "We have chosen to follow the rhythms of the seasons with the aim of ensuring always-fresh items at a lower cost, in this way we can offer high-level cuisine that is accessible to all. This is our version of popular cuisine served at La prova del nove. We have compiled a menu that would follow these principles peppered with oxymorons, mixing hot and cold, soft and crisp, sweet-salty. "The result is a unique culinary experience in an exceptional setting." All done by a chef that is only 23 and keeping it fresh. I haven't yet tried the food other than tapas (imagine 'lollipops of goat cheese') but I particularly intrigued by menu items such as potato gnocchi pasta with raw shrimp infused with mint over a puree of asparagus, or a sexy 'warm and cold' caprese salad that comes in a glass. The salmon with a fennel & peach salad is reason alone to make this your fresh summer hotspot.
Cocktails: Here master barman Cristian Guitti is all about making drinks that are a 'kitchen in a glass' using alchemy techniques, and experimenting with infusions, fresh juices, aged and smoked flavors to create all sorts of sexy concoctions. Drinks have fun names like 'jam session,' 'green hornet,' and 'pizza time,' you are in good hands with Cristian whose drinks made me seriously impressed. At this 'La ménagère bar' you can also try tapas to compliment your drink, direct at the bar, for a bit of nibbles to wash everything down in style, we tried a variety of them, including a beautiful veggie millefoglia which was extremely tasty and well-presented.
Gourmet Coffee: Yep, this place couldn't be complete without a clever caffeine fix, after all we need to fuel our way to check out the rest of what this place has to offer. They take great care to get ethically sourced coffee beans, which they obtain from micro-plantations chosen by a team of experts, and finally toasted by the famous (and wonderful) Ditta Artiginale. Pick between the freshly-baked pastries or desserts that will have you salivating, I may just run off with one of their glass displays.
Flowers:If that wasn't enough they also have a flower shop, cleverly named 'Artemisia' (who is my favorite female artist), sip a glass of wine and order some of your favorite buds :).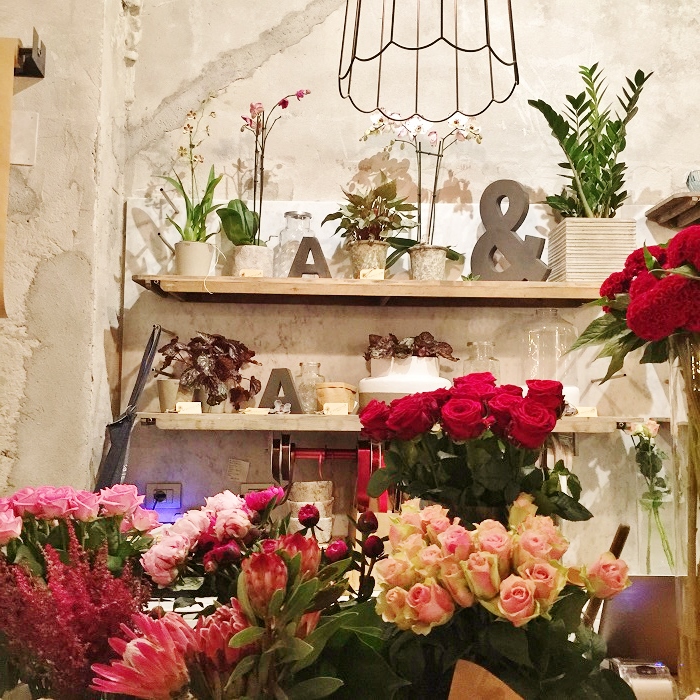 La Menagere, address: via de'ginori 8r, email: [email protected] From Monday-Sunday, 7am – 2am. website. instagram. Cocktails 8 euros, coffee 1.10, lunch is around 12-15 euros, dinner 20 – 40 euros.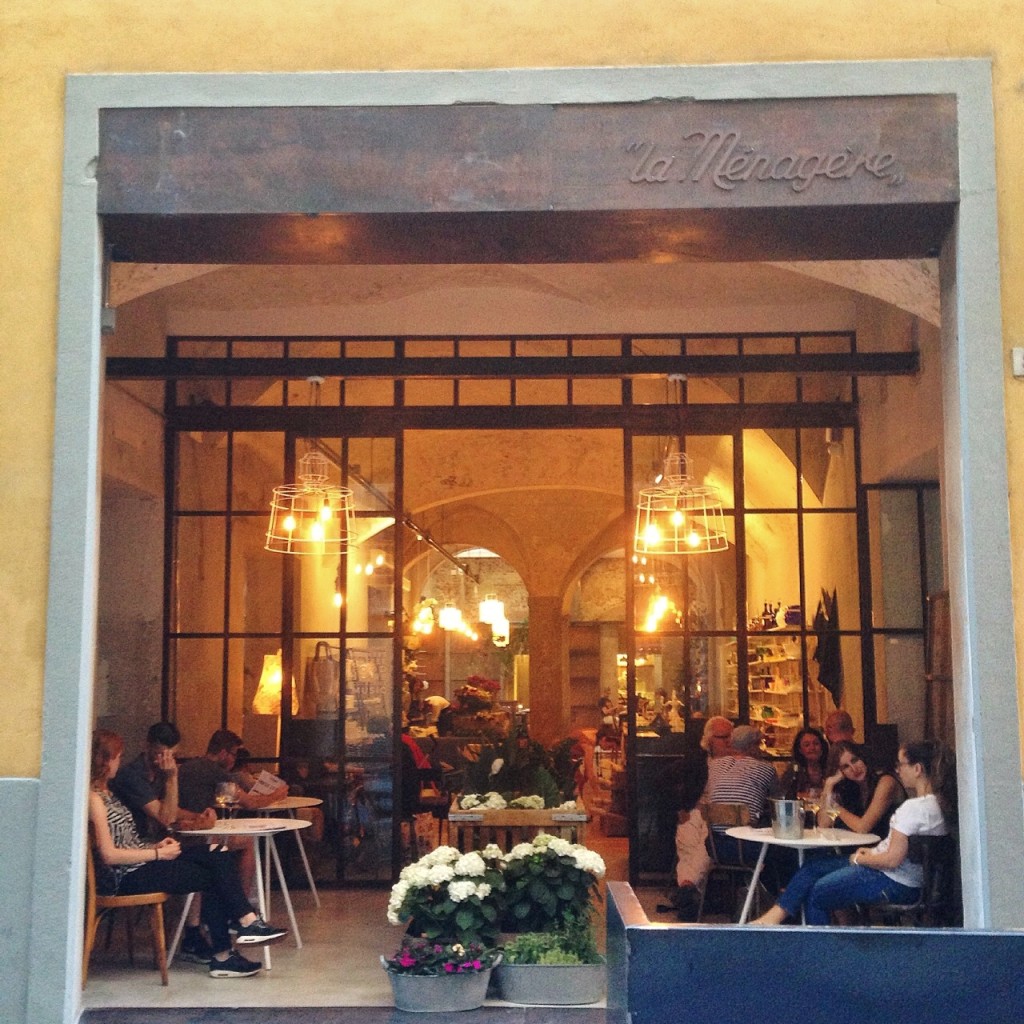 Polpa Burger Trattoria: Sexier Street Food
This list keeps on growing and I couldn't possible leave out the brand new 'Polpa Burger', which is a cool new line of restaurants already opened in Milano, Cagliari, Brescia, Verona and now Florence. The idea is 'elegant fast food' and my Italian friends have been raving about it so much, I am really bummed I missed the grand opening. A burger is a burger, well until you mix fresh new ingredients in a contemporary way, plus one MUST try the beer. What stands out to me about this place is the fact that they have special ingredients only available in certain seasons, think a special 'chestnut puree' only available during the fall and winter months. Awesome! Burgers are served with handmade chips, cut two different ways. Also available are big salads with garden-fresh veggies and even a 10 euros kids menu.
Polpa Burger, address: Piazza del Mercato Centrale 22/r. facebook. website. Burgers range from 9,50 – 12 euros, you can choose your meat.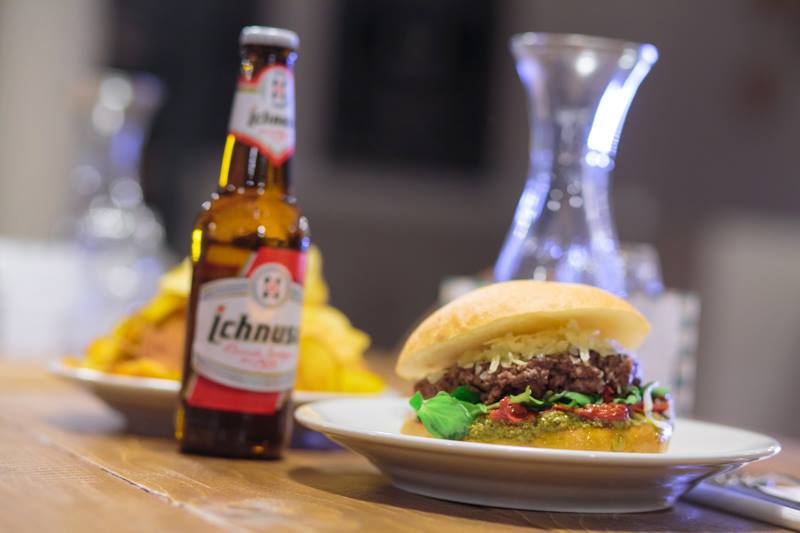 Oo-La La | Brasserie La Chouette
I always like calling the 'oltrarno' neighborhood in Florence the 'rive gauche' (left bank – referring to the Southern bank of the Seine river in Paris) in French) of Italy, namely because I just think it sounds a little sexier. Well, ironically now we have a French-style brasserie/bistro type spot very close to ponte alla carraia, which is quite exciting for this girl! The menu is very intriguing to me, think a mix of Italian and French cuisine, items such as oyster and duck burgers and saffron risotto (yum!) and the very french le escalopes de foie gras di rougie, don't ask what it is, just try it! I took a look at the wine list which I thought was quite nice, plus they actually have affordable champagne options which means Nico and I will be having a date night (I hope) there very soon.
Brasserie La chouette: address: Piazza Nazario Sauro 4R, menu items range from 12-20 euros per plate. facebook.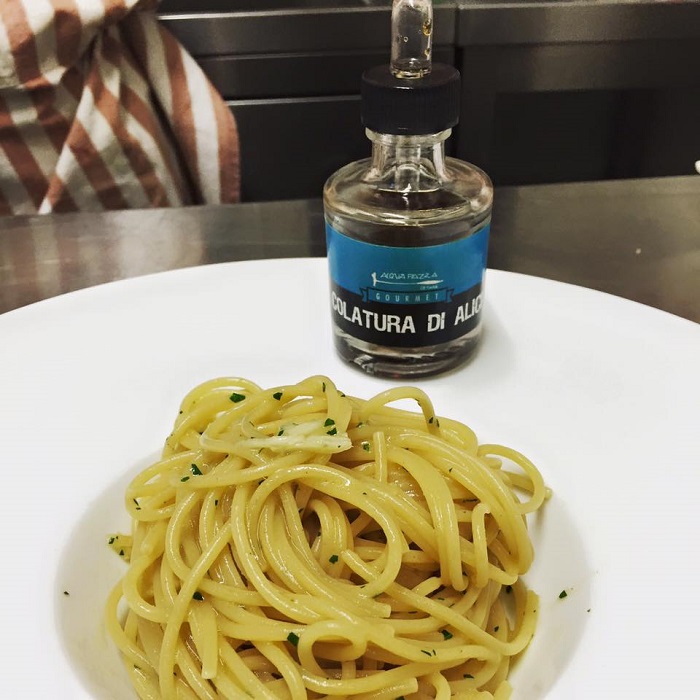 Madame – Friendly Neighborhood Bistro
Yes the name seems fancy but honestly this place is more down-home-cooking than you might think, and we gladly appreciate that! The food is creative, hailing from family recipes but zazzed up with influences from other countries. In fact the whole family from parents to kids do the day to day work inside this restaurant, which shows in impeccable service and a cozy ambiance. They have an affordable lunch menu that is also applicable on Saturday (awesome) and they also do a special Sunday brunch serving savory crepes or Le "Galettes". Via pisana is closer than you think so I recommend walking to burn off the amazing meal you are likely to have.
Madame Bistro, address: Via Pisana 82 / r Tel. 055 233 6167. website. Lunch ranges from 5-7 euros per plates (salads) while dinner items ranges from 8 – 12 euros. Open lunch and dinner, closed on Monday.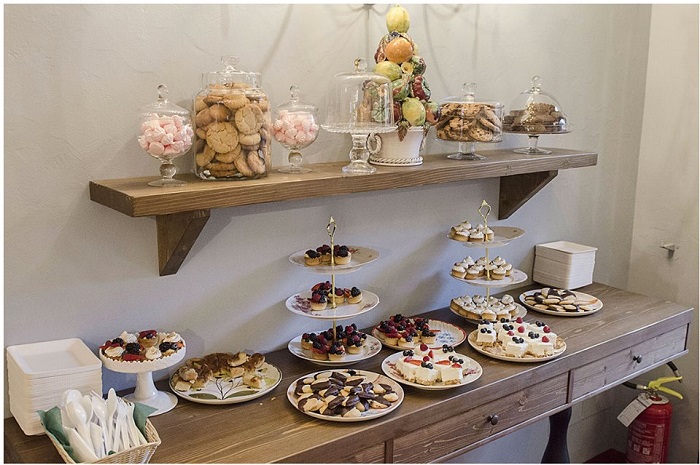 Nedo: Making the Tranvia Tastier
Yet another find by my Italian friends, it would be easy to miss Nedo L' Officina Dei Golosi, but you really shouldn't because it is damn good. The best way to find it is to look directly across the bus stop Paolo Uccello. The design of this cool spot is very 'art industrial' and the owners have taken great care to create a fresh, contemporary look in each of the three rooms. They offer a good deal for lunch, with plates not exceeding 10 euros and you get plenty for what you pay for. Menu items include delicious 'crostoni' (flat toasted bread covering in a variety of deliciousness such as cognac gorgonzola cheese) and various tagliere and even delicious tartare. This is the kind of spot where you will eat great food and spend less than 30, essentially a great deal!
Nedo, Piazza Paolo Uccello 12. Facebook.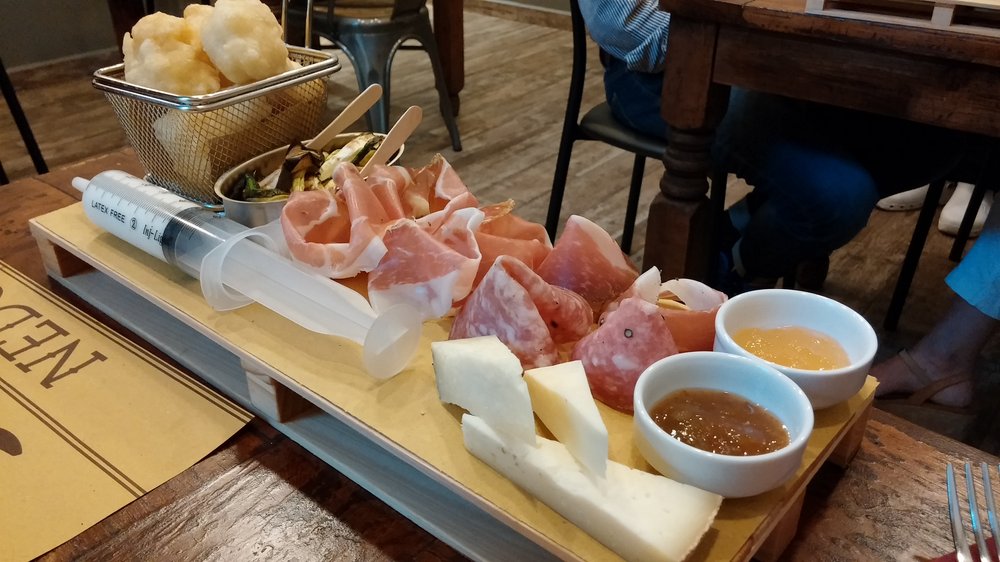 Uva Nera : Intimate Vintage Atmosphere & Wine Bar
Another street I really like is borgo ognissanti, perhaps it's the architecture or the many times I have drank a little too much at Sei Divino, this street has a bit of my heart if I'm honest. Which is why I am so delighted that they have a cool new place to eat here, outfitted in vintage glory, hence Uva Nera. Music from the 30's and 40's wafts through the air as you sit at tables that seem taken right from a nonna's kitchen, all while snacking on gourmet cheese and meat platters, in old cinema chairs, no joke! This is the perfect spot for a light lunch, aperitivo or mid-day snack. Ask the owner Costanza about her story.
Uva Nera, address: borgo ognissanti 25r, facebook.
San Tea House – Say Hello to Awesome Bubble Tea
Via de Barbadori is far from the prettiest street in Florence, adjacent to the Duomo, the buildings resemble sad 1930's palazzi with no real character or beauty, it is mostly known as a previous trash point or where the local post office (with some of the bitchiest staff I've ever encountered) are located. However I have a special affinity to the street ever since we moved nearby and it also happens to be the spot where Nico got my engagement ring, from a tiny jewelry store where an old man and his son make many of the rings you see on the Ponte Vecchio. So imagine our surprise when we saw that a brand new place was opening on this seemingly abandoned street, and a tea house to boot!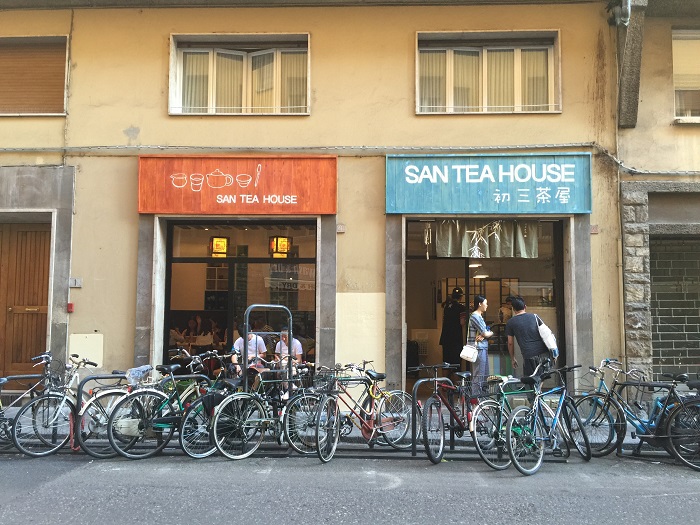 The signs came up, the people started to work and finally it opened just a few weeks ago. Only recently did we get to actually go in and try anything, the small front room is quite bright and airy, with colorful pillows lining the long benches along one wall. We ordered two bubble teas, something I used to adore getting in Los Angeles but pretty much abandoned any thought of ever finding it here. The guy behind the counter told us to come back in an hour, the tapioca they make in-house wasn't ready yet. Not a problem since we live nearby, sure enough we walked right back in and ordered two to-go and just wow, it was the best milky bubble tea I've ever had, counting L.A. Welcome to the neighborhood guys!
San Tea House, address: via de barbardori 21, literally two-seconds from the Ponte Vecchio, facebook.
https://instagram.com/p/4brxd8xTOe/?taken-by=girlinflorence
My Sugar Gelateria & Yogurt
One of my favorite new places to beat the heat is quite naturally, an Italian gelateria. All of us live like semi-vampires during this summer's brutal heatwave so I have become somewhat of a 'gelato-expert' (self-claimed). My favorite new spot is in the San Lorenzo neighborhood, owned by some good friends of mine and literally just opened this July. They are 100% artisan, they make everything on site, using only local, seasonal products and the best that they can find. They also have frozen yogurt with various toppings. I tried a bunch of different flavors and my favorites included the pistachio and white coffee.
Address: via de' ginori 49r, Florence, Italy, facebook. Open daily from noon-11:30pm.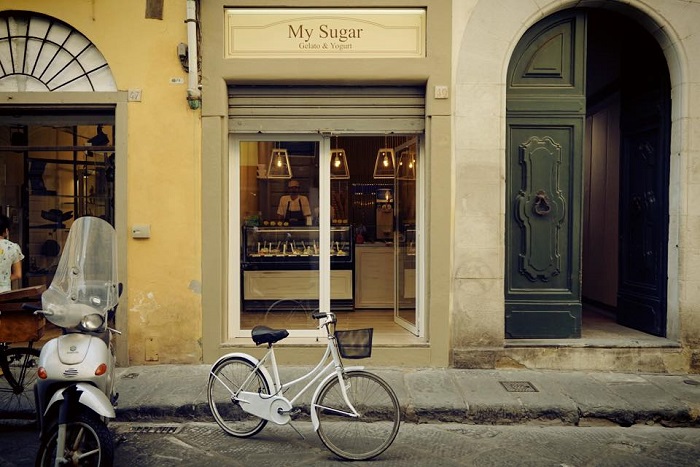 The Box
I was advised to check this out because of my fellow yelpers, who are always on the forefront of any new place in Florence. This is not a restaurant but rather a bar, located on borgo pinti. Yes, you could say that it means very central. Cool cocktails for only 5 euros, that is practically a steal in this city where 8-12 for one is the norm. If you know about the Jazz Club, which is located nearby, you could use this place as your 'pre-game' spot and I am so excited that more places like this exist. The only downside is space, or lack of it actually, there are only a few tables and it gets really crowded at weekends unless you come early.
The Box, address: borgo pinti 5r.
---
I know I probably missed out on a few places, but let me know what I should add to this list and what you might have already tried here. I am very interested in hearing your thoughts!