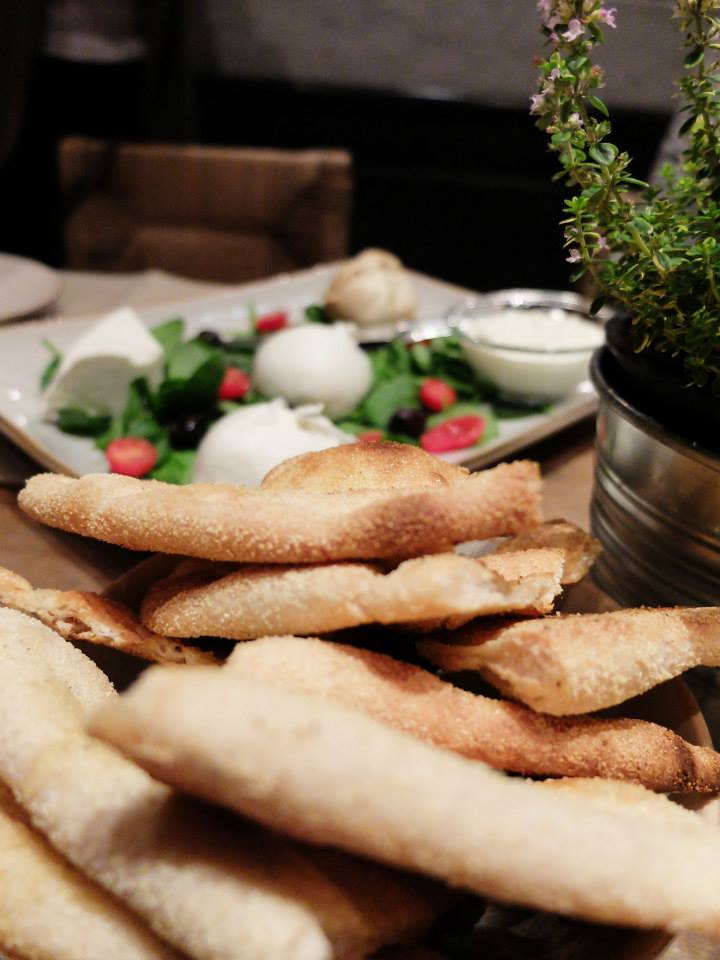 One thing that never ceasex to surprise me is just how dynamic Florence is becoming. It feels as if so many new places are opening which is obviously great for someone like me who has chosen to live, eat and work in the historical center. I can really appreciate when great food meets cool design. Recently it has seemed as if new places are opening up every single week [or places that I have never heard about] and I am all for it, so why not write a foodie post on some cool new spots and places rediscovered that me and my friends have frequented in our beloved Firenze.
A Coffee-Lovers (and gin-lover's) new best friend!
When looking for a new lunch place to try, me and Kristina from Yelp Florence stumbled upon a new joint located on via dei neri [one of my favorite streets in town and not only for the amazing geleteria]. The place is called Ditta Artigianale and has been recently opened by a master coffee Italian barista, Francesco Sanapo, who knows his brew, he has his own cool coffee blog here 
This place is modern, cool, sheek and could really be anywhere, from Berlin to Seattle. Which made sense when he explained to us that the design of Ditta Artiginale was imagined after all of the places he had visited around the world. It reminded me a lot of CB Firenze restaurant located in the oltrarno. I tried their Columbian coffee infusion and loved it! Well worth a stop, coffee lovers welcomed. 
Coffee is not the only thing they serve, they also have quite the list of gin-based cocktails that I was super impressed with. We tried the gin iced-tea with ginger and loved it. Something tells me that this place is super special..
Ditta Artigianale: Via Dei Neri 32, 50122 Florence, Italy: Open Mon – Sun: 8:00 am – 10:00 pm, Facebook, website
Hippy Bistro that's off-the-beaten-path
After meeting a few friends here for lunch one afternoon, this was a find that I have to share, Été bistrò is a tiny little lunch & dinner spot located on a colorful street in Florence, via faenza (close to Santa Maria Novella train station & the San Lorenzo markets). This is a place where you can get a drink, light lunch all with organic foods, wine for 2-3 euros a glass, cocktails and soak in atmosphere.
Their salads and tagliere (cured meats and cheese board) kick-ass and don't even get me started on the fresh eggplant parmigiana, I might eat my own hand while typing. They have some great outdoor seating and inside you will even find swings! Plus, I appreciated how the owner was super sweet with us and helped us pick out items from the menu, encouraging us not to over order as the portion sizes were generous. Props to them for offering affordable organic meals!
Été bistrò, via faenza 55r, 50123 Florence, Italy. Open
Tue – Sun: 11:00 am – 11:00 pm.  facebook page
New places I would like to try
Yep, there's a 'saloon' in Texas um er I mean Florence, Italy! I read about this place on Elena's website, Ioamofirenze and the name itself means that this 'Tuscan Texan' has to make it out there at least once, obviously they serve meat, hamburgers and even aperitivo, prices range from around 7-15 euros. Saloon Bar Grill, on Via Verdi and angolo on the corner of dell'Agnolo tel. 055 – 3880034, website, facebook.
Central Park disco is gone but wow did they ever put something else in its place! In Cascine park in the place of an old disco where I spent many a night dancing till the whee hours and drinking whisky ( I was young, don't judge me). This iconic place in Florence was closed over allegations that the owner set a rival club on fire [yes this happens]. Instead they have decided to smartly utilize this space, finally, think 4000 meters where you can relax, eat, get a drink and discover.
What else can you do there? It seems like endless activities! Like renting electronic bikes and listening to live music on a special terrace, kid-areas and puppet shows as well .
What is this place? Well they call it Fosso Bandito, and it is a hot item on my list of places to check it out! 
Info: Restaurant pizzeria, via fosso macinante, 2 – Firenze, email: [email protected]. Bar – geleteria open from 8:30-1am. Restaurant, 12:30 until 3pm and from 7pm to Midnight. Facebook page. 
Foodie spotlight
Obika Mozzarella bar. I have always loved this place for its beautiful location on the 'fancy street' via tornabuoni and for its truly spectacular mozzarella via the best Mozzarellas di Bufala Campana, after all that's why we come right? The original concept of a mozzarella bar originally mirrored after a sushi bar, clever and unique without a doubt.
I had the pleasure of coming back to taste some of their menu items with fellow bloggers, and friends, Alexandra from Arttrav, Krista from Allafiorentina and Amy from The Bittersweet Gourmet. Frederick and Giovanna, who work for Obika, were welcoming and how we would say in Italian 'alla mano' or down- to-earth, and we all had a merry good time, they even gave us 'doggy bags' to take home – bravo!
A place that takes slow food seriously, they ship their mozzarella three times a week to their various locations all over the world and try to add local menu items when possible. What to try? I highly recommend trying their mixed mozzarella platter [the smoked version is out of this world] and don't forget the pizzas!
We sampled a few versions of their perfectly crispy pies, including one with my favorite spicy sausage – nduja, amazing, tasty, all while allowing the mozzarella to take center stage, but really! I feel like I have hit the pizza lottery lately with Obika and also the new primo piano at the Mercato Centrale in the zone of san lorenzo. FYI: The pizzas are made with stoneground flour and cooked in a fire stone oven, they will undoubtably rock your world if you are as obsessed with pizza as I am!
Let's talk about sweets! Dessert was also out of this world – think a beautiful moist chocolate cake, tiramisu , and ricotta with orange, honey, raisins – I wanted to steal everyone's portions, it was so good even if we were all beyond full at that point.
Meat Market [ Sant'Agostino 23]. A restaurant in the oltrarno that has recently undergone a facelift, recently me and Nico had a date night here and were so pleasantly surprised by what we found. The design is also trending among the new places that I have seen around Florence, cool hip – lots of wooden tables and kitschy platters, you get my drift.
What's on the menu? They serve American food and well meat, naturally! Think burgers, fries, garlic bread, chocolate salami, great beer and more. My cheddar burger was absolutely one of the best I have had in Florence. I am just going to throw this out there, Meat Market was way way better than Lungarno 23 or Aviazione in the campo di marte area [and cheaper!]. It definitely is giving La Drogheria a run for their money as far as taste, value. Plus did I mention that don't charge a coperto, service charge? Pretty unique indeed!
Meat Market, Via Sant'Agostino 23 at the corner of via Maffia, 50125 Florence, Italy. Open daily except for Mondays, ps: rumor has it that they also have a very affordable lunch menu! Facebook page
[Photo taken from the Meat Market FB page]
—
That's all I have for now but don't forget to check out my list of awesome restaurants and places to visit around town.  I promise to keep it updated and share all of these cool new places that I spot quite frequently, and I expect you to do the same. If you have some you would like to let me know, just write me in the comments and lets chat!
*I am also obsessed with a new brunch place called Le Vespe, you can read more about it among some other cool cultural restaurants via Alexandra Korey's great post here. 
*I also loved this one-day Florence guide by blogger Giulia from 'Juls Kitchen' – she has a great eye for places you should visit and I loved her list of cafes, well-worth a read while we are on my [favorite] subject – food!