Walking inside, you immediately enter another world into the life blood of Sant'Ambrogio, a popular neighborhood with locals and foreigners alike. Teatro del Sale is tucked away on via de' Macci, one part theater, another part buffet – half the fun is watching people around you. The wood-paneled walls are as cozy as they come, it's the sort of place where Italians come with friends along with a sprinkling of foreigners in the foodie know.
While there are so many hot new restaurants in Florence (check out my 'new and noteworthy section' in my eats list), I still feel like it is important to celebrate places that are part of the city's DNA, especially those who are doing it right. And for me, this means serving great, simple food, in a relaxed atmosphere at a price that doesn't make you eat spaghetti aglio e olio at home for a week. Adjacent to Teatro del Sale are the well-known Cibreo restaurant and a trattoria of the same name. Together with Teatro del Sale, they've succeeded in keeping gastronomic palates satisfied for a number of years, all part of owner Fabio Picchi's foodie empire since 1979.
You'd recognize him — he likes to visit diners at their tables asking questions and then leaving before you can answer. He sort of resembles Santa, this particular day he had on a nice pair of sneakers as he jumped from one side of the room to the other.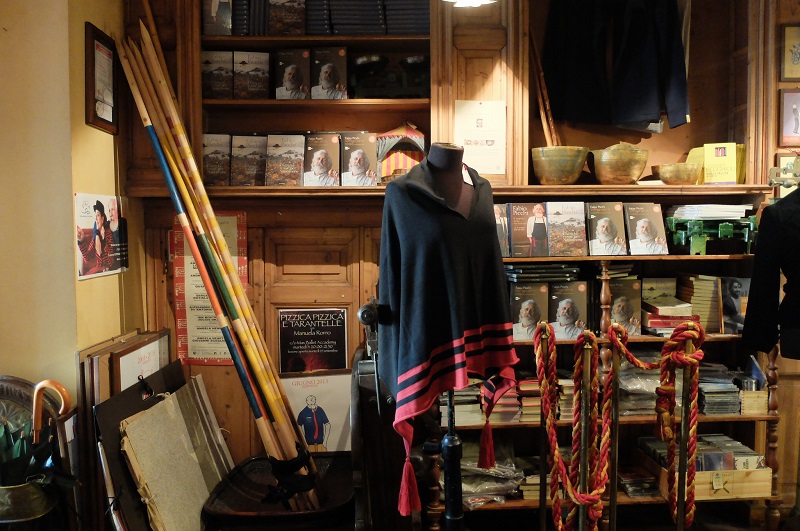 Lining up to renew our membership, diners are required to sign up for their members-only association which lasts roughly one-season, 7 euros for non-resident foreigners, 11 euros for residents.  Lunch/brunch prices are set at  15€ a person during the week and 20€ on the weekends, at night it costs around 35 euros for food + show. In the evening there is entertainment, often featuring Fabio's wife, the hilarious Maria Cassi and macabre shows.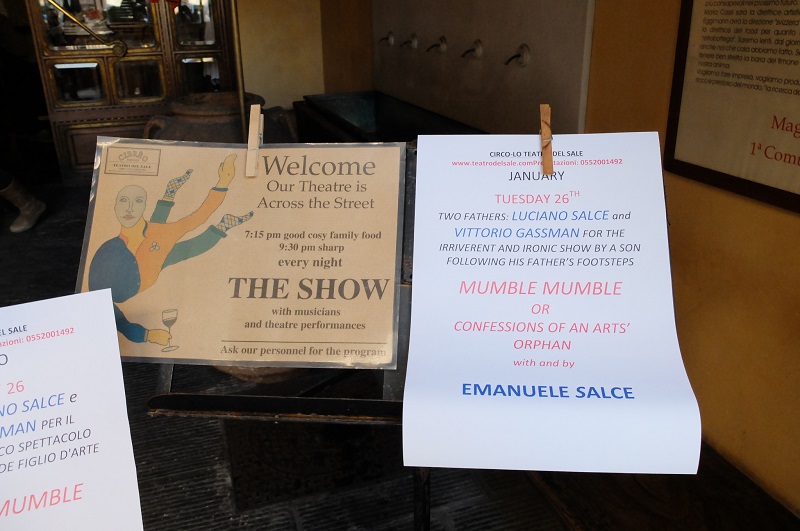 Nico and I were there catching up with our friends after everyone's post holiday Resurrection into a new year. Glasses of wine were poured from the 'sfuso'  barrel near the entrance, we sat down in the red-fabric wooden seats as the first shouts of food were yelled by the chefs in the steaming kitchen.
We were there for the Sunday 'brunch' and mind you it was not at all filled with scrambled eggs and pancakes — instead there was a wide variety of Italian comfort food. Savory Roman gnocchi (typically made with cheese and semolina) cut into small squares, perfectly-crispy fried anchovies, the most delicious eggplant I've ever had and sauteed bietole (swiss chard) and green peppers. Simply presented and piled onto tiny plates, everything is good — trust me on that. Don't be deterred by the small portions as there is much more food to come.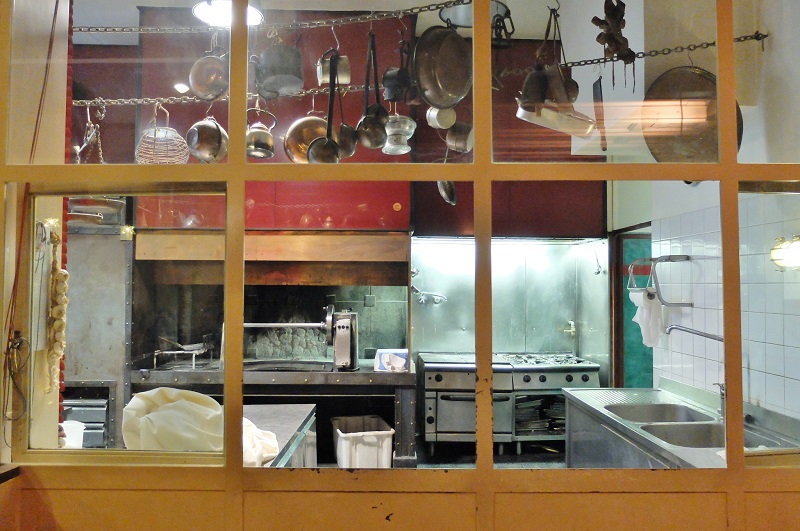 To help first-timers, the way it works here, is that a simple table buffet is set out with small plates and utensils, and the food is served on the spot as it is made. This makes for a truly fun few hours, as you wait eagerly to hear the next course, for non Italian speakers just come when you hear yelling. Take your empty plates back to the porter's window and go for round two or twenty. Par-in-course,  I grabbed my plate and rushed to the buffet as a crowd of 'furbi' Italians made it there first and the table was naturally cleared of food in a millisecond.
The real 'show' is how people rush the buffet. Sadly, I saw the last of the gnocchi being served out, which made me silently curse myself for not being a bit more spry in my 'get-out-of-the-way-we-may-never-eat-again' buffet acrobatics. Luckily, there was a side table adjacent to the main courses with various pots of delicious looking cream cheese and anchovy butter which my friend Emiko recommended we try. Slices of bread sat nearby, so I grabbed a bit of everything and made it back to the table. It was like a taste explosion,  that anchovy butter has me at hello. Not at all overwhelming in flavor and perfect for keeping me full in between Teatro del Sale's seemingly-endless rounds.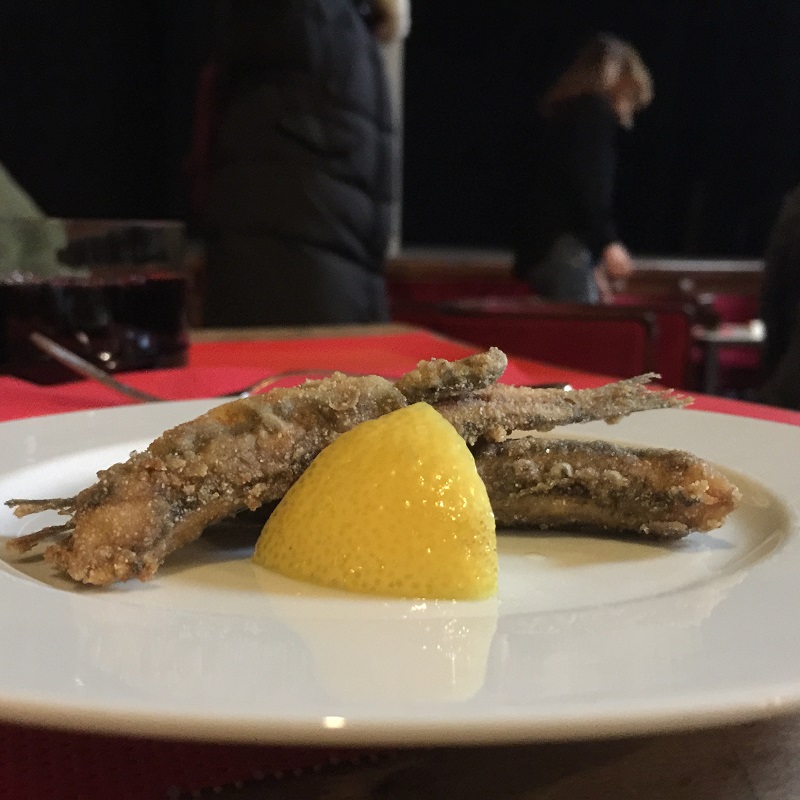 An hour past by faster than a second, my friends and I debated on whether we should continue eating or keep some space for whatever they might yell next. Luckily we didn't have to wait long, fusilli pasta was on it's way and Nico, being the kind, slight Frenchman he is, beelines to grab two plates and some fresh from the wood-burning oven schiacciata all'olio (a salty flat bread that will make anyone forget a gluten-free diet) and beautifully sauteed tiny clams in a rich sauce. I'm amazed out how he is able to wiggle into any situation and come out intact, and with food. What I would give to look like an innocent-looking French engineer.
More wine is needed to wash this all down of course, so I made my way back to the barrel. No-one was getting in my way this time. The elbow were coming out and I would be damned if I was going to lose out on that schiacciata another time. Then came the bollito, a classic Tuscan dish of boiled meats, cooked tender and falling off the fork. We managed to grab a few portions which then vanished faster than the implosion of a death star. I guess we were still hungry.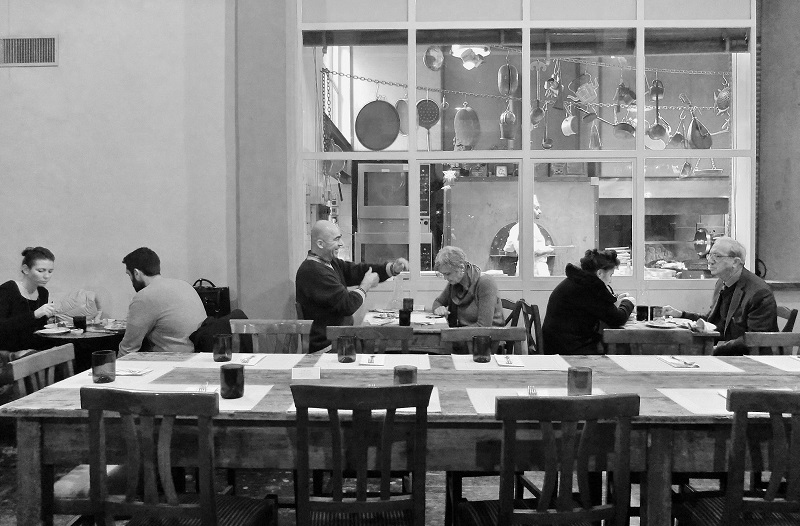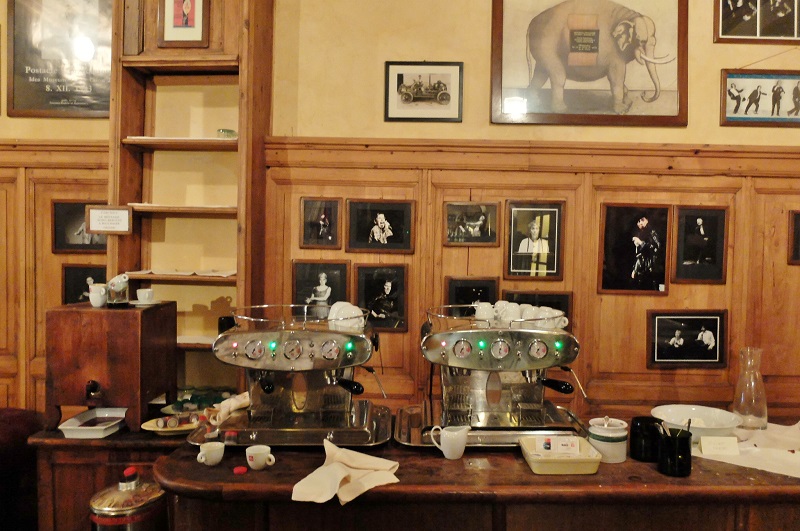 Naturally there was dessert too, a more sparse array of options but that's ok when it includes a melt-in-your-mouth flour-less chocolate cake. I had so much fun that I rushed home and wrote this post because it gave me a reminder to what my readers would really appreciate, not only the hottest places in town but almost more so the historical ones that keep on satisfying. The kind of place you'd take your family visiting from out of town, or just with a fun group of friends locally that won't change management at the blink of an eye.
My advice to you is don't be afraid to go if you can't speak Italian, it surely will be a hilarious experience unlike you've seen in Florence, and even if the performance is in Italian (at night) you can drink copious amounts of wine and laugh your way into oblivion while eating truly delicious food. Don't eat too much early on as you never know what is going to be sent through that kitchen window next.
Slow and steady wins the race. 
Via de' Macci, 111r
Firenze
Tel. : 055 200 14 92
Fax : 055 226 84 10
e-mail : inf[email protected], closed Sunday evening and Monday (all-day).
*Please read this post on brunch at Teatro del Sale by the awesome Emiko Davies who's photos are far superior than mine!