I never thought I would see the day when a known coffee expert in Italy has defended the entity that is Starbucks. Especially after an onslaught of negative news all over the internet regarding the coffee giant set to open its first Italy branch in Milan in 2017. But this is another reason I like Francesco Sanapo, award-winning barista and creator of 'Ditta Artiginale'. On news about Starbucks, Francesco said in defense of the move  "I think that it' s a positive fact, it's something new and the world of the italian caffetteria needs novelties, to develop and move forward."
Moving onto actually good contemporary coffee, Ditta Artigianale is an excellent coffee bar/micro-roastary offering special coffee on via dei neri and a brand-new location boasting 220 square meters of space on via dello sprone in the oltrarno neighborhood in Florence which Francesco opened in collaboration with Daniele Palladini.
Location is everything and they were smart enough to see the gap in the oltrarno for places like this, the new location is in between piazza della passera and Palazzo Pitti museum, about a 2 minute walk from the Ponte Vecchio (see map below).
He says what he thinks, and he often has a damn good point. Italian coffee culture had been stagnant for some time. While some would say 'you can't reinvent the wheel' others might claim you could invent another new mode of transportation entirely, and why not? That's how I see places like Ditta in Italy, it isn't there to replace your quick shot of espresso in the morning from your local (mine being the nearby Caffe' degli Artigiani), but instead a place to linger over an innovative filtered coffee brew with a friend, or an opportunity to sneak in a second 'flat white' after 11am. There is a market for these sorts of places, and it isn't just Berlin or NYC.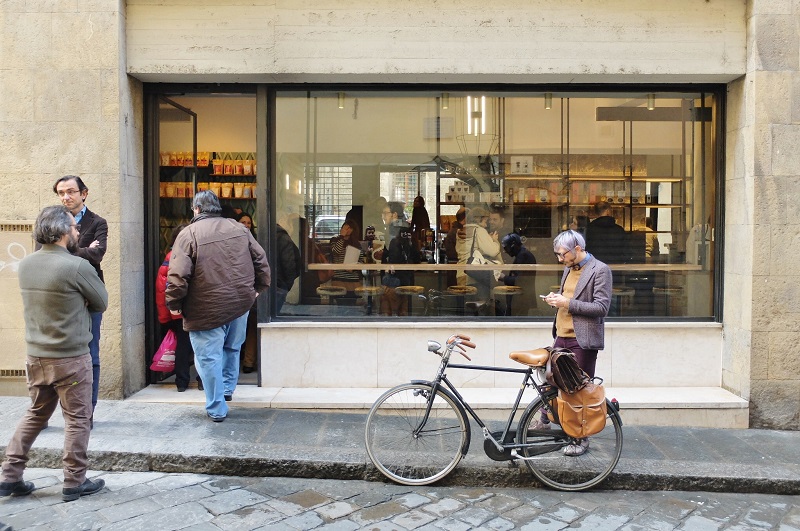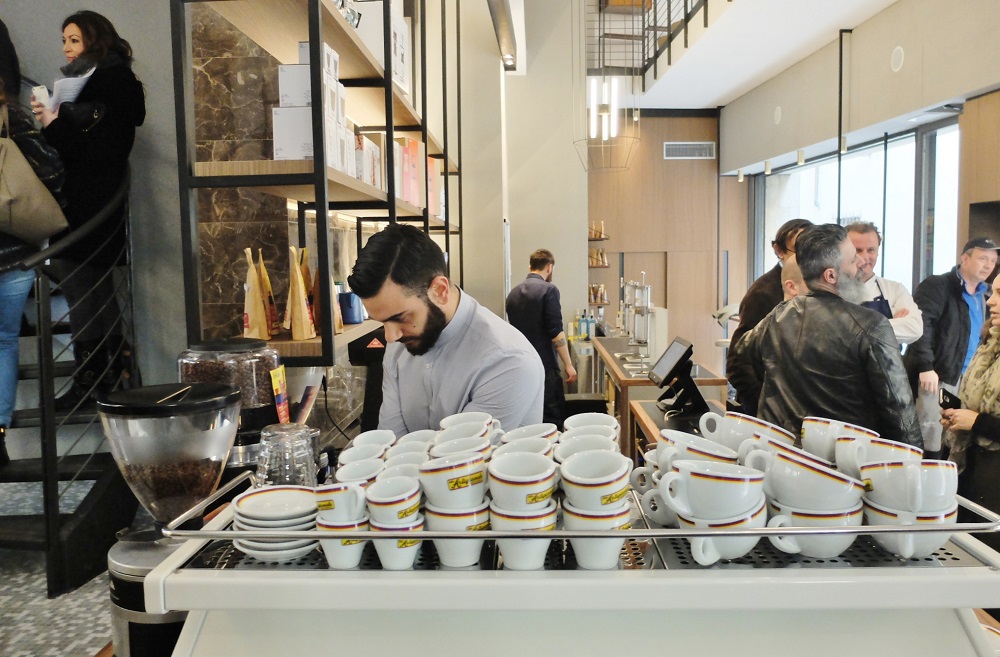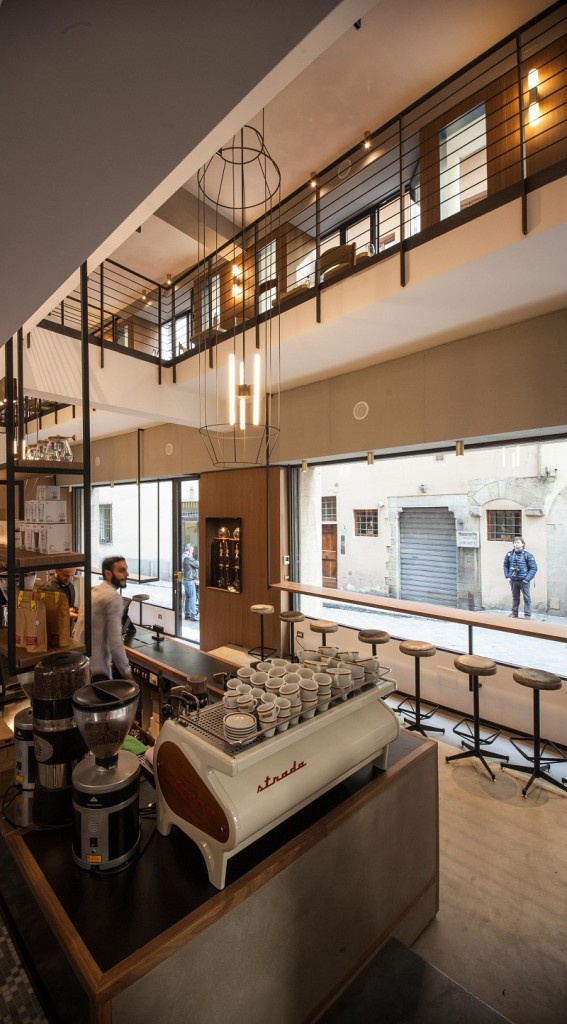 I went to the press opening last Thursday, where I got to see the new space, bright and shiny in all of its hipster glory with a few friends. Nico had been providing me regular updates on his morning walks with Ginger, he was worried they wouldn't be ready after seeing the construction and move in first hand on a daily basis.
Lucky for me, this new coffee spot is just down the street from my house, in a building that had been empty for over 20 years, built in the 1950s by Giovanni Michelucci, one of Italy's leading architects of the twentieth century. You might have seen another building he did – the Florence Santa Maria Novella train station. Inside the Q-bic architecture studio of brothers Luca and Marco Baldini created an aesthetic that is both design friendly with sleek wood, glass and metal chandeliers and comfort. A spiral staircase takes you to the second floor (restaurant) which overlooks the coffee bar. Many of the materials used were made specifically from salvaged materials and have picked to make the space as harmonious as possible.  You can plug in your laptop and work with a view of via dello sprone in your face or choose to chat with people at the bar instead.
I consider it a welcome addition to a neighborhood not overly known for its amazing coffee. Now we will be able to order tea infusions,  cappuccinos with almond milk, flat whites, or coffee made using aeropress or V60 filtering techniques. They source their coffee beans from small, local producers from all over the world and roast them in Tuscany, on the menu you'll find varieties such as Geisha from Panama or  Finca Catalan from the company Las Mercedes of Guatemala. If Francesco is there, ask him about the coffee, what makes this place special is just how exuberant and happy he is to talk about it, not aloof by any means — he is the face and heart behind the brand that has started to revolutionize coffee culture in Italy.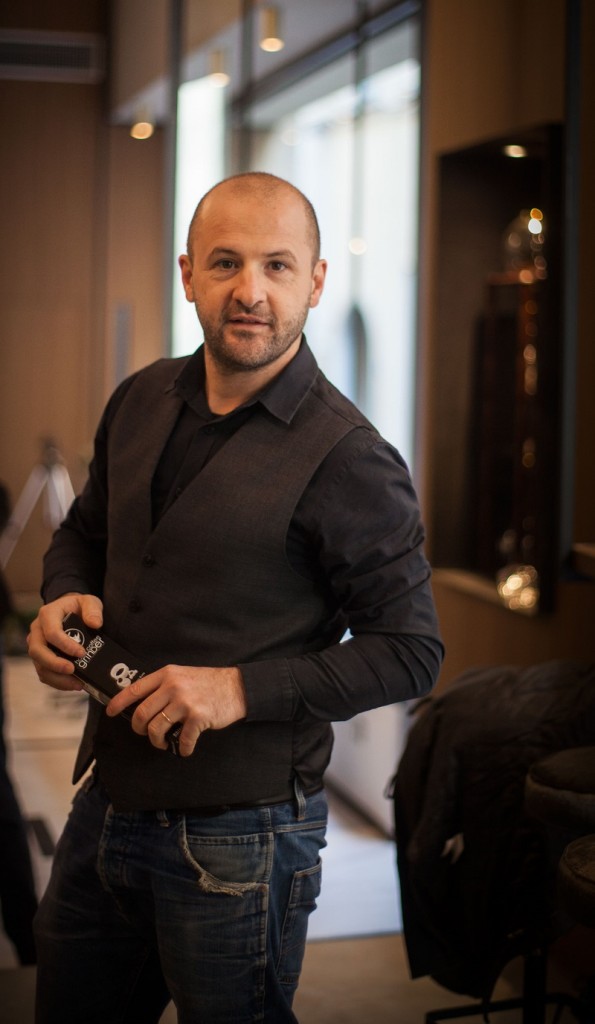 At the press opening Francesco said "I can finally see a growing interest in the customers to discover new tastes of coffee, to try to experience the caffetteria in a different way, not only as an "instant pleasure" "At Ditta Artigianale, we tried to give the best answers because our first goal is to let people understand what's behind their beloved cup."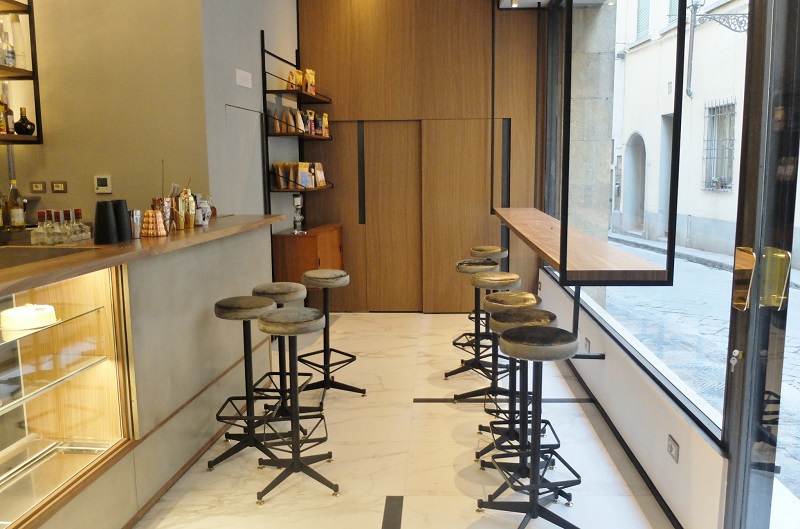 What's new about this new location? Plenty. In addition to the coffee bar and desserts they are so well-known for, plus the sleek design and WiFi friendly attitudes, this new location will also have a full-fledged restaurant, curated by chef Arturo Dori. You can still get your brunch featuring favorites like pancakes and 'eggs in purgatory' (quick dish of eggs cooked in a fiery tomato sauce) but also your avocado on toast, croque monsieur, club sandwiches and lobster rolls. Emphasis will be on whats in season and of course, Arturo's electric taste.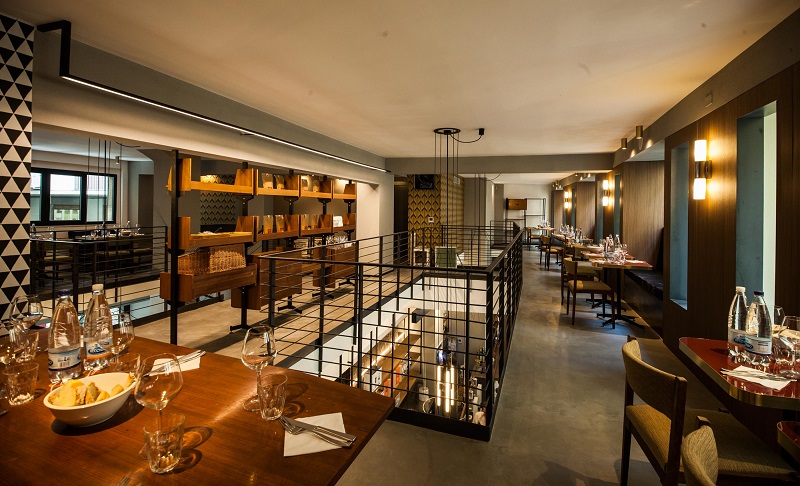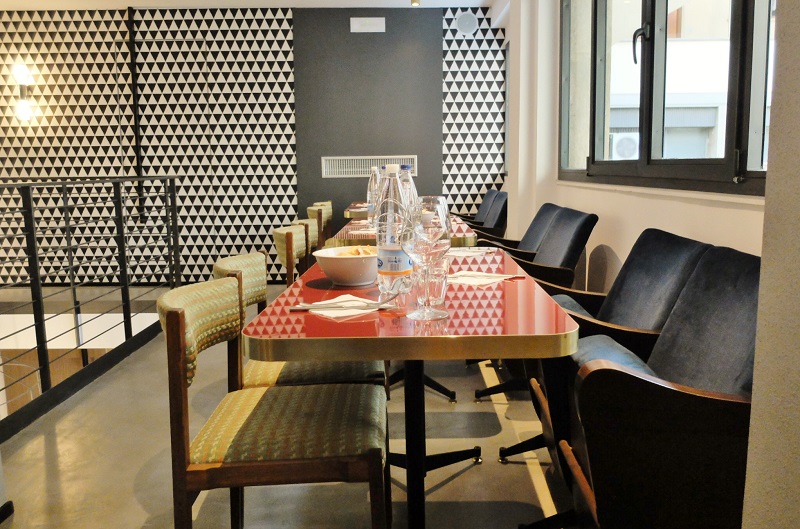 I took a look at the menu and started drooling immediately, there is a decisive fusion ethnic twist there. They have 'half portions' ranging from 5- 8 euros a plate. Think Colombian empanadas, or a 'millefoglie' made with veal tongue, citrus fruits and salsa verde, there is something to please both Florentines and foreigners. Full courses include veggie curry in coconut milk (yes!), braised veal cheek with potato puree and artichoke pie. It's an ambitious mix of a menu but I'm down with that as long as its good. I'll keep you all posted on instagram and facebook.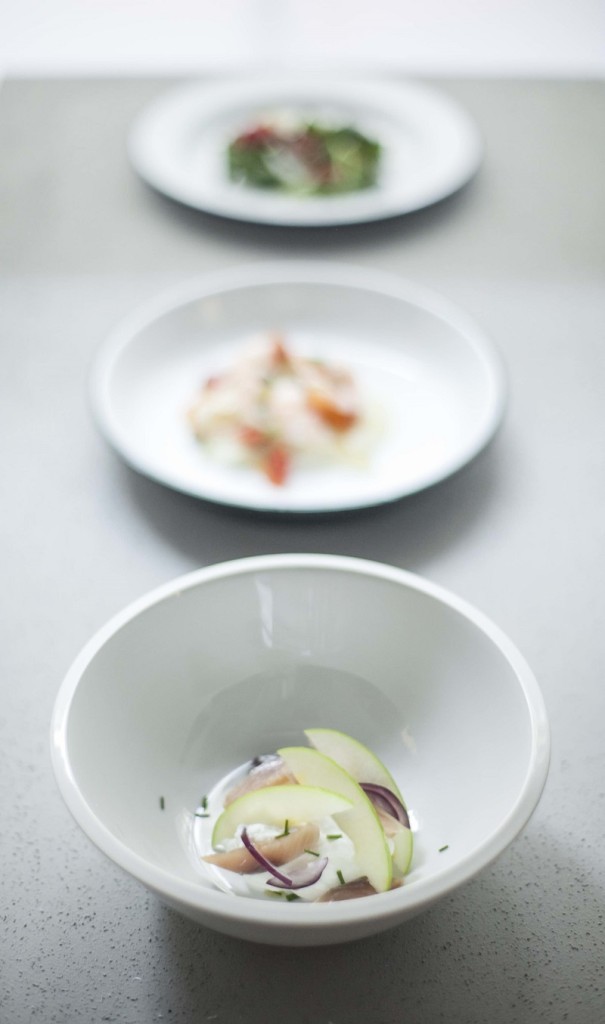 https://www.instagram.com/p/BCcyE1AxTIz/?taken-by=girlinflorence
Beginning at 6pm, the coffee culture trades cold brews for gin-based cocktails — ranging around 8-15 euros a pop. I am very excited that Kareem Bennett, formally of Fusion bar, will be coming here along with his mixology techniques — this man is a master! They are still very in-tuned to their wide variety of gin but at this location, other white spirits will have a home too.
I of course go for the 'k-mule' a blend of tanqueray ten gin, solerno, lime and ginger beer. Other drinks feature fun names like 'barber shop or creole', next time I plan on trying the cool 'calavera' with ocho tequila (finally someone has something other than Jose Cuervo), lime, agave syrup, caramel and salt.
While I don't always go for fancy cocktails, I'm really happy to have something nearby. Recently I was pretty shocked to return to another cool place, Il Locale, by Santa Croce that raised the price of their fusion cocktails to a staggering 20 euros a pop, which seems a little more like NYC than Florence, Italy.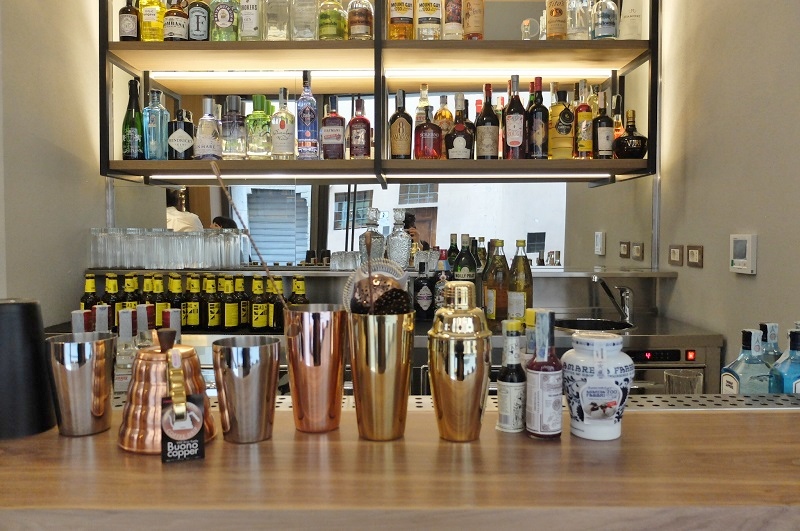 Whether you like filtered coffee or not, give this new location a visit. If anything to see a different take on Italian coffee culture that is just starting to rear its head. What I've learned from this entire Starbucks debacle, which quite frankly has nothing on Ditta, tradition is awesome but so is innovation. To sound like a true Texan native, and as my grandma used to say 'Georgette, there is room for everybody in this world, and anyone who tells you differently just has a stick up their ass." Just have the coffee ;-).
Ditta Artigianale Oltrarno, address: via dello sprone 5r, open every day from 8am – midnight. website. Email: [email protected]