"If more of us valued food and cheer and song above hoarded gold, it would be a merrier world." – J.R.R. Tolkien
If I could imagine the perfect day in Tuscany, it would include the following elements, good friends, nice scenery and great food, growing up very much what you would describe as a 'girl's girl' I cherish and value my female friendships. To nurture a lasting friendship, you have to put in the work, not always be quick to give the 'I'm too busy' excuse, because guess what, everyone is busy, even my beagle (it's hard work sniffing behinds and eating street rubbish). The reward in making time for people results in a tremendous amount of support, which when living abroad without family, is very important.
I have been a nomad since 18, that first hop-over to Los Angeles with a man and Ellyn, a girl I didn't know that well, this ended in me getting rid of the guy, and her becoming one of my best and closest friends. Now 10 years later, she will be at my wedding in Florence, the place where I convinced her to quit her job and move to Italy on a whim, and the rest, as you know, is history.
Learning to love the art of cooking, is a bit like learning to love myself more.  After all, I used to survive on tuna fish and salad, with the odd spoon of peanut butter to get by in image-obsessed Los Angeles. Now I consider the making of a meal the best time of day, when my iPhone is pried out of my hand, my fingers no longer tap on my well-worn keyboard and I can just focus on a manual task. Plus Nico is always happy with everything I make, which is yet another reason I can't wait to marry the guy.
Luckily in the world of blogging, I get the chance to meet people I sort of idealize. Such as Giulia from Jul's Kitchen. I have followed her food blog for years, savoring every Tuscan recipe with gusto. Her posts are more than just food, they tell a story, about pajamas, her grandmother, her boyfriend moving in for the first time. She is also working on a second cookbook, her first one a popular favorite for traditional Tuscan cuisine.
Through her blog, you feel like you have a window into this Tuscan girl's life, of simple pleasures and curated foodie guides. Needless to say, I'm a fan. When she invited a few myself and a few blogger friends to take one of her cooking classes in the Tuscan countryside, I said yes before she could finish the sentence. Perhaps playing it cool isn't my forte but then again, who the hell cares. I met new friends Sasha – a Chinese blogger who now lives in Florence, and Jamila. It was also a moment to say goodbye to a friend that I will miss and didn't get to see nearly enough, the lovely Catriona. Her smile and sense of humor is always infectious, and after a few years of living la dolce vita, her plans were to return to Scotland to see where life takes her. She will be missed.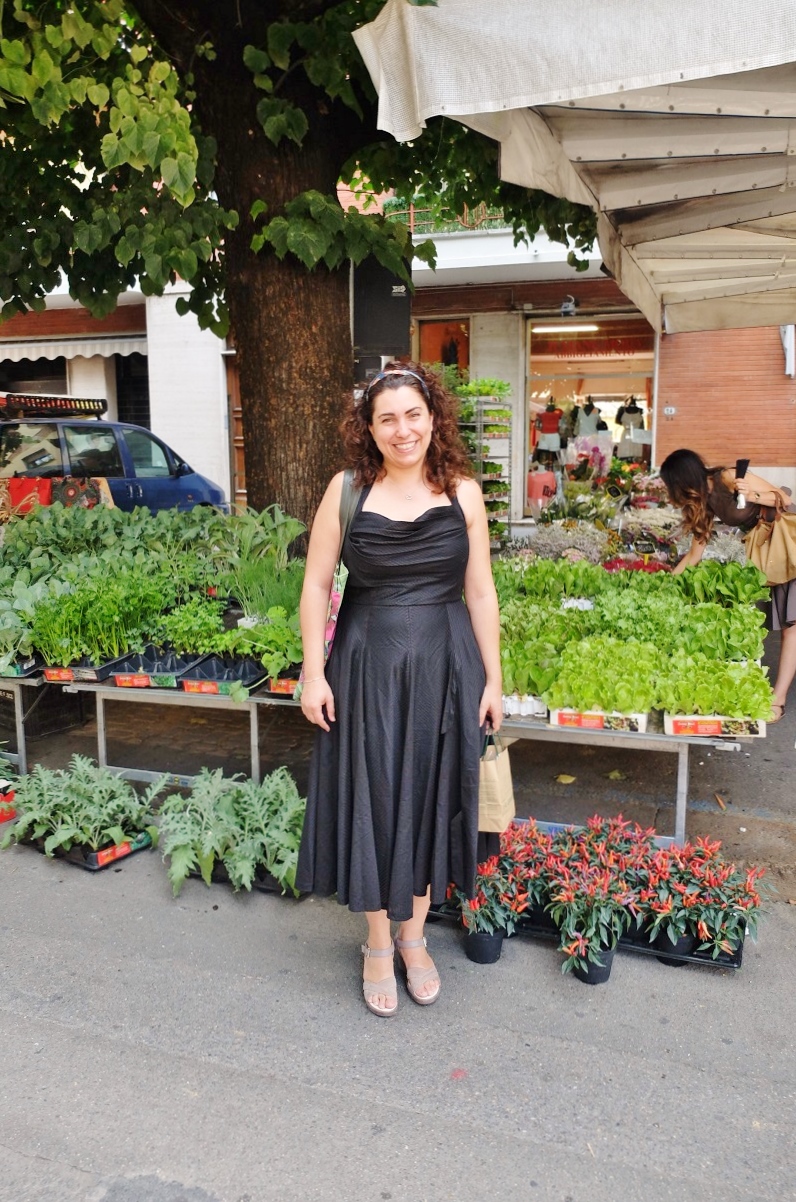 We took the bus from Florence to Colle Val d'Elsa, a short ride of about 40 minutes, Giulia would pick us up there. Historically, it became quite popular due to its strategic positioning on the 'road to Rome' otherwise known as via francigena, a pilgrim trade route that stretched from France to the Vatican city. It is also well-known for production of crystal glass, the first Sunday of the month you can see a demonstration on how it's made at the large monthly market.
The town itself I actually had never visited, and this Friday was your typical market day. Tuscany at its best, the small squares and arches were filled to the brim with local townspeople, coffee poured and stories told. I was elbowed a few times from the over 70 set, but that's all in the market game. I adore the energy and plethora of good, fresh food —watching Giulia pick and choose the produce for our lunch was like watching a seasoned professional pick the starring lineup for the NBA finals. Since it was a hot, humid sweltering summer day we were going for lighter Tuscan dishes, the classic panzanella, caprese salad, eggplant and other seasonal favorites.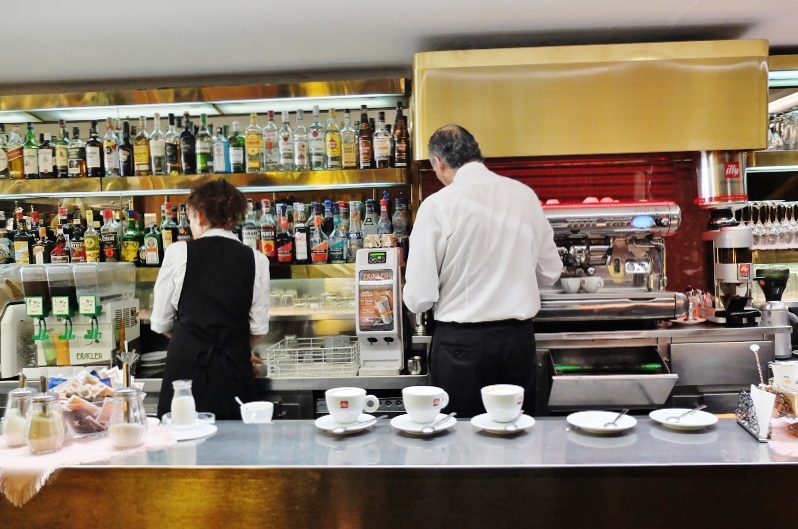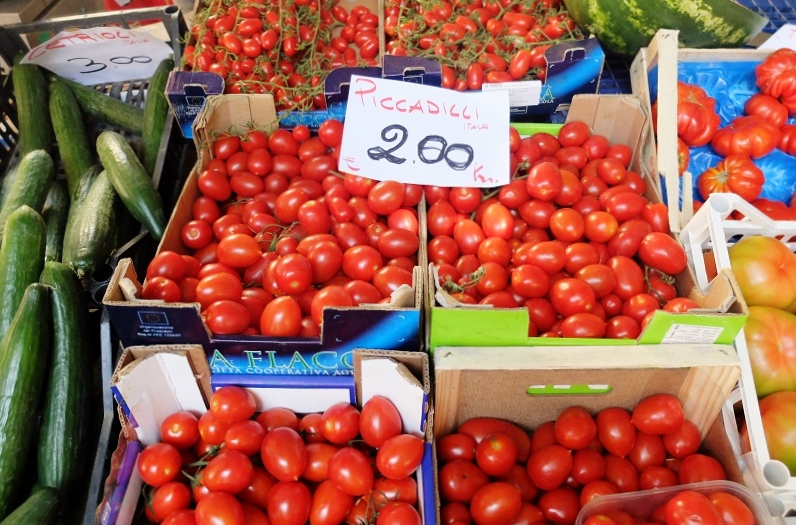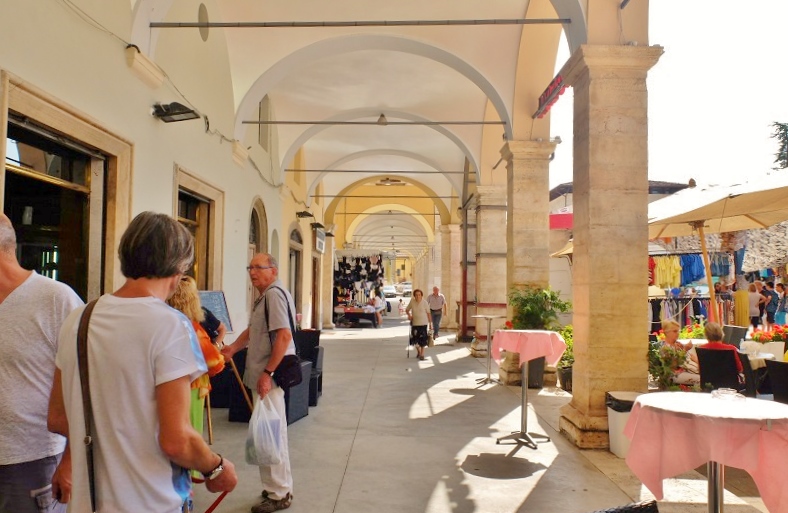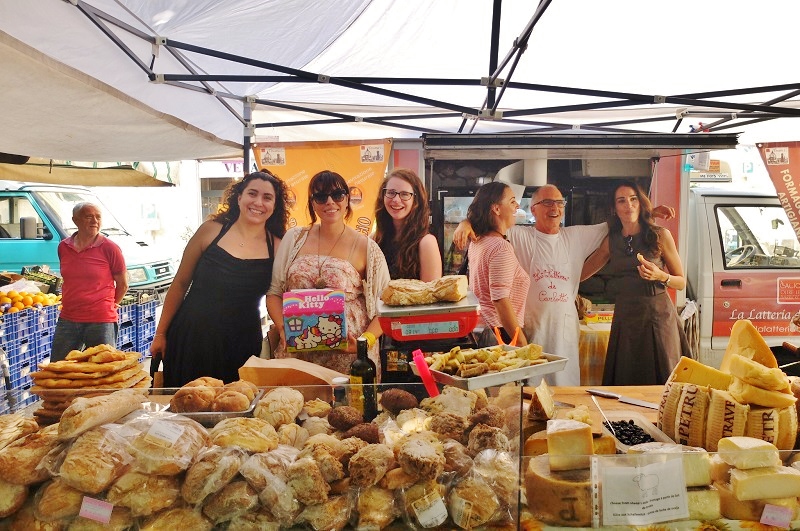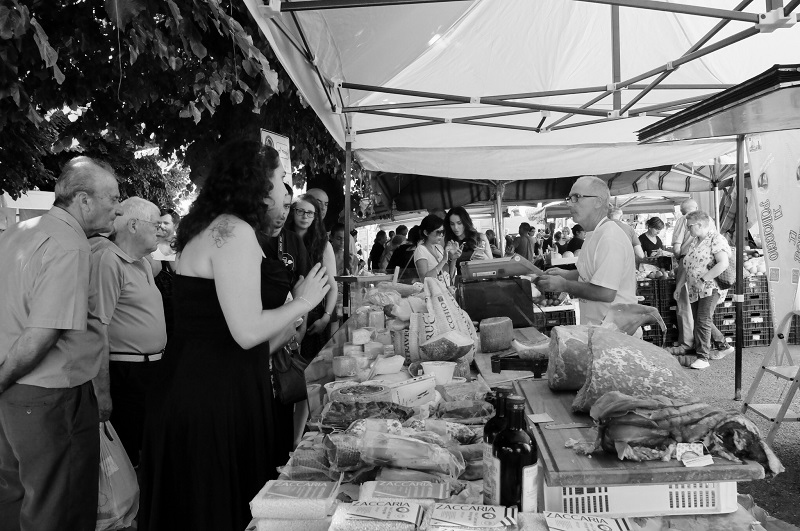 Next stop was Giulia's house, a few kilometers away from the town. At first glance, it took my breath away. When you think of Tuscany, you imagine this. Rolling hillside views, cypress trees whispering like lost lovers and of course her cute dog Noa, who I first read about in a post about white chocolate and almond biscotti. She shares her home with Tommaso, the boyfriend who just moved in, the tech wiz which makes them both an unstoppable team. I spotted a map in the entry, spotted with pins left by former guests. Luckily no one had yet to nab the San Antonio, Texas spot so we were off to a good start.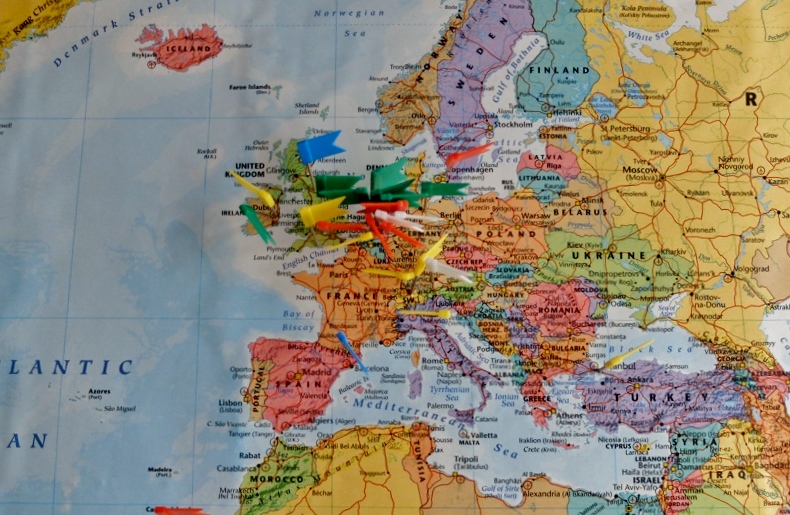 After strapping on our new aprons (thanks Giulia!) we headed to her kitchen, so perfectly neat and clean, it could get it's own pinterest board medal (mind of a social media manager). I joked that she embodied the premise of an article I recently read on how to 'pretend' you are an adult with your friends, utilizing methods such as putting things in jars and filling every bowl with lemons. Except I had the uncanny feeling she actually keeps her kitchen this way and this embodies adulthood, I could use a few lessons in that.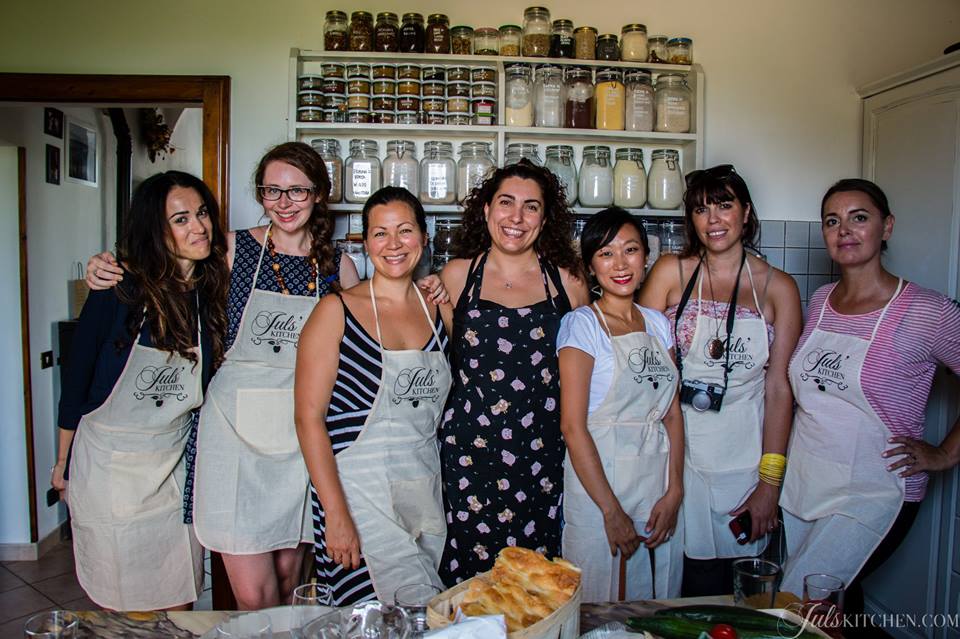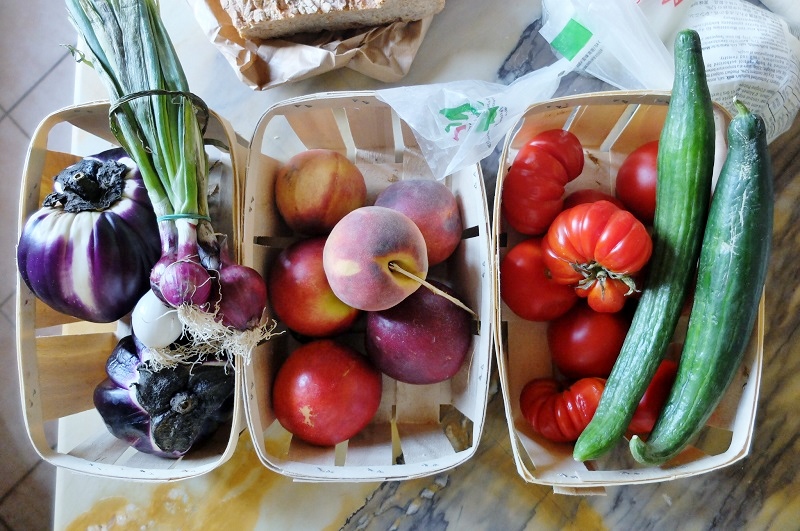 We crowded the kitchen and started chopping, Giulia delving out tasks as we chatted as girl's do, about food, life and everything in between. We sliced eggplant and put it on the grill, chopped tomatoes and started preparation for a chickpea flatbread, otherwise known as 'cecina', well it depends where you are in Italy, they are quite territorial even regarding names of the same dish. I have devoured it in Pisa, Livorno, Liguria and Carrara, each place claiming that their version is the original, and quite naturally, the best. Whatever it is really called, it happens to be one of my favorite things on earth, a simple medley of chickpea flour, olive oil, salt, water and pepper, cooked piping hot and eaten before it cools. As in any dish that seems simple, it's getting it exactly right that's hard.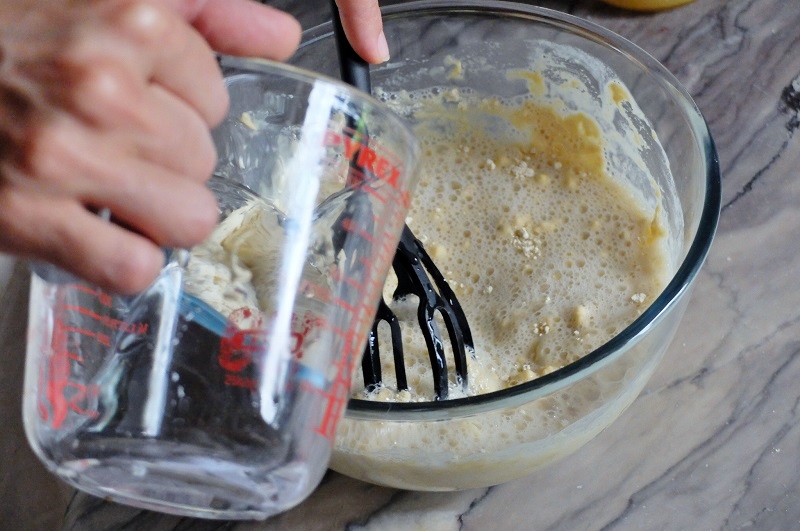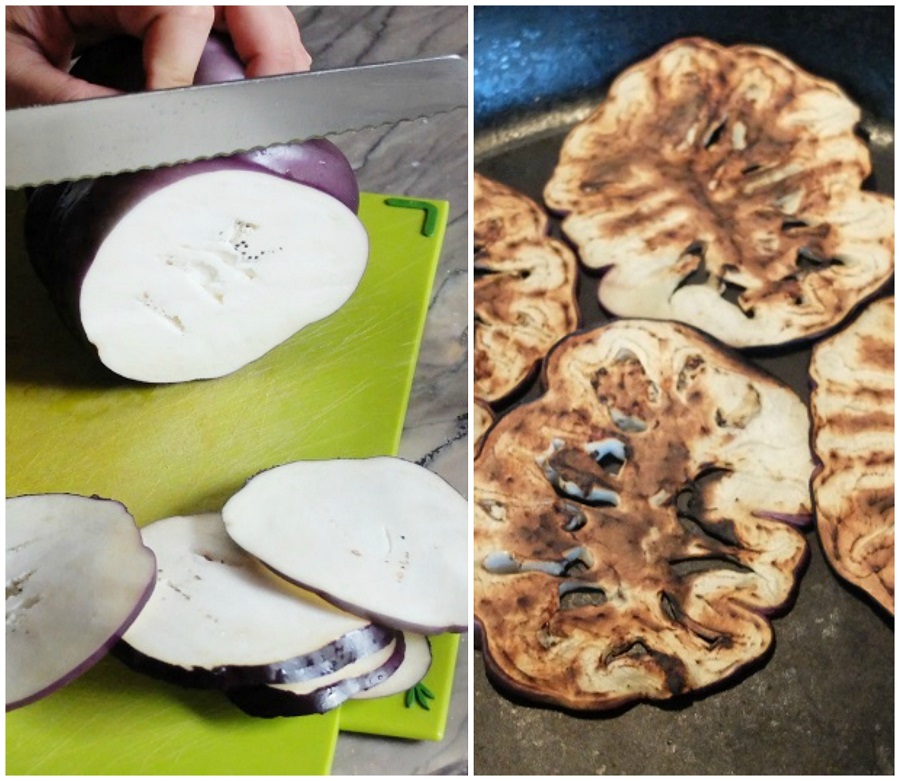 In addition to our savory treats, we also tackled dessert, we were to make 'zuppa inglese' which translates to 'English soup' and though it doesn't sound appetizing, it is essentially a trifle and is really quite delicious, think Italian home-cooking at its best. The origins are quite vague but basically the Italian version dates back to the 1500s. Giulia had us each make our own, the custard is the most tricky bit, done incorrectly you could get scrambled eggs. I cannot be trusted to do this alone but with Giulia's gentle help, we managed to get it right.
She also used a version of alkermes, a scarlet colored liquor made with spices, rose-water from one of the oldest pharmacies in Europe, the majestic Santa Maria Novella on via della spada. The red color comes from crushed, dried ladybugs, which may freak some people out but instead results in a very welcome and natural addition to Italian desserts like zuppa inglese. My friend Nardia aka LostInFlorence displays her version proudly below.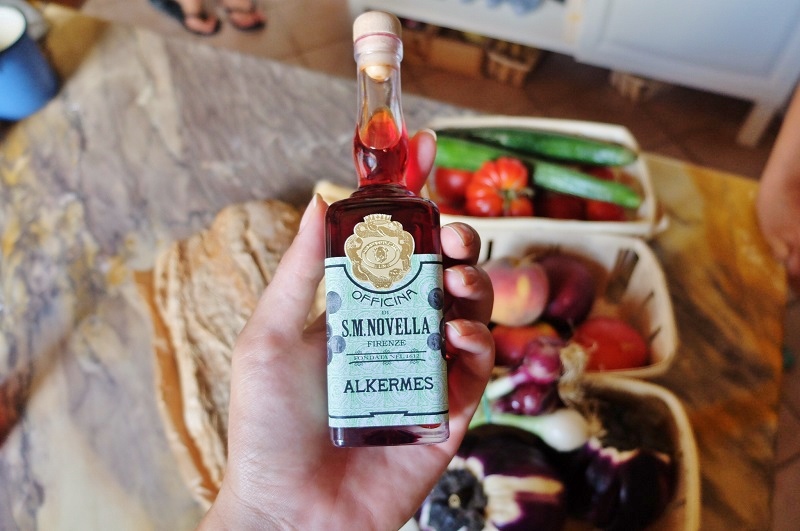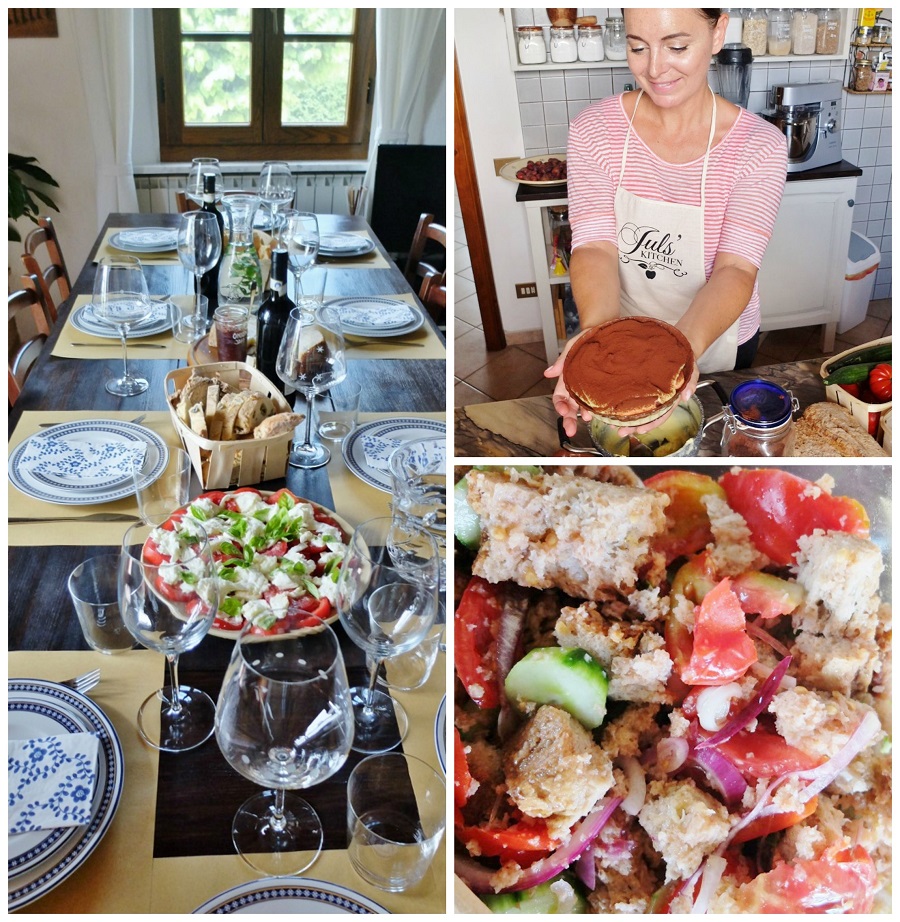 In the meantime, the table magically was set, possibly by fairies or Giulia herself. We all sat down to a feast of prosciutto and fresh melon, salad and fried chickpea cake. Conversation flowed as easily as the wine. Giulia promised to invite us over for pizza-making one evening and I promised to make true Mexican food, without overdoing it on the cilantro (maybe).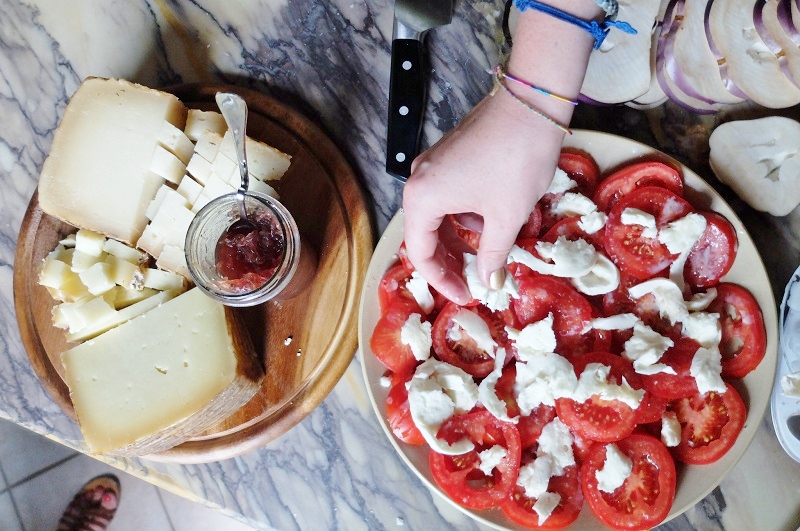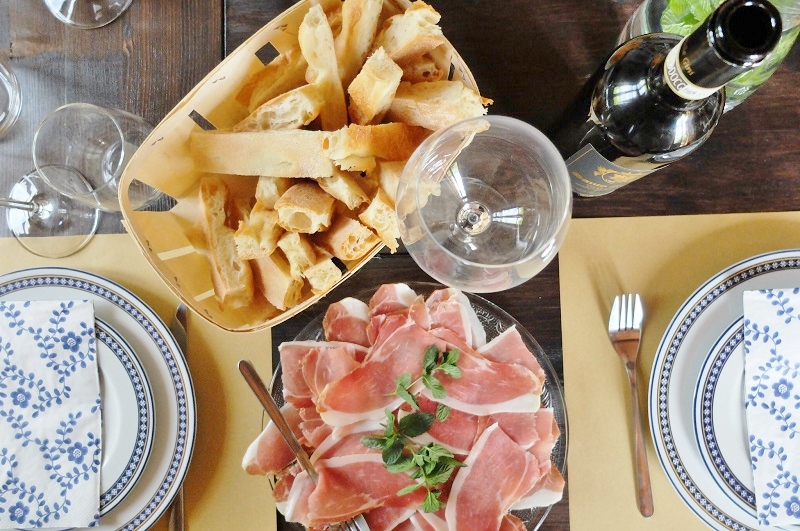 We took our dessert in the garden, taking shade under a small veranda pairing our dessert with homemade limoncello, which completes any wonderful Italian meal. Noa was happy to see us and there was even a swing. As the weather changed from sunny, to cloudy, to stormy we were all hesitant to leave. The narcolepsy that comes with a good meal is the sure sign of a wonderful time. All I wanted to do was pull up a pillow and fall asleep on Giulia's pristine lawn.
---
If you want to want to take a cooking class with Giulia, (and I recommend that you do!) read these options for cooking classes at her beautiful Tuscan home, in between Florence and Siena. Remember she also caters to gluten allergies, vegetarians and vegans, and can cook for a group at your rented Tuscan villa. I also recommend keeping up with her facebook page, twitter and instagram, where she regularly shares recipes, photos and kind thoughts. Also take a gander at her youtube video recipes.
I also recommend you check out this post on the blog of Emiko Davies, accomplished food writer, photographer and blogger, with her own cookbook set to come out in 2016. She writes beautifully about her own experience of our wonderful day in Colle Val d'Elsa.