Every time I hesitate to write an article about where to eat in Florence I always think about my own experience as a tourist. Before I go anywhere, I admit that I scour the internet for cool, secret spots written by other bloggers, journalists or basically just anyone who loves food and isn't a TripAdvisor douchebag. Since I happen to live very close to the 'old bridge', and I know many people look to stay near this famous monument I thought not why not write about a few cute places to eat around this area and share the love?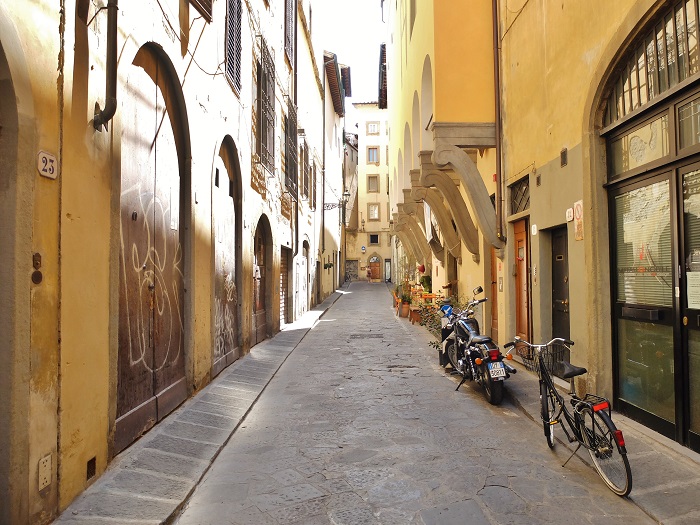 Via Toscanella, in the heart of the oltrarno district of Florence
I personally think it should be an actual crime to eat badly in Florence, it can happen don't get me wrong but it shouldn't. It can be tough knowing where to go when every trattoria claims to be authentic and some of the most famous places featured online aren't' really reflective to where the average person in Florence would go for their pasta or bistecca di fiorentina fix. Luckily the piazza near my house super close to Palazzo Pitti and yet feels like a world away. My beloved piazza della passera, whose name also happens to be slang for a female body part (it is thought that this area was a brothel long ago), and has an interesting backstory if anyone cares to read.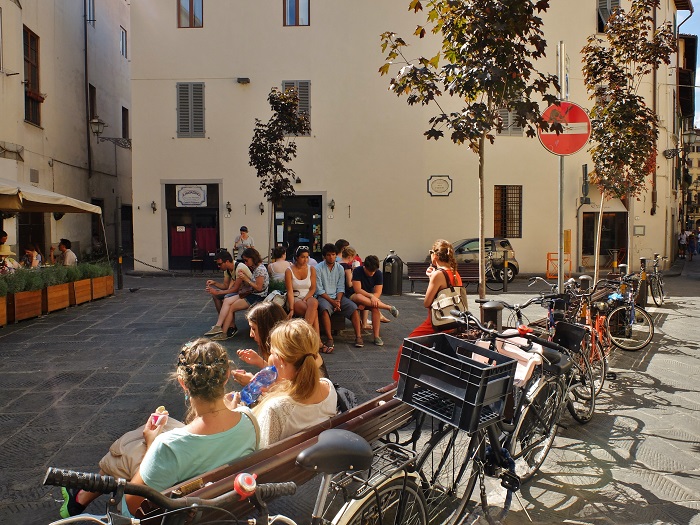 Piazza di Passera on an August afternoon
Here you can chill at a cool hipster cafe that is open all day long for coffee, a refreshing spritz cocktail or just a snack and several great restaurants all about five steps from one another. Plus their geleteria has a mojito sorbet which is the only motivation that can get me out of the house in 100 degree weather.
Il Magazzino
This place might be most known for their fabulous lampredotto dishes (very Florentine) but it also has some other great foodie options as well, I highly recommend a stop here for a very authentic Tuscan meal. Fried brie with a sesame crust, pasta with a duck ragu, veal cheek braised in red wine & tropea red onions. I recently lunched there with Nardia from Lost in Florence as we both enjoyed indulging in a little meat and vermentino  white wine on a weekday afternoon ;-).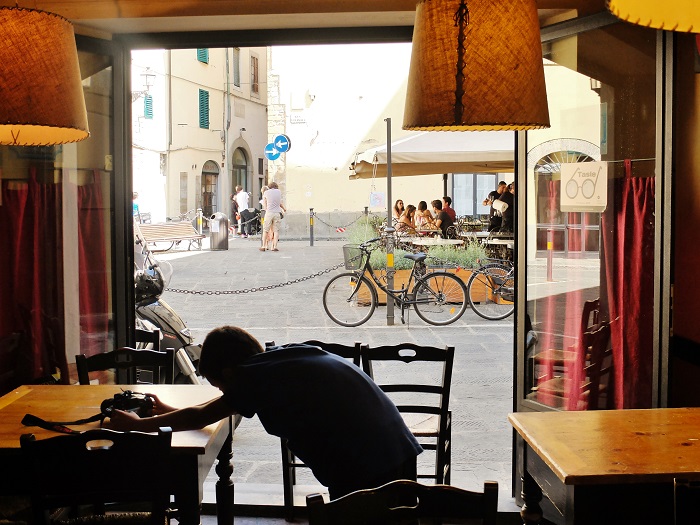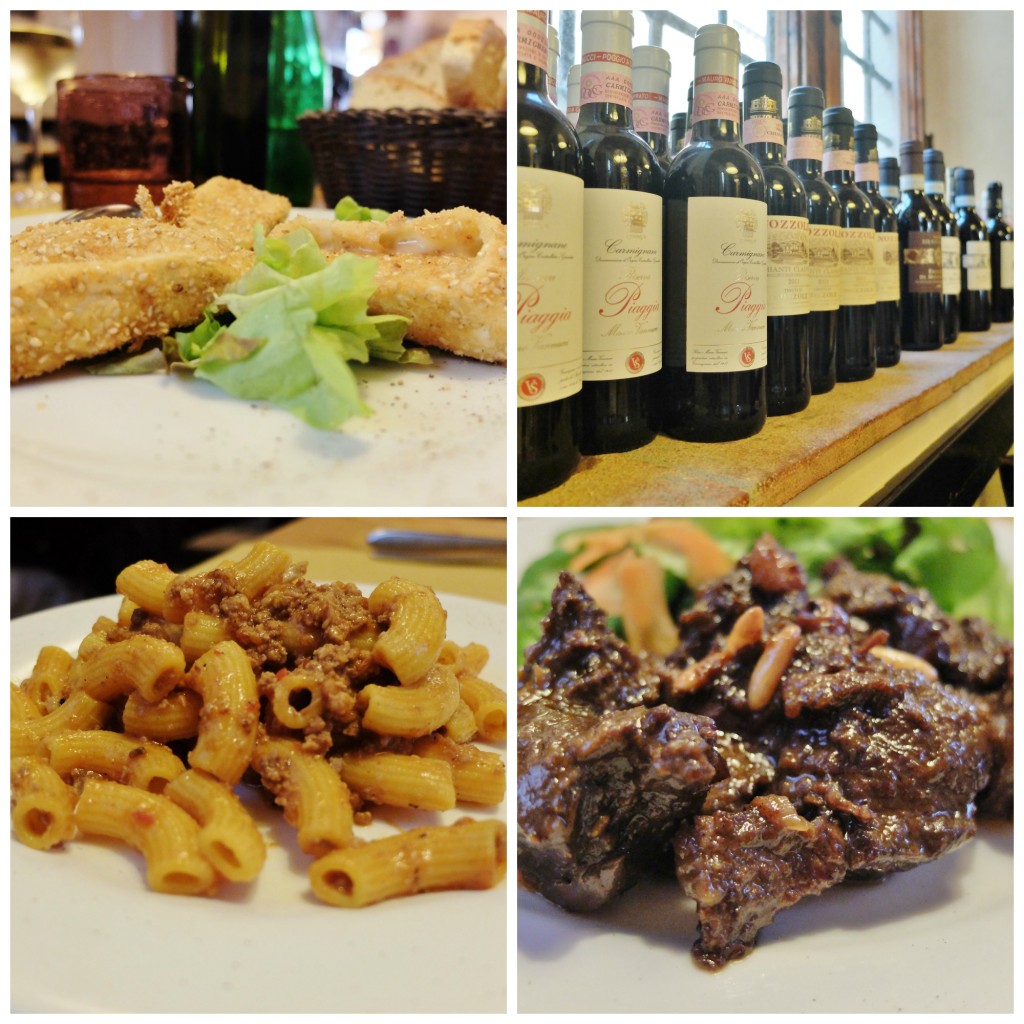 Prices are average, we spent around 52 euros for two glasses of wine, a shared appetizer, a pasta dish, my meat dish and coffee.
Osteria Tripperia Il Magazzino, Piazza della passera, 2/3, phone:  +39 055215969 Mon – Sun: 12:00 pm – 3:00 pm, 7:30 pm – 11:00 pm, reservations recommended.
5 e Cinque
I like this place because in a piazza full of meaty options, this serves as a nice alternative with a cool, fresh style and plenty of veggie dishes. Here you can find organic and local ingredients plus it's open for both lunch and dinner, with a menu that changes daily. They have a great cheese plate and 'cecina' (a chickpea flatbread), share a few dishes and spend a lot less than for a normal dinner. I highly recommend making reservations as space is very limited. What inspired me to first try this place was after reading about it on A Dusty Olive Green, the lovely blog of Birgitte Brondsted. Prices range from around 20-40 a person.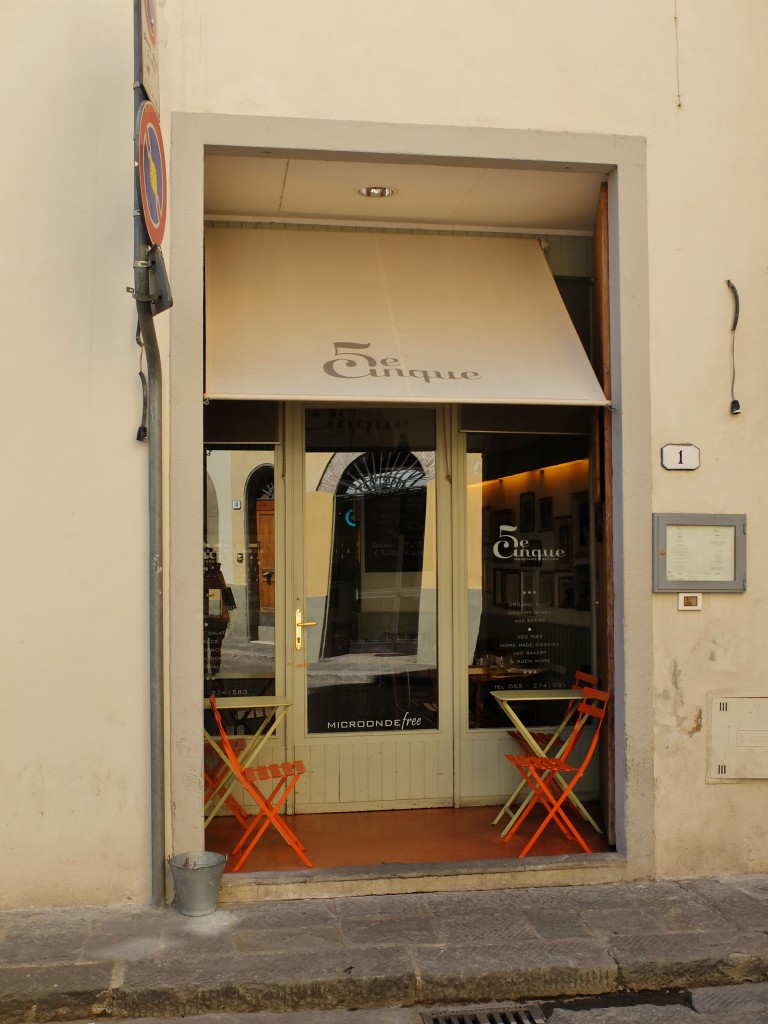 5 e Cinque, Piazza della Passera, 1
Florence, Italy 50125
+39 0552741583
Trattoria 4 Leoni
I went through phases with this place because they can get so full and I wasn't sure they were my cup of tea but I have to say they are growing on me again. Well known for their pear and gorgonzola pasta and they make a good peposo (a peppery Tuscan beef stew) and bistecca (steak). The real selling point is that you are eating in the piazza (ask to sit outside) which is extremely charming, you might even see me walking my dog nearby ;-). A little more on the pricey side but it is definitely a romantic place for a summer night's dinner. Prices range around 30-25 euros per person.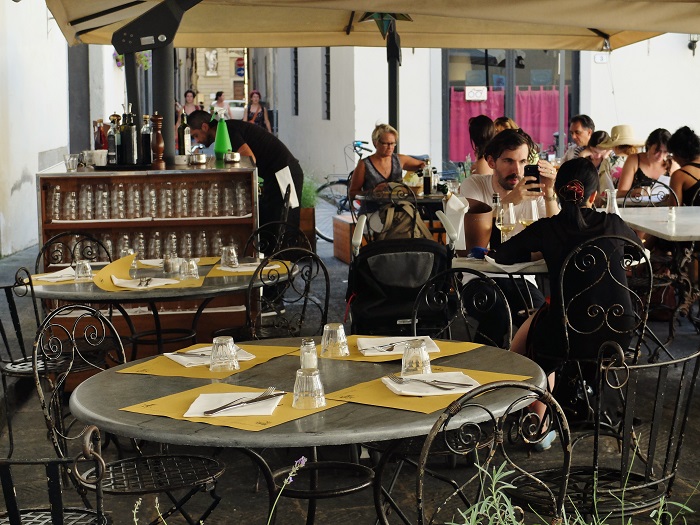 Trattoria 4 Leoni, Via de' Vellutini, 1r (Piazza della Passera) 50125 Firenze Reservations recommended. tel. (+39) 055218562 • [email protected], Open daily 12pm – 12 am
Toscanella Osteria
A sort of hidden little restaurant, mere steps from Piazza della Passera, you will spot Pinocchio statue waving at you straight away. I remember walking by and thinking that it might have been a tourist trap, perhaps because of Pinocchio's presence but when I finally tried it, I was surprised how good it is. They have a very affordable lunch menu and make their own pasta, I have also heard that the peposo is great here too. Prices around 15-40 per person.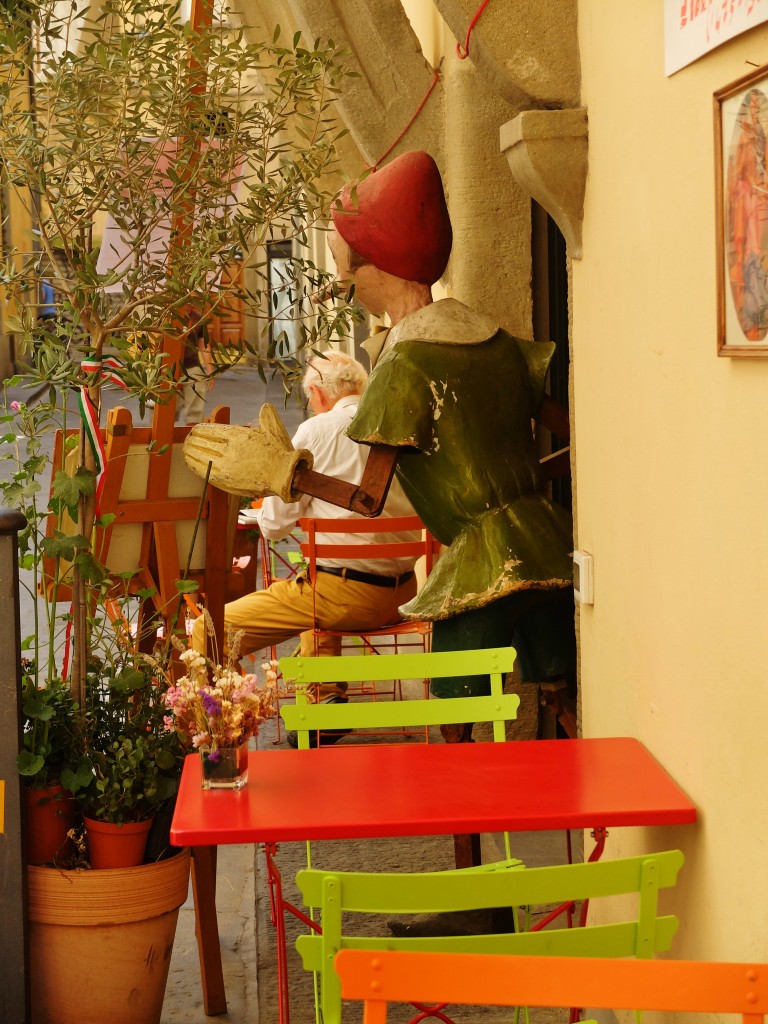 Osteria Toscanella Via Toscanella 36R Tel 055 285488
Trattoria Cammillo
On Borgo San Jacopo, steps from the Ponte Vecchio, lies a trattoria that serves traditional Tuscan food – with a twist! They have a creative menu with items like pigeon pie (I didn't stutter) and great pasta made in-house and a memorable bistecca fiorentina. Make sure to order off the 'carta del giono' (daily menu) for the best seasonal dishes. This is pricier than the other places I mentioned, more for a special night out than an average lunch or dinner.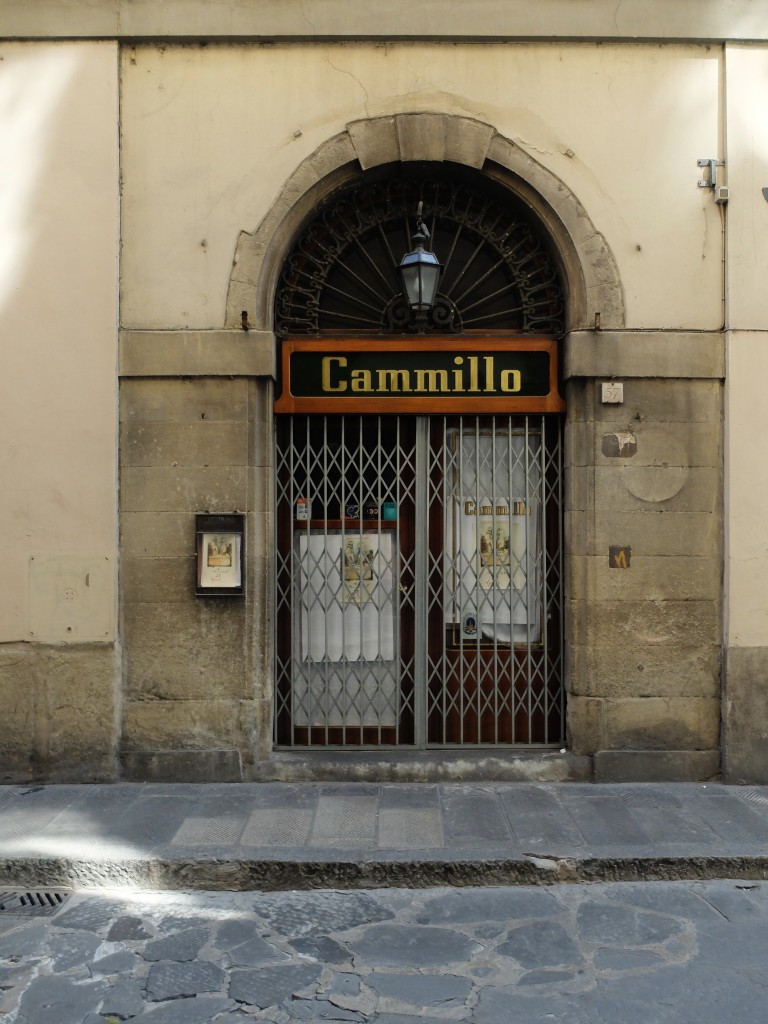 Cammillo Trattoria, Borgo S. Jacopo, 57/r, 50125 Florence. tel. 055.212427 email: [email protected] Open for Lunch, 12:00 – 3pm Dinner, 7-11pm Closed: Tuesday and Wednesday. reservations recommended.
Trattoria Giovanni
This is a recent discovery and a very happy one at that, while this might be 7 minutes from the Ponte Vecchio, very close to Piazza Santo Spirito, I highly recommend making this a stop on your 'other side of the river' foodie adventures. I've only been there for lunch, where they have a very economic lunch menu for 11 euros which gets you a 'primo' (first course), 'secondo' (second course) and 'contorno' (side), wine & water is extra. My lentil soup was amazing as was the stuffed bell peppers and hot out of the oven roasted potatoes, excellent white wine as well (only 2 euros a glass at lunch).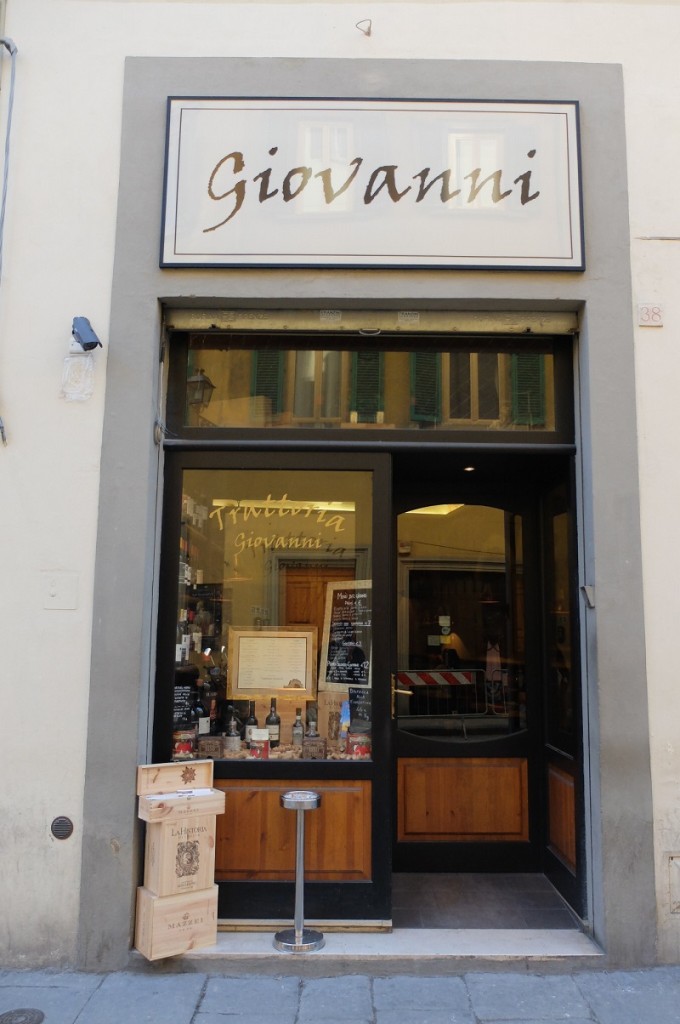 Trattoria Giovanni, via S.Agostino 38r (santo spirito neighborhood). website. Tel. +39 055 0192162
Trattoria La Casalinga
This place has been here ever since I was a student, and is famous for being a budget-friendly destination serving up (no surprise there) hearty Florentine home-cooking. The interior is as basic at it gets, but it is warm and inviting and a few friends of mine who are seasoned locals just assured me recently that food is indeed still pretty good. Service is 'eh' and to be honest, I would go for Trattoria Giovanni over Casalinga any day — it's another option worth adding.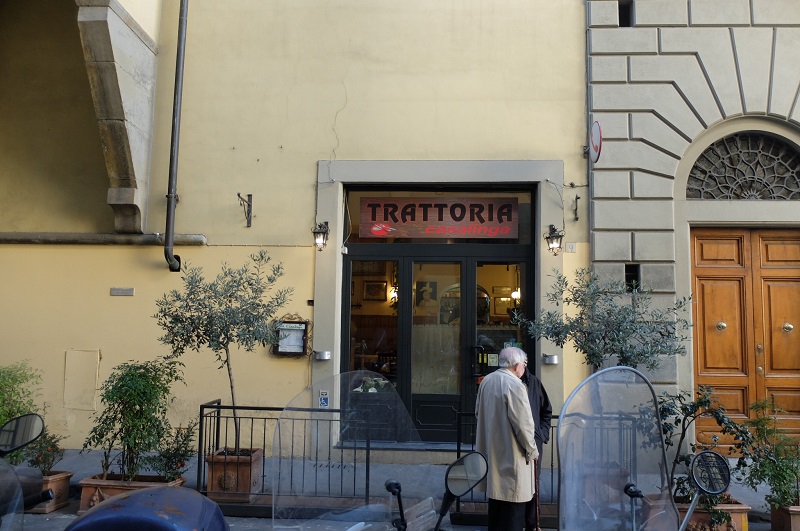 Trattoria La Casalinga, Via dei Michelozzi, 9r, 50125 Firenze, Phone:055 218624. Reservations recommended (especially for dinner)
Just Wine & Snacks
Since something all you need in life is a great bottle of wine & some Tuscan appetizers, I had to include these two places on my list of what's close to the Ponte Vecchio and really quite excellent.
Wine bar: Il Santino, Via di Santo Spirito, 60, Firenze. This cute wine bar is adjacent to the famous Santo Bevitore restaurant and is the cool, aperitivo neighbor. This tiny little spot boasts a wonderful wine list and suggests what pairs well with each glass/or bottle. This place is a real gem and tends to get packed so come early. You will see people spilling out onto the street with their wine in hand, very popular among locals.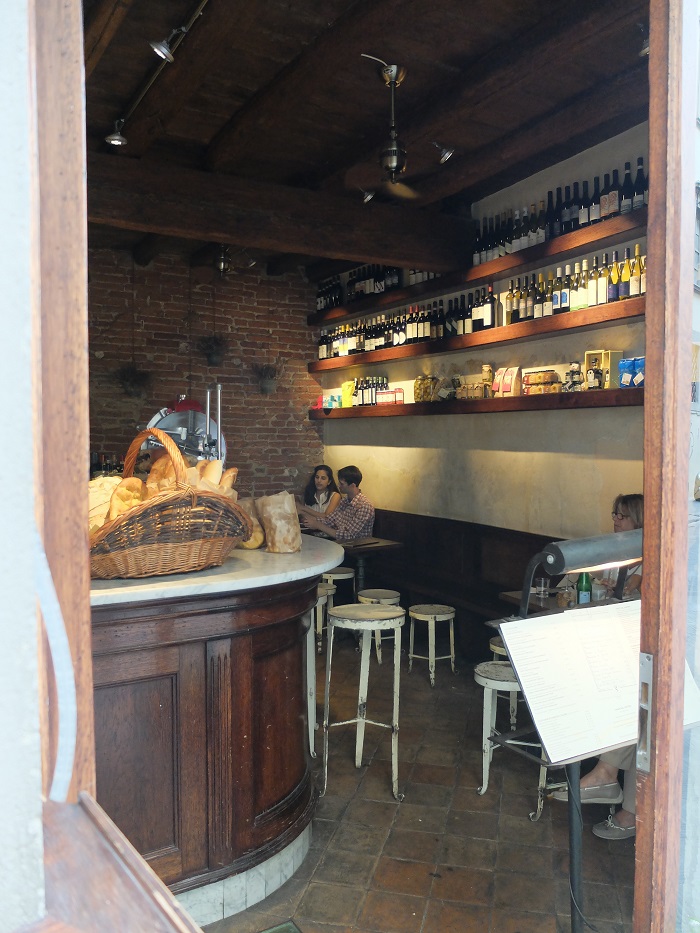 Le Volpi e l'Uva – Enoteca in Firenze, Piazza dei Rossi, 1, 50125 Firenze. This popular wine bar is literally next to the Ponte Vecchio hidden behind in a very cute piazza. I have been coming here for years and the service always remains wonderful, and the wine list impressive though they tend to run out of bottles at times. I always take out of town guests for a glass of wine or three and they have some wonderful bruschette snacks you have to try. They are only open till around 9pm so make this a before dinner activity. Reservations are recommended (for the outside terrace), call Tel: 055 239 8132.
Bakery il Santo Forno
A new bakery has opened on the other side of the river and it is utterly fabulous. Gambero Rosso recommended and from the same minds that brought us Il Santino wine bar and Il Santo Bevitore. A small space near the corner of via santa monica and via s.agostino the inside is decidedly 'shabby chic' and the baked goods will impress you. Unlike many bakeries in the city, they bake on-site and offer many different options, I tried their bagels, chestnut apple muffins, bread with cardamom, brownies and loved it all. Plus their prices are good. Stop by, you won't regret it. Light lunch options available too.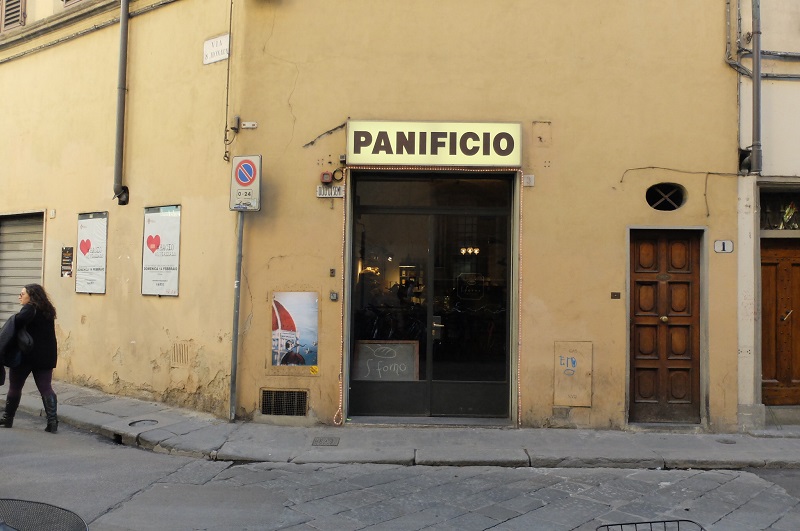 https://www.instagram.com/p/BArCubvRTG5/?taken-by=girlinflorence
Il Santo Forno, via santa monica (at the corner of via S.Agostino and the road that leads to ponte carraia).
Caffè Pasticceria Neri
Just down the street from the Ponte Vecchio on the way to Palazzo Pitti is a tiny pasticceria serving up flasky croissants and delectable desserts that I am in absolute lust with. Seriously we needed a great place to get fresh pastries in this area and it finally has arrived, this is part of the Cafe Neri institution well-known by Florentines on the outskirts of the city.
address: Via Dei Guicciardini 3/5 R, 50125, Florence, Italy. Open 8:00 am – 8:30 pm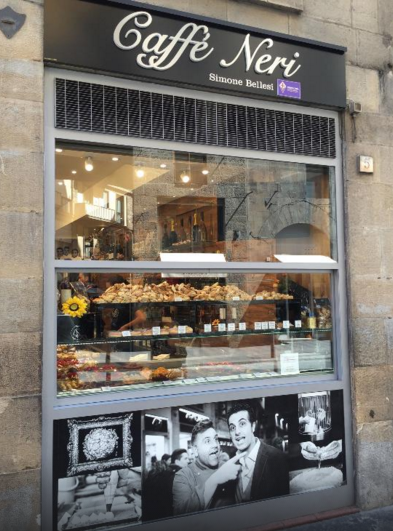 ---
Hopefully I will manage to make a list of restaurant recommendations according to neighborhood in Florence soon. Personally I prefer to visit at least once a year to give the most accurate reflection of service, quality – just because a place has been there since the dawn of time doesn't guarantee that it stays consistently good.
I would love to hear of your favorite spots so share where you like to go close to the Ponte Vecchio!