'Thus one journeys to the stars' is the meaning behind the coolest new boutique hotel in Florence's oltrarno quarter, an aptly named dream hotel for the well-heeled who appreciate contemporary personal touches mingled with vintage design pieces on the picturesque street of via del campuccio. Just peek inside the first floor of an ancestral family mansion that has been brought to life and you will fall in love immediately, the place has been renovated from disrepair and now offers guests a unique feel of staying in Florence, complete with a large 270 meter terrace overlooking the gardens.
I first heard about this hotel from Betty herself, owner, dreamer and calligraphy artist of And Company together with her partner Matteo Perduca – a distinguished lawyer and avid antique collector. It is one of my favorite shops in the city seeking curated gifts with Duomo motifs written out of calligraphy, a place that I never leave without buying something, they have done something that seems so effortless and cool, yet is born with hard work and passion. Because of freelance work writing hotel guides, I have seen a fair amount of places to sleep in the city and this is something special, if I'm honest, even more than many five-star locations in the city.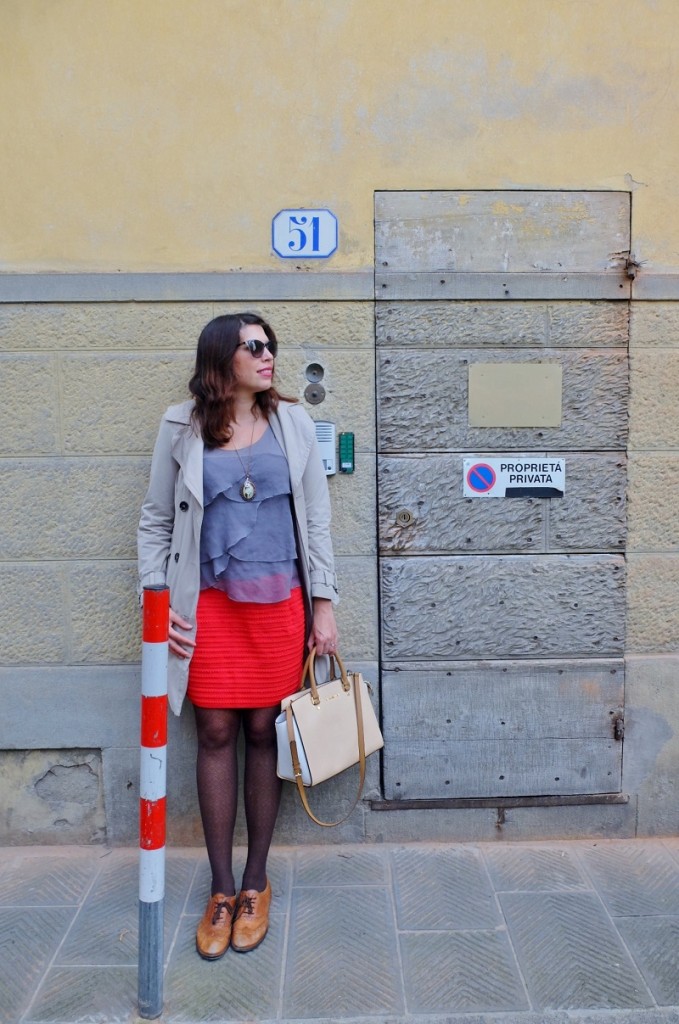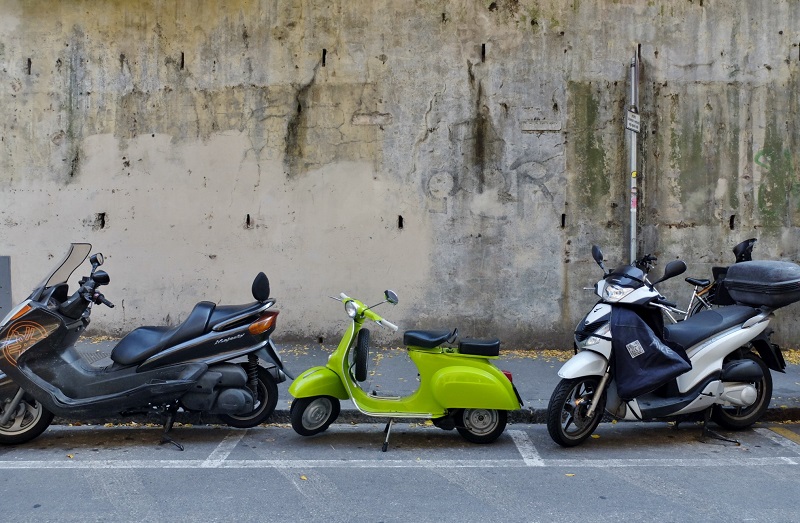 It is worth saying that Betty and her partners opened up just a year before the trendy SoprArno Suites across the street from her shop, with the brand-new Ad Astra being the newest sister property. It is located in Torrigiani Gardens, one of the largest privately owned green spaces in Europe, you enter the garden doors and walk up what is quite literally a red carpet, the aristocratic feeling of coming home for at least one special night (don't worry there is an elevator too).
In my opinion everything Francesco Maestrelli, Marco and Matteo Perduca touch turns to gold, 'reaching for the stars' becomes a true possibility not because of luck or privilege, instead sacrifice, perseverance and experience. What is almost more remarkable is just how quick they were able to make this dream happen. In a country where red-tape halts even the simplest of processes, works started in June/July and the bed & breakfast is now open for business, the second week of November.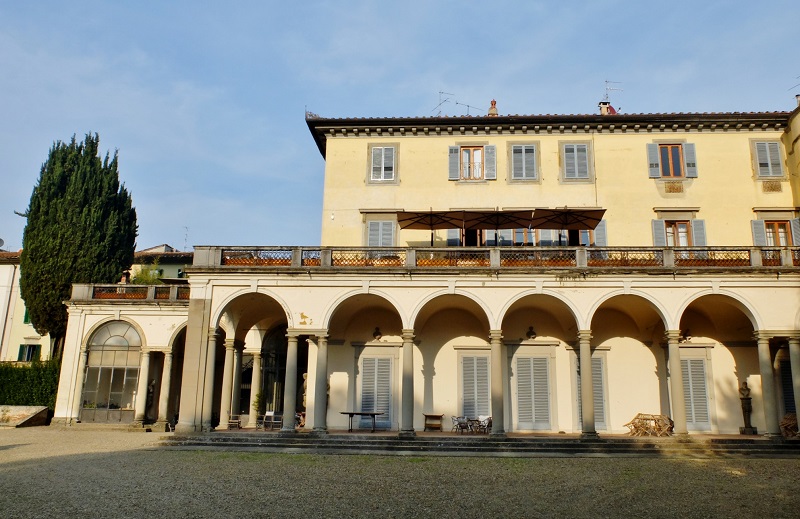 They modeled this property, which is a little different than SoprArno after the concept of the 'hôtels particuliers' a sort of urban mansion escape for aristocrats who craves their personal space on the weekends. Since the property at Torrigiani itself was exactly that, it made sense to keep that relaxed feel for this property. I visited the gardens last year and was taken with this amazing green oasis in the center of Florence which can only be visited by private appointments. I certainly never believed that there would ever be a bed & breakfast here, but if anyone could do it, it would be them.
The common room with gets natural light from the outside terrace, is where guests can have breakfast (on warmer months they can take it on the terrace). The space is decidedly suggestive and I wish I could move in but really, think plush couches and international newspapers. The breakfast bar, (vintage naturally) doubles as a happening spot for a campari aperitif from the honesty fridge. I worked a little using their WiFi (which works) and felt more relaxed than in my own home's living room.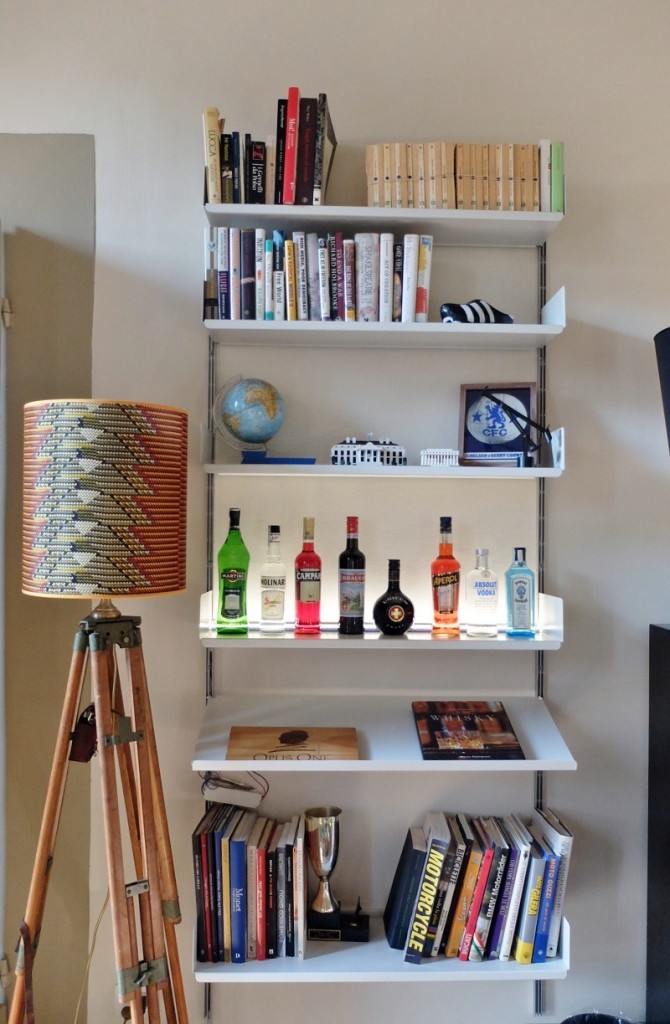 The first seven rooms are located on the first floor with the breakfast and living room and attached to the terrace, while two others are tucked away in a suggestive 'angiolino' in the gardens, a few meters from the main villa. Each room has its own personality stemming from design pieces dating from the 50's – 70's with an anglo-pop flair but they don't necessarily a theme. Walking down the hallway you run into retro purple carpet and neon signage and cool photos of some of the previous noble inhabitants. I also spotted Betty's newest collaboration with artisan perfumery Aqua Flor, a home scent aptly called 'Renaissance' which is present in each room, a waft of classic Florence with every breeze. Every detail has a meaning, nothing is there by accident.
It's the sort of place that reflects the designers, their travels and books – a sort of medley of life that keeps a visitors always intrigued. A wall of framed copies of the New Yorker, or a shelf with plastic snow-globes, an action figure perched upon a freestanding white porcelain claw tub. I found myself looking at every single corner and shelf to see what sort of quirky collection they had displayed.
They also showcase pieces from artists and designers they love they meet from all over the world, like the books and clogs made with black puma paint on dutch wood, homage to Johan Cruyff. Or in the 'art' room (the only one centered around a theme) is actual crates turned wardrobes used to transport previous artworks, with large word stamps covering the wood to show which countries they passed through.
Nico and I stayed this past weekend for one night as a sort of 'staycation' along with Betty, Matteo, Marco and my friends Alexandra and Annie Just walking through the property, we all felt like they slam-dunked it yet again with Ad Astra, not many places like this exist in the oltrarno, and the neighborhood is one of the best. They left each of a little notebook on our beds to tell them any advice we may have and I actually chuckled, there was not one single thing I could think of that could be improved, if anything they should be giving me life advice.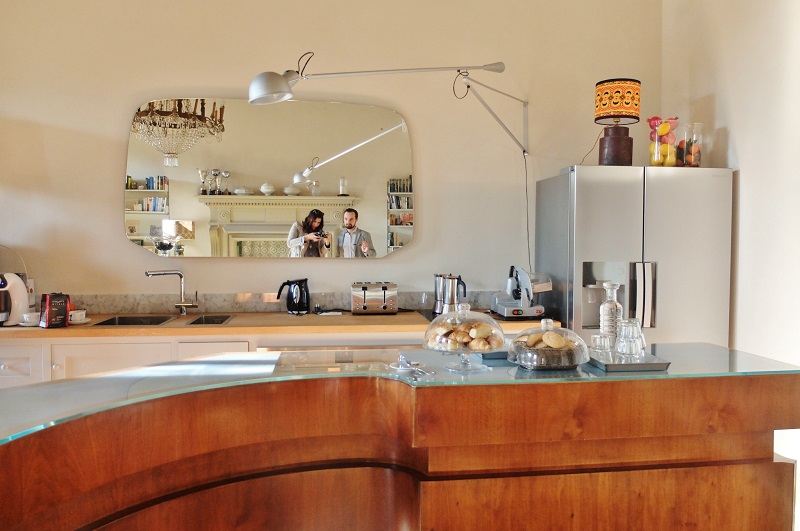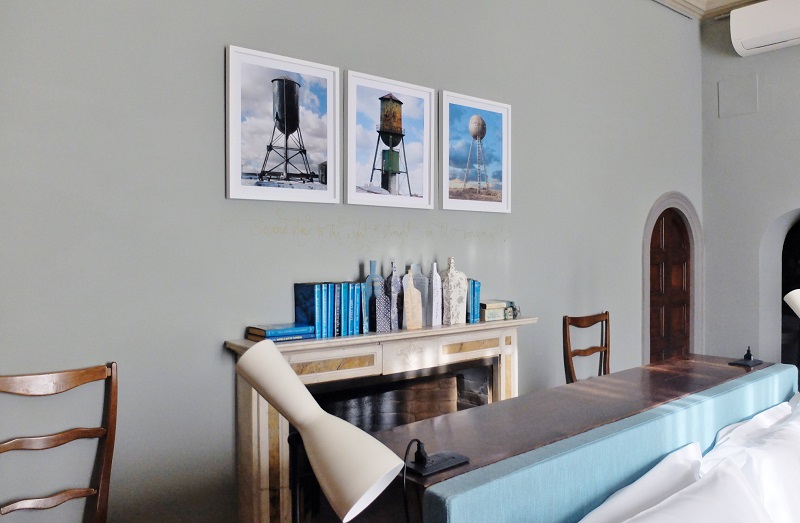 As for the location, it is close to Palazzo Pitti and 10 minutes or so walking distance to Ponte Vecchio, this is an area peppered with artisan shops near santo spirito and one of my favorite squares. Piazza tasso is home to some really great restaurants and a fantastic gelateria with my favorite salted caramel. It also happens to be an area which few tourists visit. I always encourage people visiting to come over here for a walk, lunch or drink before dinner.
Our room was trust #4, beautifully designed with the stand-out star being the floral bathroom that feels like a sort of French chateau turned asteroid viewing point. There was a kettle and coffee machine (hell yah!) with two beautiful cups from Betty's Shop, and paper map cutouts on the top shelf along with more books. Also (and yes I am such a girl) I was so happy to see actual conditioner, albeit from an natural and homeopathic apothecary based in the USA in the bathroom.
Balsamo (Conditioner) is an amenity you often do not see in a bed & breakfast in Italy which is very annoying. Apparently they seem to think we only use shampoo and my hair appreciates this simple addition, I once put olive oil in my hair because I had no other way of curing the dryness from a few days without conditioner. And while I do travel with it, after a few broken bottles in my suitcase, it is always appreciated from a frequent traveler who doesn't love 'bed head' in the morning.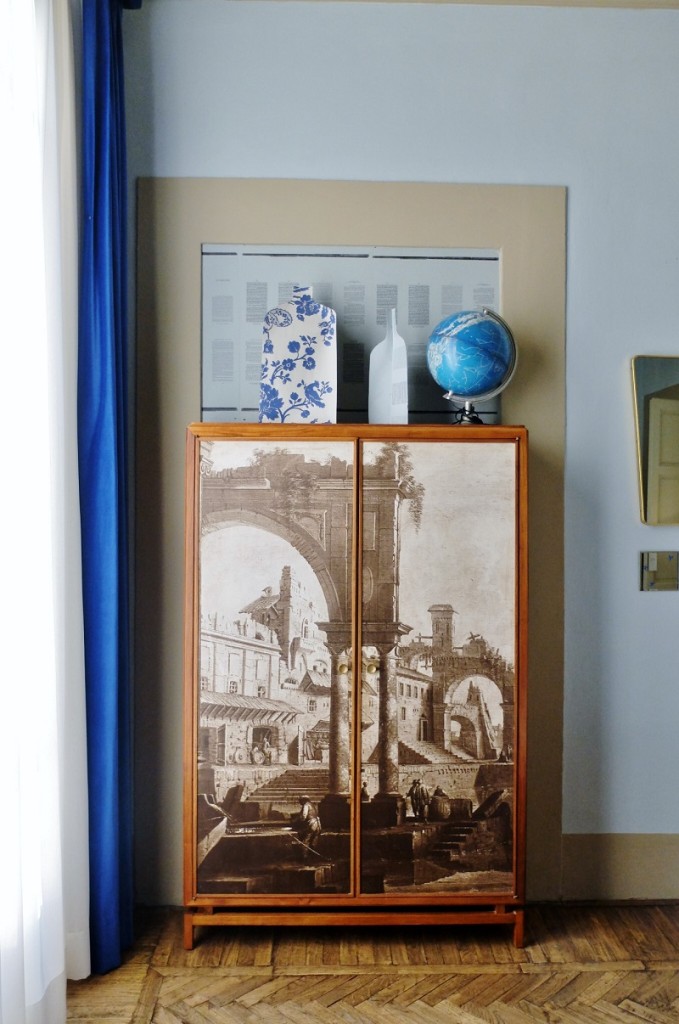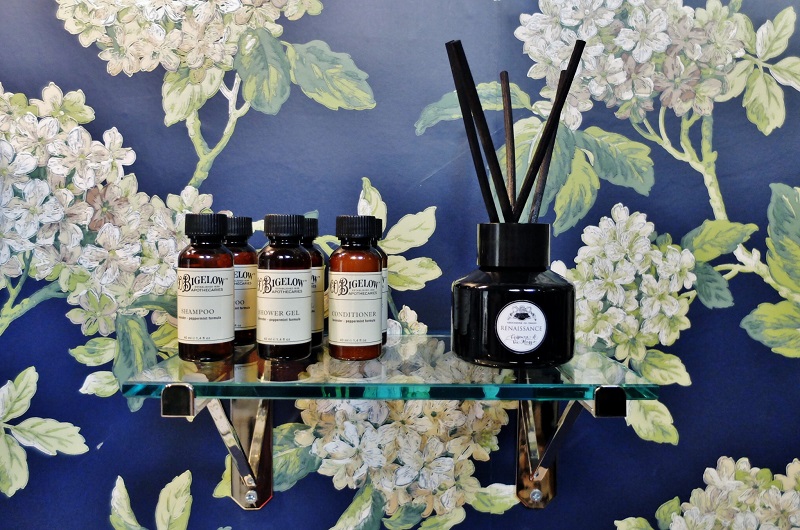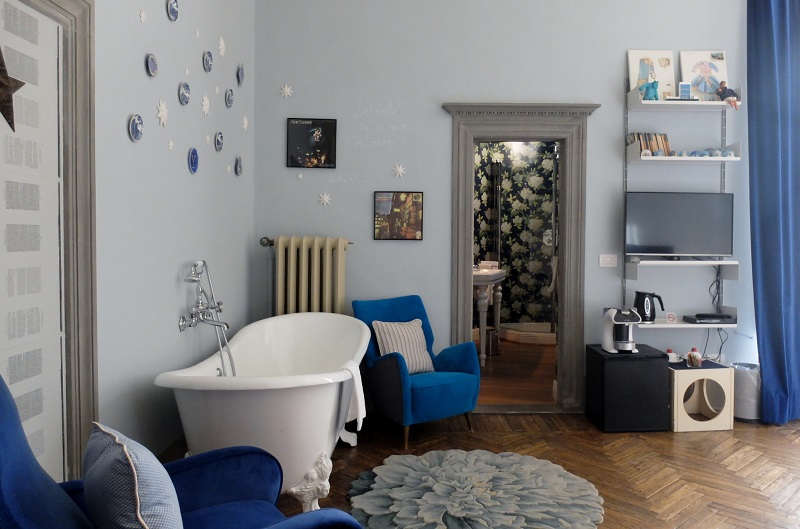 Room rates are a steal at the moment, I'm sure they will be booked out by next spring, but right now you can get a room for as little as 99 -129€ per night, which includes breakfast. In the area there are plenty of finds to love and discover, like contemporary jewelry co-working space Officina Nora and a typical Tuscan trattoria, Al Tranvai in piazza tasso. Ad Astra is definitely the sort of place for a discerning traveler who seeks something a little different and a bit more special. To book a visit of Torrigiani Gardens, you can find all of the info here.
Ad Astra Florence, Via del Campuccio 53, 50125 Firenze
Phone: (+39) 055 07 50 602
Email: [email protected]
Web: www.adastraflorence.com, facebook, instagram