Just when I thought the oltrarno neighborhood couldn't get any better, they go ahead and add yet another reason to make this your base while visiting Florence. The design-friendly SoprArno Suites is a brand new boutique 16th century residence, already fully-booked on a charming centrally located street, via maggio.
I don't often write about places to stay in Florence, I have a page for that, but after seeing this place in person – it would be a crime to withhold the news for such a unique spot in town. This is the best boutique hotel in Florence, and I can say this without qualms because it really is.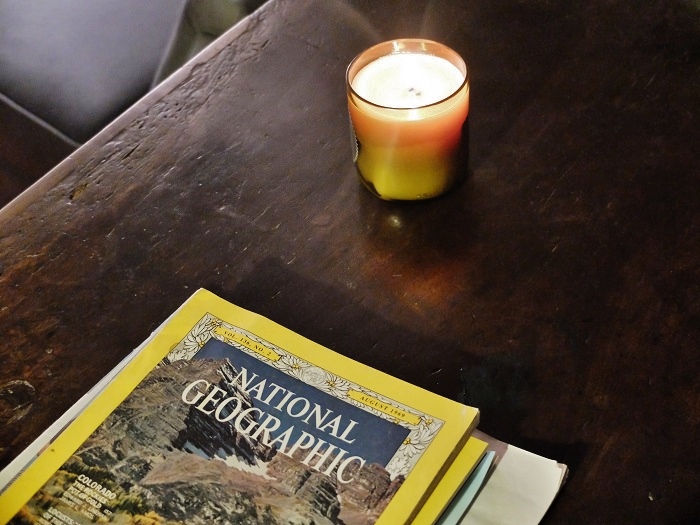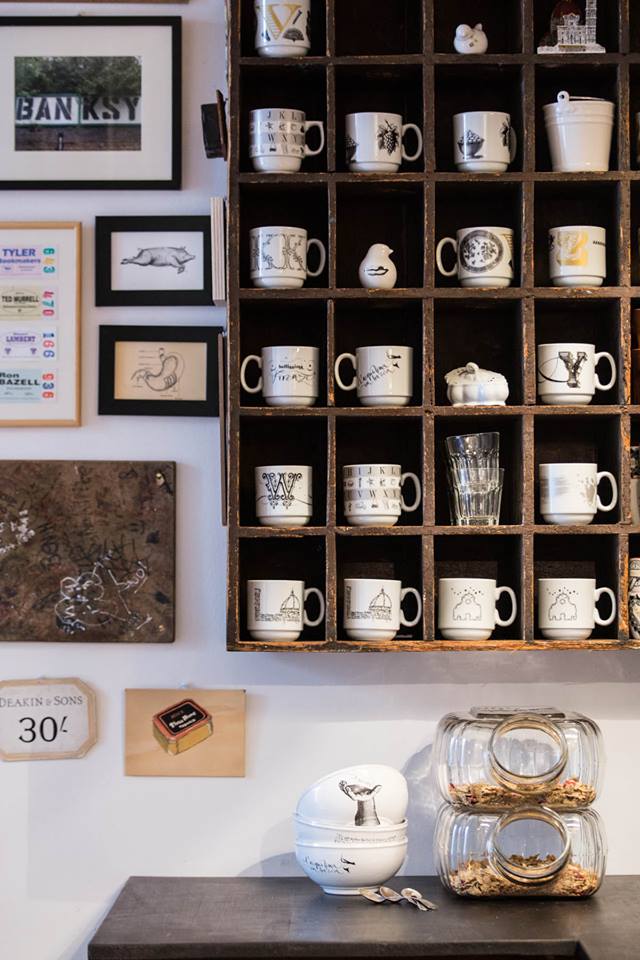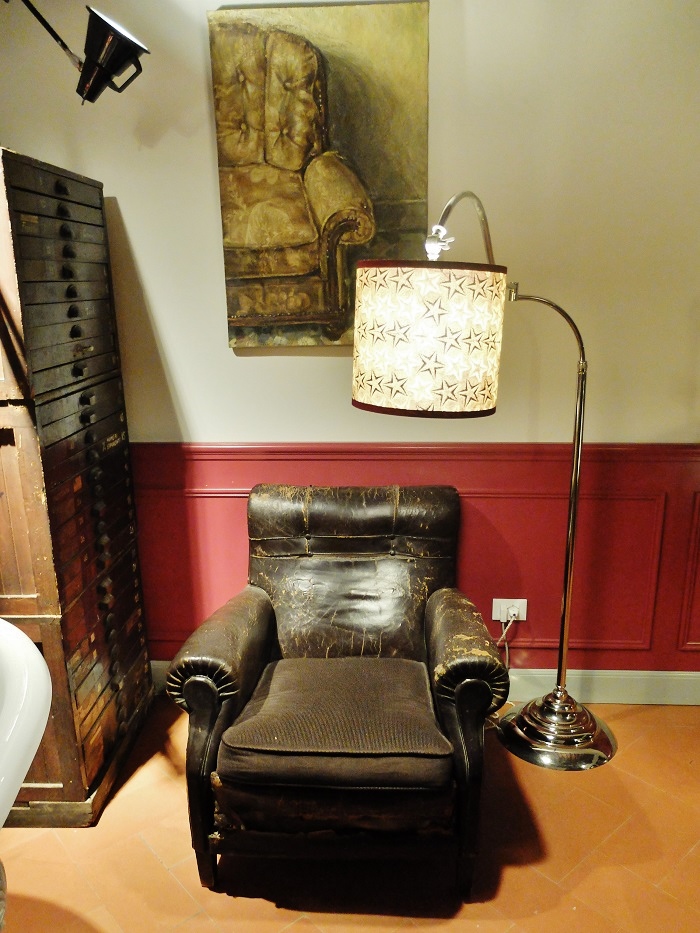 Ps. When I saw the vintage National Geographic in one of the deluxe suites, I nearly swooned. I discovered this wonderful place thanks to Nardia, aka Lost in Florence (read her article here) who together with owner Betty Soldi held a press/blogger 'meet and greet' event last week in the suites.
The first thing I noticed when walking up the stairs into the warm, lovely central room was that it didn't necessarily feel 'new'. As Nardia said, the 'new car' smell of a place freshly opened just didn't exist, instead it felt like it has been here for years, and that I just didn't know about it. Bookshelves galore, interesting wall art and hints of Betty Soldi's calligraphy make the place a very sheek place to temporarily 'call home.'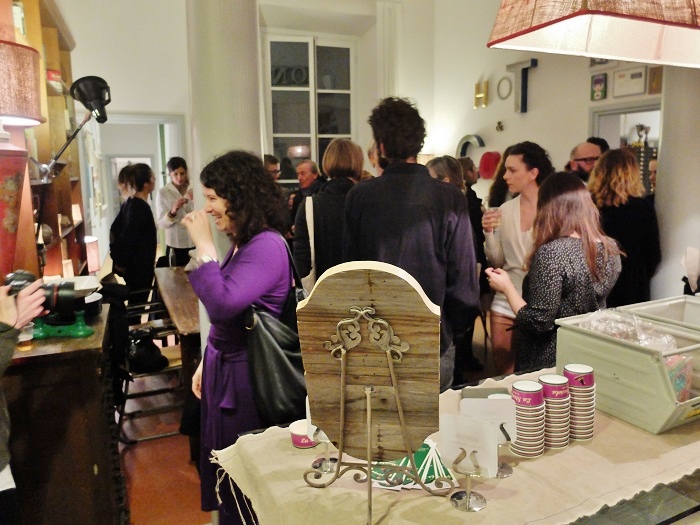 I knew this place was going to be cool because I am in love with Betty Soldi's calligraphy and design studio across the road, And Company. Her store is the kind of place for truly special 'made in Florence' one off items that would make the perfect Christmas (or for yourself) gifts. SorprArno suites is the lovely brainchild of both Betty, architect Francesco Maestrelli, and Betty's lawyer partner Matteo who also collects antique furniture and artwork. Their heart and soul have been put into the property and it shows.
As Betty put it "Everyone had their role and was great at it, in this way we were really able to create something special" 
You can feel how much detail and attention they put into this place. Everything has a story, each room has a theme and there is no 'kitschy' Florence vibe or stuffy, lack of personality. I like when places have a 'touch' of where they are located (like an ancient map of Florence) but that don't look resemble a cheesy postcard. Personally when I travel, besides apartment stays, I really keep an eye out for boutique design hotels like this, a mix of luxury and comfort that doesn't break the bank. This one hit the jackpot, and anyone who stays here would feel that.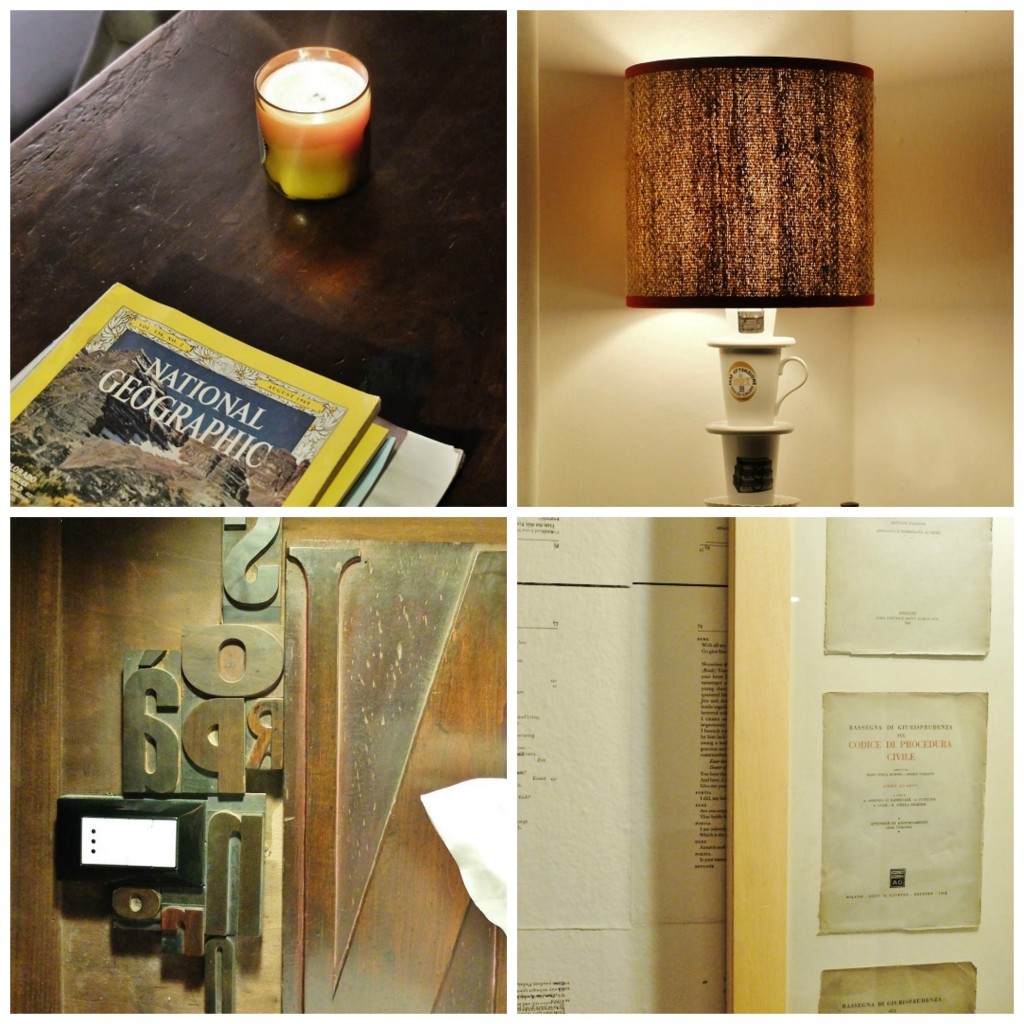 Spread out over two floors, with eleven rooms ranging from standard to deluxe – this space previously was home to the offices of Italian newspaper La Repubblica and a digital subtitling company. Of course they redid everything, keeping certain details like a frescoed ceiling, the interior design is peppered with unique pieces from Betty's shop, Matteo's antique finds, all with an eclectic, clever beat.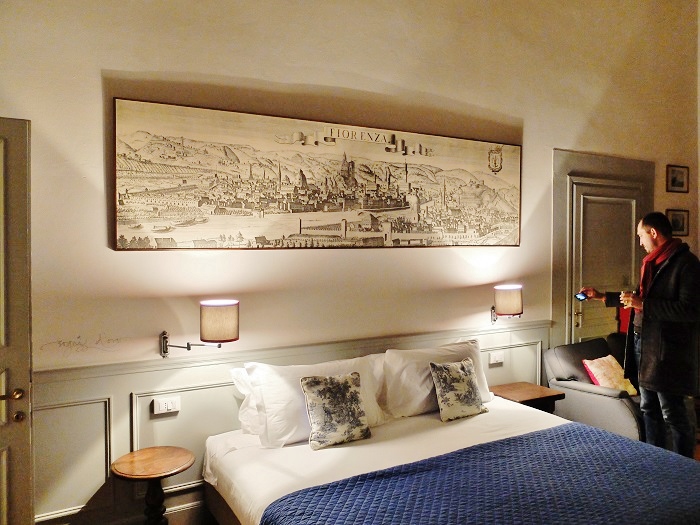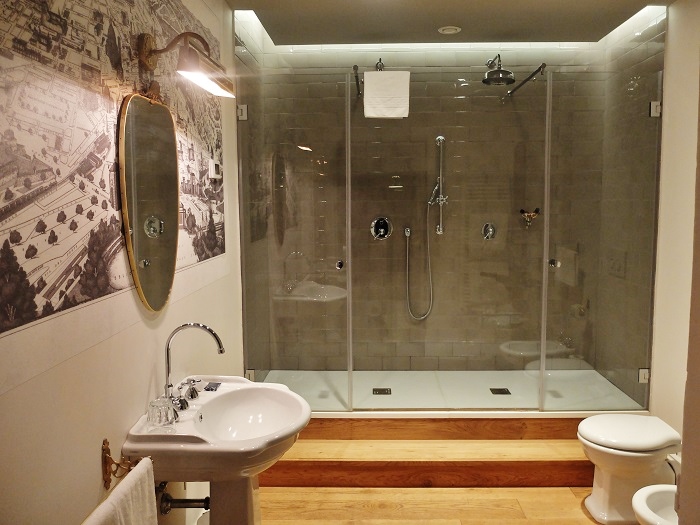 My eyes didn't know what to focus on first, on Matteo's cleverly 'designed' McDonald's cardboard boxes covered in fine, Florentine paper or a 'Hot & Cool' sign with Michelangelo's David peering out at us all in the very cozy breakfast room.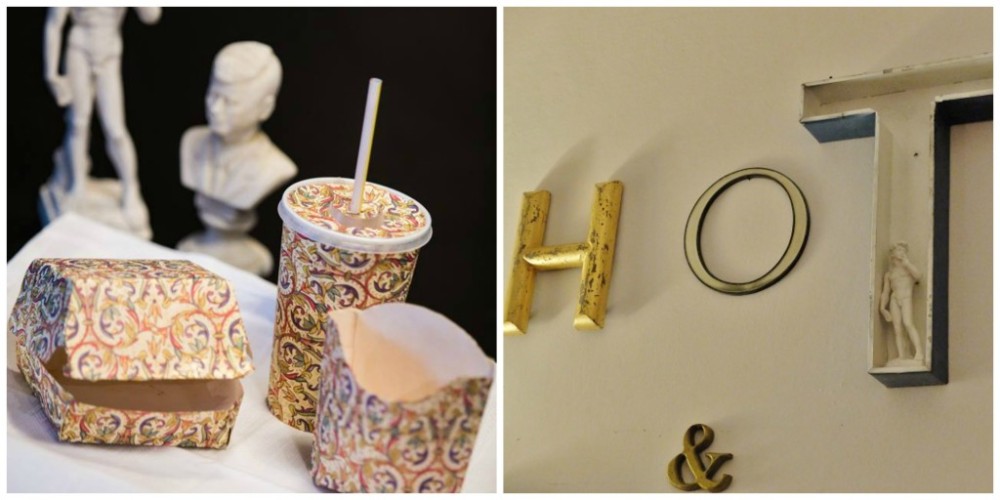 There is even a room dedicated to Marvel comics, and I especially adored the dark-wood deluxe room which would be a haven for lovers of typography. Several of the rooms also have free-standing tubs (which of course I jumped in, oo la la!), directly inside the suite.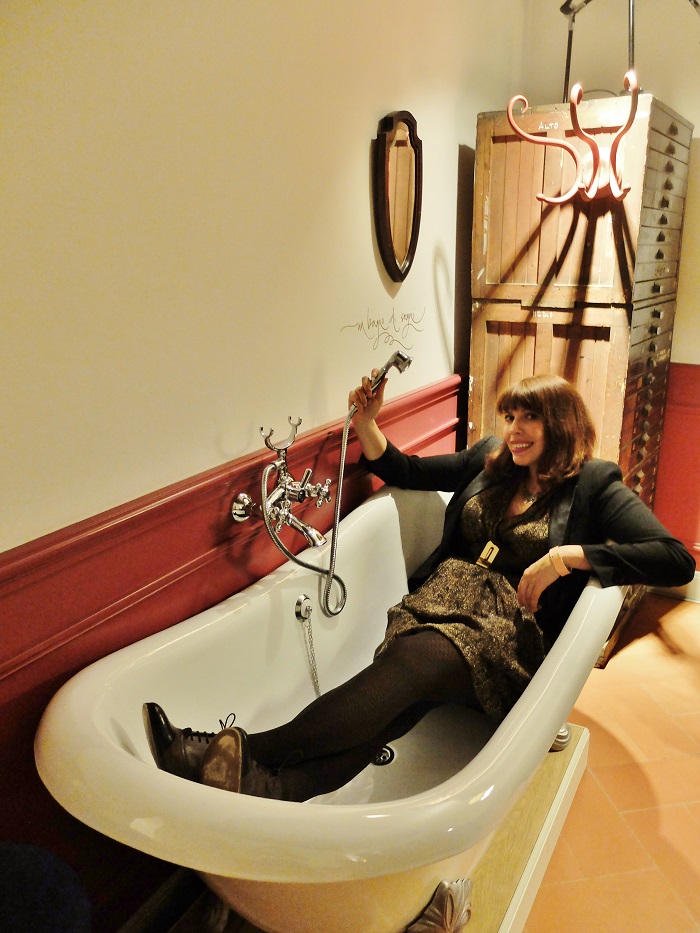 Splish Splash, I'm taking a bath (trust me, I thought about it)
In the cozy reception area, I spotted shelves of dvds with dvd players and remotes available for guest use. Breakfast is included with the room rate and they have free WiFi. Speaking of breakfast, we snacked on some of the best cantucci (Italian cookies) I have ever had, from Pistoia – in fact I liked them so much, I am pretty sure I'll need to daytrip it up there just to visit Fratelli Lunardi to see exactly what drug they are hiding in those amazing, little treats.
I couldn't help but take a photo in one of the gorgeous mirrors, below a lovely phrase written with Betty's calligraphy "bathroom of dreams", As we toured the place while sipping wine, I marveled at the gorgeous 1960's furniture, oven with a swivel door and something I wish I could have in my own apartment. One of the showers looked like it could comfortably fit a group of five where we even spotted a marble sign marking the level of the flood from 1966.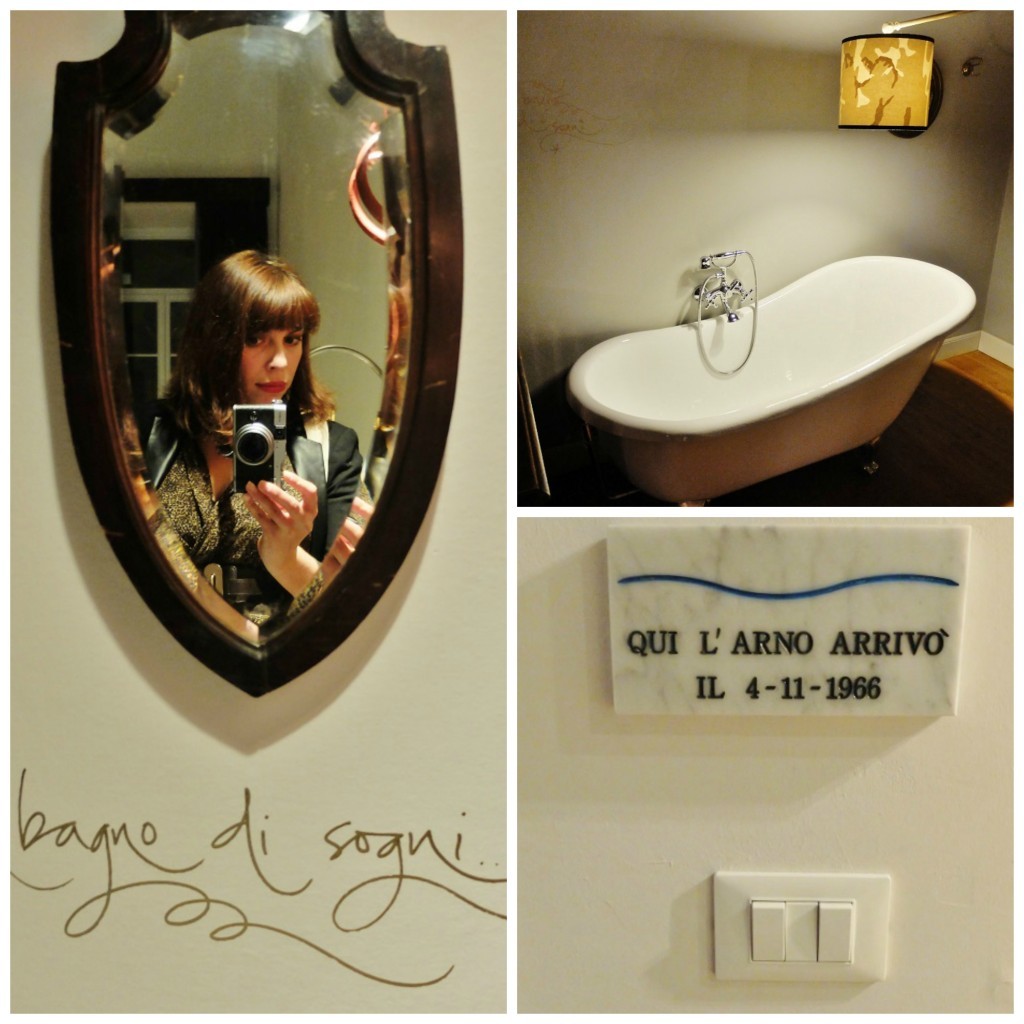 I took a look at the website and prices are very affordable, especially when you consider the quality of the rooms/service/location. From via maggio, you are within walking distance to most major sites in Florence and a hop, skip & a jump away from the Ponte Vecchio and my favorite square in town, piazza della passera.
---
SoprArno Suites
Via Maggio 35, email. info@soprarnosuites.com I Tel +39 055 0468718. Website