One of the things I love about Florence is the many creative people – and especially creative women – that I meet. You've "met" a lot of them through my series "locals I love" – people like jewelry artisan Martina Lončar, artist Elizabeth Orchard, wine club creator Shannon Quinn Fioravanti, and local tour guide (and a good friend) Alexandra Lawrence.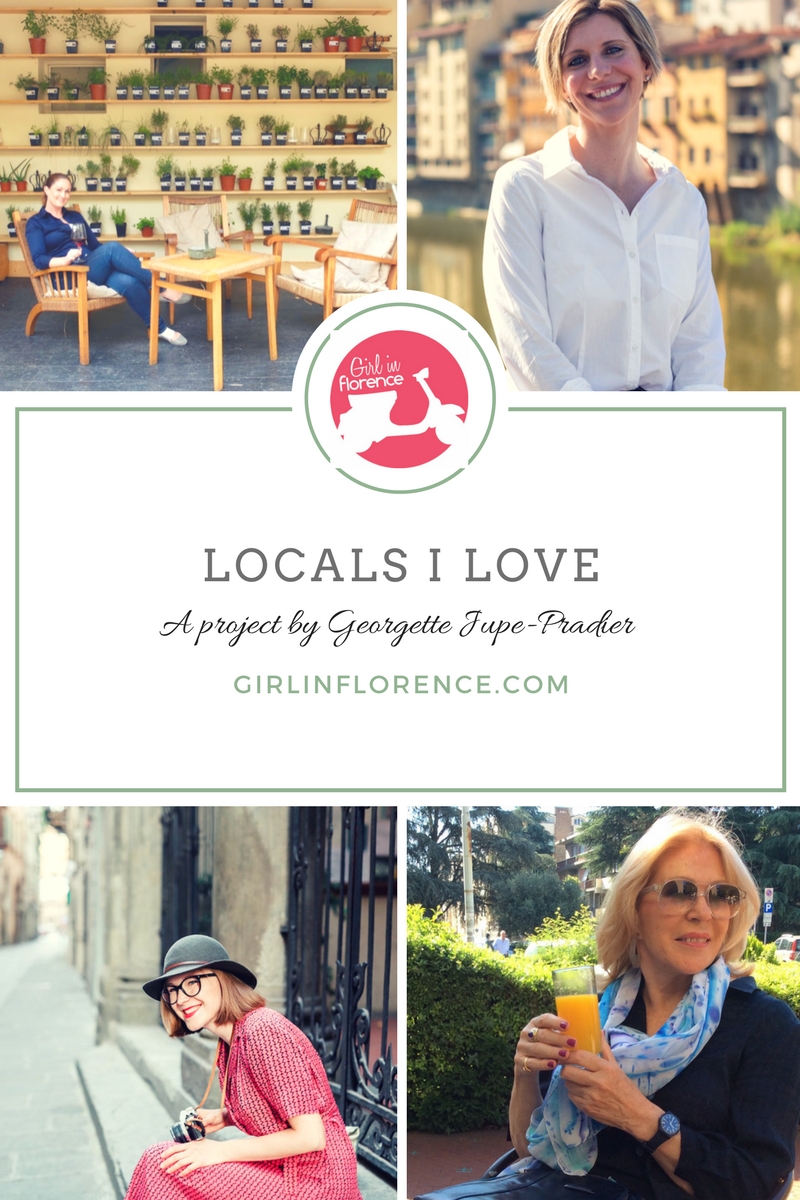 If today's Florence is full of creative women, what about the Florence of the past?
The "Renaissance city" is known for its excellence in the arts, but I think we'd all be hard pressed to name just one "creative woman" from the Renaissance period. Maybe Artemisia Gentileschi, thanks to the relatively recent books and movies about her. That is because while there were noble women who commissioned art, they were banned from joining the guilds that made them artists. Artemisia was in fact the first woman who was allowed to become a member of the Accademia of Arts, but before here there were a few women who painted or did "decorative arts". Just that for the most part we don't know their names, which quite frankly sucks.
Can you name five women artists?
My favourite artist is Rachel Whiteread! She's a super awesome sculptor/ caster!?
https://t.co/CqVLngtMKx

— Christina Farrant (@farrant_c) March 1, 2017
One name we do know is Plautilla Nelli. She was a nun artist who was part of a convent located in Piazza San Marco. She joined the convent as a teenager, where her sister was already a nun, and it seems that this convent (dedicated to Santa Caterina) was a place where nuns made terracotta figurines and other decorative things. Being at the heart of Florence and with more liberty than we tend to think is possible for nuns (as this was before the Reformation that imposed clausura i.e. really not going out), Nelli had access to the great artwork being created around her, as well as to some prints and drawings that circulated or that were part of the convent's collection. And so here, she taught herself to draw and paint. Nuns were allowed to sell their art, and Nelli's paintings were very much appreciated, perhaps for a "devotional" feeling they imparted due to her religious calling. Her paintings sold so well that she build up a workshop with the other nuns and they made enough money to keep their own convent going.
Nelli is one of the three female artists cited by Giorgio Vasari, the guy who wrote The Lives of the Artists, and he says that she "would have done great things" if she could have studied as men could. This March, Nelli is getting her due through two important initiatives in Florence that I think let us see that, all things considered, she really did do some great things!
On March 1, the Advancing Women Artists Foundation, an American non-profit that supports research and restoration of works by female artists in Florence, has launched a crowdfunding campaign to pay for the restoration of Plautilla Nelli's most important work of art. It's her masterpiece, an absolutely huge Last Supper that she painted for her own convent.
You can imagine Nelli and her sister and the other nuns sitting underneath this 22 foot wide painting of Christ and his disciples, eating a sumptuous dinner. Maybe they ate some of the things pictured in this painting: there is a big bowl of green salad, typical of women trying to watch their diets! And fava beans with leaves, hunks of salt-free Tuscan bread… There is a big roast lamb in front of Christ which looks kinda like a sleeping animal, and who represents "the sacrificial lamb". Of course there is also red wine at this table, which everyone drank instead of water. Being a nun doesn't seem bad at all!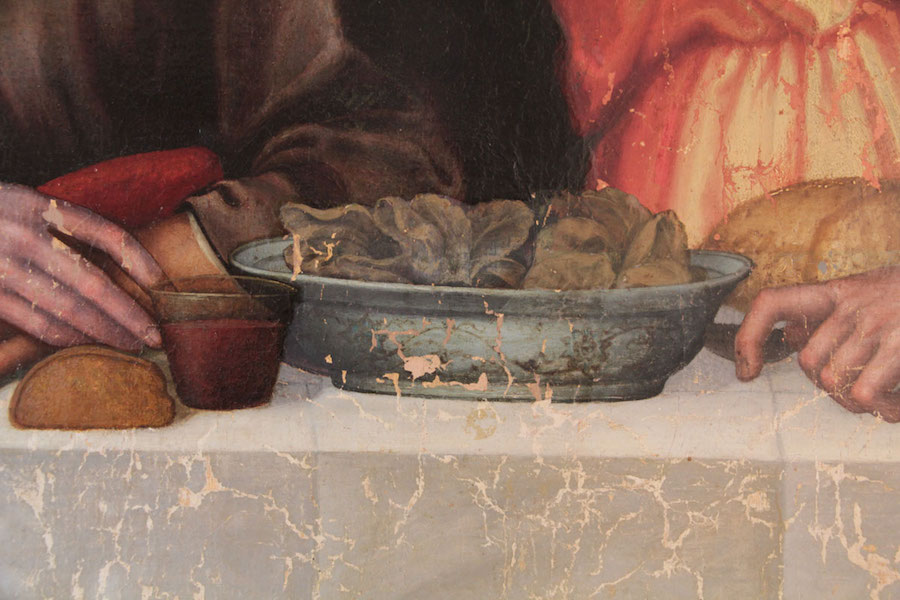 This painting was in the nun's private dining room, so nobody ever had access to it until the convents were closed under the rule of Napoleon. The convent was destroyed, and the painting was taken off its frame and rolled up, paint on the inside (ack!), and put into storage for about half a century before it was moved to Santa Maria Novella, where for the next hundred years or so it was placed above the dining table of the monks' private refectory there. And so also here, nobody ever got to see it, though it was known to the small group of researchers who have been studying Nelli since the 1990s.

AWA has taken on the restoration of this painting, which lost a lot of paint while it was rolled up. It had been fixed up with "in-painting" and covered in a varnish that has turned yellow, so it doesn't currently represent the beauty that it could if it were brought back to Nelli's original intention, which is what they are trying to do now.
The campaign on Indiegogo will run from March 1 to April 16 (Easter Sunday!) and they hope to raise $65,000, but also, they hope that Nelli will become a household name thanks to this visibility. There are some really nice rewards for the donation, including pendants made by super awesome bespoke jeweler Nerdi Orafi right by the Ponte Vecchio, tickets to the Medici Dynasty Show (which my friend Alexandra Korey has written about here), and even a weekend stay at Hotel Savoy, one of my fave hotels in town.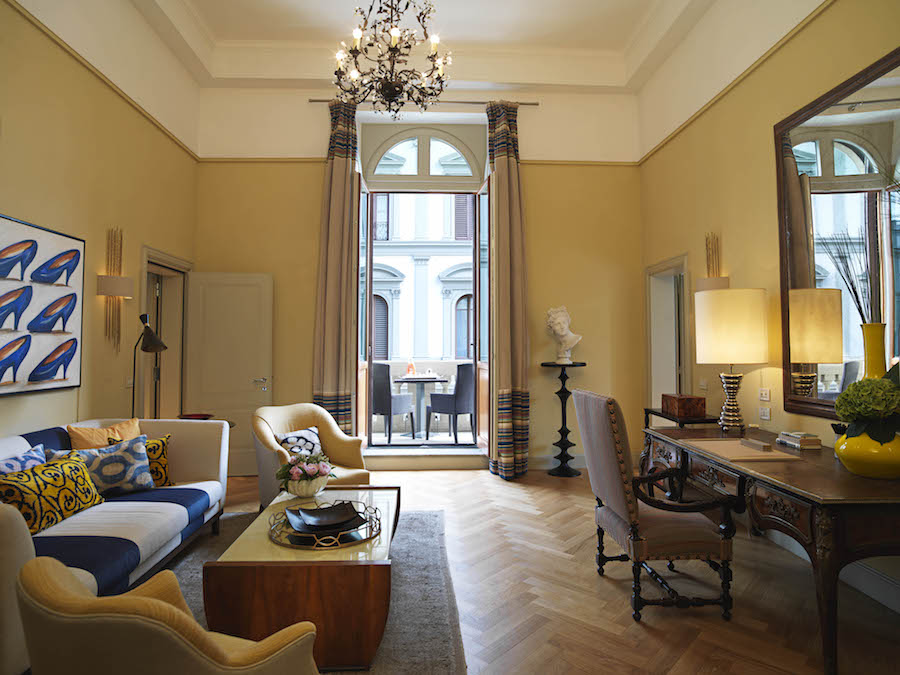 AWA is also involved in restoring works of art by Nelli that are going to be part of an exhibition at the Uffizi Gallery that opens March 8 (International Womens Day) and runs until June 4. (It is free for women to see it after 2pm on March 8!) The show is part of this museum's new dedication to spotlighting women artists. This is the first monographic exhibit about Nelli and it promises to open up research and scholarship as well as, we hope, public appreciation for what this woman did.
I think what is most interesting about Nelli and women like her if that if we think about what it was like to live as a woman in 16th-century Florence, it must have been a huge challenge to pursue an artistic career. We take for granted today that we are equals, and that we are big and strong and can do almost everything that men can (except maybe bench press 200 pounds, but there are women who do that, too). Women 400 or 500 years ago were physically smaller than we are (especially compared to me!), and very much limited by society that dictated what was appropriate for our gender. We forget, but it was like this even 100 years ago. Nelli must have been a brave woman who very much loved her art in order to pursue this career. If in 2017, we are still women having to overcome bullshit hurdles at work (I'm looking at you Uber), just imagine how it is was then. And even more so to make works like the Last Supper, the sheer size of which must have been a very daunting task!
Learn more about Nelli, a pioneer from the past, and please get involved in #TheFirstLast: theflr.net/nelli-crowdfunding and read this blog post by my friend ArtTrav!
ps. If you get the chance, check out her work Lamentation with Saints (in the large refectory, San Marco Museum, restored 2006).