It's funny how you can live in a city for almost 10 years and have a variety of friendships that span that timeframe. I think it has something to do with living in a place that is a bit transient at times. Of course I am not referring to the Italian community, even though plenty of people come from all over Italy to work in Florence too, but more our international group of friends. People come here, are passionate about life here and yet quite often leave. Typically because of the lack of true work opportunities and it's completely understandable. I know it's happened to Shannon quite a bit too, my latest locals I love and also a long time lover of Florence.
We met year's ago, I want to say make five or six, likely a different place in life for us both. We became friends more recently, creating a fun "girl group" (no Spice Girl's references, I promise) that I greatly value as there is nothing you need more while living abroad that a truly wonderful set of friends. In your twenties it's enough to have drinking and brunch buddies, they come and go in places like Florence like the feirce tides of France's Brittany. In your early thirties, what connects you are true, common interests and respect for one another — to be perfectly honest, you don't want to have to try as much as when you first came. An ideal night in might include having a laugh and eating far too much fried chicken (her fault) while we chat about work, relationships, society. Shannon is an Orange County, California native who is married to a Florentine with a cheshire cat-type smile, both part of one of the best wine bars in Florence, Enoteca Pitti e Gola. She agreed to be my latest victim interview about life in Italy, working with your husband and gives me us valuable tips on top producers she adores.
Name: Shannon Quinn Fioravanti
Nationality: American
Profession: The Wine Club Director
Favorite Drink: There is little in life a truly great gin and tonic cannot cure
Ciao Shannon, share with us where you grew up, your previous career and how you came to be in Florence, Italy
Ciao Georgette!! I was born in Laguna Beach, California and raised within a fifteen mile radius of the hospital I was delivered in. At 15 years old I got my first job as a hostess in the little harbor restaurant my family had been eating in for years. From there on I worked in restaurants and hotels, and always loved the food and beverage sector.
My stateside career before making the jump here was as a Catering Manager for The Surf and Sand Resort. I sold and serviced social events, my specialty being wedding coordination. It was an influential job for me where my boss became my mentor. She taught me so much and I would never have been able to achieve everything I have here without my time working for her. I came to visit my sister in 2009 who was living here with her husband and, at the time only 1, little munchkin. They took me to their favorite wine bar around the corner from their house and the rest was history. I've been a "lifer" ever since!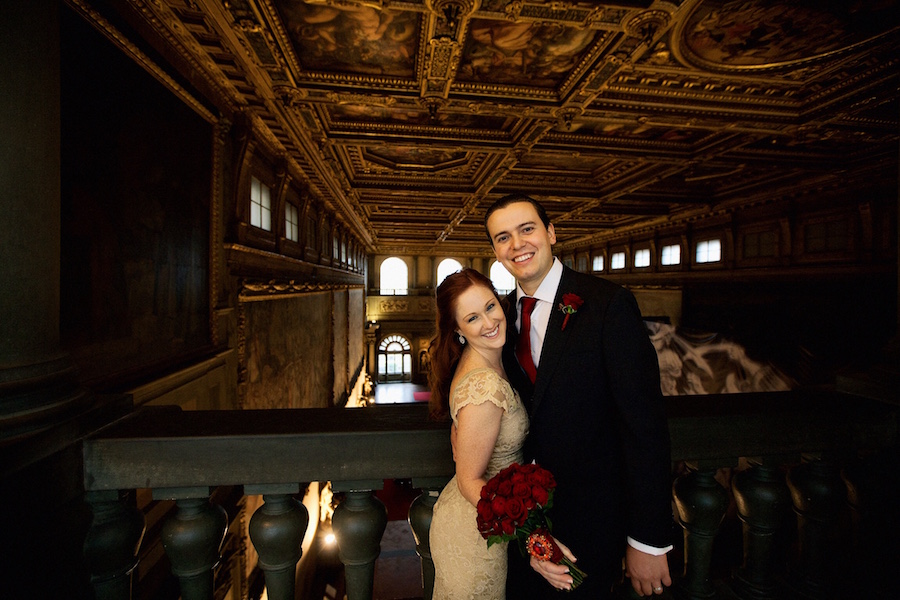 What do you do for work and for passion in Italy? Tiger tamer – artist, dog whisperer?
I am the Director of The Wine Club for Enoteca Pitti Gola e Cantina
Can you tell me a little bit about how Enoteca Pitti Gola e Cantina came to be and your part in it all?
Pitti Gola was born on New Years Eve of 2008. My husband, Edoardo, bought the wine bar from its previous owners with his 2 partners Zeno, who is his brother, and Manuele, who may as well be family. The guys started with the desire to feature wines from small, high-end, traditional, Italian producers. They have stuck to that criteria, not followed what was hot or in the passing phases of wine.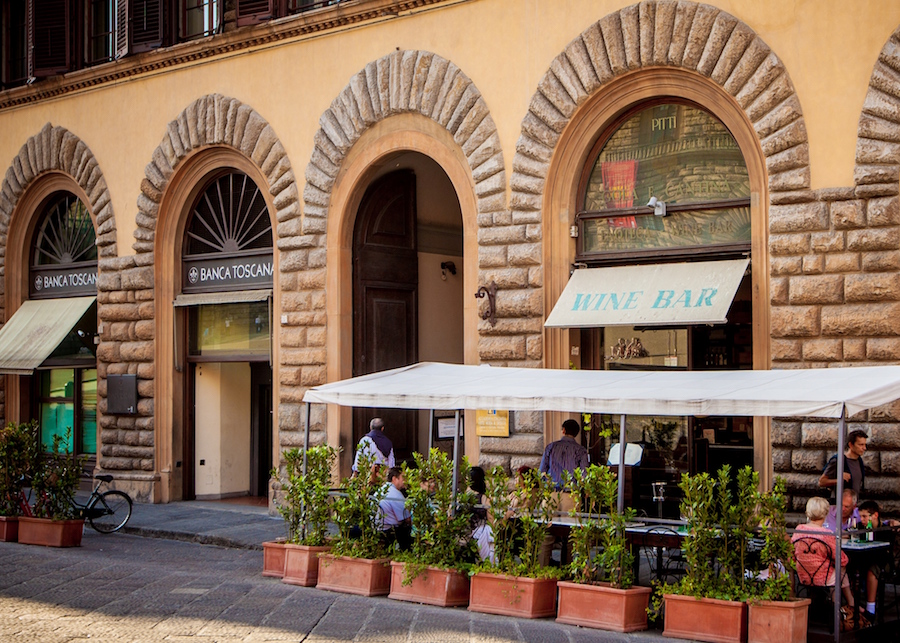 They wanted to curate a list of wines they themselves love to drink and serve them to people who they could share their knowledge and passion with. This philosophy has worked for them and it is part of what made me fall in love with not only my husband but also the company. Since the selection of wines are so very specific we had many clients who asked us to create a mixed case and ship it home to them. In 2011 with the support of all 3 guys I decided to launch The Wine Club and officially became a part of the Team.
I gotta ask, what's it like to work with your husband? Any advice for couples doing the same?
Working together is not for the faint of heart, but it really works for us. The nature of our job means that we work long and off hours from a standard 9 to 5. If we worked separately we would likely never see each other. We both truly respect each other for our talents, skills and abilities in the work place too, that's invaluable. Sometimes its hard when were busy with work to take the time to say, "OK were not at work, I'm your wife now" but we try to make date nights happen and that helps. We also tend to get over fights pretty quickly. We disagree, were human but we don't tend to hold on to it for long or drag it out.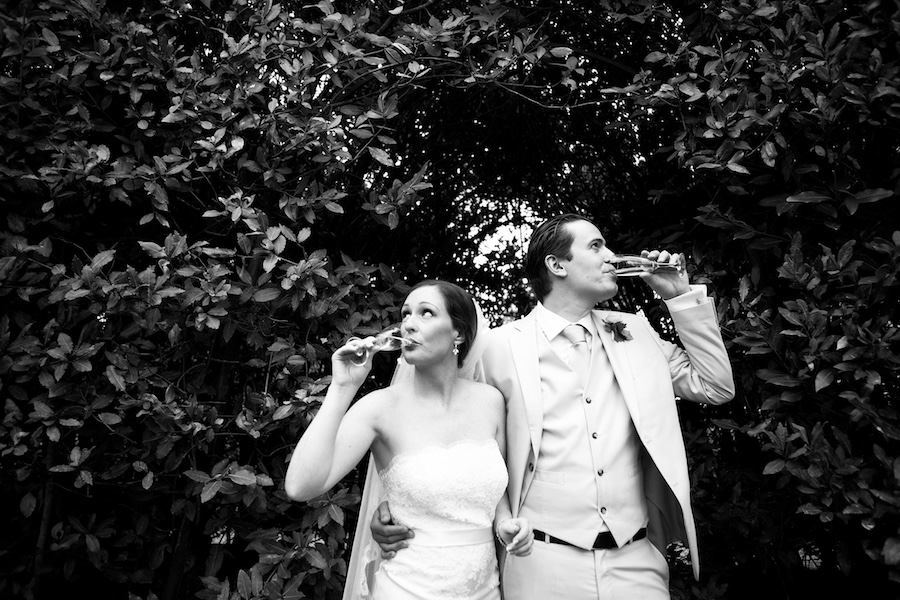 You started the wine club at Pitti Gola from scratch which is pretty friggen awesome if you ask me. Tell me what inspired you to do this and how you've grown this project.
Thanks Georgette! You're pretty friggen awesome yourself lady! The Wine Club was born out of a need.
Our clients loved the type of wines featured at the bar, loved hearing about who makes them, how they were made, and in the end had a hard time finding them once they got home. I bought a color printer, created a sales kit with an exacto knife and a contract with the legal help of a few friends. In 5 years we have grown to the point that this is my full time job and career.
We have an incredibly high rate of clients who have signed on and stayed on since the beginning. We pick wines we love, that still are the small producers with traditional techniques that people love to drink when they come into the wine bar. I put together the packages and write about each wine. I always felt like wine can be a kind of elusive beast and we try to make it warm, welcoming and unintimidating.
You pick up a bottle, with many things written on the label… but who made it, why and how. That is my favorite part of my job. I get to breathe a life into these wines before people even open them. I get to tell them about the family, who they are and why they love their vines and their wines. I get to explain what made us fall in love with this wine and why they, the client, should too. I adore when people write me or come back into the wine bar and ask to drink a wine they remembered they loved by recounting the story back to me. I couldn't be prouder of how The Wine Club has grown and look forward to the years to come!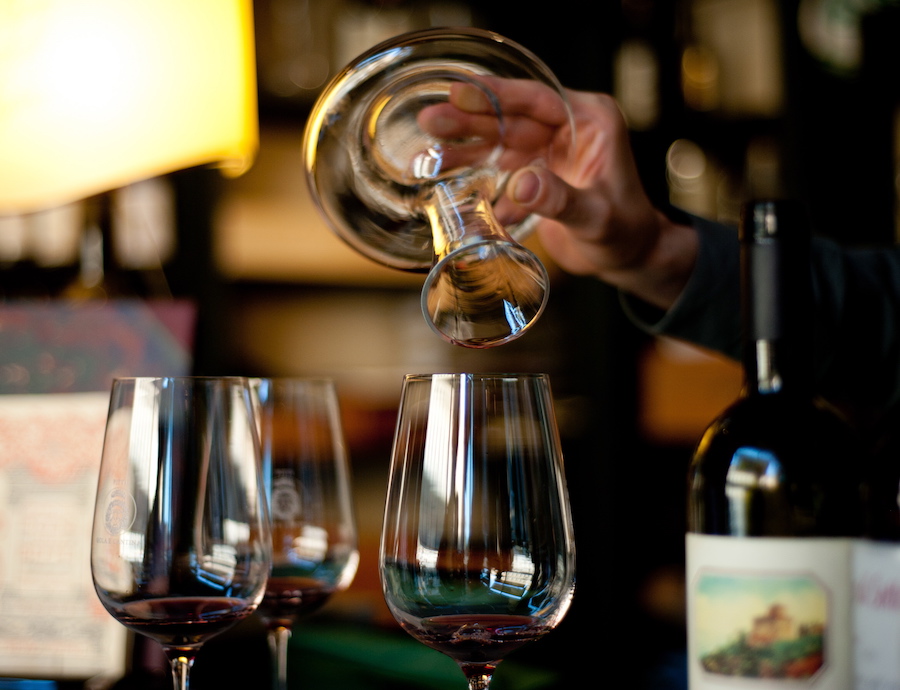 You should truly be proud of yourself, starting anything isn't easy especially here and clearly it's a hit! Since you know more about wine in Italy than me, can you share a few favorite producers with me today and why? When you've had a long day, what do you crack open?
Oh man I could go on forever with producers here who have captured both my taste buds and heart! I'll break it down to a few in different areas:
-Fattoria di Rodano in Castellina in Chianti makes a Chianti Classico Riserva called Viacosta. It is this incredible single vineyard wine that is made with such love and care by a family who are so passionate and proud of what they do. It is a fantastic example of how refined and elegant a well made Chianti can be.
-Azienda Agricola Le Ragnaie in Montalcino has a single vineyard Brunello di Montalcino Riserva called V.V. for Vecchie Vigne, which means "old vines". The vines span in age from 30+ years old and create a uniquely complex wine. The owners are dear friends and watching them receive all of the recent acclaim for their years of hard work has been so wonderful to see.
-Cascina Roccalini in Barbaresco makes a Barbaresco that is, no joke, addicting. I'm pretty sure my husband began hiding the deliveries from me so I wouldn't deplete the supply!
-Azienda Agricola Colline Della Stella in Franciacorta is run by the young, determined Andrea Arici. He makes a Franciacorta DOC Dossagio Zero, which means that there is no additional sugars added after the second fermentation in the bottle. His wines all have super minerality and character that truly speak for themselves. It's a tiny production, his are truly hand crafted wines. Bubbles are always a good idea, right?
Oh man now I'm thirsty! So after a long day what do I pour myself a glass of? I live in Tuscany where the grape Sangiovese is King and I love it, I do… but by heart belongs to Nebbiolo. I'm going to get in trouble by some for saying so but its true! Nebbiolo is the grape used for many of the great wines of Piemonte; Barolo, Barbaresco and of course a Langhe Nebbiolo. These wines are generally lighter in color yet are not to be underestimated. They are fully packed with complex aromas and flavors. Personally, Nebbiolo holds down its reign as Queen like a boss.
Thank you! This list in invaluable! What annoys you about Italy? Feel free to be as open as you want.
Well I'm American so I'm from the land of convenience. I miss convenience big time. Everything in Italy takes 2 more steps and a side of bureaucracy to get accomplished. That can lead to me beating my head against a wall while Paula Abdul lyrics run through my head.
Top three questions that you hate visitors or clients asking and why?
Humm…. hate is a strong word but these ones certainly test my ability to keeping a straight face.
-It irks me when people come in and try to make talking about wine a snobby or competitive kind of experience. Wine is made to be enjoyed, and it should be enjoyable to all. The wine that I like might not be the wine that you like, that's ok. The 20 euro bottle might really do it for me and the 300 euro bottle might not be my style, that's ok. When someone starts a conversation and is just "putting on airs" I find is super ridiculous. Its goes against how I feel about wine and how I hope we make our clients feel about it too.  It's the warm and fuzzy feelings not the cold and intimated feelings were going for here.
-The wine bar in located almost dead center of Piazza Pitti and I couldn't tell you the number of times people have asked what the Pitti Palace is, if it's a mall or shipping center was a winner. I've been aggressively told I'm wrong many times that the Boboli Gardens are certainly not in there, certainly not they're gardens you know green.
-As a wine bar, wine is at the root of everything we do. We serve water and wine for beverages, that's it. Its what we do best so we stick to it. We have a limited but very special menu of antipasti and primi that are chosen to compliment the wines, not the other way around. Everything is designed to enjoy wine. People come in everyday for a coffee, beer, steak, pizza, salad, bus ticket, etc. Its no problem to explain we don't have those options and to recommend a place better suited for them but people get aggressive about it, like why, why not? Out of love for us and our daily struggle with this topic a client made and sent us a sign which is now in our window and says, "No Acqua, Solo Vino" "No Water, Only Wine" We love the joke, even if were the butt of it, and the hashtag is a hit!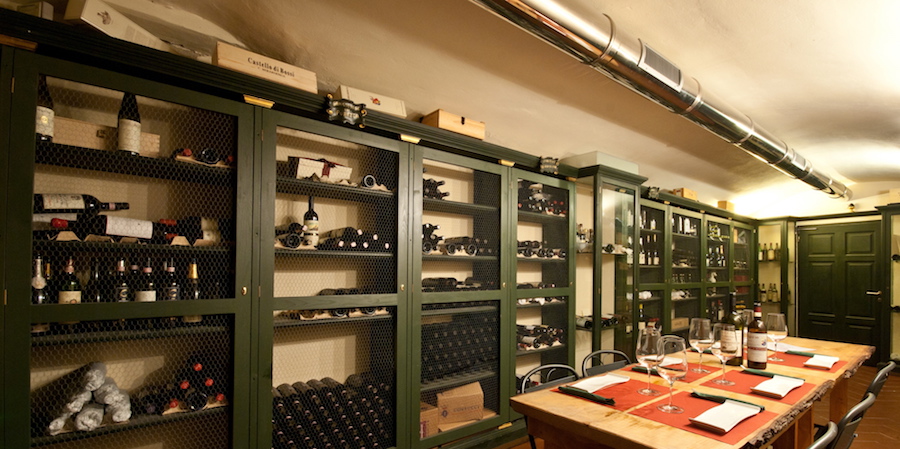 I can only imagine the convincing argument of "the bobble gardens aren't in Pitti Palace." Was it hard to adjust to life here after California, if you could give advice to Shannon "year one in Italy", what would you say?
It was hard to adjust of course but I like to think every year I overcome something new. The cold was hard for me, we didn't really have four seasons a year in Orange County so I had a lot to learn about clothing layering techniques!
What would I tell Shannon after 1 year?
Well I think at 1 year in Florence I was still in the phase of, "Italy is amazing, my boyfriend is amazing, having my family here is amazing, my new friends are amazing, the food, the art, the culture, the wine….. its all Amazing!" I hadn't hit my first "I live in Italy and this is tough" breakdown yet, and they always come. If I could have told myself then that to me, the key of truly building a life here was to find something that made me feel like I am amazing too.
The Wine Club became that for me. It was something that I could pour my heart into and be proud of. I'm passionate about it and it makes me truly happy. I have joy from my now husband, family, friends, food, culture and all that a life in Italy can offer but I also have self confidence and pride in myself and my little niche I have created here. Oh and maybe I would tell myself to buy bigger pants… living in the land of carbs is a waistline game changer!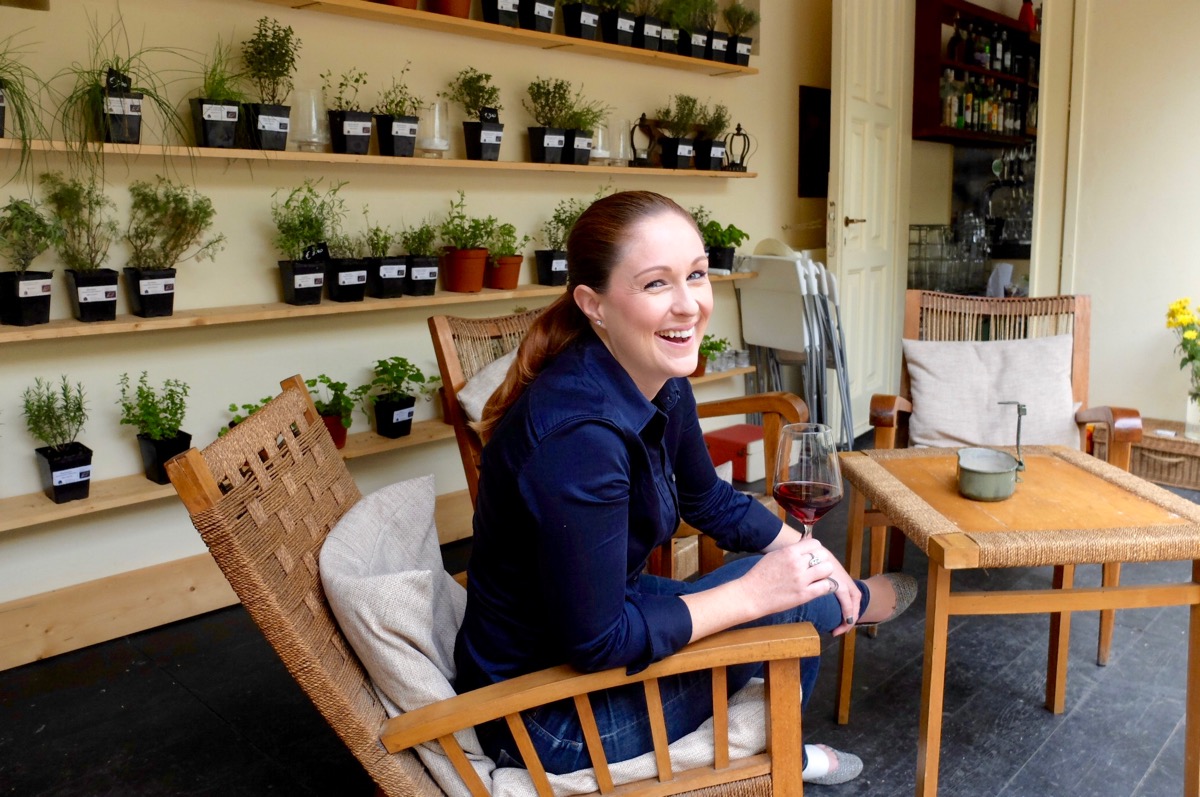 Let's talk food. I know you appreciate fine dining and what places/dishes would you recommend?
I love food and a great, fine dinning experience is something that you can go on talking about for the rest of your lives! We try to treat ourselves with fine dinning establishments in place of gifts to each other for special occasions. We have had some of the best meals in our lives at Ristorante Arnolfo in Colle Val d'Elsa. They have a few rooms upstairs that you can reserve for the night. Being checked in by Chef himself then dinning to complete gluttony and having only to walk up the stairs that night is for me, the highest level of luxury. They do an incredible breakfast in the morning too. Other favorites include La Leggenda dei Frati in Florence, Le Calandre in Padova, Antica Osteria Cera just outside of Venice and Il Palagio at the Four Seasons here in Florence. In each of these places we have had meals that surpass dinning and became memorable life experiences.
When you need a break from Florence, dare I say it wine, and tiny sidewalks. Where do you and Edo go?
We love to make the trek down to Rosignano Marittimo where Ristorante Lo Scoglietto is located. It's a Bagno, beach club of the Italian type, with a rocky beach, translucent water and a champagne list worth the trip. A year and a half ago we got a dog, Isotta, which has made the mountains and countryside more so appealing for a family escape.
We have gotten really into going mushroom hunting, which for anyone who knows me is surprising as I was never really a nature buff. An escape to the Appennini Mountains is close enough and yet still far enough away to completely relax even if just for a night or two.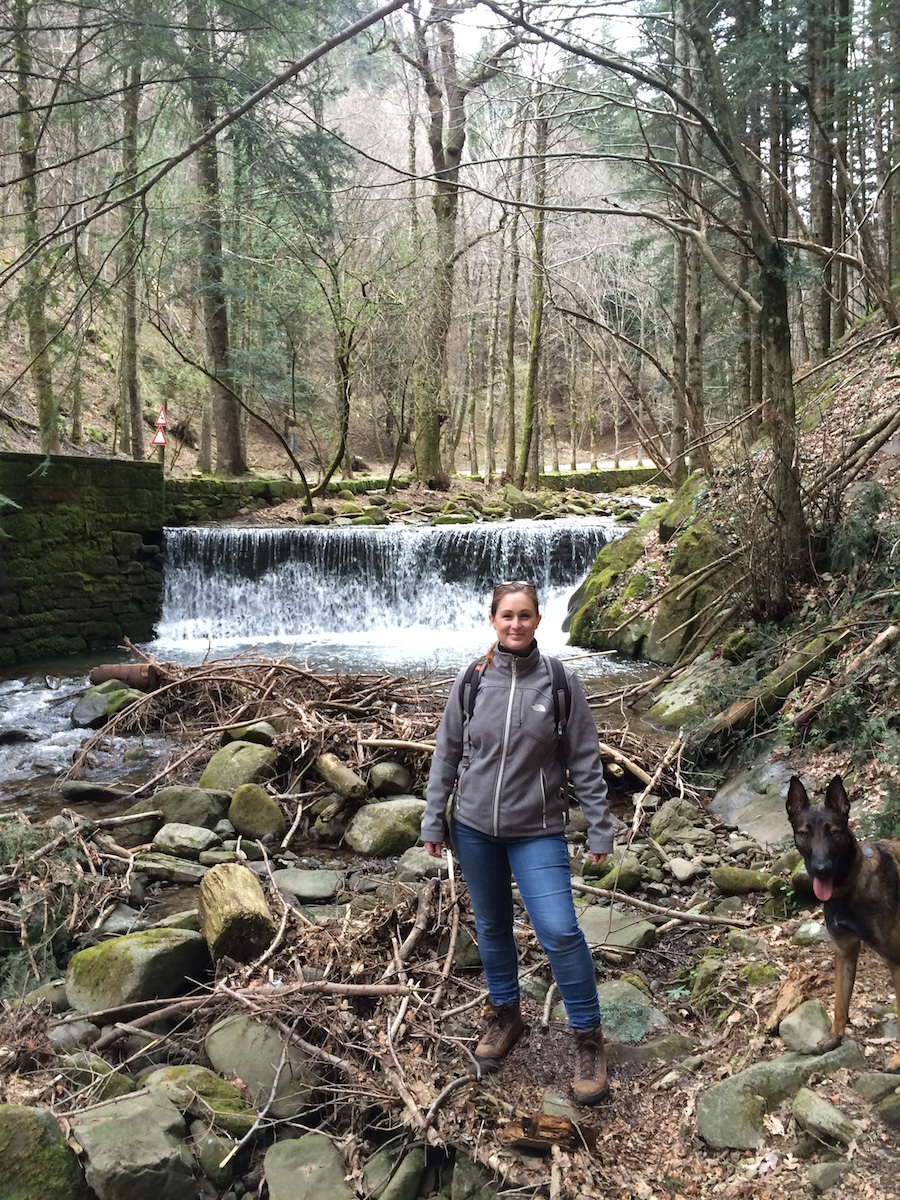 Three special places everyone should know about in Florence (or beyond)?
-Villa Cora Hotel here in Florence has an incredible Sunday Brunch in the off-season. Food stations, passed specialty dishes, featured wines changing each week, a theme changing each week and a complementary kids club downstairs. It is the unsung hero of Brunches in these parts!
-The Four Seasons here in Florence serves Afternoon Tea in their lush lobby! A rainy afternoon with a friend filled with Four Seasons' impeccable service, scones with clotted cream and jam, a plethora of sweet and salty snacks, then topping it off with a glass of bubbles makes it a favorite special treat for me.
-There are so many special bars in town with master mixolgists crafting cocktails that a perfectly planned pub crawl is always a good idea. Start at the new Santa Rosa Bistro and let Cristina Bini wow you with her unique and imaginative creations. A visit to Kareem Bennett and Natalia Mazzilli at the Ditta Artiginale Oltrarno is dangerously addicting. For years I have known Kareem and I don't think I have ever ordered a drink once, he just creates a masterpiece from what I say I'm felling like and I've never been disappointed. Natalia's Bloody Mary is legendary. They close at midnight, which makes it a perfect time to head over to the speakeasy Rasputin. The underground location and time travel décor just make you feel sinful! They have gin's that I've never seen anywhere else and they sure know how to use them! Lucky for us we live stumbling distance from there so that's usually how we end the night!
I love all of your ideas and especially a cocktail pub crawl. What can you do in Italy and nowhere else?
I'd have to say that the not weird at all relationship one develops with their butcher is a happy and unique to Italy experience for me. You chat, you take a seat on the bench and shoot the breeze while they breakdown chicken or whatnot. They don't think I'm crazy at all when I show them a map of a pig or cow and point out the cuts that I'm interested in crafting a dish with. They remember and ask me how it went a week later. They throw Isotta prime bites of meat over the counter and both of us pretty much never want to leave.
If you had to make up a tagline for Florence according to Shannon, what would it be?
No Acqua Solo Vino (No water only wine)

https://www.instagram.com/p/BHJ1vmLjT9z/?taken-by=enotecapittigolaecantina