A little more than three year's ago, Nico and I were just two friends, awkwardly navigating the transition between platonic besties to something more, which was an exciting, yet scary time. Our first kiss happened after a pizza with friends at Vico del Carmine, I didn't want to go alone since all of my friends were in couples and Nico was my obvious partner-in-crime. An intelligent guy who could carry conversation and drink his weight in wine. After plenty of beer at a shitty pub and I'm pretty sure more shots of Cointreau than I needed at the time, somehow we crossed that mythical barrier from friend to more. It was like the universe subconsciously said "we got you, Georgette, just trust us."
Do you remember having that crazy feeling that balls up in your stomach and makes you replay the same moments over and over again again. It can happen when you're 18, it can happen when you're 28 and I gather it can happen at any age. I can remember every detail from that night, grabbing his arm as we walked through ancient door of Borgo San Frediano, my friends being more practical adults and heading home while I insisted on a two-person bar crawl with my best guy friend Nico.
The beginning of a love story, rarely does it happen when you expect it. 
Our first anniversary was spent recreating that night, though with much less alcohol, which I like to credit to 'adulting.' We ordered the same pizzas, had beer and giggled the whole way through, more on how we could have possibly picked some of the worst bars in Florence. It was great. This year, we decided to do something a little different. After a pretty stressful start to the year, working on weekends and generally being responsible adults, the idea of a 'staycation' was in the works.
I used to find the word staycation annoying, a bit like "Obvs, THOT, Tastemaker, Influencer, Totes and Yolo" (and that's just the beginning), however, like a person can get used to depilatory products, you can get used to new words in your vocabulary.
Want to have the best one night stand of your life? Get your minds out of the gutter people!
To be honest, I  never thought about staying in a hotel in my own city, what would be the point? However, it ended up being just the sort of mental break we needed, if I'm at home, I feel I need to work, clean, walk the dog. We're often over-scheduled and tired, life going by in a blink of an eye as Nico and I become better at 'adulting.' Probably it's my fault, working at home, I tend to get excited the second Nico gets home from work — while he'd rather enjoy one of my latest kitchen creations and play the piano — I  instead want to see the latest exhibit, say hi to a friend, get gelato.
Enter, The Savoy. 
Nestled like the fabulous little bird it is in Florence's bustling piazza della repubblica, Hotel Savoy is from the esteemed Rocco Forte group and one of the hottest places in town. You've probably seen the outside terrace and nicely-dressed butlers, typically a fancy all-black car may or may not be parked outside. It's five star culture in the city, an oasis from the buskers and selfie-stick sellers outside, though you can see the carousal twinkling from Irene's Bistro, their star restaurant which I adore for its fun and fresh vibes, craft cocktails and excellent fish options.
I already know them pretty well from previous visits writing extensive hotel reviews for Forbes or various publications. After seeing plenty of luxury digs around the city, I can honestly say that they lean towards the top. What I personally appreciate is the real style of the place and how comfortable it is. While some hotels here can rely on 'we're in Florence so let's keep with the old look' mantra –which tends to be outdated, they embrace a harmonious and fresh feel kept up-to-the-minute as exemplified by their in-house interior designer Olga Polizzi. She blends contemporary artworks with pretty antiques, topped with fresh flower displays from the florist located by the reception.
We stayed in the 'Repubblica Suite' on the second floor, a beautiful space that can be opened up to accommodate the adjacent rooms, perfect for larger families looking for privacy. The look is sexy comfort: fine parquet flooring, high ceilings, a bookshelf with literary classics and fresh flowers. The two balconies face the hub of central Florence, one open up to the sounds of a busy piazza della repubblica (note to self, if you go out in your bathrobe, expect to have people take photos of you) and a side street going towards via calzaiuoli. The centralness of this place cannot be overstated, you truly feel in the middle of it all.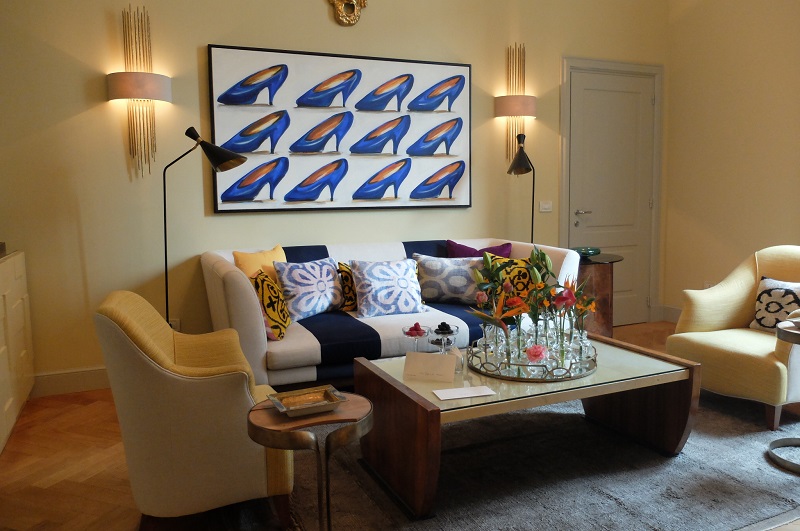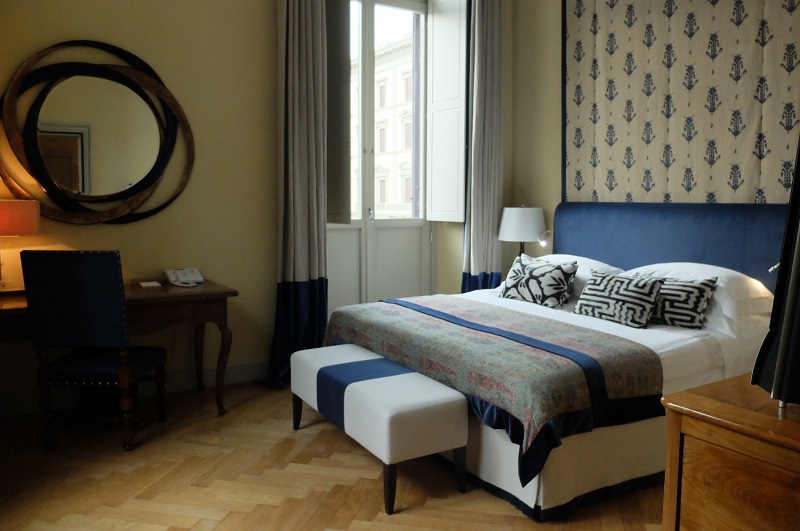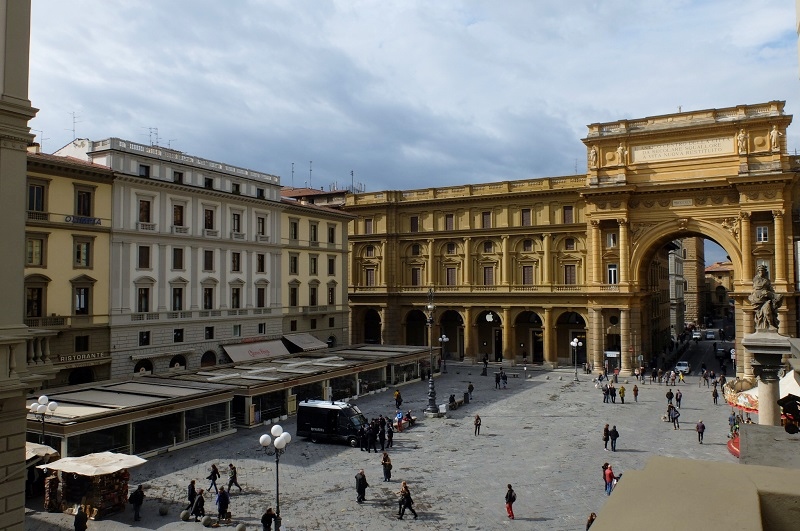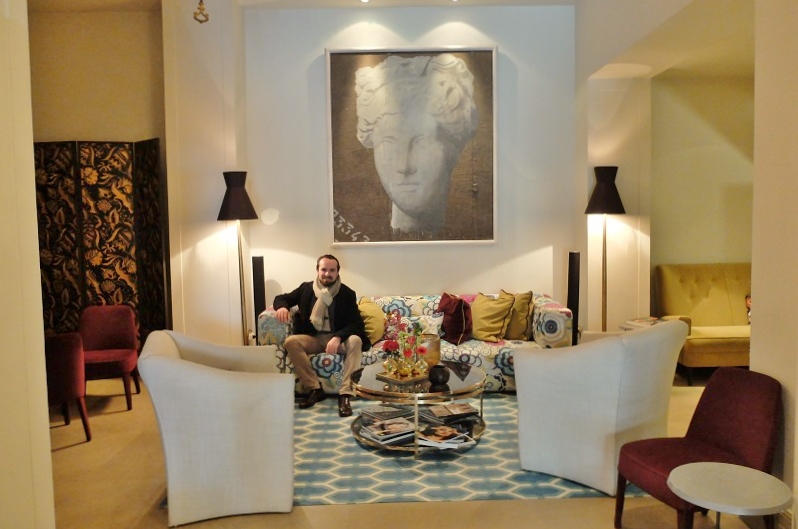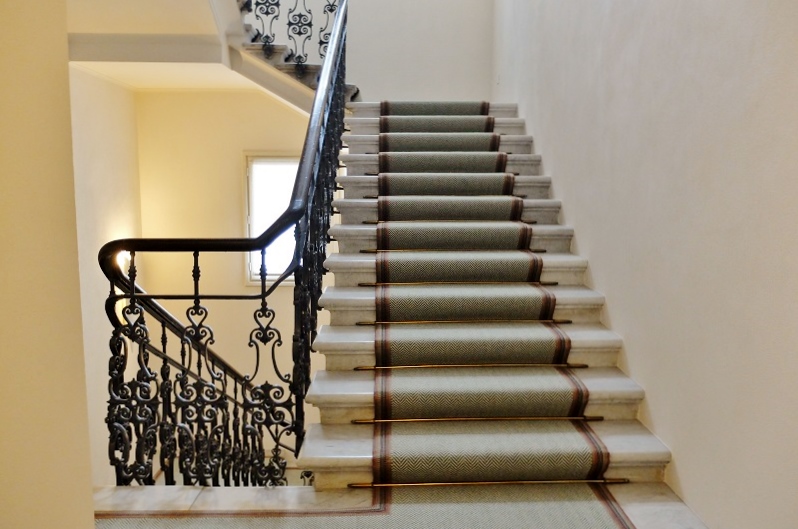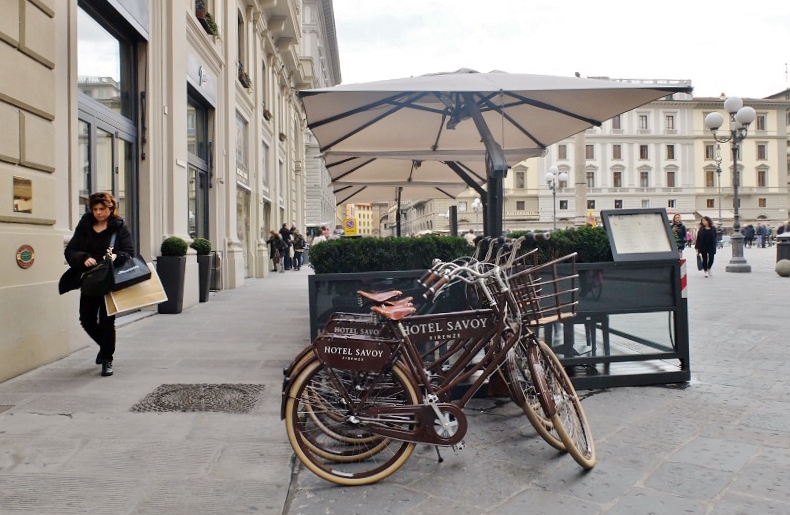 I arrived on a Friday afternoon and set up shop in this beautiful room bigger than our apartment, within minutes of my arrival — my luggage magically appeared in the walk-in closet. I set up my laptop in the living room and promptly ignored it, opting instead for a luxurious bubble bath in the lavish Carrara-marble- covered bathroom. Work could wait. 
Nico arrived and was just as impressed as I was. He said "I bet this place has some stories" and wasted no time getting comfortable on the balcony for a little pre-drink people watching moment of the golden hour we love so much in Florence. We reveled in a little alone time, away from the world, stress, internet notifications and a very needy beagle. This was just him and I, a moment for us.
Dinner at Irene Florence, named after Rocco Forte's mother and every bit as sexy as the rest of the hotel was a dream. We started with margaritas on the rocks (hell yeah) before entrusting our waiter with an entirely fish surprise menu, all the while making plans for our future and laughing our way into the wee hours. It was awesome.
The next morning, we opted for breakfast in our room. We dressed in robes "Pretty Woman' style and dug into fruit, eggs and plenty of coffee. I seriously didn't want to leave. We lingered as long as humanly possible, just taking it all in before packing everything up and heading 10 minutes up the road to our little apartment on via dello sprone.
Arrivederci but never goodbye, I'm making this a tradition.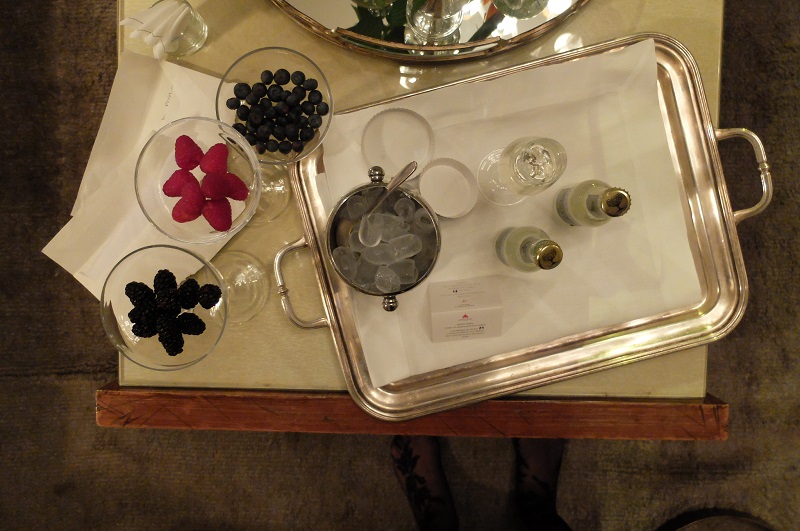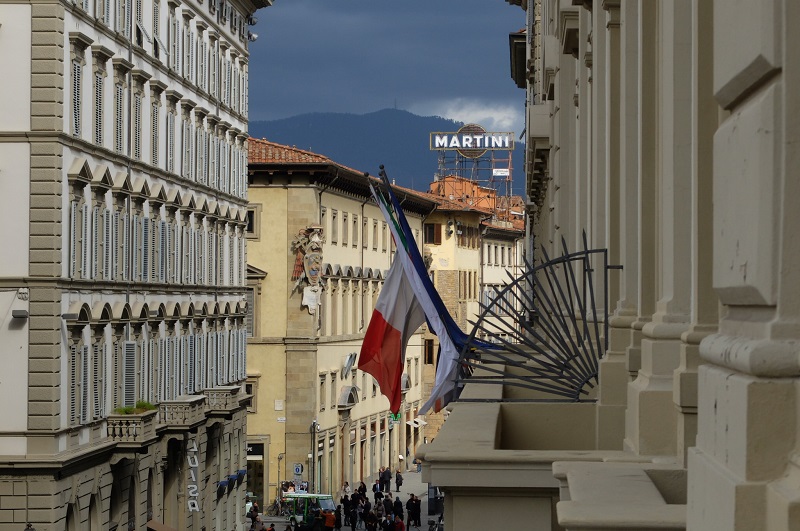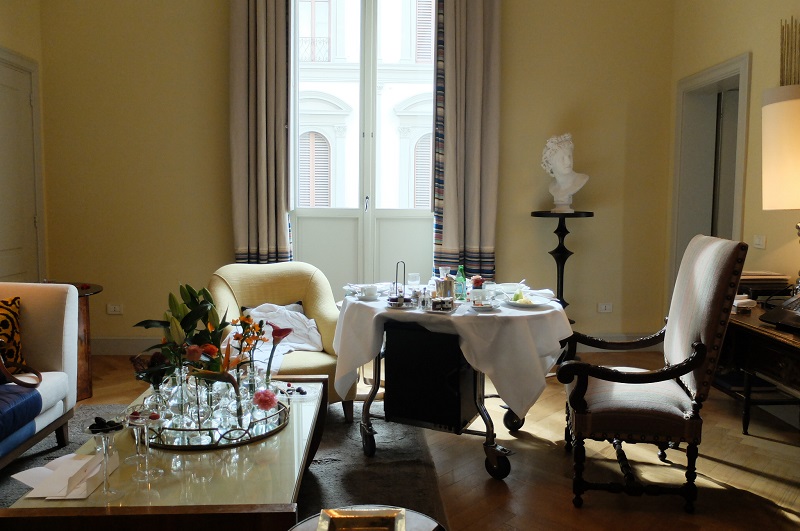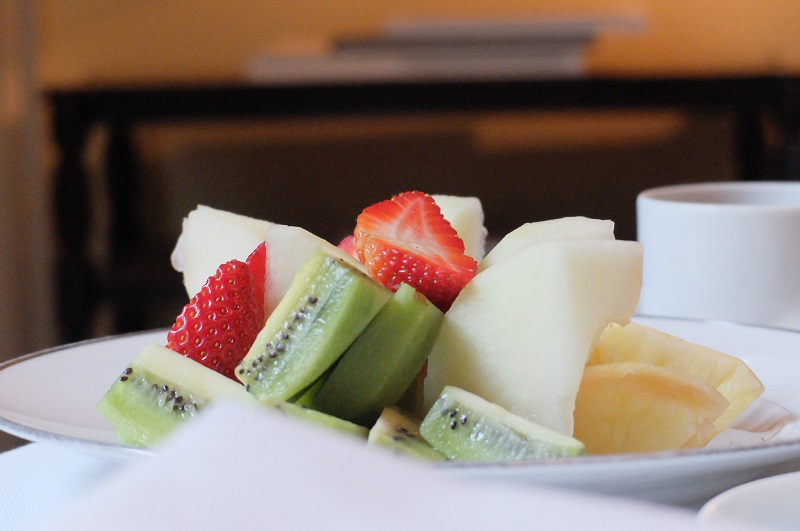 Tips For The Best Staycation In Your City
Make sure your house is clean before you leave on your mini-vacation. Nothing is worse than coming back to a messy house which immediately kills that loving holiday mood. Get the annoying stuff over with (cleaning, working out, shopping for food).
Embrace the moment. Turn your phone off and pretend to truly be a tourist. Coming from ad admittidely social-media obsessed person, a 'digital detox' is very needed. Those instagrams can wait.
Change up your routine. Yes it is your city, but think about what you would do on vacation elsewhere. For us, this meant indulging with a lazy breakfast in bed and late-morning window shopping around the hotel. Go explore! There are always cool events going on in town which is why I suggest checking out my monthly event's list or that of The Florentine.
Do something you normally wouldn't or hadn't yet done. This could be ordering a coffee at one of Florence's historical cafes in the center of town (I always go to the same place), visit a museum you have yet to see, or have a ride on the carousal. Why not? Today you're a tourist. Also look for a place to have a drink with a view, we had our stunning terrace but nearby Rinascente has a rooftop terrace, as does Hotel Continental, Torre Guelfa. I also recommend visiting one of the city's marvelous green spaces and renting a bike to explore the city on two wheels.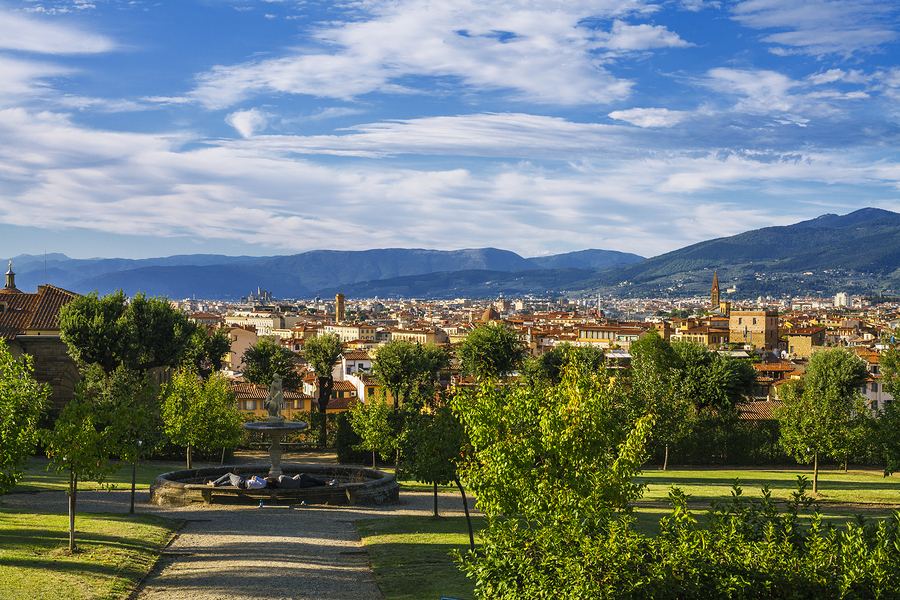 Indulge in a spa treatment or get your hair done. Nothing helps you relax those muscles or feel fresh like a great massage or a new look. I highly recommend booking a spa-treatment before the evenings events on your staycation, you can ask the concierge for advice or near the Savoy there is Gabrio Staff on  Via De' Tornabuoni, 5.
Find the right hotel for your budget and your personality, in Florence there are a wide range of options. While the Savoy is on the higher-end of the price scale it is absolutely fabulous. Also I always browse the 'promotions' page before I book at a hotel. For example, at Savoy they offer a two-night anniversary or special events package that includes the stay, a bottle of champagne, chocolates, sweet! Also keep in mind that there are so many awesome places around town for any budget. Love boutique hotels? Go for SorprArno Suites of Ad Astra? B&B more your jam?
Have a beautiful meal. Never underestimate the power of a truly fabulous night out, and for Nico and I, this is something we adore. That first pour of wine, a tasty bite of homemade pasta. No staycation could be complete without great food.
If you'd rather stay at home but still feel on vacation. Make your ambiance sexy. I'm all about keeping it moving if you know what I mean. Incorporate fragrant candles, nice mood lighting, a well-presented meal (even with take out) and cuddle up together over a movie. That's honestly one of my favorite pastimes :).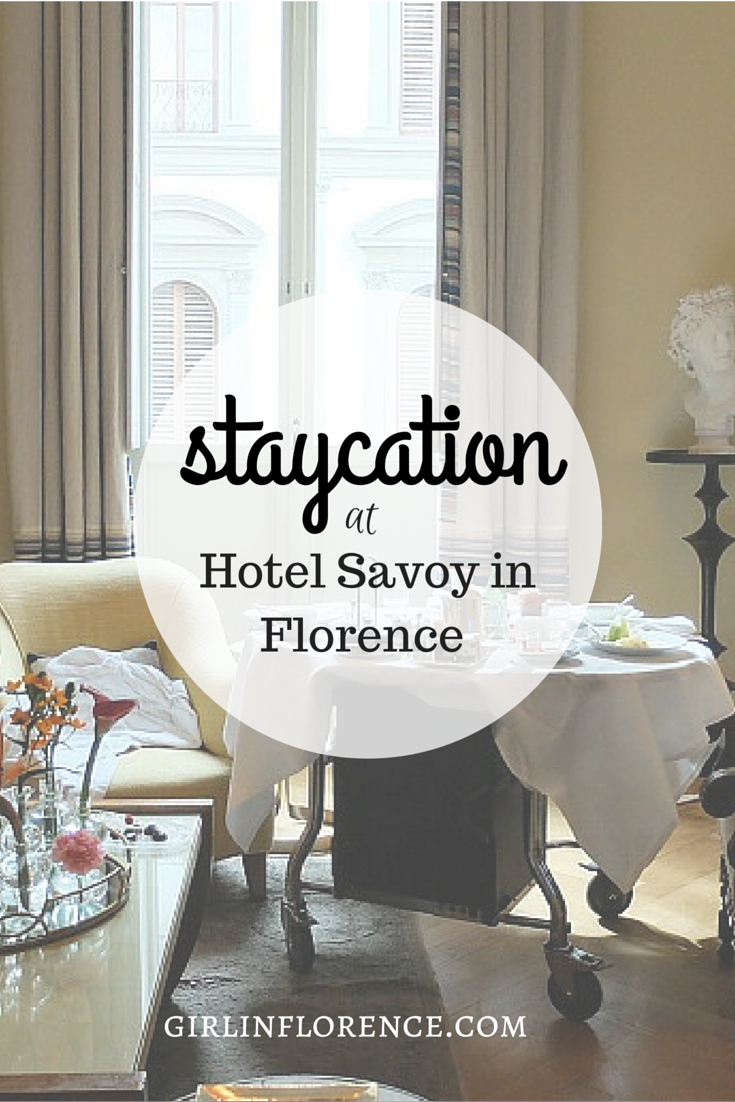 Disclaimer: While The Savoy hosted us for our one-night staycation, all thoughts and opinions are 100% my own. 
I'd love to hear your thoughts on staycations and what you would advise people looking to do the same in their area. Doesn't necessarily have to apply to Italy.