"Art is not a thing, it is a way." ~Elbert Hubbard.
I would imagine hope that my latest interviewee agrees with the above statement. It's how I imagine the life of those who create art, maybe it's a word best described as a verb rather than a noun. Elizabeth Orchard is one of those people who's voice instantly catches your attention. The last time I saw her, she served mint tea in classic tea cups, or Franciacorta (because bubbles are always a good idea) with the ease of an expert host. I was so entranced, listening to Elizabeth's stories always manage to light up the room along with her beautiful, expressive art. She's lived quite an incredible life and has such a positive attitude that motivates oneself to do the same. She had to be a local's I Love.
Her elegant and witty repertoire is of a Yorkshire descent, and currently she lives half in the UK and half in Florence. Elizabeth made a name for herself by designing decorative gesso-moldings for International hotels and now has moved on to a more contemporary-creative passion of transmitting her artistic eye to canvases — and beautiful, flowing silk scarves. I happen to own two of those scarves myself, and brought one to our honeymoon in Thailand — the perfect summer scarf to add a pop of color to my otherwise mundane traveler's wardrobe. For that I will be forever thankful!
Name: Elizabeth Orchard
Nationality: English/Dutch
Profession: Artist
Favourite Drink: Early mornings – freshly picked mint tea poured from my Mother's English silver teapot. Evenings – Gin & Tonic, for choice Hendrick's with Fevertree tonic and a cucumber slice.
You can keep in touch with Elizabeth via her website, Facebook page, and Instagram. 

This video is a creation by One20 Photography
Ciao Elizabeth! Thanks for participating, can you give us a little intro on what brought you to Italy in the first place and where you currently live?
I came to Florence some 15 years ago when my younger daughter was studying here. I rented a small apartment and then bought a larger one. Now I live on the edge of town in Bellosguardo just 10 minutes from Piazza del Carmine. It is bliss, a small garden with yew and box hedging, and lots of roses and agapanthus with a blue and white theme. White is so lovely in the dusk.
What is life for you like living in more than one place, have you thought about settling just in Florence?
Ah yes, my peripatetic life. I have two married daughters with families, one in the UK and the other in Italy. I am lucky enough to have studios in both countries so I can be busy on the move and working, meeting clients, family and friends in both places. I am constantly gleaning ideas, sketching, keep up with the fashion interiors and colours, mostly from landscapes. Life is certainly full of motion.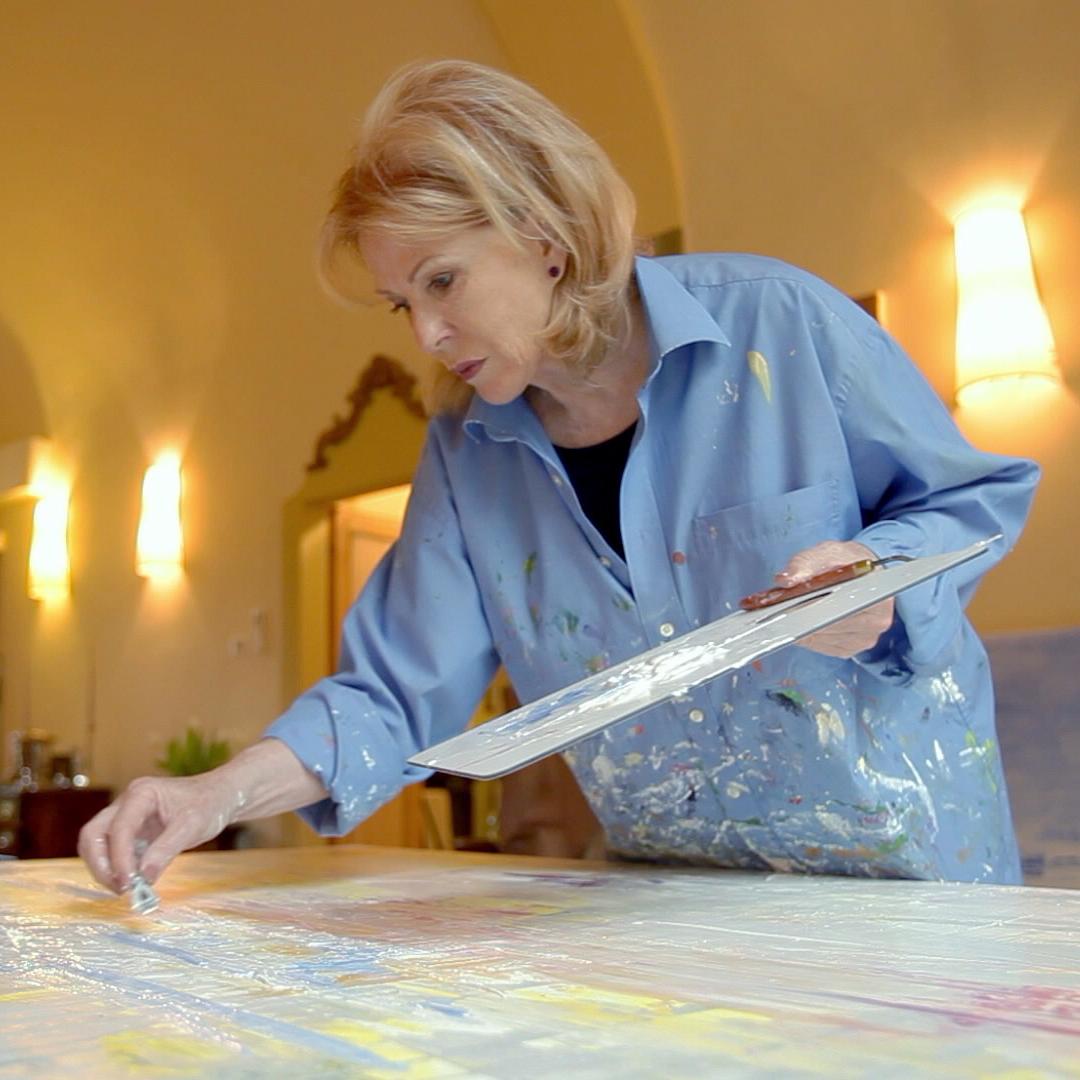 Tell us more about your hand painted silk scarves, which I love, what gave you the inspiration to start and what are you working on now?
I was asked to paint on canvas an interpretation of an old friend's unusual wedding dress. The dress was a wonderful silk sarong, and it was quite a challenge. I lived with this lovely piece for several weeks staring at my blank canvas. I finished the painting and delivered it to my friend who was happily delighted, so, inspired by that beautiful silk sarong, I thought I would paint on silk as well as on canvas. Gradually the style and techniques have evolved, but it is an entirely different method going from canvas to silk.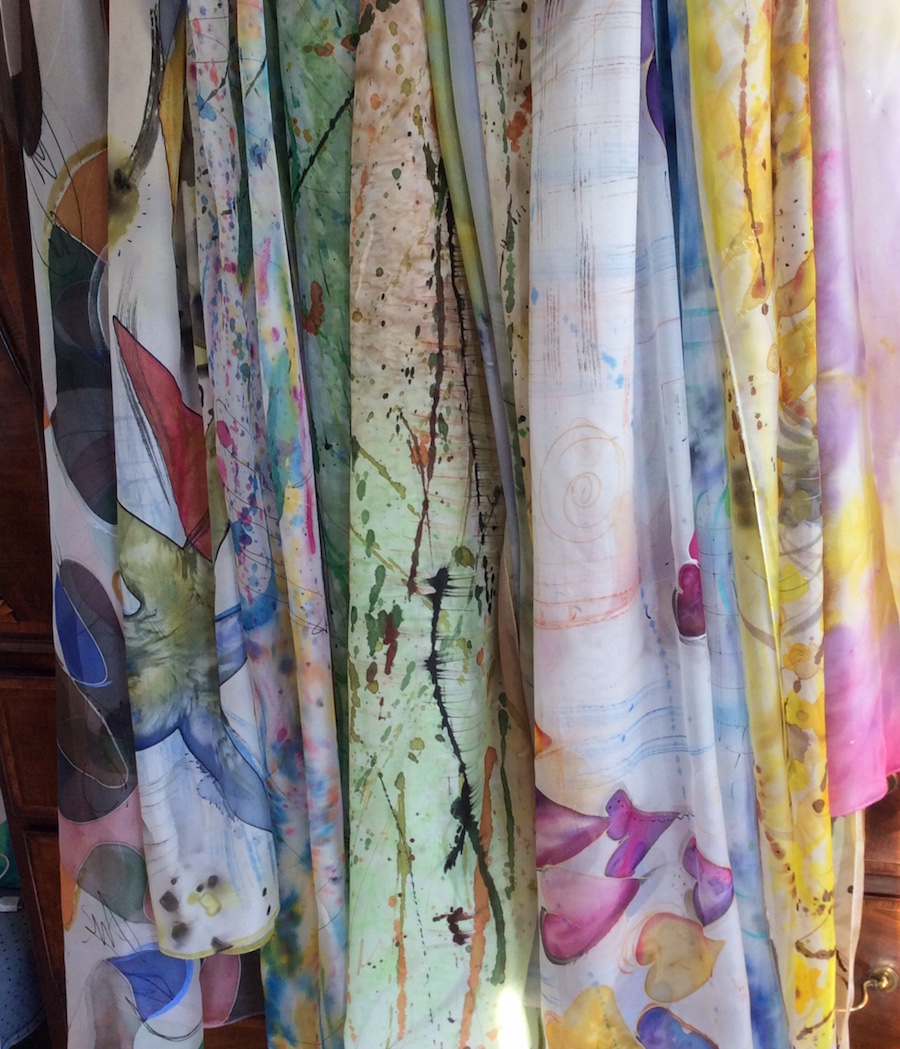 Where can someone purchase one of your scarves? Can they customise it for preferred colours or preferences?
A call or an email is all that's needed. I am happy to meet in town or at Bellosguardo to show a selection of my scarves. In-house parties are fun at my home or elsewhere, and we can enjoy company with no doubt a glass or two of Prosecco.
Each scarf is quite unique, and I could not repeat the same pattern if I tried. The style maybe recognizable as my work, but you will never meet a girlfriend with an identical scarf. Of course, if someone favours particular colours or wants a scarf to go with a particular outfit I can reflect that.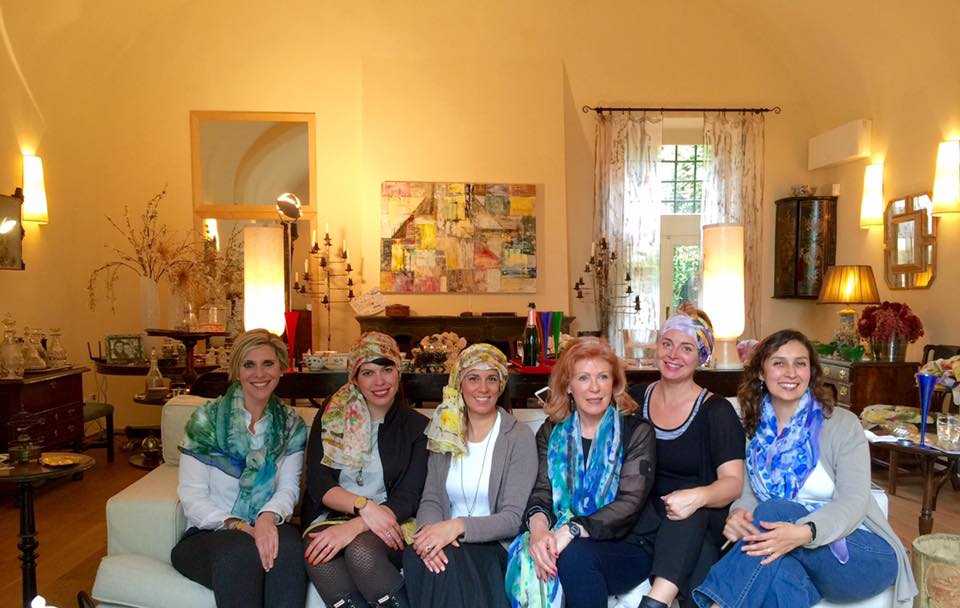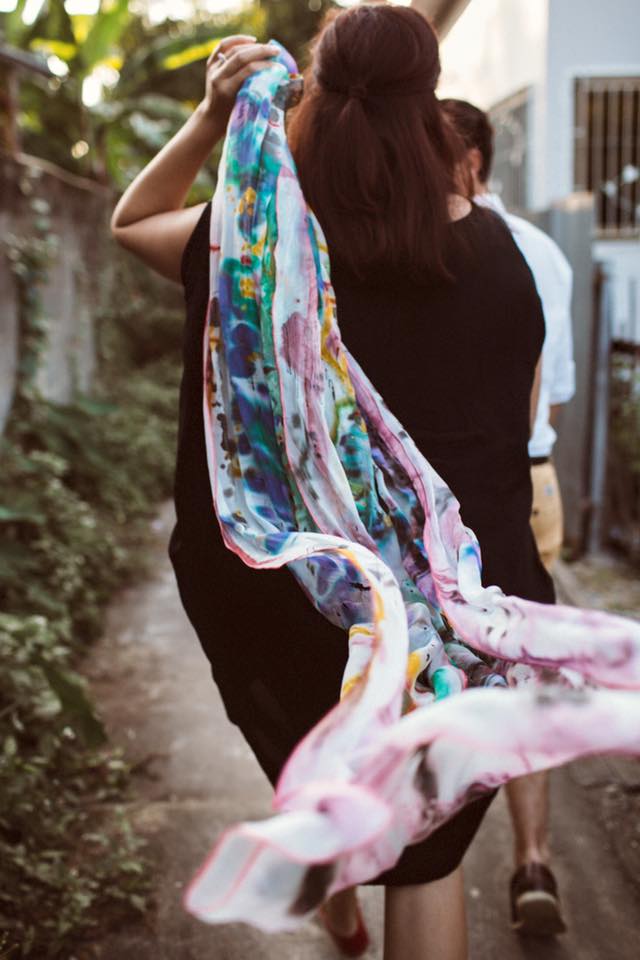 Are there any local artisans that you would recommend my readers visit?
I follow your blog and have read about artisans almost too numerous to select from. One I would mention is my very special hairdresser at Renato Coiffeur .. " 60 years of excellent haircutting " .. with a huge following. Claudio there, who mixes colour for his customers on an artist's palette, is fascinating to watch and his results are simply beautiful, creating individuality for each customer. We have that in common.
Is there something that particularly delights you when you come back to Florence?
There are so many delights in Florence. I love entertaining and we host friends in the evening quite frequently, mixing old and new. Cooking in Florence is made easy by the quality of fresh produce available at the markets, Sant'Ambrogio and the Mercato Centrale being most visited, and there are also individual stalls and shops like our fishmonger at Porta Romana.
What advice would you give to someone looking to move to Italy? Part time or full time.
My advice is to follow your heart; rent before you buy and be prepared to change location when you understand the different areas of the city. Florence is walkable and quite diverse, so find your local haunts be it shopping, restaurants, galleries, your church, in each neighbourhood.
For me, I needed time to be quiet and thoughtful. I found a small favourite bar that allowed me to read in peace in a way which would not happen in England, and a local food shop open all hours. I did not walk very much then but rode a bicycle everywhere. My first apartment was at the very top of Costa San Georgio, and then I moved to San Lorenzo, and these are quite different areas.
That is very wise advice. I'm all about truly getting to know your neighborhood before anything else, it makes you retain a truer connection as well. Three special places everyone should know about in Florence that you personally adore?
Hmm, three of my favourites. I love an evening Martini Cocktail; bars are too numerous to mention but the Hotel Continental and Hotel Europa have terrace views, or try the large range of wines and food at Signorvino with a small terrace looking across at the Ponte Vecchio.
Are there any areas of the city that truly inspire you for your art – what are they and why?
I was born under the sign of Taurus and love nothing more than soft earth under my feet. I live and work now on the edge of the city in Bellosguardo – as it says "a beautiful view". I can take inspiration from the surrounding hills and each changing season.
Bellosguardo is one of my favorite places for an "urban hike" for those same reasons. When you need to escape Florence where do you go?
Relaxation and time out is very important. I visit Fattoria Nerbona for a real Tuscan break. It is an Agriturismo between Colle Val D'Elsa and Sienna, 45 minutes from Florence where I find quiet meadows of natural planting, a complete relaxation from the buzz of the city, as well as my younger daughter. I return to the city relaxed and ready for the working world.
When you need a little R&R time in the city, where do you go? 
I don't have a television but love to stream movies and the Odeon Cinema is a regular haunt. When I paint it is almost always to music, usually classical. It's a passion of my life shared with my partner Donald; we both like nothing more than an evening of opera, classical music or sometimes jazz. There are places in Florence which tick all these boxes, from the fine new Opera Di Firenze to Teatro Verdi.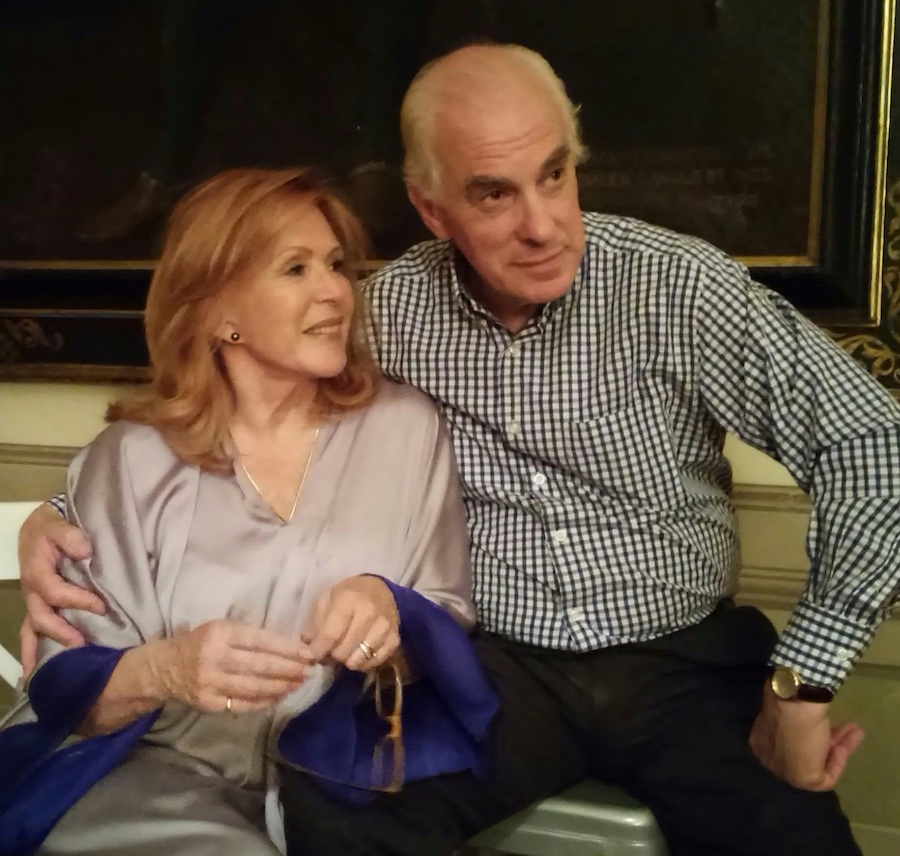 What can you do here and nowhere else?
Be completely myself. I am an artist and have a naturally creative personality – nothing suits me better than this Renaissance city of Florence.
If you have to make up a tag line for Florence according to you, what would it be?
This city appeals to all of my senses – sight and hearing, touch, taste and smell.