This Sunday's interviewee on the blog is a girl I call Tinka, we met about a year ago, I think? Time passes so quickly my mind can never quite keep up but I am sure it was through the Creative People in Florence meet ups. Her actual name is Martina, a Slovenian native who has found a passion for jewelry design among a fabulous artisan collective workshop in the heart of the Oltrarno; the city's edgy creative and slowly becoming more contemporary hideaway. What I adore about Tinka is that while she might look like the sweetest "girl next door" (and indeed is one of the nicest, most thoughtful people I've met in Florence) her one-of-a-kind jewelry show a different side to her dynamic personality. Everything she makes is completely handmade and unconventional; from monsters doubling as broaches or a vibrant, veiny heart instead of a typical locket meant to be worn around the neck. Her work is as incredible and as intricate woven as her outlook on life. Without further ado, let's pick her brain on work and life in Florence!
Cover photo by Olga Makarova.
https://www.instagram.com/p/BQfHyWegHW_/?taken-by=martinaloncarjewellery
Name: Martina Lončar
Nationality: Slovenian
Profession: jewelry designer and maker, FB page.
Favorite drink: caffe leccese
Tell me a little bit about yourself. Where are you from and how did you get to Florence?
Hi there! If I had to describe myself in a few words they would be: art lover, nature addict and jewelry obsessed.
I am from Ljubljana, Slovenia and for the past six years Florence has been my home.
Italy is our neighbor country and I would often go with my family to see some art exhibitions, on day trips to discover its cultural heritage and even for shopping. In Slovenia we didn't have such a big variety of products in the beginning of 90s.
After I finished high school I went on a trip around all of Italy, and the first stop was Florence.  I was already a jewelry addict and my father suggested to me to go and see the jeweler Alessandro Dari. When I saw his work I cried because I couldn't even imagine being as good as he is. But 7 years later, after finishing my degree in art history and finishing goldsmiths school in Milan, first time he opened his workshop to students. He announced that he would keep one of the students at the end of the course, and that was me. After the whole year of working with him I enrolled for further studies in jewelry making and left his workshop. During all this time Florence got under my skin, it is difficult to imagine making jewelry anywhere else!
Alessandro Dari's shop wowed me the first time I saw it too, that's amazing that it led to you coming here. Speaking of, at the moment what are you up to here? 
One thing is stable in my life and that is the urge to make jewelry. After my studies I was very happy to find the goldsmiths workshop Officine Nora.  I have been working in this creative workspace for three years as an independent jewelry designer and maker. Florence has been a cradle for goldsmiths since the Renaissance–after all, the great artists were jewelers too (like Verrocchio, Michelangelo, Leonardo). Today it is still a hub for goldsmithing schools. There are so many goldsmiths who have studied here and never left.
https://www.instagram.com/p/BMOsH45gYcH/?taken-by=martinaloncarjewellery
Yeah that is something I found profoundly interesting, how most major artists in Italy were once goldsmiths, which means that you can be the next Michelangelo ;-). Can you describe to how you got involved in customized jewelry? What kind of materials do you use?
I started making jewelry when I was 16. I lost an earring, a gift from a dear friend, so I made a new pair. Those days I tried lots of materials like resin, old objects, candy wrappers, and leather, which I still use today together alongside precious metals and stones of all kinds,  from synthetic nano crystals to precious raw stones to meteorites. I like to play and experiment. Recently I used raw ruby and placed a led light underneath it so it lights up and emphasizes its color.
What I appreciate about your work is the shock value and interesting materials. You are one creative lady! Can you share three favorite pieces of yours currently and what they mean to you (with pictures?)
My jewels reveal more of me than my words. Through them I express my inner world full of opposing elements: order and craziness, sober beauty and subtle humoristic lightness, creepiness and hilarity.
My recent project, Mother tongue, is a response to living abroad, away from home. I find myself in a multi-national city, full of expats trying to find their reason. They have sharp teeth and scratching tongues. While tongues can scrape your skin, they can also heal profound wounds.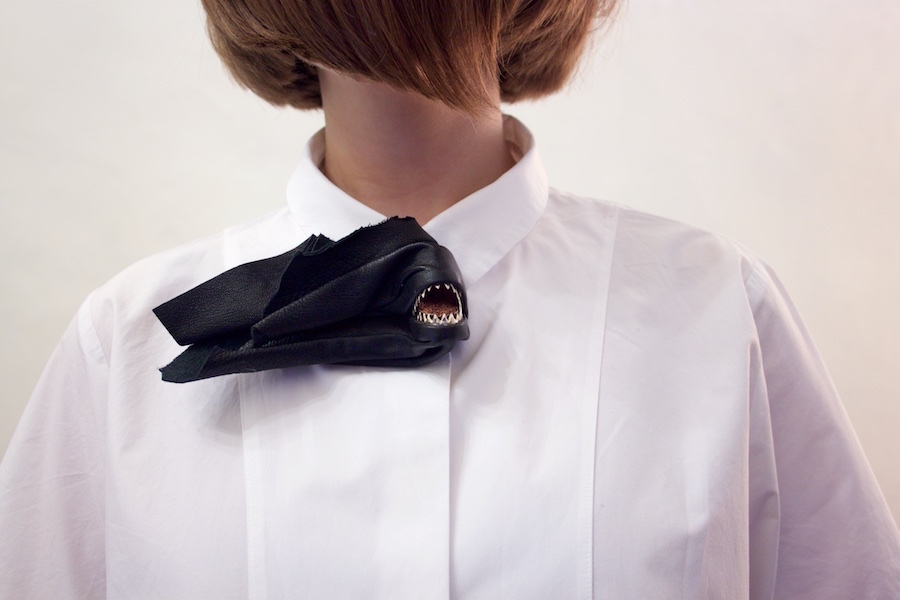 Bonbons is a collection charged with colours and sparkle. It represents the attempt to put the beauty of the stones in the foreground in a fun way. The idea is to wrap the stone around the finger with a simple string.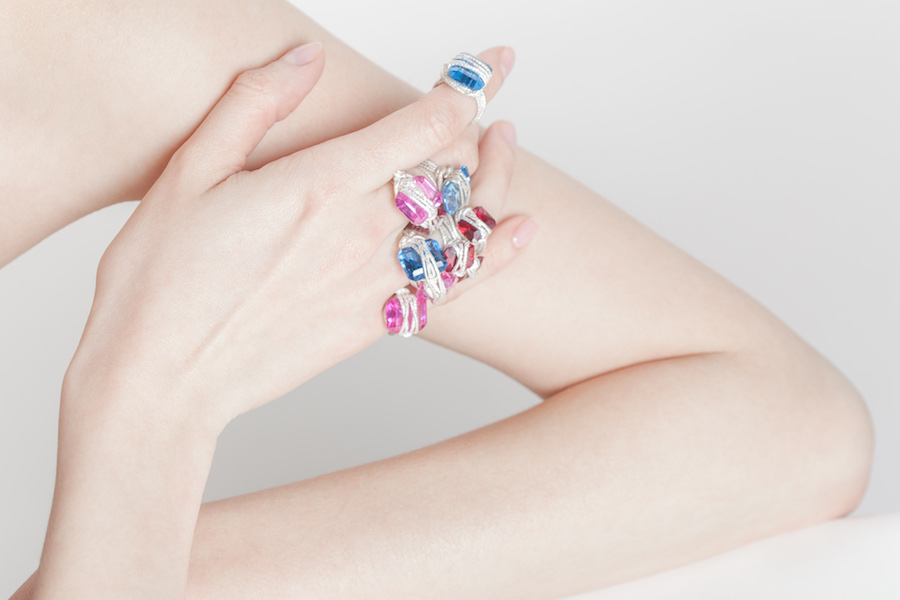 Switched on/off is a one-of-a-kind pendant made with raw ruby. It's the result of my research on how to emphasize the characteristics of the stone.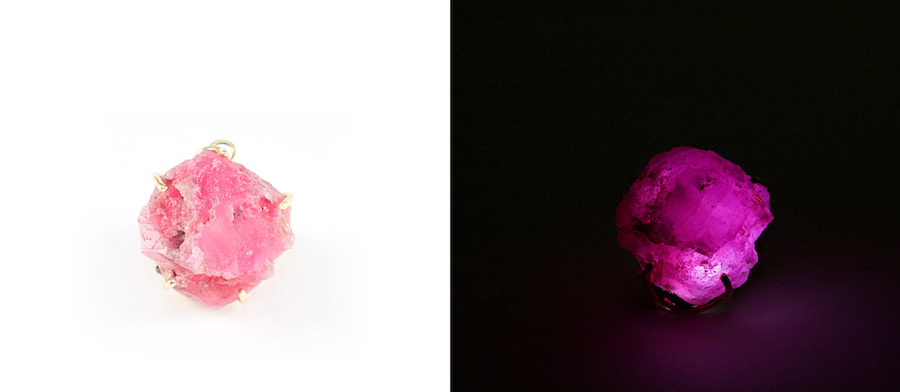 Have you experienced culture shock from living in Florence as opposed to Slovenia? How does it differ from your culture?
When I moved to Italy I didn't have time to have any have any shock. Nowadays though whenever I come back from being at home I need some time to get used to the scooters and the dirty streets.
What do you think of the contemporary artisan scene in Florence? What are the pros and cons?
Florence is a center not just for jewelers but for all kinds of artisans. Here in the Oltrarno, you can find anyone from shoemakers to blacksmiths to glasscutters…The nice thing is that the tradition goes on, masters pass their knowledge on younger generations, and the manual work is appreciated and acknowledged. Young people from all over the world come here to learn their skills. Since the city is full of artisans, you have all the supplies you need from materials to specialized shops, which makes Florence a very comfortable place to work.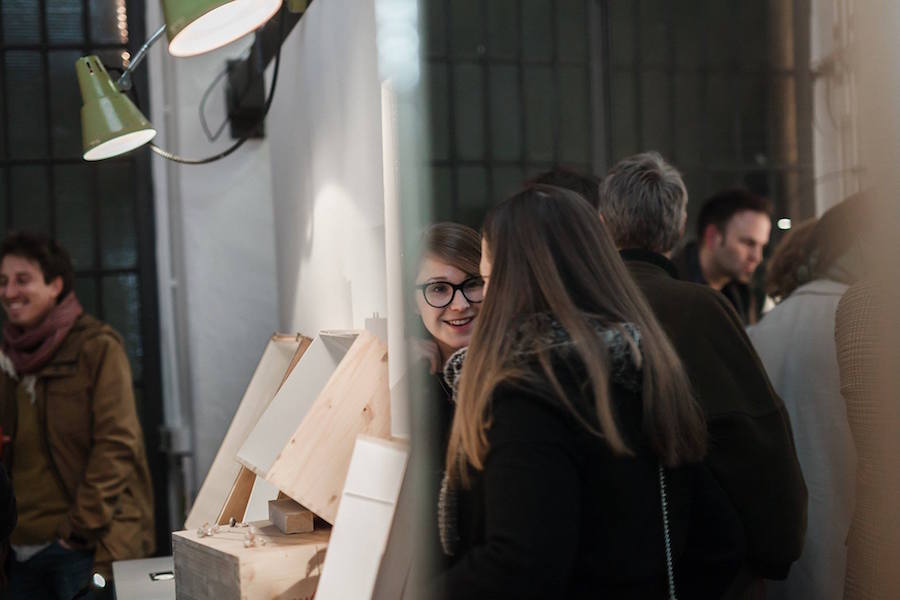 Artisans you admire and why? Here or around the world.
I think for every artisan who loves what he does and puts a bit of himself into his work, sooner or later the work becomes his passion. That is what I admire in each and every one. Here you can find so many great masters, but my favorite is my maestro Marco Garrezzini. He has an incredible eye for precision, perfect concentration and nerves of steel while teaching. He is very good at encouraging students!
You can find masterfully carved and depicted wooden objects at Castorina.
Anything we can look forward to in 2017?
I think I've arrived at a point where I need to grow and find some shops to sell my products. I really hope I will be announcing some new places where you can find my work very soon.
Please do keep me posted on where! What annoys you about Italy? Feel free to be as open as you want.
I think the most annoying thing for me is the traffic, the streets of the city centre are really narrow, and rush hour for a pedestrian is quite dangerous. Also, the motorbikes make lots of noise, so when you try to find a room here, make sure it faces towards the inner courtyard.
Do you think life in Italy is for everyone? Why does it work for you?
Life in Italy can be complicated, I guess you need to be easygoing and flexible. The time is relative and here you can really experience it.
What advice would you someone looking to start a business like yours in Italy?
Florence has such a long history in jewelry making so its really well equipped! You can find really good casters and stone setters, and the suppliers are numerous! Nevertheless I never forget to check what is going on abroad.
Three boutiques / creative spaces everyone should know about in Florence?
Nora is the studio where I work. It's a studio of 6 independent jewellery artists. We are a bit hidden in the Oltrarno, just behind Santo Spirito and Pitti Palace. It is a space where our individual craft is constantly evolving and where each of us can contribute to the collective where different ideas meet.
Campuccio10 is a collective workshop just one street down from us. It is similar in its concept except that each of them practices different art. You can find sculptors, illustrators, and goldsmiths under the same roof.
https://www.instagram.com/p/BGuJzsmNk8C/?taken-by=campucc10
I also really like Black Spring book shop. It has alternative taste and a good selection focused also on graphics and graphic novels. And lastly what can a girl do without shoes? I really like New Kid shoes, designed and made in Florence with a funky and edgy style J
What's the weirdest thing you have seen/experienced in Italy?
In Rome when I was 15: I was on a bus, all of the sudden all the people participated in a quarrel, first two people, then half of the bus, then the whole bus was shouting at each other, then the driver intervened in the argument to such an extent that he missed his route and took us somewhere else. When they realized what happened they all calmed down as if nothing happened. It was something that has never happened to me elsewhere.
HA! I could see that happening.. What can you do here and nowhere else?
You can do paddle-boarding under the Ponte Vecchio, do some sports and get a completely new view of Florence!
If you had to do it again (start a new life abroad) would you and why?
I would definitely do it again. In the years abroad I have gotten to know myself really well. Moving from home helped to recognize the most important values, my obsessions and my needs in life.
https://www.instagram.com/p/BHt95fdg8w3/?taken-by=martinaloncarjewellery
Ok last but not least… You knew I was going to ask this! If you had to make up a tagline for Florence according to Tinka, what would it be?
Florence is like a piece of jewelry, where every stone (literally) tells you a story.