It's a wonder how green places can be spiritual medicine for the soul. The smell of fresh cut grass was the only thing that made the cumbersome task of 'mowing our lawn' in the middle of a Texas summer just about bearable. This is not me trying to sound clever here, just check out this article according to the NyTimes "German researchers found that just glancing at shades of green can boost creativity and motivation. It's not hard to guess why: we associate verdant colors with food-bearing vegetation — hues that promise nourishment."
In Florence, while we have alleyways containing centuries of secrets, it tends to be more of Renaissance playground for 21st century humans, peppered with cobble-stones that ruin your shoes. Green spaces aren't exactly plentiful (and I hate every one of my neighbors who never actually use their huge terraces). However, this makes the gardens in Florence something truly special. They remain places of refuge for both locals and tourists alike, especially once one has seen all the historical art one brain can process, or struggled to stay on a narrow sidewalk that only locals seem to navigate with ease. Trust me, I get it.
Looking a little deeper, as I did over the years, especially now that I have a dog; I can now appreciate the number of both public and private gardens that make their home here. Some easier to visit than others. Once you've gained access, it can feel you are transported into another, almost ethereal world, and hopefully one where a dog didn't poop in that same spot where you place your weary behind.
In honor of the season of Spring on 'pasquetta' or 'little Easter' which is traditionally known as the day for picnics, here are a few of the most beautiful gardens in Florence. I've listed both public and private, with basic info on how to visit and a hand little google map below.
Feel free to let me know in the comment section if I missed anything.
The Rose Garden – Giardino delle Rose
On the way to piazzale michelangelo, the panoramic point overlooking Florence which recently got an upgrade itself, lies the beautiful 'giardino delle rose.' Completed by the same creator of the piazzale, the forward-thinking Giuseppe Poggi was commissioned to do the rose garden in 1865 for the city as it was about to become capital of Italy. Though it was actually opened to the public only in 1895. The small space (around one hectare) can be found between viale Poggi, via di San Salvatore and via dei Bastioni and displays more of a French style than Italian.
Once inside, you are not only treated to stunning views of the city, but for lovers of plant-life, over 800 species of rose make their home here. Keeping to the artistic tradition of the city, in 2003 the widow of world-famous Belgian artist Jean Michel Folon provided 12 bronze statues to be placed in various spots throughout the garden which really adds to the tranquil sereneness and keeps his memory alive in a historic place.
His art sought to connect man with nature, and my personal favorite statue is of a man on a bench reading a book, perhaps in anticipation of a visit from a friend or maybe he wishes to be left alone engrossed in his novel. Who knows? Many tourists enjoy using it as a fun photo-op, not least my dog Ginger (she appreciates modern sculpture).
The best time of year to appreciate the full bloom is May, when (see below) the garden truly becomes alive, I adore huffing and puffing my way to the garden and bringing a picnic to take in a city that seems to perfectly serene from here. It's completely free to visit (yay!) and is open daily from 8am – 8pm. One of my favorite sections is the Japanese corner by Japanese architect Yasuo Kitayama in 1998, it was a gift from Kyoto which is sister cities to Firenze (fun fact!).
address and info: Viale Giuseppe Poggi, 2. Save the google map below for precise instructions. Opening hours, from June to August, 8.15am – 7.30pm; from April to October, 8.15am – 6.30pm; March, 8.15am – 5.30pm; November to February 8.15am – 4.30pm. Keep in  mind that it is closed every first and last Monday of the month. Cost to enter: 7 euro / 3.50 euro
*Nearby is the iris garden or the 'Giardino dell'Iris which 'is a botanical garden specializing in the cultivation of iris flowers (the symbol of Florence) and open yearly from around May 2nd-20th located at Piazzale Michelangelo, east balcony. Hours 10am – 12.30pm, 3 – 7pm, more info is here.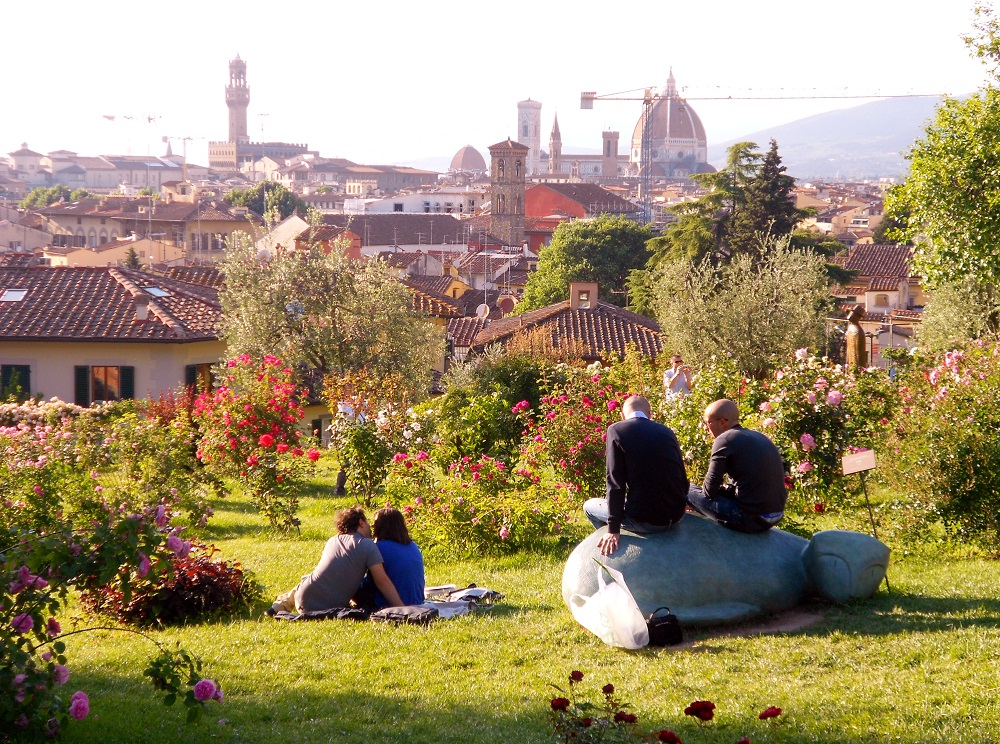 The Boboli Gardens – Giardino di Boboli
I consider the Boboli gardens as much as outdoor museum as an actual garden itself, probably because it became the green inspiration for outdoor architecture adorned with sculptures that has served as green inspiration for famous gardens all over Europe, such as Versailles. When the Medici family acquired Palazzzo Pitti in 1549, they hired Niccolò Pericoli to write up the plans for a beautiful garden to be later realized with the help of  court architects including Bartolomeo Ammannati, Giorgio Vasari, and Bernardo Buontalenti.
https://www.instagram.com/p/BQJHm63BBJ5/?taken-by=girlinflorence
They did a great job making this a multi-level labyrinth wonderland overlooking the city. Once inside, after crossing the "Cortile dell'Ammannati" you;ll make your way past the 'carciofi' (artichoke) fountain and an Egyptian Obelisk direct from Luxor, brought here in the 18th century. There is an amphiteater and Neptune's fountain while the large tree-lined avenue "Viottolone" takes you to a pond featuring more interesting sculptures representing the rivers of the Nile, Gange and Euphrates. Buontalenti's Grotto is a must see for fans of Mannerist sculptures. It's a definitely must see for any visitor to Florence.
Hot tip* Don't miss the Porcelain museum which is located in a pretty pink building on the highest point of the garden.
https://www.instagram.com/p/BQMArF4hFnh/?taken-by=girlinflorence
address:  Piazza Pitti, 1. Open everyday from 8.15 a.m. to 4:30pm (Nov-Feb), to 5:30pm (March), to 6:30pm (April-May, Sept-Oct) and to 7:30pm (June-August)Last entrance is 1 hour before closing time. Full price: € 7,00
Bardini Gardens
Probably my favorite garden in Florence is the Bardini Gardens, close to the Boboli gardens and so much less crowded. Located on one of my favorite urban hikes, on Costa San Giorgio, and adjacent to a the fabulous gourmet restaurant Leggenda dei Frati. Funny enough, these gardens were only opened up to the public in 2005, after five years of restoration and over 12 million euros spent. After looking at the different benches and seating areas they have arranged, I can see why it cost so much! I couldn't help but go and have a read of a patio seating guide after, just to see if any of the benches were remotely similar to those in this garden. I'd love one of the benches on my patio, but I don't know how I'd get it home from Italy, haha!
The gardens get their origins from the historic Mozzi family in the 13th century and has changed over time with a long period of abandonment before it was reopened 11 year's ago. My favorite viewing spot is from the Belvedere terrace, where you get a bird-eye view of the Florentine cityscape. The lush gardens also contain a number of ancient oak and cypress trees housing wood pigeons, blackbirds and robins. They also host regular events (like music in the park) and art shows (like this Sciltian exhibition) so stay in touch with all the latest here.
*I just read in FirenzeToday that Bardini has proposed creating a 'green-way' or 15 kilometer green path as in New York or Paris including the Bardini gardens, Boboli, scuderie in porta romana connected by  viali dei Colliand more to bring the city's citizens more of an outdoor space to relax, read about the proposed plan in Italian here.
By bus: By bus: from Santa Maria Novella Station catch the bus numbered D (from Stazione Galleria, to via de' Bardi) or the one numbered 23 ( from Lungarno Torrigiani, to Piazza dei Mozzi)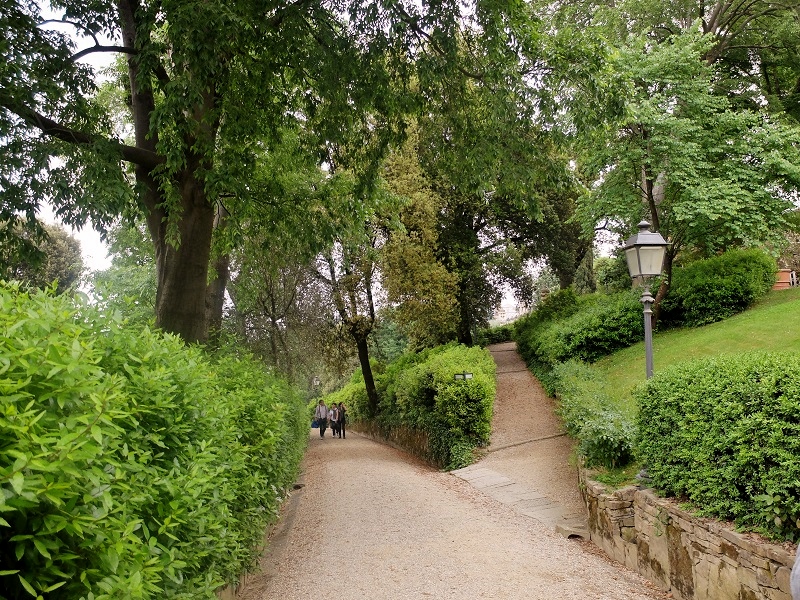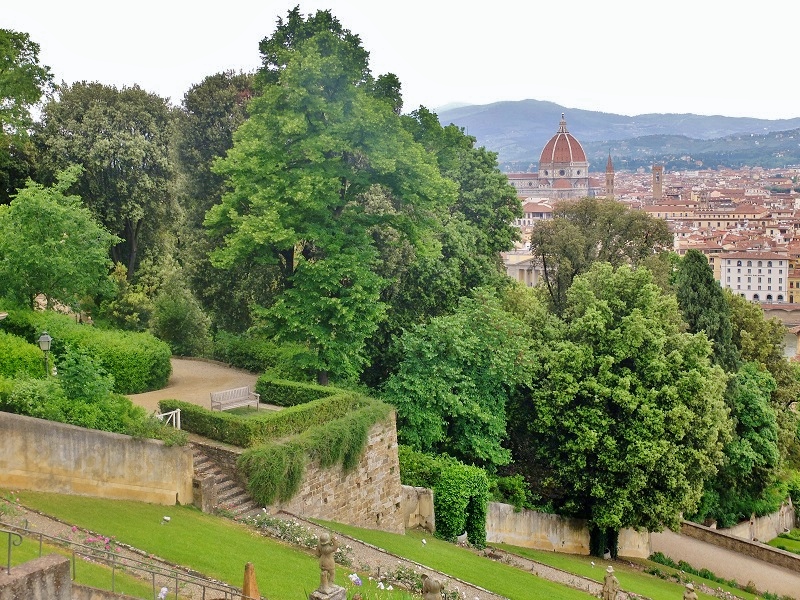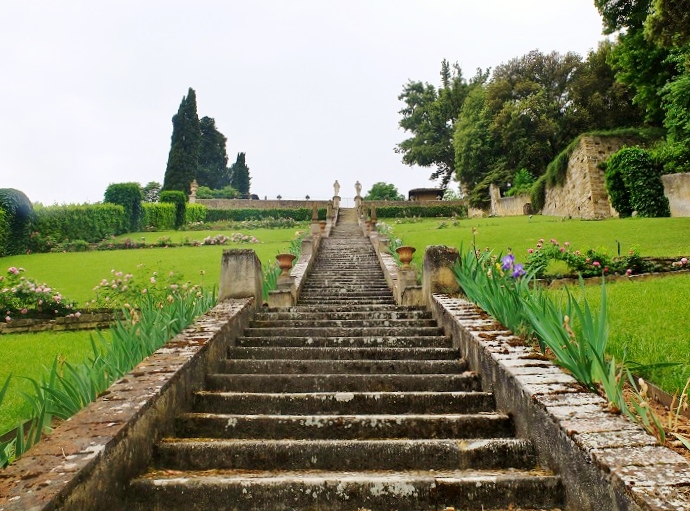 Torrigiani Gardens – Giardino Torrigiani
Who would have thought that in the heart of the oltrarno, lies the 16th century biggest private garden in Europe in between via de' Serragli, via del Campuccio. Impossible to see on the outside, the walls cover the layers of coolness within and abundance of plant life you often don't see in the center of a Renaissance city plus some interesting architecture too (I adore Merlin's cave). In fact, it houses the world's oldest botanical garden (according to them) I wrote about my own tour through the gardens here, and it remains a personal favorite also due to the quirky and friend host that showed me around. Call or send an email to arrange a visit well in advance as it is still the home to a noble family who makes all decisions on whom gets to visit and when.
address and info: Via de' Serragli, 144, Florence, Tel. +39 055 22 4527, Visits by reservation only, www.giardinotorrigiani.it, email [email protected].
*Recently the brand-new boutique hotel 'Ad Astra' opened up inside of Torrigiani Gardens letting visitors stay within the green heart of the oltrarno. Without a doubt, it is one of the best small hotels with character in the city and I could not recommend it more!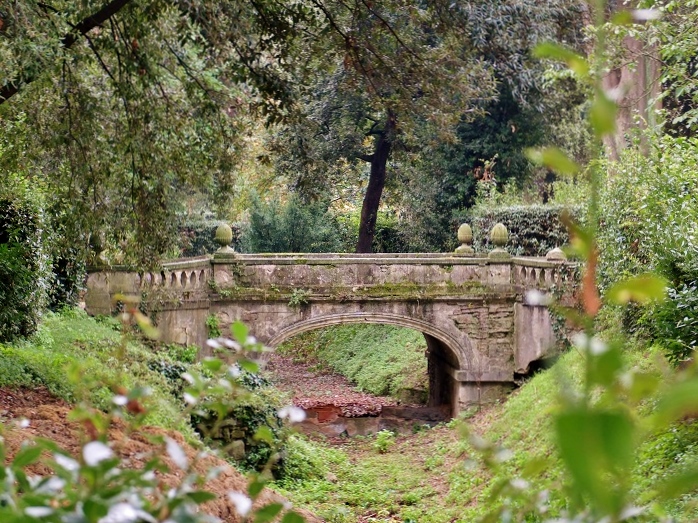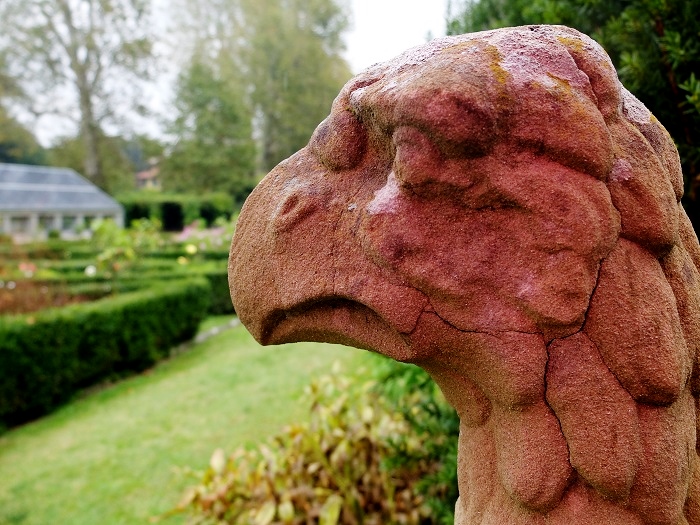 Cascine Park – Parco delle Cascine
Sadly, this garden doesn't get as much love as it deserves, probably because it can be rough around the edges and filled with strange carnival like games in the summer months (is it just me or are these carnival 'theme parks' a little freaky?). Not to mention it used to be place known for a certain kind of prostitution back in the day.
However, I have softened to our city park, 118 hectares of green space next to the Arno river, known for a popular morning market on Tuesdays and now home to the antique markets the third weekend of every month. Naturally, the origins lie with the Medici family (when does it not) who used this area as a hunting reserve for the family, apparently centuries later, Queen Victoria used to consider this her favorite area of the city. It opened to the public during the Napoleonic era and has remained a favorite spot for locals and I love it too, perfect for picnics!
Besides the long viale inside the park and along the river which heeds perfection for joggers, runner, dogs and children. There is also a public pool (Pavoniere) which is quite nice, yet very crowded in the summer, and they often host events and concerts here too.
address and info. The main entrance can be found at Piazza Vittorio Veneto, reachable by bus 17 or the tram (stop: Cascine).
Stibbert Park – Parco di Stibbert
One very underrated museum and gardens in Florence is most definitely that of Stibbert, which is home to English-style greenery and   symbolic architecture ( with temples, rock caves and fountains) close to piazza della liberta on the way to Fiesole. More info can be found here.
address and info: Via Federigo Stibbert, 26, 50134 Firenze, Italy. It is free to visit (yay!) and is open every day except Thursday from April to October, 8am – 7pm; from November to March, 8am to 5pm. Closed January 1, Easter Sunday, May 1, August 15 and December 25.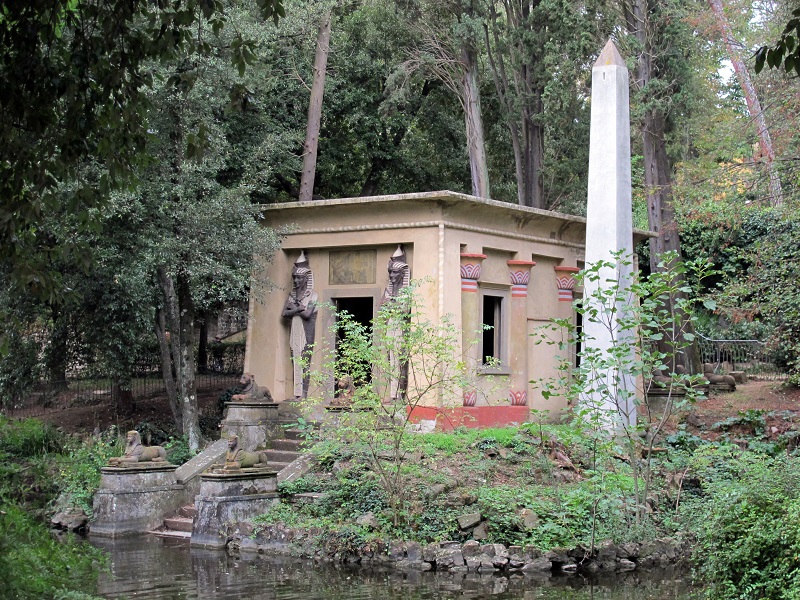 Villa Strozzi Garden : Giardino di Villa Strozzi a.k.a. Il Boschetto
A place that is special to me, since they have one of the best closed dog-parks in the city, 'il boschetto' is a place I visit regularly. About 20 minutes walking from borgo san frediano, in the summer this expansive and historic green space near Polimoda university really comes alive. In-the-know locals come here for the cheap spritzes and pizza near the limonaia, which also regularly hosts summer events. They also have a playground for kids and picnic tables.
address and info: Via Pisana 77, Via di Soffiano or Via Monte Uliveto (best for dog park).
Horticulture Garden: Giardino dell'Orticoltura
Another green space closer to piazza della liberta, is the pretty 19th century 'giardino dell'orticultura' set in he backdrop of the impressive Tepidarium which is now used for local events. Last year we enjoyed a beer and street food fest here and coming up around April 25th will be a large garden and plant fair here, the perfect opportunity to hone that green thumb that so many of us (ME) don't have. Seriously, I killed a cactus for god's sake.
address and info: Via Vittorio Emanuele II, 4 or Via Bolognese 17.
Giardino della Gherardesca – Gherardesca Gardens at the Four Seasons in Florence
Are we surprised that some of the best gardens in Florence are property of the Four Seasons Hotel Group and still private? Nope! This green space covering 4.5 hectares (11 acres) has been hidden from public view for hundreds of years, and was originally planted as a Renaissance garden in the 15th century. Highlights include the longest living plant in Europe (Taxus Baccata). The good thing is that even if you can't stay there as a guest, they often host 'open days' throughout the year where anyone can visit the park, and the typically provide snacks too! I had the pleasure of visiting their (amazing) spa  which is just as fabulous as you imagine it might be.
address and info: Borgo Pinti, 99. + 39 055/26261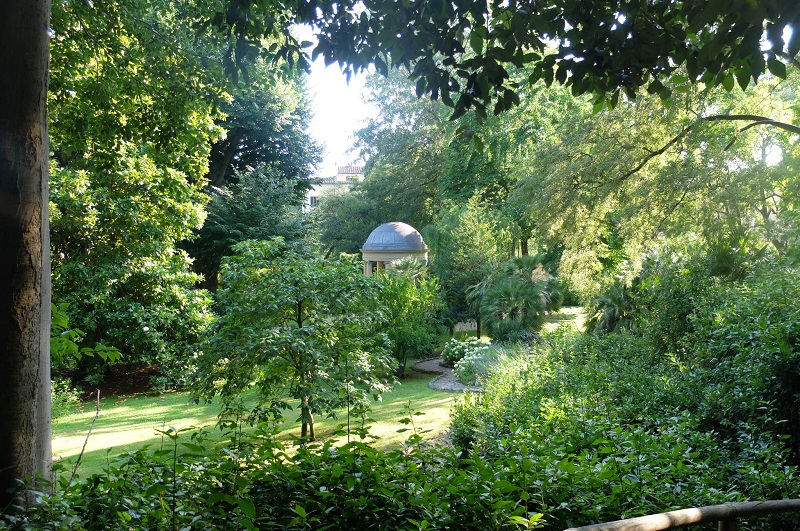 Outside of Florence – Top Garden Picks
Obviously there are a number of beautiful gardens around Tuscany that are well-worth a visit. I'll list a few of my favorites here below, many of which I have seen while working as a wedding celebrant. Ah I miss those days!
Villa Gamberaia in Settignano

– once home to a Florentine merchant Zanobi Lapi, the 17th century gardens here are magnificent and retain much of the original grandeur over four centuries which is celebrated by architects worldwide. The gardens are open to visits from 9am-7pm on weekends with a cost of € 15 per person, you can read more on how to visit here.
Villa Fiesole.

 Considered one of the oldest Renaissance residences with a garden, it was built in the 15th century by Cosimo the Elder for his second son Giovanni which later become the home of Lorenzo 'the Magnificent.' He used the place as a meeting place for artists, philosophers and basically 'thinkers'. The gardens are on three-levels offering a variety of wonderful views.  Open from Monday through Friday from 9am to 1pm, visitors are allowed only in the garden and by prior arrangement. Please contact: annamarchima[email protected]. address: Via Beato Angelico, 2 – 50014 Fiesole.
Pratolino Park

– Outside the city center is one of my personal favorite places, 'pratolino,' previously Renaissance Medici patrician villa which is reachable by the number 25A bus from piazza san marco. The Apennine Colossus by Giambologna is the most recognizable work of art in the garden. Open during the summer to the public from late April to late October (Friday, Saturday and Sunday, 10am-8pm), address: ia Fiorentina, 276, Vaglia, free to visit.
La Foce – one of the finest 20th-century gardens in Italy. When a rich Anglo-American heiress and her Italian noble husband get together, well just about anything is possible. Including turning a derelict 3,500-acre estate in an 'eh' corner in Tuscany, Chianciano Terme, into a garden for the stars. address: Strada della Vittoria, 61, Chianciano Terme. They also rent out apartments and have a B&B. The garden is open for guided tours every Wednesday afternoon and every weekend from mid-March to November.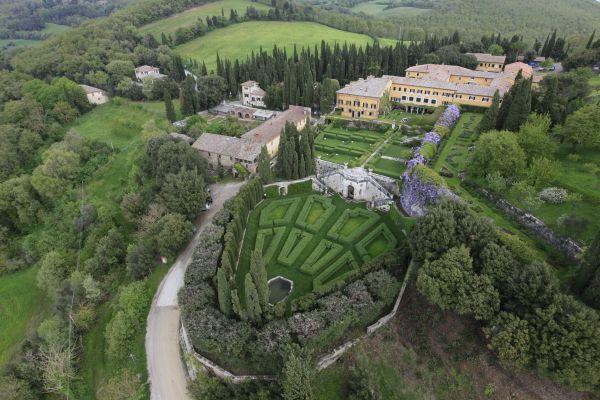 Additional resources: 
Pin It