You know when a restaurant's name hails from a legend of drunken boisterous monks keeping up their neighbors, it's going to be good.
Have you ever walked out of a restaurant in a stazed, happy daze that you hoped would never end. Not to be confused with a food coma—instead you have a sort of unique jubilation with the realization that you might have possibly just hit food nirvana? Call me dramatic, but that essentially sums up how I feel about La Leggenda dei Frati restaurant in Florence.
Tucked into a picturesque corner of the city, quiet calm next to the gardens of Villa Bardini, you couldn't ask for a better location if you tried. I like the fact that despite nine years of living in the city I often am discovering hidden corners, like the insanely beautiful gardens of Villa Bardini, that almost feels a little wrong when I realize they have been open for some time.
To tell you the truth, I often get asked for restaurant recommendations with a view in Florence and I often thought you couldn't find a truly awesome restaurant overlooking the city —but I was wrong, so so very wrong. Keep in mind, there are plenty of awesome restaurants in the city, heck I list all of my favorites here, but top notch cuisine with a view and exceptional service? You might have to walk up the steep hill that is the road Costa San Giorgio but the light of the tunnel of the meal you will enjoy at Leggenda dei Frati makes the trek that much more worth it.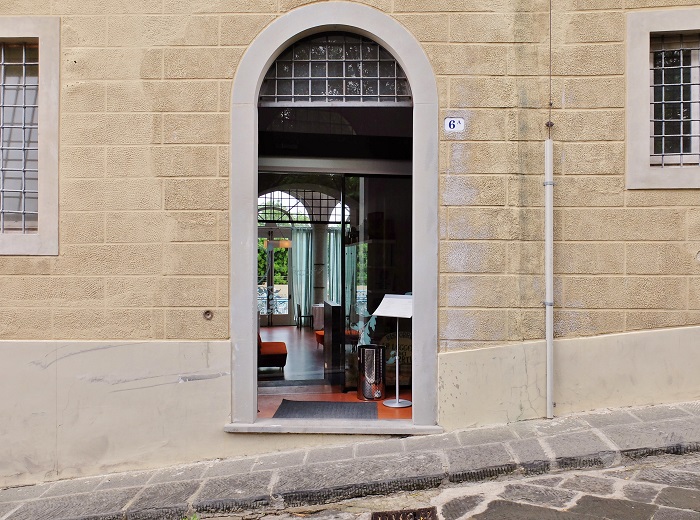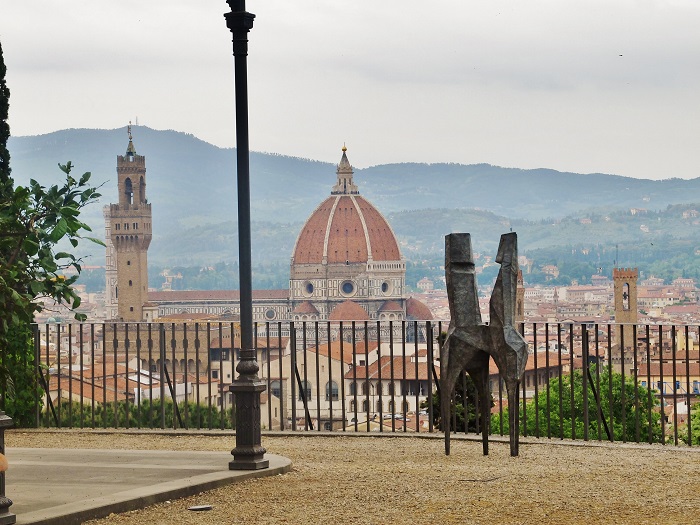 As part of my job and also for a new app guide I am currently working on, finding places like this is a must. More than just a place to rest your feet and eat a meal, this is quite simply an experience. Nico and I had no idea that we were in for an eight course meal paired with wines on a simple, not such great weather, Saturday afternoon.
La Leggenda dei Frati is located in the museum complex of the Villa Bardini, a 17th century villa with an incredible view of the city and surrounded by a four-acre park with plenty of agrarian features (imagine olive trees, vegetable patch and pretty archways).
The ambiance is elegant and modern, plenty of natural light and modern art from the Galleria Continua of San Gimignano donning the walls (featuring artist Cameroonian Tayou), an ideal venue for special events and anniversary dinners. The cuisine is innovative, rooted in local culinary culture paying particular detail to seasonal, local ingredients. The owners are a husband and wife team, the friendly and delightful Filippo Saporito and his wife Ombretta.
To start our multi-sensory dining experience, we were instantly asked if wanted an aperitivo to start (of course) and were served a beautifully crisp brut spumante from Trentino. Then the games really started to begin, with eight courses of uniquely presented and flavorful dishes.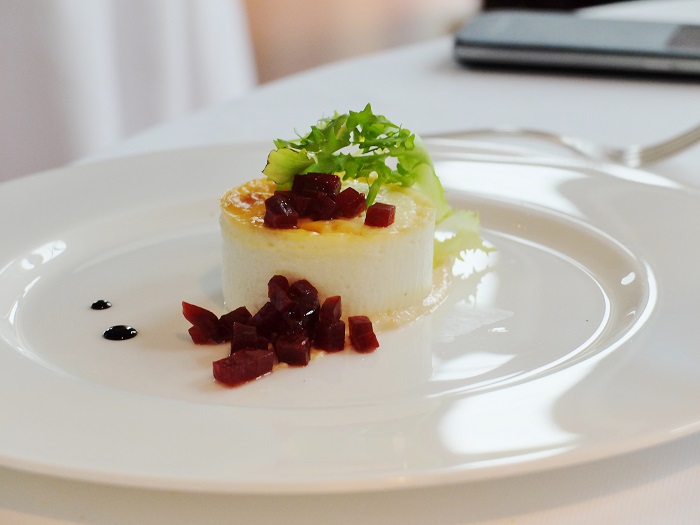 While I won't picture every dish (we have to keep some secrets after all) I'll share a few of our favorites. Pictured above was a lovely ricotta tart with red beets over a beautiful nut sauce.  Though you might imagine that the ricotta would make this be quite a heavy start but on the contrary it was a light perfect way to start a Saturday lunch.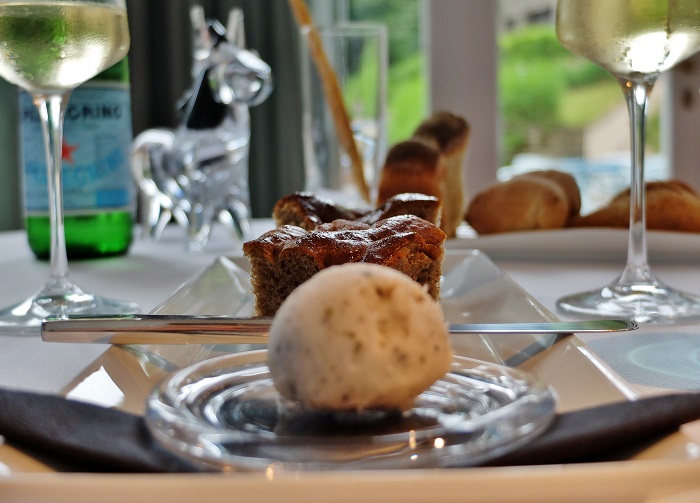 Next up they must have sensed that I am a serious bread-lover and brought out a delicious array of foccaccia breads with creme of lardo from Collanata (lard capital of Italy). Along with this, we tried breads made from natural yeast, milk and a delicious version using polenta or 'corn flour.' I tried —and failed to not eat too much as our next dish arrived, a menu item that jumped out at me, anchovies filled with caprino (goat) cheese over a bed of traditional Tuscan 'pappa al pomodoro', oh and did I mention popcorn dust?
You had me at hello anchovies, Tom Cruise had nothing on this dish.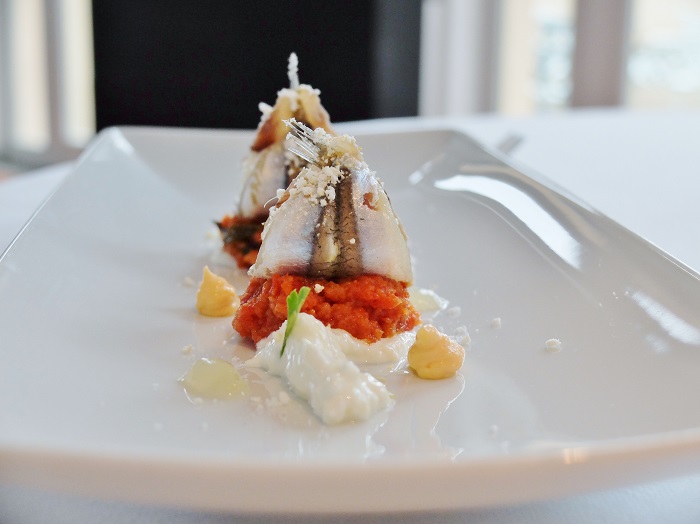 Up next was a crowd favorite by both Nico and I were in love, and I mean seriously I could have went PG-13+ on this dish (sorry minors). A fried egg with both cooked and raw versions of asparagus, naturally over a bed of pecorino cheese. So delicious! I asked the waitress how you could possibly fry an egg and she divulged that after a few failed attempts, their secret is first steaming the egg, shelling it and then frying it in a very soft and delicate way.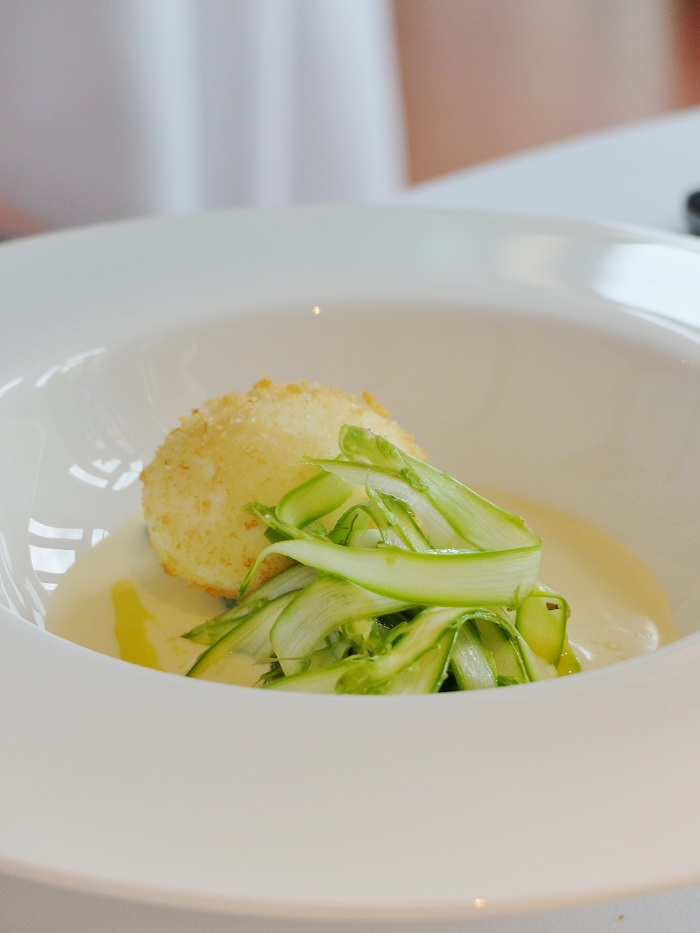 While I didn't get a picture of the dish we had after, a beautiful spring pea soup that looked like a work of art, made with almonds and mushrooms and topped with little garlic flowers and the tiniest sliver of Tuscan lardo. Next up was the chef's favorite, a chicken liver terrine with figs cooked in Chianti, radish salad and raisin bread. Not my usual kind of dish, but one that I really enjoyed.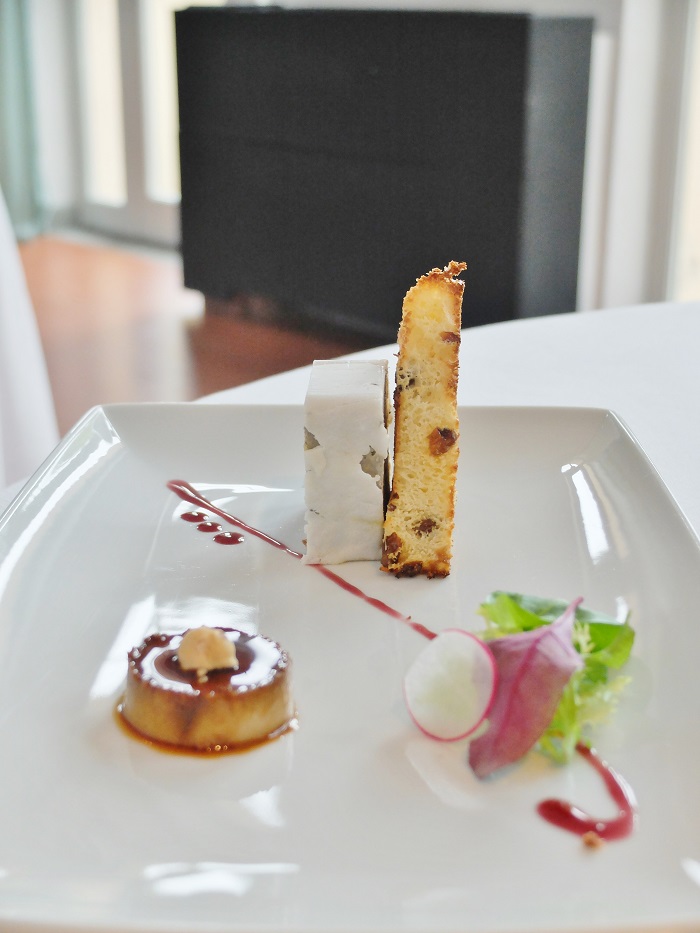 We managed to keep going because these dishes were smaller than they appear in my photos. Below you will see a tiny portion of ravioli made with grana cheese aged for 24 months, these little buddies were cooked with candied lemon, butter and thyme.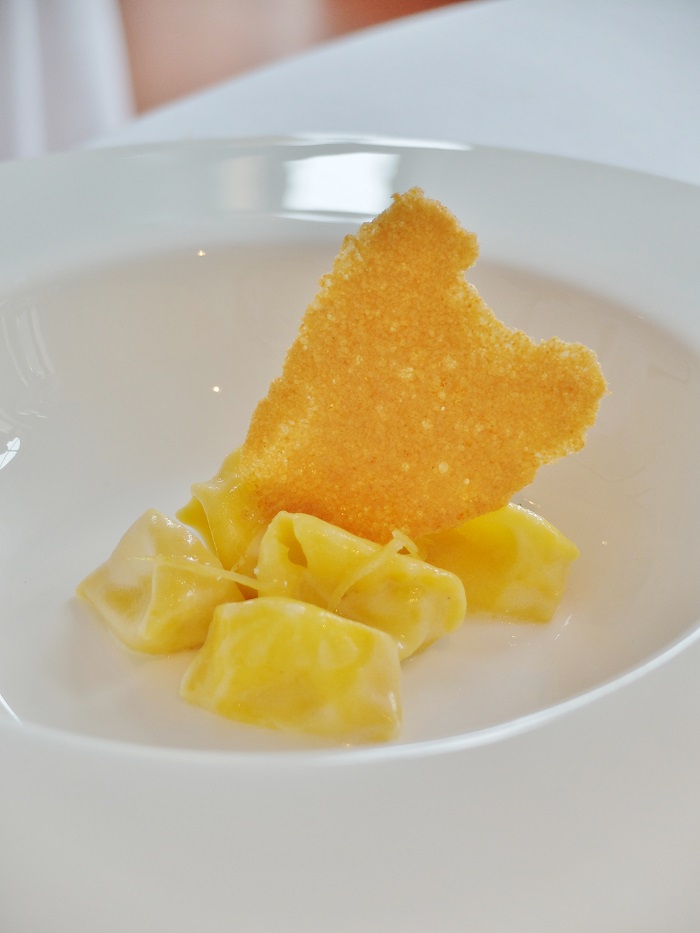 Now, let's talk desserts.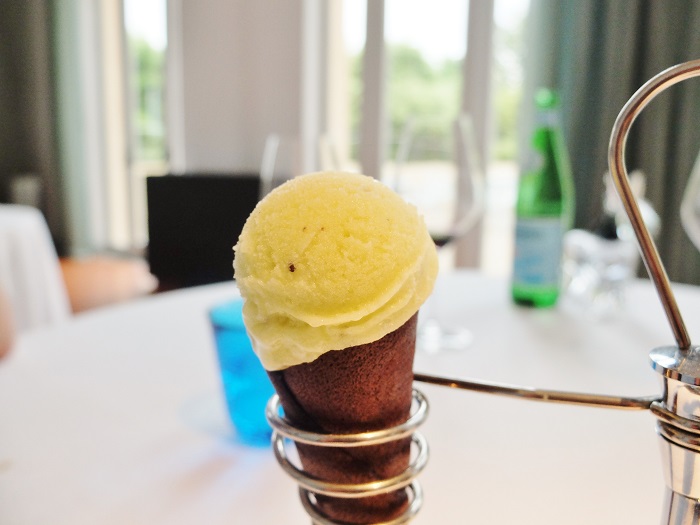 When the above dish came out, I was thrilled. A beautiful sorbet, and this made of kiwi, was exactly what  the doctor ordered. Served in a cacao cone in these cute little gelato-cone displays, we enjoyed this palate cleanser before moving on to the main dessert, which was quite interesting. I should also mention that the wines were on point as well, besides the spumante to start we enjoyed a beautiful Tuscan white and a red Syrah, all blended perfectly with our dishes. The wine menu can be viewed here.
Titled 100% chocolate or something to that extent, this was a pretty amazing affair to watch. First comes the plastic table setting that I am pretty sure they told me came from Ikea, then a quick and impressive array of chocolate and sauces and biscuits whirling around my head via the waiters hands as the below presentation finally reached its fruition. It came together even better with each mouthful, the only way I can describe this is 'deliciously fun.'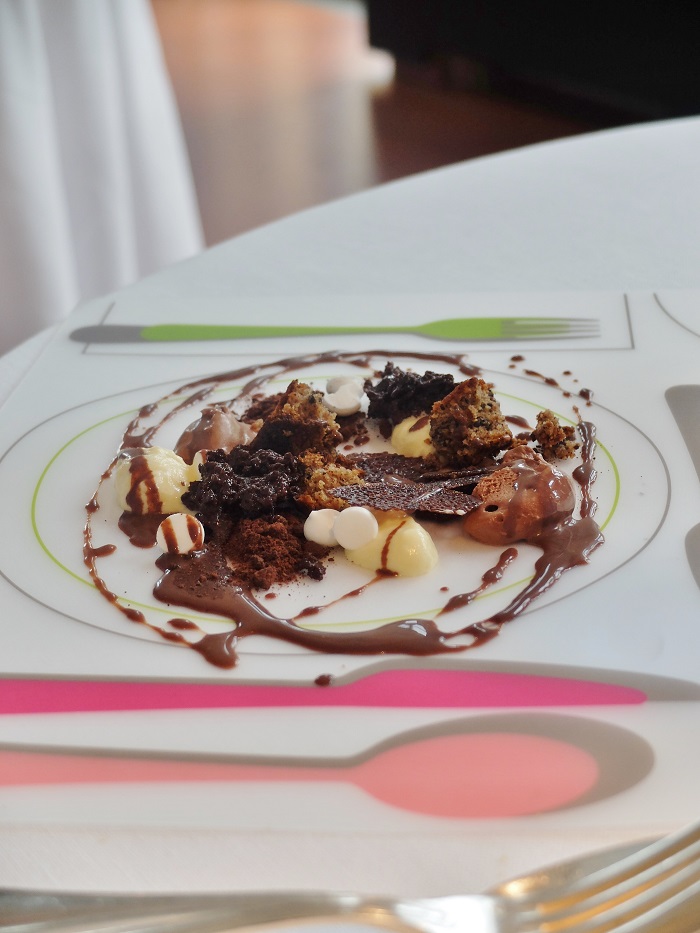 The restaurant recently changed locations from Castellini in Chianti, where it was housed in a 1000 year-old abbey 1000, just below a Romanesque church. Here the monks or 'frati' gave the name to the legend which makes me laugh. Apparently they kept everyone up at night because of their loud drunker boisterous behavior, it sounds a little like piazza santa croce on a Friday night. When Filippo wanted to purchase the space for the restaurant, they said yes on one condition, that it retain the name 'Leggenda dei Frati' in homage to the past.
Filippo was a delight to chat with, he told me that changing locations was one of the best decisions they ever made because of the prime spot in Florence, a little hidden and pretty special. He left a lasting impression on both Nico and I on how utterly kind and accommodating he was to us both. A young mastermind in the kitchen, with the kind of teddy-bear smile that makes you feel comfortable enough to ask even the dumbest foodie questions. His lack of pretentious 'holier than thou' attitude about food was refreshing. T
He also let me in on a little secret, that if you call ahead or arrange an event there, they can even show you the museum at night. I would have absolutely no problem recommending this place to anyone looking for a special spot for lunch or dinner, to propose or even host a wedding (hint* to myself).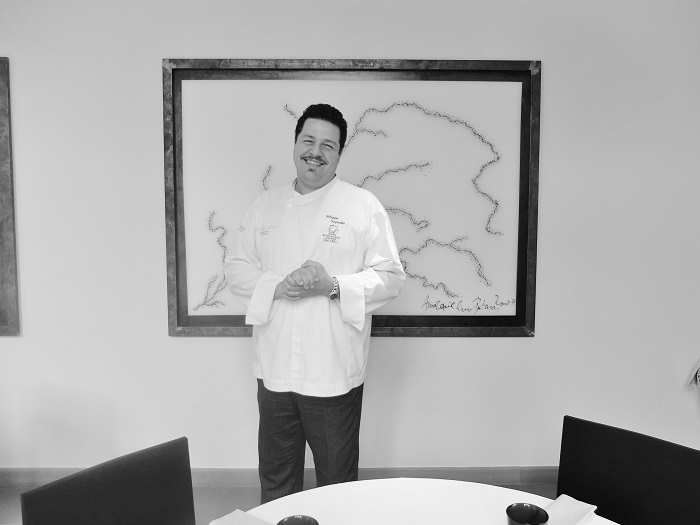 La Leggenda dei Frati is also an active member of of the Jeunes Restaurateurs d'Europe. An association of young talented restaurant owners, driven by the passion for their craft. An internal quality selection guarantees that these ambitious chefs belong to the top of the European gastronomy. he also has received 'two forks' from the esteemed gambero rosso. Filippo gave us a copy along with a small box of desserts that pretty much sealed us being friends for life.
---
Info & How To Get There
Dishes range from 17 euros for appetizers to 25 euros for a main course. The 'grand menu dei frati' or eight-course delight that we were treated to costs  €70,00 per person. They also offer a special lunch menu for 25 euros.   Reservations highly recommended.
How to get there? We got there quite easily from piazza della passera, an 11 minute (uphill) pretty walk, if you pass Villa Bardini than you have passed the restaurant, it is located in the same complex.
La Leggenda dei Frati at Villa Bardini
Costa San Giorgio 6/A – Firenze
Tel: +39 055 0680545, website. facebook
E-mail: [email protected]
Closed Monday