I often get inquiries from you guys asking what I'd do for 'just one day' in the city, I always try to answer your emails but this is great inspiration on what I really should be writing about. This is something I have often thought about doing, so my aim is to give a few sample itineraries based on different price points of those visiting (luxury, mid-range and budget). I am skipping art galleries and museums because there will be more posts focusing on a more artsy approach.
The first in my Florence 'one day' series is for those who want to live it up in sumptuous luxury. 
I definitely was inspired by my friend Leah's post on what would be HER perfect day in Paris (and likely mine too). And I want to hear from you! For luxury travelers, what would you have added to this list? Leave your comments below :).
8:30 Am, Cappuccino And A Delectable Pastry
I know puff pastry and creamy layers might not be everyone's idea of a good time, but actually it is mine. I have converted (slightly) to the Italian habit of eating sweets in the morning. And no-one does it better than Pasticceria Giorgio in the Soffiano neighborhood of Florence. Take the tram or bus and get an outside table to enjoy what will be a very special treat, my favorite is the schiacciata alla fiorentina. A local Florentine carnival dessert.
Pasticceria Giorgio, Via Duccio di Boninsegna, Florence. Open 7am – 8:30pm.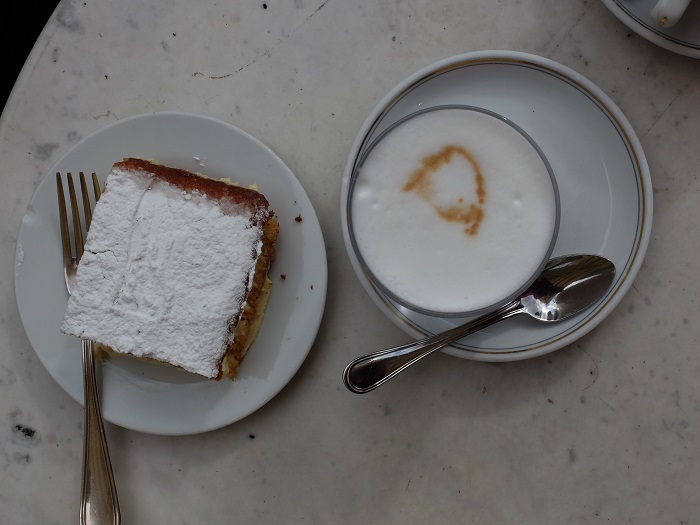 9:45 AM, Work It Out, Preferably With A Cute Local Florentine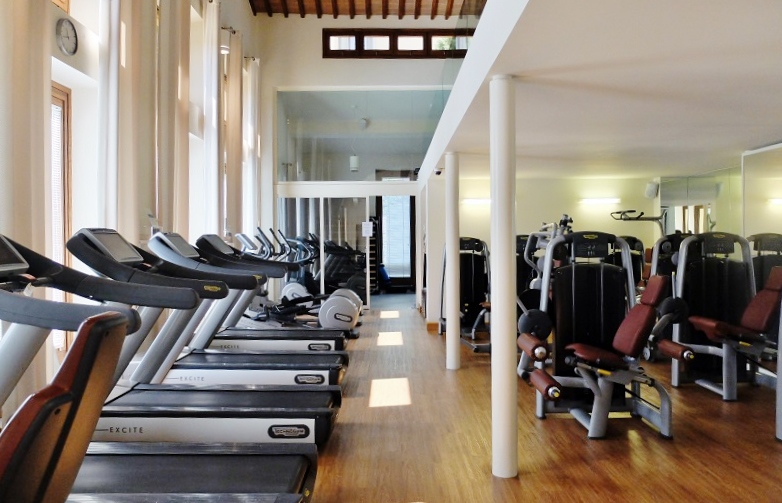 Now that you've downed a breakfast bomb, time to work out. My logic of course would make any true fitness lover cringe.  One of the first services I have been privy to try was a personal-training session with the resident Lapo at the Four Seasons Hotel in Florence, a cute friendly Florentine who was waiting for me with a smile, and a fresh bottle of water. I was secretly pretty scared of this, because thought I have been working out, typically I prefer to do my own routine and abhor any sort of group involvement or even a stare my way. Mainly because it's punishment right? Lapo's 'office' is located in the back of state-of-the-art-gym (would you expect anything less from the Four Seasons?). I spotted my mat, towel and water and we began with a chat and a series of stretches, he promised to make it easy.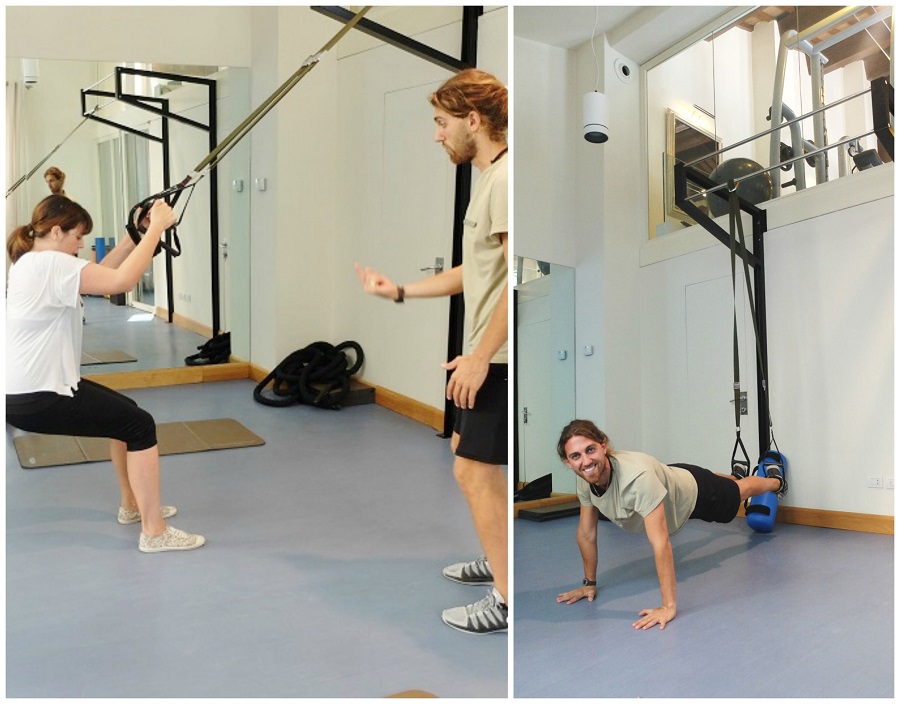 We did a combination of free-range exercises including a variation of squats, planks, arm-strengthening exercise and more, he made it easy and fun and the hour flew by a lot faster than I anticipated. Previous to Lapo, my experience with personal trainers were a few flirty sessions with 'friends' in Los Angeles, this however, was a whole other level. He maintained a perfect balance of professionalism and casual conversation, we both apparently have a passion for discovering new, hot eateries in Florence. How can you not love that your trainer is so willing to talk about food? And not just the healthy kind :). Rates for his services start at  EUR 65.00 per person. Ask about doing your session in the amazing park, which is the perfect motivator for excerizing.
10:45 Spa Treatment Ghirlandaio's 'Garden Of The Senses' or a 24K Facial
When it comes to the spa scene in Florence, Italy, I really knew little about the plethora of choices in our Renaissance city, which feels to be more dynamic with every passing day. My thoughts that are if Brunelleschi or Lorenzo de'Medici were alive today, they would opt for a more metro-sexual lifestyle, with weekends in fancy spas in the Dolomites and purifying masks in the city's best hotels, like the Four Seasons Hotel in Florence. Which calls for a stopover at the spa, and preferably one where those treating you intuitively known what you need.
These days, while I have only been able to escape the city for short stints, mainly due to work. I have recently gotten a freelance writing assignment to cover some of the city's most famous spas. As fabulous as it sounds, it is not something I take lightly, since to be frank, details are everything — especially if someone is paying you to do it. Since I have gotten to know the lovely ladies under the wise direction of spa manager Lucia at the Four Seasons Hotel in Florence, I have been so impressed with their level of service. Not only is it one of the best luxury five-star accommodations in the city, an ex-Renaissance villa and convent, it is combined together with one of the largest private gardens in the city, to make an actual oasis from the busy city streets. Place one foot inside and you have instantly been transported into another planet, with better service featuring historical, timeless touches from the villa's previous noble residents.
The spa itself is reachable via the outside garden, exit the cool Renaissance courtyard onto a small path inlaid with stones, about one minute later you find yourself facing the gym, with  the spa structure itself directly to your right.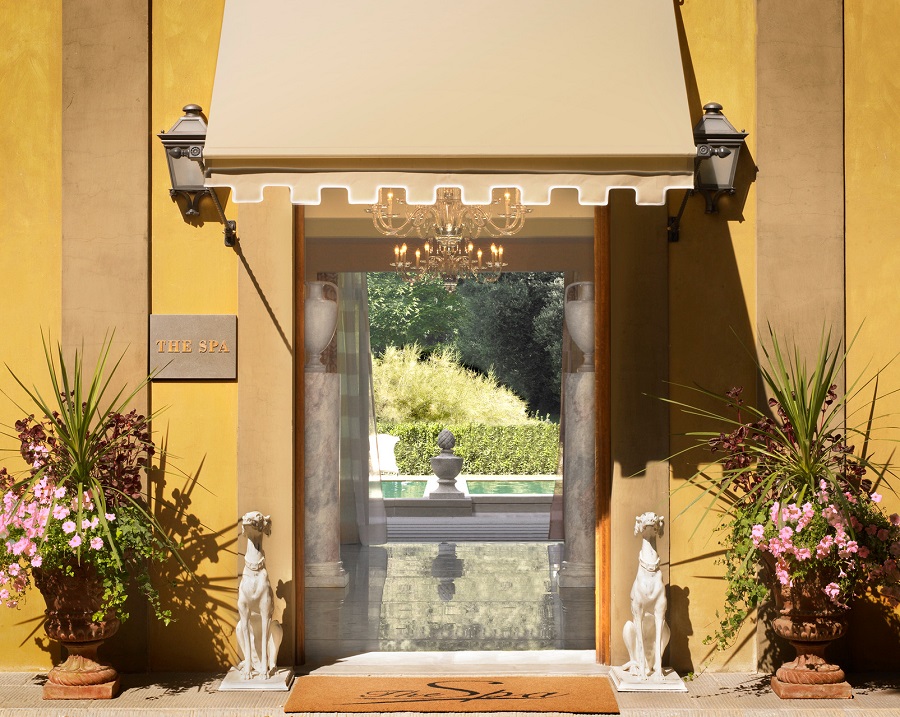 For those looking for a luxurious spa experience there are two specific treatments that I can personally recommend, you can contact the Four Seasons directly to specific a treatment here.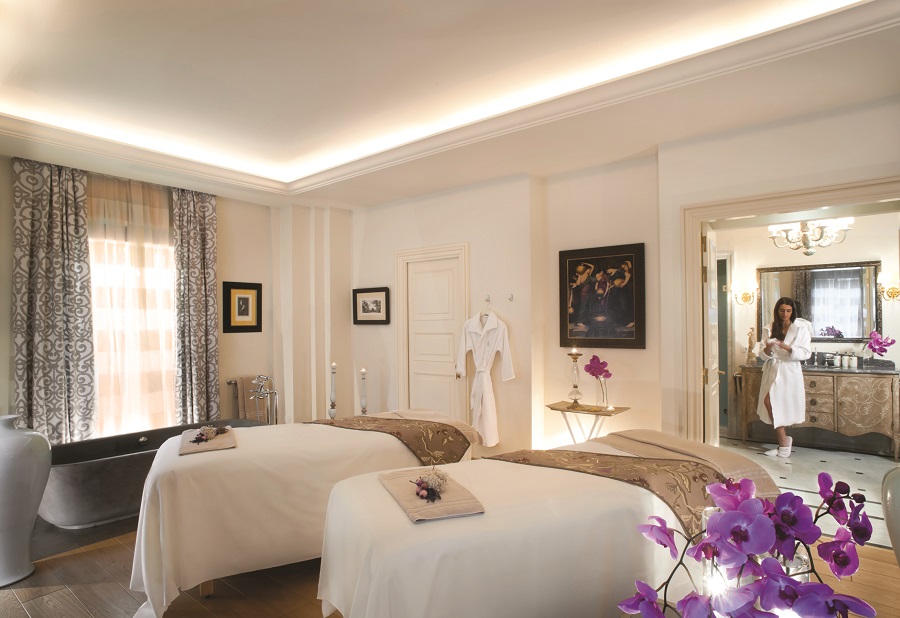 "Il Giardino", a luxurious two-hour affair including a full-body scrub and massage. I met with Lucia, the spa-manager before who showed me the range of products that they use for this treatment, a line called 'il giardino' by Arangara, an organic made-in Italy brand, specifically created for the Four Seasons after they took inspiration from the beautiful Giardino della Gherardesca. I immediately met the lovely Francesca, who would be in charge of both of my treatments.
Wow, the scrub was absolutely wonderful, an hour of pure bliss with the wonderful hints of citrus for a multi-sensory experience. I took a shower and I felt like I had a new skin, and then the massage began. Once again Francesca is a godsend, she worked out all of the kinks I typically have from working on the computer so much. I highly recommend this for those who appreciate a sumptuous scrub!
Lux Perfection Facial Treatment. Never in my life would I have ever imagined that I would get a facial with 24k gold, all in the name of work. You gotta be kidding me right? This is a 24 karat gold skin indulgence utilizing a product called 'black pearl' that the Four Seasons has exclusive use of, snap, including interesting ingredients such as Dead Sea minerals, Tahitian black pearl, vitamins, collagen and hyaluronic acid.
You may think that putting gold on your face is a little weird, but according to spa manager Lucia ". The pharaohs of ancient Egypt believed gold reflected the brilliance of the sun and by sleeping in a gold face mask every night, Cleopatra enhanced the suppleness of her complexion and preserved its natural luminosity," explains Lucia. "We want the introduction of Black Pearl to mark a new era for our Spa. I can tell you that it is 105 beautiful minutes that is so much more than just a facial, the head massage alone made me want to cry, it was that good. Nico needs to be sent here to learn that art!
Francesca placed precious stones in my hands and on precise chakras points of my body and proceeded to clean my face more than it has ever been cleaned before. Trust me, the air in Florence isn't really that nice, so she probably had a fair amount of work in her hands. She applied the Gold Cleopatra Mask which is then removed using a natural magnetism. It was slightly prickly, like that shiver you get when you hear a memorable song (in my case Tom Petty). This feeling is unreal, and as always with the four seasons, they give you a special card at the end to tell you what products they personally recommend according to your skin and body type.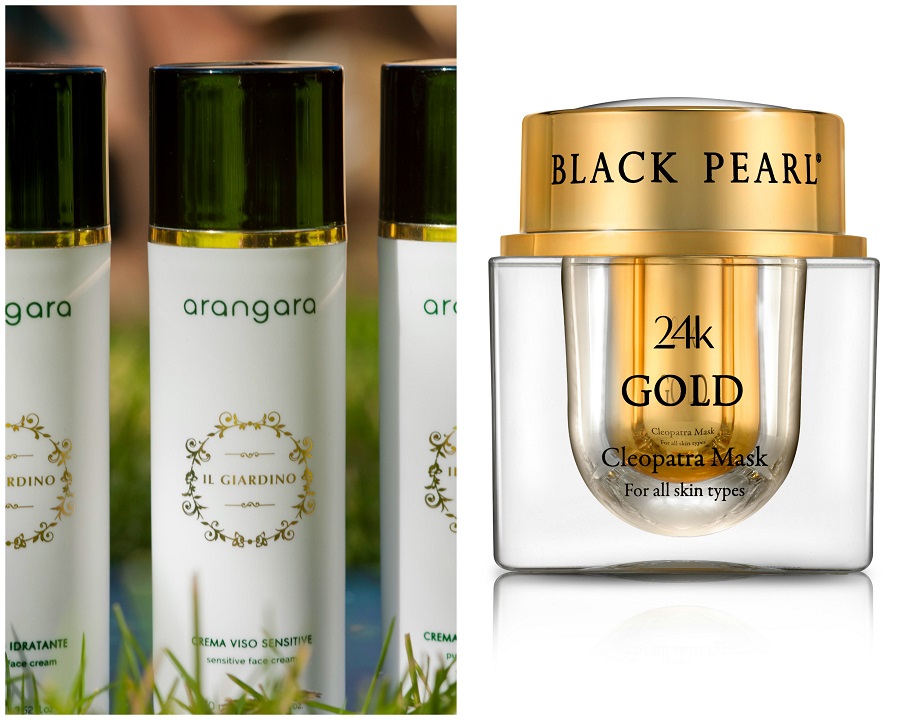 1 pm Lunch 'Al Fresco' With A Pool View
Now with such a busy morning, you'd likely be a bit hungry, so I would head to the Al Fresco restaurant in front of the pool for some casual international and Italian cuisine, conjured up by the great Chef Vito Mollica. They whip up a crazy good peach bellini, prosecco and fresh peach puree that is the quintessential summer drink. I like their selection of salads, I tried the cCaesar salad with "Focaccia" Bread Croutons and Parmesan Shavings, with sautéed shrimp added on top. I also recommend the menu of the day, which is a unique plate combining the daily special. Last time I tried it, they had duck and a savory vegetable puree, it was very good. For dinnertime, this is fantastic for gourmet pizzas from their own outside oven, my idea of heaven.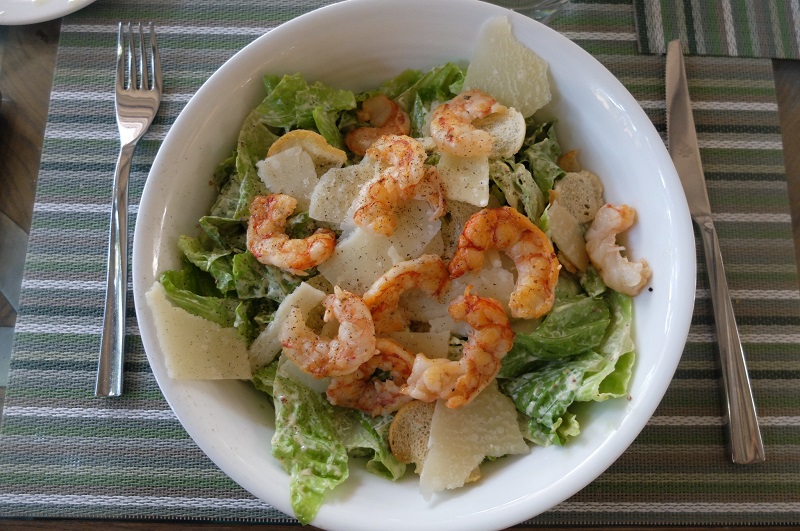 2:30 Pool Time
I can't think of a better thing to do after lunch than hit the Four Seasons pool. I saw screw the 'you need to wait three hours after you eat' local mantra and pick a spot poolside, this has to be one of the best spots in town. If you are going to get a treatment and have lunch, you might as well stay a few extra hours. There has been a horrible heat wave in Italy and honestly most of us are living like semi-vampires, anytime I can escape to a pool like this, it's a good day. Actually, scrap that, if I could physically live in this pool I would. In fact when Nico and I were there, they had to almost drag us out. They get added points because they will deliver margaritas and drinks to you while you are swimming. Doesn't get better than that. Open 8am – sunset.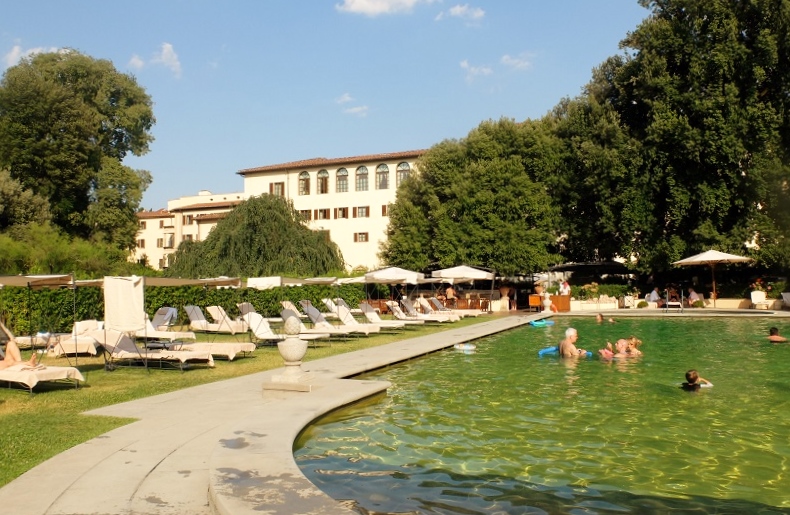 4:45 Blowout & Makeup
One service that I highly recommend is getting a 'blowout' or your hair professionally dried and styled by the fantastic hairdresser at Four Seasons, it costs around EUR 55, and he is simply the best. My biggest complaint with getting my hair done in Florence is how long it takes and though this isn't a cut or color (but you can do that too) he is so quick and very efficient. There isn't anything like a 'blowout' bar in Florence but this is a great middle-ground. I loved my 'do' and walked out feeling like a million bucks. For an important event or party, this is a wonderful option. He also does makeup for a cost of about EUR 70 and did a fabulous job at that too. Quite honestly I am flabbergasted that some celebrity hasn't stolen him off to do their personal styling in the Maldives while gifting him his own bungalow yet. This man is a magician. We talked about how both of us are planning to get married, he has been with his fiance for 10+ years – and they work together. We also spoke of his homeland Sardinia, a place I imagine he misses very much as Florence continues to heat up hot enough to fry an egg, heck I miss it, and I've only ever been there once.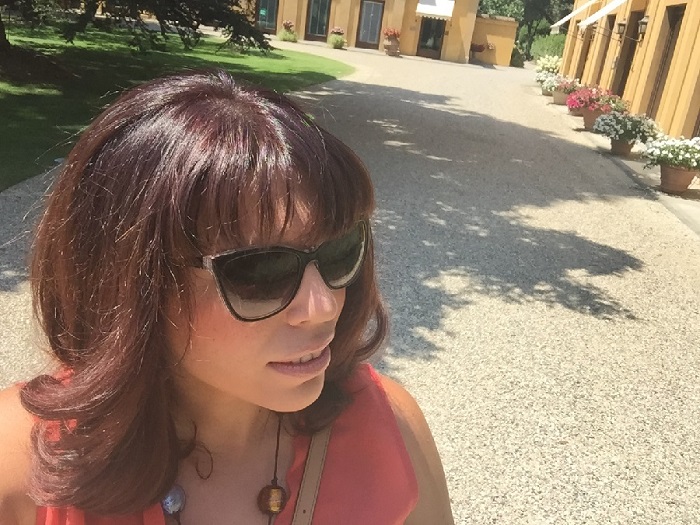 Speaking of hair, If you need a little head-start in hairdo terminology in Florence, I have just the list for you. 
5:45-6pm Boutique Shopping
Now that you are looking all fine, it's time to hit Florentine city streets when it is hopefully a little cooler. Personally I really like to shop before dinner, because after an hour or two, I feel like I really earned that cocktail. There are plenty of fabulous shops in Florence but since we are sticking to the luxury options this itinerary, I would definitely stop by these places that I dream of shopping at one day. I also recommend picking up The Cognoscenti's Guide to Florence, which is a great pocket-sized guide by Louise Fili and Lisa Apatoff, showcasing on high-quality shops that date back generations in Florence. I also have my own personal list of additional favorite spots here.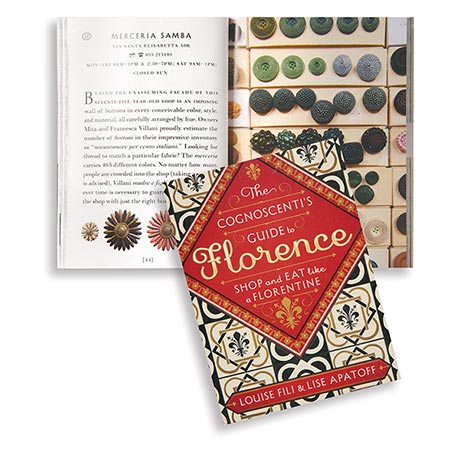 Shoes, skip the heels and go for the best made-in-Italy flats personalized for you at Viajiyu (which means 'Freedom Road), in the historical center. This trailblazing brand is the brain-child of Nicole, traversing Australia and Japan finding inspiration in strong, independent women who need a really damn good pair of shoes. I love the names such as 'The Medici' or after iconic Italian cities, like 'Como.'  You need an appointment to visit the shop, which you can do here or by calling  +39 055 290 380. The shoes range from $288.00 upwards.
Clothes, Luisa Via Roma is always a personal favorite, even if it is a bit out of my own price range. I like the eclectic mix of designers that are a mix between the quite well-known and just emerging (look for the LIMIT.EDITION section). Their shop is always fun for a walk-through, they also provide excellent customer service. address: 19-21 via Roma, Florence. Open 10:30am-7:30pm. Duomo neighborhood.
Jewelry, Angela Caputi. One of my personal favorite places to window shop is the enticing store of Angela, where she makes a wide variety of jewelry inspired from American films of the 1940's in the heart of the artisan district of the city, the oltrarno. Her pieces are one of a kind, the perfect feminine accessory in bold colors and shapes, but they are also a lot like art, in fact I spotted some of her wares in a recent visit to the Palazzo Pitti Costume museum. address: Borgo SS. Apostoli, 44/46, Tel +39 055 292 993. Oltrarno neighborhood. 10am-1:30pm, 3:30pm-7:30pm.
Perfume, AquaFlor is a must-visit. This artisan perfumery is luxury scents at its best, handled by the creative Sileno Cheloni, who first got his perfume chops working in Milan. Walking in is a joy for the senses, the intoxicating smells waft down the street as a sort of siren call for the people.  Address: Via Borgo Santa Croce, 6, 50122 Firenze, +39 055 234 3471. A custom made perfume from Sileno starts at around €150 for a 50 ml, you can purchase pre-made ones for a lesser price, along with a variety of interesting products, including home fragrance. Open 10am-7pm. Santa Croce Neighborhood.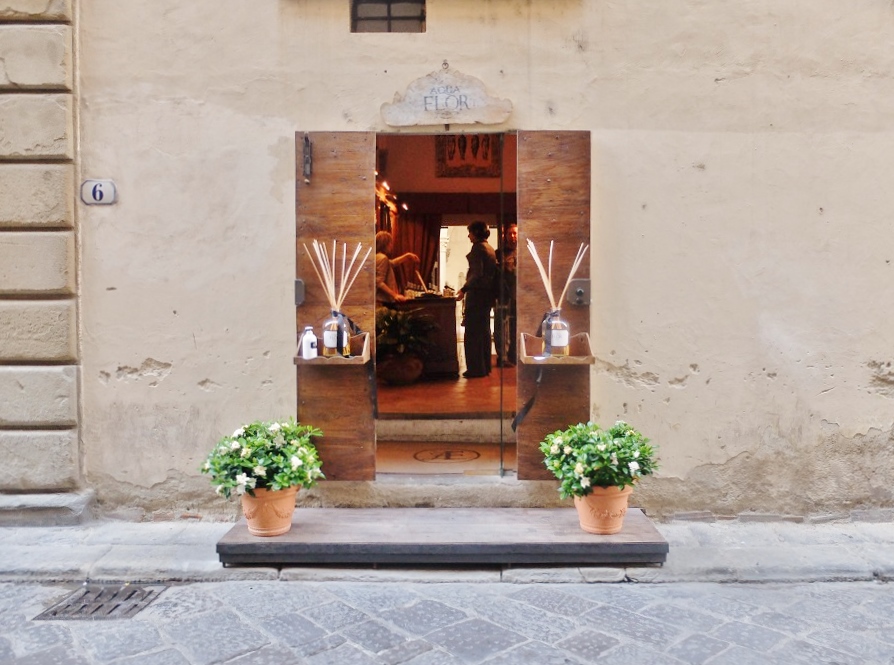 7:45 pm Sunset Drink at Hotel Continental
With all of that shopping, a before-dinner drink is in order, and nothing is more luxurious than sipping a signature cocktail on the rooftop terrace of Hotel Continental, part of the lungarno ferragamo collection in Florence. The space is quite small, but you can typically make reservations or come early to nab a spot. The view from here is tremendous, a 360 degree birds-eye panorama of the Ponte Vecchio and other various sites. They also make a great moscow mules (they make a unique version with whiskey!). Drinks are pricey, think 16 euros a pop, wine and prosecco is around 12 euros.
Hotel Continental, Vicolo dell'Oro, 6 (right off the Ponte Vecchio) + 39 055 2726 5806. Open 3:30pm-10pm.
https://instagram.com/p/4ujHBJRTCY/?taken-by=girlinflorence
9pm dinner at il Bottega Del Buon Caffe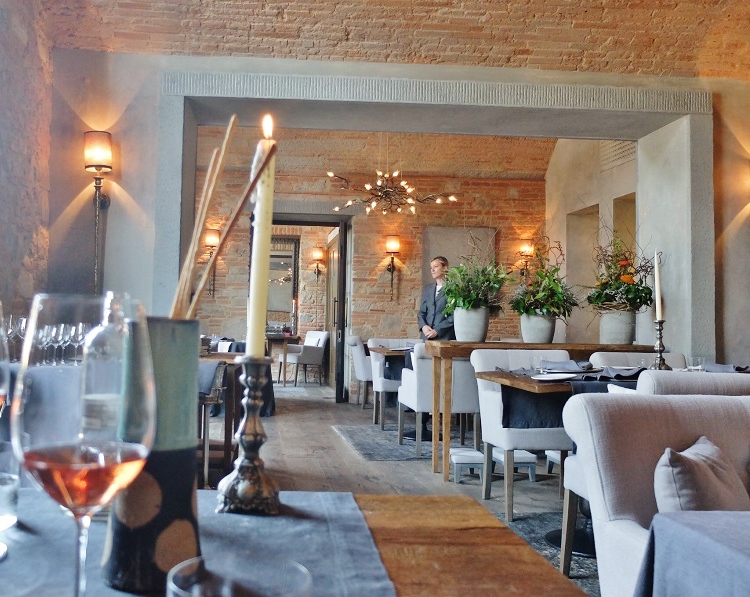 How to wind down one of the most luxurious days I can possibly imagine in Florence? Dinner at one of the best restaurants in town, one that you can call to get a personal ape 'tuk tuk' car to pick you up and take you to dinner.
https://instagram.com/p/5cQ0vbRTBY/?taken-by=girlinflorence
La Bottega del Buon Caffe is an off-shoot of the Borgo Santo Pietro brand (five star luxury hotel in Tuscany) which is where they get a lot of their fresh vegetable, and it happens to be a recent winner of a Michelin star.  Lunch or dinner here is nothing short of an experience, the interior is just like the Borgo itself, stated and stylish. Head chef Antonello Sardi is an absolute mastermind, the tasting menu includes dishes like the one featured below, 'foie gras' made in a creme brulee style that rocked my socks off.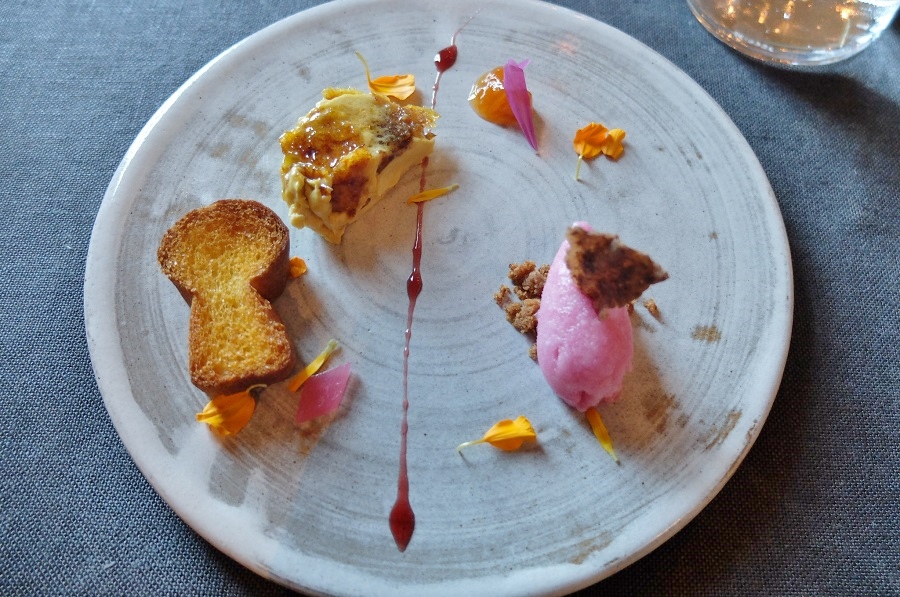 La Bottega del Buon Caffe, address: Lungarno Benvenuto Cellini, 69/R, Firenze. Phone: +39 055 553 5677. For lunch, you can enjoy a  4-course tasting menu, starting from €65,00 per person (excluding beverages), dinner tasting menus also recommended, ask for a wine pairing from the extensive wine list. Private events can also be held in the wine room.
---
This is the 'luxury' one-day itinerary for my idea of the perfect day in the city, next up will be mid-range and budget. I would also love to hear from you, add your own favorite high-end boutiques or restaurants that you believe should get a shout-out, all comments below are welcomed and appreciated.