As always, the best inspiration I get for posts is from you guys, my faithful readers. You send me emails or facebook messages, which I always read, even if I can be a little late getting back to you on certain questions. Lately, it's been all about Easter and ideas for day trips in Tuscany. Sadly, but not surprisingly, I never hear about any Easter events earlier than perhaps a week or two before but I will add them here. All I can guarentee, is that a cart will be exploding in front of piazza duomo in Florence around 11am. That might sound frightening, but that's just another holiday in Italy where pyrotechnics and religion collides.
Instead this Thursday's post is about three favorite spring destinations outside of Florence, and all are reachable by train. This is important since I know many of you guys aren't comfortable driving a car in Italy. I don't blame you, one Easter break, we nearly hit a wild boar somewhere in the middle of the Val d'Orcia. Lucky for you all, there is plenty to see beyond the touristy San Gimignano, Cinque Terre and the like. You'd be surprised by all of the awesome options out there, or rather shouldn't be surprised — this is Italy after all! If you want other ideas in Tuscany, please read this post, about several places that I adore all around the region.
Arezzo – Antiques And Subdued Elegance
After almost 10 years in Italy, I finally visited the lovely town of Arezzo last month. A town that many forget to visit, which means that it is never really crowded, nor takes on a touristy feel like other famous Tuscan towns. I think I avoided visiting because I had a false idea that it was boring, but honestly I was proved very very wrong. We went during the first weekend, which was concurrent with the antique fair, which was spectacular to see in person, even if you can't afford any of the goods. I've been to a fair share of antique fairs in Florence, but here, the city truly comes alive as you slide past nonni in full fur coats haggling over goods, or stop for a quick coffee at the elegant Cafe dei Costanti before continuing on to see the late Medieval church Basilica di San Francesco to see Piero della Francesca's amazing fresco depicting the Legend of the True Cross.
How To get there? The town of Arezzo is just an hour by train from Florence on the 'Roma' line, and costs 8,40€ one way. From what I saw, there are about two trains per hour. I highly recommend visiting during the monthly antique fair, which is the first Sunday of every month and the subsequent Saturday (the next one is March 4th and 5th).
Notable events: The Antique Fair is the first Sunday of every month and the largest in Italy. Another wonderful event here is Giostra del Saracino, a historical reenactment that dates back from the middle ages takes place on the third Saturday in June and on the first Sunday in September in piazza grande.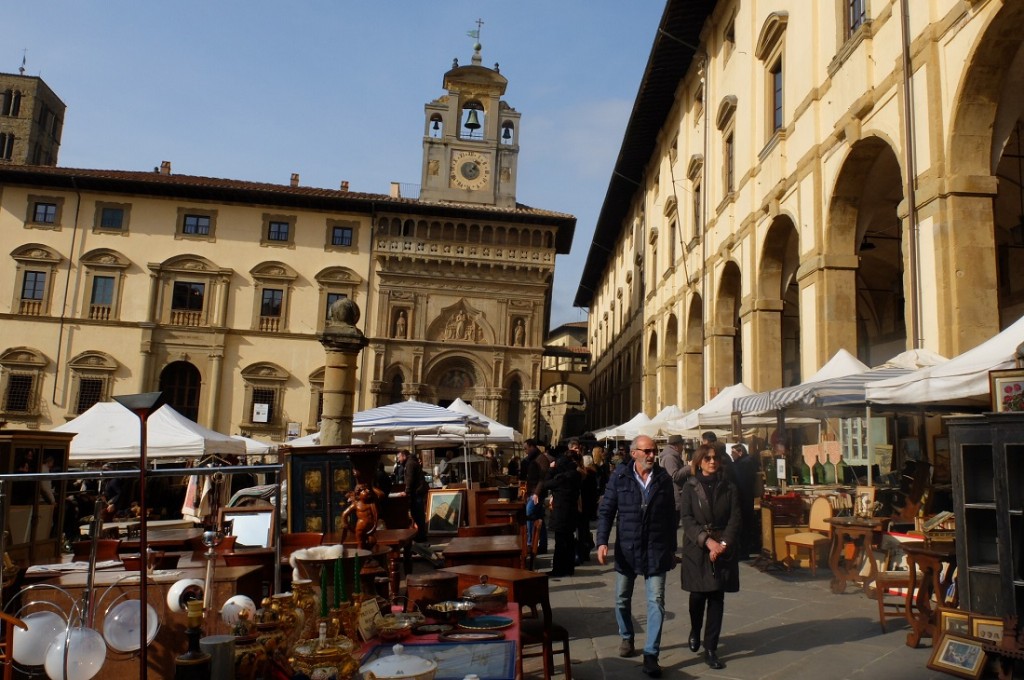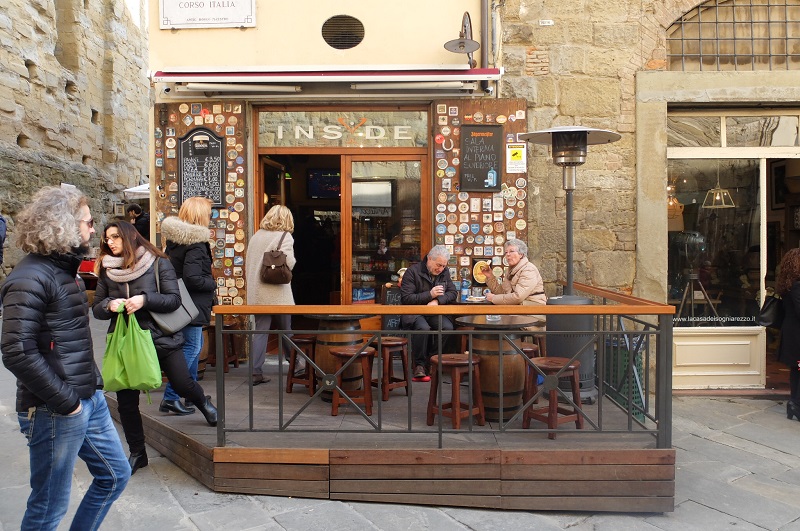 Pistoia
"Those who don't know Pistoia can't even imagine what artistic treasures are hidden there" — Traveller, XIX century
Lovely Pistoia, just named Italy's capital of culture in 2017 after fighting off competition from eight other contenders. under an hour by train from Florence on the foot of the Tuscan Apennines Mountains. I am particularly partial to this town since a few of my friends live there, and have all expressed a love for the town and people that naughty Michelangelo once referred to as the 'enemies of heaven.' It is also is known as the "the city of green" for all of the greenhouses & nurseries plants, and houses the largest library in Tuscany, Biblioteca San Giorgio — most famously it is known for its vast markets every Wednesday and Saturday. For a great panorama (and you know we all love that), climb the bell tower in piazza duomo, 200 steps later you will be rewarded with views over the town and surrounding countryside.
Recently I went for a visit guided by local Michela Ricciarelli of Passion4Tuscany. She's exudes enthusiasm for her city, born and raised here and is a multi-tasker to the extreme, a certified tour leader guide, personal shopper in Tuscany & wedding planner in Italy. I feel like Michela has a young spirit, she seems to brim with energy and is happy every time I've seen her. She picked up my friend Sasha and I at the station before taking us for a cappuccino at a local bar where we delved into her love of the city.
She explained the city was shaped by Gallic, Ligurian and Etruscan settlements before becoming a strategic base for Romans, known as the 'oppidum' or market town, where weary soldiers would stop and rest before making their way to more war along the empire. You can see artifacts from this time period (and later) at the archaeological museum in the main square. Besides the beautiful architecture, you'll find great examples of churches dating back from the Romanesque period to Baroque such as The Basilica of San Zeno or the Basilica of the Madonna dell'Umiltà , they also have the third largest dome in Italy after Rome and Florence.
We also learned about the city's long history of organs, which started in the 17th century thanks to the arrival of a Jesuit from Flanders, Willem Hermans. He created a very splendid organ for the Church of S. Ignazio which then served as a model for future craftsman in the area. Two brothers, Antonio and Filippo Tronci, then set up an organ-making business which took off to the extreme, one of their creations is now in the center of the city of Jerusalem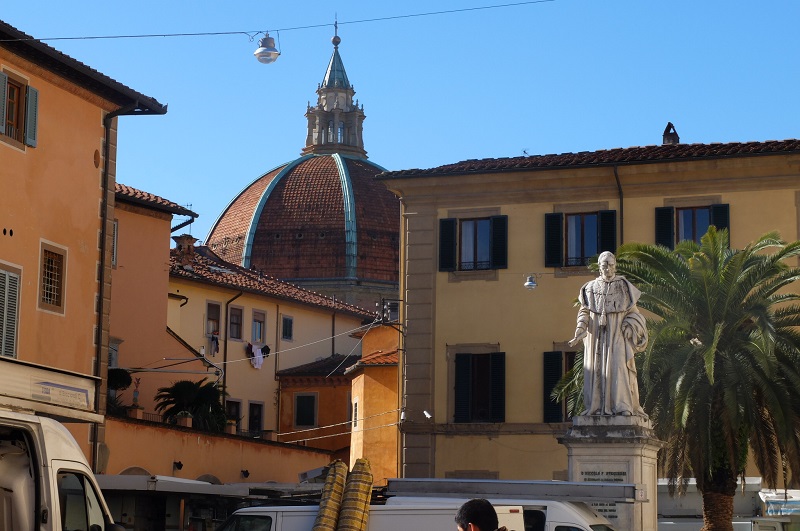 I've only ever been to Pistoia during the day, but I have it under good authority that the evening hours are quite fun here, especially for your late-afternoon aperitif and 'movida' (nightlife) in sala square. Pour me a spritz and I'll be your bestie if it includes a charming Italian square on a Thursday afternoon. The plus of Pistoia is that I bet that same spritz won't set you back 8 or 10 euros like many places in Florence.
How to get there? Hop on the regional train from Florence, which is an easy 30-50 minute train ride, setting you back only 4,40€ one way. My advice is to also give it a chance during the late afternoon hours and for dinner, which is when the city takes on an even more pleasant vibe.
Sweet Treats: Stop at one of the city's greatest pasticceria, Cafe du Globe for a sweet snack before getting  a cappuccino at the seriously cute Caffetteria Museo Marino Marini.
Notable Events. To see Pistoia at its most lively best, head there in July. The first notable reason is for the annual Pistoia Blues Festival where major artists perform in Piazza Duomo, Teatro Bolognini and Teatro Manzoni . Also go to the Giostra dell'Orso, an ancient festival that dates back to the 1200's, it takes place every 25th of July, on the feast day for the city's patron saint, St. Jacob.
*Top tip — try to get a visit to the underground layer of the city, Pistoia Sotterranea, there is a long underground passageway that connected the area to the Porta al Borgo with the Santa Barbara Castle which was discovered in the 1970's. Visitors can now tour the oldest architectural remains of the city, visible under the ground, by guided tour. More info here,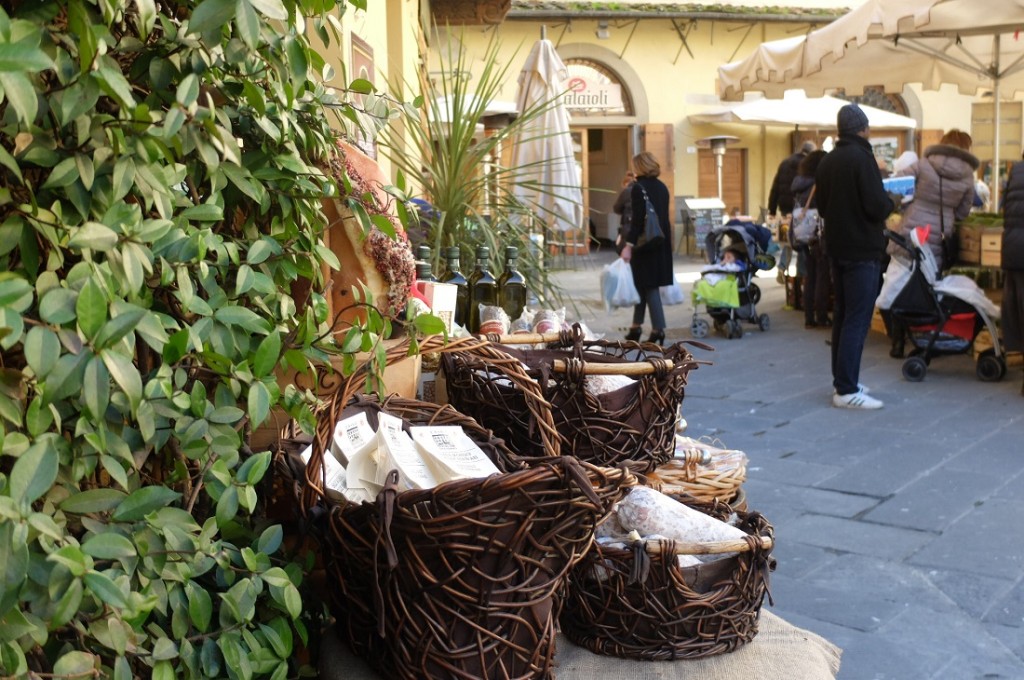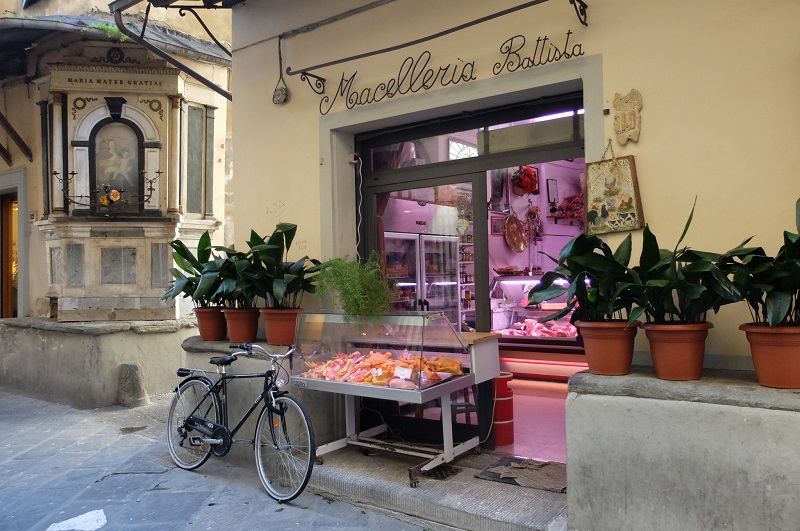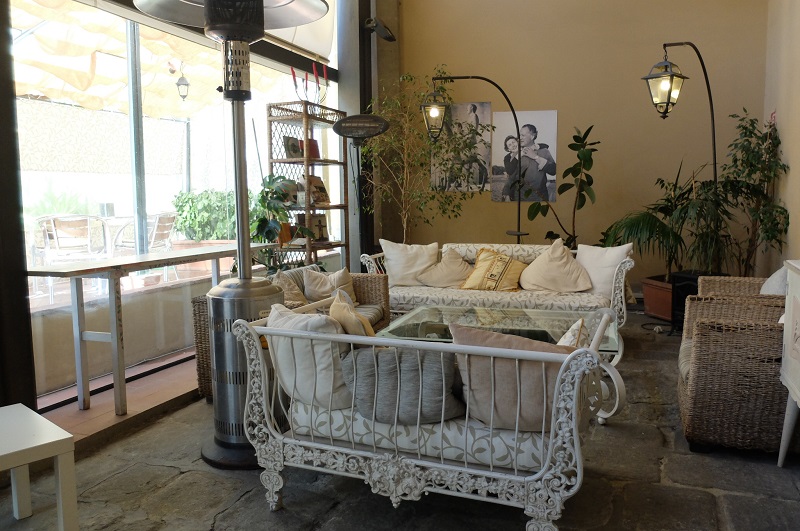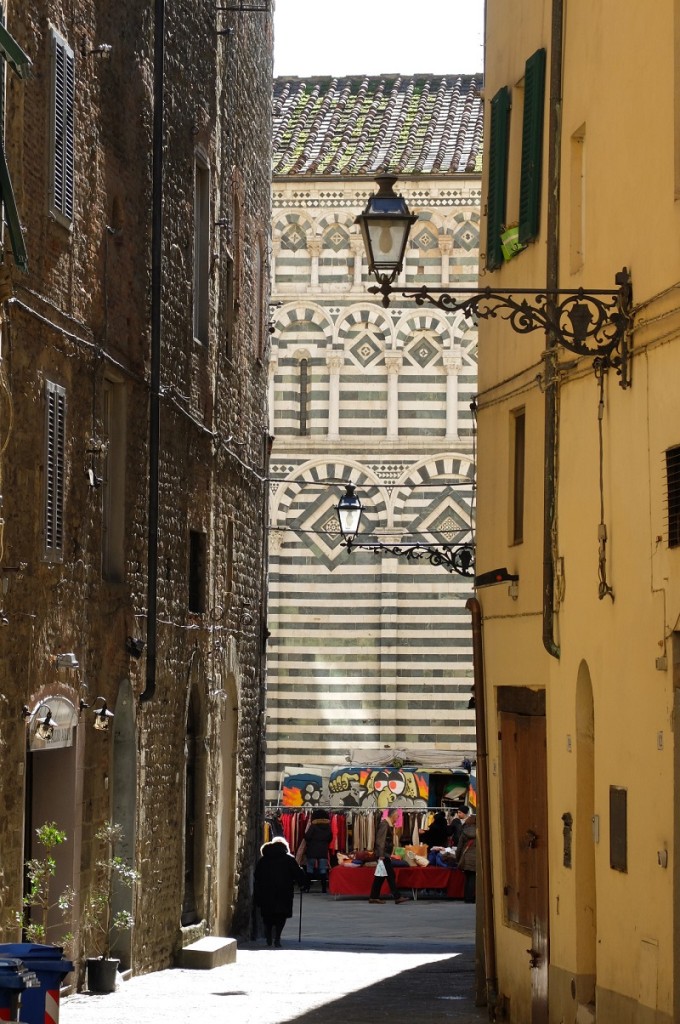 Lucca
One of my favorite understated towns in Tuscany is the lovely Lucca, elegantly placed at the foot of the Apuan Alps and in between both mountains and sea. What I love about this place is the feeling of tranquility, that we don't always get in Florence. After too many times trying to get out of everyone's selfies on ponte santa trinita, a girl needs a break and a little fresh air. In lucca, you'll discover clean cobblestone streets, art galleries and small trattorie, its also home to an ancient 1st century A.D. Roman Amphitheater at Piazza dell´ Anfiteatro where gladiator shows were once held.
I also love its beautiful, Romanesque Churches — like the gorgeous San Martino (see below), the main cathedral and San Michele in Foro. Visit Puccini's old house or stop by the 17th century Palazzo Pfanner where some scenes from the film Portrait of a Lady were shot. Despite the fact that 'Pfanner' sounds like something naughty in German, it is quite the place to see. Stunning frescoes in the main palazzo and a beautiful, baroque garden where summer musical concerts are often held — apparently you can even sleep there.
The trees seem bigger here too, could be because they're high above on the ancient walls surrounding the town, on any given day you will see locals taking a walk here, biking and picnicking. I made my dad go for a walk before out lunch, explaining that in Italy, one must work for their ragu.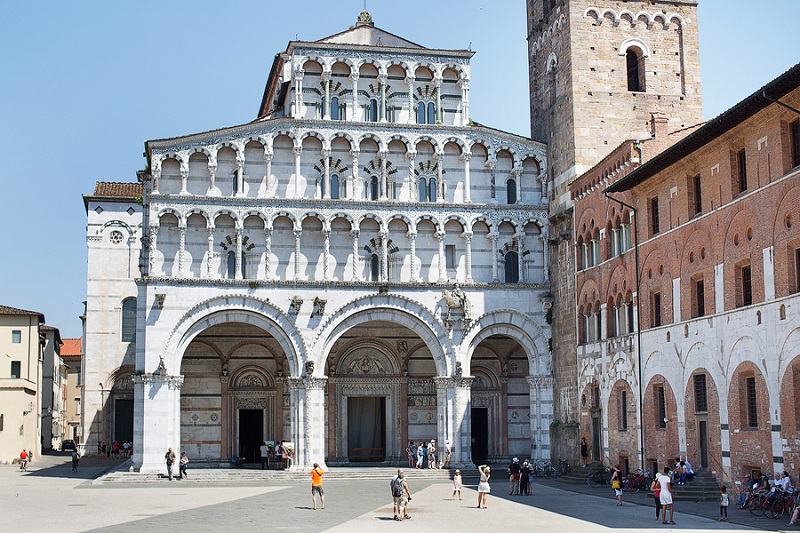 When it comes to food, Lucca rocks — a lot of Garfagnana influence here. For meat eaters, you'll love the tortelli pasta with a hearty meat ragu — this is pretty much a must every time we're here. Otherwise go for garmugia, a traditional local soup dating back to the 16th century made with veggies and veal. Nico and I took my dad last November before our wedding, stopping at Osteria Vispateresa, Via S.Croce, 88, a small rustic joint in the center of town, recommended by a friend. My dad was as happy as he could be, wine cheaper by the liter than a cocktail in San Antonio, I was more than happy to share why I love this country so much. It at times, takes an outsider to see what you have in front of your face.
After digging into our heart antipasto of cured meats and crumbly pecorino cheese, we moved onto tortelli, finishing off with sides of sweet and sour peperonata — a favorite for this girl. Slow-cooked bell peppers and anything sour always have a special place in my heart, must have been all of the pickles I devoured in Texas.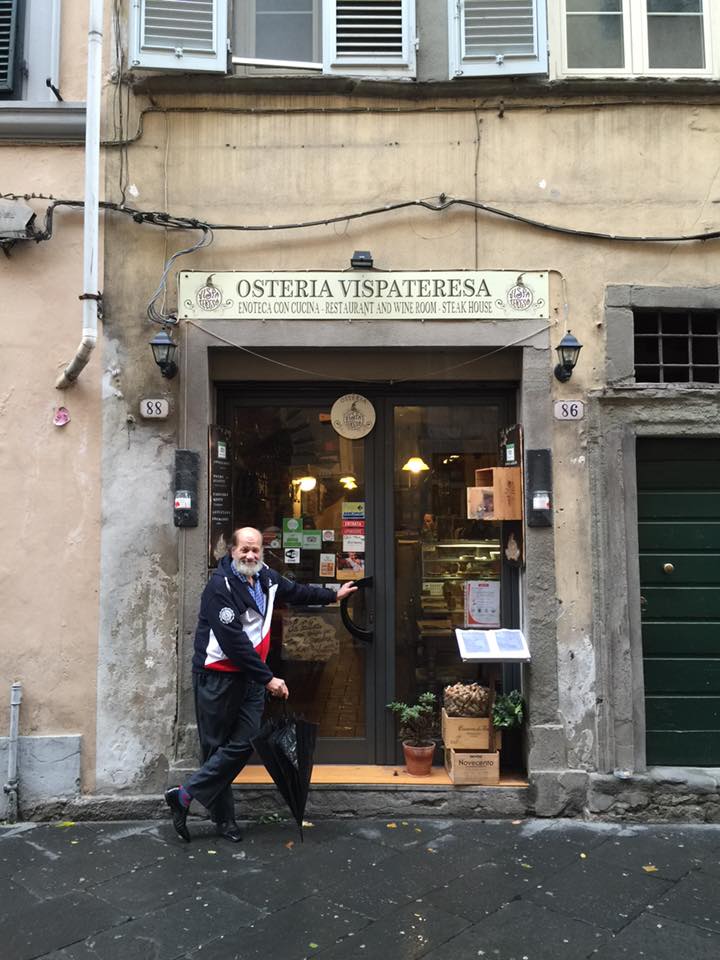 How to get there? You actually double up a visit here with Pisa if you're feeling frisky (20 minutes by train). From Florence, the train is an easy one and a half (mostly less) for 7,50€ one way, trains are quite frequent.
Must do? For a great view of  the town, climb Guinigi Tower in the main square or the Delle Ore Tower for the best views. Also Rent bikes  from Cicli Bizzari (Piazza Santa Maria 32, tel. 0583 496682, open daily from 8:30 a.m.-7:30 p.m.) and ride the 4.9 kilometer loop.
https://www.instagram.com/p/-WIS7iRTBc/?taken-by=girlinflorence
Nearby? You have it all here, proximity to the beaches of Versilia and the Apuan Alps, I also highly recommend a visit to Borgo a Mozzano, home to the iconic 'devil's bridge' with its high-arched shape.
Best events: The most well-known is most definitely the Lucca Summer Festival in Piazza Napoleone which showcases some of the most important musical artists in the world. Just to give you an idea of the caliber of stars, last year alone there was Lenny Kravitz, Bob Dylan, John Legend, Paolo Nutini, Elton John performing in Lucca. This year will be the 19th edition, where you can listen to Lionel Ritchie, Van Morrison this coming July. More info here.  Keep an eye out for Murabilia in September, a plant and flower festival held on the walls of the city. Of course in late October is prime-time to come, with the Lucca Comics & Games showcasing the best in nerd-fun, I mean comic-lovers, which you could easily pair with a trip to the Halloween festivities at nearby Borgo a Mozzano. 
---
Don't forget to check out the posts of my fellow Italophiles of COSI who have chosen Spring destinations or Easter in Italy as today's topic of the month.