As people are planning their vacations this spring in Tuscany, I imagine they are picturing the same places we all love and likely recognize, oh you know our favorite towns of Chianti, the rolling hills of Val' D'Orcia and the ripe cheese of Pienza. We want to be inspired, we want to play, we want to drink wine and eat too much pasta. I get it, this is why I live here too.
Especially lately, I have been discovering that there are so many beautiful areas of Tuscany that we who live here often forget about the variety of landscapes and places in this vast region. I am absolutely no different. It is easy to go to the same favorite places and we are all guilty of this… but it is so worth it to venture out from time to time.
I am constantly inspired by places that I would have never set foot in if it wasn't because of a friend, a blog tour, an instameet or just merely by accident. Which can sometimes mean google maps taking us on an unpaved road to come face to face with a wild boar – trust me, it happens. In the spirit of sharing a few places that are near and dear to my heart that I think some people might pass by but really shouldn't, here are my seven suggestions on areas of Tuscany a little less famous that I have visited quite recently.
Figline Valdarno
Where? This area is only a stones throw to Florence (25 kilometers southeast to be exact) but rich in activities and varied landscapes. It borders the areas of Castelfranco di Sopra, Cavriglia, Greve in Chianti, Incisa in Val d'Arno, Pian di Scò, Reggello, San Giovanni Valdarno. Historically, it was an ancient commercial village with a mountain view.
Why visit? There is much to appreciate about this area of Tuscany, being that is it so close to Florence, it is ideal for those who want to 'escape' but not go too far, Figline Valdarno is perfect. While there, I highly recommend visiting an organic cheese farm, Casa al Bosco, where Ada and Sandra will show you baby goats (I just held one last week) and show you how they make their delicious ricotta, pecorino, giuncata, raveggiolo and other sheep and goat cheeses. This place is a find and I will soon be back to get my fill of cheese and sheep cuddles.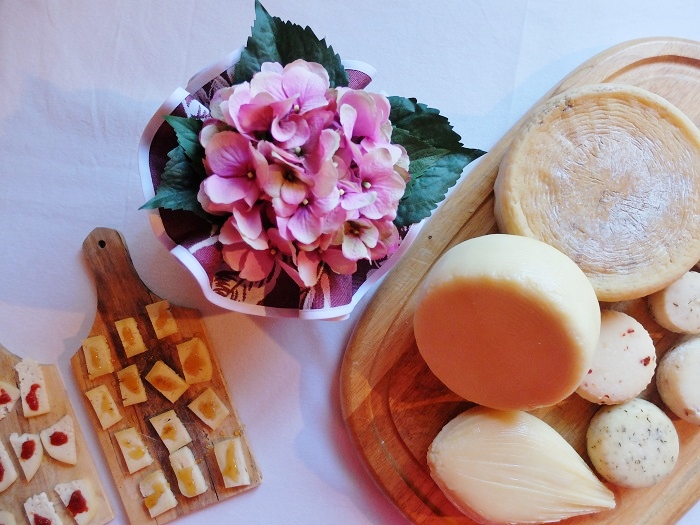 Another place I highly recommend visiting is the Chianti Cashmere Farm (in nearby Radda in Chianti) run by ex – New Yorker turned goat whisperer, Nora Kravis, who lived in her quirky farm with over 200 happy goats and 11 sheep-herding dogs which ironically she can identify from their bark. Nora was a small town vet in this area of Tuscany before it was 'cool' to live in Tuscany and first started her adventure with goats after getting 'bella and bestia' her first two protegees which inspired her dream.
She now has the biggest goat cashmere farm in Europe with excellent quality cashmere that I can personally attest to. Everything in her shop feels as if it was freshly spun, so soft and beautiful. Not only is Nora interesting to speak to, her products are excellent, expect an additional article coming soon since this is worth a deeper look.
Also if you get the chance, stop by Castello di Albola for a winery visit, run by the charismatic Alessandro Gallo. Here they produce high-quality sangiovese chianti classico wine in a beautiful area which covers over 900 hectares. This is a stunning area for events as well, we lunched with Alessandro on a gloriously warm day. Fresh pasta, too much wine (as if) and fresh fruit for dessert, I wish I lived here.
Where to Stay?  My best recommendation is Villa Palagina, once a summer residence to the Nobel Florentine Family Ricasoli and now a three star (should be four stars) hotel. Now it boasts 27 different rooms (they also rent independent apartments), decorated in a simple, classy Tuscan style. The bright and airy atmosphere is only further highlighted by excellent service run by the excellent director Eric Veroliemeulen. Plus the two pools on site make for a perfect weekend getaway for those who want to soak up sun away from the crowds on the ponte vecchio.
Don't forget to eat at the in-house restaurant serving up Tuscan specialties like pappa al pomodoro, handled by the smiling chef, Federico Cardi, who taught us how to make pasta from scratch and a superb and a healthier version of eggplant Parmesan.
Villa La Palagina,  Via Grevigiana 4, 50063 Figline Valdarno FI
Phone: 055 950 2029. Website . Prices start from an affordable 99 euros.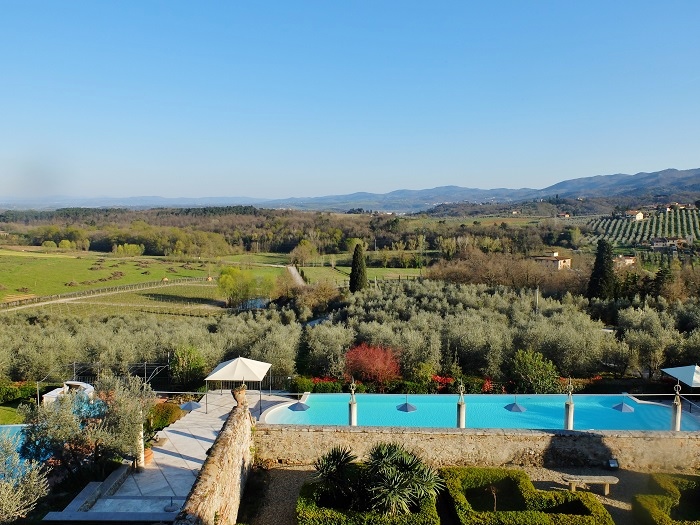 Maremma | Grosseto – Seaside, Good Wine and 'Tufa' Towns
Where? There is a lot of talk about Maremma and Grosseto, this large area in Southern Tuscany has a wide, varied landscape ripe with good-quality vineyards and a stunning coast. It naturally has Etruscan and Roman roots (home to the ancient town of Populonia) and the Medicis have made their mark here as well.
Why visit? I love this corner of Tuscany for so many reasons, also because it happens to be home to so many thermal baths that everyone should see once in their life, especially the cascading waterfalls of Saturnia. According to Discover Tuscany " Legend has it that its springs are born in the exact point where Jupiter's thunderbolt fell in a battle against Saturn. The thermal waters have a temperature of 37.5 °c and therapeutic and relaxing properties."
I've been there myself with a group of bloggers/videographers/photographers and I can just say that it is nothing short of awesome. I actually prefer the cascate del mulino (pictured below) than the spas you actually pay to visit. Don't expect any changing rooms and put your bathing suit on under your clothes, also be aware the sulfurous smell can be off-putting for some.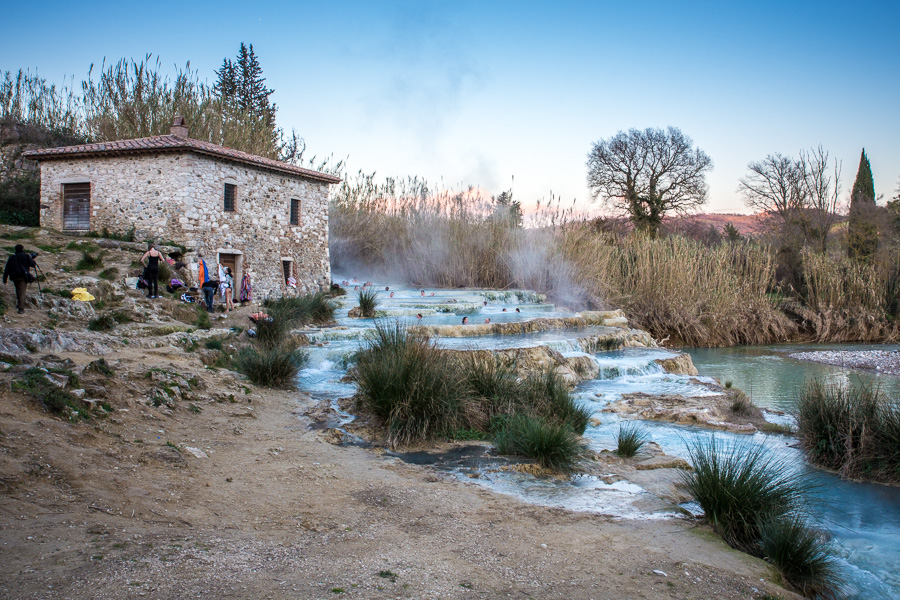 And let's talk about places. There are beautiful towns with ancient traditions, such as the infiorita 'flower' festival in Pitigliano (June) or the crossbow competition every May and August in Massa Marittima. Pitigiliano is built on tuff (like two other noteworthy places to visit: Sovana and Sorano) and has a Jewish quarter that is extremely fascinating. Last year I discovered more of this area during the annual 'Melodia del Vino' Wine and Music festival that took us to several wineries in Marema.
Scansano is also a favorite due to its stunning panoramic views and I also personally love Castiglione della Pescaia for beach-time fun, Alexandra aka Arttrav  (who is a Maremma expert because her and her husband own a second home there) and we spent a glorious summer weekend with our other halves stopping by the Skipper Beach Club which also has a great little restaurant on the beach.
Lastly, you must visit the Gulf of Baratti if you get the chance, close to the ancient town of Populonia, the beach here is a personal favorite with gentle waves and beach bars nestled in the surrounding woods.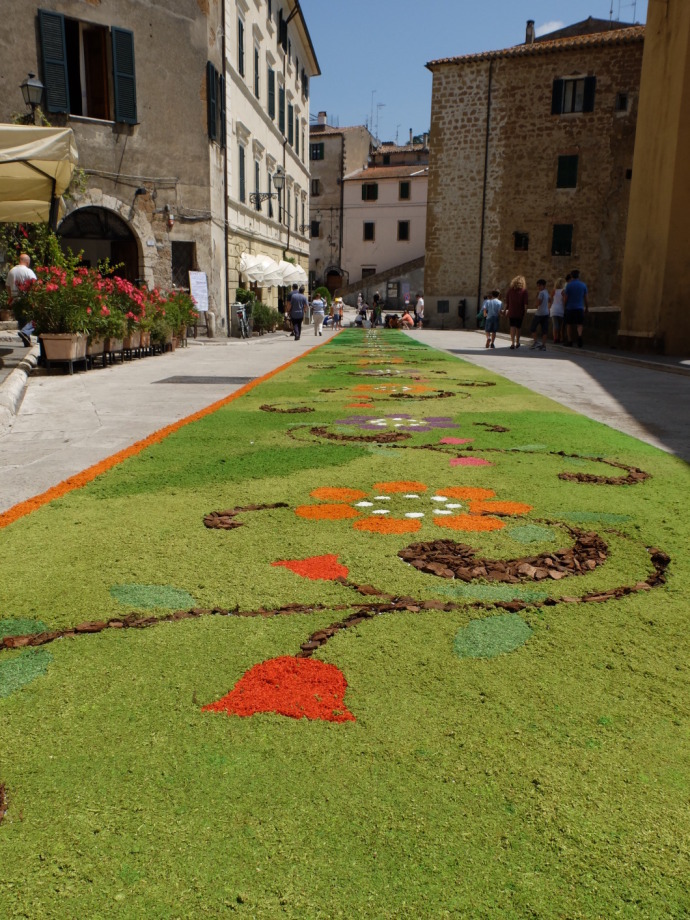 Lunigiana – Slow Travel Paradise
Where? Mingling between Liguria and Tuscany, this area falls within the provinces of La Spezia and Massa Carrara. Oh Lunigiani, how I miss you and your gorgeous, lush territory (and fabulous food). The name itself has traces of the moon or 'luni' which can feel like this with the marble views of the Apuan Alps and surrounding countryside.
Everyone wanted a piece of this fruitful land, according to wiki "Luccans fought Pisans, Pisa struggled with Genoese, Milanese struck out against the Modense and Florentines made war on them all."
Why Visit? This area is an attractive place to visit for so many reasons. It's lush countryside makes it an idealic place to visit the remaining castles like Malgrate Castle (this area once home to 160 and only about a third remain) and go for a budget bike ride from town to town.  You have to try local dishes with slow food/organic options. I highly recommend you check out the informative site Ciao Lunigiana and try the acclaimed Osteria Boccondivino.
If you are in the area, stop by Equi Terme  (small village dating back to prehistorical times in this area), the Equi Terme's Grotto Cultural Park has interesting summer events, we enjoyed a nice evening there last year  and it is possible to visit the caves inside.
It's also a strategic area to visit if you are in Lerici (Liguria) or Carrara, our day trip here felt way too quick and I am dying to bring Nico back there to revisit these beautiful small towns.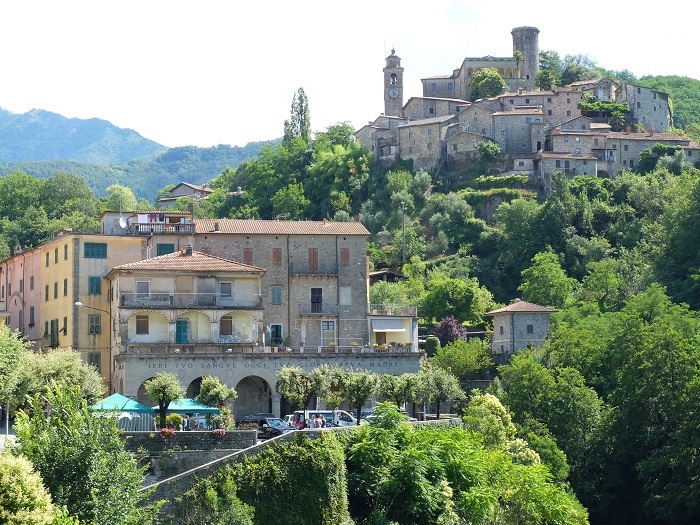 Where? See that pretty snow on the Apuan Alps? Well, nope that's marble! Located in the Province of Massa and Carrara in the North-West corner of Tuscany, you probably have heard about the famous marble quarries that seem to always be in the news lately. The 'marble mountains' have been a part of the landscape for thousands of years and closely tie to the towns anarchist past. It's close to neighboring Liguria and is close to the coast (Marina di Carrara).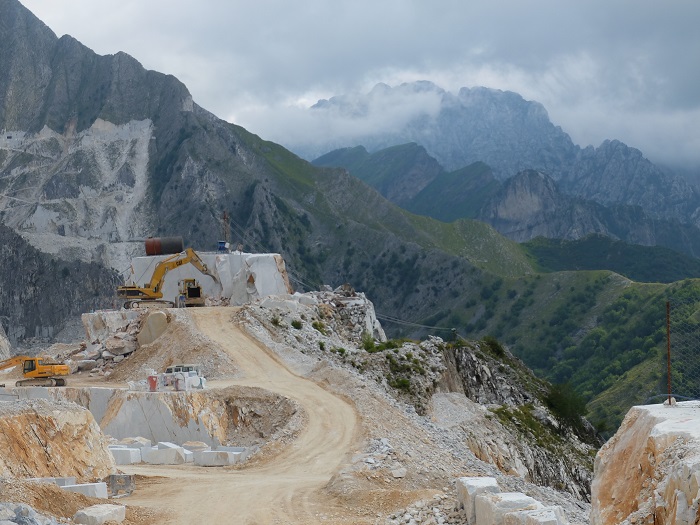 Why visit? Imagine walking in the same valley as our great Michelangelo, where he sourced his marble for some of the greatest creations of mankind. The town itself is like a living postcard, groups of nonni hanging out in the main squares of the city and everyone greeting one another by name. I spent a few days last year and was delighted with this dynamic area, close to both the mountains and the sea.
If you come, arrange a tour to visit the marble quarries which seem a bit like walking on the moon, and you must, no you have to try the local 'lardo di colonnata', a delicious pork product that is aged in a combination of intoxicating spices for six months in marble tubs. The coastline in this area is very picturesque and not far from fancy-schmancy-russianesque Forte dei Marmi (but here it is a lot cheaper). Find more reasons to visit one of my now favorite areas of Tuscany here.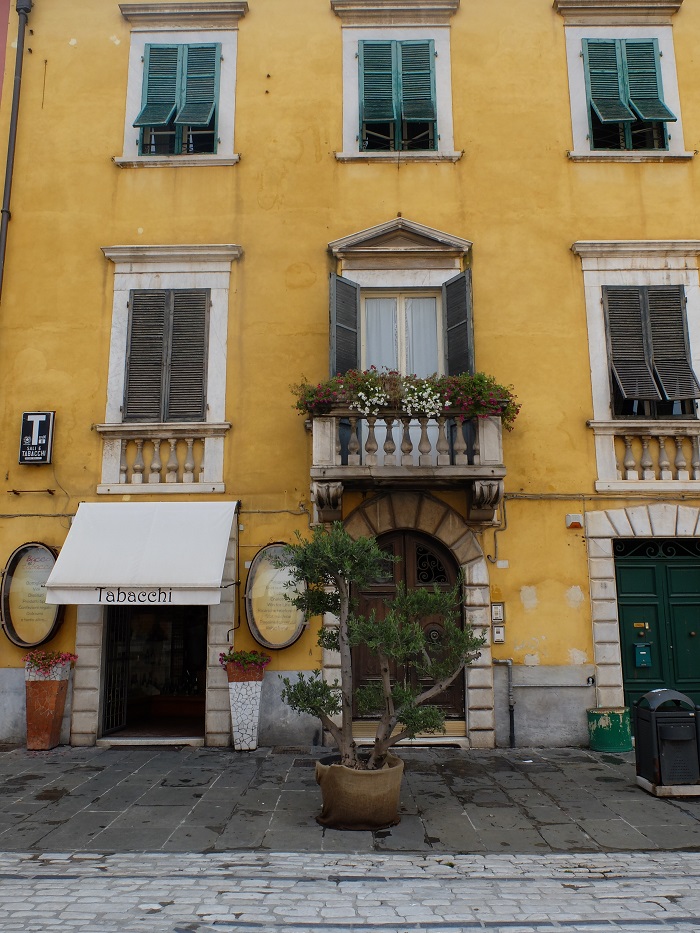 San Miniato – Truffles and Wine
Where? The place known as 'truffle land' or 'other Tuscany' is located in the lower Arno valley ( south-eastern hills  halfway between Pisa and Florence). I bought my first truffle here last year and I have fond memories of the stunning valley from the the tower located on top of this ancient village.
Why Visit? Besides the truffle fair in November which has international fanfare, I quite enjoyed my recent visit this spring with a fun group of bloggers organized by my fun Brazilian friend Deyse. We tried some excellent wines, first starting at the Cupelli Spumanti di San Miniato, which is quite similar to those made in Franciacorte, aged in the bottle instead of the barrel. My only regret was not taking some home with me. We also visited the lovely cantina Beconcini Pietro who have joined a consortium of wine makers in the area, excellent sangiovese and vin santo can be found in this pretty location.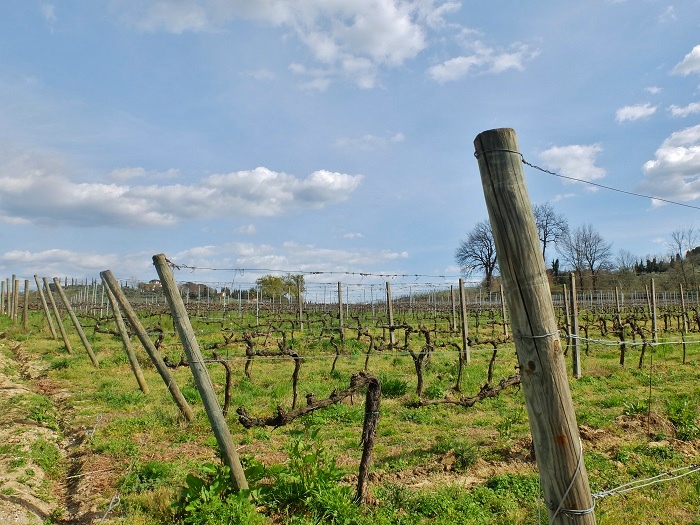 Probably what stood out the most was our truffle hunt and lunch with the friendly Massimo of the Tuscan Truffle Academy who has had a passion for truffles passed down through generations. Together with his very cute dog Stella, we scoured the woods for truffles which are basically my idea of heaven. He explained training the dogs starts at a young two months and without the dog, you simply won't find any of these heavenly prizes.
Dog knows best (Ginger would appreciate that) and only he/she knows when the truffle has reached the most mature state. As for truffle-wine pairing, while red sangiovese wines are wonderful for heavier meals, this wouldn't be the right pic for a truffle dish. Instead we went for a type of 'spumante' , aka Italian bubbles, which are a better match for dishes like the one pictured below, we used Tartufo Marzuolo (Tuber Borchii o Tuber Albidum Pico.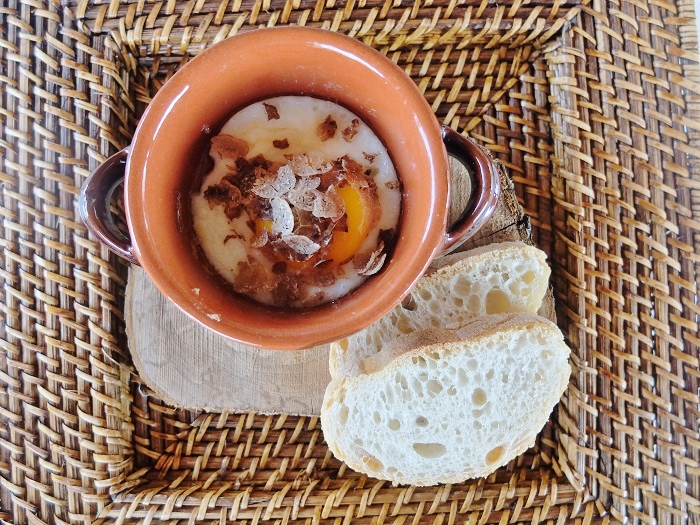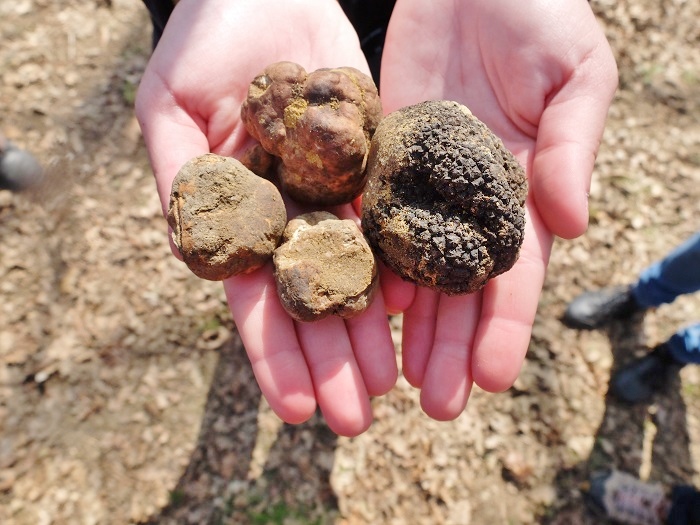 Orentano + the 'Road to Rome'
Where? I had never before heard of Orentano previous to this weekend. I was invited on a special instagram tour with a few other Italian instagrammers (which you should absolutely follow, not only are they all super nice they take some pretty incredible photos, two of them even got to ride in a small plane to get a panoramic view of the area from above, say hi to Paolo, Tiziana, Nicola, Giovanni, Mary.
This little town is located in the comune di Castelfranco di Sotto (PI) which also includes the towns of Galleno and Staffoli. It is in quite a strategic location near to Lucca and Pisa.
Why Visit? There is something quite authentic about the area of Orentano, yes it is tiny and not as beautiful as many other areas of Tuscany but just like there is 'something about Mary', I would dare say there is 'something about Orentano' as well.
Perhaps it is the mad butcher whose apron was smeared with blood and the restaurant that looks like someone's family home that you need to reserve a month in advance. Did I mention we ate a lot, and I mean a lot of meat?
Trattoria da Benito, Address: Via Martiri della Libertà, 2,  Orentano PI
Phone: +39 0583 23155. Hours: Open today · 12:30 – 2:30 pm, 7:30 – 10:30 pm
Or the ancient pilgrim pathway via francigena, where you can observe local fauna and stroll on the same stones that so many people previously walked on, stopping to sleep at places that still cater to modern pilgrims. It's beauty and serenity.
You can also go for a lovely bike ride that isn't too difficult (I can attest to that) in the areas surround local marshland. We spent Sunday riding along this area and even got a bit of a burn which naturally means even though it's only mid-April, bring your sunscreen. We might be in for a warm summer.For all Orentano-related questions, I highly recommend asking the friendly Stefano, who took care of us during our stay and made me realize how much more there is to Tuscany.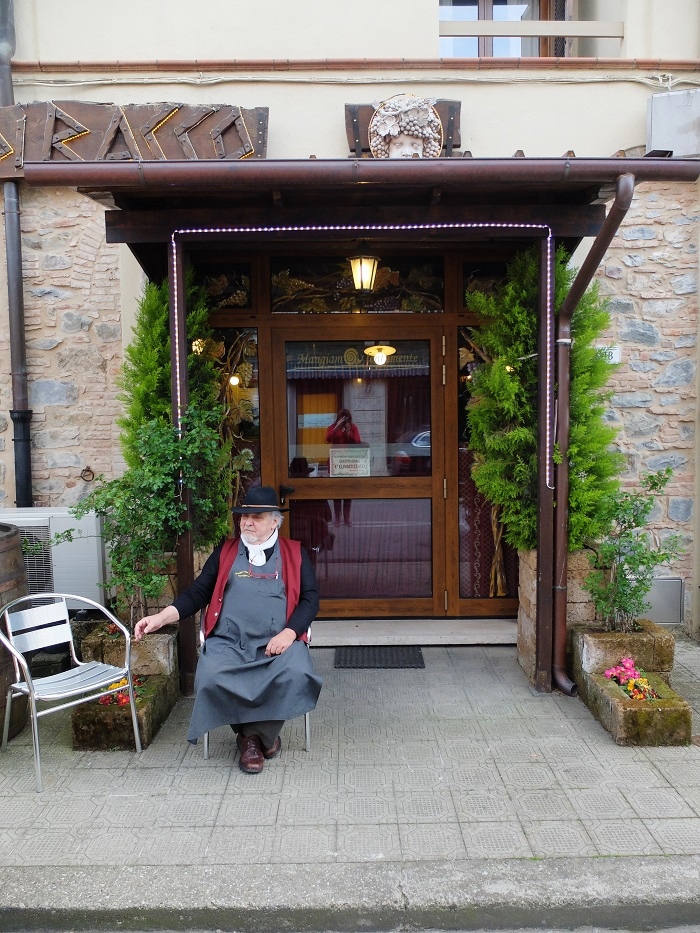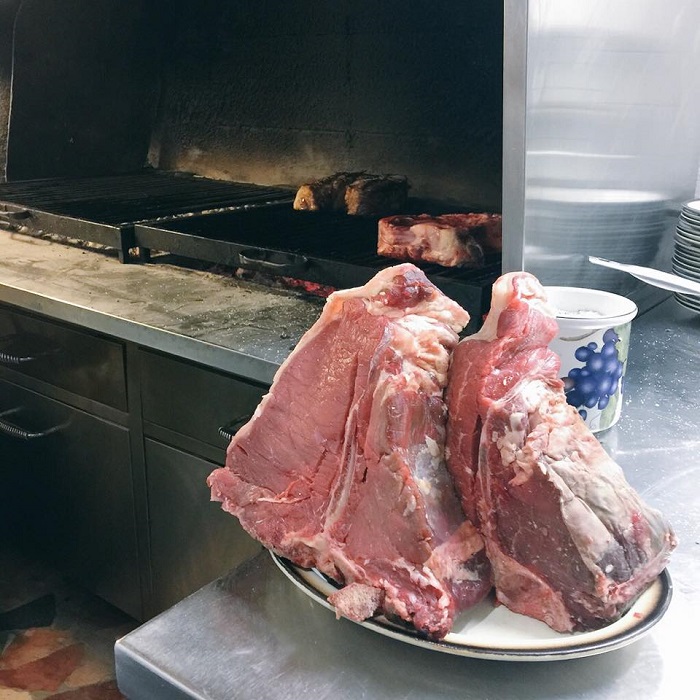 Where to stay? We stayed in a gorgeous (and I mean fairy-tale like setup) little vacation house called Borgo ai Lecci in central Orentano. Rented only by the week, a rather large amount of people (there were 5 bedrooms in our little abode alone) can camp out here for pool parties, homemade pizzas in the little house by the pool, a soccer field in your own little oasis. It is that cool and I am still dreaming about it. More to come on a post about the place/area.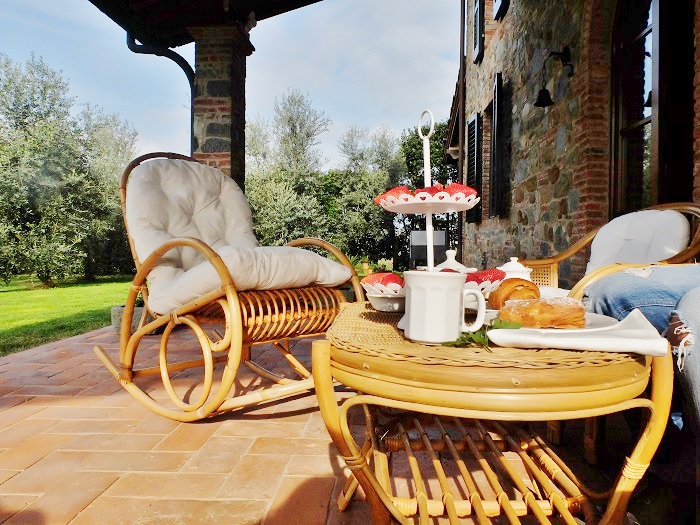 Borgo ai Lecci: address: via Martiri della Libertà, 68
Fax +39 0583/23387
Mobile +39 335 6114460
Email [email protected]
Acone (Monte Giovi) | My Special Escape
Where? Located about six kilometers above the town of Rufina, about 40 kilometers from Florence. It was a place of many a battle between Nazi's and local partisans which is why you can see a few monuments to those who lost their lives on the hiking trails leading up to the summit (992 meters above sea level). If you enjoy hiking, this is a wonderful location because there are plenty of different trails, clearly marked, and you have my favorite trattoria that is perfect to lunch after a three-hour morning hike. Bring your jacket because it is often quite chilly up here.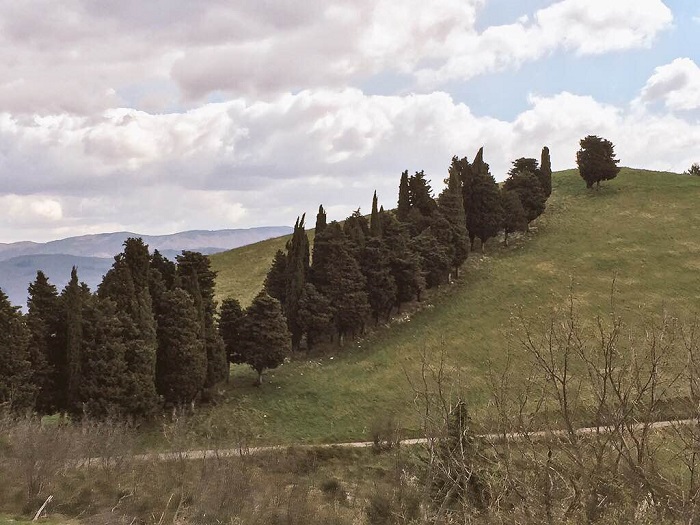 Why Visit? This place is near and dear to my heart, I have been coming up here for years and it still is my 'go to' spot when I am feeling a little overwhelmed with life and social media. The views here are quite stunning and I really embrace a bit of nature immersion with Nico and Ginger if we happen to have a weekend 'home', which I admit isn't too often lately. Whether you are a local or not, places like this almost feel that they are part of your blood, something I wouldn't mind passing to my future kids one day. It's all about making your own memories and creating traditions, wherever feels most natural to you.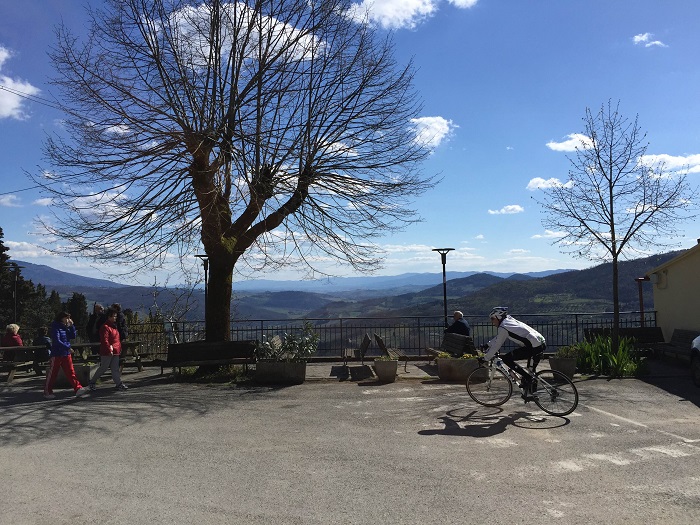 Naturally food always has to be involved and there is a little trattoria, looks like nothing special and always has a crowd of locals hanging around. It is also the only one in town so you can be sure not to miss it, but I can understand why. Pizzeria Acone has been pleasing locals for decades and we always come here on the hunt for their very special 'penne alle aconese' a slightly spicy red-tomato with mushroom and secret ingredients that the cool won't reveal. It is my favorite pasta in the world also because it is here, in this special place that means a lot to me.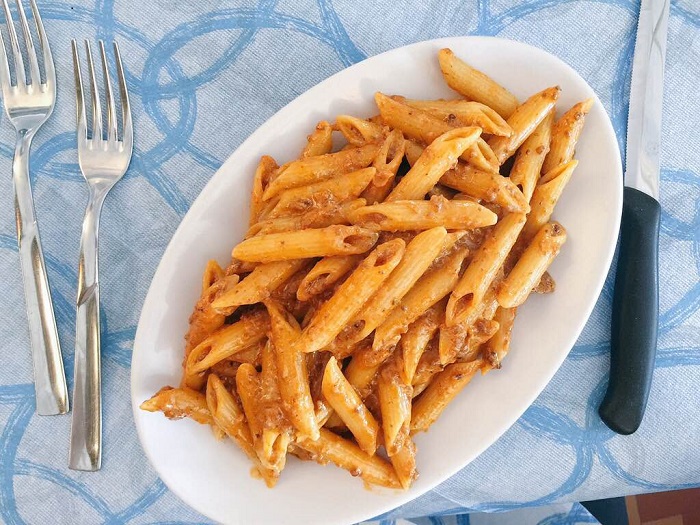 Now it's your turn! Tell me about what corners of Tuscany are your favorite and why? Also catch a bunch of very informative travel bloggers and me on a special twitter chat all about spring vacations in Europe, Toscana and beyond hosted by @Flipkey, just follow the hashtag #FKSpringvaca and check out the rules here (it's easy I promise). The fun starts at 6pm Italy time, 12pm ET.